Last Updated on January 25, 2023 by Anne-Marie
These leftover meatloaf sandwiches made with gluten-free crackers and green beans are the best meatloaf sandwich recipe you'll ever try!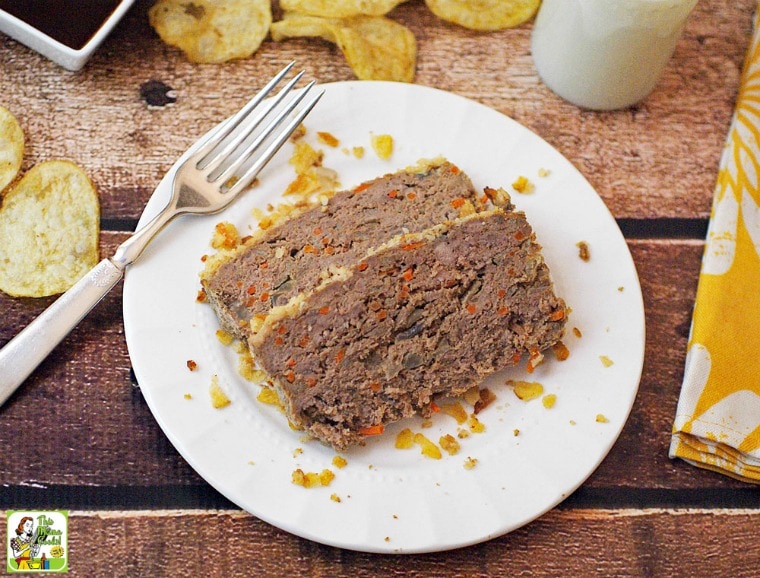 Why this recipe works
Try this gluten free meatloaf with potato chips and carrots recipe if you want to make a gluten free meatloaf without breadcrumbs.
You won't believe how well your favorite brand of potato chips work – along with wholesome shredded carrots – as a binder in this gluten free meatloaf recipe.
This is a easy way how to make gluten free meatloaf without buying any type of expensive gluten free foods that you'll only use once.
So important when you're on a budget or just cooking gluten free for a friend or relative who's coming to visit.
Check out the 27 Best Side Dishes to Serve with Meatloaf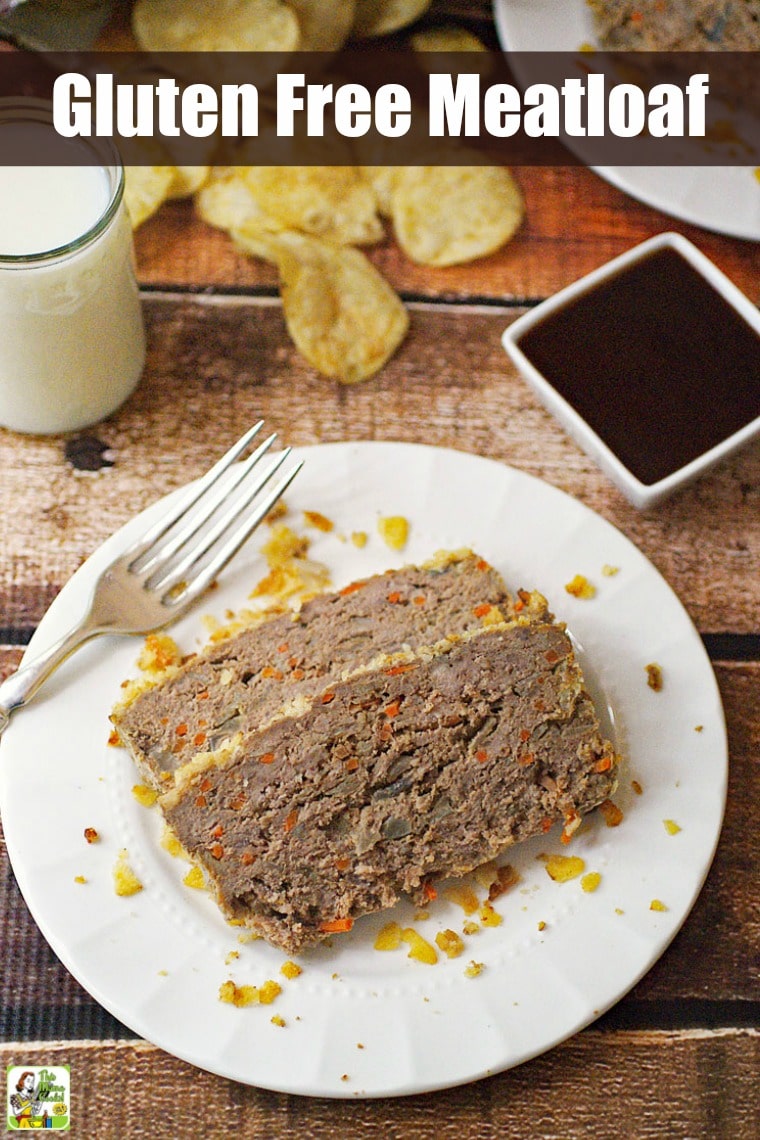 Making a dairy free gluten free meatloaf
At my house, meatloaf is a popular but challenging dish. For years, I had to make an egg free meatloaf due to my daughter's allergies.
She's grown out of her egg allergies, thank goodness. But now I have to make a gluten free dairy free meatloaf.
Making it dairy free is pretty easy. I just substitute an alternative milk for the cow's milk. I like using rice milk since it's naturally slightly sweet.
You can use other alternative milks such as unsweetened soy or coconut milk. (I don't like the sweetened versions because of all the added sugar.)
Usually, I use gluten free panko in my gluten free meatloaf recipe. Or I make homemade gluten free bread crumbs from by toasting up some gluten free bread and chopping it up in a blender or food processor.
However, we always have a bag or two of Kettle Brand Potato Chips in the house and baby carrots to snack on. So, I thought I'd take those two ingredients and try a meatloaf with carrots recipe for fun!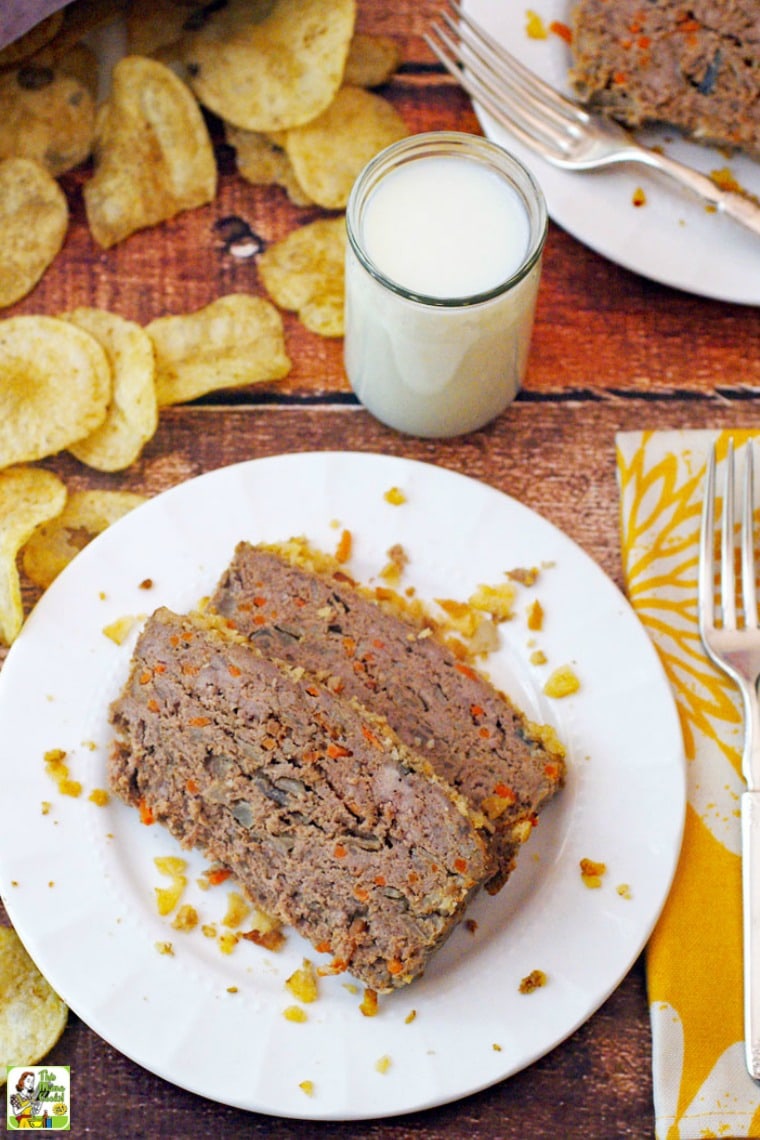 Potato chip meatloaf inspiration
I normally try keep junk food out of my house. However, there are certain people around here (ahem) who feel that watching sports on television isn't fun without a bag of salt and vinegar potato chips.
(And cheese. And beer. But I'm not tattling or anything, am I?)
So, when faced with a chips request, I try to find a brand that's as wholesome as possible. That's why I buy Kettle Brand Potato Chips. It's our go-to brand.
Inspired by the Kettle Chips and baby carrots we had as sports-watching snacks, I thought I'd use both instead of bread crumbs in my dairy and gluten free meatloaf recipe.
I also used crushed potato chips on the top of the meatloaf for added visual appeal. I loved how the orange carrots dotted the meatloaf, too.
I used Kettle Brand's Sea Salt Potato Chips, but you can experiment with your favorite flavor when you're making potato chip meatloaf.
I bet Kettle Brand's Backyard Barbeque, Jalapeño Jack, or Cheddar Beer flavors would turn this into the best gluten free meatloaf ever!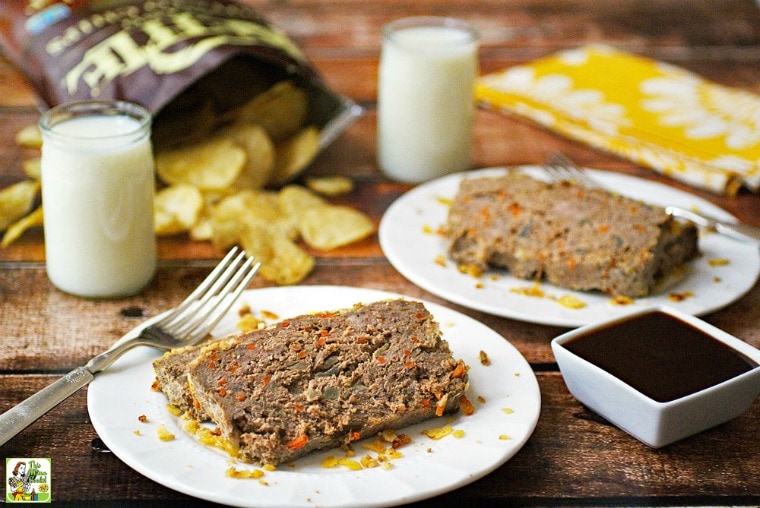 Why does my meatloaf fall apart?
Gluten free meatloaf recipes can fall apart for a few reasons.
Not enough fat in the meat. Now I know we're all trying to eat in a more wholesome way, but you can't go too lean on the ground beef or ground turkey. Or you'll end up with meatloaf hash.
For beef, use a meat-to-fat ratio of use at least 80/20 beef, though some people like 70/30 instead.
If you only buy super lean beef, add ground pork to the mixture. Since pork is fattier than beef, use a 90/10 ratio of beef to pork.
You could also make this a gluten free turkey meatloaf. Use the same ratio of lean to fat.
Not enough other binders. What are binders? Ingredients like eggs and egg whites, shredded or chopped vegetables, gluten free oats, or gluten free bread like in my Smoked Meatloaf recipe.
This Easy Homemade Gyros Recipe is a meatloaf-like recipe that uses no binder or breadcrumbs.

Tips for making the best gluten free meatloaf
To make this easy gluten free meatloaf a bit more wholesome, I used egg whites instead of whole eggs.
If you don't want to make a gluten free meatloaf with rice milk, you can use regular milk if you wish.
If you double the recipe, you can freeze one loaf for later. Let the meatloaf cool in the pan. Then lift it out and cover it completely with foil to freeze.
Instead of the aluminum foil, you may want to use a two-piece meatloaf pan that has a perforated, elevated insert so fat can drain away as your dairy free meatloaf recipe cooks.
I love cooking with my Wilton Perfect Results 2 Piece Meatloaf Pan and all my Wilton Bakeware.
Serving tips for gf meatloaf
Instead of ketchup, I served Stubb's BBQ Sauce on the side since it's gluten free and Stubb's uses cane sugar instead of corn syrup.
You can also serve the meatloaf with fresh green beans and some Crock-Pot Mashed Sweet Potatoes or Crockpot Mashed Potatoes.
Leftover slices of cold meatloaf make wonderful sandwiches served on gluten free bread with ketchup or barbecue sauce!
If you love meatloaf sandwiches, check out this Leftover Meatloaf Sandwiches Recipe.
More sides and drinks to serve with your meatloaf
Serve these with your meatloaf:
● Lemonade Sangria (no alcohol)
Yield: 8 SERVINGS
Gluten Free Meatloaf Recipe with Potato Chips & Carrots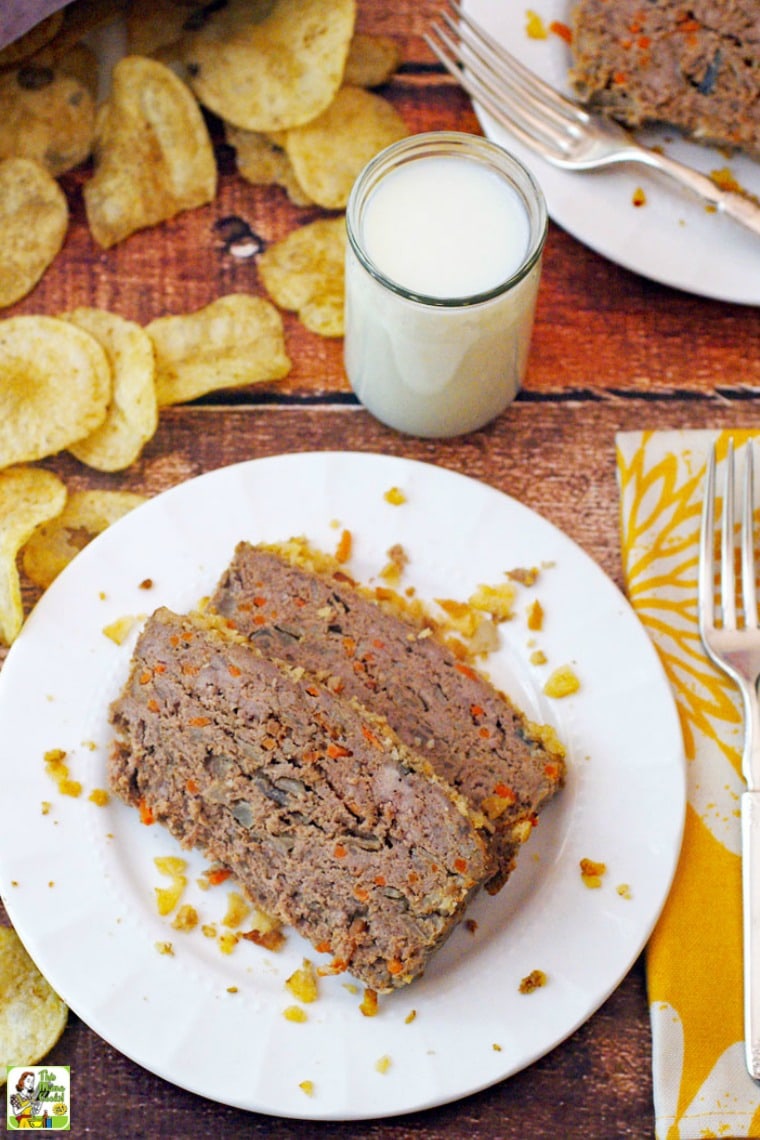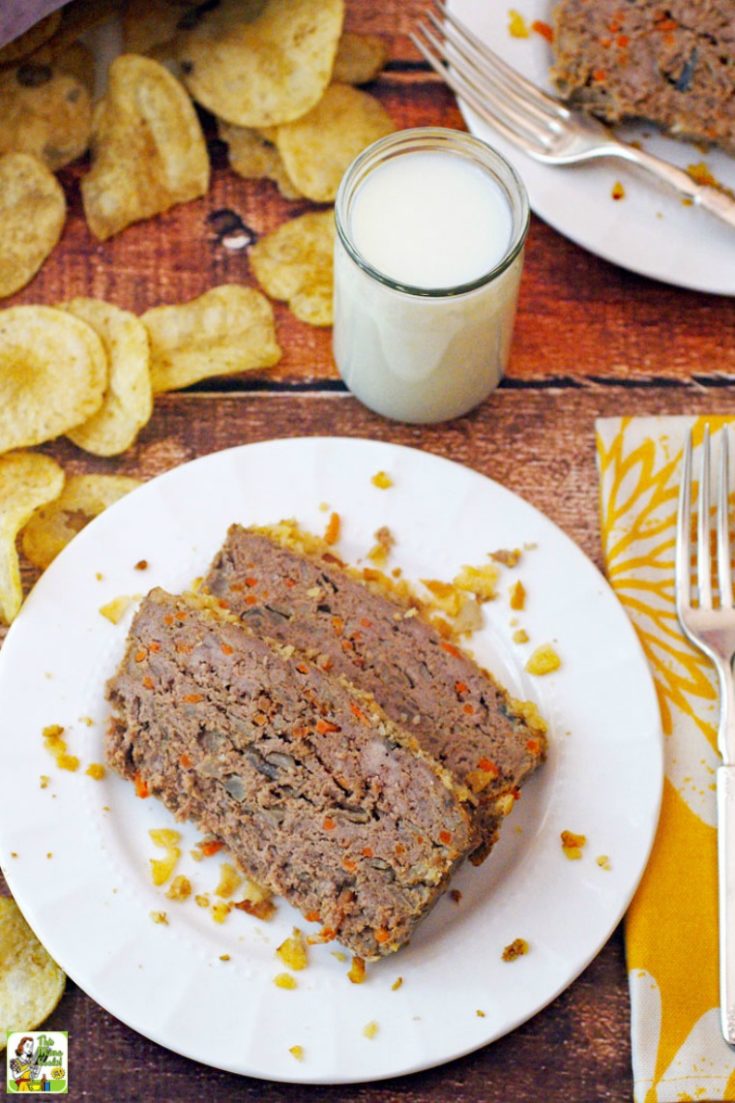 Try this gluten-free meatloaf recipe if you want to make gluten-free meatloaf without breadcrumbs. This is also a dairy-free meatloaf recipe.
Total Time
1 hour
15 minutes
Ingredients
2 pounds ground beef
1 1/2 cups crushed Kettle Brand Sea Salt Potato Chips – divided
1 cup shredded carrots
1 cup chopped onion
2 garlic cloves, minced
1/4 cup rice milk
1/2 cup egg whites
1/2 cup barbecue sauce
1 teaspoon dried basil
1/4 teaspoon ground black pepper
Cooking spray
Instructions
Preheat oven to 375 degrees F.
Combine all ingredients (except for cooking spray and 1/2 cup of the crushed potato chips) in a bowl. Mix until all ingredients are well combined. You can use your hands or a potato masher.
Line a 9x5" meatloaf pan with foil. Spray inside with cooking spray.
Place meatloaf ingredients in the pan. Pat down evenly.
Sprinkle 1/2 cup of crush potato chips evenly on top of the loaf.
Place the meatloaf pan on top of a baking sheet and place it into the oven.
Bake at 375 degrees F for 45 to 50 minutes.
Remove gluten-free meatloaf from the oven. Let sit for 10 to 15 minutes. Gently remove the meatloaf by lifting up on the aluminum foil. Peel foil off of meatloaf, cut into slices, and serve.
Nutrition Information:
Yield:
8
Serving Size:
1
Amount Per Serving:
Calories:

389
Total Fat:

21g
Saturated Fat:

8g
Trans Fat:

1g
Unsaturated Fat:

10g
Cholesterol:

101mg
Sodium:

14488mg
Carbohydrates:

14g
Fiber:

1g
Sugar:

8g
Protein:

33g
Nutritional information is automatically calculated per the ingredients list. Serving size may not be accurate. Please double-check with your preferred nutritional app for the most accurate information.
Originally posted on July 9, 2013 and March 13, 2017.
Updated with new pictures and information.