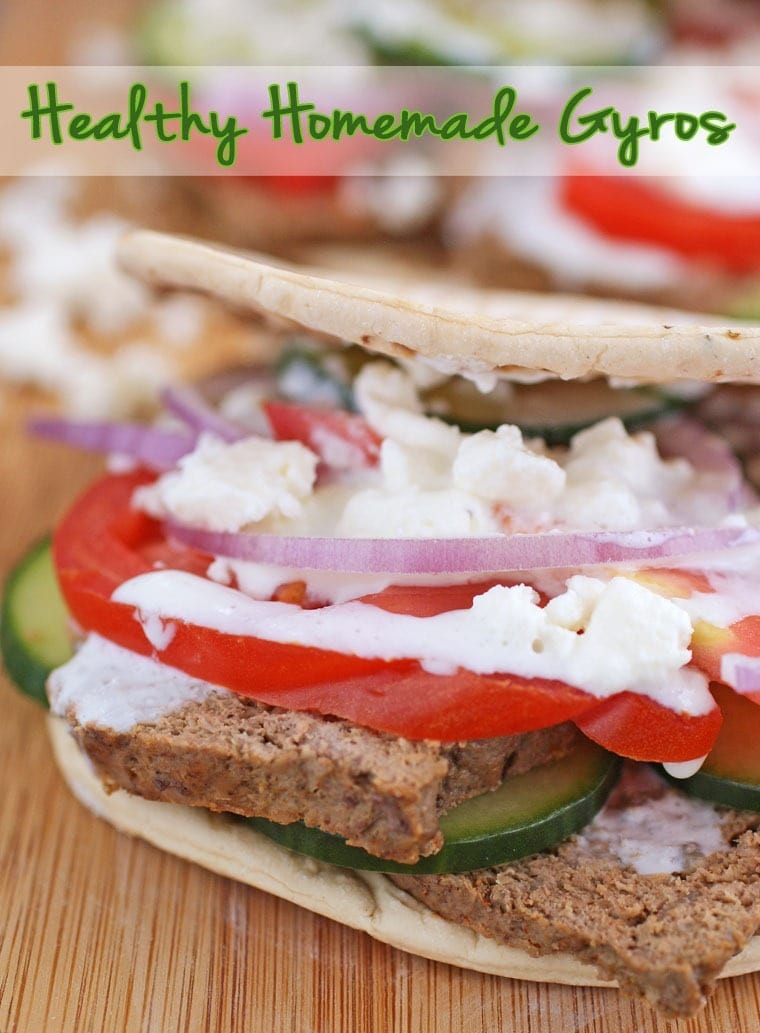 Do you love gyros? I adore them. Sadly, I only get  to eat them while I'm traveling since there isn't a decent Greek restaurant nearby. You'd think living near a town named after one of the most famous cities in Greece – Athens, Georgia – someone would have the brilliant idea to open a Greek or Mediterranean style restaurant.
So inspired, I decided to create my own gyros and healthed them up with Hungry Girl Foldit Flatbread. I love using Foldit Flatbreads instead of pita pockets because they're only 100 calories, delicious, and don't fall apart when you fill them up with gyro goodies.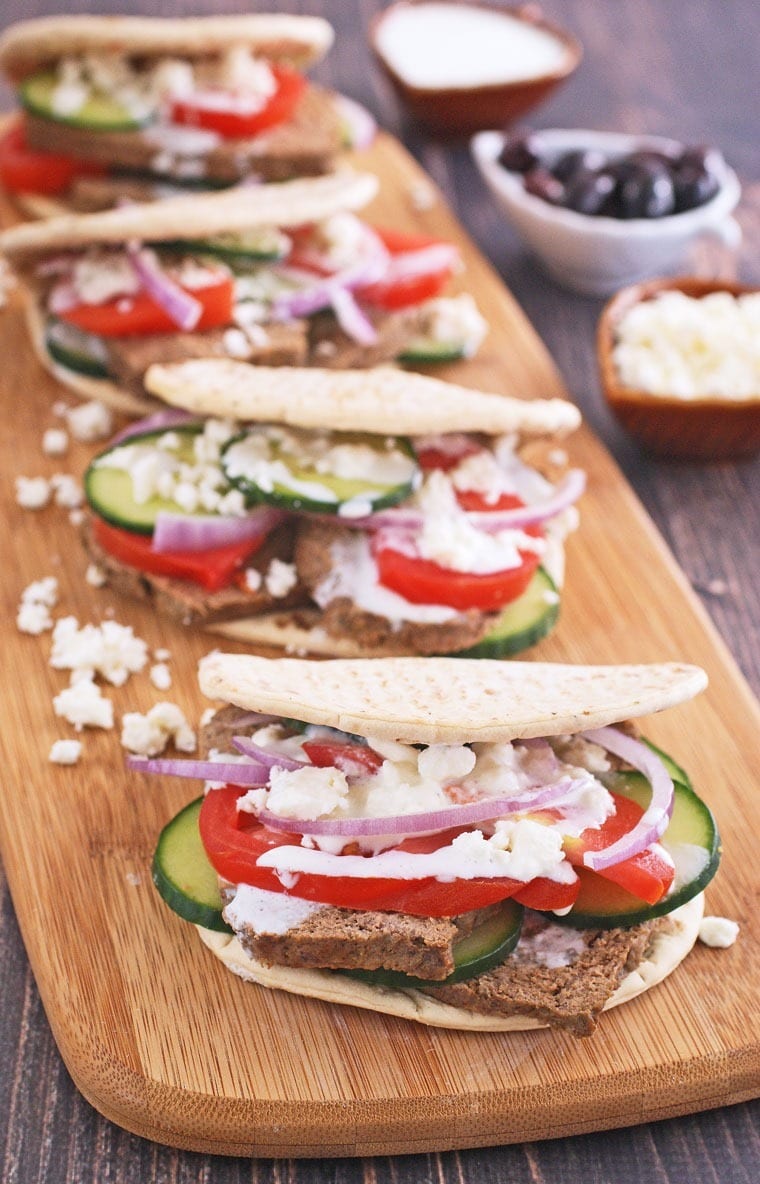 Making Healthy Homemade Gyros is a pretty simple endeavor because creating the gyro meat is basically cooking up a lamb and beef meatloaf. You just need to make sure to cook it until it's well done. Then make sure to drain off all the grease and then blot the gyro meatloaf with paper towels. (Who needs those extra calories?)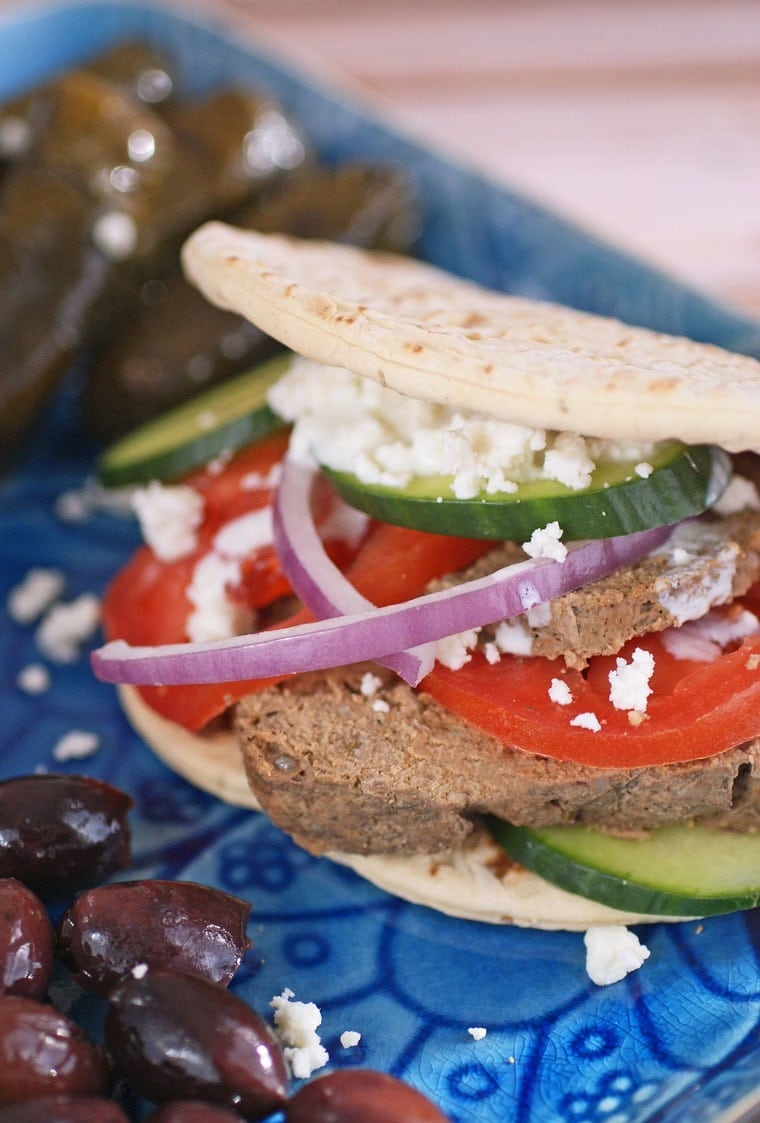 Then you want to health up your gyros even further by adding lots of fresh vegetables like thinly sliced tomatoes, cucumbers, and red onions. Add a little homemade tzatziki sauce made from low fat Greek yogurt, some low fat feta cheese and a few Kalmata olives on the side – well that's a very healthy meal! 
Even better, make a double batch, buy a few varieties of Foldit Flatbreads, and serve up Healthy Homemade Gyros DIY style at your next football bowl watching party with some dolmades (stuffed grape leaves) and some salad fixings, too. (I love gyro salad and it's perfect for those who are gluten free and can't have flatbread.)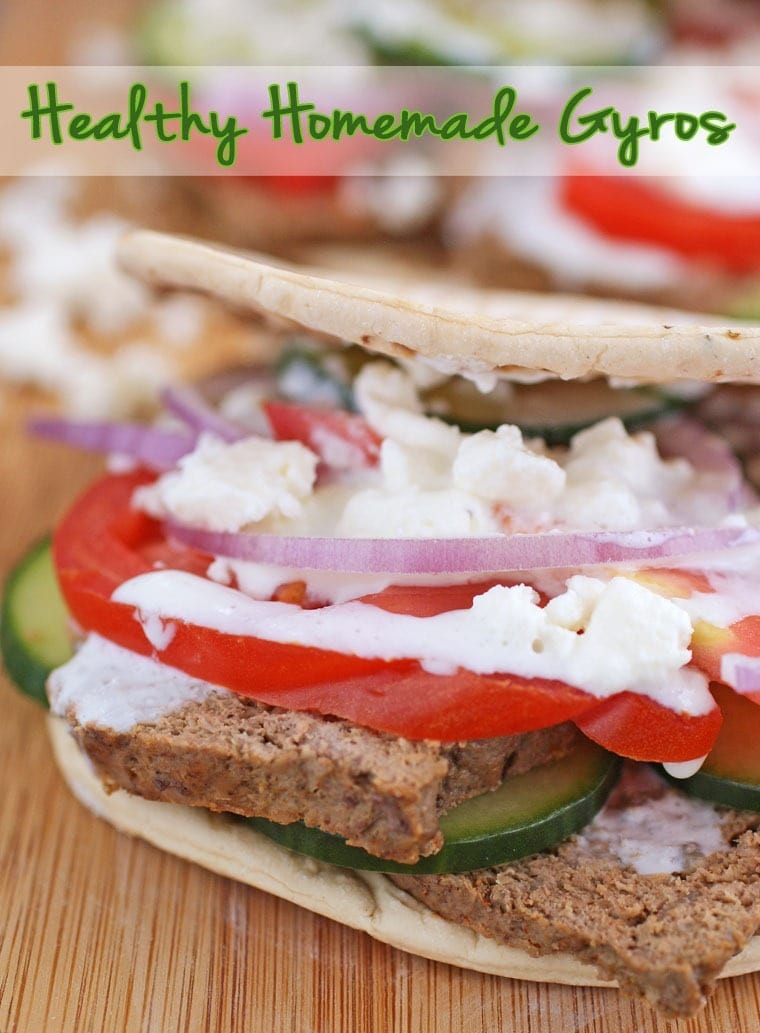 Ingredients
1 pound

ground lamb

1 pound

ground beef

1/2

large red onion, finely minced

2

garlic cloves, finely minced

1 teaspoon

dried oregano

1 teaspoon

dried ground rosemary

1 teaspoon

dried ground thyme

1 teaspoon

dried marjoram

1 teaspoon

paprika

1/2 teaspoon

ground black pepper

1 teaspoon

sea salt

1 tablespoon

lemon juice

Cooking spray
For serving:
2 packages

Flatout Hungry Girl Foldit Flatbread (Whole Wheat with Flax, Traditional White or Rosemary & Olive Oil)

Store bought or homemade tzatziki sauce

1/4

red onion, thinly sliced

1/2

English cucumber, thinly sliced

heirloom tomato, thinly sliced

3 ounces

low fat feta cheese, crumbled

Kalmata olives and dolmades (stuffed grape leaves) on the side – optional
Directions
In a large bowl, combine all the ingredients and mix thoroughly with your hands. Cover the bowl and place in your refrigerator for an hour or two to allow flavors to blend. (If you're making homemade tzatziki sauce, now's the time!)
Preheat oven to 350 degrees F. Spray a metal 9-by-5-inch loaf pan. Then line the pan with aluminum foil for easy meatloaf removal.
Remove gyro meatloaf mixture from refrigerator. With your hands thoroughly knead meatloaf mixture once more. Then place meat mixture into meatloaf pan and pat down evenly.
Bake gyro meatloaf at 350 degrees F for 60 minutes. Make sure to set the meatloaf pan on a broiler pan or cookie sheet in the oven as loaf pan may leak grease.
Remove loaf pan from oven. Then carefully remove meatloaf from pan and allow it to cool for 15 minutes. Blot grease with paper towels. Slice as thinly as possible, but not so thin that the meat falls apart. Use an electric knife if you have one. After slicing, if you find that the meat is still pink, place the slices on a baking sheet and put in the oven on 350 degrees F until completely cooked through. (Gyro meat should be brown.) Remove from oven and blot any grease with paper towels.
Serve gyro slices on Flatout Hungry Girl Foldit Flatbread with slices of onion, cucumbers, and tomatoes. Add tzatziki sauce and sprinkle on some feta cheese. Add Kalmata olives and dolmades on the side for an authentic Greek touch!
Prep Time:
2 Hours 30 Minutes
Total Time:
3 Hours 30 Minutes
Servings
:
Makes 8 to 10 gyro sandwiches
Serving size:

1 gryo sandwich (2 slices)