Last Updated on April 25, 2022 by Anne-Marie
This vegan caramel sauce is scrumptious, creamy, and easy to make. You're going to love it even if you're not vegan.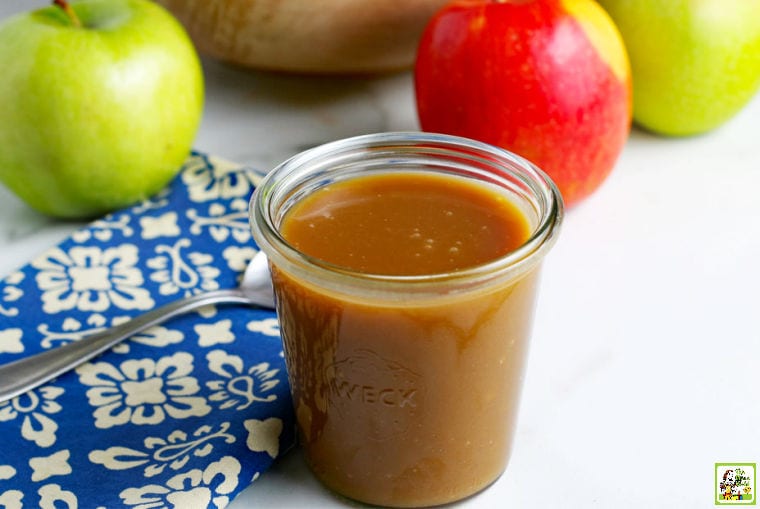 Is caramel vegan?
I bet you didn't know that caramel isn't vegan. It's because it contains heavy whipping cream and butter.
I'm not vegan, but I've had to avoid indulging in caramel on my desserts because I can't tolerate dairy. Such a bummer!
Well, this easy dessert sauce is made with full-fat coconut cream instead of dairy cream.
Now both vegans and those folks who can't tolerate dairy can now enjoy creamy caramel on their yummy desserts again. Hooray!
Best of all, this simple sundae sauce recipe is made with only 5 ingredients. It's super easy and takes less than 15 minutes total time to make on your stovetop.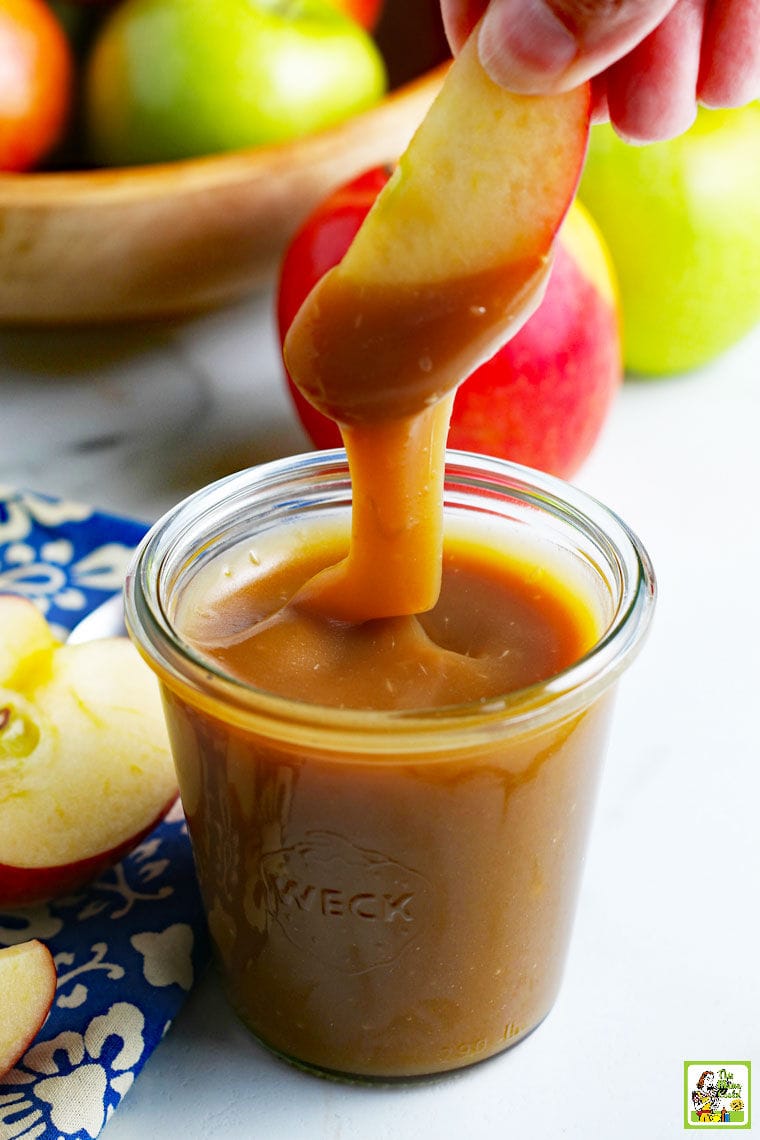 How to make a vegan caramel sauce
This simple caramel recipe takes no time at all. It's so easy that you'll make extra to give to friends as homemade gifts!
You can make both plain and salted caramel recipes. (See below how to make to make this a salted sauce.)
Here's how to make a caramel recipe:
1. On the stovetop, in a medium saucepan, combine the brown sugar, coconut cream, vegan buttery spread, and salt.
2. On medium-high heat, bring the caramel to a boil. Stirring constantly for 5 to 7 minutes or until the caramel thickens.
3. Remove the caramel from the stove. Then stir in vanilla extract.
4. Let the sauce cool slightly. Then pour it into a jar or container that has an air-tight lid.
5. Serve the sauce immediately while it's still warm and pourable.
You can also store the sauce in the refrigerator for up to two weeks in a sealed container.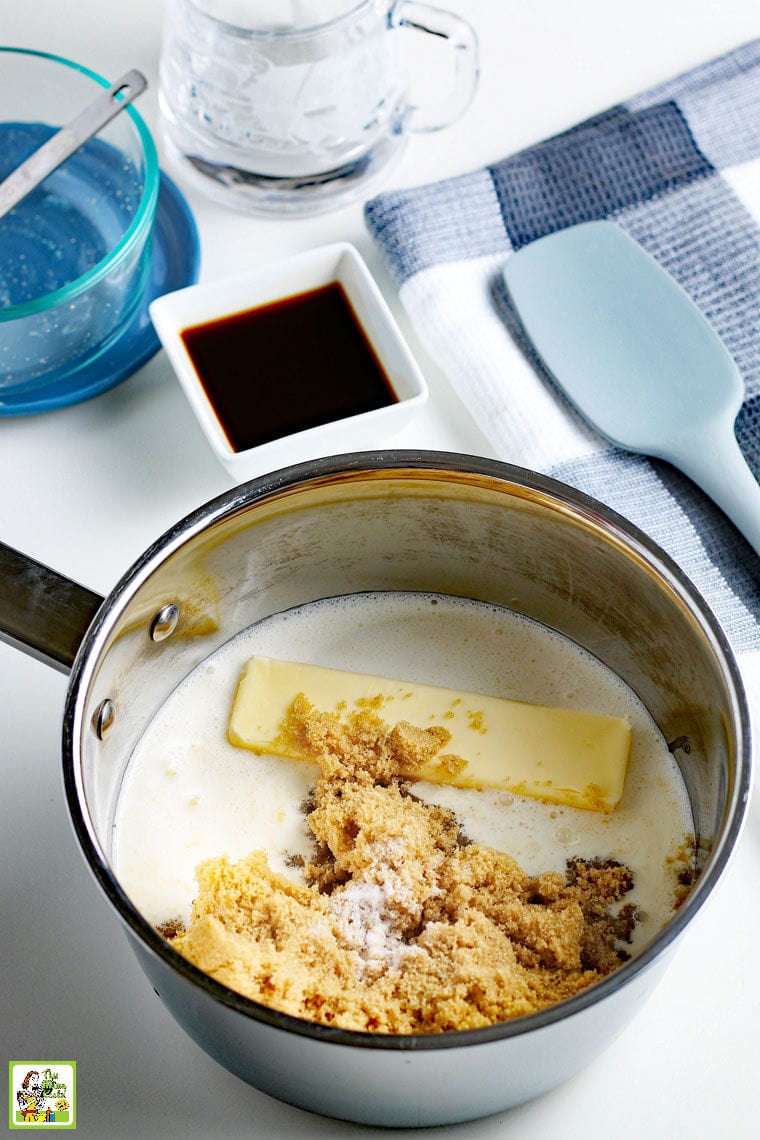 How to reheat vegan caramel sauce
To reheat the sauce, do the following:
1. Pour the caramel in a microwave-safe bowl. (Cover the bowl loosely in case there's a blowout of sauce all over your microwave!)
2. Then cook the sauce on high for 30 seconds.
3. Give the caramel a stir.
4. Then heat the caramel for an additional 5 or 10 seconds total time if needed until the caramel is nice and creamy.
Dairy-free caramel sauce
So how do you make dairy-free caramel? You use FULL FAT COCONUT CREAM.
Do NOT use the canned light coconut milk or the regular coconut milk that is found in the refrigerator section of your grocery store. Full fat coconut milk won't do either.
You must use full fat coconut cream in this recipe. No other kind will do.
And please don't use the kind of coconut cream that is used to make Pina Coladas that is sold in the cocktail mixer section. That has added sugar and a bunch of other ingredients that you don't want.
Instead, you want coconut cream sold in cans in the Asian/ethnic section of your grocery store.
Buttery Spread: Instead of butter, use a vegan buttery spread, like Earth Balance in your vegan caramel.
Earth Balance sells baking sticks, which is easy to use in cooking or baking recipes. But you can use their tub spreads as well.

Can I use coconut oil in my caramel?
Since this recipe already uses coconut cream, maybe you'd like to use more coconut products.
So if you'd like to try coconut oil – the kind that's solid at room temperature – when making this vegan caramel recipe, go ahead. It should work just fine.
You could also try the Earth Balance coconut spread instead of one of their more buttery spreads or baking sticks.
Sugar-free vegan caramel sauce
Can you make a make vegan caramel sauce that's sugar free? You bet!
You need to use Swerve Sweetener, Brown. It's a natural, no-calorie sweetener that tastes and packs into a measuring spoon just like brown sugar.
Best of all, it won't give your sugar free caramel a funky aftertaste.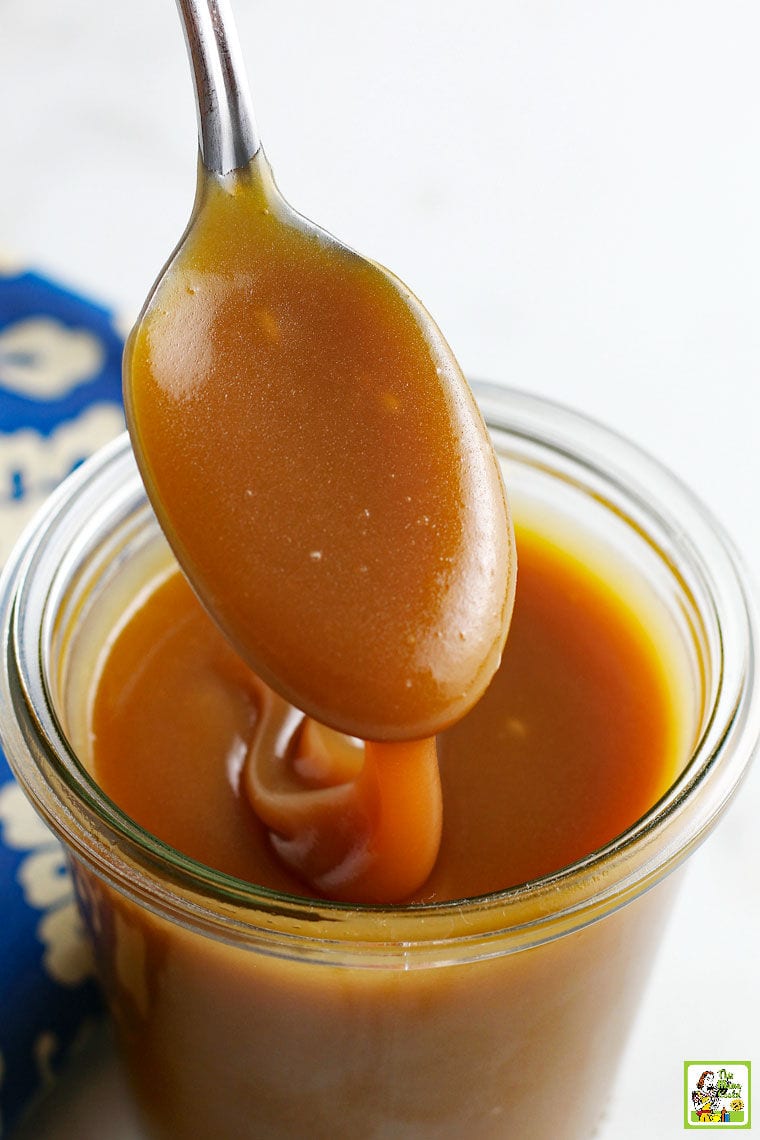 Is this caramel sauce keto-friendly?
If you follow the keto diet, you know that coconut milk and coconut cream are a great alternative for dairy.
Coconut milk and cream are high in fat, low in carb, and won't kick you out of ketosis. Same goes with coconut oil, as all contain fat-burning MCTs.
And if you make this a sugar free and dairy free caramel sauce, you now have the perfect low carb keto sugar free sauce.
Best of all, it tastes just like the real thing!
How to make salted caramel
I've only used 1/4 teaspoon of salt in this caramel sauce recipe.
But if you want to make a salted caramel sauce, go ahead and add 3/4 teaspoon of sea salt. So easy!
Now you have salted caramel to add to all your favorite desserts. Delightful!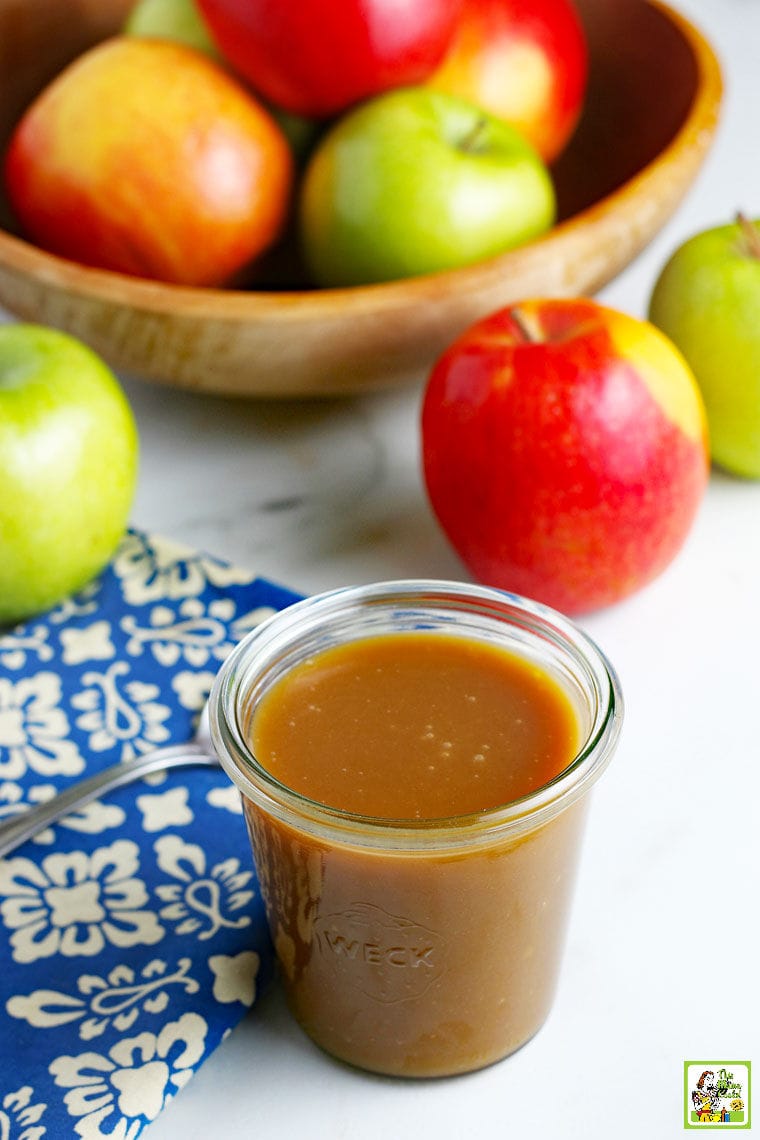 Make homemade salted caramel gifts
Salted caramel sauce also makes a lovely homemade holiday gift.
Put the sauce in cute mini mason jars and wrap with a festive ribbon.
Keep the jarred sauce refrigerated (or stored in a cooler) until you see your friends at gift-giving time.
Ways to enjoy vegan caramel sauce
You can drizzle this vegan dessert sauce on non-dairy ice cream. I personally love coconut ice cream.
I recommend scoops of vanilla non-dairy ice cream with vegan caramel on Gluten Free Apple Crisp or Crockpot Apple Cobbler.
Drizzle some on The Best No Bake Oreo Cheesecake.
You could use the vegan caramel sauce as a dip for sliced apples or Best Oven Baked Plantain Chips.
Try a bit of caramel on some mashed sweet potatoes or Gluten Free Chocolate Pecan Pie at Thanksgiving. Decadent!
Drizzle some caramel sauce on your toast or oatmeal instead of sugar.
You could add a bit to your tea, coffee, or homemade crockpot hot chocolate.
And you can enjoy it on apple pie with a scoop of ice cream!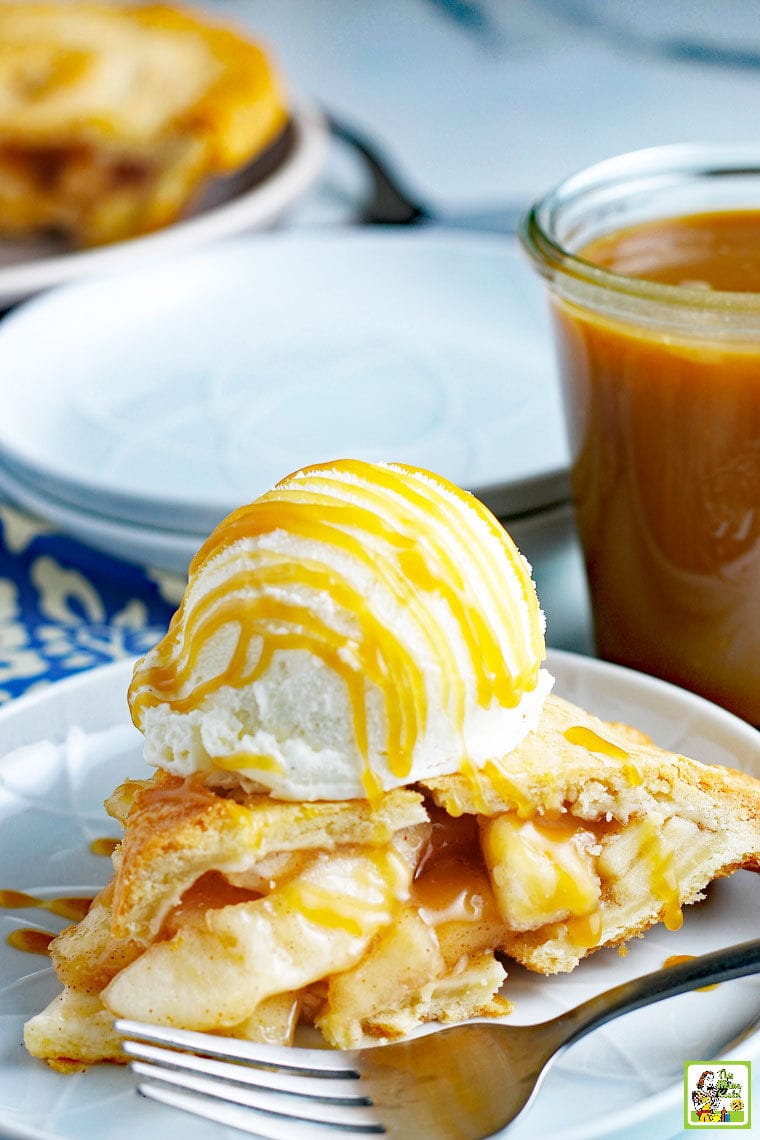 More easy vegan desserts
If you're looking for more vegan dessert recipes, check these out:
This Vegan Chocolate Mousse Recipe uses tofu and dairy-free chocolate.
This Keto Pumpkin Mousse Recipe also uses full fat coconut cream.
These Eggless Chocolate Chip Cookies with Pumpkin are a family favorite. Serve with vegan ice cream for a terrific, kid-friendly dessert treat.
Yield: MAKES 2 1/2 CUPS
Vegan Caramel Sauce Recipe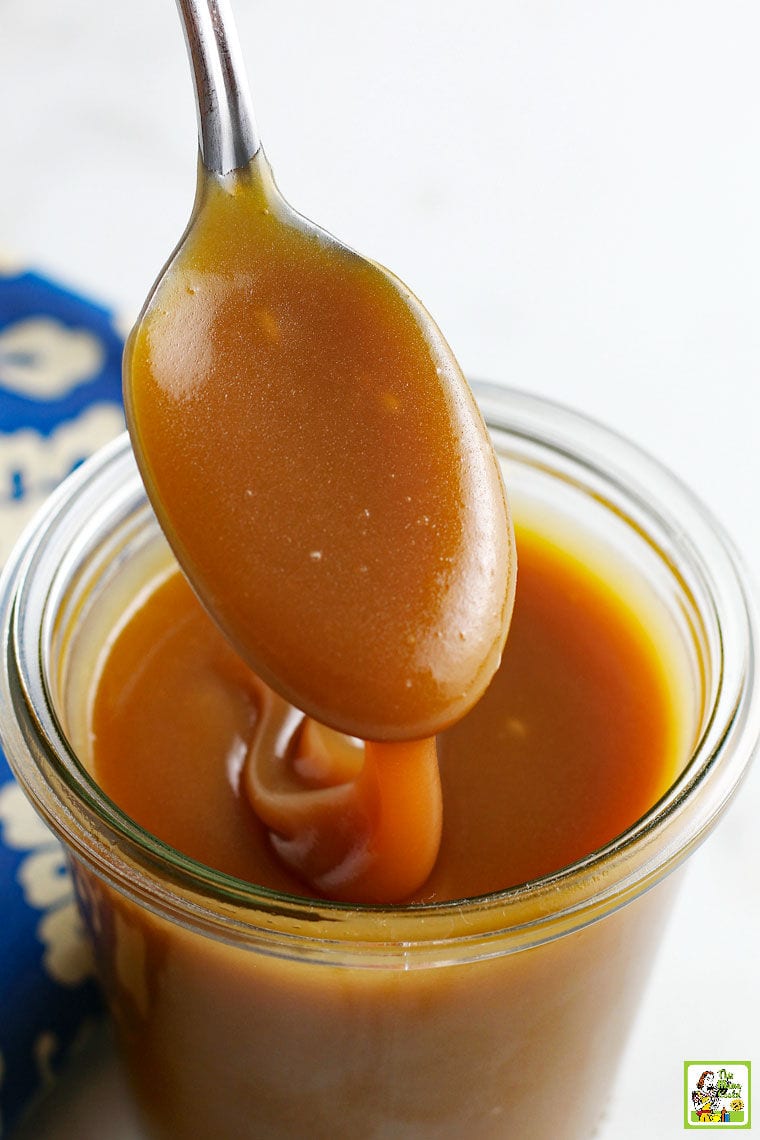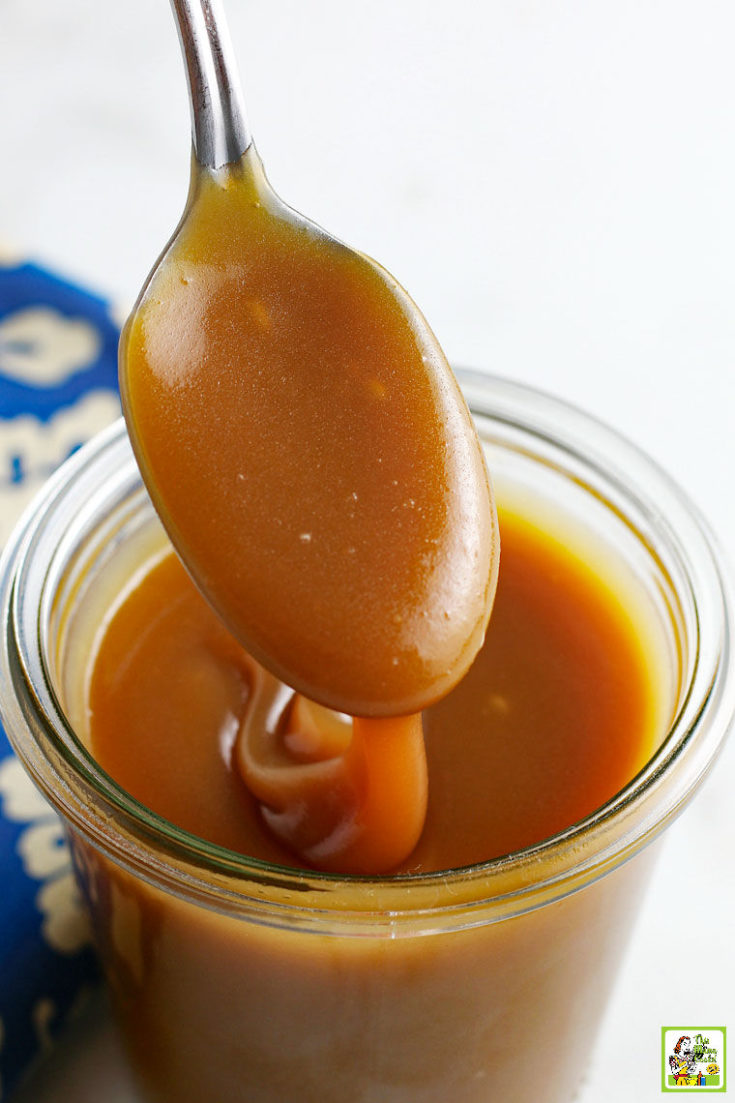 This vegan caramel sauce is easy to make with coconut cream. Can be turned into a keto caramel sauce or a sugar-free caramel sauce.
Ingredients
2 cups light brown sugar or Swerve Sweetener, Brown – packed
1 cup full fat coconut cream (not coconut milk)
1/2 cup vegan buttery spread (1 stick)
1/4 teaspoon sea salt
2 tablespoons vanilla extract
Instructions
In a saucepan, combine brown sugar, coconut cream, vegan buttery spread, and salt.
Over medium-high heat, bring to boil. Stirring constantly, bring the caramel to a boil for 5-7 minutes or until thickened.
Remove caramel from heat. Stir in vanilla extract.
Let cool slightly.
Pour vegan caramel into a jar or container with a lid.
Serve immediately or store in the refrigerator for up to 2 weeks in an airtight sealed container.
To reheat the vegan caramel sauce, cook for 30 seconds in a microwave-safe bowl. Stir. Then heat for an additional 10 seconds or longer if necessary.
Recommended Products
As an Amazon Associate Affiliate and member of other affiliate programs, I earn from qualifying purchases.
Nutrition Information:
Yield:
40 tablespoons
Serving Size:
1 tablespoon
Amount Per Serving:
Calories:

79
Total Fat:

3g
Saturated Fat:

2g
Trans Fat:

0g
Unsaturated Fat:

1g
Cholesterol:

0mg
Sodium:

37mg
Carbohydrates:

13g
Fiber:

0g
Sugar:

13g
Protein:

0g
Nutritional information is automatically calculated per the ingredients list. Serving size may not be accurate. Please double-check with your preferred nutritional app for the most accurate information.