These Gluten Free Chicken and Waffles are super delicious, flavored with jerk spices, and easy to make.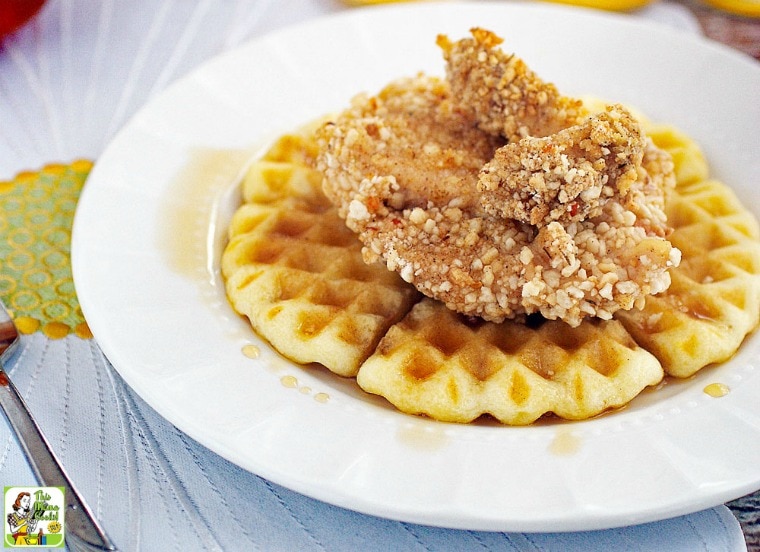 Why gluten free chicken and waffles?
There's nothing more Southern than a homemade chicken waffles recipe. But how to make one that's somewhat authentic, yet healthy and gluten free?
Now that's a challenge!
You see, I was dying to make an easy chicken waffles recipe after dining at Posana, a lovely, all gluten free restaurant in Asheville, North Carolina.
I was excited to eat chicken waffles at their place, but was so disappointed to learn that the chicken was pulled chicken. Booo!
Making homemade chicken and waffles
I decided I could do better at home and came up with this recipe for chicken and waffles with jerk spices that combined wholesome ingredients like skinless chicken breasts and egg whites.
Bread crumbs: I wanted to keep it easy by using gluten free panko bread crumbs.
If you don't want to buy panko, you can use a plain gluten free cereal (like Cheerios) placed in a Ziploc baggie and crushed with a rolling pin.
Or toast your favorite gluten free bread and turn it into bread crumbs in a high speed blender or food processor.
Waffles: I also wanted to keep this chicken and waffles recipe quick and easy by letting you use your favorite gluten free waffle mix instead of making waffles from scratch.
Seasoning & sweetening: Finally, for fun and some added spiciness, I added some jerk seasoning, which perfectly compliments the real maple syrup I used.
I was pleased with the results and hope you will be, too.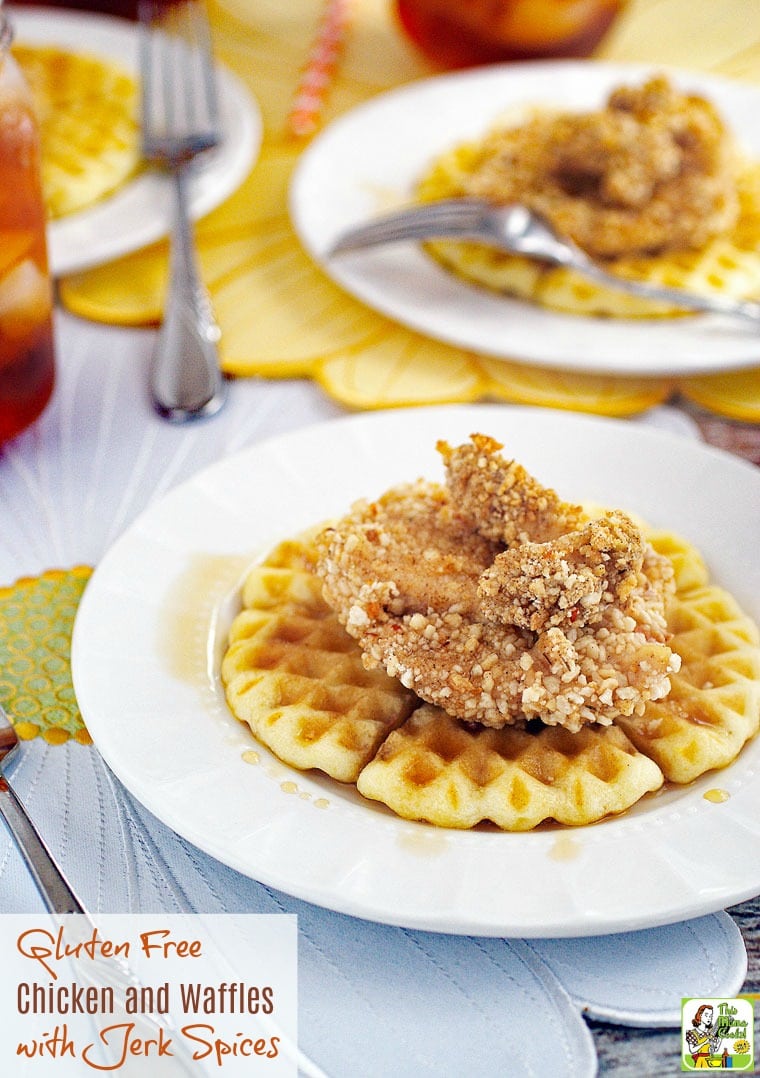 How to serve up homemade chicken waffles
You can serve these gluten free chicken and waffles at brunch, lunch or dinner. After all, it's the ultimate brinner – breakfast for dinner – dish!
Don't forget the real maple syrup and the pitcher of iced tea, too! Try my Iced Tea Sangria recipe. No alcohol, just plenty of healthy fruit!
Sides: Depending on the meal, serve the chicken waffle recipe with a nice fruit salad or a side of spicy Wasabi Coleslaw.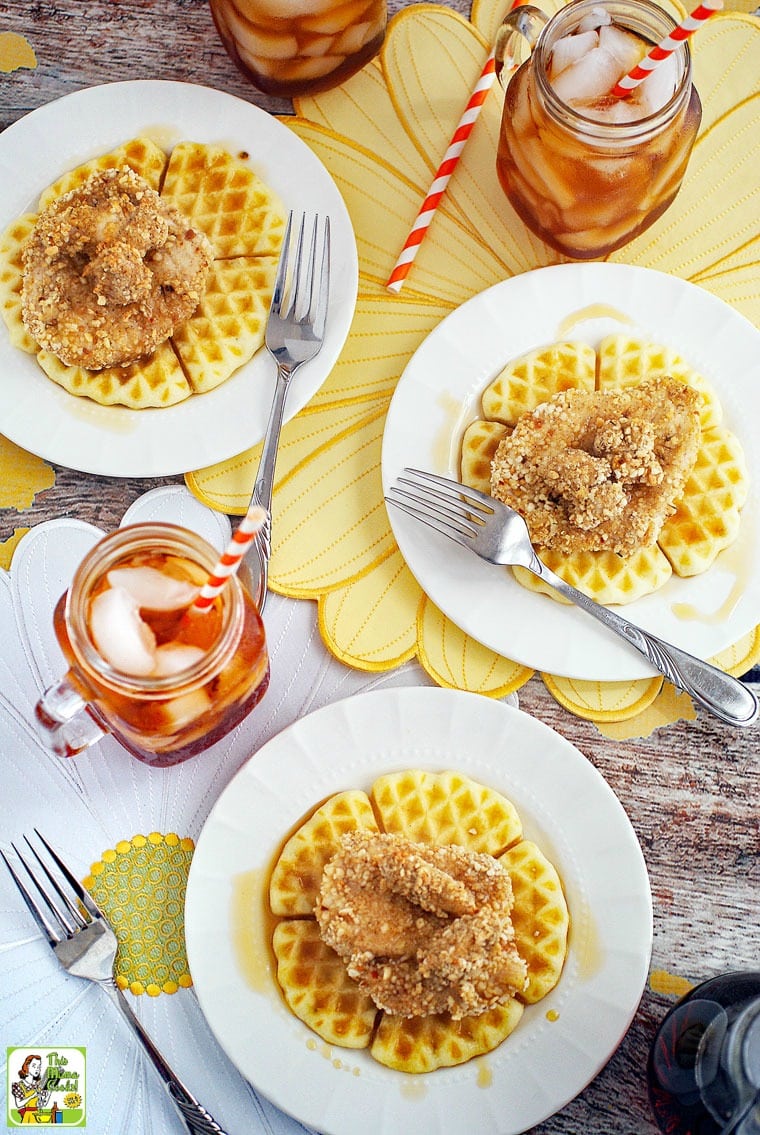 Tips for making gluten free chicken and waffles
Prepare the chicken
You need to pound the chicken to flatten it. This also helps to tenderize the chicken breast.
Sometimes you can find chicken breast that's cut nice and thin, but not always.
Instead, use a meat pounder tenderizer tool. It's like a meat tenderizer, but it's smooth and doesn't have ridges. It helps thin out the breast meat, which makes it easier to cook up.
How to tenderize safely: Sandwiching the chicken breast between the two pieces of plastic wrap prevents raw chicken from splattering all over your kitchen and makes clean up easier.
You can also put the chicken breast in a Ziploc freezer bag, carefully zip it up, while pressing out the air. Then use the meat pounder to flatten the chicken breast.
If you're worried that the bag will tear, you can cover it with a kitchen towel.
Egg white substitute: You can dip your chicken nuggets in skim milk, low fat buttermilk, or no-fat yogurt instead of the egg whites.
If you're dairy free, you can use unsweetened coconut milk or soy milk.
How to brown the chicken
The cooling rack placed on a baking sheet allows the hot air to circulate around the breaded chicken for even cooking and crisping.
Spraying the breaded chicken with the canola cooking spray increases the heat at the surface of the chicken. This helps with browning and gives the chicken a bit more flavor and crispiness.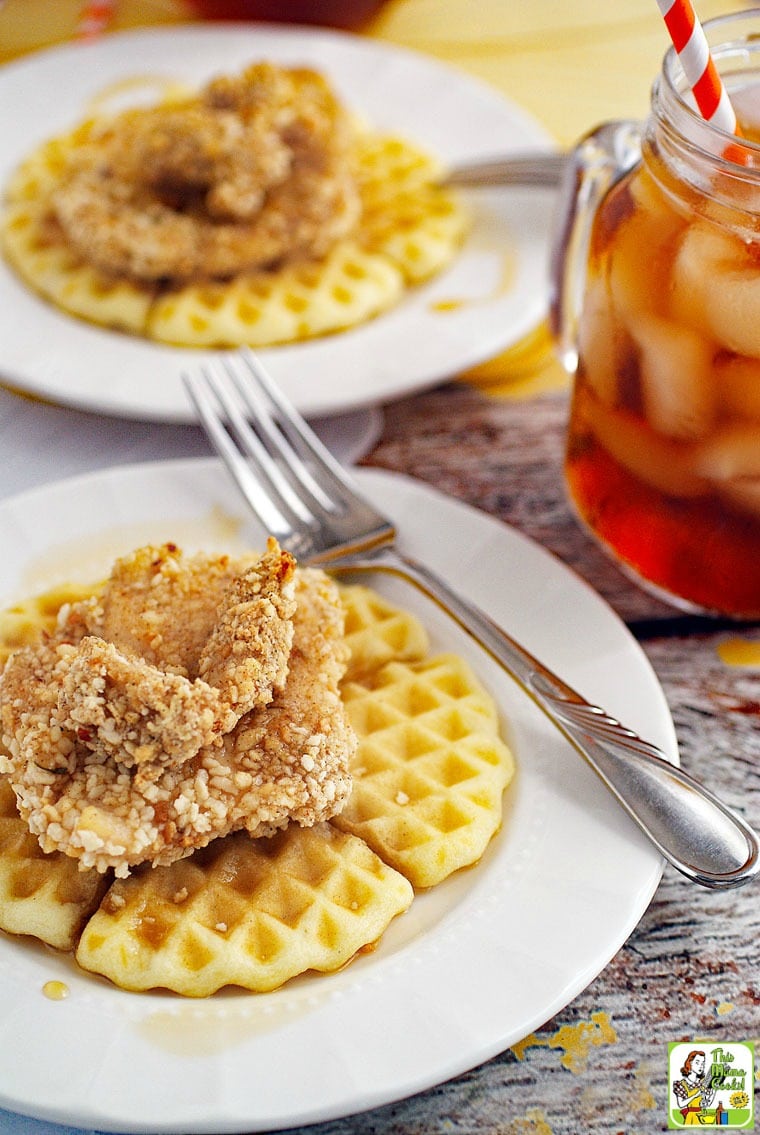 More Southern style recipes
Do you like Southern food? Then check out this Easy Tomato & Okra Soup recipe.
If you're a fan of Pimento Cheese Spread then you should make this Ham & Pimento Cheese Sandwich Recipe.
These Refrigerator Pickled Okra are terrific with burgers or in martinis!
This Vegan Cornbread Recipe with Rosemary is egg free.
If you love BBQ chicken, try my Crockpot BBQ Chicken Recipe or Easy Instant Pot Pulled BBQ Chicken.
Try this Easy Buttermilk Pie Recipe if you're gluten free and love pie.
Yield: 4 SERVINGS
Gluten Free Chicken and Waffles Recipe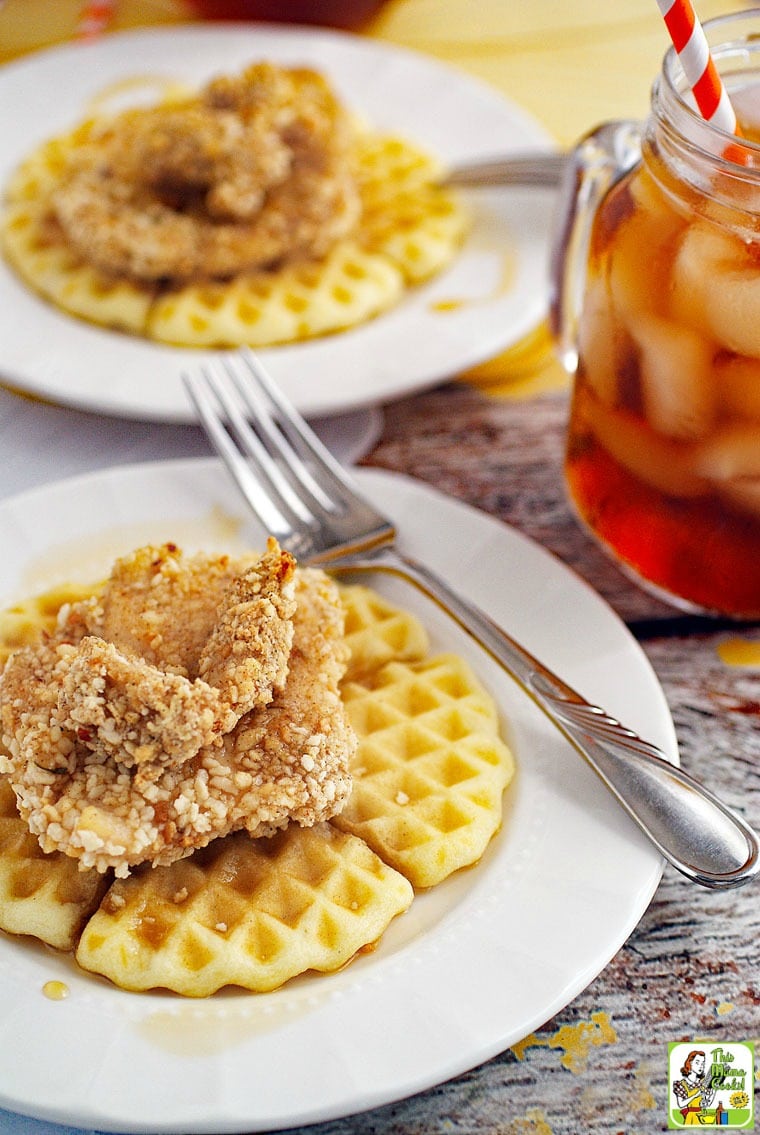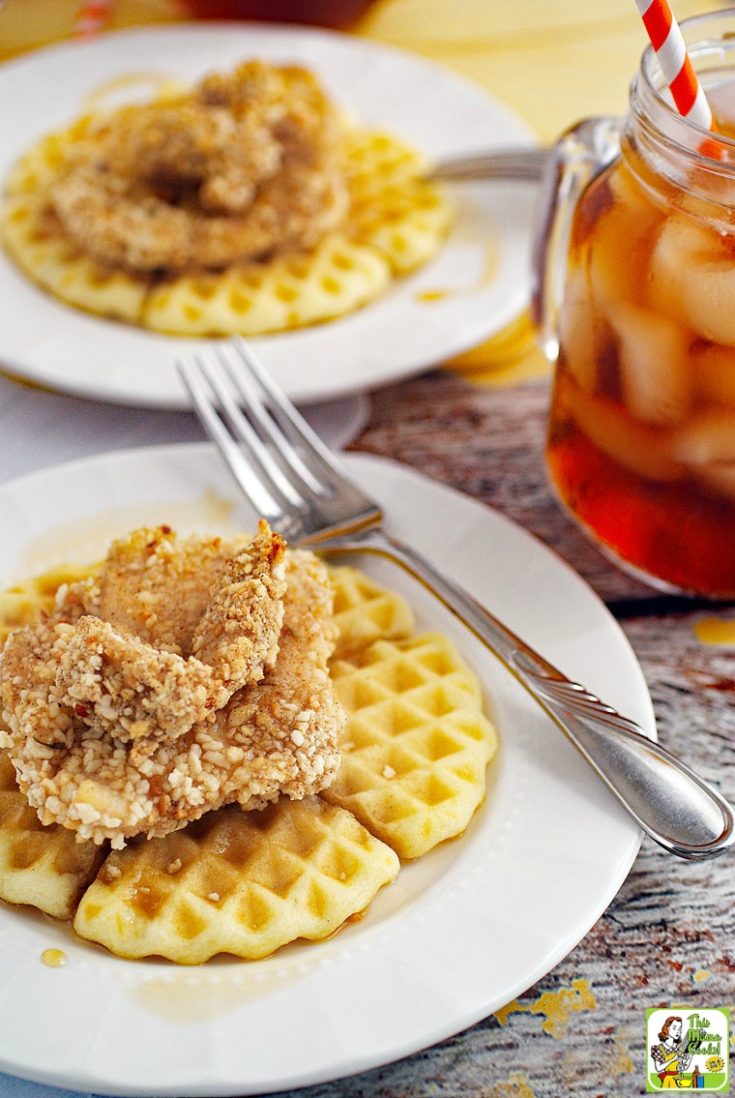 This homemade chicken waffles recipe is made with spicy jerk seasoning. This easy gluten free chicken waffles recipe can be made for brunch or dinner.
Ingredients
1 1/2 pounds chicken breasts (approximately 2 large chicken breast halves) skinless and boneless
2 egg whites, slightly beaten
1 tablespoon water
2/3 cup gluten free panko bread crumbs
2 teaspoons jerk seasoning
Canola cooking spray
Your favorite gluten free waffle mix and ingredients (enough to make one batch of six waffles)
Real maple syrup, for serving
Instructions
For the chicken
Preheat the oven to 400 degrees F.
Place a cooling rack on a baking sheet. Set aside.
Place a large piece of plastic wrap on a cutting board. Place chicken breast on it and cover it with another piece of plastic wrap. Take a meat pounder, and pound the chicken breast until it's between 1/4" and 1/2" and of an even thickness. Do the same to the second chicken breast.
Trim off any fat or gristle. Then cut each breast into three evenly sized pieces. If there are any "raggedy bits," cut these off and make it into chicken nuggets. The nuggets will come in handy to test the chicken for doneness and can be placed on top or side of the chicken as a garnish.
In one pie pan, place egg whites and water. Stir to combine.
In a second pie pan, place panko bread crumbs and jerk seasoning. Stir to combine.
If you're right-handed, line up the chicken, then egg wash, then bread crumbs, then baking sheets. (Reverse if you're left-handed.) Then take your right hand, grab one piece of chicken, dip in the egg wash, then roll thoroughly in the bread crumbs, and lay on the rack in the baking sheet. Repeat until all the chicken has been breaded. (This way you dirty only one hand!)
Spray chicken with cooking spray.
Place in oven and cook for 7 minutes.
Remove from the oven. Flip chicken and spray with cooking spray. Place in oven and cook for another 7 minutes until done.
Keep chicken in the oven on warm setting until waffles are ready to be served.
For the gluten free waffles
While chicken is cooking, prepare a batch of waffles from your favorite gluten free waffle mix according to the directions.
Each waffle should use 1/4 cup of waffle batter. Waffles don't need to be perfectly formed. The funkier shaped the better!
Cook gluten free waffles until golden.
To serve gluten free chicken and waffles
Place a waffle on a plate. Place one piece of chicken on a waffle. If you've made chicken nuggets with "raggedy bits," you can garnish the chicken and waffles with a couple of nuggets.
Drizzle chicken and waffles with a generous amount of maple syrup. Serve immediately.
Nutrition Information:
Yield:
4
Serving Size:
1
Amount Per Serving:
Calories:

704
Total Fat:

25g
Saturated Fat:

7g
Trans Fat:

0g
Unsaturated Fat:

15g
Cholesterol:

160mg
Sodium:

381mg
Carbohydrates:

74g
Fiber:

1g
Sugar:

52g
Protein:

45g
Nutritional information is automatically calculated per the ingredients list. Serving size may not be accurate. Please double-check with your preferred nutritional app for the most accurate information.
Originally posted on June 4, 2015 and July 21, 2017. Updated with new pictures and information.