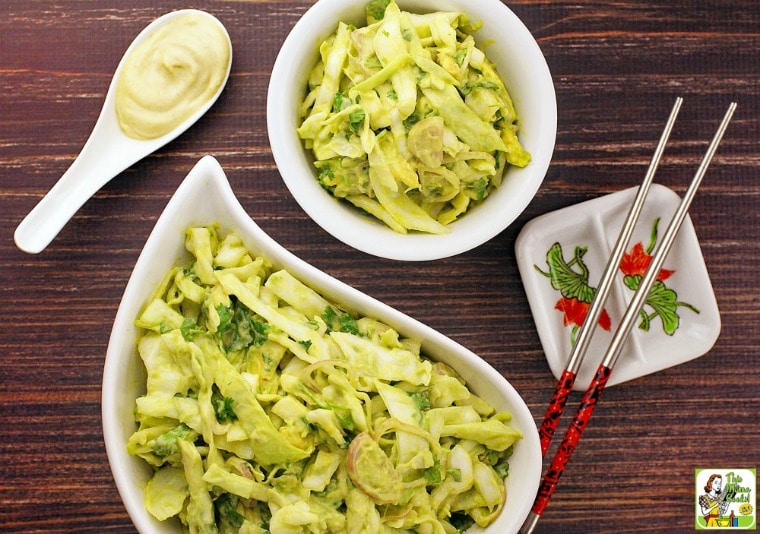 This Wasabi Cole Slaw recipe was inspired by a Avocado Coleslaw recipe from Mostly Food & Crafts as part of a blogger recipe challenge I participated in a few years ago.
I thought I'd take a basic coleslaw recipe you'd bring to picnics and cookouts and jazz it up a bit.
First, I took this simple coleslaw recipe and added some dill, which was nice, but just so-so. Then I thought, why not try some of the wasabi mayonnaise that was left over from making Wasabi Deviled Eggs?
A classic was born – Wasabi Cole Slaw!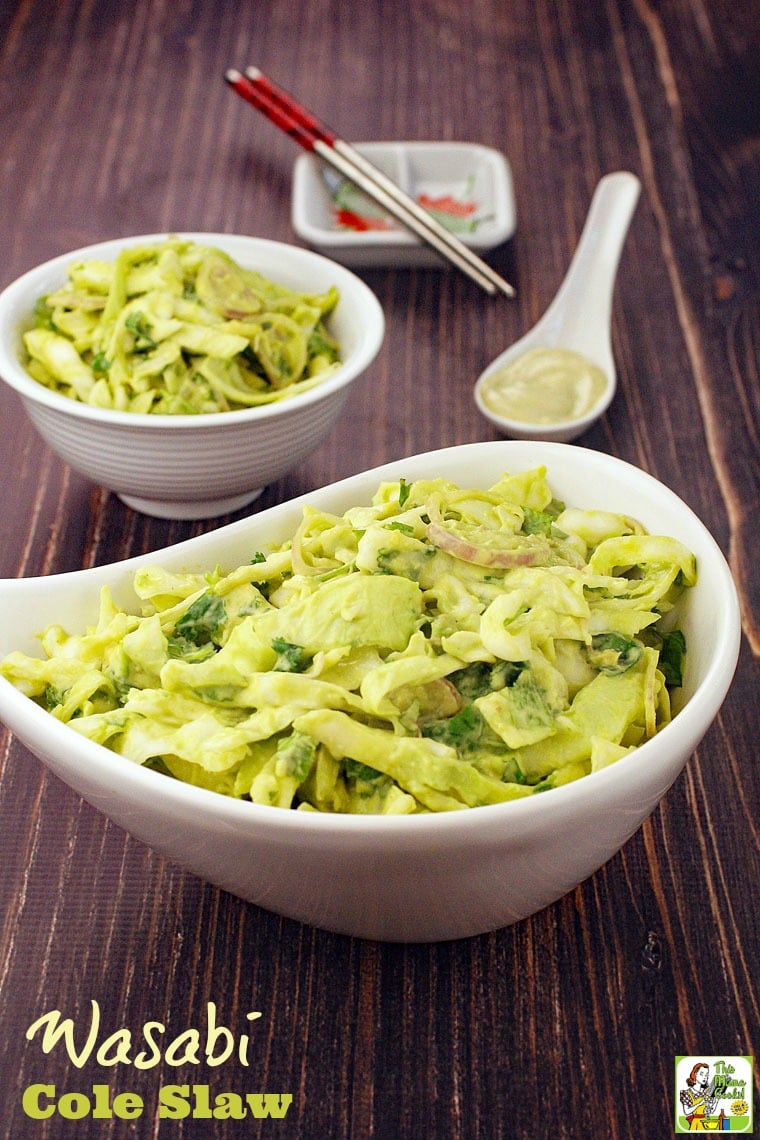 Why you should make this wasabi coleslaw recipe
Wasabi Cole Slaw was an instant hit with my daughter, Lucie, who loves all things wasabi.
If you have kids who love spicy foods, they're love this easy coleslaw recipe.
I also thought my Japanese coleslaw recipe would be a wonderful dish to serve with stir fry, sushi takeout, or anytime you're cooking up anything Asian inspired.
Wasabi Cole Slaw would also be delicious on fish tacos. Seriously, you have to try it!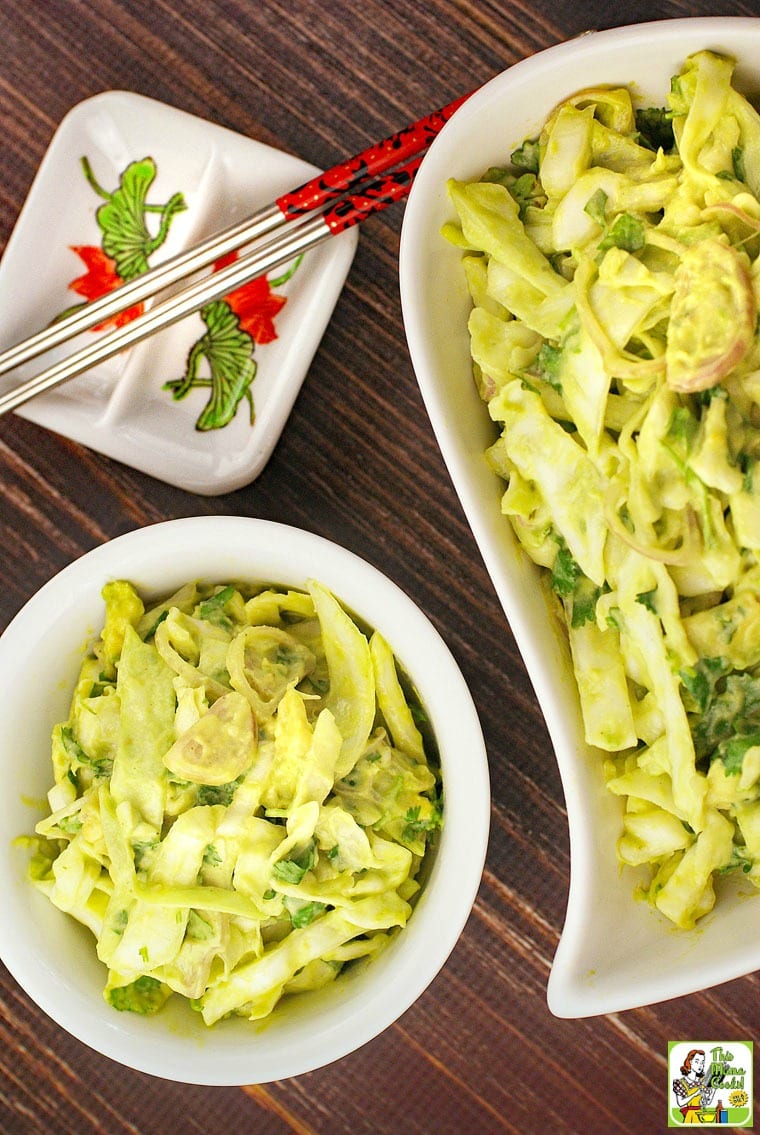 This Mama's tips for making Wasabi Cole Slaw
This coleslaw recipe is naturally gluten free. Just make sure that the wasabi mayonnaise brand you're using is gluten free. (I used Trader Joe's Wasabi Mayonnaise.)
The amount of wasabi mayonnaise used is totally up to you. I used a ratio of half olive oil mayo to half wasabi mayo. You may want to increase or decrease the wasabi mayo depending on your personal taste.
If you can't find wasabi mayonnaise for this easy coleslaw recipe, take olive oil mayonnaise and add wasabi paste to it a quarter teaspoon at a time. It's powerful stuff, so adjust for taste as you go.
If you're vegan, use vegan mayo and wasabi paste or wasabi powder. (I assume that the powdered stuff is vegan if the paste isn't.) Again, use a little bit of wasabi at a time until you get the amount of heat that you like.
I also added a bit of lime juice to keep the avocado nice and green. Even so, you should eat Wasabi Cole Slaw right away. Leftovers will inevitably start to turn a bit gray. The slaw won't spoil (it'll taste fine), but it won't be as pretty.
If you're one of those people who think cilantro is awful, feel free to omit it from this wasabi slaw recipe. I totally understand.
Finally, I hand cut my cabbage since I wanted to use organic cabbage for this easy coleslaw recipe. Next time, I'll use my food processor to get a finer cut of cabbage for the slaw. 
To save time, you could use precut coleslaw mix from the grocery store. It probably has some shredded carrots and red cabbage in it, but I don't see that being a problem.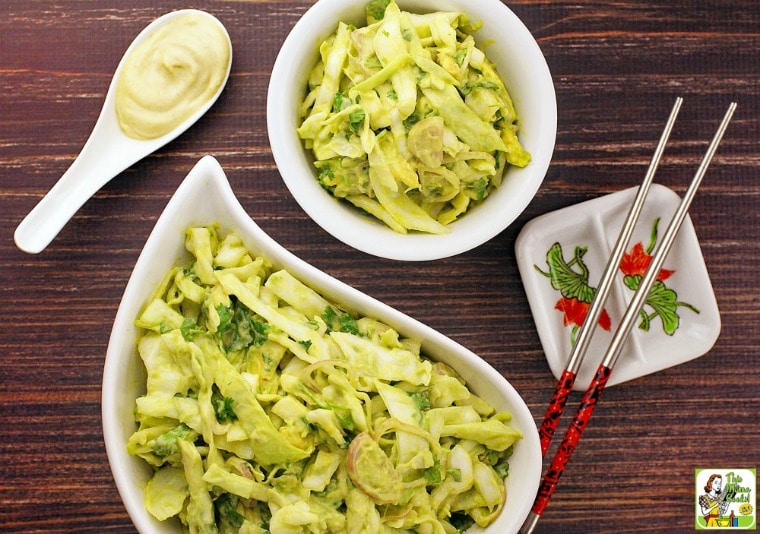 Ingredients
1/2

head of cabbage, shredded

1

shallot, thinly sliced

2

avocados, peeled and sliced

1/4 cup

olive oil mayonnaise

1/4 cup

wasabi mayonnaise

1 tablespoon

lime juice

3/4 cup

roughly chopped cilantro

Salt and pepper, to taste
Directions
Combine all ingredients in a large serving bowl. Stir until ingredients are thoroughly mixed.
Refrigerate until time to serve.
Servings
:
Makes approximately 6 cups
Originally published on June 16, 2014. Updated with new pictures and information.