Last Updated on March 26, 2022 by Anne-Marie
This Gluten Free Apple Crisp recipe combines the flavors of baked apples with crispy oatmeal.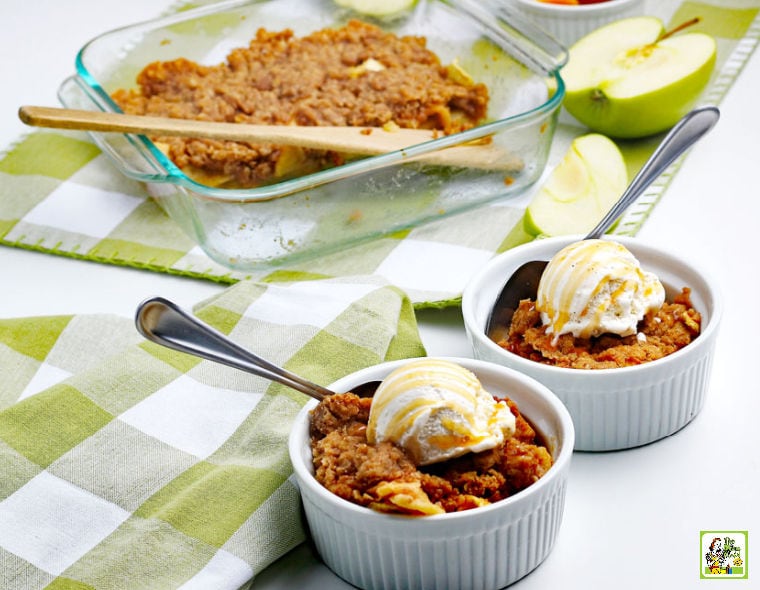 Why this recipe works
It's easy to make this easy to make gluten free apple dessert sugar free as well as dairy free without losing any of the yummy goodness!
As it only takes 30 minutes to cook, bake your apple crisp while you eat dinner.
Then you'll have an amazing warm apple dessert ready to serve.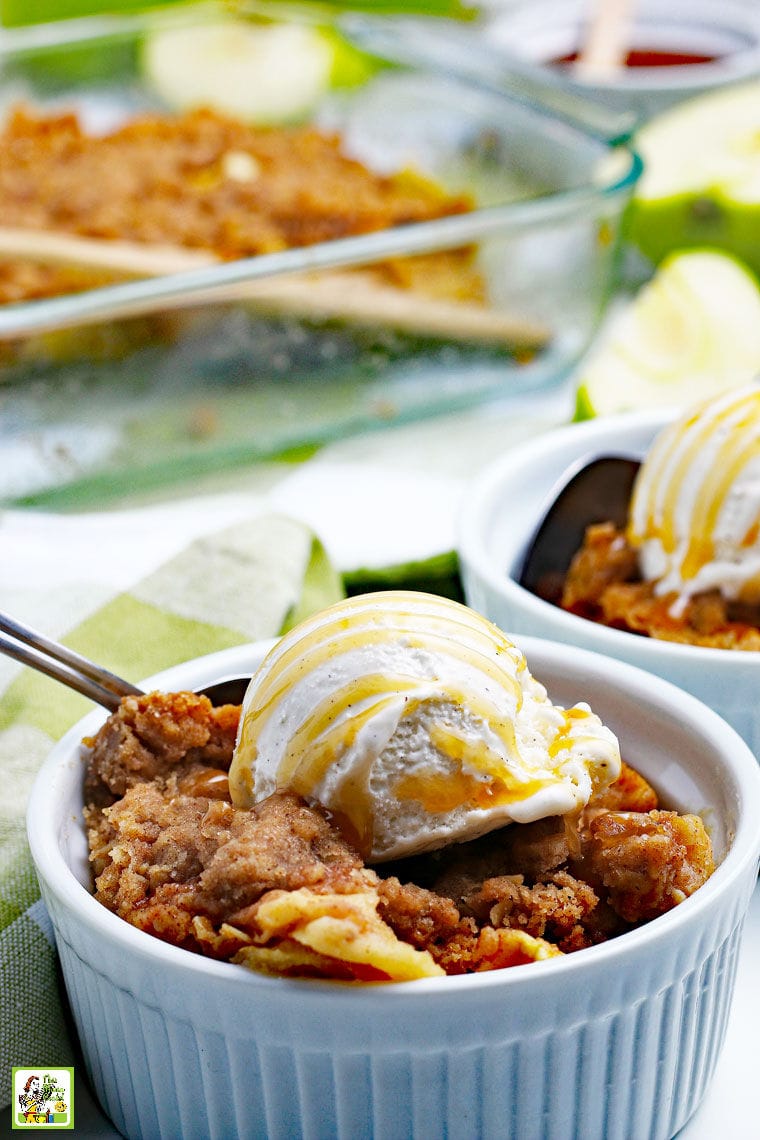 Ingredients for your gluten free apple crisp
What I love about crisps recipes is that they're so easy to make, even for people who are scared of gluten free baking.
(Check out my Strawberry Rhubarb Crisp Recipe 9 x 13 to see why!)
Crisps are practically fool proof since the only special ingredients you need are all-purpose gluten free flour and quick cooking gluten free oats.
Gluten free flour: I recommend using an all purpose gluten free flour like Bob's Red Mill Gluten-Free 1-to-1 Baking Flour, since it cooks up just like regular flour.
(Check out these easy tips on how to measure flour correctly for the best results in your everyday baking.)
Quick cooking gluten free oats: I like Bob's Red Mill Gluten Free Quick Cooking Rolled Oats because while oatmeal is naturally gluten free, not all brands of oats are certified gluten free.
That's because many brands process their oats on the same machines as wheat and barley, leading to cross-contamination with wheat and gluten.
Bob's Red Mill Gluten Free Oats are sourced gluten free, packaged in Bob's Red Mill's 100% gluten free facility, and tested every step of the way to ensure their gluten free status.
Check out my Best Gluten Free Products List to find more terrific gluten free baking products!
Can I add nuts or dried fruit to this recipe? This is a terrific dish for adding leftover nuts and dried cranberries or raisins from other recipes, especially during the holidays.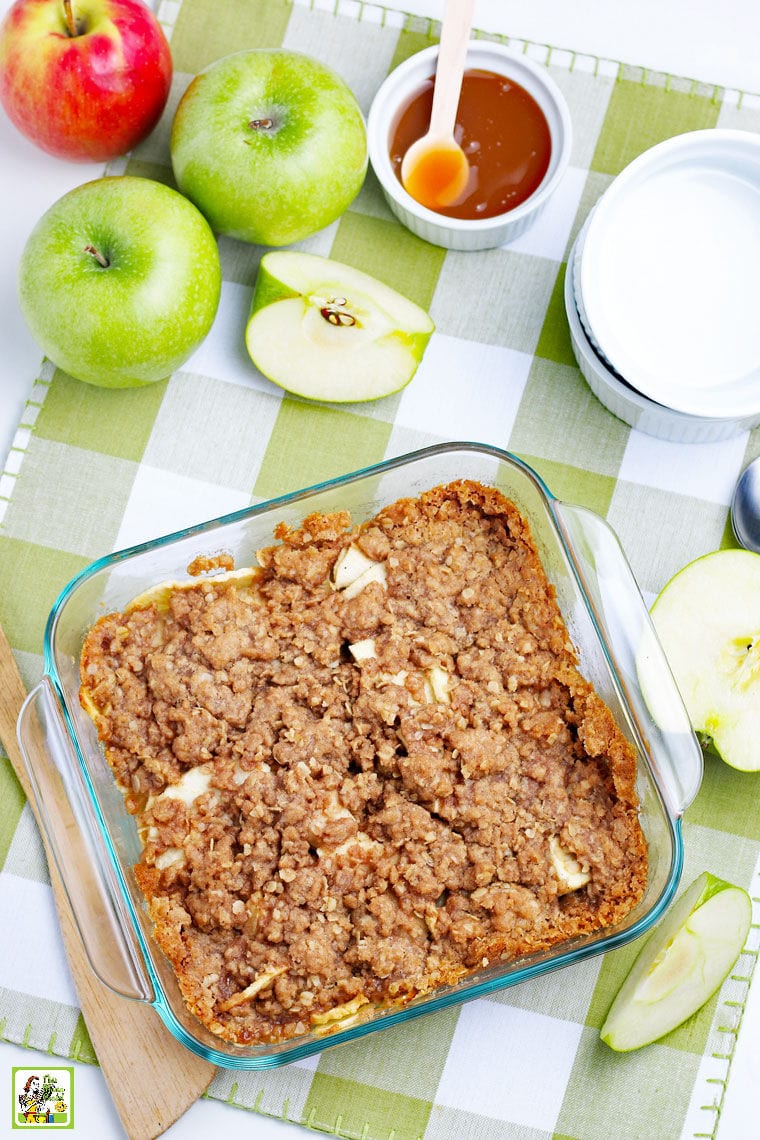 What kind of apples for this gluten free apple crisp?
I used Granny Smiths in this gluten free apple crisp recipe, since they're popular for making apple pies, a bit tart, and aren't too sweet.
However, you can use any good baking or cooking apple, such as:
● Honeycrisp – I love these as every day eating apples.
● Gala – mellow flavor, doesn't brown after cutting.
● Golden Delicious – balanced flavor
● Fuji – I use these in my Chicken Normandy recipe. Perfect balance of sugary and sour flavors.
● Braeburn – crisp apple has a concentrated taste and bakes up juicy. Can stand up to a lot of cinnamon.
● Jonathan – mildly sweet and tart.
● Jonagold – tart with a honeyed sweetness.
● Ida Red – tangy flavor.
● Macintosh – tart, crisp flavor.
Should I peel the apples to make apple crisp?
Yes! You must peel the apples when making apple crisp recipes. That's because the skins of the apples won't cook at the same rate during the baking process, which leads to a tough, stringier texture.
Use a paring knife or vegetable peeler to peel the apples, what's ever easiest for you.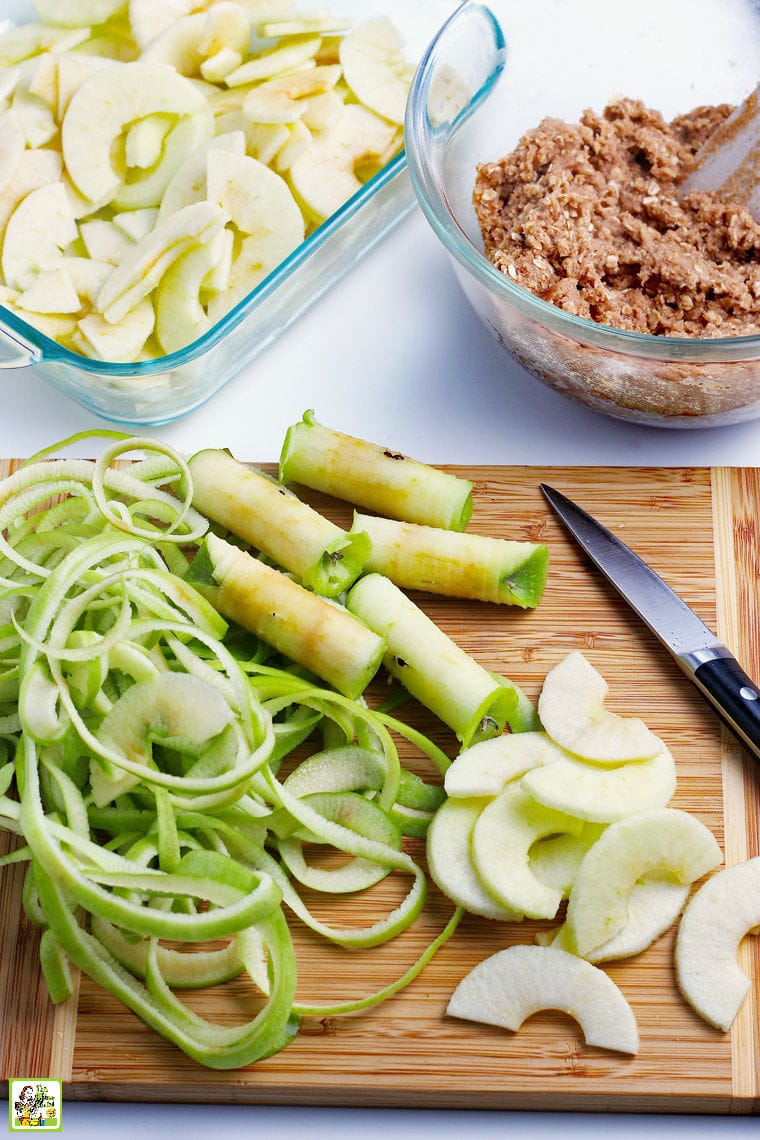 Making a vegan apple crisp
It's super simple to make this crisp recipe a vegan apple crisp recipe since there already isn't any egg like in other baked goodies.
All you need to do is eliminate any dairy and make this a dairy free apple crisp recipe.
Substitute a vegan buttery spread, like Earth Balance, for the butter. Use it to grease the pan, too.
Another dairy free, vegan alternative is coconut oil that's a solid at room temperature.
Can I make a sugar free apple crisp?
You bet! If you're trying to cut back on sugar or just want to health up your desserts, substitute Swerve Sweetener, Brown for the brown sugar.
Swerve's brown sugar substitute is an all natural sweetener, has zero calories, and no funky aftertaste.
I use it and regular Swerve Sweetener in my cooking and baking and love it.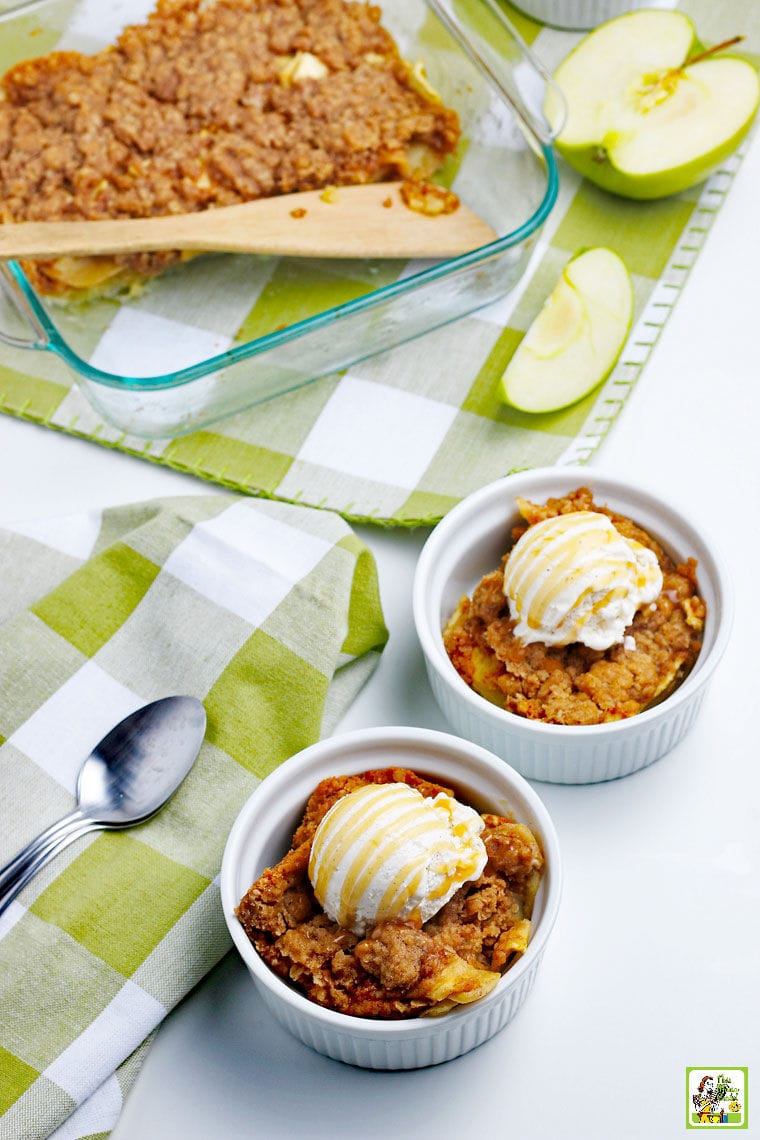 Equipment needed to make gluten free apple crisp
Here's what you need to make this gluten free apple dessert:
● An 8″x8″ baking dish – glass or metal is OK.
● A pastry blender helps to quickly and easily combine the brown sugar, flour, oats and softened butter. Works so much better than a fork.
● An vegetable peeler or paring knife works great to peel the apples evenly.
● An apple corer helps to quickly core the apples.
● A sharp chef's knife to thinly slice the apples.
Should I buy one of those fancy apple peeler/slicer/corer devices? Why not, if you're peeling lots of apples! They're so fun to use that you can get the kids to help you process the apples.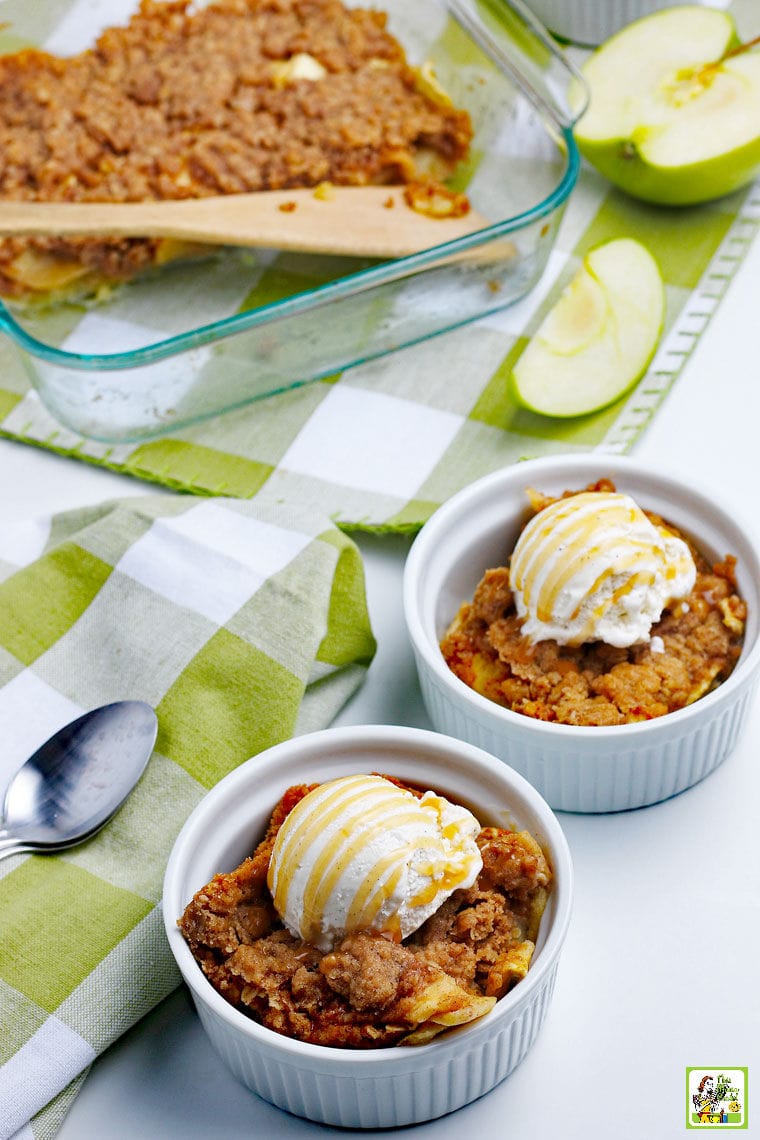 Can I make the apple crisp ahead of time?
You can prep this dessert ahead of time, with an extra step. When prepping the apples, toss them in a couple a tablespoons of lemon juice so they don't brown.
Then store the apples in a Ziploc baggie with as much air pressed out of the bag as possible in the refrigerator for up to 24 hours.
You can also make the crumble ahead of time as well. Store it in an airtight container or baggie in the refrigerator for up to 24 hours, too.
When ready to bake, remove everything from the refrigerator, assemble and bake as directed.
How to store the apple crisp
If you have any leftovers (what, the hungry hoards left some?), you can store them in an container in the refrigerator.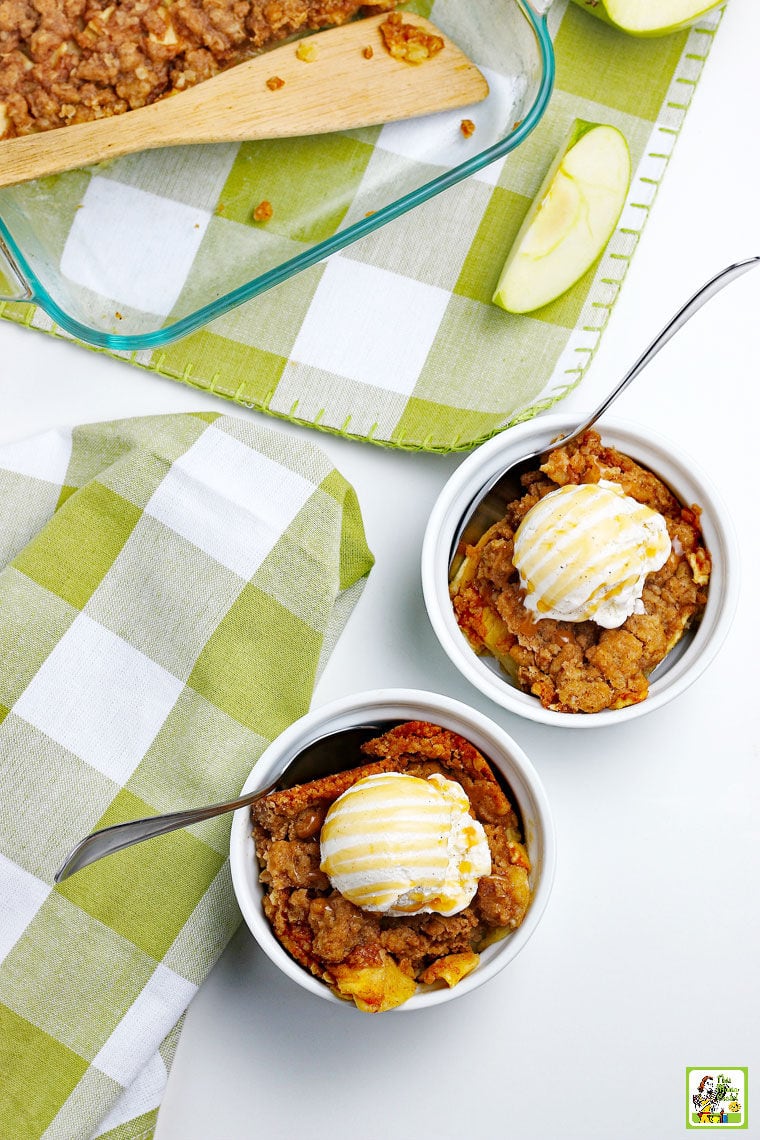 Can I freeze gluten free apple crisp?
Sure, but I find that frozen and reheated crisp isn't as crispy. If you don't care here's how to freeze and reheat it.
1. When baking, line the 8″x8″ baking dish with heavy-duty aluminum foil. Leave extra foil hanging over all edges so that you can pull it completely over the top later.
2. Cook the apple crisp. Then let it cool completely.
3. Put the baking dish in the freezer, uncovered. When the crisp is frozen,  lift it out of the pan, using the foil wrap as handles.
4. Then wrap the crisp in more heavy duty foil. Label and date the crisp. It can be frozen for up to three months.
5. To thaw, unwrap the crisp if needed it fits back in the 8″x8″ baking dish. Then thaw overnight in the refrigerator.
6. To reheat, place in a 350 degrees F oven for 20 to 25 minutes or until heated through.
How to serve this gluten free apple dessert
Ice cream
Serve up your apple crisp with a scoop of vanilla ice cream and drizzle of caramel sauce.
If you're vegan or avoiding dairy, coconut or soy ice cream is a terrific choice, too.
Whipped cream
You can also top with whipped cream or a non-dairy whipped cream, like Reddi-wip Almond & Coconut Non-Dairy Whipped Cream.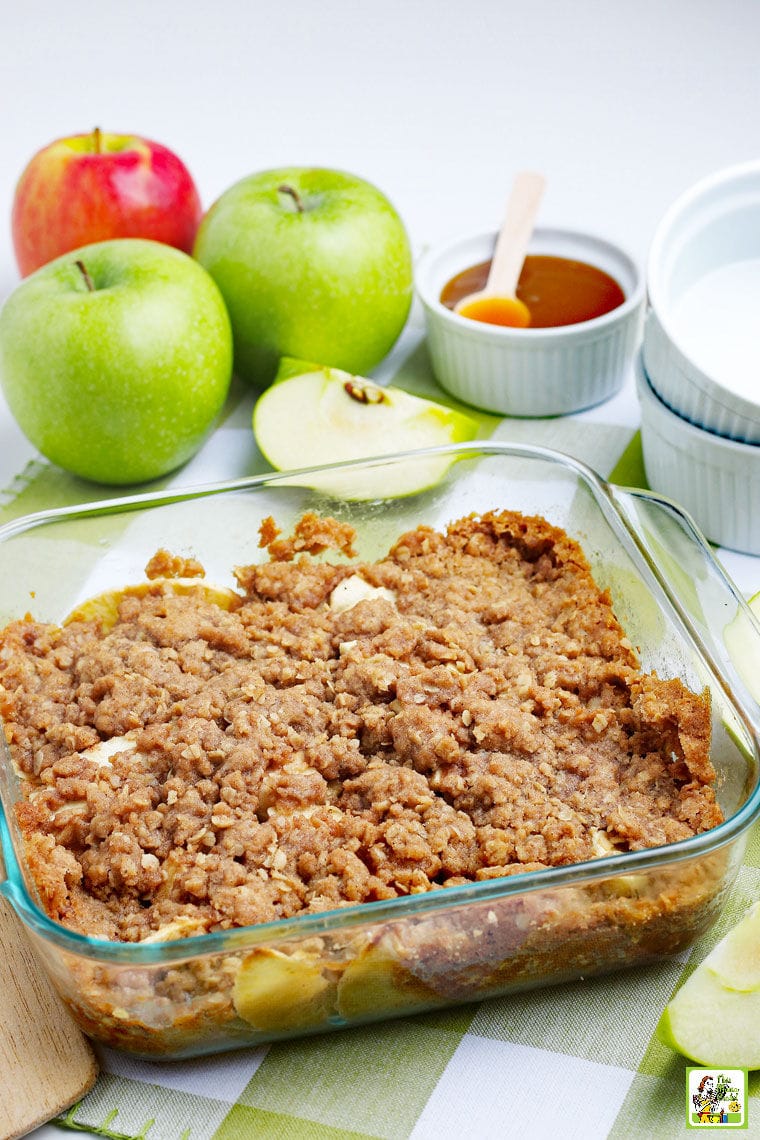 More apple desserts and snacks
If you're looking for other apple desserts, try:
● This Crockpot Apple Cobbler Recipe is terrific with a scoop of ice cream.
● Homemade Applesauce (No Sugar Added) is delicious by itself or can be used in baking.
● The Best Gluten Free Applesauce Muffins Recipe is terrific for breakfast.
More easy gluten free desserts
Looking for more easy gluten free desserts? Try these:
● This No Bake Almond Butter Pie Recipe is also vegan and dairy free.
● These M&M Chocolate Chip Cookies are a crowd pleaser.
● This Vegan Chocolate Mousse Recipe is made with tofu and dairy free chocolate.
Yield: 4 SERVINGS
Gluten Free Apple Crisp Recipe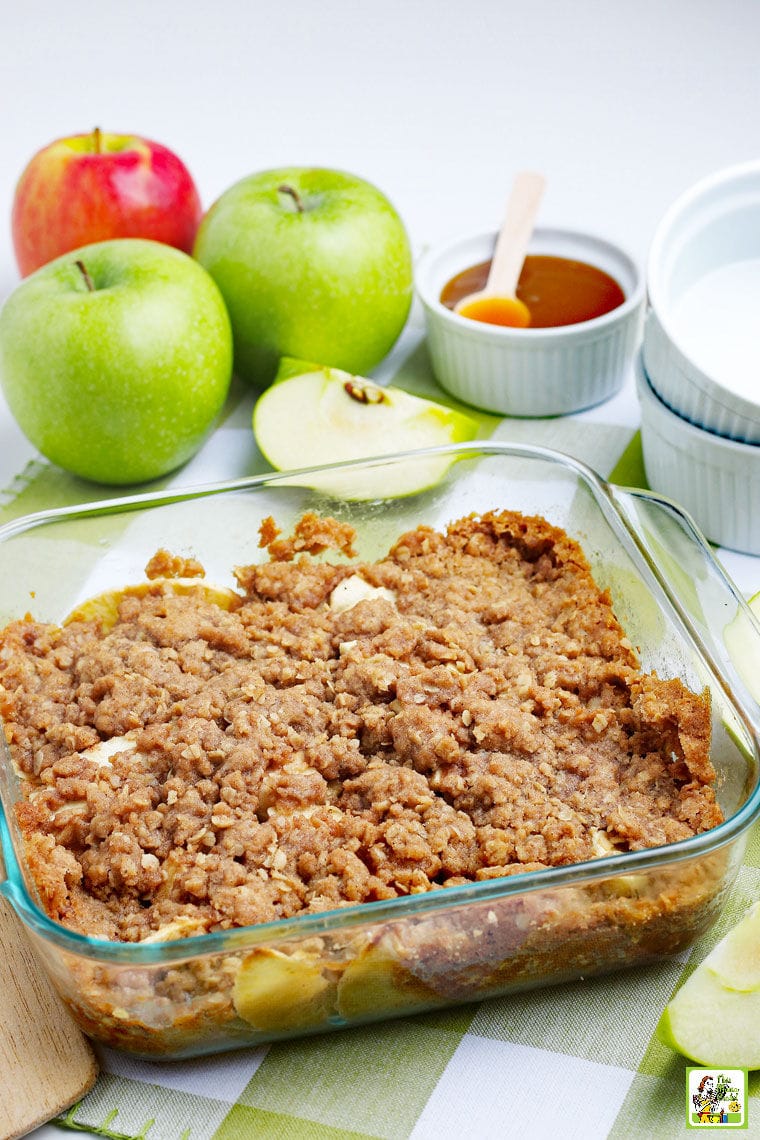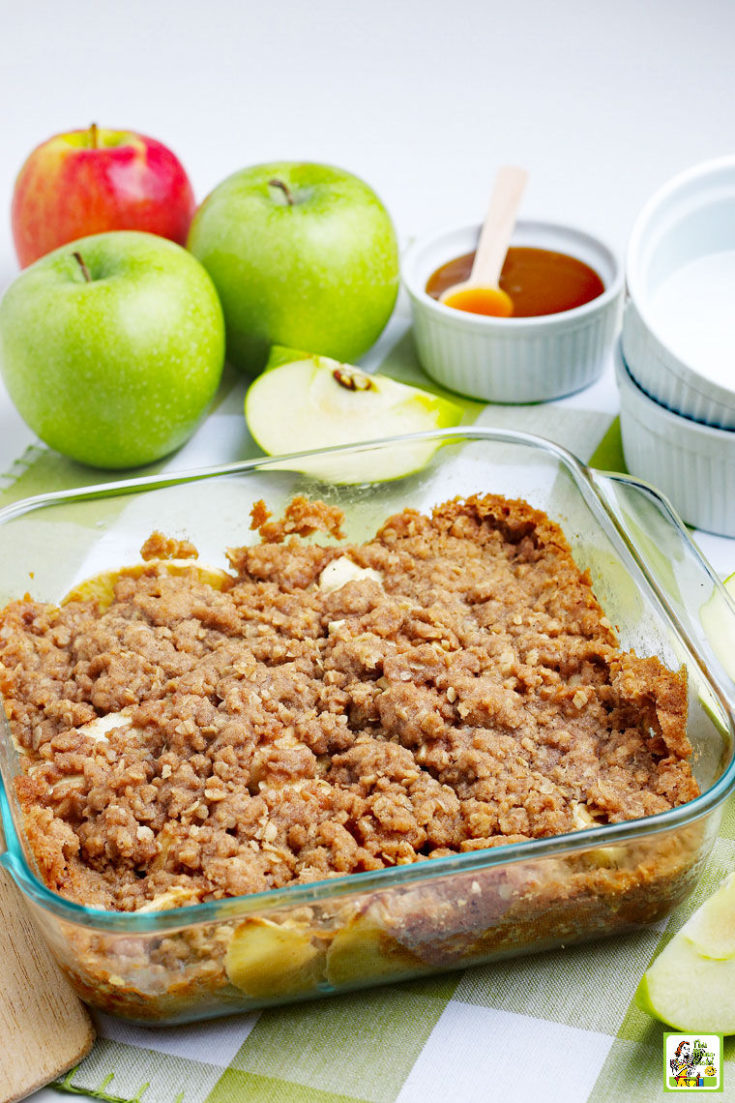 This gluten free apple crisp recipe combines the flavors of baked apples with crispy oatmeal. Can be made as a vegan apple crisp dessert.
Ingredients
4 cups cored, peeled and sliced Granny Smith apples
3/4 cup brown sugar or Swerve Sweetener, Brown
1/2 cup all-purpose gluten free flour
1/2 cup quick cooking gluten free oats
1 teaspoon cinnamon
1 teaspoon nutmeg
1/2 cup unsalted butter or vegan buttery spread, softened plus additional to grease pan
Instructions
Preheat oven to 350 degrees F.
Use extra butter or spread to grease an 8″x8″ baking dish.
Place brown sugar, gluten free flour, gluten free oats, and spices in a medium bowl. Stir to combine.
Mix in butter with a pastry blender until the crisp mixture is combined.
Core, peel, and thinly slice apples. Place at the bottom of the buttered pan.
Evenly spoon the crisp mixture over the top of the apples.
Bake for 25 to 30 minutes or until the apples are tender and bubbly.
Serve gluten free apple crisp warm or at room temperature with ice cream and caramel sauce or some whipped cream.
Store leftovers in the refrigerator in an airtight container.
Nutrition Information:
Yield:
4
Serving Size:
1
Amount Per Serving:
Calories:

575
Total Fat:

27g
Saturated Fat:

15g
Trans Fat:

0g
Unsaturated Fat:

10g
Cholesterol:

61mg
Sodium:

38mg
Carbohydrates:

80g
Fiber:

5g
Sugar:

44g
Protein:

5g
Nutritional information is automatically calculated per the ingredients list. Serving size may not be accurate. Please double-check with your preferred nutritional app for the most accurate information.