Last Updated on April 6, 2022 by Anne-Marie
These are the best M&M Chocolate Chip Cookies ever. This will be your go to chocolate chip recipe for parties and cookie exchanges.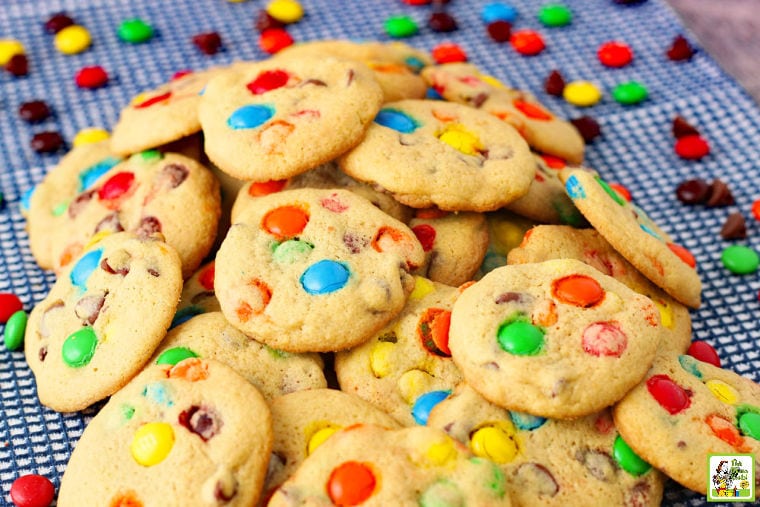 Why this recipe works
Soooooo, what's the secret to this awesome M&M's cookies recipe?
Well, I bet you'd never guess that the cookie dough includes a packet of instant vanilla pudding!
The pudding helps the cookies stay moist and chewy. Plus, it gives them an extra vanilla taste boost along with the vanilla extract.
Pudding is used in many cake recipes to add moistness and flavor. I'm not sure why I don't see it added to more cookie recipes since it's easy to use and has so many benefits!
(If you love snacking on chocolate chip cookie dough, check out this easy Chocolate Chip Cookie Dough Dip Recipe.)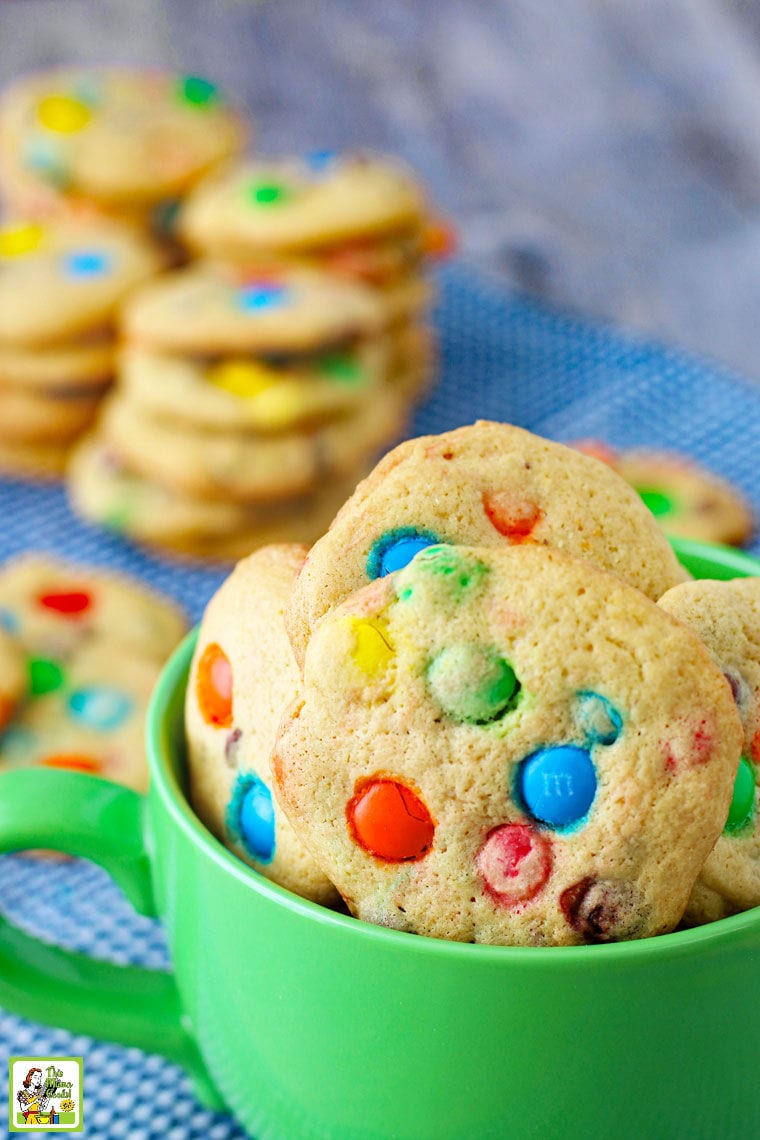 What kind of M&M's can you use?
Along with the semi-sweet chocolate chips, I used regular chocolate M&M's in this M&M cookie recipe.
You could also try mini M&M's, which would be a lot of fun and super cute. Or a combination of regular, minis, and chips!
You can also experiment and try any type of M&M's that you enjoy.
I think Caramel M&M's and Dark Chocolate M&M's would be fantastic.
You can also use fun colors for holidays or parties.
Coordinating M&M cookies with your team's or school's colors would be awesome for a bake sale.
(You can order special colors on the M&M website. Some party stores also carry special colors of M&M's for weddings and bridal showers.)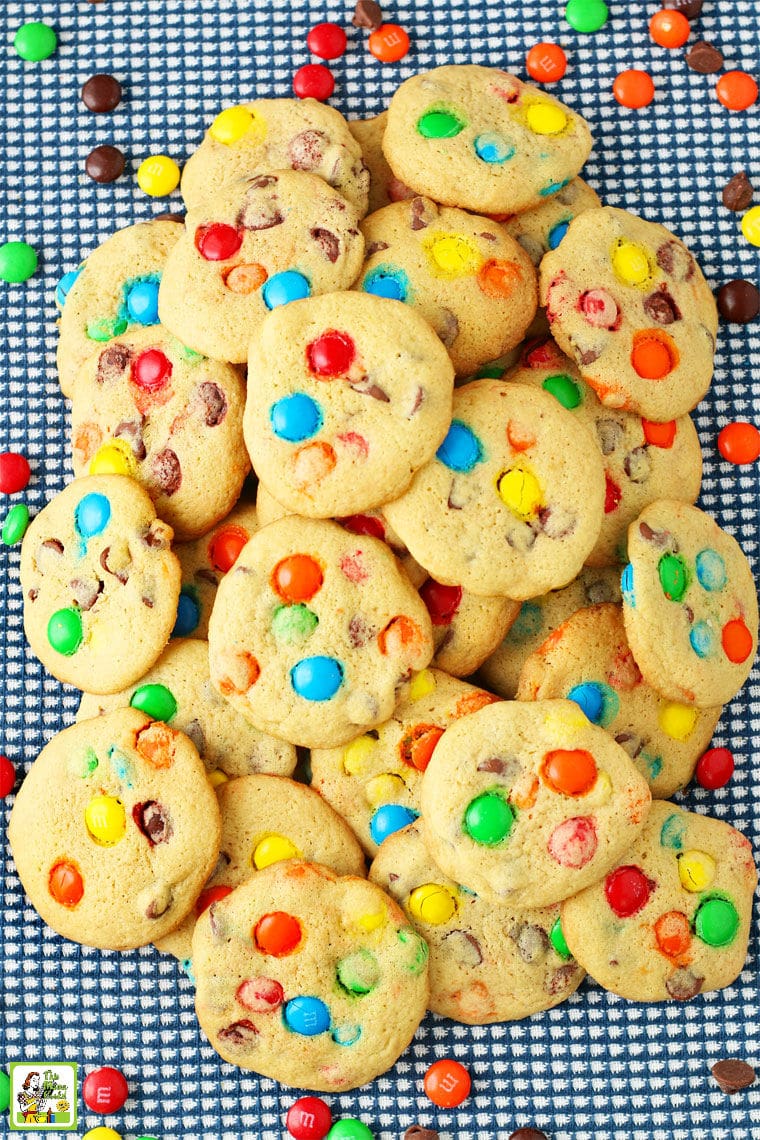 Tips for making the best M&M Cookies
There are a few tricks to making sure your M&M chocolate chip cookies recipe turn out right:
Butter: First, make sure to use UNSALTED butter.
Then, make sure your butter is soft, but not melted. The butter should be cool to the touch.
If your butter is too soft, the cookies will spread too much in the oven during bake time.
Don't worry if you left your butter out too long on a warm day. Just stick it back in the freezer for a bit until it cools down.
Brown sugar: Make sure your brown sugar is fresh. It should be soft and moist.
We're counting on that softness and moisture to make these cookies nice and chewy!
Press M&M's into the cookies: To make your cookies look super cute, mix some of the M&M's into the batter. Then press the rest on to the tops of the cookies right before baking.
Don't worry about going a bit overboard with the M&M's that are going on top. As the cookies bake and spread, the candies will distribute throughout.
However, when pressing the M&M's into the tops of your dough balls, don't press so hard that the dough balls are flattened. They need to be ball shaped before baking.
How much dough? Use a small 1.5 tablespoon cookie scoop to portion out the dough. I find this works out perfectly to make 3 dozen cookies.
Spreading: If you found that your cookies always spread too much, it could be because your dough is too warm.
If you have an overly warm home (for example, no AC during the summer months) try chilling your dough for a couple of hours in the refrigerator before scooping into balls.
Better to be safe than sorry – and have one big baking sheet sized cookie!
Don't over cook: The cookie centers should be soft and the edges crisp. Remove the cookies just prior to being done. They will firm up as they cool on the baking sheet.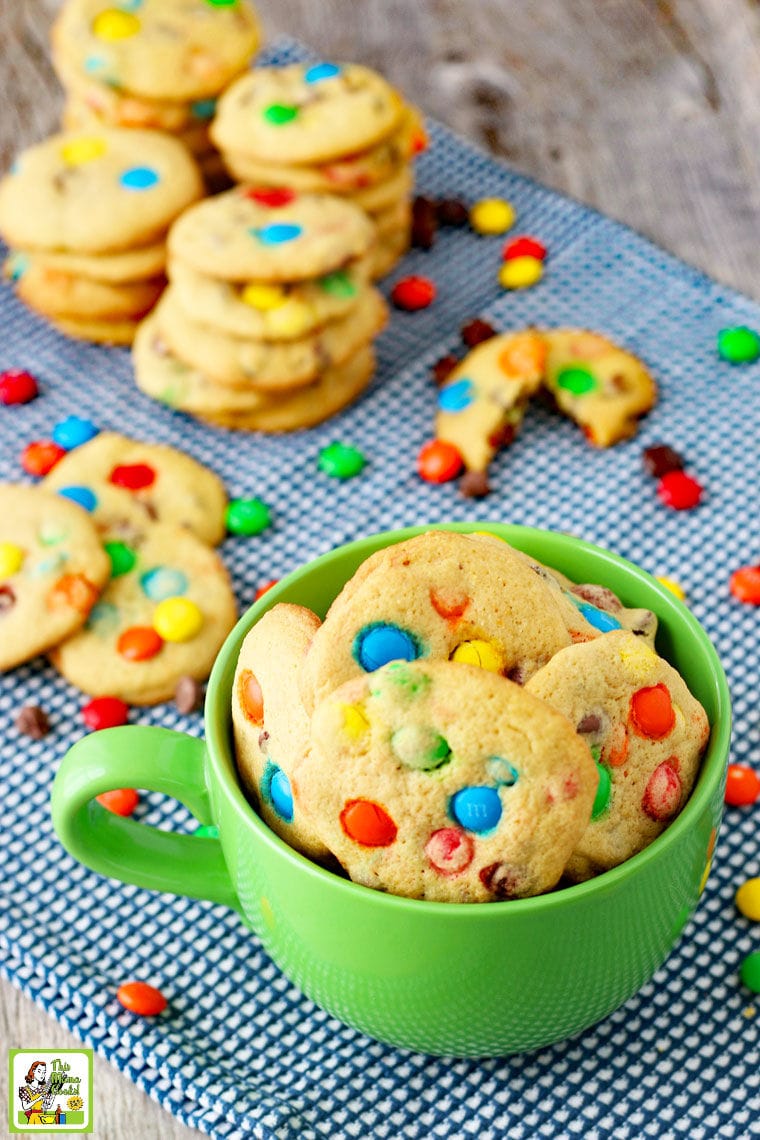 Making gluten free M&M cookies
If you want to make gluten free cookies, substitute your favorite gluten free all purpose flour.
I recommend using an all purpose gluten free flour like Bob's Red Mill Gluten-Free 1-to-1 Baking Flour. I love this product because it cooks up just like regular flour in my gluten free recipes.
(Learn how to measure flour correctly for the best results in your everyday baking.)
Check out my Best Gluten Free Products List to find more of my favorite gluten free baking products!
Are M&M's gluten free?
Plain M&M's are gluten free. However, if you're looking to substitute seasonal or different flavors of M&M's, make sure to check the label.
For example, Crispy and Pretzel M&M's "may" contain wheat according to the label. But it's pretty obvious that you need wheat to make things crispy or bake into pretzels. So my advice would be to avoid these M&M's.
Some of the other flavors "may" contain wheat (like white chocolate, hazelnut spread, etc.) Some of these warnings could be due to cross-contamination issues. So use your best judgement.
Is instant vanilla pudding gluten free?
It should be, but check the label to make sure. If your store brand isn't, try Jell-o brand pudding, which is gluten free.
Are chocolate chips gluten free?
They should be, but again check the ingredients label. I recommend Enjoy Life Chocolate Chips for all gluten free baking.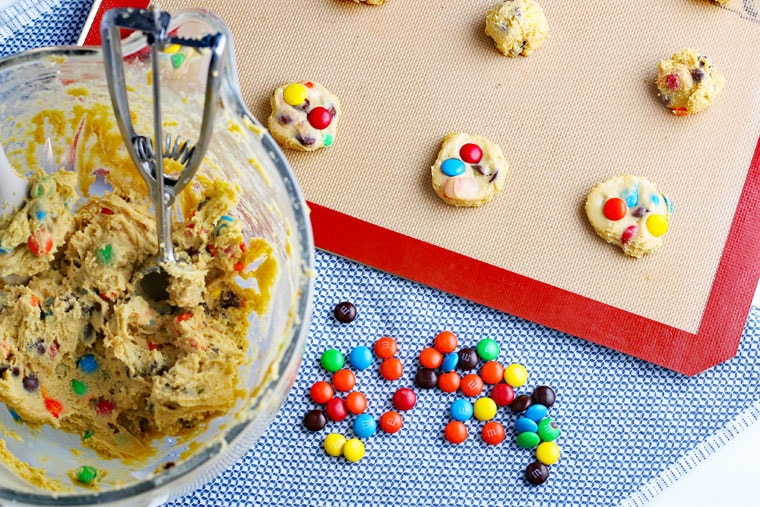 Can you freeze this recipe?
If you love to make big batches of cookie dough or cookies for freezing, this is the ideal recipe for doing just that.
With everyone buying chest freezers these days, having a batch of cookie dough to bake up is just the best!
And having some already baked up cookies for a quick snack is pretty awesome, too.
How to freeze cookie dough
Freezing cookie dough is a great way to save time if you want to bake up just a few cookies at a time for snack or quick dessert.
1. Make the M&M chocolate chip cookie dough according to the directions below.
2. Using a small 1.5 tablespoon cookie scoop, portion out the dough. Then place scoops of dough on a parchment or foil lined baking sheet.
3. Place the baking sheet in the freezer for at least 30 minutes or until frozen solid.
4. Remove the baking sheet from the freezer. Place the frozen cookie dough balls into a large freezer Ziploc bag. (Squeeze out as much air as possible. ) Label and date the bag.
(You can store frozen cookie dough for 9 to 12 months. Though I would use it sooner so it doesn't develop freezer burn.)
5. To bake the cookies, remove the frozen dough balls from the bag and place on a parchment lined baking sheet.
Bake according to the recipe, adding about 2 minutes to the bake time.
How to freeze baked cookies
If you want, you can bake up several batches of cookies and freeze some for later.
1. Make sure the cookies have completely cooled.
2. Place the cookies in a Ziploc freezer bag. Label and date the bag. Place them in a safe spot in the freezer so they don't get crushed.
3. You can also freeze baked cookies in a freezer-safe food container.
Place a layer of cookies in to the container. Then place a piece of parchment paper in between layers of cookies to separate them. Label and date the container.
(With proper storage, these cookies can be kept in the freezer for up to three months.)
4. To thaw the cookies, place them on a platter on the counter and allow to come to room temperature. Cookies can also be heated in the microwave for 10 seconds each.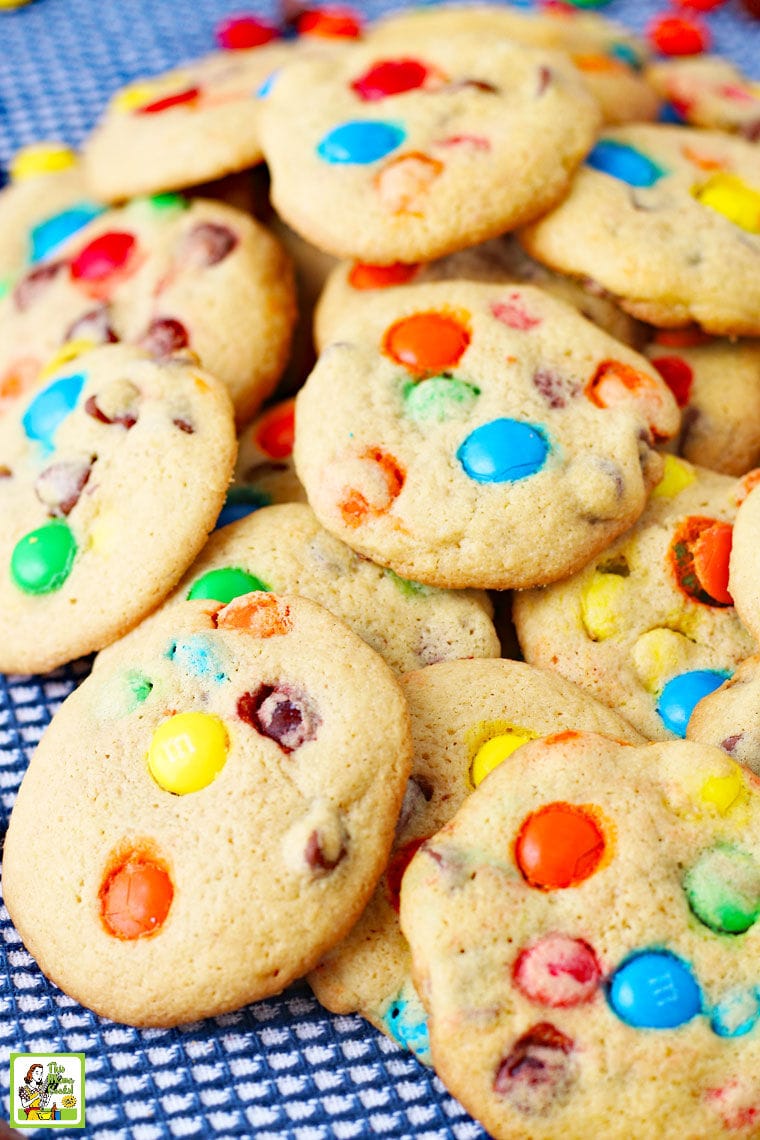 More easy cookie recipes
Add this to your Best Candy & Gifts for Gluten-Free Easter Baskets.
Yield: 36 COOKIES
M&M Chocolate Chip Cookies Recipe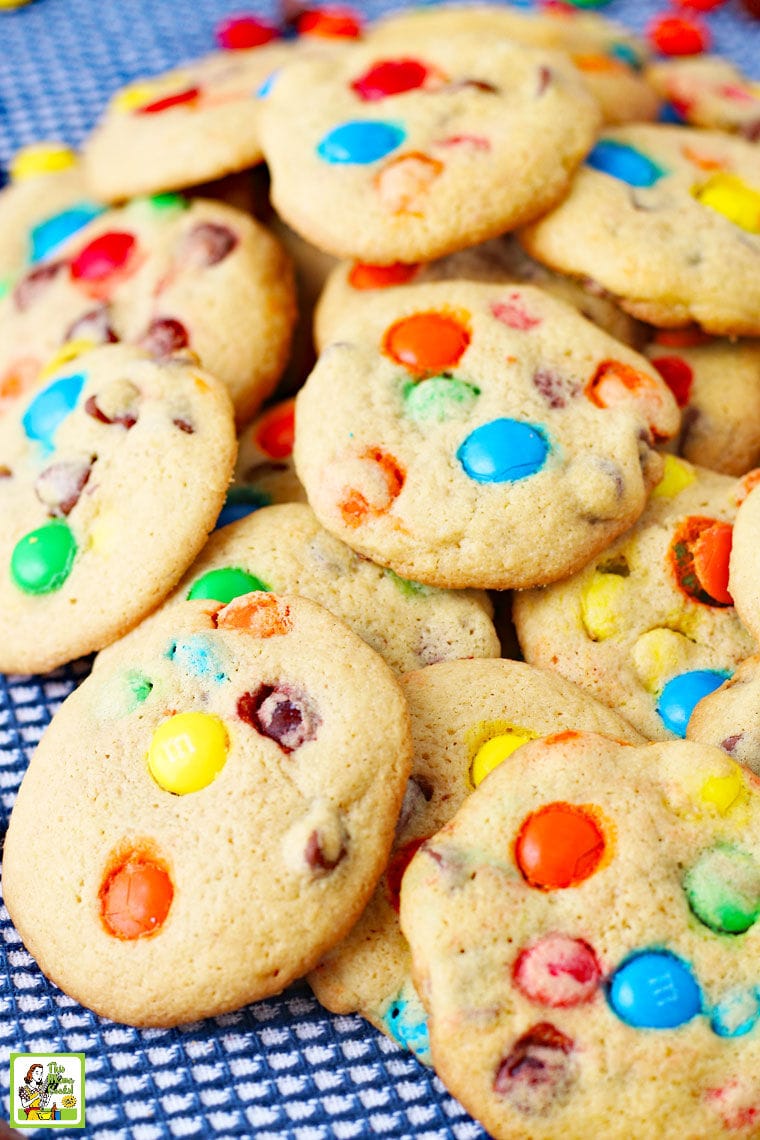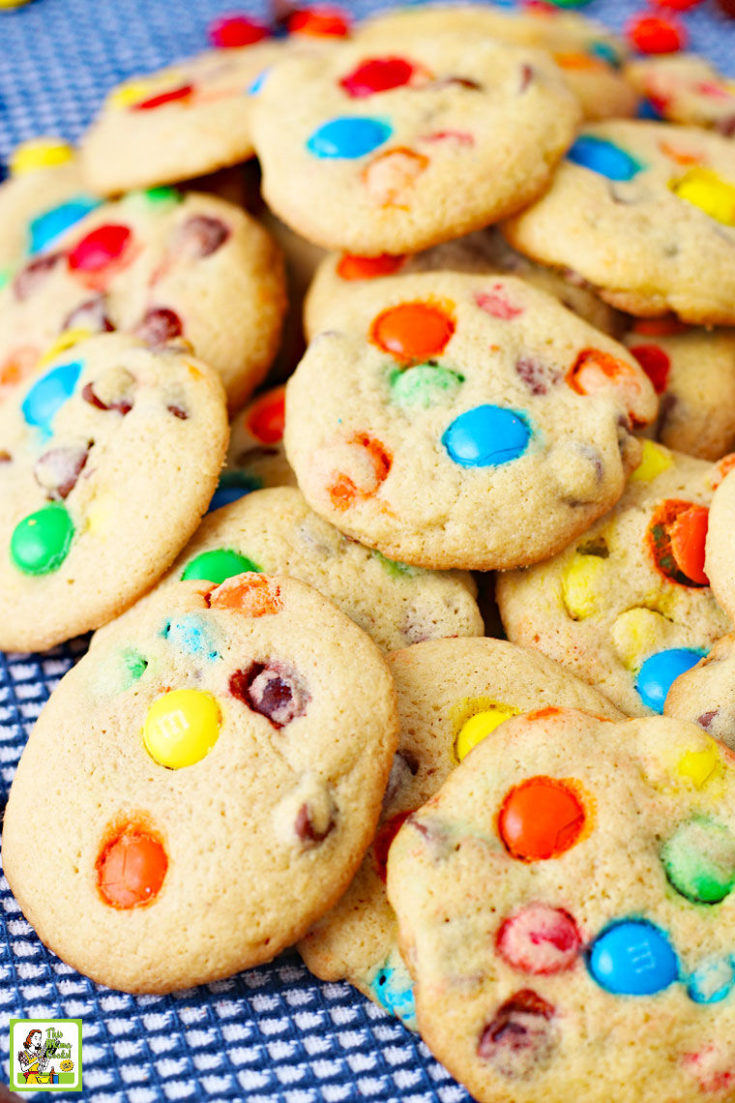 The best M&M Chocolate Chip Cookies. This chewy M&M cookies recipe is loaded with M&M's and chocolate chips.
Ingredients
2 1/4 cups all-purpose flour (regular or gluten free)
1 teaspoon salt
1 teaspoon baking soda
1 cup unsalted butter, softened (2 sticks)
1 3.4-ounce box instant vanilla pudding
3/4 cup brown sugar, packed
1/4 cup granulated sugar
1 teaspoon vanilla extract
2 eggs room temperature
1-1/2 cups plain chocolate M&M candies plus more for adding to the top before baking (1 12-ounce package)
1 cup chocolate chips, semi-sweet or milk chocolate
Instructions
Preheat oven to 375 degrees. Line baking sheets with silicone mats or parchment paper.
In a medium bowl, combine flour, salt, and baking soda. Set aside.
In a large bowl, cream together butter, dry pudding mix, brown sugar, granulated sugar, and vanilla extract until light and fluffy.
Beat in eggs.
Gradually add flour mixture until smooth.
Stir in M&Ms and chocolate chips.
Using a cookie dough scoop, divide dough and roll into balls.
Place dough balls on a baking sheet. Add more M&Ms on top by pressing balls slightly on top.
Bake 8-10 minutes or until lightly golden brown.
Remove from the oven and cool slightly on the baking sheet.
Transfer M&M Chocolate Chip Cookies to wire rack.
Let cookies fully cool. Then transfer to an airtight container and store for up to 5 days.
Recommended Products
As an Amazon Associate Affiliate and member of other affiliate programs, I earn from qualifying purchases.
Nutrition Information:
Yield:
36
Serving Size:
1 cookie
Amount Per Serving:
Calories:

189
Total Fat:

10g
Saturated Fat:

6g
Trans Fat:

0g
Unsaturated Fat:

3g
Cholesterol:

27mg
Sodium:

114mg
Carbohydrates:

22g
Fiber:

1g
Sugar:

15g
Protein:

2g
Nutritional information is automatically calculated per the ingredients list. Serving size may not be accurate. Please double-check with your preferred nutritional app for the most accurate information.