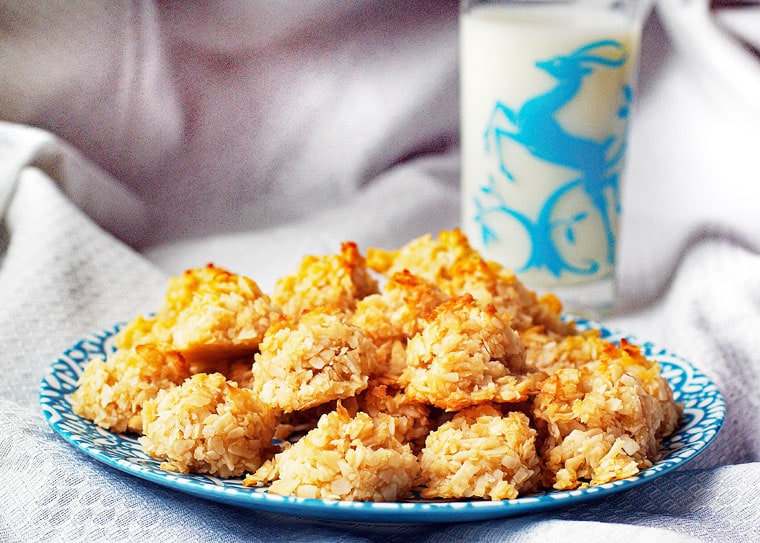 I love coconut macaroons, so I thought I'd share with you why I came up with this recipe.
I grew up eating coconut macaroon cookies bought at the Jewish-style bakery my mom frequented in Red Bank, New Jersey. Coconut macaroons have always been among my favorites cookies.
So when my mother-in-law was first diagnosed with celiacs, I would buy her cans of macaroons around the Passover holiday since kosher macaroons are naturally gluten free.
Little did I know how easy coconut macaroon recipes were to make!
And for those of you who are dairy free, this easy flourless coconut macaroons recipe is made without condensed milk.
Why do we eat macaroons at Passover?
Unlike so many Seder foods that have symbolic ties to the story of Passover – or a traditional Eastern European or Sephardic recipe – how the heck did a coconut macaroon cookie recipe become associated with Passover?
According to MyJewishLearning.com, before coconut was available to bakers in Europe and the U.S. in the late 1800s, macaroons were nut-based and made by Sicilians who learned their baking skills from Arab troops captured in Tunisia back in the 800s!
By the 13th century, Sicily was famous for its sweets and baked goods, including macaroons.
The local Jews naturally favored the flourless macaroon cookies during Passover. To this day, Sephardic Jews from Syria and Egypt make their Passover macaroons with ground pistachios, almonds, and cashews.
However, Eastern European Jews who immigrated to the US, use coconut. That's because Franklin Baker, a Philadelphia flour miller, discovered that shipping shredded coconut was much more affordable and shelf-stable than shipping whole coconuts.
Soon chefs and home cooks started cooking with this novel ingredient and found that coconut didn't spoil as quickly as almonds that were traditionally used in macaroons. Thus the coconut macaroon was born!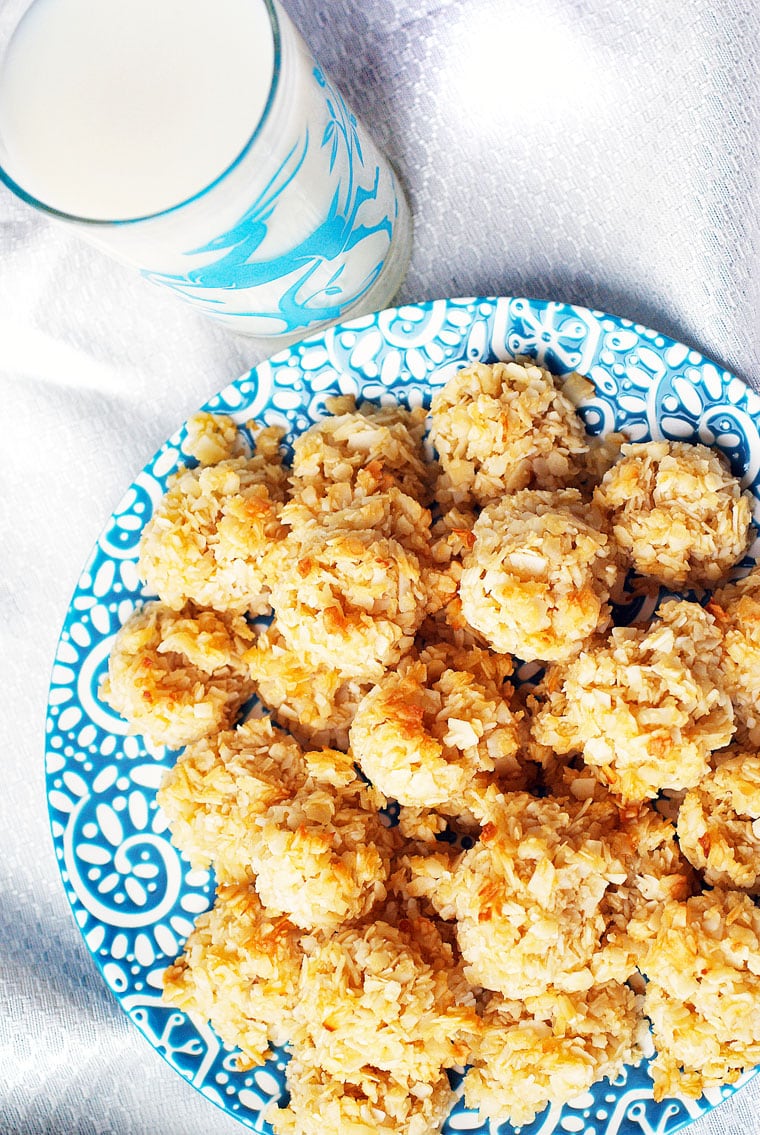 What is the difference between a macaroon and a macaron?
Everyone gets this confused. I practically have to explain the difference and draw a picture when I'm talking about each to someone.
Macaroons are made with coconut, are chewy, and are shaped like little haystacks. Sometimes they're dipped in chocolate or are chocolate flavored. Or maybe they have some fruit added to the batter.
Macarons are meringue-based cookies that contain almond meal. They come in many flavors and colors. They're like little sandwiches and have a filling. Super cute and trendy.
How to make coconut macaroons
1. Preheat the oven.
2. Using an electric mixer, blend all the ingredients together except the egg whites - monk fruit sweetener, salt, coconut, vanilla extract, agave nectar, and vegetable oil.
3. Increase your electric mixer speed to medium. Then add the egg whites in a thin stream to the coconut mixture.
Use only enough egg whites so the cookie dough is the consistency of smooth putty.
4. Using a small cookie scoop, spoon mixture onto parchment paper or a silicone mat lined baking sheets.
5. Bake for 15 minutes until the tops of the cookies turn light golden brown. Do not over bake.
6. Allow the macaroons to cool on the parchment paper or a silicone baking mat. (If the cookies stick to the parchment paper, turn it over and wet it lightly so the macaroons will come off easily.)
7. Carefully remove cookies with a cookie spatula and store in an airtight container.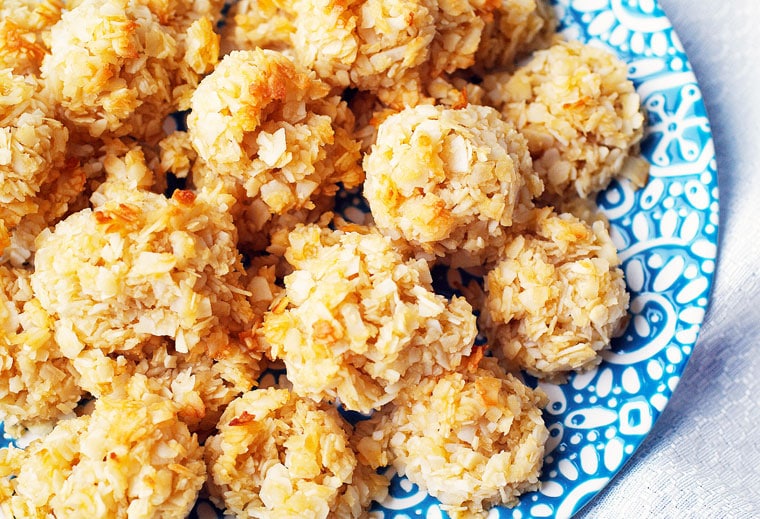 Tips for making coconut macaroons
Coconut: Use unsweetened "natural" coconut, not the super sweet coconut in the coconut mixture. You may need to look in the health food section of your store.
I recommend the following:
Sweeteners: To lower the calorie count and make a healthy coconut macaroons recipe, I use powdered monk fruit sweetener. I prefer monk fruit over stevia since stevia sometimes has a bitter taste, especially when working with chocolate.
Don't use liquid monk fruit sweetener, or the coconut mixture could end up being too gooey.
If you're not a fan of monk fruit, you could also use Swerve Sweetener, another no-calorie nature sweetener.
If you don't like agave nectar, you can substitute honey or maple syrup. I prefer using a little bit of agave instead of condensed milk, which keeps this recipe dairy-free.
Egg whites: If it's easier, use liquid egg whites instead of breaking eggs and wondering what to do with the yolks. The carton will list what the equivalency of 3 to 4 large egg whites is to cups or tablespoons.
How to dip macaroons in melted chocolate
Now I don't show this in the pictures or mention this in the recipe below, but you can dip your macaroons in chocolate if you like.
1. First, bake the cookies, then let them chill so they set up properly.
2. Once cooked, melt some chocolate in the microwave or a double-broiler. You can use chocolate chips, a crushed chocolate bar, or melting wafers.
If you're gluten free, I highly recommend Enjoy Life Baking Chocolate Semi-Sweet Mini Chips which are dairy free, GF, and vegan)
3. Once the chocolate is melted, dip the bottom of the macaroon in chocolate. Then carefully place it on a wire rack or a baking sheet lined with parchment paper or silicone baking mat.
4. Let it set up and harden. If you want to speed up the process, place the baking sheet in the refrigerator.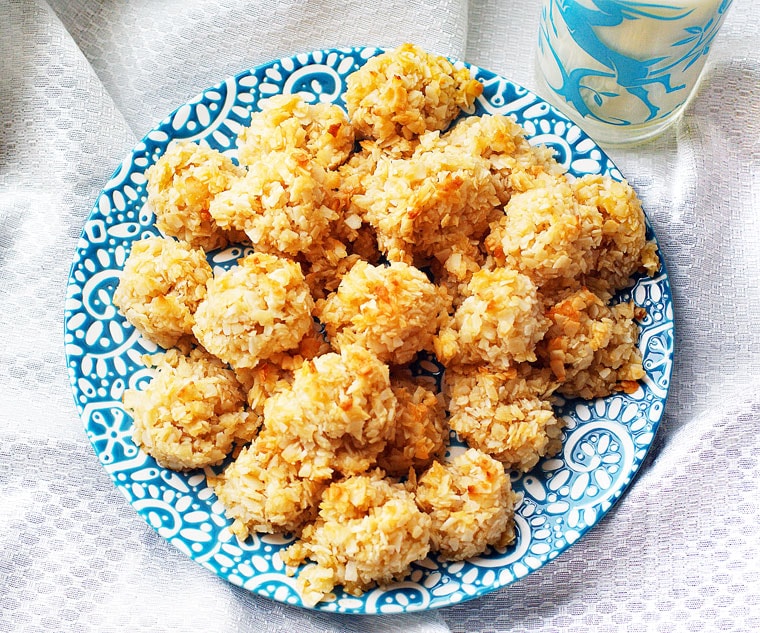 How to store coconut macaroons
You can store your homemade macaroons in an airtight container on the kitchen counter for a few days.
Otherwise, store them for up to a couple of weeks in the refrigerator.
If you've made a big batch of this coconut macaroons recipe, go ahead and freeze them in a Ziploc freezer baggie with extra air pressed out to eliminate the chance of freezer burn. (Remember to label and date the bag.)
The frozen cookies should be good for 4 to 6 months.
More Jewish cookies
I love going to New York City and visiting the delis and bakeries. That's because they sell cookies you cannot get anywhere else. Luckily, some cookies, like the super trendy black and whites are becoming available nationally because of their popularity.
If you're interested in making coconut macaroons, black and white, lace, and rainbow cookies – all typical Jewish cookie treats – check out Inside the Jewish Bakery: Recipes and Memories from the Golden Age of Jewish Baking by Stanley Ginsberg and Norman Berg.
It's a wonderful cookbook and contains recipes for all these cookies as well as rye bread, challah, onion rolls, and more.
This cookbook would make a great gift for anyone who loves Jewish cooking. However, if you do get a copy, make sure to print out a copy of the Errata, which includes several corrections on the recipes.
(Unfortunately, since I first wrote this post, this cookbook is out of print. Even used copies are unavailable. So check out A Jewish Baker's Pastry Secrets instead.)
More gluten free cookies
Here are some terrific GF cookies:
Yield: 36 COOKIES
Easy Coconut Macaroons Recipe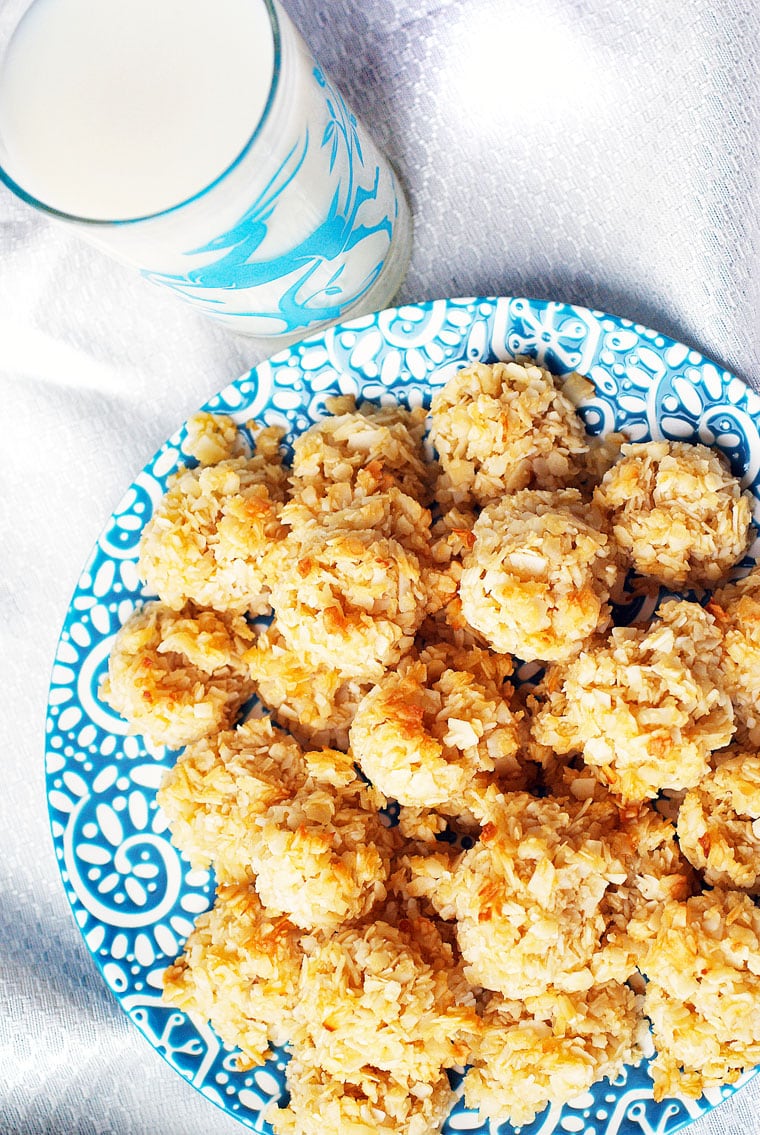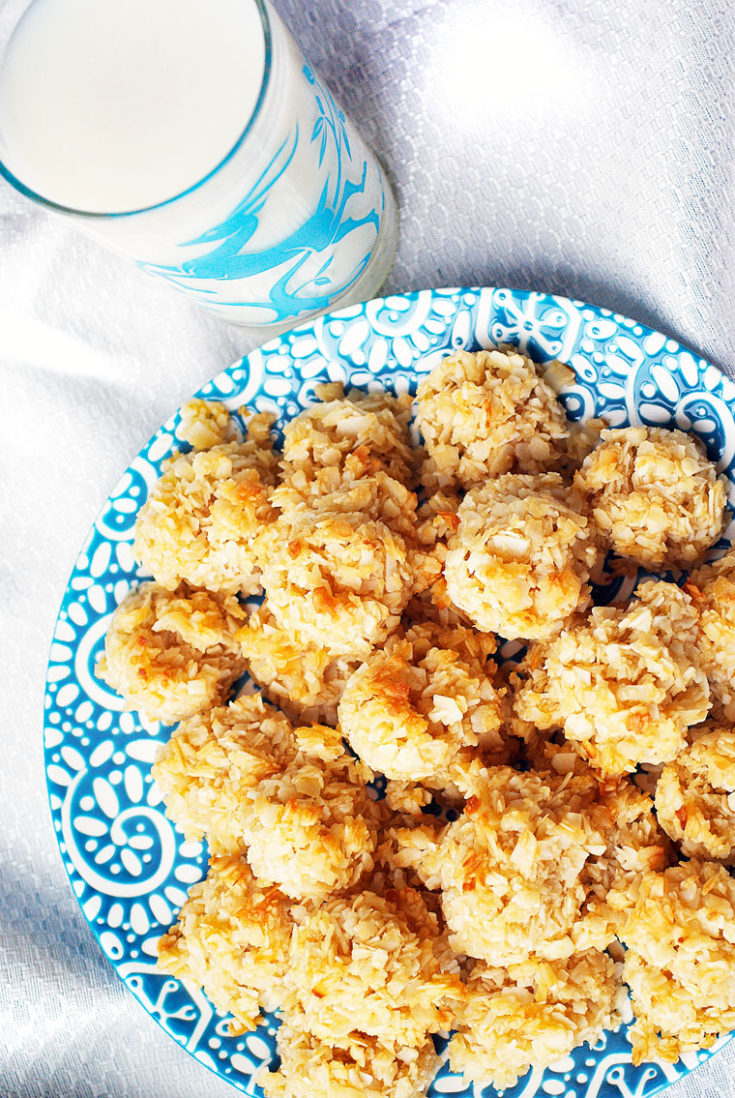 This easy coconut macaroons recipe is gluten free and made without condensed milk. Dip these flourless coconut macaroons in melted chocolate.
Ingredients
2 tablespoons powdered monk fruit sweetener
1/2 teaspoon salt
2 1/4 cups finely shredded, unsweetened coconut
3/4 teaspoon vanilla extract
3 tablespoons agave nectar
3 tablespoons vegetable oil (grapeseed, canola, or coconut oil works well)
3 to 4 large egg whites, beaten
Instructions
Preheat oven to 350 degrees F.
Blend all ingredients except egg whites on the low speed of an electric mixer.
Increase speed to medium. Then add egg whites in a thin stream, mixing until smooth. Use only enough egg to get the dough to the consistency of putty.
Using a small cookie scoop, spoon mixture onto cookie sheets lined with parchment paper or a silicone mat.
Bake for 15 minutes until the tops of the cookies turn light brown. Do not over bake.
Allow coconut macaroons to cool on parchment or a silicone baking mat. (If the cookies stick to the parchment, turn the paper over and wet it lightly so the macaroons will come off easily.)
Carefully remove cookies with a cookie spatula and store in an airtight container.
Recommended Products
As an Amazon Associate Affiliate and member of other affiliate programs, I earn from qualifying purchases.
Nutrition Information:
Yield:
36
Serving Size:
1
Amount Per Serving:
Calories:

52
Total Fat:

5g
Saturated Fat:

3g
Trans Fat:

0g
Unsaturated Fat:

1g
Cholesterol:

0mg
Sodium:

38mg
Carbohydrates:

3g
Fiber:

1g
Sugar:

1g
Protein:

1g
Nutritional information is automatically calculated per the ingredients list. Serving size may not be accurate. Please double-check with your preferred nutritional app for the most accurate information.