Last Updated on April 25, 2022 by Anne-Marie
Make this gluten free chocolate bark candy recipe with dried fruit and Cheerios as homemade holiday gifts.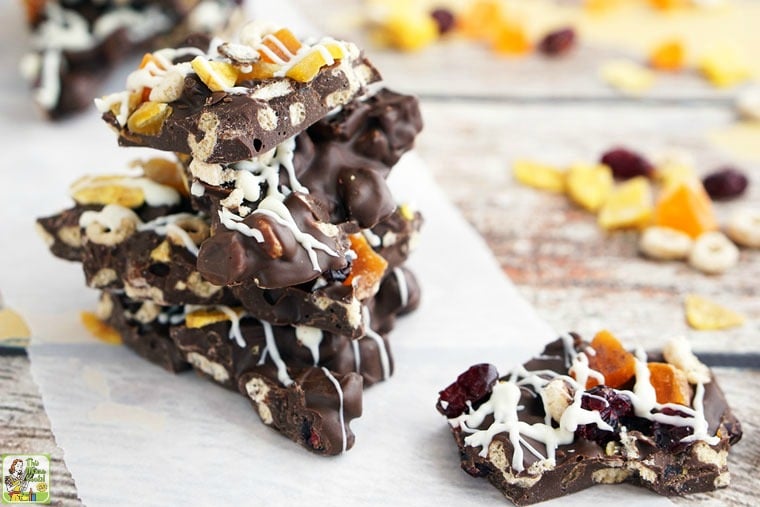 Why this recipe works
You'll love making this easy gluten free chocolate bark candy recipe for holiday cookie exchanges or as a homemade Christmas gift.
Easy chocolate bark is a terrific way to get rid of those odd little bits of dried fruit, nuts, seeds, and whatever else you may have in the pantry after other baking project.
Also, by making chocolate bark recipes with dried fruit, nuts and gluten free Frosted Cheerios cereal, it's somewhat of a guilt free treat.
If you're looking to make some gluten free chocolate with the kids over the holiday break, making a batch is a fun family activity, too!
Best chocolate for making easy chocolate bark recipes
Normally, I'd suggest you pick the best dark chocolate for this homemade chocolate bark recipe.
I like using chips or chunks over baking bars, since you don't have to chop up the chocolate. So I recommend:
Dark Chocolate
● Guittard 63% Extra Dark Chocolate Chips
● Ghirardelli 60% Bittersweet Chocolate Chips
● Scharfeen Berger Semisweet Dark Chocolate Baking Chunks
White Chocolate
● Guittard Baking Au-Lait (White Chocolate) Chips
However, working with regular chocolate can be tricky since you must temper it when you melt it. If you don't, it may not set up properly.
Or the chocolate could have an uneven, matte appearance or could get blotchy.
The blotchiness is called "bloom." Bloom is edible, just not very attractive.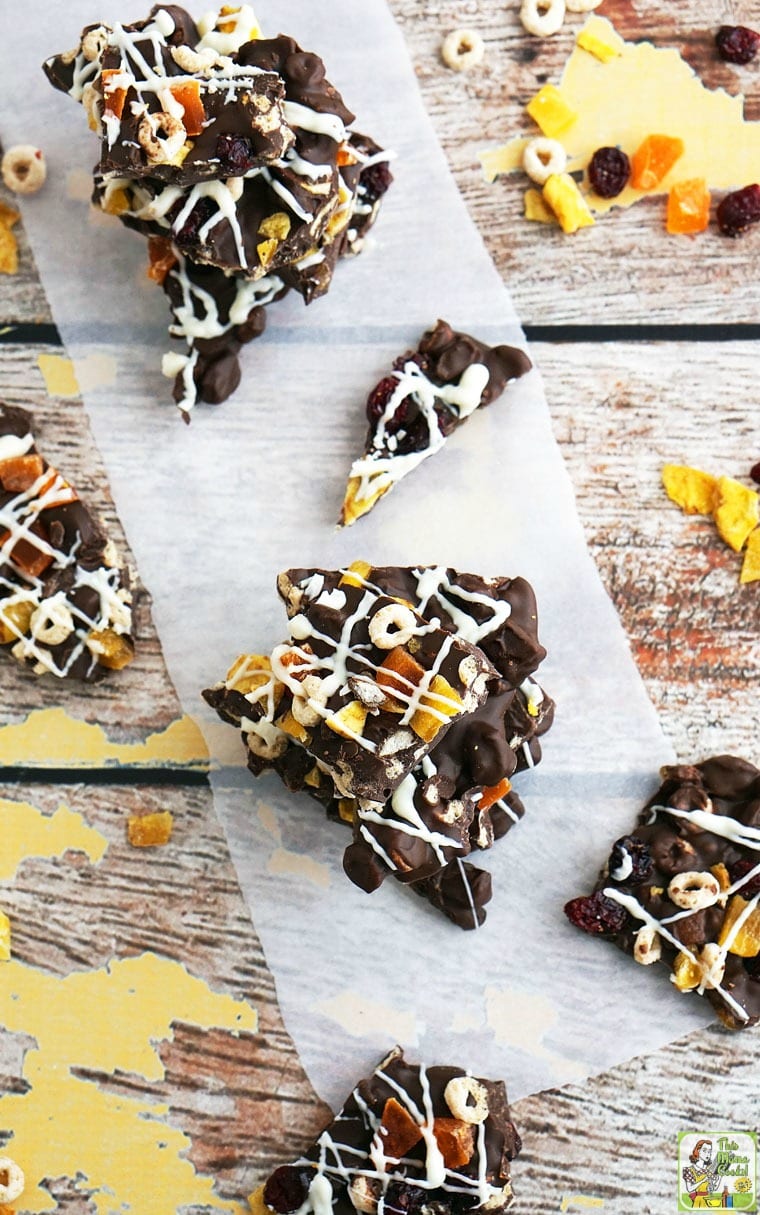 How to temper good chocolate for homemade chocolate bark candy
The best way is to melt the chocolate S-L-O-W-L-Y.
1. Place 1 pound of your finely chopped chocolate in a 4-cup glass measuring cup. You can also use a 1 1⁄2-quart glass mixing bowl.
2. Then pour very warm tap water (100° to 110° F) into a large glass casserole or bowl to a 1-inch depth.
3. Set the cup or bowl of chocolate into the water. Be VERY CAREFUL not to splash any water inside your cup or bowl. The water should reach only halfway up the cup.
4. Every few minutes, gently stir the chocolate with a rubber spatula.
5. Change the water as needed to keep it between 100° to 110° F. The chocolate will melt very slowly, especially if it was coarsely chopped. After about 15-20 minutes, it should be melted and ready for making into chocolate bark.
You can also temper chocolate in the microwave.
Other types of melting chocolates
If tempering chocolate is too intimidating, you can use chocolate bark coating (also called almond bark or chocolate bark for melting) or candy melting wafers.
I highly recommend Ghiradelli Melting Wafers. Ghiradelli's chocolate wafers comes in dark chocolate, milk chocolate and white chocolate varieties.
Not only are the melting wafers easy to measure out for your chocolate bark recipe, they taste great!
Gluten free warning: A reader pointed out to me that according to the label Ghiradelli *may* contain wheat. My guess is because it's made on machinery that is used to manufacture products that contain wheat.
So, if you have celiacs or a wheat allergy, avoid Ghiradelli Melting Wafers. You should use another brand that doesn't contain wheat.
Concerned about allergies? Or vegan? Then use an allergy free, vegan chocolate like Enjoy Life Semi-Sweet Chocolate Mini-Chips, which is dairy free and gluten free.
However, you should go through the tempering process with Enjoy Life to avoid getting bloom.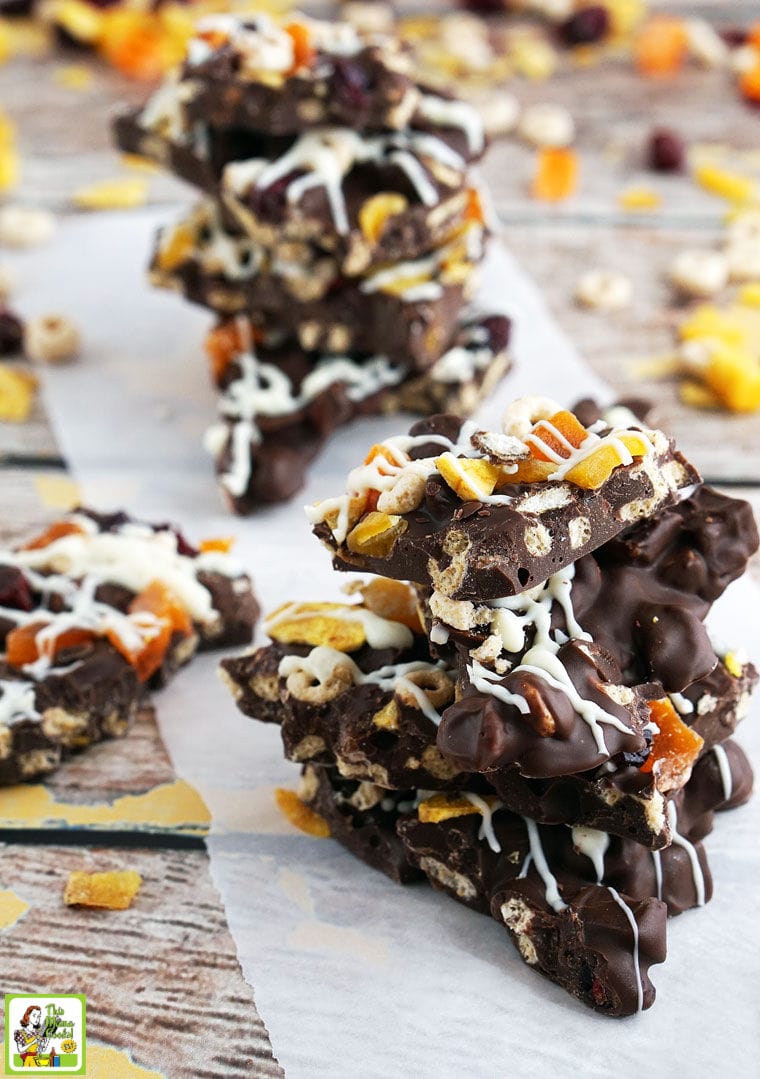 How do you make chocolate bark candy?
Here are some tips to make the best chocolate bark from the recipe below:
Plantain chips: Can't find salted plantain chips at your supermarket for this bark candy recipe? Try looking in the "bag your own" dried fruit, candy and nuts section.
Then make your own homemade chips using my Best Oven Baked Plantain Chips recipe or use banana chips instead.
Chopped fruit: The chopped dried fruit should be the size of the cranberries and Cheerios. If they're too big, it'll be hard to break the candy bark into pieces.
Try other types of chocolate bark ingredients: Try other types of dried fruit like golden raisins or different types of Cheerios.
If you want to make this into gourmet chocolate bark try chopped candied ginger or nuts like pistachios, cashews or almonds or even candied pecans. Experiment and have fun!
Drizzling chocolate: If you've never drizzled melted chocolate before, you have to use The Kitchn's plastic bag technique. It works like a dream!
Make sure to use a thick freezer baggie and take it slow – 30 seconds at 50% power – to melt the chocolate wafers. You'll find this works so well that you'll want to start drizzling chocolate on more than chocolate bark candy.
Parchment paper: Have you tried parchment paper sheets? They're precut and fit your cookie baking sheet perfectly.
I always tear either too much or too little parchment paper off the roll when I'm baking. Since they're precut, I don't waste any paper. LOVE IT!
Making chocolate bark gifts
Here are a few ways bark is perfect for a homemade gift giving any time throughout the year:
● Buy some cute treat gift boxes at the craft store for friends, relatives and/or teachers.
● Fill a Mason jar with the bark candy. Attach a gift paper tags with twine to the lid.
● Put the pieces in a Ziploc baggies or cellophane party bags tied with ribbon. Then print out labels and attach them to the baggies or bags.
● Fill a coffee mug with the candy bark. Attach a gift paper tag with twine to the handle.
● Click on the "Print Recipe" icon and include the bark recipe in your card along with your homemade gift. Teachers, friends and relatives love recipes!
Looking for more homemade gift recipes?
Add these to your Best Candy & Gifts for Gluten-Free Easter Baskets, too.
Homemade gifts like festive chocolate bark are fun to make and receive. Here are some other gift recipes you can make with the kids:
● Homemade Hot Chocolate Mix (Use this to make Homemade Crockpot Hot Chocolate Recipe for a Crowd. Great for holiday parties!)
● Orange Fruit Leather and Strawberry Fruit Leather
Yield: 8 SERVINGS
Easy Gluten Free Chocolate Bark Candy Recipe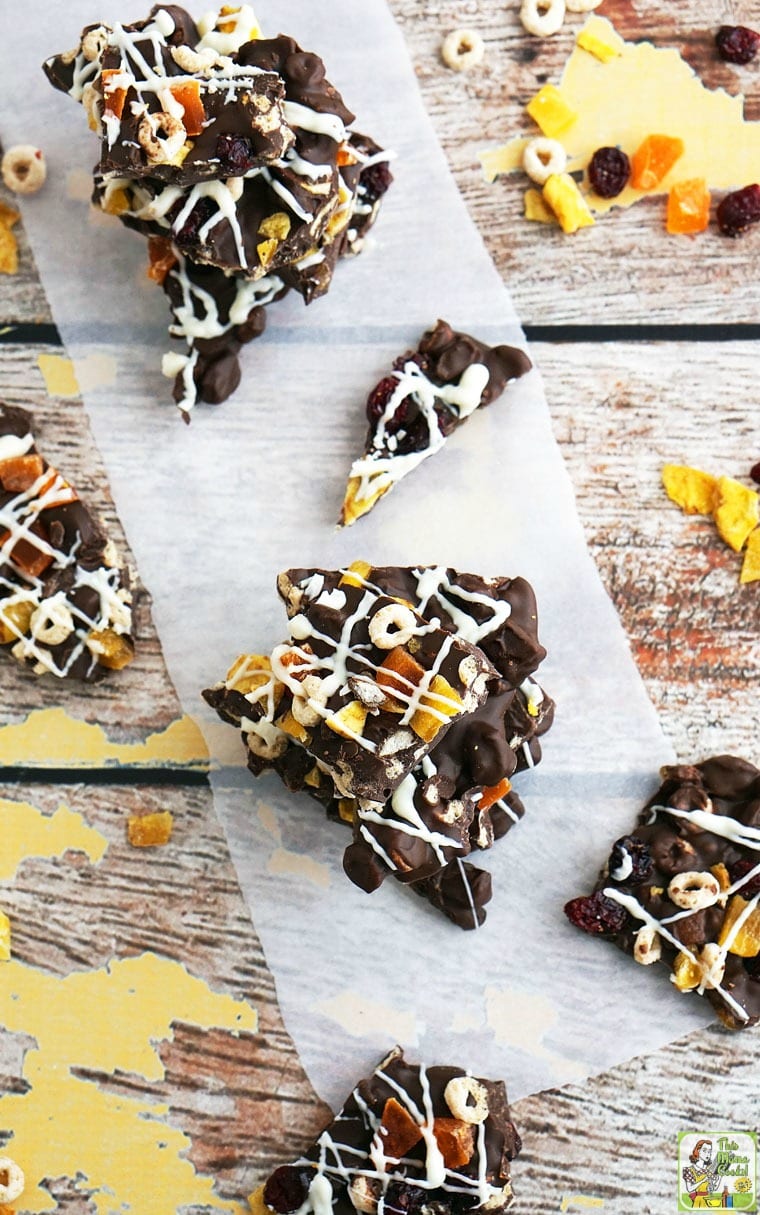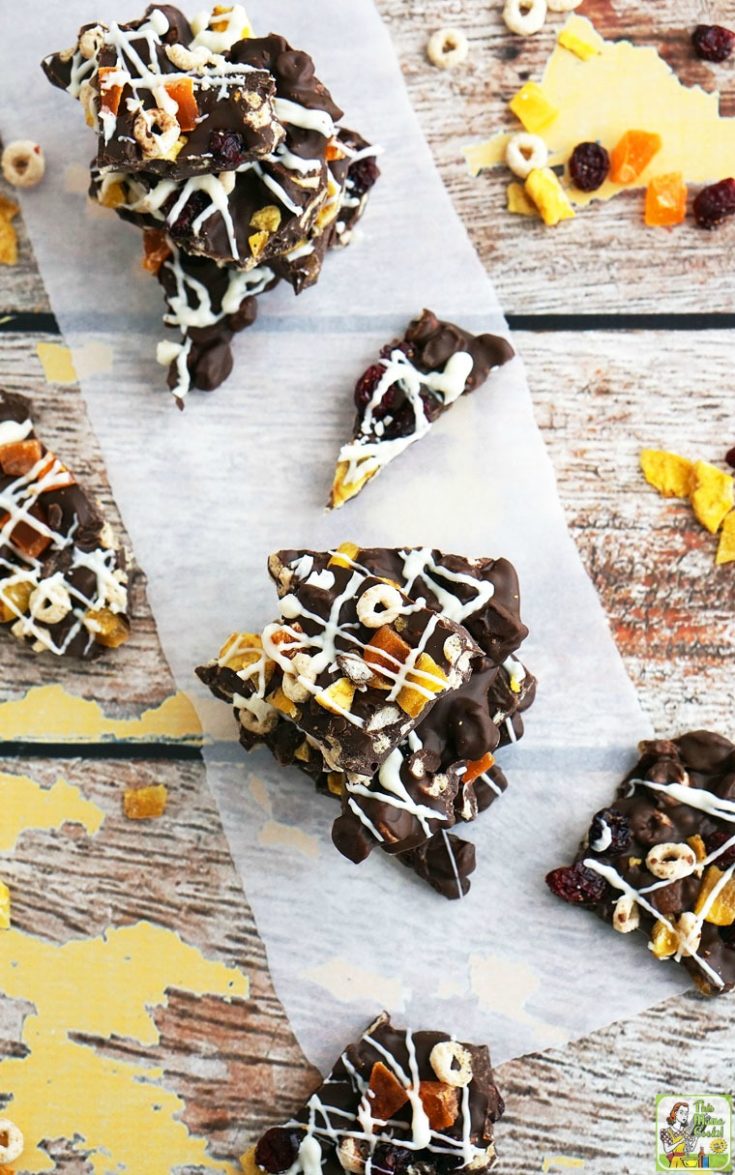 Looking for chocolate bark recipes? Make this gluten free chocolate bark with dried fruit and Cheerios for homemade holiday gifts.
Total Time
2 hours
4 minutes
Ingredients
1 cup gluten free Frosted Cheerios
1/2 cup chopped salted plantain chips
1/2 cup chopped dried mango
1/2 cup dried cranberries
1/2 cup chopped dried papaya
24 ounces dark chocolate chips or chocolate bark candy coating
1/2 cup white chocolate chips or white chocolate melting wafers
Instructions
Place a large cookie sheet in your freezer for an hour until well chilled.
In a large bowl, mix Frosted Cheerios, plantain chips, dried mango, cranberries, and papaya.
Remove 1 1/2 cups of cereal and fruit mixture and set aside.
Remove the cookie sheet from the freezer and line with parchment paper.
Melt candy coating according to directions.
Stir melted chocolate candy coating into the cereal and fruit mixture.
Spread mixture onto the parchment-lined baking sheet. Use the back of a spatula to spread the mixture to the edges of the baking sheet.
Once spread, sprinkle on the remaining cereal and fruit mixture and gently press on to the surface with your hand.
Melt white chocolate. Drizzle over bark.
Place finished bark into the freezer until solid – 30 minutes.
Break into pieces.
Nutrition Information:
Yield:
8
Serving Size:
4 ounces
Amount Per Serving:
Calories:

698
Total Fat:

36g
Saturated Fat:

21g
Trans Fat:

0g
Unsaturated Fat:

13g
Cholesterol:

11mg
Sodium:

95mg
Carbohydrates:

90g
Fiber:

7g
Sugar:

69g
Protein:

6g
Nutritional information is automatically calculated per the ingredients list. Serving size may not be accurate. Please double-check with your preferred nutritional app for the most accurate information.
Originally published on March 7, 2016 and December 1, 2017. Updated with new pictures and information.