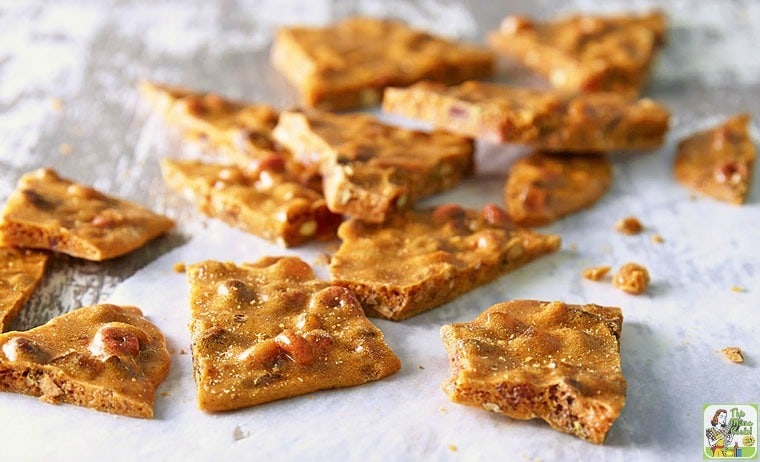 This Easy Microwave Brittle is a special treat you and the kids can make as a homemade gift for the holidays. This recipe is also terrific to use for Christmas cookie exchanges.
Microwave brittle recipes take the hassle out of brittle making and are so much easier than stovetop brittle recipes!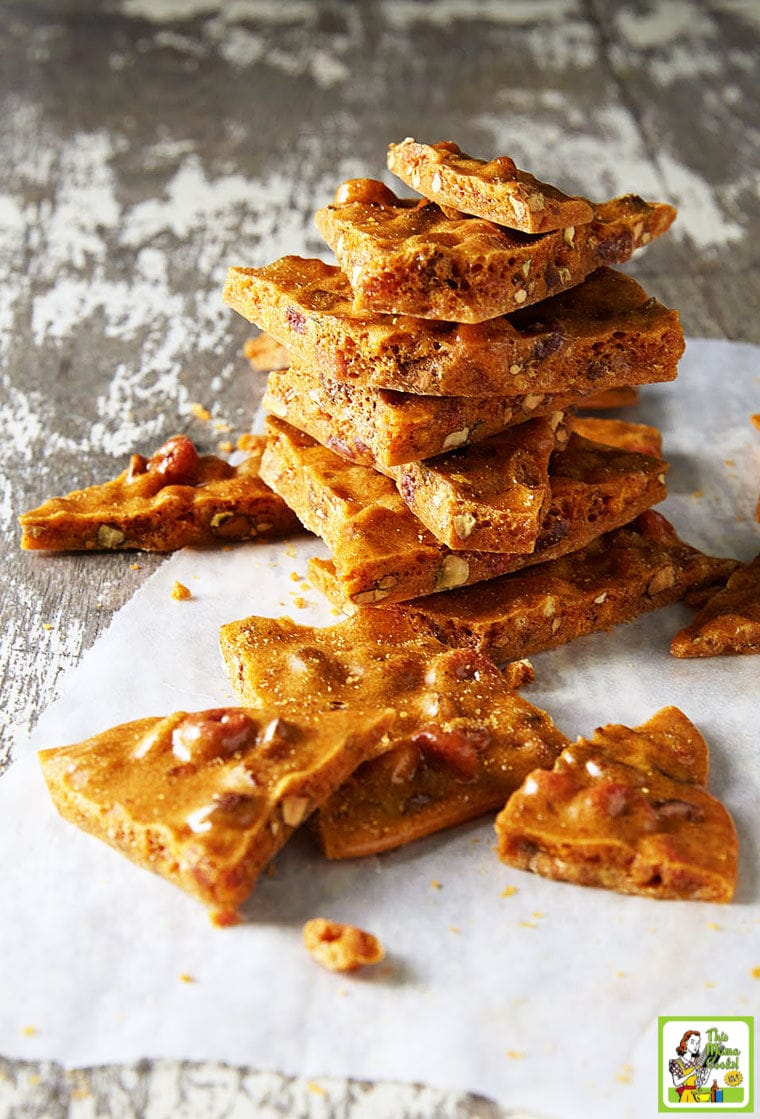 While most traditional microwave brittle recipes use peanuts, I decided to do something different and make pistachio brittle with Fruity Cheerios and ginger.
The flavors are inspired Indian chikki candies. Chikki are similar to peanut brittle in texture and color, but contain a mix of almonds, cashews, and pistachios.
These candies are flavored with ginger and cardamom, and contain bits of purple, orange, and yellow dried edible flowers.
For my easy brittle recipe, the Fruity Cheerios mimic the color of the chikki and cinnamon for the taste. The pistachios, candied ginger, and grated some orange peel to echo the flavors and colors of the chikki brittle candy.
I think you'll love the taste of this unique pistachio brittle recipe!
Making microwave brittle at General Mills
I came up with this recipe for easy brittle when I visited the Betty Crocker Kitchens at the headquarters of General Mills outside of Minneapolis, Minnesota back in 2016.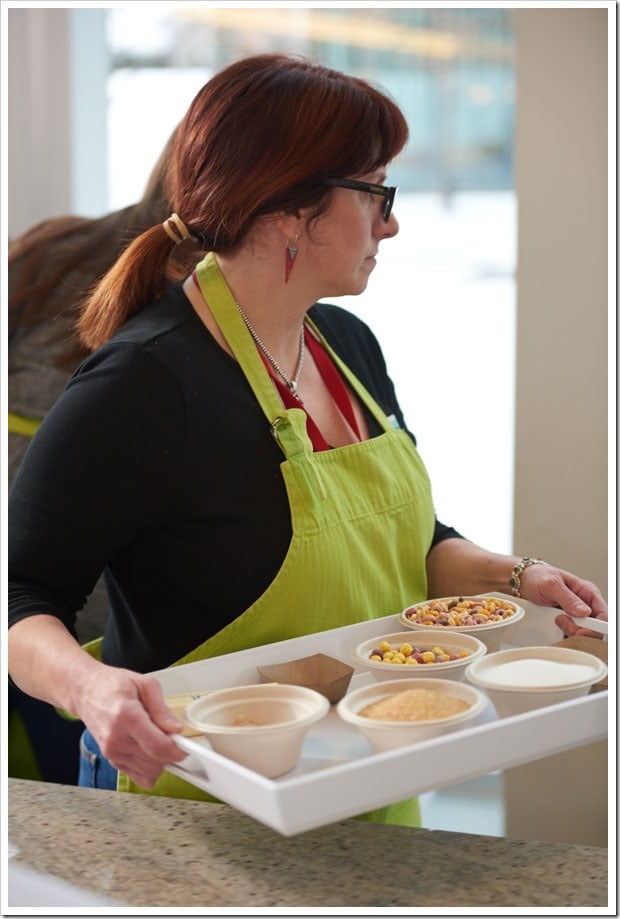 We were given free reign to come up with our own recipes using a General Mills cereal and natural flavorings from the spice kits we were given.
Why I chose to make a simple brittle recipe in the microwave
I knew my time was limited, so I planned to hurry up the cooking process making the easy pistachio brittle recipe in the microwave.
In the short time I had to develop my recipe, I came across several online recipes for microwave peanut brittle.
The staff at the Betty Crocker Kitchens also helped me figure out microwave brittle cooking times by consulting the current copy of the Betty Crocker Cookbook, which has recipes for both stovetop and microwave peanut brittle.

On my first try making the simple brittle recipe, I wasn't completely happy on how dark the brittle was and how you couldn't see the pretty colors of the Fruity Cheerios!
Luckily, the staff was going to redo all our recipes the next day for a photo shoot in the General Mills studio (pictures below).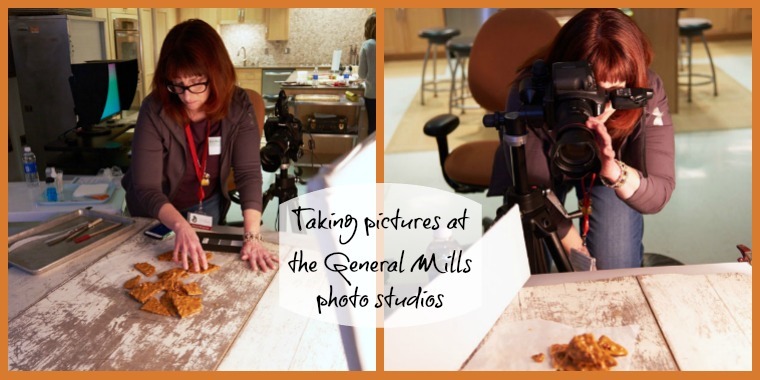 So I worked with one of the kitchen professionals. We felt that shortening up some cooking times, going with a white sugar (I'd originally chosen turbinado sugar) and adding the ginger and cinnamon later would work better.
The results are what you see are in these pictures.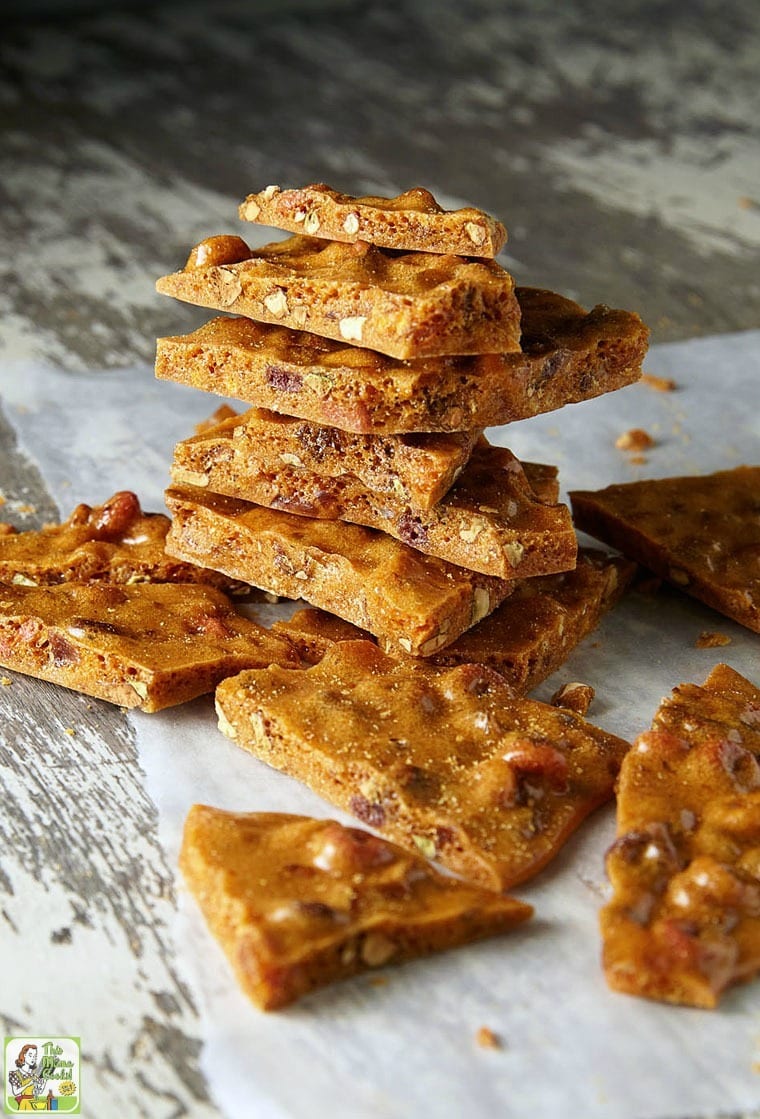 Tips for making this easy brittle candy recipe
Remember when making easy brittle candy recipes, time is of the essence, so:
Read the recipe carefully. You may even want to practice "first I do this, then I do that." You can't go back if you skip a step or leave out an ingredient.
Be prepared. Butter your baking pan before starting to cook. Have all your ingredients measured ahead of time.
Set out your silicon spatulas so they're within reach, too.
Safety first! The brittle ingredients coming out of the microwave will be HOT! Have your oven mitts ready and keep the kids away.
Banish the dogs and cats to the living room. This is not the time to be tripping over pets either.
Keep an eye out. Microwaves are all different so don't walk away during the cooking process. Keep an eye on what's cooking and don't overcook the sugar and corn syrup. You want it to be golden brown, not dark brown!
One batch at a time. Don't double the batch as it's too hard to work with more. Plus, doubling the cooking time wont' be accurate.
This brittle recipe takes no time at all. So once you have one batch cooling, start another!
Humidity makes sticky candy. Try making Easy Microwave Brittle with Fruity Cheerios, Pistachios & Ginger on a less humid day.
Are you gluten free? Fruity Cheerios are gluten free, so is this brittle recipe!
Looking for more homemade gift ideas?
Making Christmas brittle? Here are some other homemade gift ideas for the holidays:
● Candied Ginger (you can use homemade ginger in the brittle, too!)
● Cookies 
Yield: 8 SERVINGS
Easy Microwave Brittle Recipe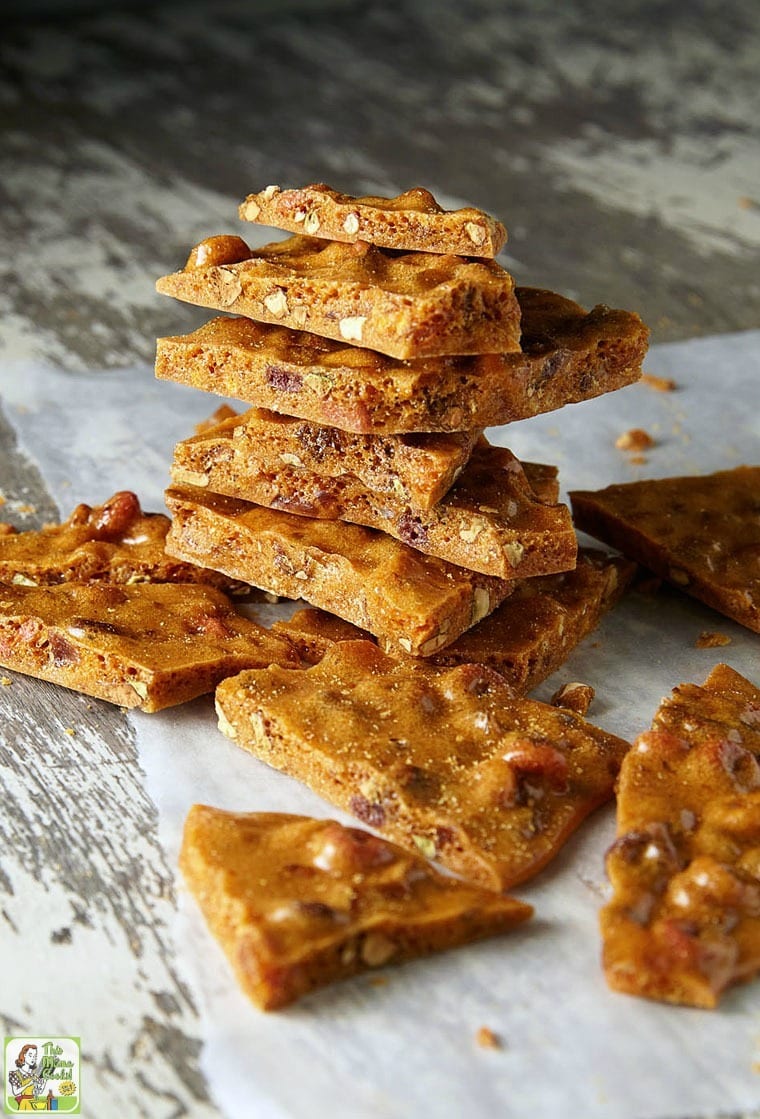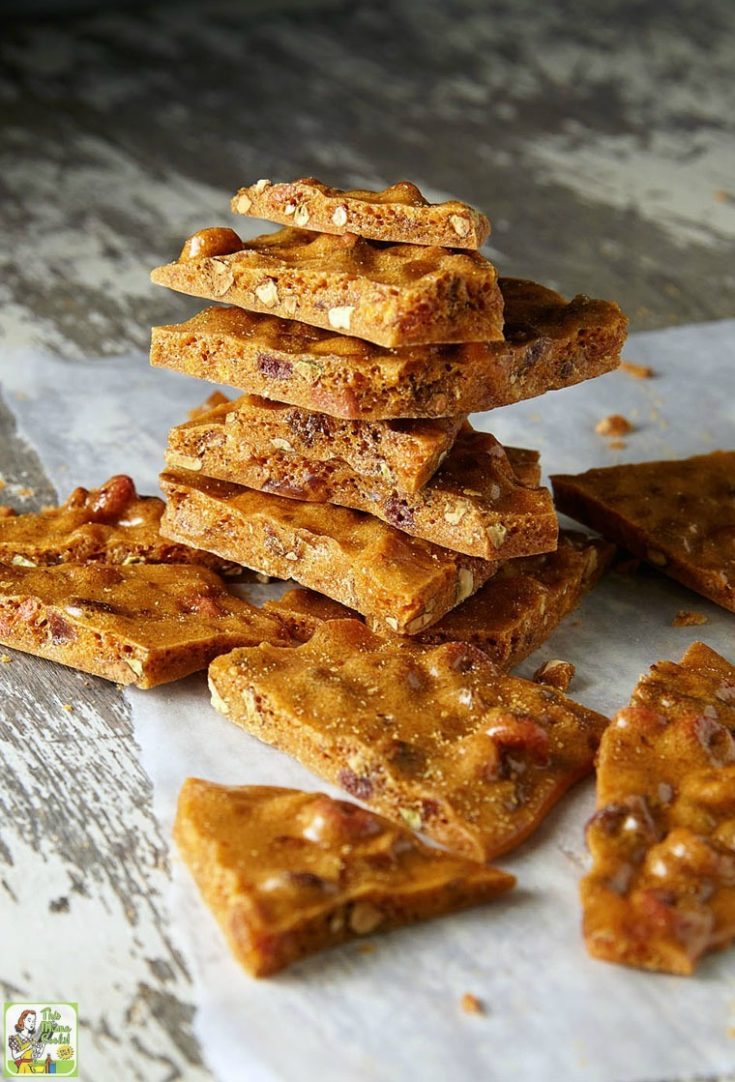 Easy Microwave Brittle is made with pistachios, candied ginger, spices, and grated orange peel. Pistachio brittle makes a tasty homemade gift.
Ingredients
1 cup white granulated sugar
1/2 cup light corn syrup
1/2 cup Fruity Cheerios
1/4 cup chopped candied ginger
1/4 cup chopped pistachios
1 tablespoon butter (plus extra for greasing baking pan)
2 teaspoons grated orange zest
1 teaspoon cinnamon
1/4 teaspoon sea salt
1 teaspoon baking soda
Instructions
Generously butter a baking sheet and set aside.
In a 2-1/2 quart glass microwave-safe mixing bowl, stir together sugar and light corn syrup. Microwave on high for 5 minutes.
Stir in Cheerios, chopped ginger, pistachios, butter, orange zest, cinnamon, and sea salt. Stir until butter is melted.
Place the bowl in the microwave and cook on high for 2 minutes until the brittle is a golden brown.
Stir in baking soda. The mixture will be foamy. Pour on to the prepared baking sheet. Quickly and lightly spread the brittle mixture with your spatula. (The more you spread it, the thinner it will be. Patting it down will remove the bubbles the baking soda reaction makes, so don't handle it too much.)
Allow the brittle to cool at room temperature. (You can also place it in the refrigerator to speed this up.) Then break into pieces.
Nutrition Information:
Yield:
8
Serving Size:
1/2 cup
Amount Per Serving:
Calories:

220
Total Fat:

4g
Saturated Fat:

1g
Trans Fat:

0g
Unsaturated Fat:

2g
Cholesterol:

4mg
Sodium:

275mg
Carbohydrates:

49g
Fiber:

1g
Sugar:

46g
Protein:

1g
Nutritional information is automatically calculated per the ingredients list. Serving size may not be accurate. Please double-check with your preferred nutritional app for the most accurate information.
General Mills sponsored the trip to their headquarters. All opinions are my own.
Event photos courtesy of General Mills.
Originally published on February 22, 2016 and December 8, 2017.
Updated with new photos and information.