There's nothing better than crockpot hot chocolate on a cold winter's night.
Make this slow cooker hot chocolate recipe at holiday gatherings or to enjoy with the family after sledding or during game night.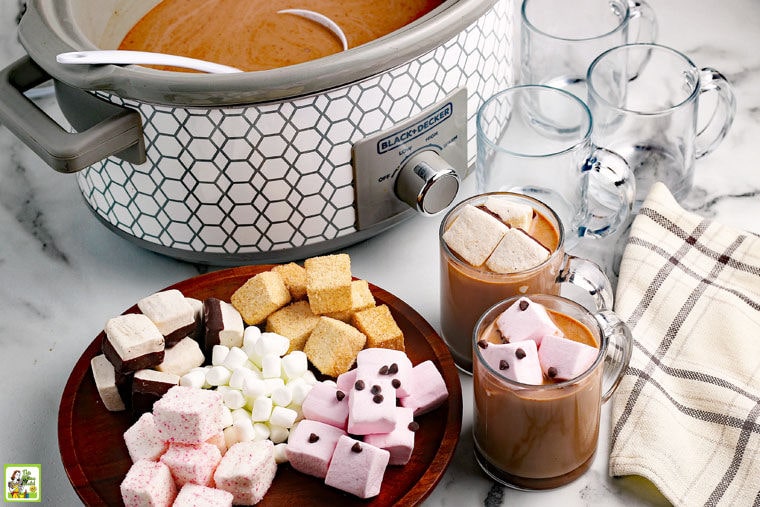 Why you should make hot chocolate in the crockpot
Sure you can nuke hot chocolate in the microwave with water and a powdered mix on a cold day.
But this special chocolate drink is just the thing for a big party or a family movie night.
Making it this way also allows you to keep the drink warm for a long period of time.
(Try doing that on the stovetop while watching a marathon of holiday movies without scalding the milk!)
What I also like about crockpot hot chocolate is that you can set up a super fun Serve Yourself DIY Hot Chocolate Bar!
This way everyone can customize their mugs of hot chocolate with whipped cream, crushed peppermint, syrups, a dash of cinnamon, or other seasonal items and goodies you may have on hand.
What's the difference between hot chocolate and hot cocoa?
I acknowledge that we use the terms interchangeably, but traditionally there's a difference.
(And knowing what that difference is will impress all your culinary-minded friends.)
Hot cocoa is made with cocoa powder and sugar or a hot chocolate mix stirred into hot water or steamed milk.
Hot chocolate or "drinking chocolate" is made with chopped bits of chocolate blended into hot milk, cream, or water.
This recipe is a blend of both and not very traditional. But that's OK since it's delicious, decadent, easy to make, and lots of fun.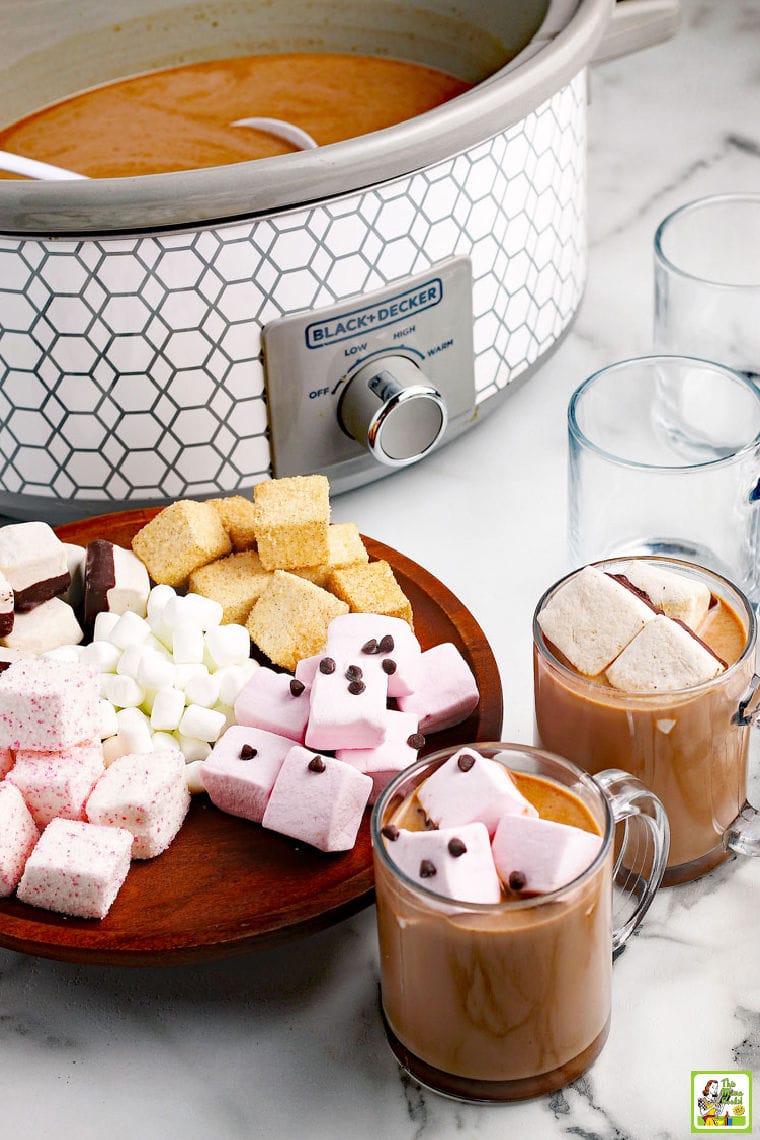 How to make the best crock pot hot chocolate
1. In a 6-quart or larger crockpot, combine whatever milk you're using*, cream, and vanilla extract.
*See below on how to make a vegan, dairy-free slow cooker hot chocolate.
2. Add your favorite chocolate mix to the crock pot. (Or use my Homemade Hot Chocolate Mix recipe to make your own!)
3. Whisk all the ingredients until everything is well combined and there are no lumps.
4. Break chocolate bars into small pieces. Add the broken chocolate pieces to the slow cooker.
5. Cover and set crock pot on low for 2 hours. Occasionally stir to make sure the melted chocolate is incorporated into the crock pot hot chocolate.
6. Pour the warm chocolate into mugs and top with your favorite toppings.
Can you make a dairy-free, vegan version?
Yes, you can a dairy free slow cooker hot chocolate that's also vegan!
Milk: My personal preference would be to use chocolate coconut milk, like So Delicious Chocolate Milk.
Cream: Then add a cup of coconut cream to it.
If you can't find coconut cream use full-fat coconut milk instead. You want the creamiest coconut milk you can find.
Hot chocolate mix: You can use a dairy free chocolate mix like Swiss Miss Non-Dairy or Ghirardelli Chocolate Double Chocolate Premium Hot Cocoa Mix.
However, while the ingredients lists on both these products look dairy free and vegan, neither or certified as vegan.
If that is of concern, you can try Coconut Cloud: Dairy-Free Instant Hot Cocoa Mix. It is certified to be dairy free and vegan.
I haven't tried this product, but it has good reviews on Amazon.
You can also make your own Homemade Hot Chocolate Mix that's dairy free and sugar free.
Chocolate: For the chocolate bars substitute 3 ounces of Enjoy Life Baking Chocolate Semi-Sweet Mini Chips. Don't worry about them being semi-sweet since the sweetness of the chocolate milk will offset it.
Enjoy Life Chips are also gluten free and vegan.
Toppings: If you're looking for dairy free whipped topping, Reddi-wip now makes two non-dairy toppings in cans, almond milk and coconut.
You can also drizzle this vegan caramel sauce recipe or a strawberry sauce on the dairy free whipped cream. Pretty!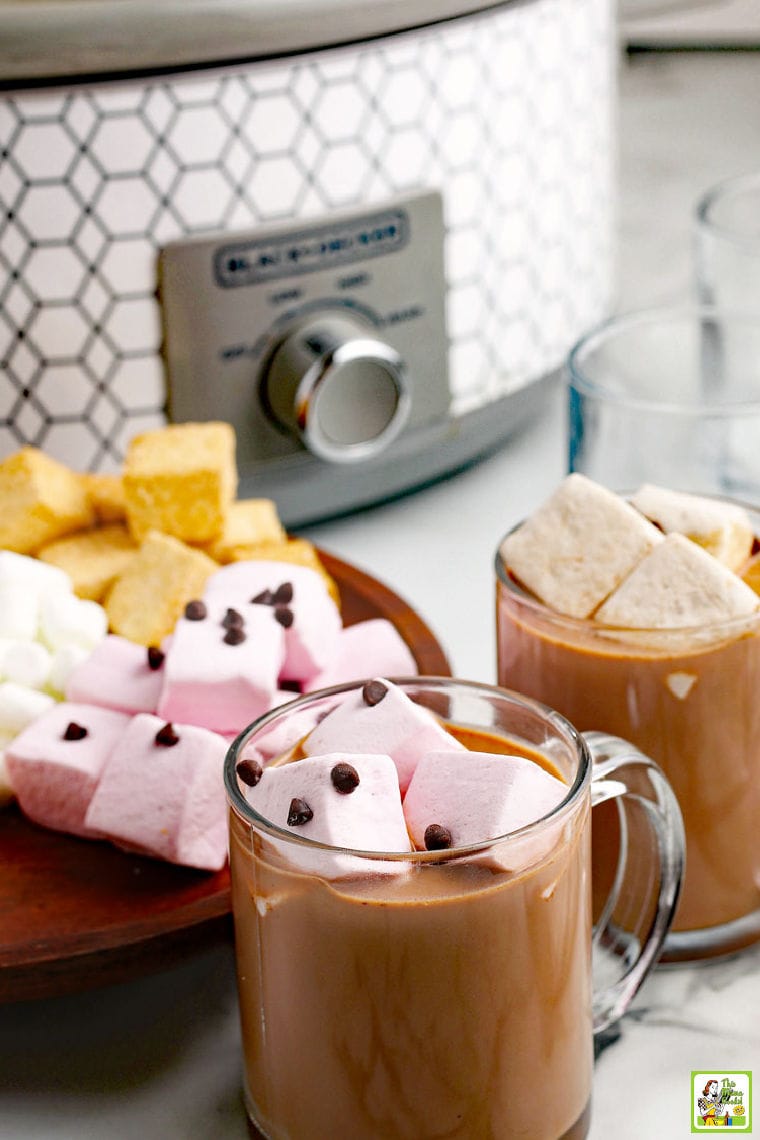 Can you add alcohol to your chocolate?
Please do, but only if you're over 21.
Don't add liquor directly to the slow cooker. Instead, allow everyone to add their favorite adult beverage to individual mugs. That way everyone can make their drinks as light or strong as they prefer and flavor it with their favorite liquor.
Plus, that way there is plenty of warm chocolate to go around for the kids and non-imbibing adults as well.
So what type of adult beverage or flavored liqueurs go well with chocolate? Try these:
Coffee liqueurs like Kahlua or Mr. Black
Baileys
Peppermint schnapps
Marshmallow vodka (a favorite of mine used in my black cocktail recipe)
Rum Chata
Bourbon
Hazelnut liqueur
Red wine (seriously! - check out this recipe)
If you're looking for more warm boozy drinks, check out Smoking Bishop, which is a spiced wine and port punch. Then also the classic Mulled Wine Recipe.
If you like this chocolate drink, check out my S'mores Martini, which is a cold chocolate boozy drink.
Variations on slow cooker hot chocolate
Try these drink add-ins:
Espresso: Try adding a spoonful of instant espresso powder for a coffee caffeinated boost. Oh my!
Dulce de leche: Drizzle on some dulce de leche syrup over the whipped cream or add a spoonful to your drink!
Peppermint: Add a little peppermint extract or some crushed candy cane for a peppermint hot chocolate.
(Be careful not to add too much peppermint extract as it is very strong.)
Caramel: Stir in a spoonful of caramel sauce or drizzle it on the whipped cream. If you love salted caramel flavor add a pinch of salt.
No dulce de leche or caramel in the house? You could also add a teaspoon of sweetened condensed milk for an extra secret ingredient burst of creamy sweetness!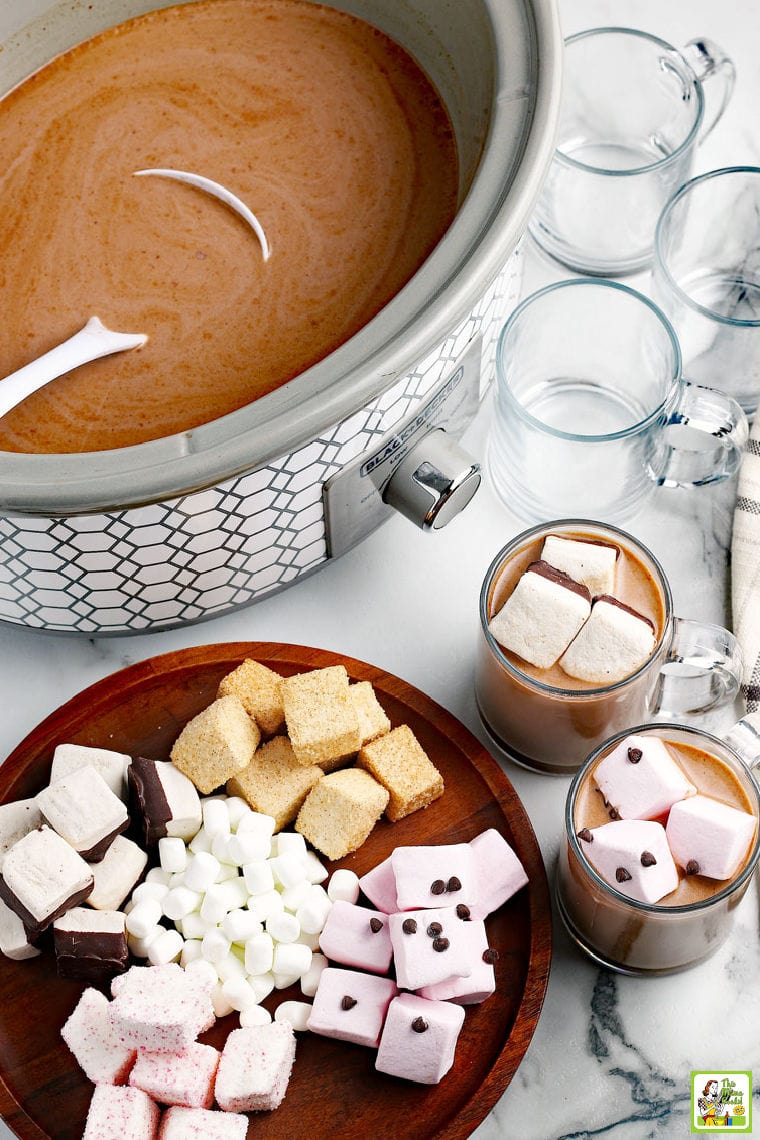 Can you freeze this hot chocolate recipe?
Yes, you can freeze this chocolate drink for later, here's how:
1. Let the chocolate cool down completely.
2. Transfer the chocolate drink into a large freezer bag or a freezer-safe plastic container.
There's a trick to pouring liquids into freezer bags. The best way is to place the bag in a bowl. Then cuff the bag over the edge of the bowl.
Then ladle the cooled chocolate drink into the bag. (You can also have a helper hold the bag open for you.) Then carefully press out any air and seal up the bag.
Remember to label and date the container. The chocolate drink can remain frozen for up to 3 months.
3. To reheat, remove from the freezer and defrost overnight it in the refrigerator.
Pour contents into a large saucepan. Heat over medium heat, stirring frequently, until hot.
You can also pour the chocolate into mugs and reheat individual portions in the microwave.
Serving ideas for holiday parties
To make a Serve Yourself DIY Hot Chocolate Bar for your holiday gathering, leave your crock pot on the warm setting.
Provide plenty of festive ceramic or glass mugs for your guests to serve themselves. (Don't forget a ladle!)
Have bowls full of optional toppings like mini marshmallows, some mini candy canes, chocolate flakes, mini milk chocolate chips, crushed chocolate chip cookies, etc.
Place labeled squeeze bottles of caramel, chocolate, strawberry, and dulce de leche syrups, and sweetened condensed milk. (Less messy than little bowls of syrup with spoons.)
Adding booze? Put out those flavored liqueurs and bottles of bourbon, Rum Chata, flavored vodka, etc.
Put out that small shaker of cinnamon, just like at the coffee shop. And plenty of napkins, too!
Another tip: Blitz with an immersion blender if a film forms on the surface of the warm chocolate drink.
You can also double the recipe if you're expecting a big crowd.
Yield: 8 SERVINGS
Crockpot Hot Chocolate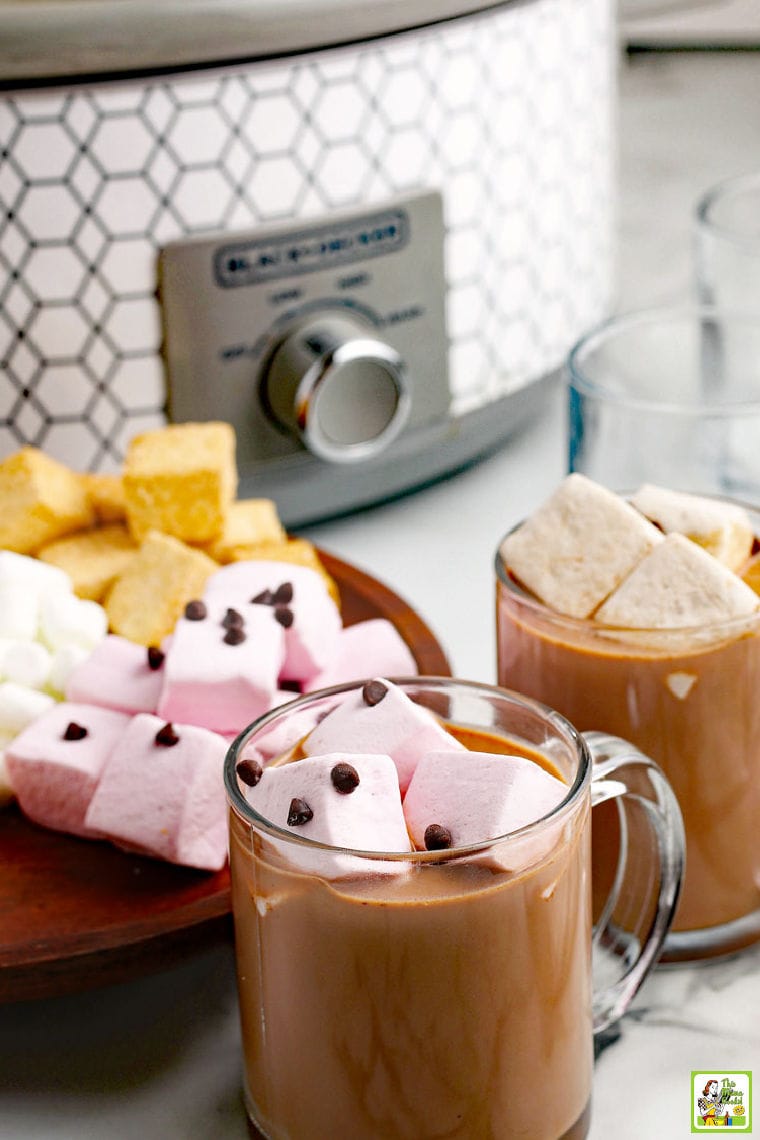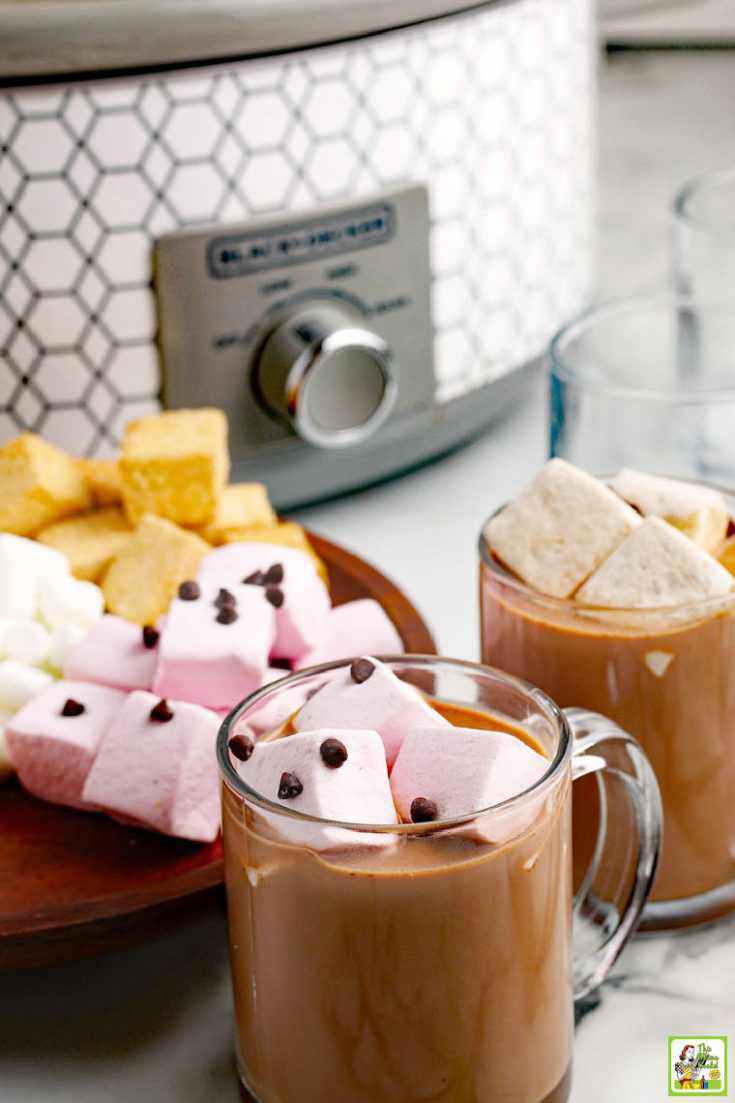 There's nothing better than crockpot hot chocolate on a cold winter's night. Make this slow cooker hot chocolate recipe at holiday gatherings.
Total Time
2 hours
5 minutes
Ingredients
6 cups whole milk
1 cup half and half (or heavy whipping cream)
2 teaspoons vanilla
1 1/2 cup hot chocolate mix
2 (1.5 ounce) milk chocolate bars
Hot Chocolate Toppings
Mini marshmallows
Whipped cream
Chocolate syrup
Caramel syrup
Mini candy canes
Mini chocolate chips
Chocolate shavings
Crushed chocolate chip cookies
Ground cinnamon
Instructions
In a large 6-quart crockpot, combine milk, heavy cream, and vanilla.
Add hot chocolate mix.
Whisk all the hot chocolate ingredients until well combined.
Break chocolate bars into pieces and add to the slow cooker.
Cover and set the crock pot on low for 2 hours or until the hot chocolate is warm. Stir occasionally.
Serve warm with your favorite toppings.
Leftovers may be cooled, refrigerated for up to a week, and reheated on the stovetop or in the microwave.
Nutrition Information:
Yield:
8
Serving Size:
1 cup
Amount Per Serving:
Calories:

516
Total Fat:

14g
Saturated Fat:

9g
Trans Fat:

0g
Unsaturated Fat:

5g
Cholesterol:

30mg
Sodium:

525mg
Carbohydrates:

84g
Fiber:

3g
Sugar:

69g
Protein:

13g
Nutritional information is automatically calculated per the ingredients list. Serving size may not be accurate. Please double-check with your preferred nutritional app for the most accurate information.