Last Updated on October 7, 2021 by Anne-Marie
You'll love this Smores Martini cocktail! It's a smores martini recipe that tastes like melted chocolate and roasted marshmallows.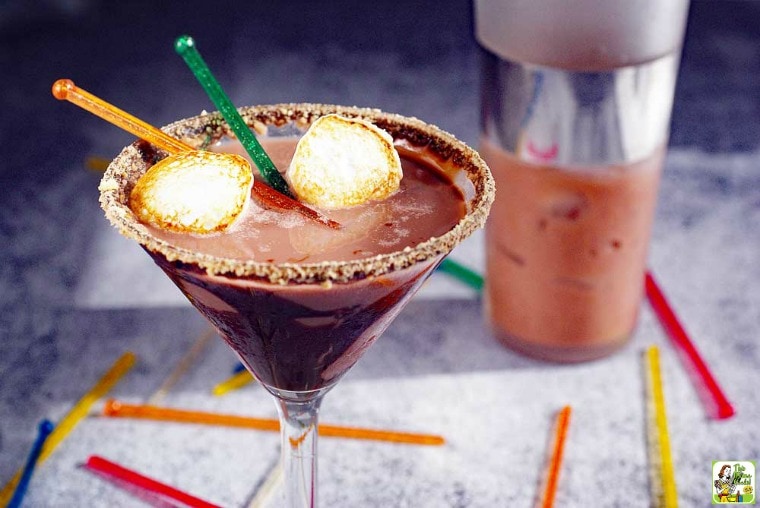 Why this recipe works
Have you ever tried a Smores Martini? It's a chocolate martini recipe that reminds you of toasting marshmallows over a campfire and making smores.
This chocolate martini is fun to serve in the winter for Christmas or New Year's Eve or as a romantic chocolate cocktail for Valentine's Day.
Either way, this smores martini recipe is a little taste of summer during those cold summer months!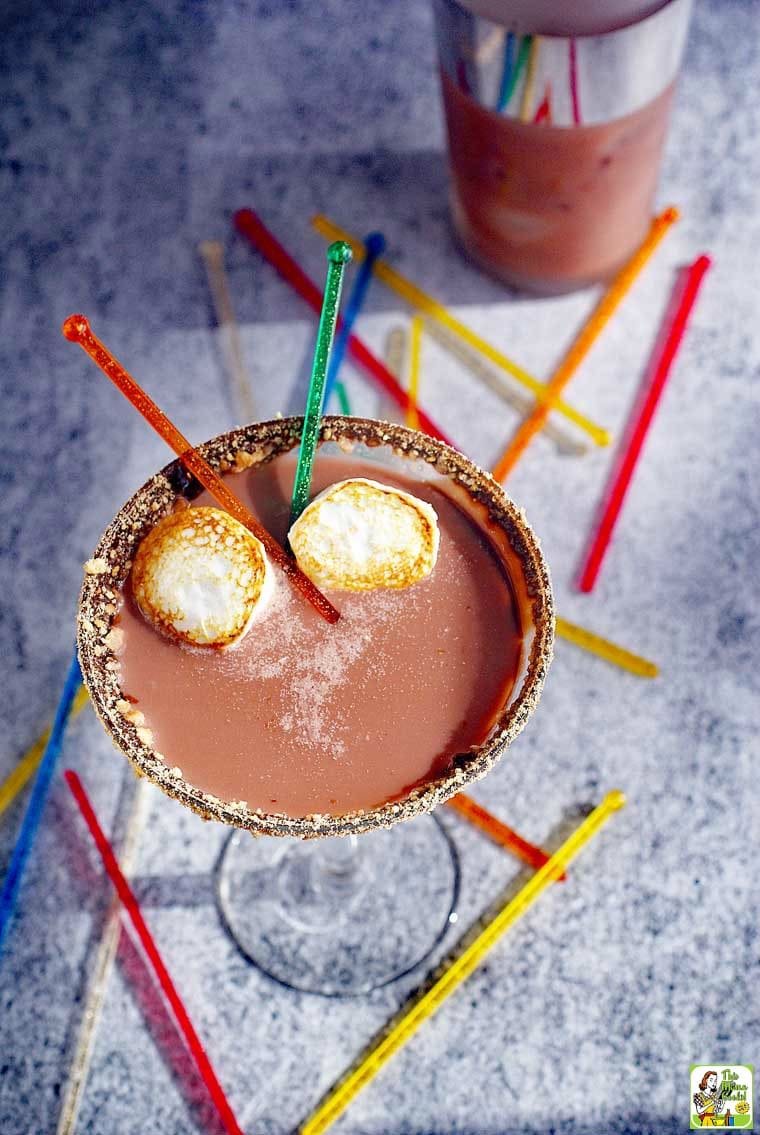 Normally, a s'mores martini is made with a chocolate liquor called Adult Chocolate Milk, a blend of shelf stable chocolate milk and vodka.
It's a delicious but pricey bottle since it retails for about $20 or so. It's also a bit hard to find unless you have a good wine and spirits store that stocks a wide variety of liquors.
In addition, Adult Chocolate Milk isn't dairy free, which means many of us can't enjoy this yummy S'mores Martini.
So I've come up with an alternative diet friendly recipe that you'll love featuring marshmallow vodka and creamy coconut milks!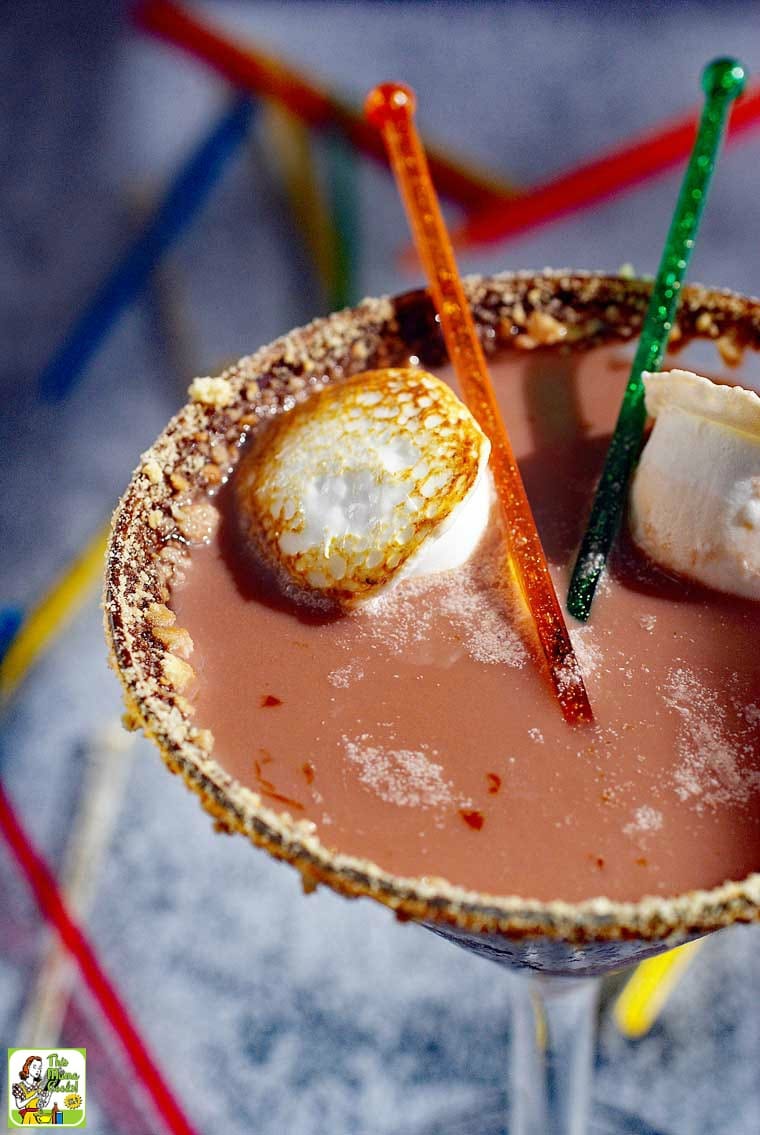 A smores martini that's dairy free and gluten free
This smores martini recipe is dairy free since it uses chocolate coconut milk and unsweetened coconut milk.
I've also made this smores martini recipe gluten free by using gluten free animal crackers.
You can also use gluten free graham crackers, of course. Either will work! (My grocery store usually has gluten free animal crackers for kids, but doesn't always stock GF graham crackers.)
While you'd think that marshmallows are gluten free, since they're mostly made of sugar, some marshmallow brands may have a starch that has gluten in it. So, as always, check the label.
Jet-Puffed (Kraft) marshmallows are gluten free, as are many brands made by Doumak such as Campfire and Walmart's store brand.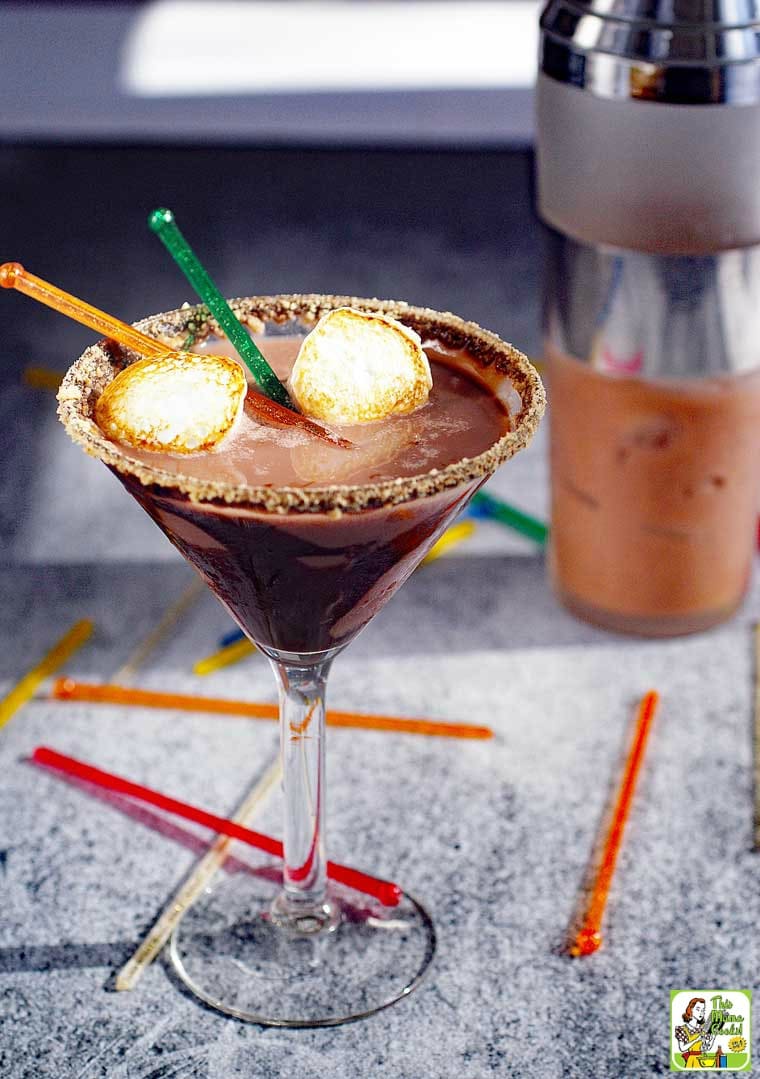 More chocolate martini ingredients
Vodka: What makes this chocolate martini special are two ingredients. The first is the marshmallow vodka.
I like SMIRNOFF Fluffed Marshmallow Vodka. Pinnacle, a French vodka company, used to make a marshmallow vodka, but I don't believe they produce it anymore.
Chocolate syrup: The other smores drink ingredient that you must use is the chocolate syrup. It's used to decorate the martini glass more than flavor the coconut milks. (No need to since you're using an already flavored chocolate coconut milk.)
To reduce the calories a bit, I used a lite chocolate syrup. If you don't care about calories, use a regular chocolate syrup in your smores martini.
Remember: if you are avoiding dairy, check the label for any milk based ingredients.
Or you can use this easy Vegan Chocolate Sauce recipe that's dairy free!
If you can only find dairy based chocolate syrups, just leave it out and stick the cookie crumbs with maple syrup or honey.
If you want to further reduce the calories or make this best chocolate martini less boozy, just reduce the amount of alcohol to 1/4 cup. The resulting cocktail should taste just fine.
Equipment: You'll need a cocktail shaker and martini glasses – of course.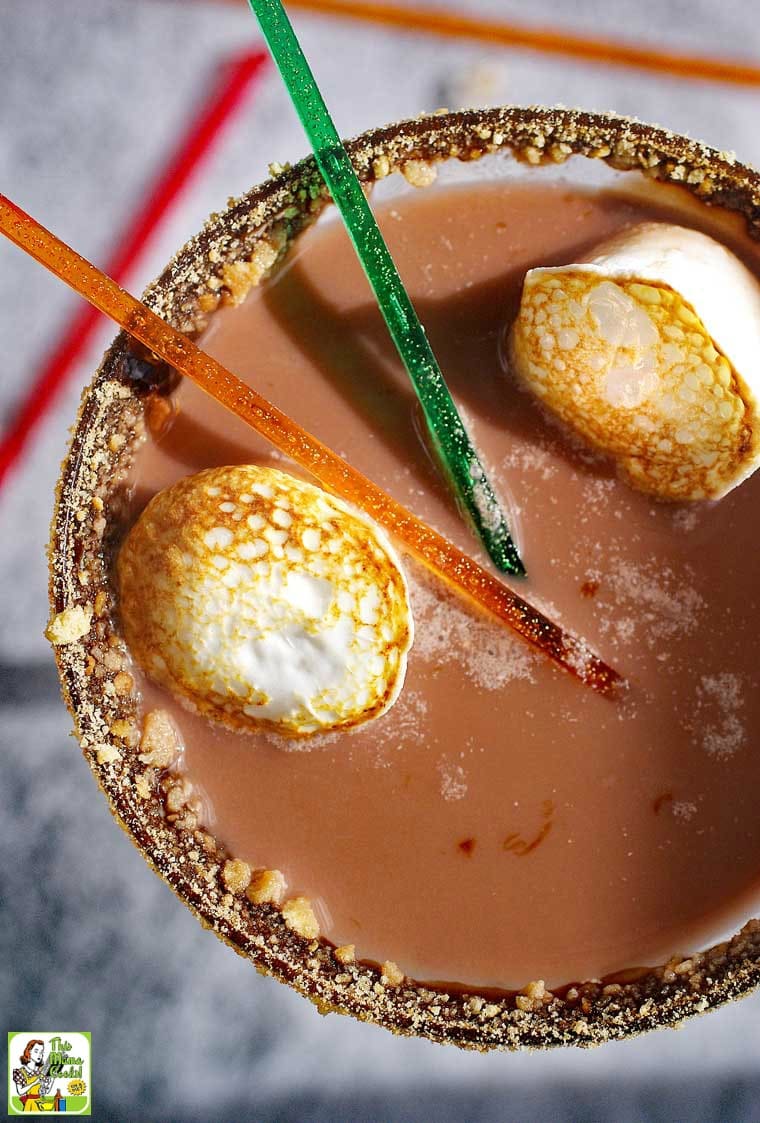 Remember enjoying a chocolate Smores Martini is a 21+ indulgence! While super fun, it's not a kids' drink.
I just hope by making it dairy free and gluten free, you won't have a tummy ache afterwards that would ruin all the fun during the holidays!
If you're looking for a no alcohol chocolate drink for a party that can be made dairy free, try this Homemade Crockpot Hot Chocolate Recipe for a Crowd.
More dairy free chocolate recipes
If you love chocolate but can't handle the dairy, try these recipes:
● Easy Dairy Free Chocolate Fondue
● Eggless Chocolate Chip Cookies with Pumpkin
● Espresso Chocolate No Bake Pie
Yield: 2 SERVINGS
S'mores Martini Recipe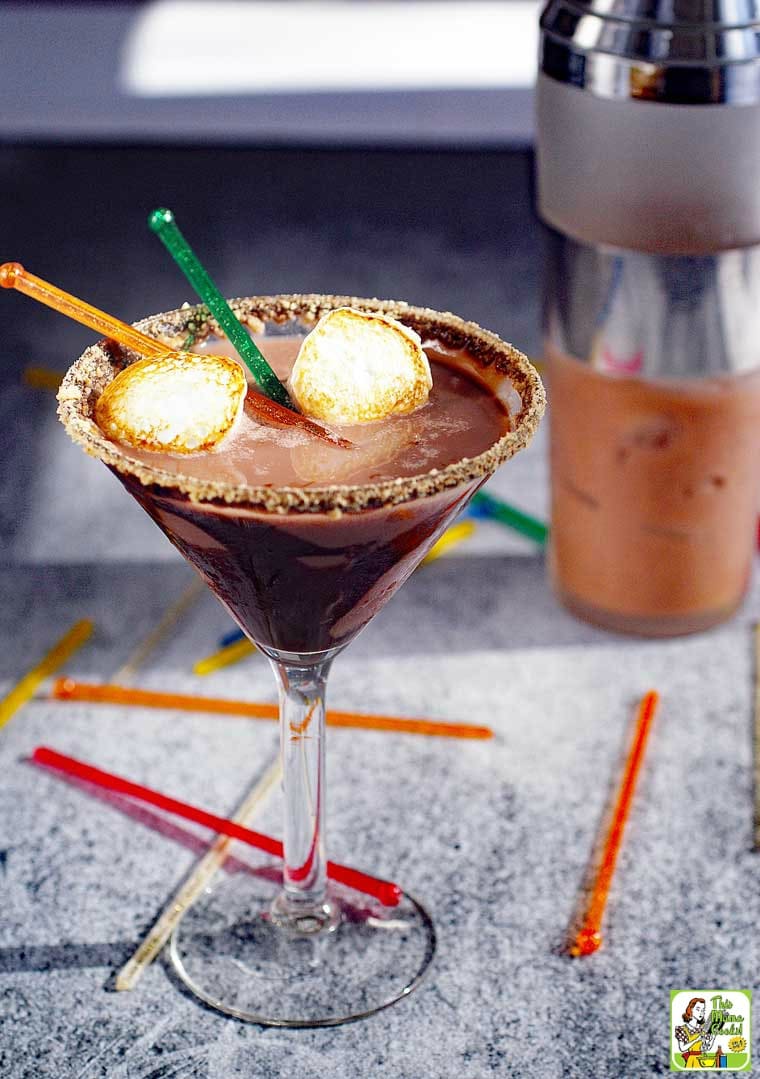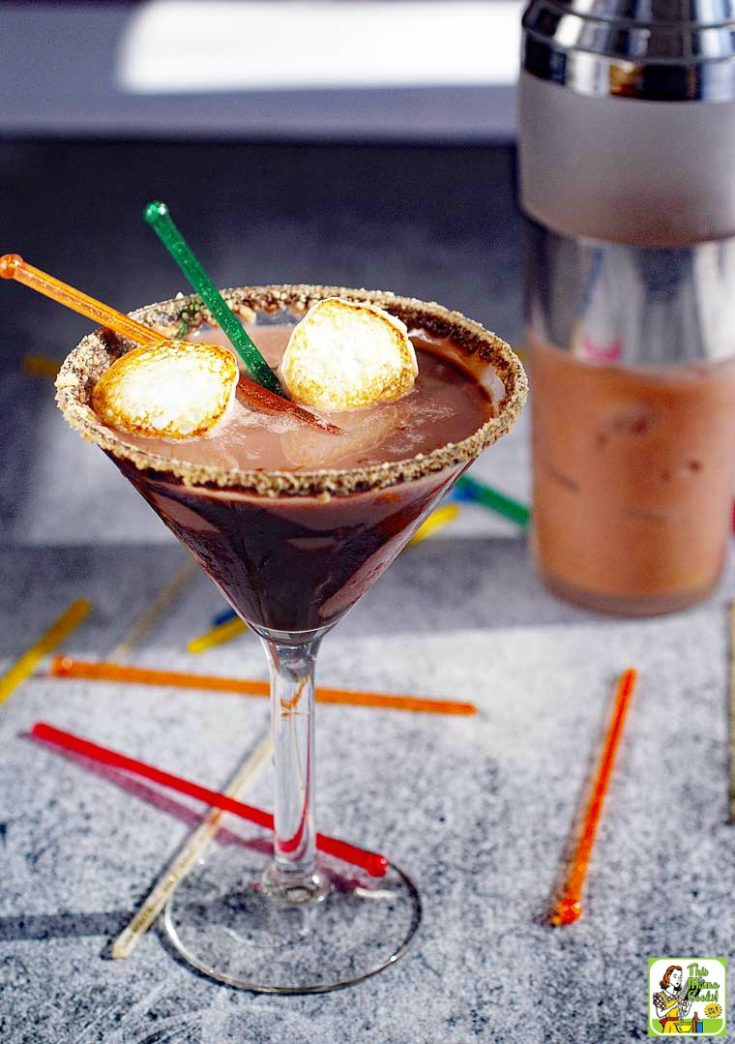 You'll love this S'mores Martini cocktail! It's a s'mores martini recipe that tastes like melted chocolate and roasted marshmallows.
Ingredients
1/4 cup lite chocolate syrup
6 gluten free graham crackers or cookies
4 marshmallows
1/3 cup marshmallow vodka
1/4 cup chocolate coconut milk
1/4 cup unsweetened coconut milk
Instructions
Place the crackers in a ziplock baggie and crush with a rolling pin until crushed fine. (You could also do this in a mini-food processor.) Place crushed crackers on a small plate. Put 3 tablespoons of the chocolate syrup on another small plate. (Plates should be large enough to fit the rim of your martini glasses!)
Dip the rims of the martini glasses in the chocolate syrup. Then dip the rims into the cracker crumbs. Quickly turn the martini glasses right side up and drizzle the remaining 1 tablespoon chocolate syrup into a spiral design on the insides of the glasses. (This is a bit tricky. Just twirl and try to make any sort of design you can. If you want, practice first on another glass.) Put the glasses in the freezer for 1 hour to let the chocolate harden.
Fill a cocktail shaker with ice cubes, the marshmallow vodka, the chocolate coconut milk, and the unsweetened coconut milk. Shake well. Remove the glasses from the freezer. Strain half the mixture into one of the glasses and the other half into the other.
Heat a small nonstick skillet over medium-high heat. Put a marshmallow on the end of a skewer or fondue fork. Place the marshmallow facing down on the skillet until it turns golden, about 20-30 seconds. The top will melt a bit and the marshmallow will be shaped a bit like a mushroom. (If you find that the top of the marshmallow is sticking to the skillet when you remove it, your skillet isn't hot enough!) Remove the skewered marshmallows from the pan and, using the tines of a fork, push the marshmallow into the martini glass. Repeat so there are two marshmallows per glass.
Serve and enjoy!
Nutrition Information:
Yield:
2
Serving Size:
1 glass
Amount Per Serving:
Calories:

509
Total Fat:

10g
Saturated Fat:

3g
Trans Fat:

0g
Unsaturated Fat:

6g
Cholesterol:

0mg
Sodium:

301mg
Carbohydrates:

89g
Fiber:

3g
Sugar:

49g
Protein:

5g
Nutritional information is automatically calculated per the ingredients list. Serving size may not be accurate. Please double-check with your preferred nutritional app for the most accurate information.
Originally published on November 25, 2014 and November 7, 2018.
Updated with new pictures and information.