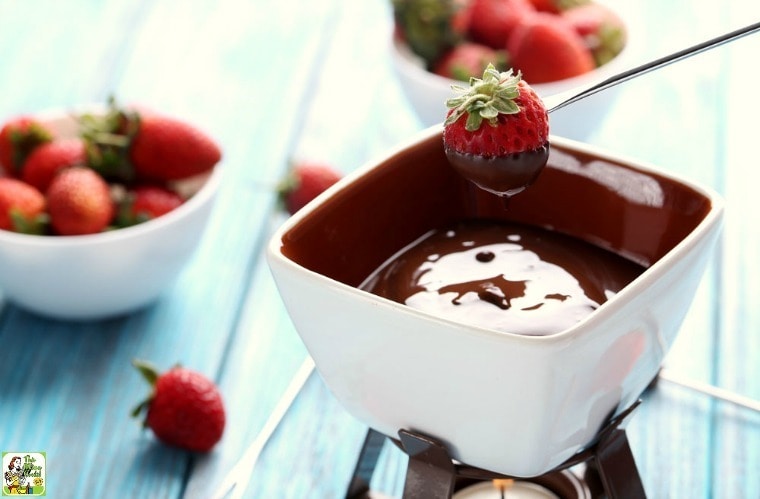 If you're looking for something indulgent for Valentine's Day, Mother's Day or another festive holiday party, look no further than this Easy Dairy Free Chocolate Fondue recipe!
Unlike other chocolate fondue recipes, this easy chocolate fondue uses coconut cream instead of whipping cream. So if you have a food sensitivity to dairy like me, you can indulge in as much chocolate fondue without worrying about a tummy ache the next day!
This Easy Dairy Free Chocolate Fondue is so rich and creamy that you'll find it very filling. After dipping a few strawberries or marshmallows, I go into chocolate overload and feel that I've had enough.
That's why this dessert fondue is the BEST chocolate fondue recipe for parties. A little goes a long way!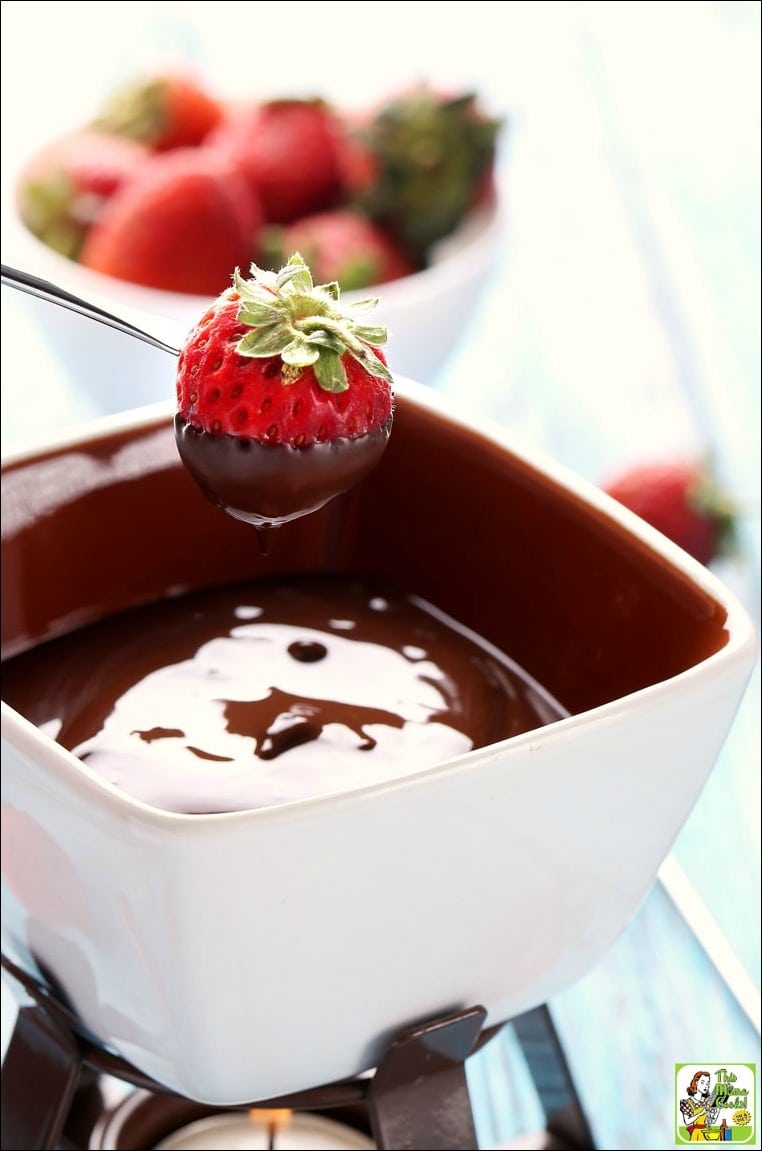 Best chocolate fondue dippers for easy chocolate fondue
So what are the best chocolate fondue dippers for this easy chocolate fondue recipe?
I like the following:
● strawberries
● blueberries
● grapes
● slices of bananas
● dried banana chips
● dried fruit (papaya, apricots, pineapple, etc.)
● marshmallows
● gluten free cookies
● pieces of gluten free cake
If you're not gluten free, pieces of Sara Lee pound cake (cut into cubes) are amazing.
(If you're sharing the fondue pot with gluten free people, don't dip your pound cake into the pot. Don't want to cross-contaminate the fondue! Instead, put some chocolate fondue on a plate and dip your cubes into it.)
Best chocolate for fondue
To keep your chocolate fondue recipe dairy free, not only do you have to use coconut cream (not milk), you also have to find the right kind of chocolate.
My favorites are dairy free semi-sweet chocolate chips like Guittard or Enjoy Life Semi-Sweet Vegan Chocolate Chips. Chips work best in fondue recipes since they melt quickly.
What to do with easy chocolate fondue leftovers
When I've made Easy Dairy Free Chocolate Fondue for Mother's Day and Halloween, we ended up having leftovers.
If that happens to you, just keep the chocolate fondue in the pot, cover it with aluminum foil, and put it in the refrigerator.
The next day, just reheat the chocolate while you're eating dinner. Then you'll have more easy chocolate fondue the next night (or two) for dessert.
You can also put leftover Easy Dairy Free Chocolate Fondue into a square cake pan and chill to make an easy refrigerator fudge. Just cut off a piece when you want to indulge in some creamy chocolate – awesome!
Buying a fondue pot for Easy Dairy Free Chocolate Fondue
I used to have an old green aluminum fondue pot from the '70s that I found at a thrift store. It was good at keeping both cheese and easy chocolate fondue recipes warm with a candle even though it was pretty ugly!
Luckily, I received a Le Creuset Enameled Cast Iron Fondue Pot as a Mother's Day gift. It's gorgeous and works great with my induction cooktop.
I love using it for chocolate fondue since you can prepare any fondue recipe in the fondue pot right on the stovetop. This saves you the step of using another pot and then transferring the chocolate fondue.
But if you're looking for a more reasonably priced electric fondue pot, I highly recommend the Cuisinart Electric Fondue Maker.
Here are more electric fondue sets that will also work for cheese fondues. All get good ratings and are under $50:
● Nostalgia 6-Cup Stainless Steel Electric Fondue Pot
● Cuisinart 13-Piece Cast Iron Fondue Set
You should also check out the personal fondue mugs. These would be fun for a romantic meal on Valentine's Day or an anniversary:
● Kovot Personal Fondue Mugs (Set of 2)

● Swissmar 4-Piece Nostalgia Chocolate Fondue Mug Set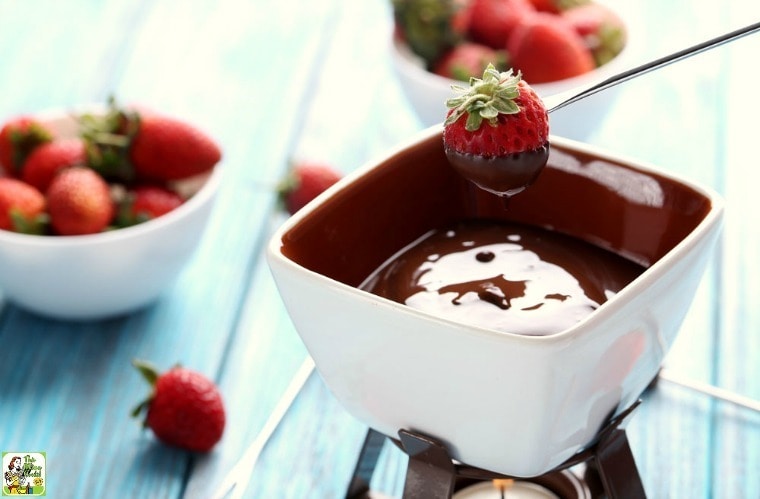 Easy Dairy Free Chocolate Fondue
Ingredients
1 (14 ounce) can coconut cream (not milk)
1 (20 ounce) bag semi-sweet chocolate chips (dairy free & gluten free)
2 teaspoons pure vanilla extract (gluten free)
1 pinch salt
Goodies for dipping: strawberries, marshmallows, fruit, and pieces of gluten free cake or cookies
Directions
In a medium sauce pan or stovetop safe fondue pot, heat coconut cream over medium heat until hot.
Add chocolate chips. Lower heat.
Stir until chocolate is fully melted.
Transfer to fondue pot, if needed and serve warm with favorite dippers.
Add vanilla extract and salt. Stir frequently until chocolate is fully melted
Prep Time: 5 Minutes

Cook Time: 15 Minutes

Total Time: 20 Minutes

Servings: Makes about 4 cups

Originally posted on February 28, 2014 and May 5, 2016. Updated with new pictures.

Photo credit: Adobe Stock