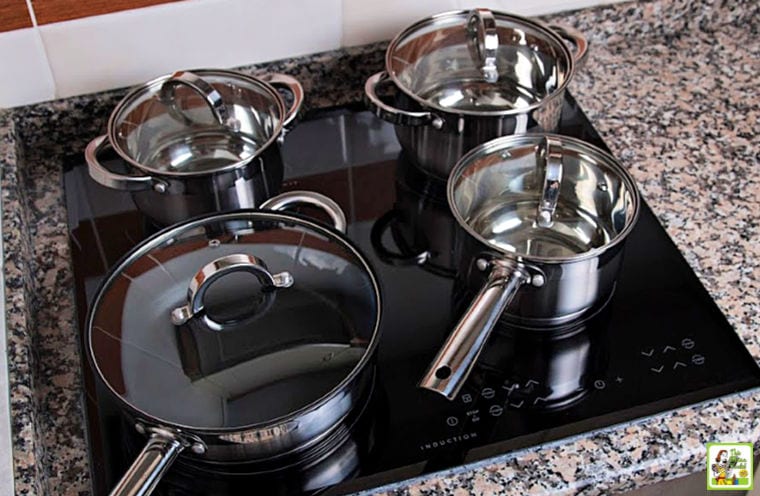 I love my induction cooktop stove. It was the first thing on my wish list to buy when we remodeled our kitchen.
I researched the top rated induction cooktops to make sure I wanted to go with a countertop stove rather than gas or a ceramic electric cooktop.
I knew an induction cooking was the newest technology, plus I'd never liked cooking with gas.
Are you wondering if an induction stove is right for you?
Here were some of the best induction tips, tricks and nuances that you may not be aware of.
1. Cost. An induction cooktop can be pricey.
While the cost has gone down considerably since the days when the technology was new, an induction stove is much pricier compared to a gas or electric cooktop.
Even the prices between models vary quite a bit. I hemmed and hawed between a Bosch and the GE induction cooktops.
I eventually got the GE. Both models were highly rated even though I knew that Bosch induction cooktops were highly desirable.
I already owned a Bosch dishwasher and knew it was a good brand. However, at the time I was looking, there was a $600 difference.
So I decided that I liked the GE induction cooktops better because of price and buyer reviews.
When deciding what model you'll end up with, besides cost, brand, and user reviews, look at number of burners, and other design features.
Since I wanted five burners and a larger cooktop, that helped eliminate quite a few models for me right away. But it also meant I was looking at higher priced models.
Shop around: We ordered our our GE induction cooktop through Amazon for a better price than we found online through the big box stores.
2. Installation. Your induction stove must be professionally installed.
If you're replacing a gas or electric stove top, it's not just a matter of hooking new electric cooktops to whatever is around.
An electrician will need to run a 50 amp breaker with a #6 gauge Romex line (#8 minimum) for these types of electric cooktops.
If there are any questions, the details and specs are in the installation book, so make sure to factor that into your budget.
When planning your installation costs with your electrician, you can usually find the installation instructions online before you order your stove.
Will the cooktop stove fit? Since the cooktop will need to be set into a countertop, you may need to work with countertop installers as well.
When I replaced my cooktop, it was when I redid my countertops. So I was able to give the installers the specs so they were able to cut the countertops accordingly.
If you're replacing an old cooktop with a new one, don't assume you can just swap them out. MEASURE!!! Then measure again.
If your new cooktop is bigger, maybe a countertop installer can cut a bigger hole in your existing countertop.
However, if your new cooktop is too small, they can't make the hole smaller without replacing the entire countertop. (You want to find that out BEFORE you order the stove, of course.)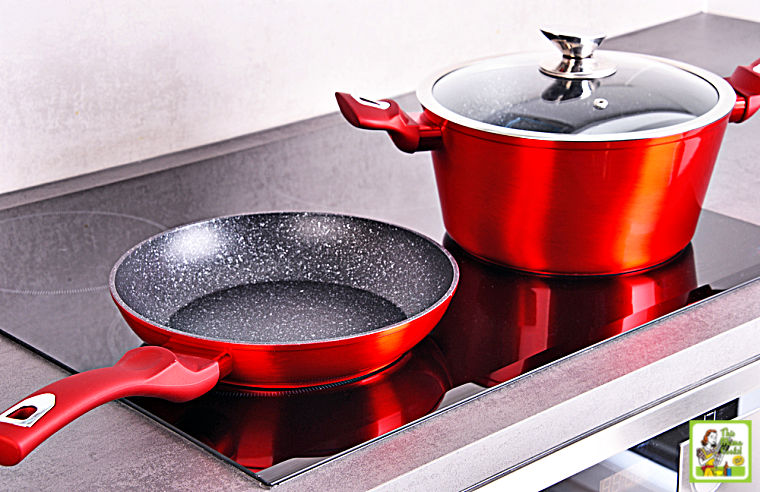 3. Induction cookware. You'll need pots and pans that work on your induction cooktop stove.
Another item to consider in your budget is that you may need to get special induction cookware, since an induction stove relies on an electromagnet to heat iron or steel cookware.
The best way to determine if your current cookware works on induction stove is to test it with a magnet. Any refrigerator magnets will do.
If it sticks to the pot or pan, you can use it on your induction stove.
Anything else will need to go to Goodwill, though you may want to save lids and steamer inserts to use with any new pots or pans you purchase.
I've been lucky that my extensive Le Creuset cookware is the ideal induction cookware, since it's enameled cast iron, works perfectly on my induction cooktop.
A thriftier induction cookware is Lodge cast iron, which makes terrific cast iron skillets and Dutch oven.
I did have to replace all my non-stick sauté pans though. When searching online look for non-stick induction cookware sets.
How to trick an induction cooker if you don't have induction cookware
In an induction cooktop (also called an induction hob) there are coils of copper wire under the ceramic glass top that work wirelessly with your cooking pots and pans.
Electric current is passed through the wire and the resulting magnetic field induces an electrical current in the pots and pans.
If a pan with a magnetized base is placed on the induction hob, the magnetic field causes it to heat up. Plus, the induction hob remains cool, with only some residual heat from the pans.
However, non-magnetic pans put on the induction hob cooktop remain cold. So what do you do if you don't have induction cookware?
Use an induction adapter plate to trick an induction cooker!
One way you can get around not having induction cookware is to use an induction adapter plate.
However, I would try using one of these only if you have non-induction cookware that you love and cannot part with, like your mom's favorite sauce pan or a special pan that you spent a fortune on.
After reading the reviews of the various adapter plates, I'd be concerned that it wouldn't work on your induction stove. Or that you wouldn't get enough heat and performance to do the kind of cooking you're used to doing.
Instead, spend the money and invest in a few good pieces of induction cookware – some non-stick induction cookware skillets and a cool enameled cast iron Dutch oven.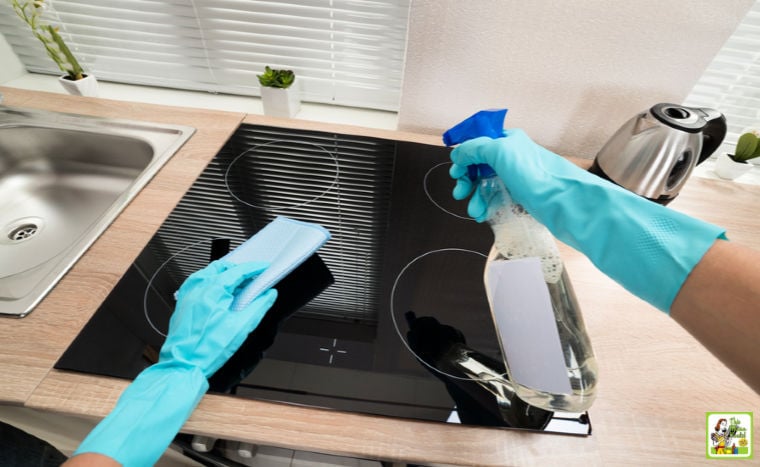 4. Care and cleaning. It's easy to take care of induction cooktop stove once you know how.
The biggest reason I didn't want to purchase a gas cooktop is because gas burners are a pain to clean. One boil over and you have to completely take the stove top apart to clean it up.
I previously had an electric ceramic cooktop, and loved how it was easy to clean. I've found that an induction cooktop stove is even more easy to clean.
As soon as the stove top has cooled down, you can clean up any spills with a wet sponge or paper towel. You can also spray a little of your favorite countertop all-purpose spray and wiping it off with a sponge.
For tougher spills or dried on messes, use a ceramic cooktop cleaner.
GE cooktops come with a little bottle of Cerama Bryte, but I prefer Weiman Glass Cook Top Heavy Duty Cleaner and Polish.
Just squeeze a little of the cooktop cleaner, spread it around with a paper towel (not a scrubbing sponge!) and then wipe it off with a clean microfiber cleaning cloth.
Wipe on - wipe off. LOVE IT! Very easy to clean and you have a new looking, sparkling cooktop every time.
Another tip is that you must careful not to scratch your cooktop. Try not to slide your cookware around carelessly. Instead, pick it up and place it on top of the burners.
I've had my induction stove for over five years now and haven't had anything scratch it, but I still try to be careful.
Also, don't drop a heavy cast iron skillet on your induction cooktop. It's strong, but it's not metal!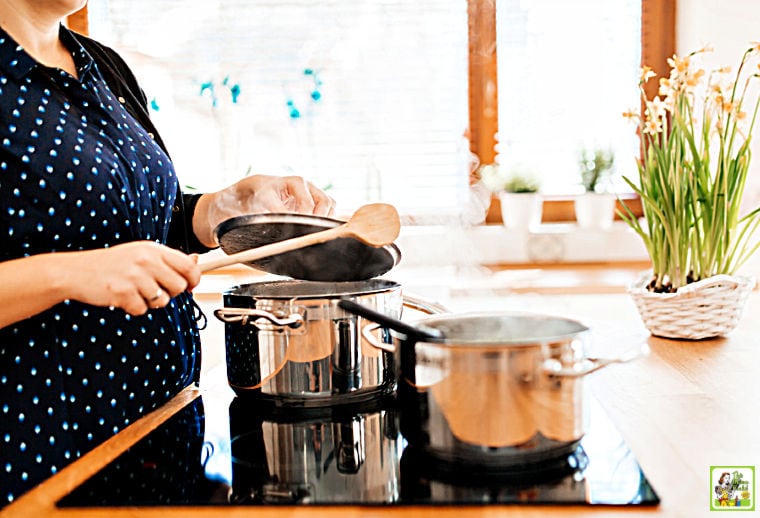 5. Learning how to cook on induction cooktop – food heats up quickly. This is why so many cooks love induction cooking!
There's a learning curve on cooking with induction on an induction cooktop. I found that a large spaghetti pot of water takes only five minutes to come to a boil and a smaller pan only a minute or two, so don't walk away!
You might be used to cooking things on very high temperatures and now find that you're having a lot of boil overs or burning your food.
Except for bringing water to a boil at H (or 10 depending on the induction cooktop you buy) try cooking on medium temperatures until you get used to what your induction stove can do for you.
The beauty of cooking with induction is that if you find that you need to get hot quickly, it's easy to do – just move up the dial a bit. (My cooktop has half settings – 5, 5 1/2, 6, 6 1/2, and so on. Talk about precise temperature control!)
If what you're cooking needs to come down quickly, take it off the burner for a second to get rid of some heat, dial down the burner, and continue cooking. You'll get used to it soon enough.
Our purchase – a GE Profile 36" Black Electric Induction Cooktop
Ultimately, we bought a GE PHP960DMBB Profile 36" Black Electric Induction Cooktop Stove. After over five years, I'm extremely happy with it.
I love that this cooktop stove has five burners and allows me to cook many things at once. It heats foods quickly and evenly.
I find that with the help of Weiman Glass Cook Top Heavy Duty Cleaner and Polish, my GE  induction cooktop cleans up easy and still looks brand new.
Purchasing the GE induction cooktop through Amazon was very easy, too. It came with an installation guide that gave specs that our countertop installation guys and electrician needed.
UPDATE March 2020: The GE cooktop that I originally purchased is no longer being made.
Instead, you may want to look at the following induction cooktop stoves:
● the GE Profile PHP9036SJSS 36" Built-in Induction Cooktop Stove in Black with Stainless Steel
● the GE Cafe CHP9536SJSS 36" Built-in Induction Cooktop Stove
● or the GE PHP9036DJBB Profile 36" Induction Cooktop Stove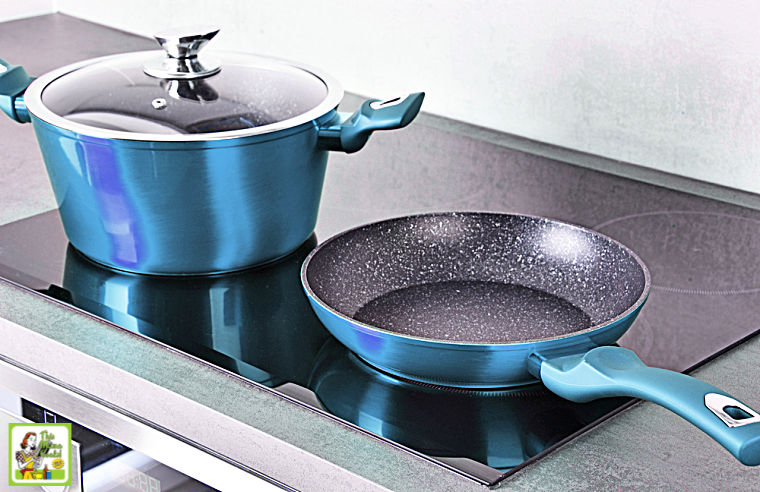 We moved and bought an induction range
Sadly, we moved out of our home with the cooktop stove in Georgia. The cooktop was a hit with many of our potential buyers, who loved the look and size of the stove.
I'm now in a vintage 1928 Tudor home in Indiana with a small gallery style kitchen that's a quarter the size of my old kitchen.
I now have an induction range since I needed to replace the beat up 1970s electric range that came with the house.
We bought a Stainless Steel GE Profile PHS930SLSS Smoothtop Cooktop Induction Range since electric cooktops wouldn't work in this home.
It's got more features and buttons than the Starship Enterprise (much more than I take advantage of) and was the perfect fit for my tiny kitchen.
Plus, I found a GE Over the Range Microwave to match, which saved on counterspace.
If you're looking for an induction range, checkout GE's Profile line.
Originally published on May 22, 2014, March 8, 2016, and September 24, 2017. Updated with new pictures and product information.