Last Updated on October 5, 2021 by Anne-Marie
Wondering how to clean an oven with baking soda? This article shows you how to easily remove baked-on foods in your oven without using harsh chemicals.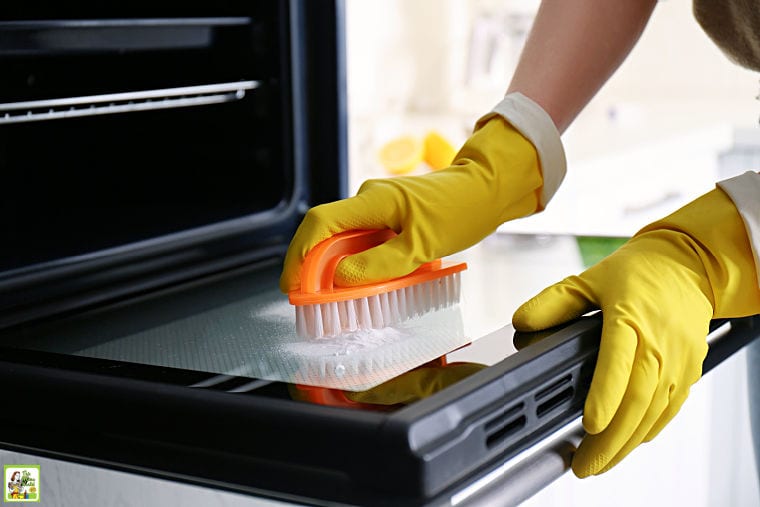 The best part is that you can clean your oven without any special tools or equipment. Just a little elbow grease and some patience.
Using baking soda is the best way to avoid using commercial oven cleaners. Instead, you use a natural alternative. Here are some easy tips for the best results.
What is baking soda?
Baking soda, also known as sodium bicarbonate, is a natural product that's been around forever.
You probably use it in baking. (I use it in my Rice Flour Snickerdoodles Cookie Recipe.)
Best of all, it's inexpensive, easy to use, non-toxic, and a natural way to clean up oven grime.
It works well because it's alkaline. Oven grime is comprised of acidic greasy food particles. The baking soda mixture neutralizes the acids, breaks up the grease, and allows you to wipe up the mess.
Baking soda is also mildly abrasive, so it works well to remove dried-on food while giving your oven and a good scrub.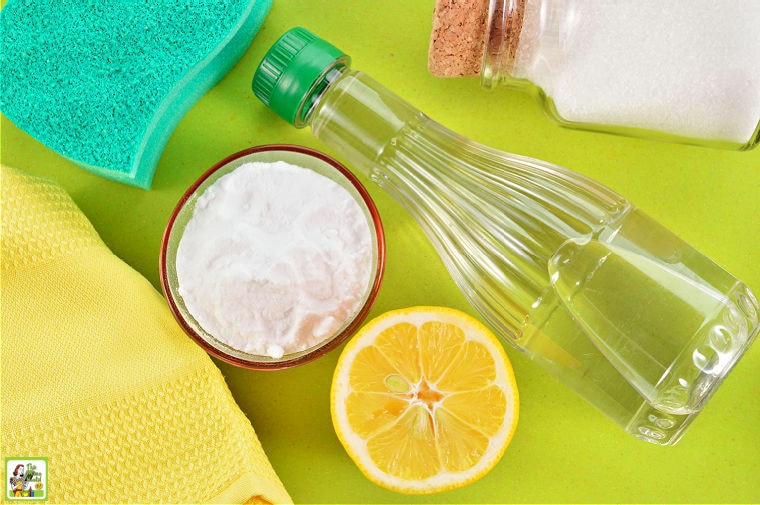 What materials do I need?
Baking soda
Water
White vinegar
Salt (optional)
Lemon oil or other essential oils (optional)
Small bowl
Paper towels or cleaning rags
Scouring pad (nylon, not steel), sponge or scrub brush
Toothbrush or silicone spatula
Paintbrush
How do you use it to clean an oven?
1. Make sure the oven is cool. Safety first!
2. Mix 3/4 cup baking soda and 1/4 cup warm water in a small bowl, and this should be enough paste to clean both the oven and racks.
3. Add a tablespoon of salt if you want a more abrasive scrub.  You can also add a few drops of essential oils.
4. Remove the racks from the oven.
5. Using your hand, smear the spreadable paste over the dirty parts of the inside of the oven. Avoid the heating elements. Use a spatula or toothbrush for tight corners.
6. Let the paste sit for a minimum of 20 minutes up overnight.
7. Wipe up the paste and loosened food particles and grease with wet paper towels.
8. Then clean the oven's interior and oven glass with more wet paper towels.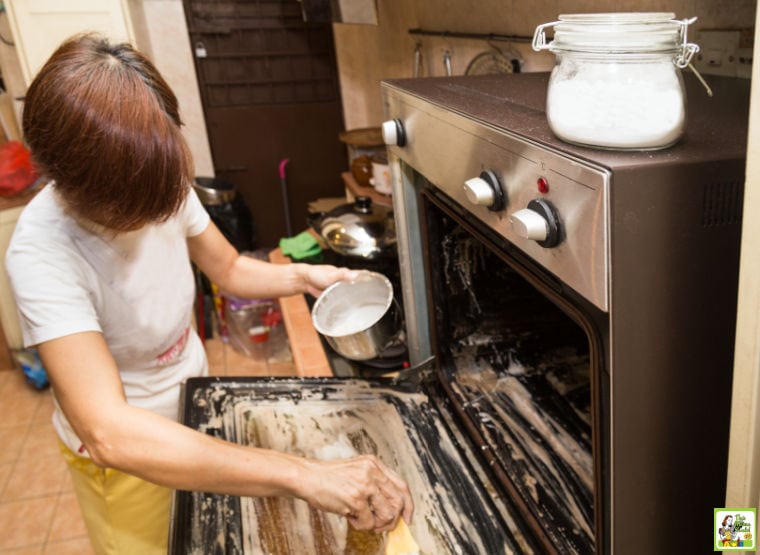 How to clean the glass oven door
Use the same method you use to clean the interior of the oven.
Here are some tips to make the process easier:
Use a paintbrush to apply a thin and even coat of baking soda paste.
Avoid getting the paste on the gasket.
Make sure not to get the gasket wet.
How to clean the oven racks
Put the stainless steel oven racks in a large sink or your bathtub. Cover the racks with hot soapy water. (Use your favorite dish soap, such as Dawn.)
Let the racks sit for a few hours. Then scrub with a nylon scouring pad. Rinse with hot water and dry.
If the racks need heavy-duty cleaning, apply a paste of baking soda and water. However, use baking soda only on stainless steel racks as it will discolor aluminum.
Don't use steel wool or brushes, as these can create scratches that cause your racks to rust.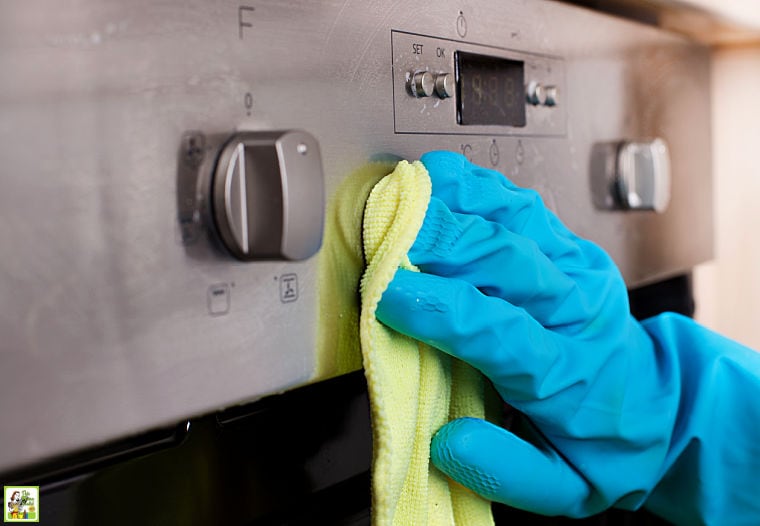 How to clean oven knobs
Make a mixture of 1:1 water and white vinegar. Spray it onto a paper towel or cleaning rag to clean the oven knobs and oven exterior.
Don't spray the cleaner directly onto the control panel. It could cause the electrical components inside your oven to fail.
Rub the outside with your damp cleaning rag or paper towel until any grease, spots, and streaks are gone.
Or clean an oven with baking soda and vinegar
Use a baking soda and a vinegar mixture to do a quick oven clean.
You just need to keep a solution of 3:1 water to white vinegar solution in a spray bottle on hand for this method.
Here's how:
1. When your oven has cooled, sprinkle some baking soda over the spill.
2. Then spritz it with the 3:1 water and white vinegar solution so the baking soda bubbles.
3. Let it sit for 15-20 minutes.
4. Wipe up the baking soda, dissolved food, and grease with wet paper towels or a damp cloth.
5. This is a great time to quickly clean up things by spraying the vinegar solution over the entire interior of the oven and racks.
6. Dry with paper towels or a clean cloth.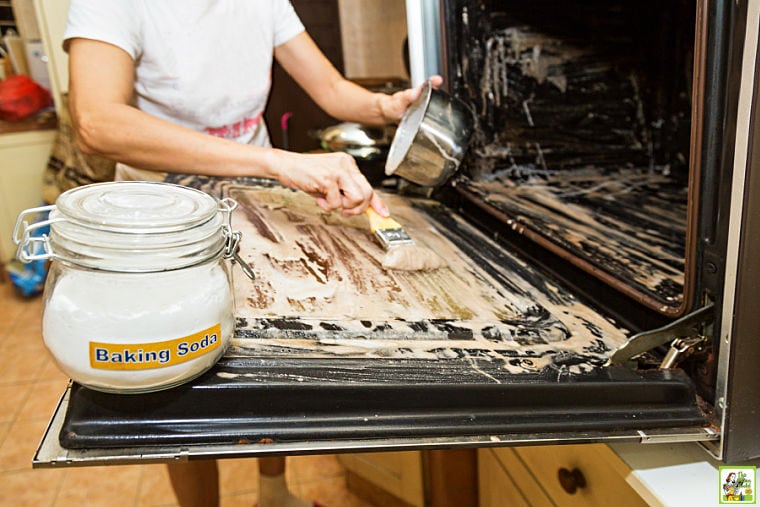 Use baking soda and lemon to clean your oven
No vinegar? Use 2 lemons or 6 tablespoons of lemon juice.
1. Remove the oven racks from the oven. (Remember to clean only a totally cooled oven.)
2. Sprinkle baking soda all over the inside of the oven.
3. Put on your rubber gloves, then use your nylon scrubbing sponge to scrub the sides and bottom of the oven and oven door. Avoid the gasket and heating element.
4. Let the baking soda sit for 10 minutes.
5. Squeeze the fresh lemons into a large mixing bowl of hot water. (Or add lemon juice.)
6. Dip in a cleaning rag or old dish towel into the lemon water. Then wash off the baking soda.
7. When all the grime and grease is gone, give the oven a last wipe with the lemon water for a fresh and clean finish.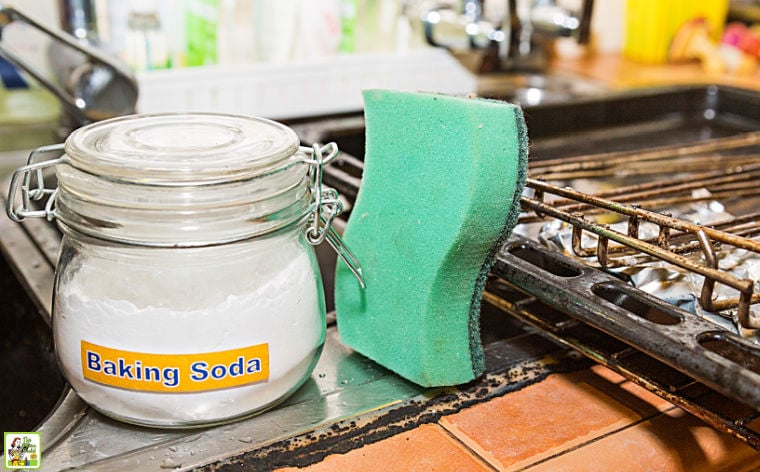 When is a good time to clean your oven?
I like to clean my oven first thing in the morning. You can even set aside one day each week to clean it out.
I also like doing it before the holidays when I have guests and family coming. That way, when your mother-in-law gets the cornbread stuffing out of the oven, she can compliment you on how clean your range is!
After the holidays is also a good time to do oven cleaning. That way, you can clean up any spills from baking pecan pie and cooking leftover turkey enchilada casserole.
Is using baking soda in an oven dangerous?
Make sure your oven is empty before cleaning it. Also, clean off all of the residual baking soda before cooking with the oven.
Any baking soda residue left on the heating elements will cause it to smoke.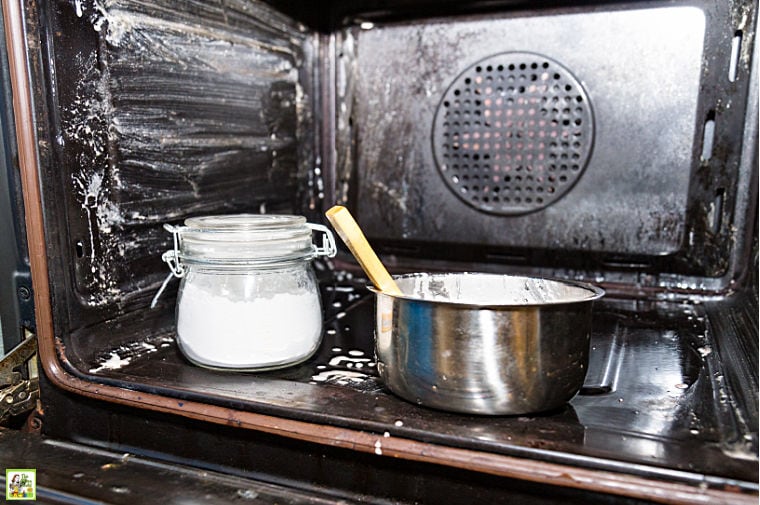 Why not use my oven's self-cleaning function?
When your oven needs to be cleaned, resist the urge to turn it on. In many cases, the self-cleaning cycle makes the whole house stink and could cause your smoke alarm to go off.
The self-clean function works by turning up the oven to a high temperature to burn off the food. However, that isn't always effective and could cook on the food even more.
Plus, you still have to wipe the ash off the inside of your oven surfaces, so it doesn't save you all that much time.
So, what's stopping you from cleaning your oven today?