Last Updated on February 2, 2022 by Anne-Marie
Love low carb Popeyes Blackened Chicken Tenders? It's super easy to make these copycat blackened chicken tenders at home.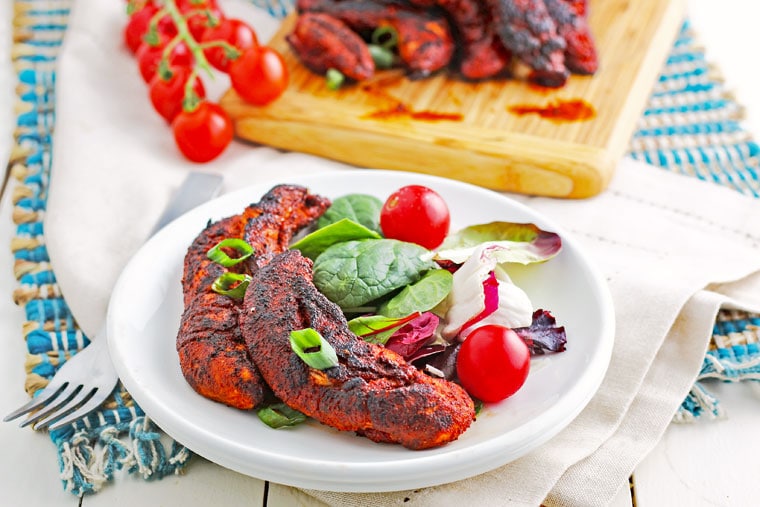 Why you'll love these copycat Popeyes Blackened Chicken Tenders
Making this blackened chicken tenders recipe takes only 35 minutes. These keto chicken tenders are tastier and more budget-friendly, too.
I also like it because skinless chicken tenderloin is lean and inexpensive. (You can also use skinless chicken breasts cut into strips.)
Even better, it's a copycat recipe that takes little time to make. There's no breading and it's made with an easy blend of Cajun seasoning spices.
It's also similar to Popeyes' recipe that so many people love.
But you can control the recipe and the ingredients. Want to make this version of their chicken tenders spicier? Add some cayenne pepper. Not enough black pepper? Add more!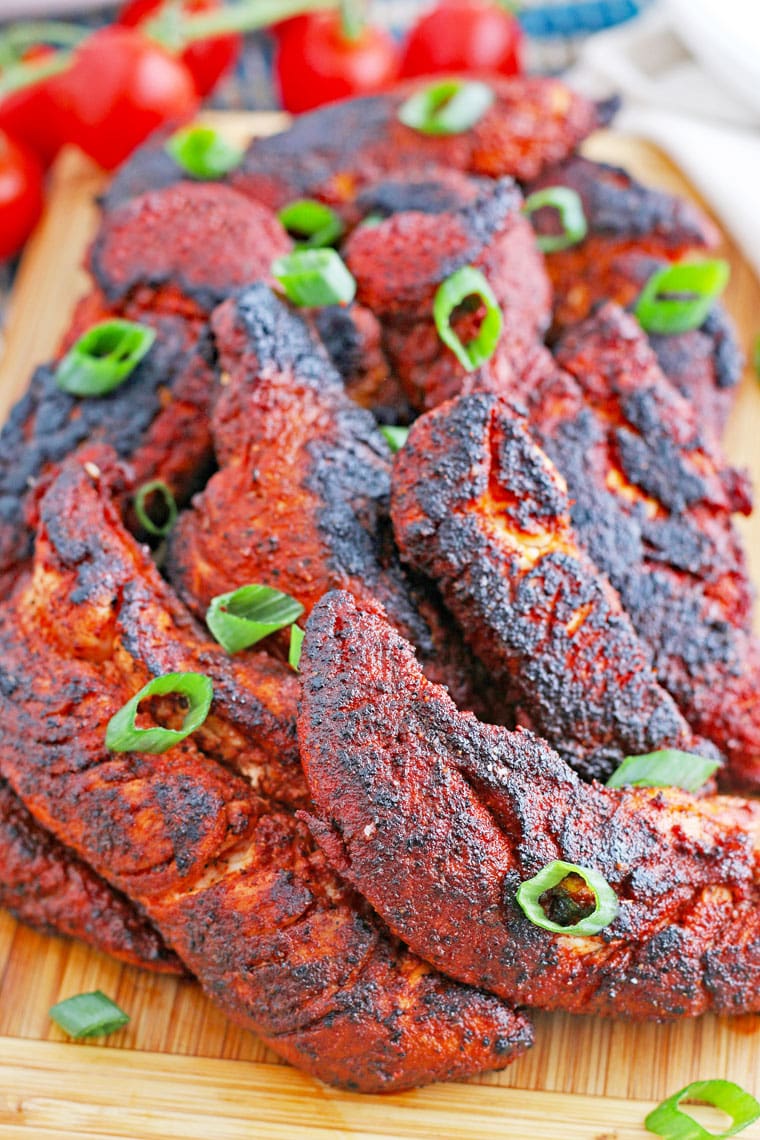 Why this recipe works
This recipe for low carb blackened chicken tenders is based on my friend Holly Clegg's recipe from her Gulf Coast Favorites cookbook.
It's a snap to make at home because you can cook it up in a large nonstick skillet in only 35 minutes. (You can also make this classic Popeyes menu favorite in a well-seasoned cast iron skillet or air fryer.)
This is a true one-pot meal that's easily cleaned up. So there's just no point going out to fast-food restaurants when you can cook at home!
Recipe ingredients
paprika
chili powder
Swerve Sweetener, Brown (the best brown sugar substitute, low carb and keto-friendly)
ground black pepper
sea salt
chicken breast tenderloin
olive oil
green onions (optional garnish)
How to make blackened chicken tenders
This will soon become one of your go to chicken recipes and a true family favorite.
1. In a large resealable bag, combine paprika, chili powder, Swerve brown sugar, pepper, and salt.
2. Add the chicken tenders to the bag. Seal the bag. Then shake until the chicken is completely coated in the seasoning.
4. Heat olive oil over medium heat in a large nonstick skillet. Sauté the chicken for 5-7 minutes or until browned and done. You want a good sear, but don't over do it.
5. Transfer the cooked chicken to a serving plate. Keep warm in the oven until served. Sprinkle with green onions, if desired.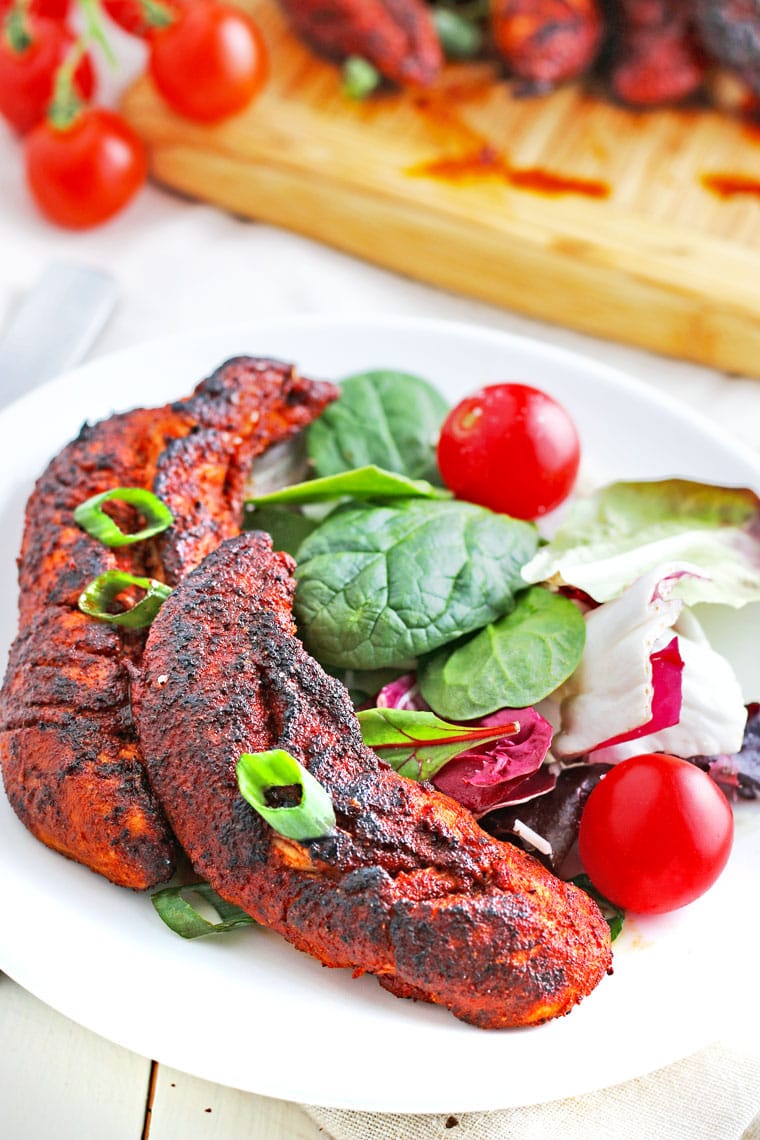 Cooking up a New Orleans tradition
Looking to cook up meals without fuss? Try these Blackened Chicken Tenders with a fabulous flavor.
Blackening is a terrific way to keep your food moist and juicy. Blackening also refers to the cooking method of using a hot skillet to produce a slightly burnt-looking, dark-brown exterior.
Born out of Chef Paul Prudhomme's New Orleans restaurant, the blackened cooking method has since become a favorite prepared worldwide. A crispy crust of blackened seasoning forms when searing in the juices of a blackened dish.
This cooking method is a perfect way to eat a keto-friendly, low calories meal without missing any delicious flavor! It's perfect for anyone on a low carb diet.
Usually characterized by an amazing blend of seasoning and loads of melted butter, don't fret. You can enjoy my trim and terrific blackening approach without the added fat.
Quick, spicy, and always a hit, this recipe from my Gulf Coast Favorites cookbook is a perfect solution to a simple dinner the whole family will love.
You can find more of Holly Clegg's trim& TERRIFIC recipes at The Healthy Cooking Blog.
Check out Holly's trim&TERRIFIC™ cookbooks on Amazon, too!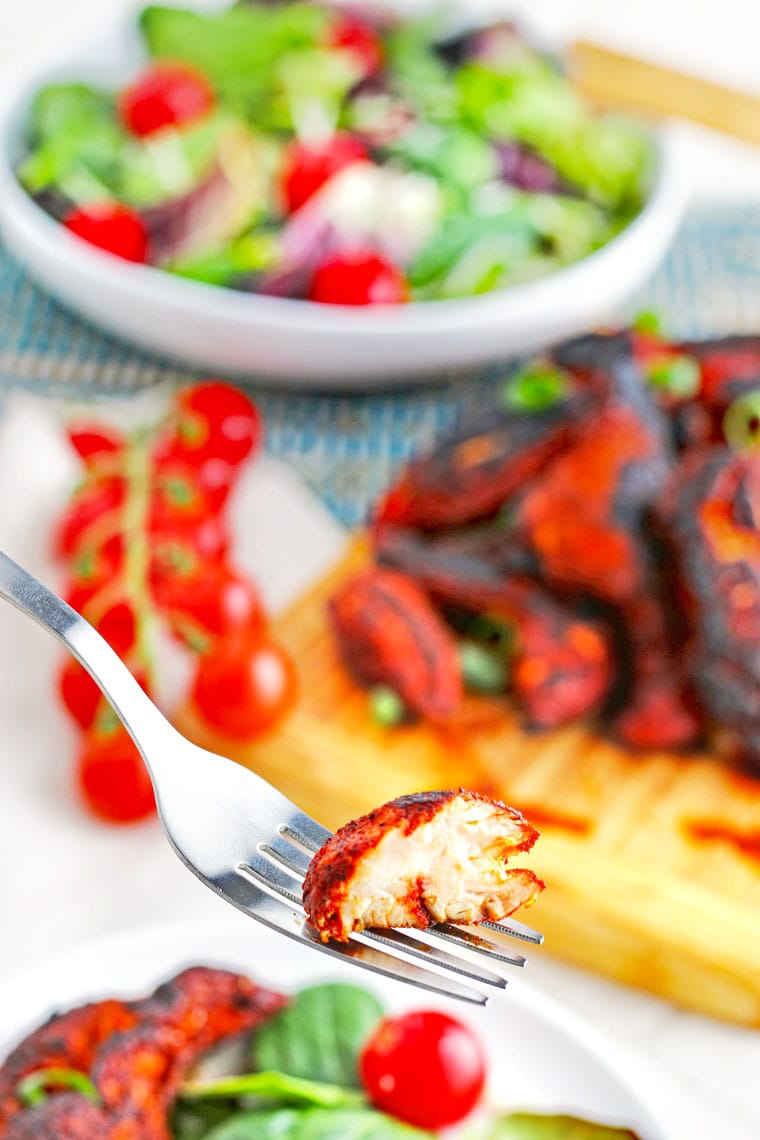 How do these add up to Popeyes chicken?
How do these well-seasoned chicken tenders stand up nutritionally to Popeyes?
Well, Popeyes says that each serving is a 5-piece meal. However, this recipe uses 2 pounds of chicken or 4 servings. I'll let you use your best judgment when comparing the two.
Low carb: This recipe has 4 grams of carbs.
High protein: A whopping 71 grams of protein.
How many calories: 423 calories per 1/2 pound serving.
Sodium: 493mg. (Popeyes has almost twice the amount of sodium.)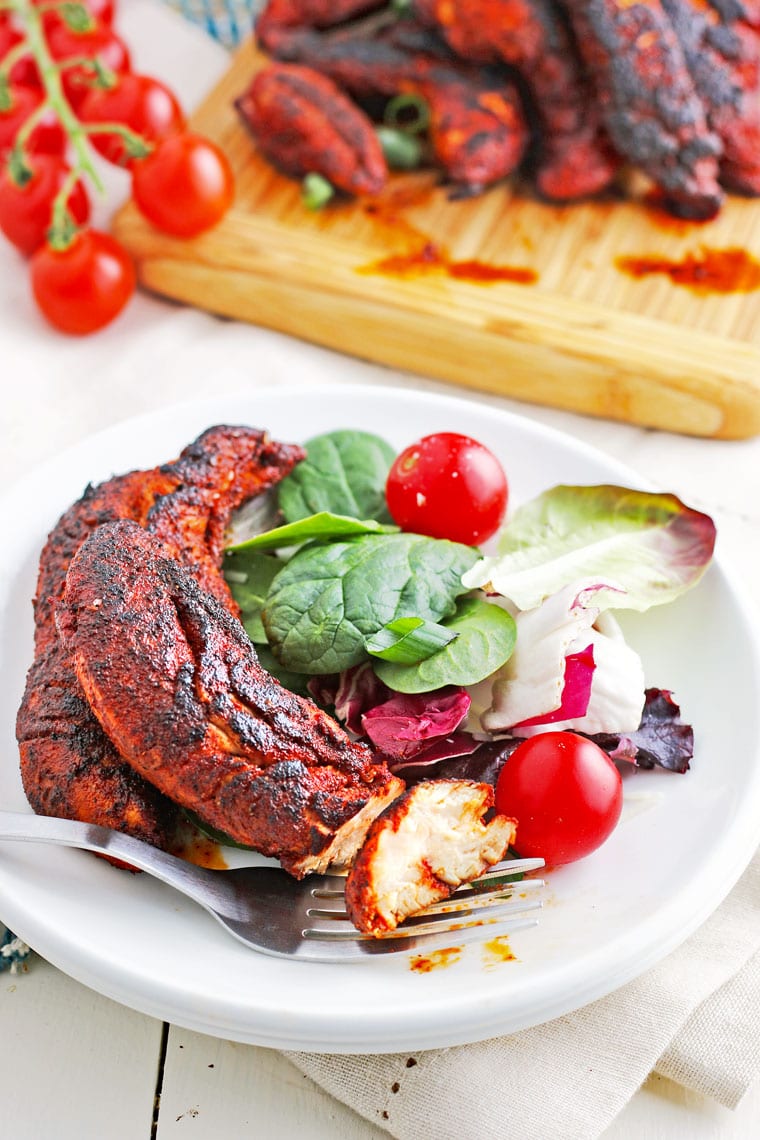 How to serve these delicious tenders
Some people love eating their low carb chicken tenders plain with some healthy, keto-friendly vegetables like green beans, asparagus, or other roasted vegetables.
You could dip the cooked chicken in:
this Easy Low-Carb Keto Ranch Dressing Recipe or a spicy ranch.
Try a low carb buffalo sauce or some hot sauce.
Or maybe you like to dip in sour cream (mix in a little onion powder).
Try a spicy mayo or regular mayo made with avocado oil with your spicy homemade blackened chicken tenders.
All can be part of a healthy weeknight dinner routine and your ketogenic diet.
Looking for more low carb recipes?
● Sriracha Keto Deviled Eggs Recipe (Low Carb) – the perfect appetizer for parties and get togethers.
● Keto Strawberry Sauce Recipe (Low Carb, Sugar Free) – enjoy this on your favorite low carb ice cream. Perfect after spicy blackened chicken tenders.
● Sugar Free BBQ Sauce – try this on your favorite barbecue like this Crockpot BBQ Chicken Recipe.
● Crockpot Whole Chicken is another easy low carb way to enjoy chicken.
● Serve this Broccoli Bacon Salad Recipe as a side dish with the blackened chicken tenders.
● This Easy Oven Baked Salmon Recipe takes only 25 minutes to make.
What's your favorite low carb keto-friendly recipe?
Yield: 4 SERVINGS
Copycat Popeyes Blackened Chicken Tenders Recipe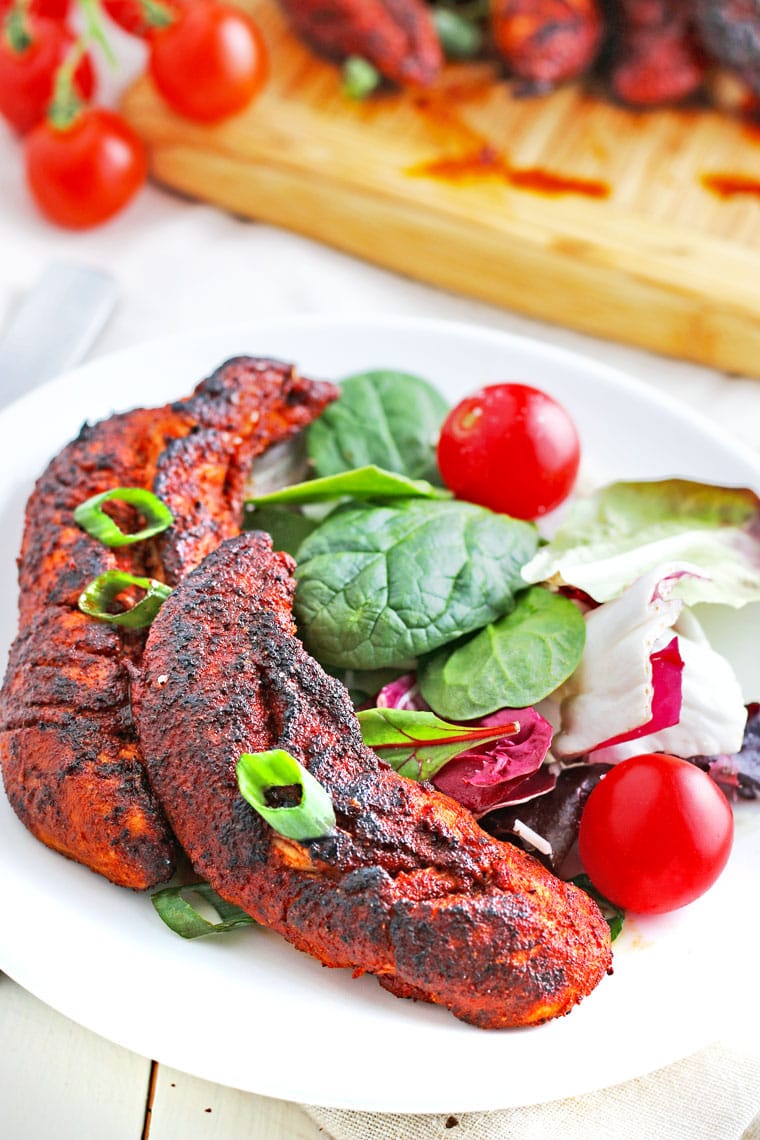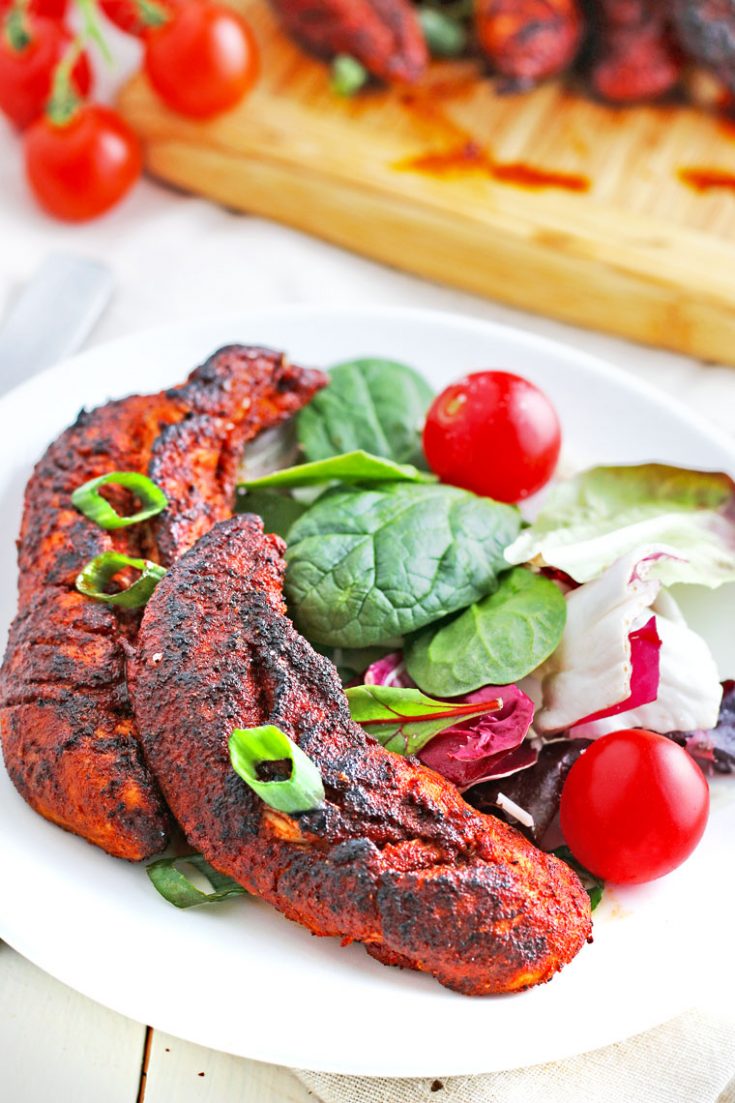 Love Popeyes blackened chicken tenders? Make this tasty and easy copycat blackened chicken tenders recipe at home for dinner.
Ingredients
2 tablespoons paprika
1 tablespoon chili powder
1 teaspoon Swerve Sweetener, Brown
1 teaspoon ground black pepper
1/2 teaspoon salt
2 pounds chicken breast tenderloin
1 tablespoon olive oil
1/4 cup chopped green onions (optional)
Instructions
In a large resealable bag, combine paprika, chili powder, Swerve brown sugar, pepper, and salt.
Add chicken tenders. Shake until the chicken is completely coated in the seasoning.
In a large nonstick skillet, heat olive oil over medium heat. Sauté chicken tenders 5–7 minutes or until browned and done. Remove tenders to a plate.
Transfer the cooked chicken to a serving plate. Sprinkle with green onions, if desired.
Recommended Products
As an Amazon Associate Affiliate and member of other affiliate programs, I earn from qualifying purchases.
Nutrition Information:
Yield:
4
Serving Size:
1/2 pound chicken
Amount Per Serving:
Calories:

423
Total Fat:

12g
Saturated Fat:

3g
Trans Fat:

0g
Unsaturated Fat:

8g
Cholesterol:

193mg
Sodium:

493mg
Carbohydrates:

4g
Fiber:

2g
Sugar:

1g
Protein:

71g
Nutritional information is automatically calculated per the ingredients list. Serving size may not be accurate. Please double-check with your preferred nutritional app for the most accurate information.
Recipe used with permission of the author.
Originally published on October 2, 2015. Updated with new pictures and information on April 1, 2021.