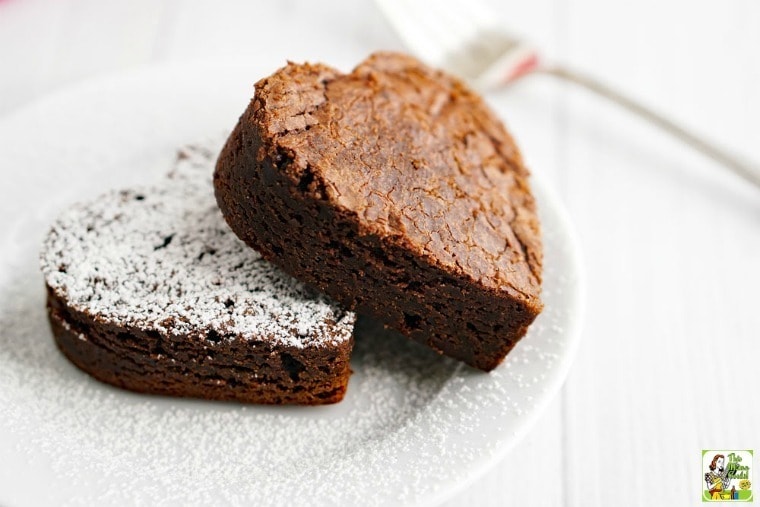 These are the Best Gluten Free Fudgy Brownies Ever! Especially if you like a gluten free brownies recipe to be more like fudge.
The secret? These tasty fudgy brownies are moist and rich from using real butter and coconut milk.
Plus, they have a coffee kick from the addition of instant espresso powder. Delightful!
You'll love serving up this easy gluten free brownies recipe to your sweetie (and the kids) for Valentine's Day!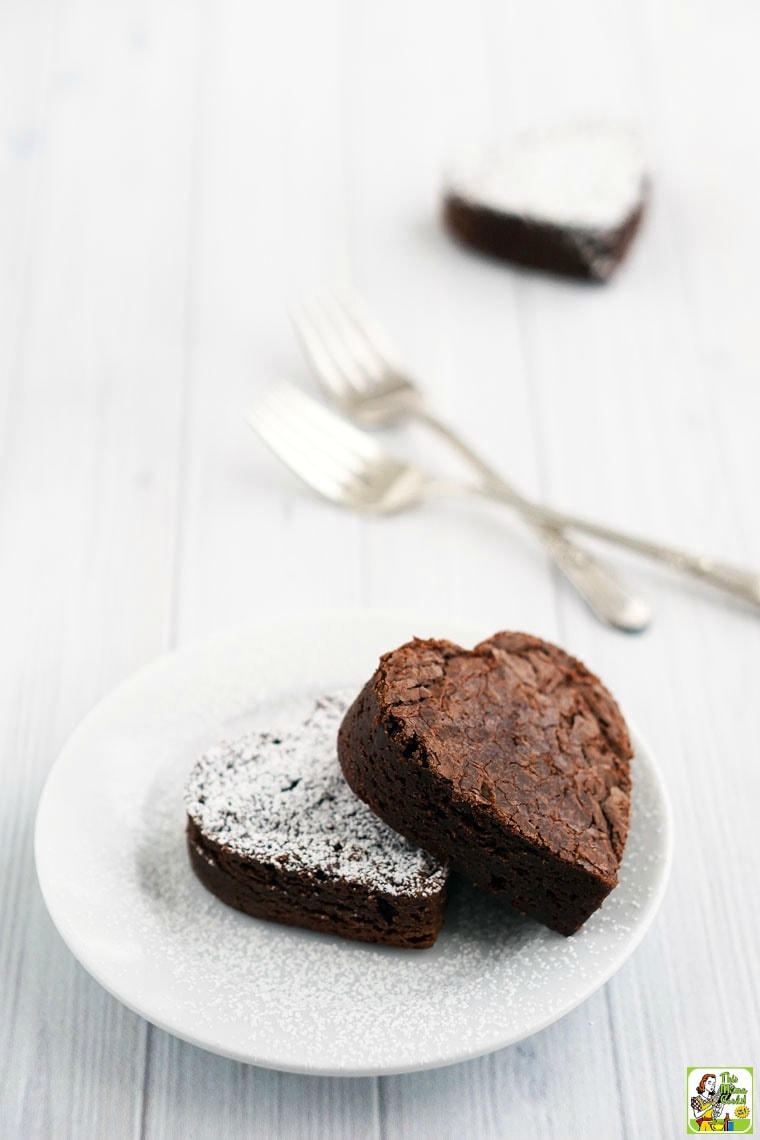 Making a gluten free fudgy brownies recipe
I used my favorite gluten free flour to make this gluten free brownies recipe - Bob's Red Mill Gluten-Free 1-to-1 Baking Flour.
What I love about Bob's 1-to-1 GF flour is that it works just like regular flour. I never have any problems getting great results when cooking or baking with it!
Check out my Best Gluten Free Products List to find more of my favorite gluten free baking products!

As a special Valentine's Day dessert treat, I cut out these fudgy gluten free brownies with heart shaped cookie cutters of various sizes.
(You can snack on any leftover pieces! Or crumble the bits over dairy free ice cream or yogurt.)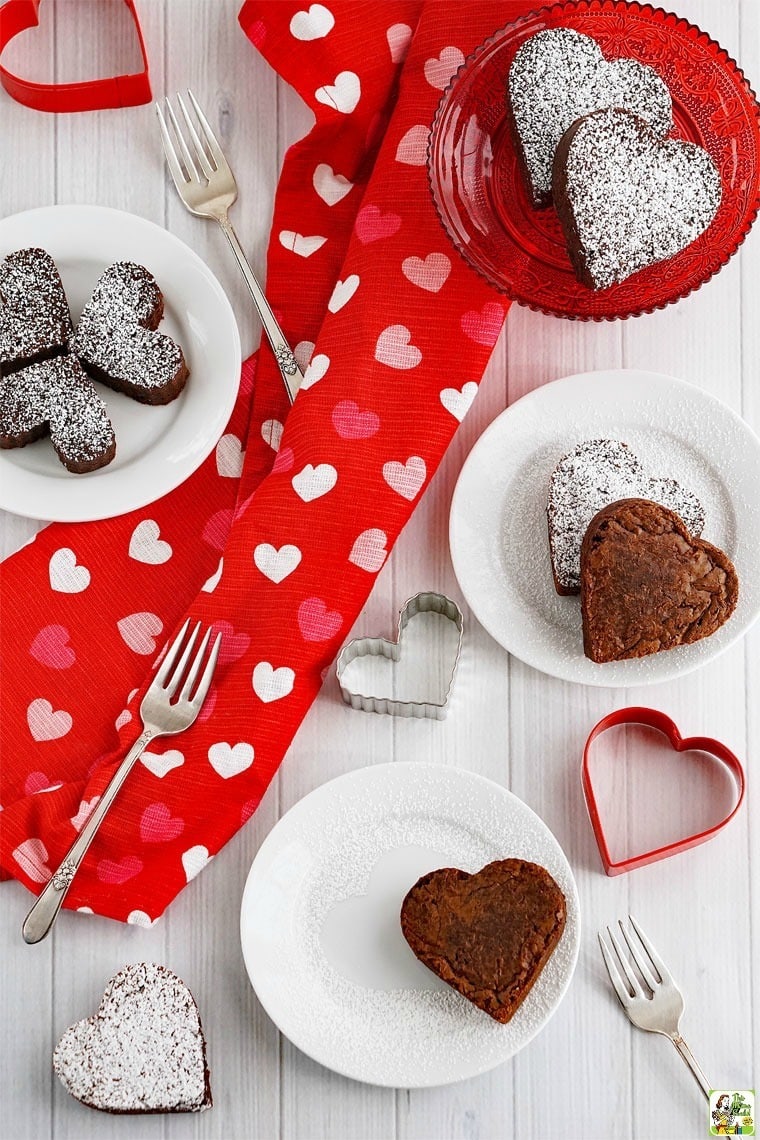 How to line a brownie pan with aluminum foil
Are you tired of your gluten free brownies sticking to your pan? Then make sure to line your pan with an aluminum foil sling. Here's how to do it so the foil doesn't rip:
1. Pull out sheet of foil that is much larger sheet than your brownie pan.
2. Then place your brownie pan on top of the foil in the middle of the sheet.
3. Carefully bring the foil up the sides of the brownie pan. You'll now have a "mold" of your pan.
4. Take some cooking spray and spray the inside of your brownie pan. Carefully press the aluminum foil "mold" of your brownie pan inside the actual pan. (The cooking spray helps the aluminum foil stick to the pan.)
5. Take the excess foil and fold over to form handles. If you have a lot of excess, you can trim it a bit, if you wish. Or just let the edges stick out.
6. Now spray the inside of your lined pan with more cooking spray so you can easily peel off the foil from your brownies once they cool.
The handles come in handy when these your gluten free brownies cool. Then you can pick up the brownies right from the pan!
Just peel off the foil and voila, no brownies to chisel off of your brownie baking pan! Super easy to serve and clean up, too.
David Lebovitz has a similar method with photos here. David mentions using the dull side of the foil versus the shiny side.
I was told by the people at the Betty Crocker Kitchens at General Mills that if you have the shiny side of the foil next to your brownies, it makes them shiny, too.
So up to you if you want your gluten free brownies shiny or not. (They don't want them shiny for photographs, go figure.)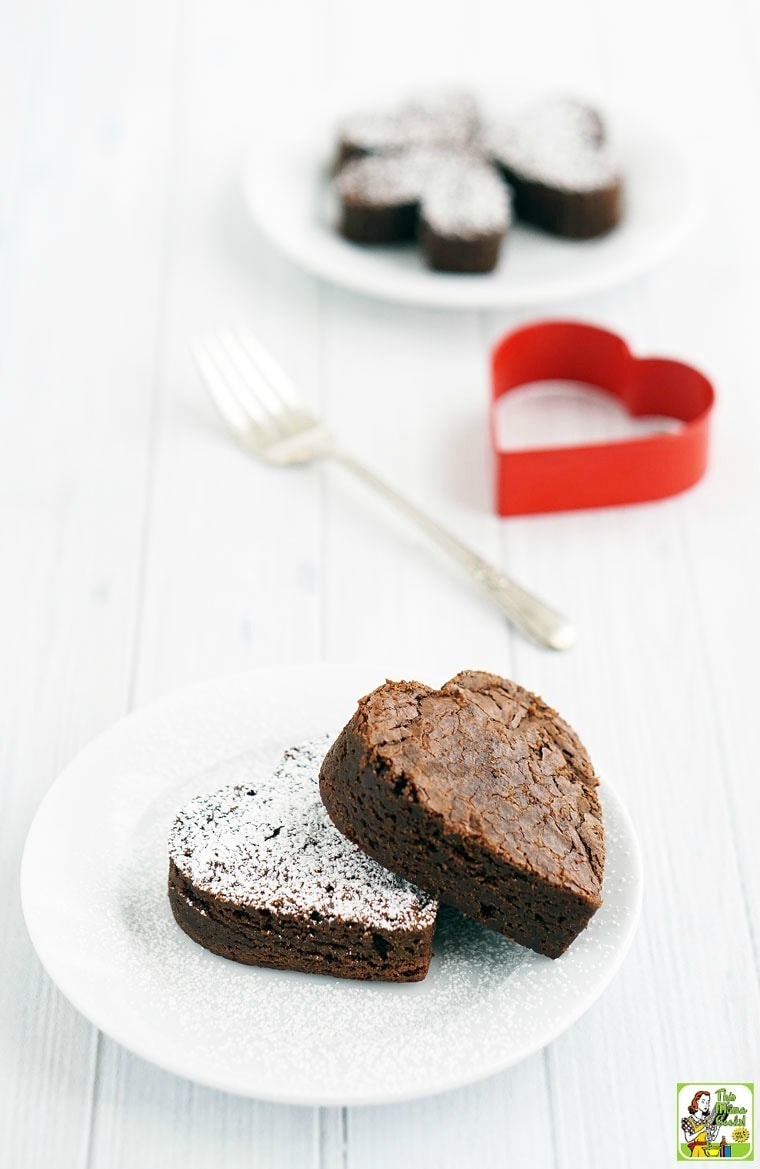 How to make the best gluten free brownies
Dairy free brownies: You can make this recipe both gluten and dairy free using a vegan buttery spread or dairy free margarine.
Unfortunately, the Simple Truth Organic Semi-Sweet Chocolate Chips I originally used may contain dairy.
Instead, use dairy free semi-sweet chocolate chips at like Guittard or Enjoy Life Semi-Sweet Vegan Chocolate Chips. I've seen both brands sold at my Kroger store.
How top sift the ingredients: I like using a fine mesh strainer to sift my ingredients. Don't skip this step. I found that my cocoa powder was super lumpy and sifting everything made the batter nice and smooth.
Don't caffeinate the kids! If you're serving these gluten free flour brownies to your kids, leave out the espresso powder. Otherwise you're going to have some highly caffeinated kids!
Cool before cutting: Before cutting the gluten free brownies, make sure they've completely cooled. If you can't wait, place them in the refrigerator or freezer for awhile.
Otherwise, you may have some hot and ooey gooey gluten free brownies! (Not necessarily a bad thing if you have some dairy free ice cream. Just sayin'.)
Decorate with powdered sugar: You may wish to serve your gluten free fudgy brownies with powdered sugar. It makes the presentation elegant and fun!
Place the powdered sugar in a fine mesh strainer and tap over the brownies to get a nice dusting on both your dessert and the plate.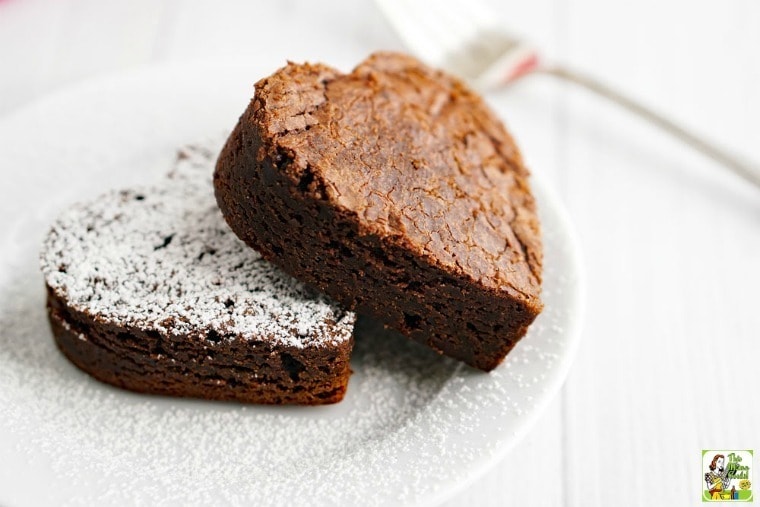 The Best Gluten Free Fudgy Brownies Ever
Ingredients
Canola oil cooking spray

3/4 cup

gluten free all purpose baking flour

1 tablespoon

instant espresso powder

1 tablespoon

unsweetened cocoa powder

1 pinch

fine sea salt

1 teaspoon

baking powder

1 cup

semi-sweet chocolate chips (dairy free, if needed)

3/4 cup

light brown sugar, packed

1/4 cup

unsalted butter or vegan buttery spread, cut into 8 pieces

2 tablespoons

lite coconut milk

1 teaspoon

vanilla

2

large eggs, beaten

powdered sugar for decorating
Directions
Preheat oven to 350 degrees F.
Line a 7x11 inch baking pan with foil. (See tips on how to line the pan above.) Spray inside of lined pan with cooking spray.
Sift the gluten free flour, espresso powder, cocoa powder, sea salt, and baking powder into a large bowl. Set aside.
Place chocolate chips, brown sugar, butter, coconut milk and vanilla in a medium saucepan. Stir mixture over low heat until melted.
Pour chocolate mixture into flour mixture and stir until combined. Add eggs and stir until smooth.
Pour batter into pan. Place pan in center rack in oven and bake for 20-22 minutes. Toothpick inserted into center of brownie will come out clean if done. Top should be slightly crusty.
Cool completely before removing brownie from pan. Can be refrigerated to speed up cooling process.
Cut brownies into squares or with cookie cutters. Decorate with powdered sugar.
Originally published on January 30, 2017. Updated with new pictures and information.