Last Updated on March 26, 2022 by Anne-Marie
Pine Nut Cookies are tasty and easy to make. This gluten-free dairy-free cookie recipe is sweetened with stevia.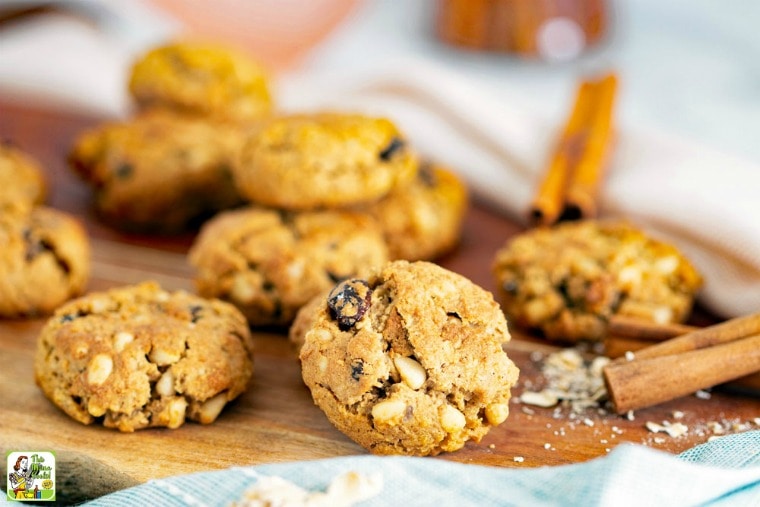 Why this recipe works
These Pine Nut Cookies are gluten free dairy free cookies that you're going to flip over. They were inspired by a trip my family and I took to the Grand Canyon.
While I was there I picked up a fun little cookbook called The Grand Canyon Cook Book, Southwestern recipes from Arizona's natural wonder by Bruce and Bobbie Fisher. It features recipes from park rangers, hikers, and Grand Canyon chefs.
In it was a kind of bar cookie that used piñon nuts, which are similar to pine nuts you find at the grocery store.
Inspired by the Piñon Nut Squares recipe in this fun little cookbook, I created similar gluten free, dairy free, sugar free cookies.
Even though they're gluten and sugar free cookies, my kids loved them and kept asking for seconds and thirds.
I loved that this gluten-free dairy-free cookie recipe is sweetened naturally with stevia and raisins. A win for mom!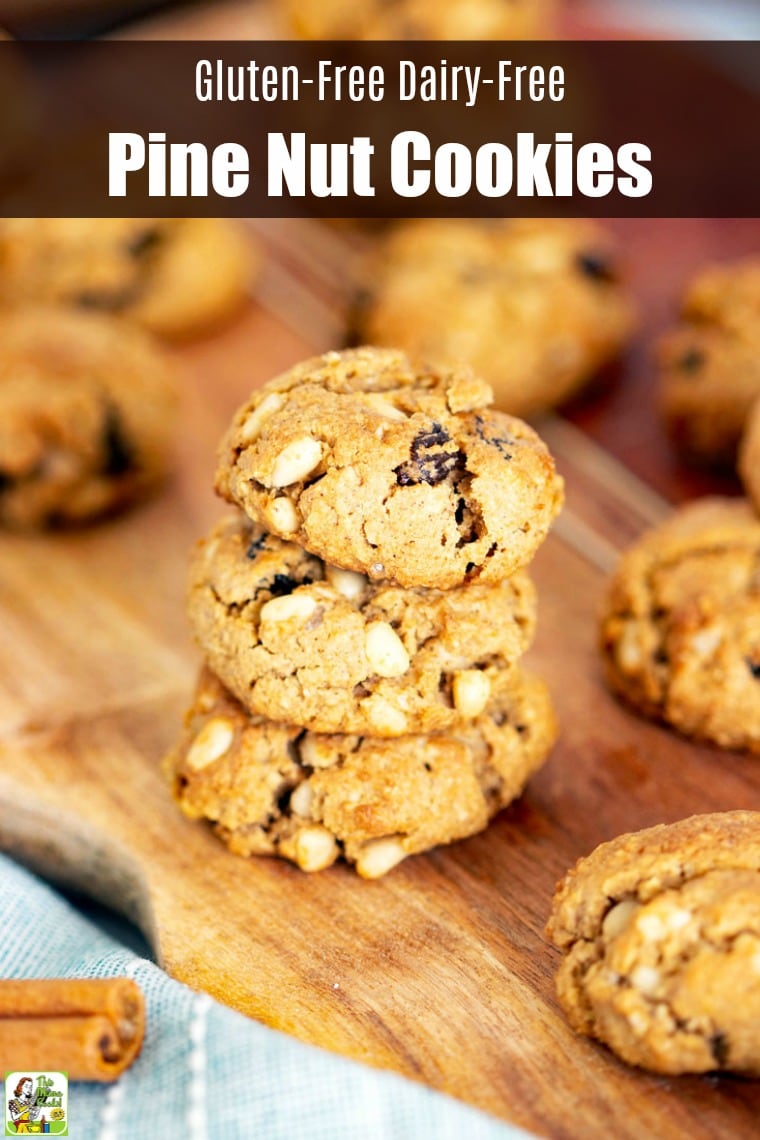 Making gluten free sugar free cookies
I'm all about making gluten free cookies that are simple as possible. Usually I like to bake them using an all purpose gluten free flour since you get great results.
Instead, this time I wanted something a bit more wholesome and decided to bake these gluten free and sugar free cookies with oat flour and brown rice flour.
(Learn how to measure flour correctly for the best results in your everyday baking.)
These type of gluten free flours are perfect for a more rustic, hearty cookie that goes well with crunchy pine nuts and chewy raisins.
Check out my  Best Gluten Free Products List to find more of my favorite gluten free baking products!
These oat flour cookies are sweetened with powdered stevia. But you can use powdered monk fruit or Swerve Sweetener if you'd like.
If you don't mind a little sugar in these brown rice flour cookies, you can substitute 1/3 cup brown sugar or coconut palm sugar for a third of the natural, no-calorie sweetener.
Even with 100% no-calorie sweetener, these gluten free and sugar free cookies will be a hit with your cookie loving family and friends!
They're a guilt free treat, perfect for holiday cookie exchanges and homemade gifts.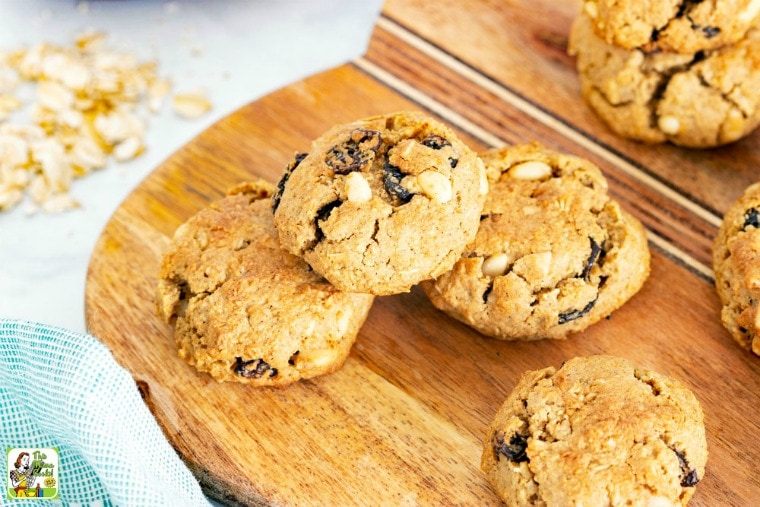 Baking dairy free cookie recipes
Baking gluten free dairy free cookie recipes isn't hard to do when you have great vegan spreads like Earth Balance and Pure Blends.
Both are gluten free, dairy free vegan spreads that are terrific for baking, general cooking, or just smearing on your toast. Yum!
I especially like Earth Balance because they have Vegan Buttery Sticks, which are perfect for measuring and baking.
Cooking easy gluten free dairy free recipes has never been so simple!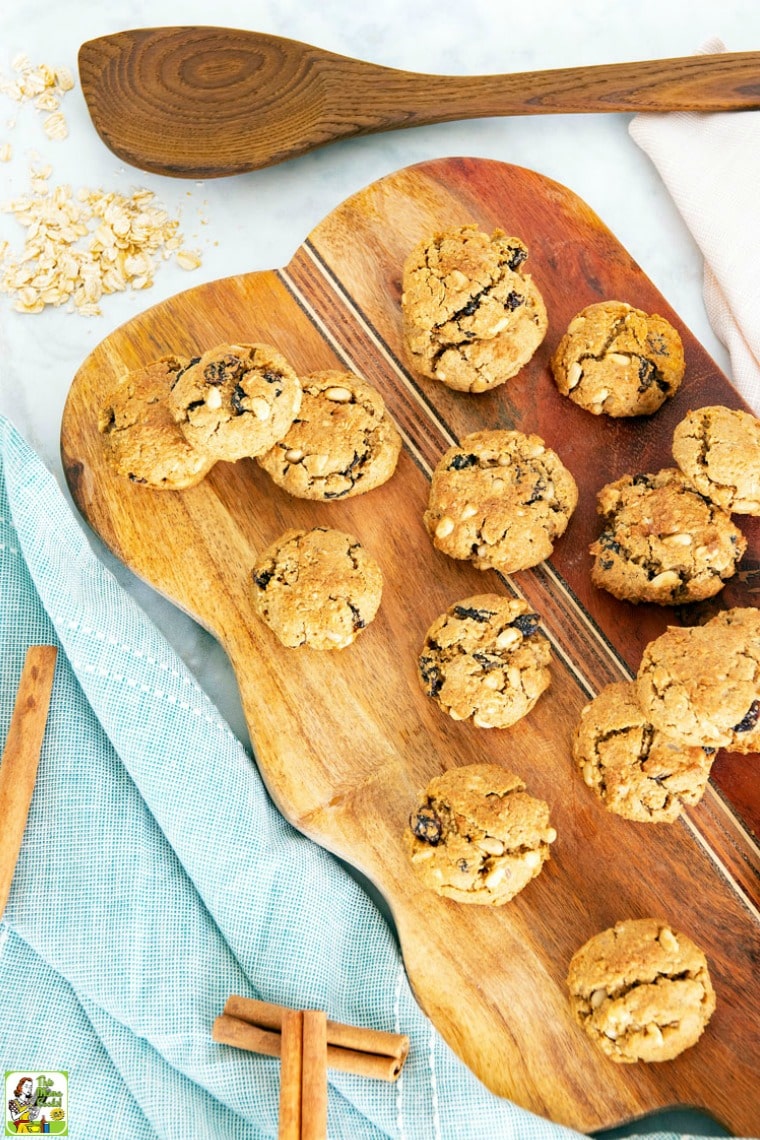 Piñon nuts versus pine nuts
I was surprised to see that several of the recipes from the The Grand Canyon Cook Book used piñon nuts. It's quite a staple in New Mexico.
According to the New Mexico Piñon Nut Company,
"Pine nuts from New Mexico called Pinon nuts are called Pinon or Piñon by law in New Mexico. Pinon nuts come specifically from the pine tree species: pinus edulis. They taste different from other varieties.
The pinon pine tree is a two-needled pine which grows wild in high desert mountain areas of Colorado, New Mexico, Arizona, and Utah. These edible nuts are not to be confused with the 'single needle' pine tree from Nevada."
The pine nuts you get at the store or online are much cheaper than piñon nuts from New Mexico, which sell anywhere from $25-40.
Italian pine nuts are called pignolias. Italian pine nut cookies are made with almond paste.
I've read that some people experience a metallic aftertaste when eating pine nuts, and that this has more to do with a genetic predisposition than the pine nuts themselves.
However, pine nuts can go rancid quite easily, so keep yours in the refrigerator. Also, you should do a taste test before cooking with them to make sure they're OK.
I cook with pine nuts from Costco and have never had a problem with them.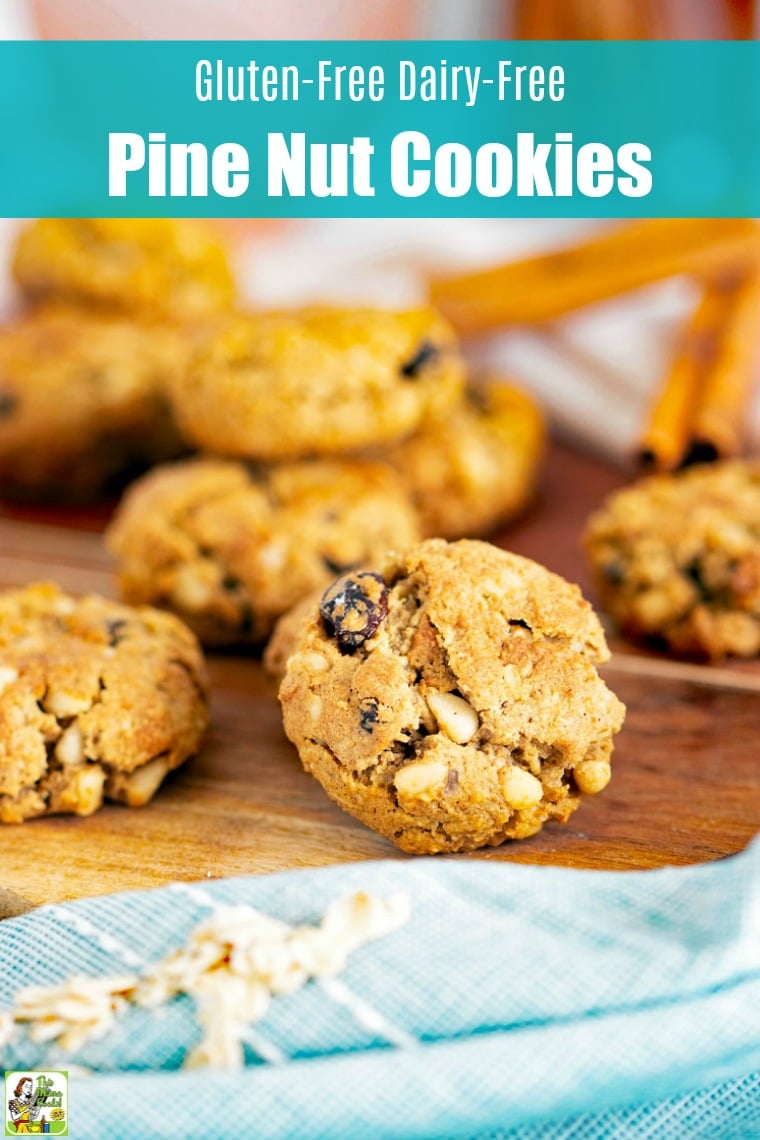 More tips for making gluten free dairy free cookie recipes
Oats: Remember to use certified gluten free quick-cooking rolled oats to keep this cookie recipe gluten free. While oats are naturally gluten free, they can be subject to cross-contamination in the fields, during processing, or even during shipping.
Dried fruits: Instead of plain raisins, you can use golden raisins, dried cranberries, or dried blueberries.
A combination of dried fruit in the Pine Nut Cookies make delicious gluten free, dairy free snacks for your kids' lunch boxes.
Read labels: If you or someone you're baking for is on a gluten free, dairy free diet, make sure to read labels – every time!
Don't assume something is gluten free or dairy free. Make sure the oat and brown rice flours are gluten free certified.
Seeds not nuts: Pine nuts are seeds and not nuts, so are somewhat safe for someone with a nut allergy.
However, because of potential cross-contamination during processing, you may want to rinse and dry your pine nuts to rid them of any contaminates from other nuts or seeds.
Baking mats: For easy cleanup use silicone baking mats. Once upon a time there were only expensive Silpat baking mats.
Now there are all kinds of super affordable baking mats which work just as well. Check 'em out!
Snack time: Serve with Pine Nut Cookies with a glass of your favorite alt-milk, and don't forget the napkins and plates. These gluten free dairy free cookies are very crumbly!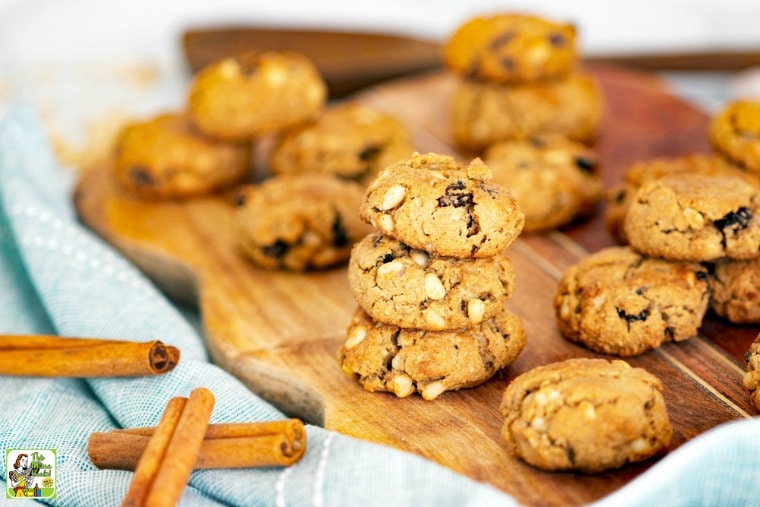 More gluten free dairy free recipes
If you're looking for recipes that are both gluten free and dairy free, check these out!
● This Eggless Chocolate Chip Cookies with Pumpkin recipe can be made with gluten free flour.
● Make this Blueberry French Toast Casserole Recipe your favorite GF bread.
● I love making this Gluten Free Pumpkin Bread recipe year round.
● If you love key lime mousse, but cannot stomach the sweetened condensed milk, try this Vegan Key Lime Mousse recipe. You'll love it!
● These Pumpkin Gluten Free Scones are baked with raisins and dairy free chocolate chips. So good!
Yield: 32 COOKIES
Gluten-Free Dairy-Free Pine Nut Cookies Recipe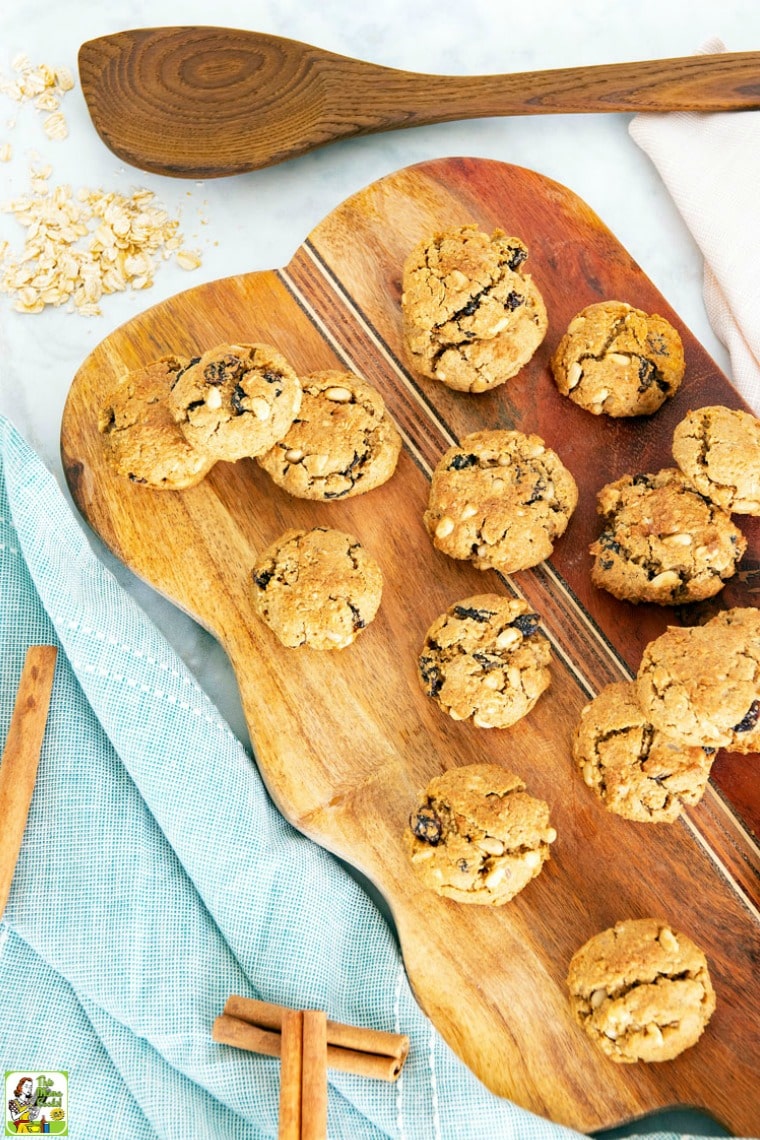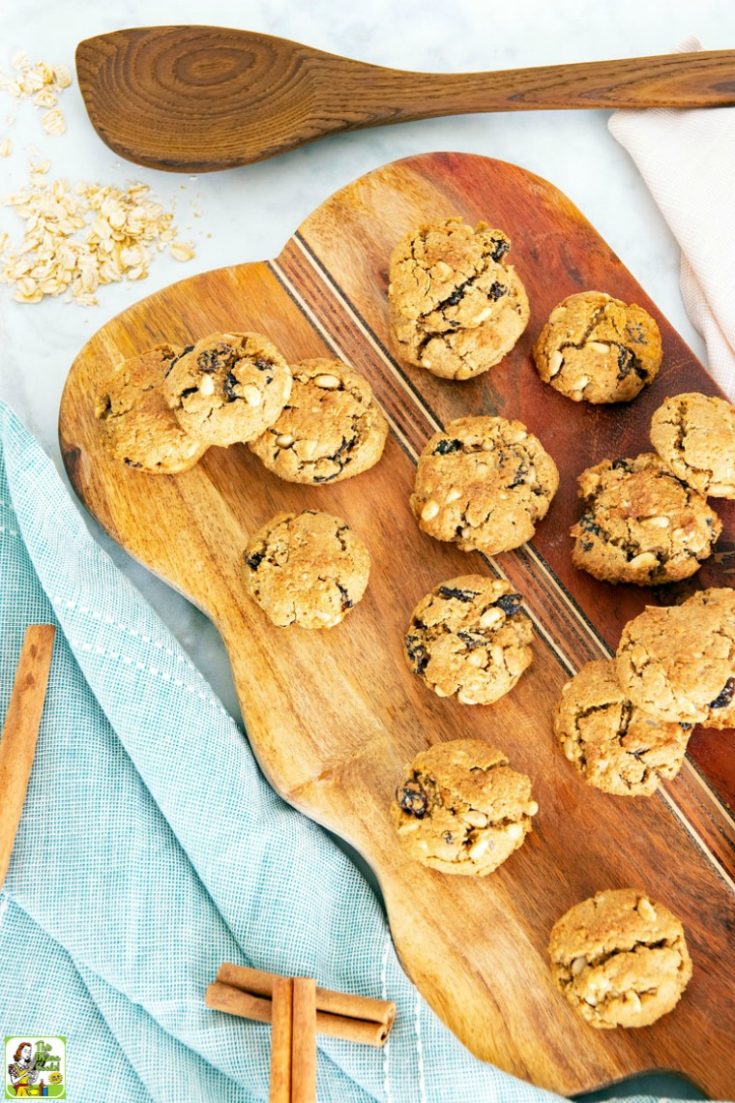 Pine Nut Cookies are gluten-free, dairy-free cookies that are easy to make. This gluten-free dairy-free cookie recipe is sweetened with stevia.
Ingredients
1/4 cup gluten-free brown rice flour
1/2 cup gluten-free oat flour
1/2 teaspoon sea salt
1/2 teaspoon cinnamon
1/2 teaspoon baking soda
1 cup gluten-free quick-cooking rolled oats
1 egg
2/3 cup powdered stevia, monk fruit, or Swerve Sweetener
1/2 cup softened non-dairy buttery spread
1 teaspoon vanilla
3/4 cup pine nuts
1/2 cup raisins
Instructions
Set oven for 375 degrees.
Sift flours, salt, cinnamon, and baking soda together.
Mix oats into dry ingredients.
In a large bowl, beat egg, sugar substitute, buttery spread, and vanilla until well combined.
Mix in dry ingredients.
Stir in pine nuts and raisins.
Drop by the tablespoonfuls onto a greased cookie sheet or a baking sheet covered with a silicone baking mat.
Bake on the center rack of the oven for 10 to 12 minutes until the pine nut cookies turn slightly golden.
Recommended Products
As an Amazon Associate Affiliate and member of other affiliate programs, I earn from qualifying purchases.
Nutrition Information:
Yield:
32
Serving Size:
1 cookie
Amount Per Serving:
Calories:

96
Total Fat:

7g
Saturated Fat:

1g
Trans Fat:

0g
Unsaturated Fat:

5g
Cholesterol:

6mg
Sodium:

101mg
Carbohydrates:

12g
Fiber:

1g
Sugar:

2g
Protein:

1g
Nutritional information is automatically calculated per the ingredients list. Serving size may not be accurate. Please double-check with your preferred nutritional app for the most accurate information.
Originally published on April 11, 2011. Updated with new pictures and information.