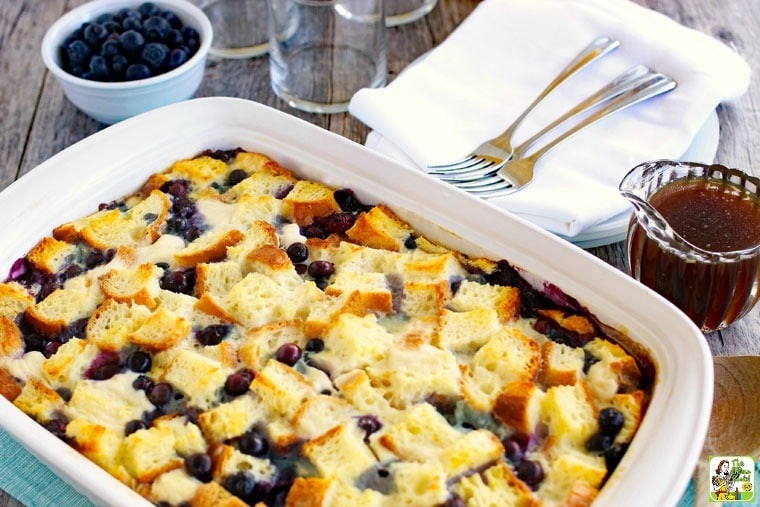 This Blueberry French Toast Casserole Recipe is super adaptable for weekend brunches or breakfast work meetings.
It was inspired by recipes I've lusted over but couldn't eat because of my dietary restrictions. So, I made a dairy free French toast casserole recipe with my favorite gluten free bread and fresh blueberries that I could indulge in safely.
If you find yourself with a need for an easy breakfast for busy weekends, this overnight breakfast bake option is going to be a favorite for your family.
Another easy-to-make breakfast recipe is Blueberry Muffin Streusel Cake, which also can be made gluten free.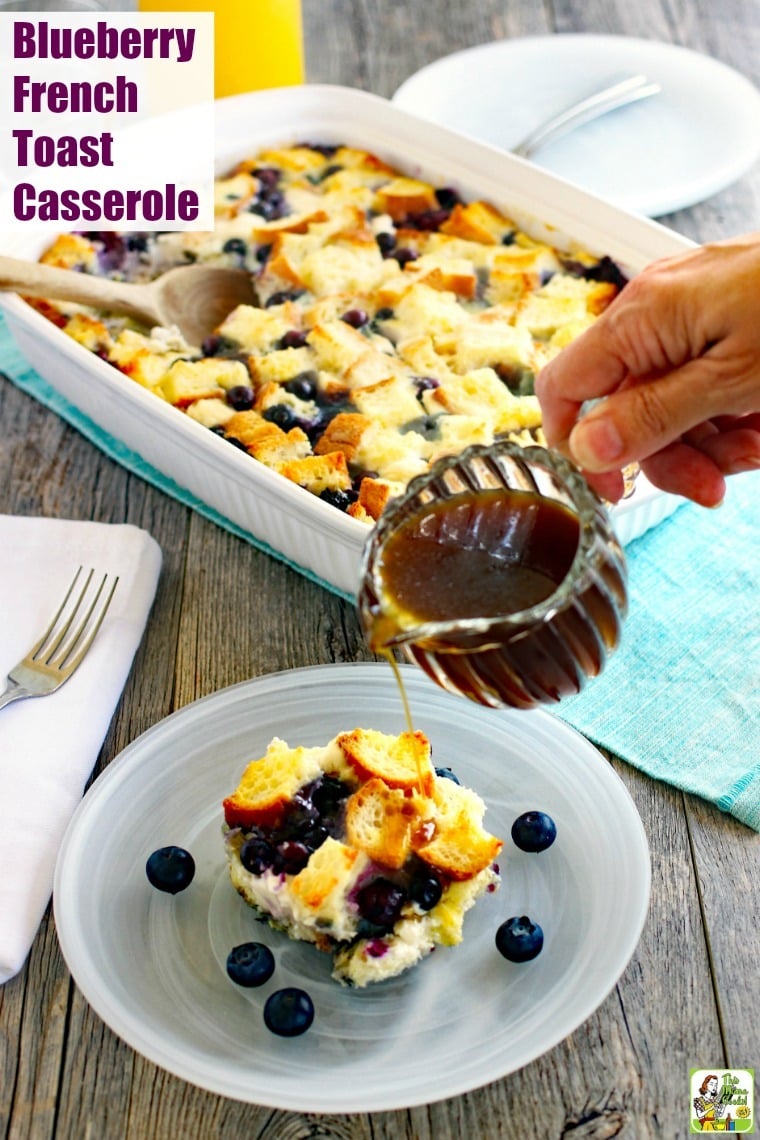 Overnight French toast casserole with blueberries
Using up leftover bread or bread ends is an excellent reason to cook up this make-ahead delicious French toast casserole bake.
If your kids are like mine and refuse to eat up bread ends, then you need a way to use them. I keep a large gallon freezer bag to store them in the freezer until I have enough to throw together this breakfast dish.
The recipes that inspired this dish were a bit more decadent than I prefer for breakfast.  It was simple to lighten it up and make it healthier by using substitutes for dairy, eggs, and even sugar.
Below are some of my favorite ways to make this French toast casserole recipe healthier and easy to fit into any diet plan.
This overnight breakfast casserole was delicious and reminded me of cream cheese stuffed French toast but without the guilt.
Blueberry French Toast Casserole would be wonderful to serve on Mother's Day or to bring to a breakfast meeting at work.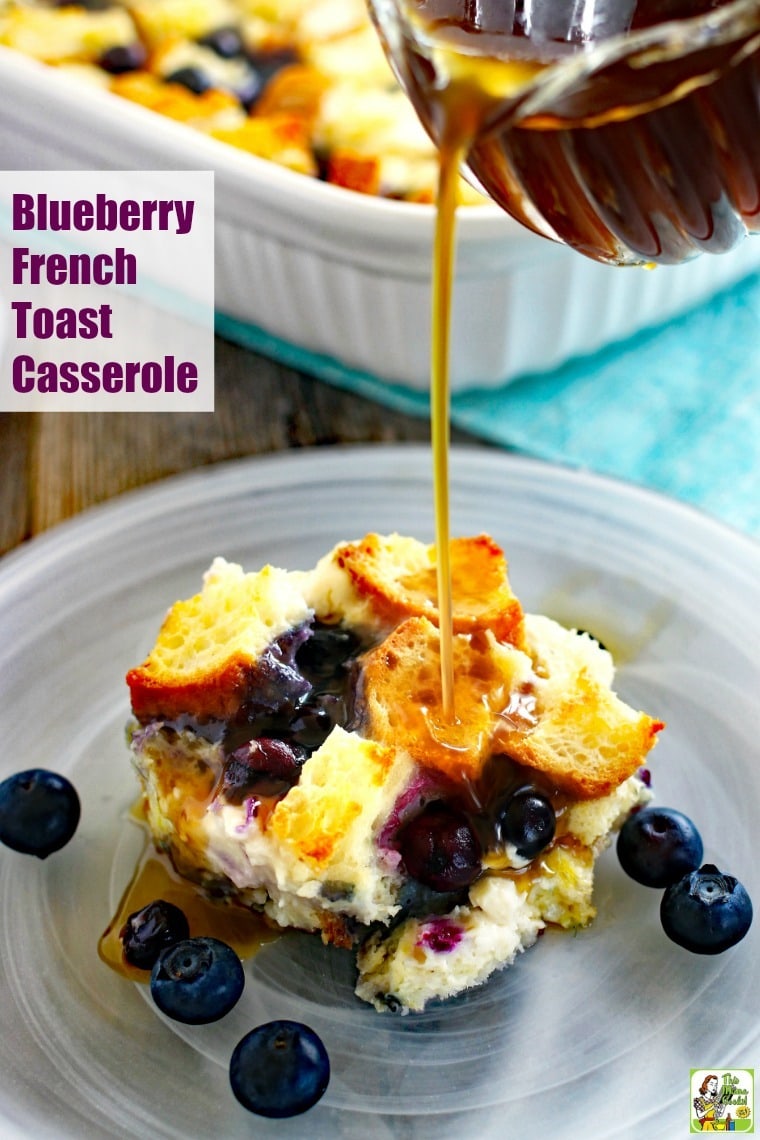 How to make this French toast casserole dairy free
If you follow a dairy free diet, you may think a great French toast bake would be impossible to make. I discovered with a few simple substitutions you can make this recipe just as delicious as any that includes dairy.
Use vegan or dairy-free cream cheese (Kite Hill Almond Milk Cream Cheese is excellent).

Light coconut milk, rice milk, unsweetened almond milk, or soy milk are all great vegan substitutes.

Vegan? Choose a vegan egg substitute instead of the egg whites and a vegan bread for the regular or gluten free bread.

If you're not vegan, using egg whites instead of a whole egg lowers the fat content.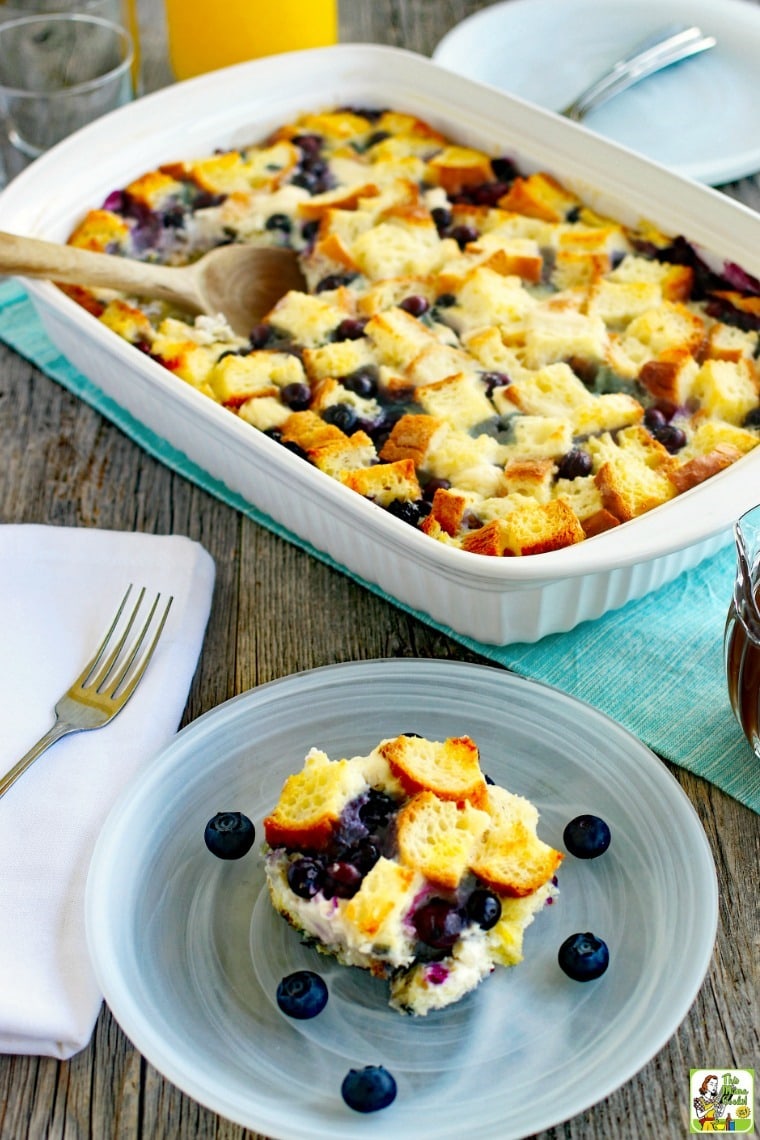 Gluten-free French toast casserole overnight bake tips
For those who have a gluten sensitivity or celiac disease, it's easy to adapt this French toast casserole recipe.
Whether you make your own homemade gluten free bread, or you use the ends of a store bought gluten-free bread, it won't matter. Both work well for this recipe.
Use gluten-free cinnamon bread for more flavor.

Cut gluten-free bread into smaller pieces to help absorb the liquid better.

Gluten-free bagels, hamburger and hot dog buns, and muffins that are stale are also a terrific (and delicious!) option for use in this overnight breakfast bake.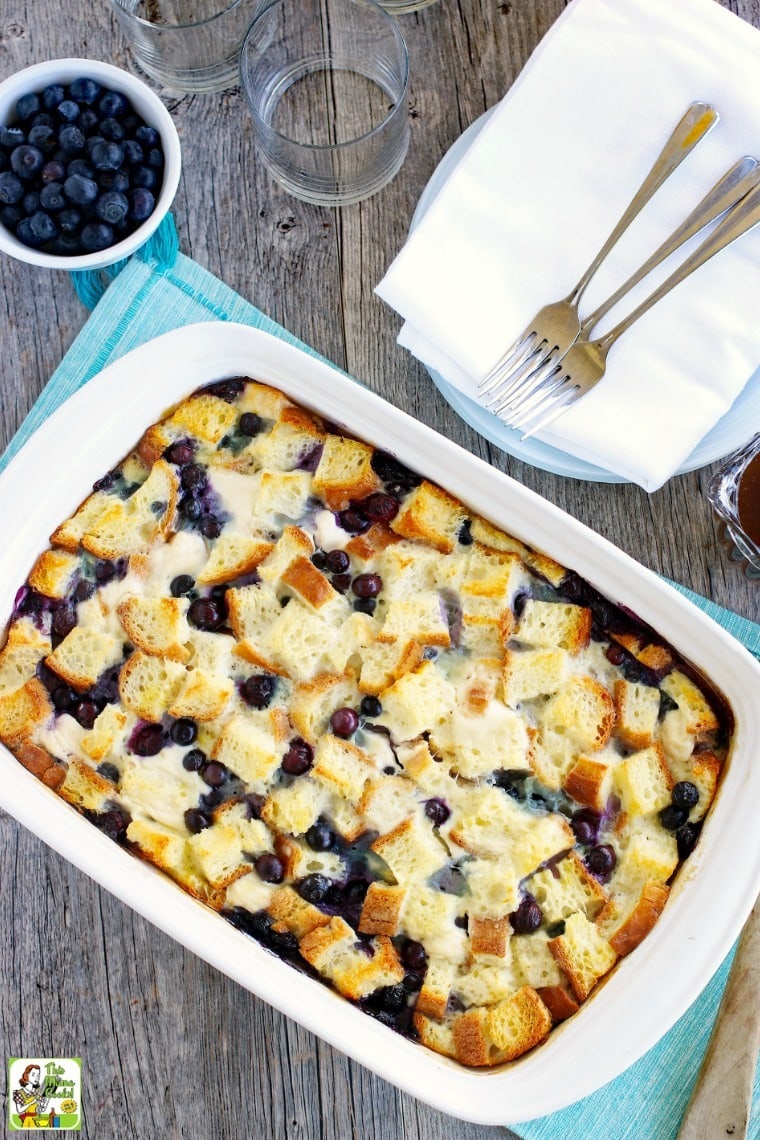 More make ahead breakfast recipes
Preparing breakfast in advance to bake the next morning makes your job so much easier to manage.  You can use your favorite casserole dish to make it easy to take from the refrigerator to the oven.
Using a disposable aluminum pan with a lid works great for teacher appreciation breakfasts so you don't worry about having to get your casserole dish back. (And leftovers can go home with the teachers!)
Below are a few of other favorite make ahead breakfasts:
Easy Chorizo Breakfast Casserole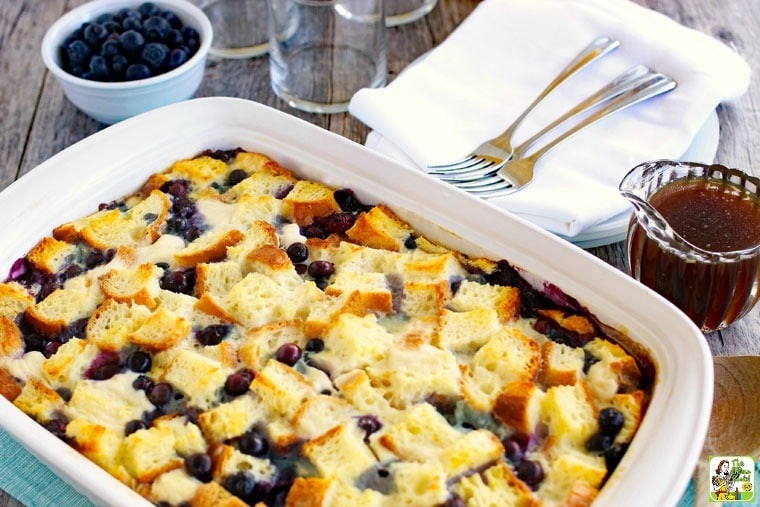 Blueberry French Toast Casserole Recipe
Ingredients
14 slices

whole wheat or gluten free bread, cut into 1" cubes

1 (8-ounce) package

vegan cream cheese, cut in cubes

12 ounces

blueberries (fresh or frozen)

6

large eggs

1 cup

liquid egg whites

1/3 cup

agave nectar or real maple syrup

1 can (13.5 ounces)

light coconut milk

3/4 cup

rice milk

Real maple syrup for drizzling
Directions
Arrange 1/2 of the bread cubes in a greased 9 x 13 pan.
Sprinkle cream cheese cubes and blueberries evenly over the bread cubes.
Top with remaining bread cubes.
Mix together eggs, egg whites, coconut and rice milks, and agave nectar/maple syrup
Pour over bread cubes and cover pan with foil. Let chill in refrigerator overnight.
Bake covered with foil at 350 degrees for 30 minutes.
Remove the foil and bake for another 30 minutes or until fluffy and golden.
Drizzle maple syrup over individual pieces when serving.
Total Time:
1 Hour 20 Minutes
Serving size:

1/12 of recipe
Originally published on February 9, 2012. Updated with new pictures and information.