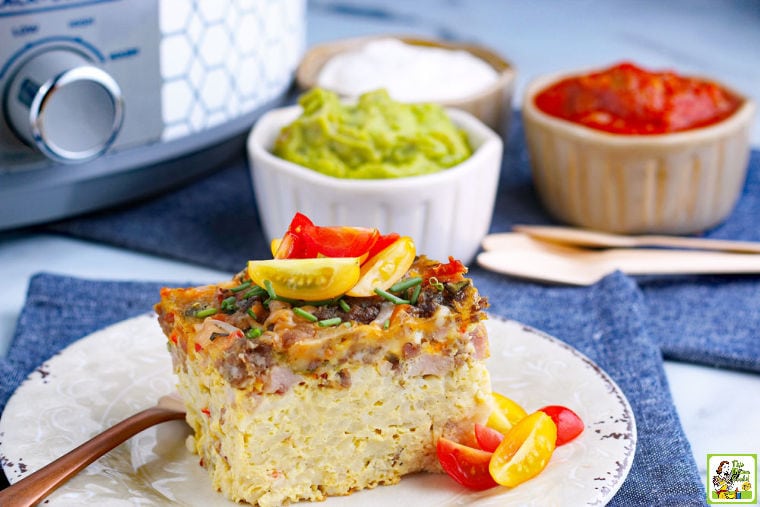 Not only is Crockpot Breakfast Casserole a crowd pleaser, it's super easy to make because you prepare it the night before.
That way you can get up early, plug in your slow cooker, and have a hearty and filling breakfast ready for the whole family to enjoy in a few hours.
It's a slow cooker breakfast casserole that will soon become a family favorite for holiday breakfasts and brunches!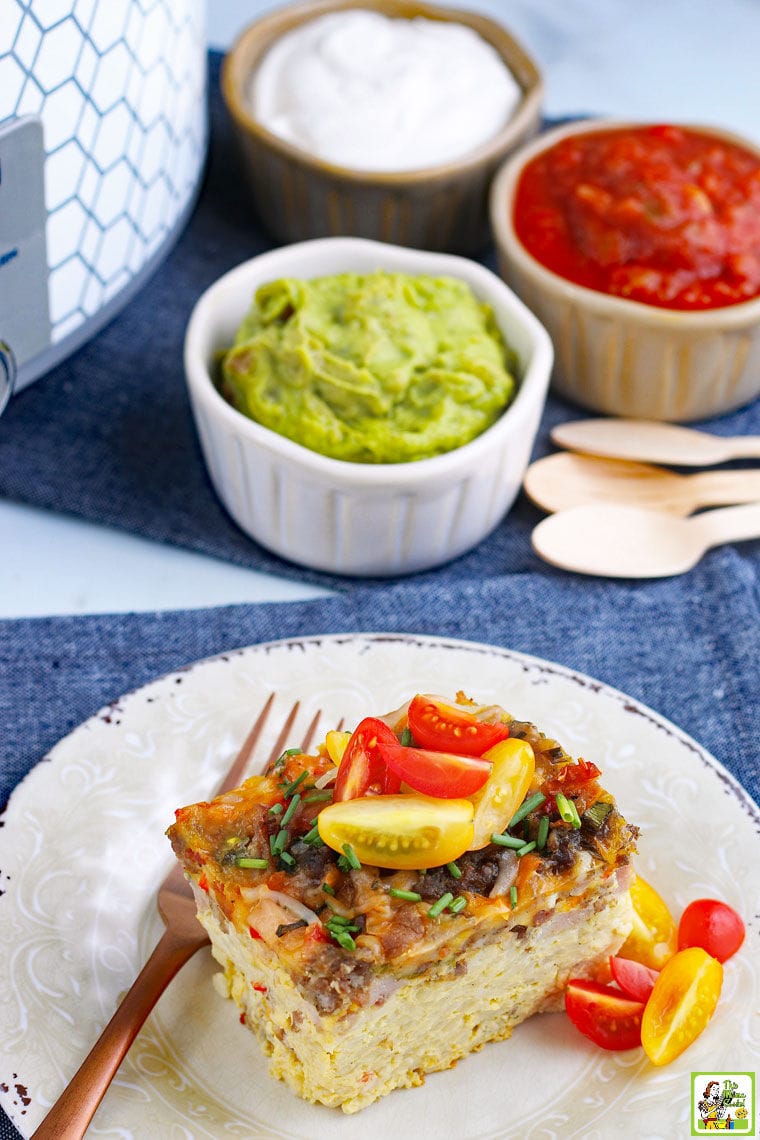 Tips on how to make a crockpot breakfast casserole
There are a few tricks to making the best crock-pot breakfast casserole.
Spray or line your crock: First, make sure to spray the inside of your crockpot with non-stick cooking spray or line with a slow cooker liner for easy cleanup.
Cook up the meat: Then you need to cook up a pound of sausage or bacon. (Try my Homemade Italian Sausage or Homemade Chorizo Sausage recipes.)
You cannot use raw bacon or sausage in this breakfast casserole recipe. It must be cooked before you place it in the slow cooker.
If you don't want to do any precooking, use ham or a precooked sausage. Make sure to cut the sausage into bite-sized pieces.
Drain off any grease from the cooked sausage or bacon. Then blot cooked sausage and bacon with paper towels so the crockpot breakfast casserole doesn't end up too greasy
Chop up bacon into smaller pieces and set all the meat aside.
Then follow the recipe as directed below.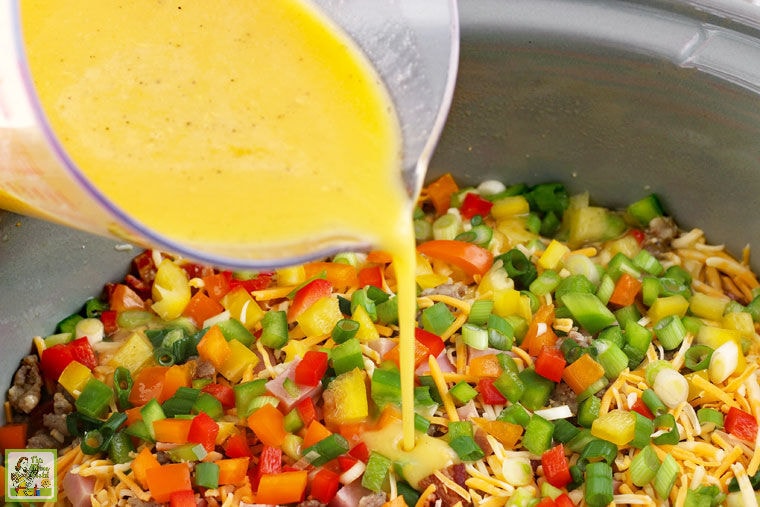 How do you know when your breakfast casserole is done?
Cooking for 3-4 hours on high or low for 7-8 hours should be plenty of time to cook the eggs properly.
When your slow cooker breakfast casserole is done, the eggs should look firm and set.
The eggs shouldn't be runny. And the cheese should have melted nicely.
The edges of the breakfast egg casserole should be nice and brown.
How to serve: Spoon up this tasty breakfast casserole with guacamole, salsa and sour cream. Add a little hot sauce, too!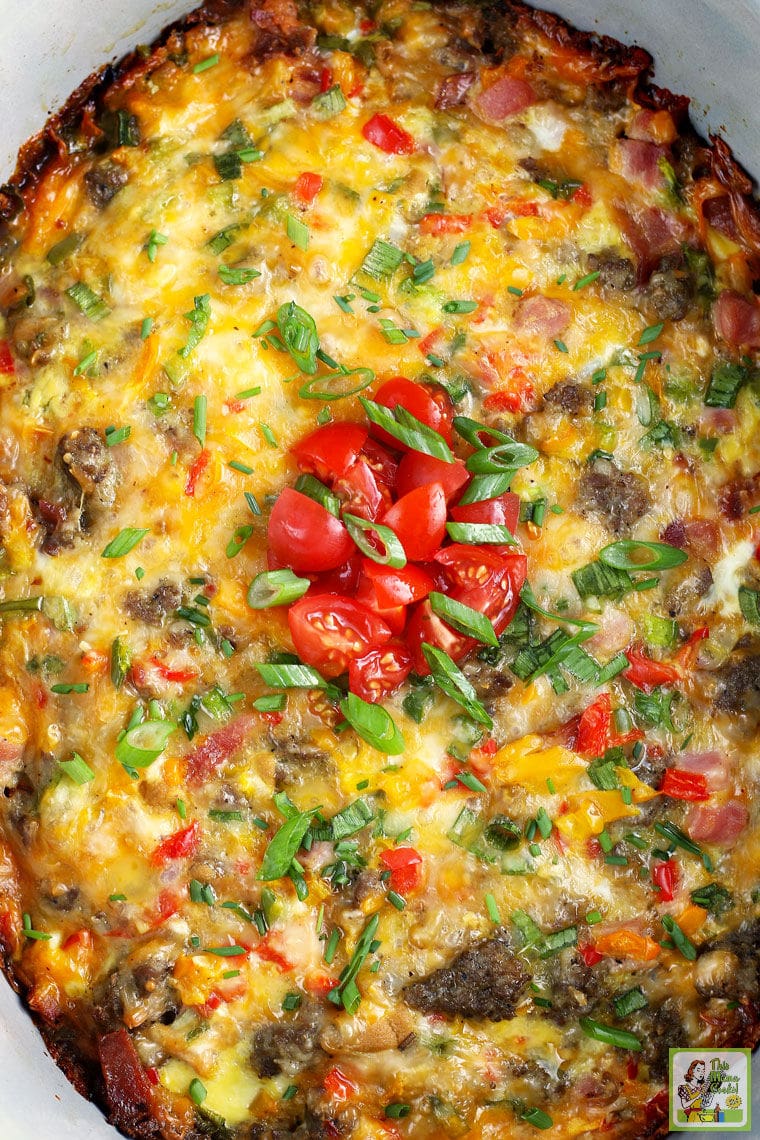 Making this crock-pot breakfast casserole even easier
Veggies: Chopping vegetables can take a lot of time. Luckily, you can buy already chopped fresh peppers in the produce area of your grocery store.
Or you can use frozen three pepper and onion blend instead of fresh peppers and green onions.
This is my favorite thing to do since you can keep a supply of frozen peppers along with frozen hash browns so you can make this breakfast casserole anytime!
Cheese: Buying shredded cheese, instead of shredding your own, also makes this a easy to make crock-pot breakfast casserole.
Eggs: You can use liquid whole eggs instead of whole eggs. Check the label to find how much liquid eggs you'll need.
You can also do a combination of liquid whole eggs and liquid egg whites if you wish for a much more healthy crockpot breakfast casserole.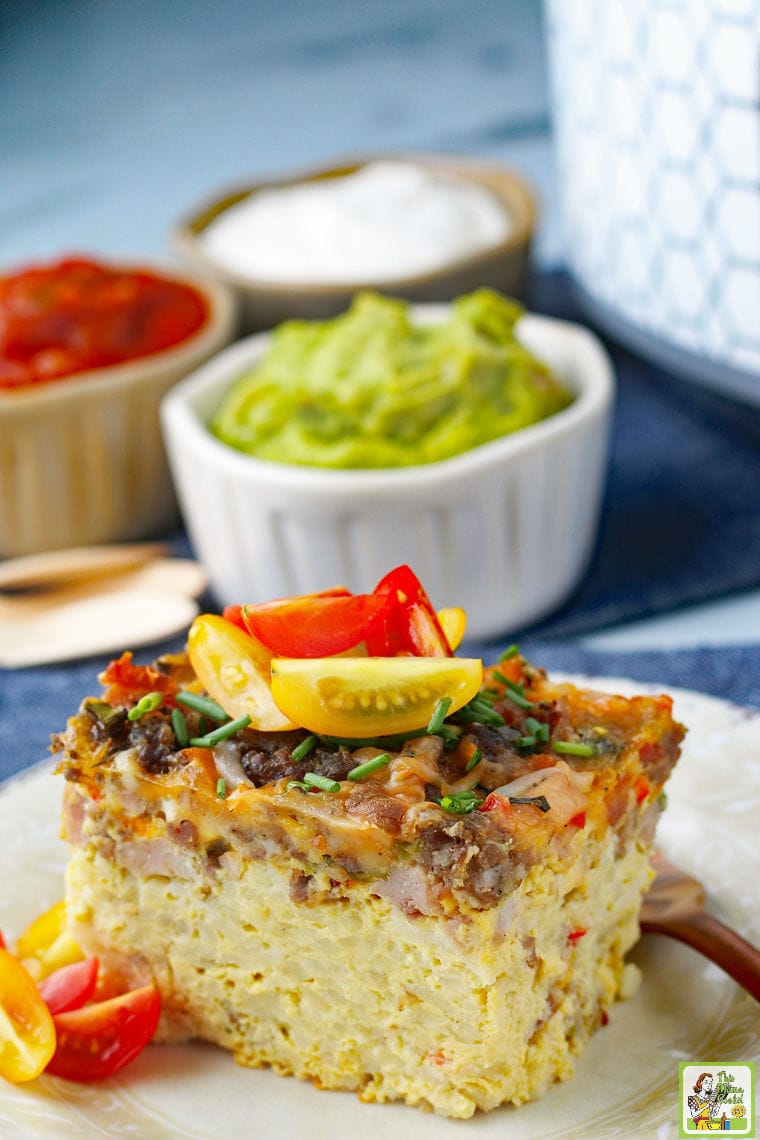 Breakfast casserole in crockpot variations
Hash browns: While this is a crockpot breakfast casserole with hash browns, you can substitute tater tots if you wish. Just make sure not to make the tot layer too thick.
Use different types of cheese: Try other types of cheese, instead of cheddar or Colby-Jack. Try a Mexican blend, Italian blend, Monterey Jack, and so on.
Vegetables: You can use other vegetables like zucchini, squash, and tomatoes instead of peppers.
Mexican style: Try Crockpot Taco Meat instead of sausage. Substitute salsa for the mustard and use shredded Mexican blend cheese for a Mexican breakfast casserole.
Dairy free: If you're dairy free, you can substitute unsweetened coconut milk or soy milk for the regular milk and use a vegan cheese instead of regular cheese.
Just note that some vegan cheeses do not melt as well as regular cheeses.
Perfect for potlucks: After cooking, wrap your slow cooker in an insulated carrier bag to bring to a brunch potluck.
More tasty breakfast recipes
Looking for more tasty breakfast recipes to serve to your family. Try these!
● Blueberry Muffin Streusel Cake
● How to Make an Easy Breakfast Chilaquiles Recipe
● Healthy Raspberry Yogurt Muffins
● Tiana's Famous Beignets Recipe from Disney's Princess and the Frog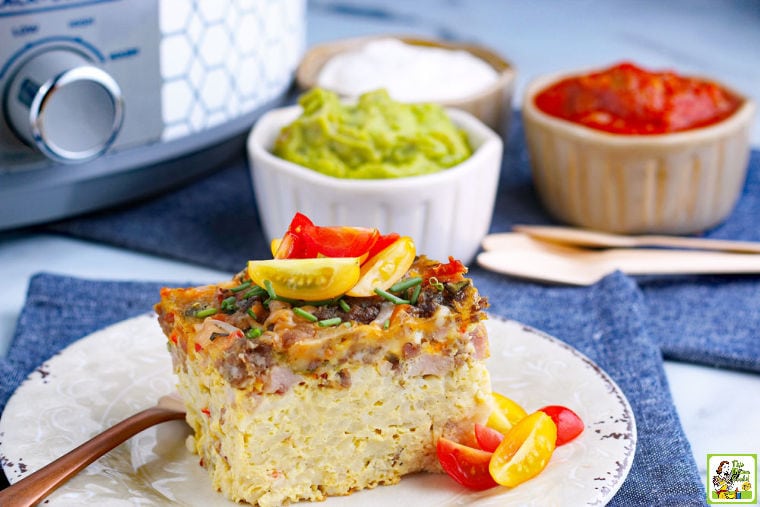 Crockpot Breakfast Casserole Recipe
Ingredients
Cooking spray or slow cooker liner

1 pound

cooked breakfast sausage, bacon or ham - or a combination

12

large eggs

1 cup

milk

2 teaspoons

Dijon mustard

1 teaspoon

salt

1/2 teaspoon

black pepper

1 bag (28-32 ounces)

frozen shredded hash browns, slightly thawed

1 cup

diced red, orange, yellow or green peppers (or a combination)

3-4

green onions, sliced

2 cups

shredded cheddar or Colby jack cheese
Directions
Spray inside of crockpot with non-stick cooking spray or line with a slow cooker liner.
Cook sausage or bacon. (No need to cook the ham.) Drain off any grease. Blot cooked sausage and bacon with paper towels. Set aside.
Whisk together eggs, milk, Dijon mustard, salt and pepper until combined well. Set aside.
Add hash browns to the bottom of slow cooker.
On top of hash browns, layer half of the meat, half of the peppers, half of the onions, and 1 cup cheese.
Repeat layers of the rest of the hash browns, layer meat, peppers, onions, and cheese.
Pour egg mixture over ingredients.
Cook the crockpot breakfast casserole on low for 7-8 hours or high for 3-4 hours.
Serve immediately.
Store leftovers in the refrigerator for up to 4 days
Total Time:
8 Hours 20 Minutes
Servings
:
Serves 8 people
Serving size:

1/8 of recipe