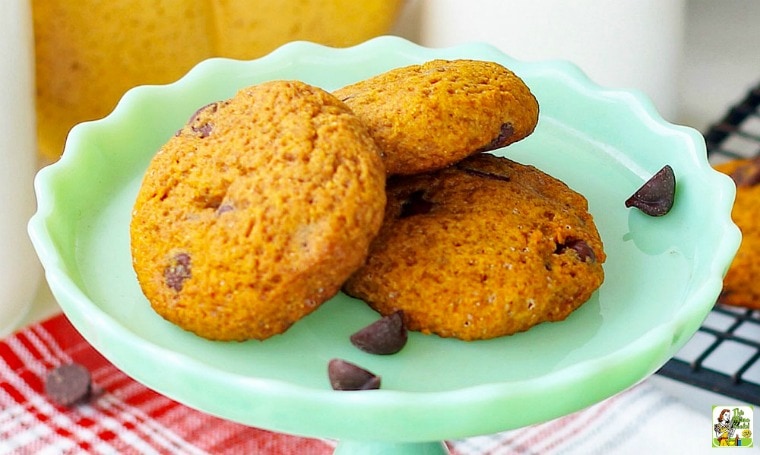 You're going to flip over these Eggless Chocolate Chip Cookies with Pumpkin.
The secret to making this eggless cookies recipe super moist? Pumpkin puree and organic shortening!
Not only is this snack easy to make, but these cookies also taste great. You won't believe they're egg-free.
Chocolate chip pumpkin cookies are a delicious egg free cookie dough option that tastes great and stays super moist.
With the addition of pumpkin puree and whole wheat flour, this is a wholesome treat you'll feel good about serving to your family, too.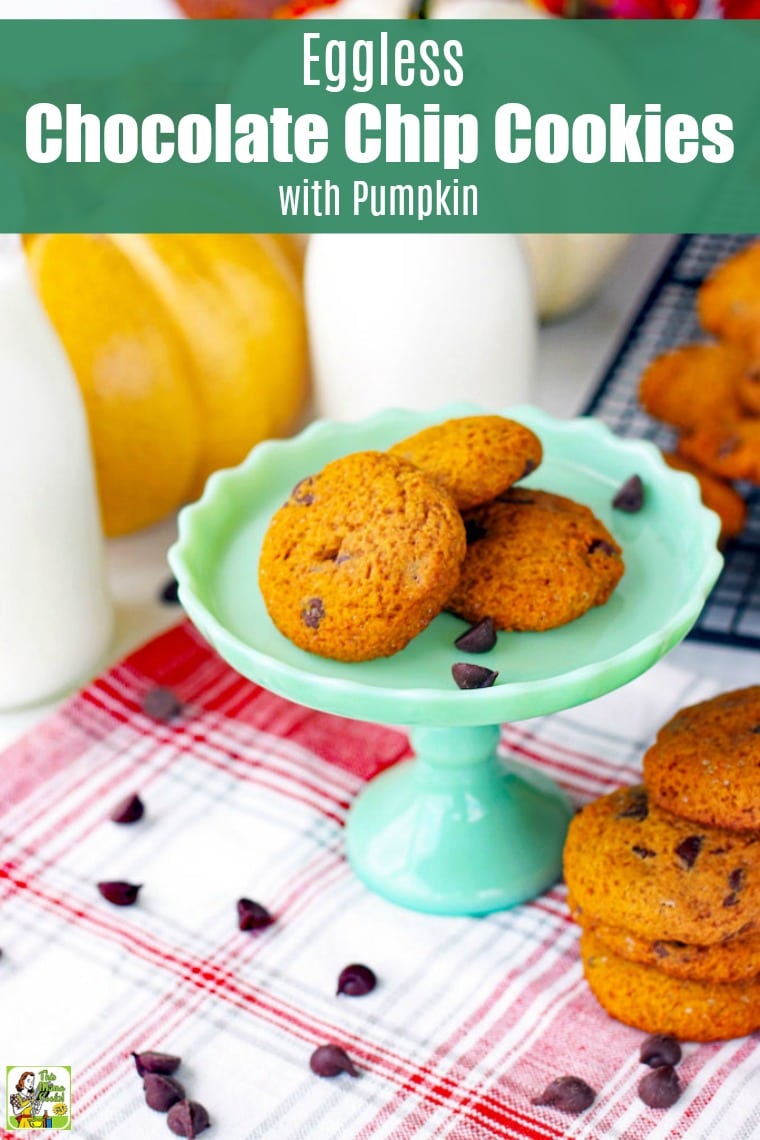 Eggless Chocolate Chip Cookies are an easy to make treat
When my daughter was little, my friend wanted to make a snack that had no eggs in them for a playdate.
You see, back then my daughter, Lucie, was on an egg free diet due to her food allergies.
If she had anything with eggs, she'd break out in hives and throw up. It was awful.
The cookies my friend brought were a big hit with everyone that day. Since then, I've taken her recipe and modified it a bit to make it even more delicious and wholesome.
Luckily, Lucie has outgrown her egg allergy. (Phew, egg allergies are the worst!)
But I still make these chocolate chip cookies with no eggs because she loves them so much.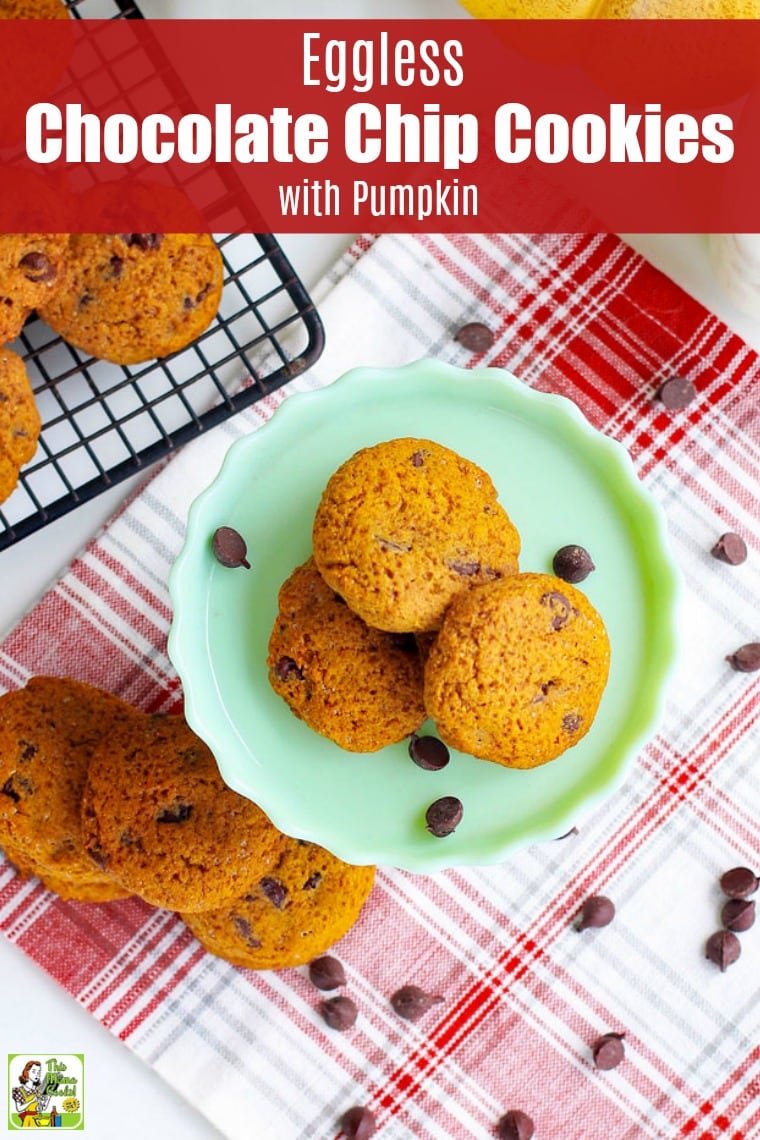 How are these wholesome eggless cookies?
After my friend shared her recipe with me, I felt I needed to make it even better.
First, I substituted stevia for the white sugar. These days, I like using powdered monk fruit sweetener or Swerve, a terrific no calorie, natural sweetener, depending on what I have in the pantry.
I also substituted half of the white flour with whole wheat flour, to add a little more nutrition and fiber. (You don't want to go with 100% whole wheat flour, or you'll end up with a very dry cookie.)
Instead of regular shortening, I used organic shortening. My favorite brand of organic shortening is Spectrum Naturals Organic Shortening, which works great. I even use it to make frosting for cupcakes!
The resulting eggless chocolate chip cookie recipe was delicious, and no one noticed that I made sugar free chocolate chip cookies as well as egg-free ones.
My recipe is still a sweet treat for kids and adults alike even though it's almost sugar free. But remember, these cookies are a special indulgence and not a meal, no matter how wholesome they are.
Though they're so yummy, you'll be tempted to eat them all!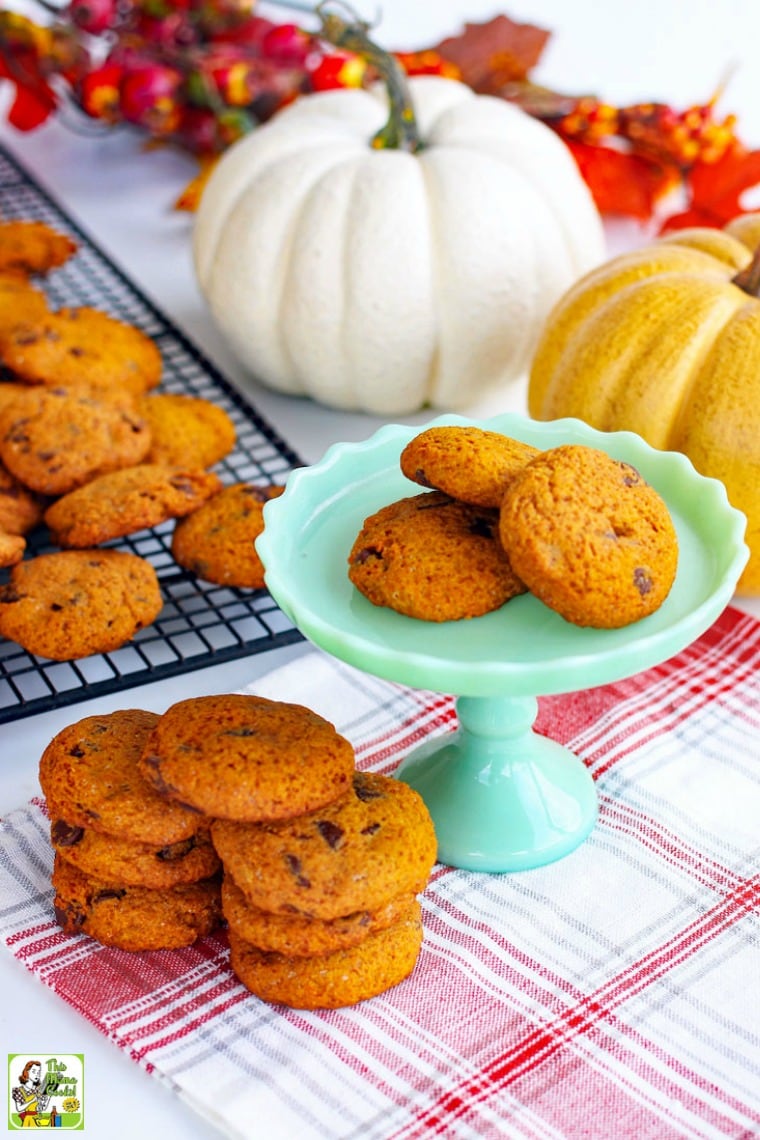 Making dairy free chocolate chip cookies
This eggless cookies recipe is a great place to start if you're learning what to bake when avoiding certain allergens like eggs and or even dairy.
Yes that's right! You can make this a dairy free chocolate chip cookie recipe by using a dairy free variety of chocolate chips to make it even more allergy friendly.
My favorite dairy free chocolate chips to bake with are Enjoy Life Semi-Sweet, Dairy Free, Nut Free Vegan Chocolate Chips.
Use mini Enjoy Life Semi-Sweet, Dairy Free, Nut Free Vegan Chocolate Chips as their mega variety would be too big for these goodies since they're on the smaller side.
Why do you include pumpkin in the egg free cookie dough?
Pumpkin helps keep the cookies soft and chewy, but also allows for a little crispiness around the edges.
It's the perfect balance for a delicious final product. Pumpkin also helps as a binder since I don't include any eggs. And since there are no eggs or dairy, these cookies are also vegan!
Fun cooking fact: pumpkin can easily be used to replace eggs and oil in your favorite baked goods. It's not an overpowering taste and it lends vitamins, fiber and minerals to your sweet treats for a more nutritious dessert!
You can also use pumpkin in savory dishes like chili or stew.
This recipe is also a great way to use up leftover cans of pumpkin puree (not pumpkin pie mix) after the Halloween and Thanksgiving holidays.
(You can make fresh pumpkin puree with my easy to follow directions on How to cook a fresh pumpkin. It's simpler than you think!)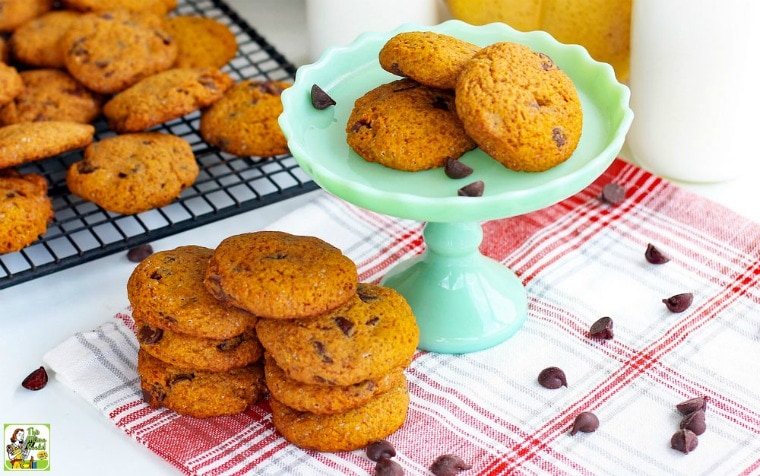 Making gluten free pumpkin cookies
Can you make gluten free pumpkin cookies with this recipe? Sure! Just substitute your favorite gluten free flour for the regular AND whole wheat flour.
My favorite is Bob's Red Mill Gluten-Free 1-to-1 Baking Flour, which bakes up just like regular flour.
Check out my Best Gluten Free Products List to find more of my favorite gluten free baking products!
It's hard to believe that by making a few substitutions, you'll have an almost gluten free sugar free cookies recipe that is super yummy.
(There will be some sugar in the Enjoy Life Semi-Sweet, Dairy Free, Nut Free Vegan Chocolate Chips.)
How to measure flour
Don't scoop the flour directly out of the bag with a measuring cup. It packs down the flour and you end up over measuring. Too much flour means your muffins may come out too dry.
Instead, spoon the flour from the bag (or the container you keep your flour in) into your measuring cup. Then use the back of a spatula or knife to level off the top of the cup.
That way the flour is given a mini-sift and isn't packed down.
Measure any type of flour this way – regular flour, whole wheat flour, oat flour, gluten free all-purpose flour, etc.
Is egg free cookie dough safe to eat without baking?
NO! Absolutely not!!! You shouldn't eat eggless chocolate chip cookie dough right out of the bowl.
I used to think it was just the raw eggs you had to worry about because of Salmonella. But it isn't that simple.
According to the CDC, any kind of flour (regular, whole wheat, gluten free, etc.) is considered a raw agricultural product. This means it hasn't been treated to kill germs like E. coli.
Germs can contaminate grain while it's still in the field or at other steps during flour production.
Bacteria like E. coli are killed when food made with flour is cooked. So flour, like other raw foods (meat, eggs, etc.) aren't considered safe to consume until after they're cooked.
So, please don't eat uncooked egg free cookie dough or use it in your homemade ice cream recipes. I don't want you getting sick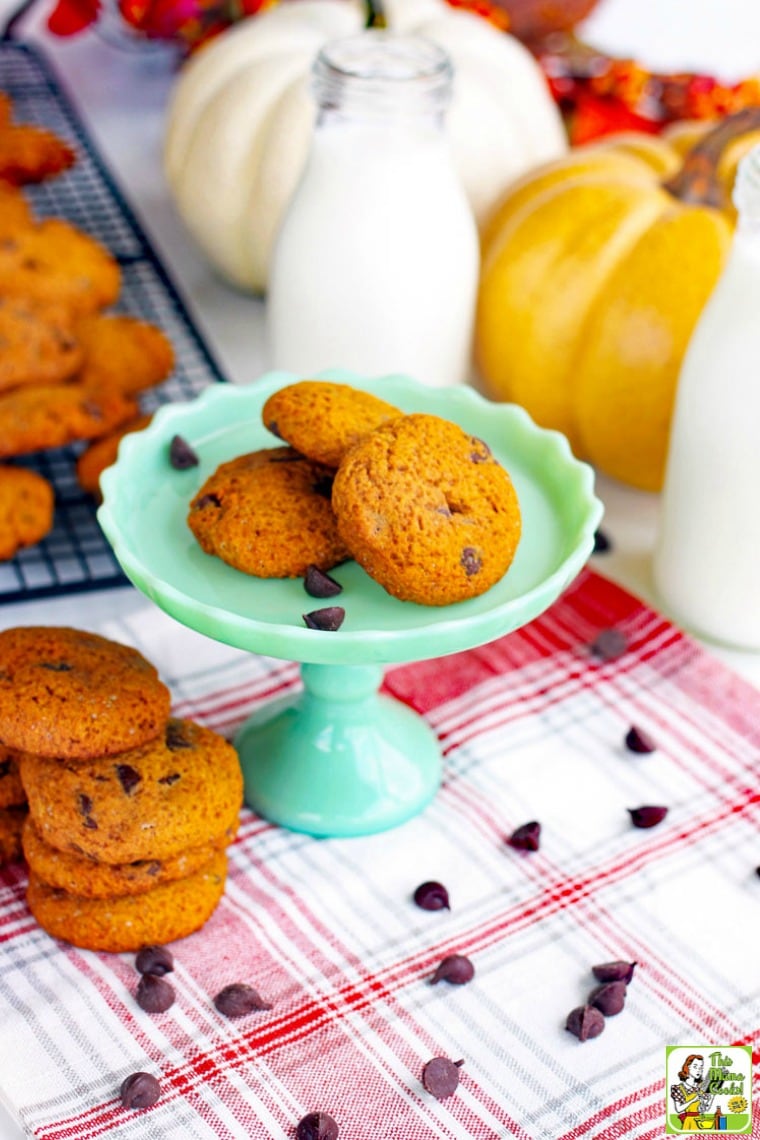 How many cookies does this recipe make?
This recipe makes roughly 80 small cookies. I like to make them on the smaller side because they bake more evenly.
I feel that keeping any kind of baked good on the small side also makes for better portion control.
Don't forget to add a few Eggless Chocolate Chip Cookies to everyone's lunch bags for a sweet treat.
They also make a fairly guilt-free after school snack along with some fruit.
More egg free dessert recipes
If you're looking for egg free dessert recipes, you'll love Vegan Key Lime Mousse.
Orange Fruit Leather and Homemade Strawberry Fruit Leather Roll-Ups are fun to make and perfect to pack in your lunch bag.
If you love pumpkin, check out Keto Pumpkin Mousse. It's super creamy!
For you chocolate dessert fans, you'll love Espresso Chocolate No Bake Pie and Vegan Chocolate Mousse Recipe.
Yield: 80 COOKIES
Eggless Chocolate Chip Cookies with Pumpkin Recipe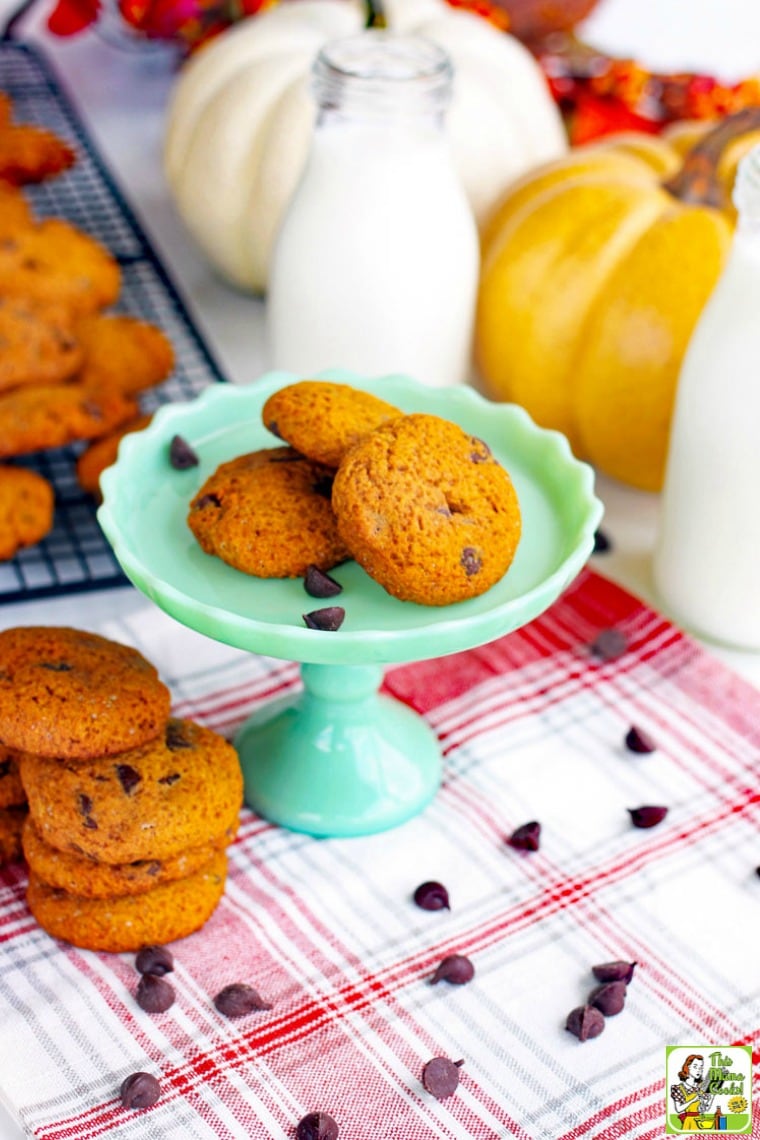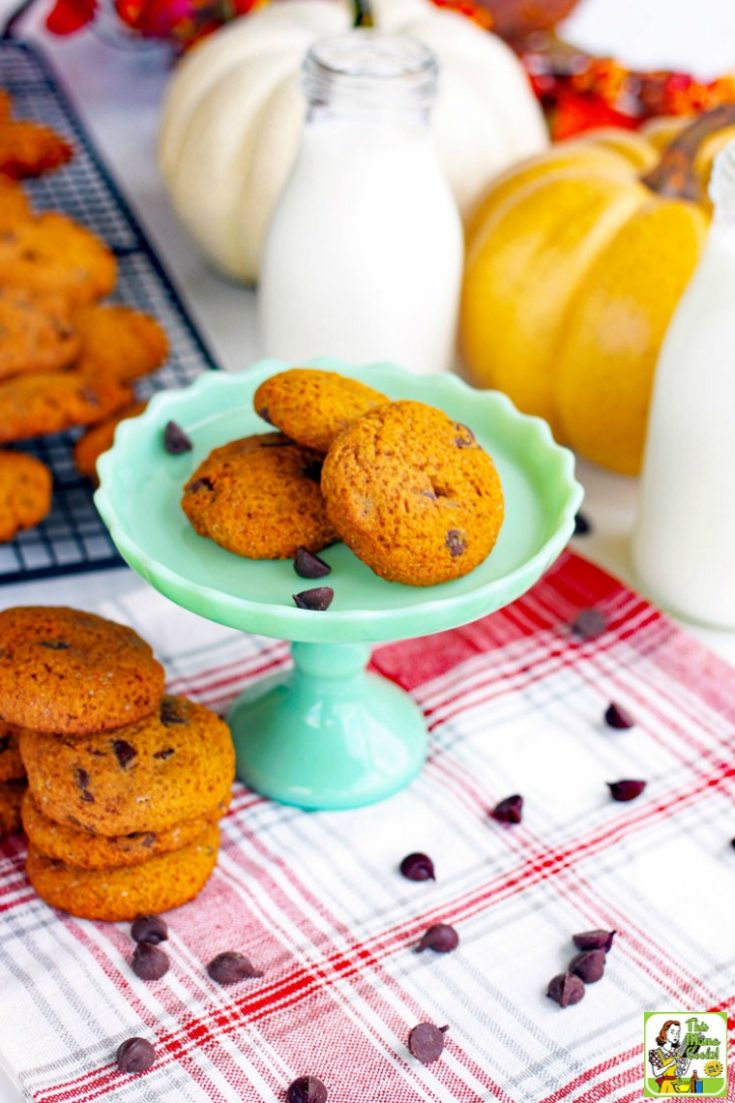 Eggless Chocolate Chip Cookies are made with pumpkin puree. This eggless cookies recipe is vegan and easy to make.
Ingredients
2 cups powdered stevia or Swerve Sweetener
1 cup Spectrum Naturals Organic Shortening
1 15-ounce can pumpkin puree (not pumpkin pie mix)
2 teaspoons vanilla extract
2 cups all-purpose flour
2 cups whole wheat flour
2 teaspoons baking soda
2 teaspoons ground cinnamon
12 ounces semisweet chocolate chips
Instructions
Preheat oven to 375 degrees F.
Cream the stevia, shortening, pumpkin, and vanilla until well combined. If you're using a mixer, start slowly as the stevia can be powdery – too fast and you'll have a stevia cloud over your head!
In another bowl, combine the flour, baking soda, and ground cinnamon.
Stir the flour mixture into the creamed mixture. Stir until thoroughly combined.
Stir in the chocolate chips. (You'll find the cookie batter is very dough like – that's OK.)
Measure out a tablespoon of the cookie dough. Roll into a ball and flatten it into a round disc. Place on an ungreased baking sheet.
Bake at 375 degrees F for 12 to 15 minutes or until set. Let cookies cool on a rack.
Recommended Products
As an Amazon Associate Affiliate and member of other affiliate programs, I earn from qualifying purchases.
Nutrition Information:
Yield:
40
Serving Size:
2 cookies
Amount Per Serving:
Calories:

135
Total Fat:

8g
Saturated Fat:

4g
Trans Fat:

0g
Unsaturated Fat:

4g
Cholesterol:

3mg
Sodium:

65mg
Carbohydrates:

27g
Fiber:

2g
Sugar:

5g
Protein:

2g
Nutritional information is automatically calculated per the ingredients list. Serving size may not be accurate. Please double-check with your preferred nutritional app for the most accurate information.
Originally published on November 26, 2010. Updated with new pictures and information.