Last Updated on March 3, 2022 by Anne-Marie
Making this homemade orange fruit leather recipe is easier than you think! Can be made in an oven or a dehydrator.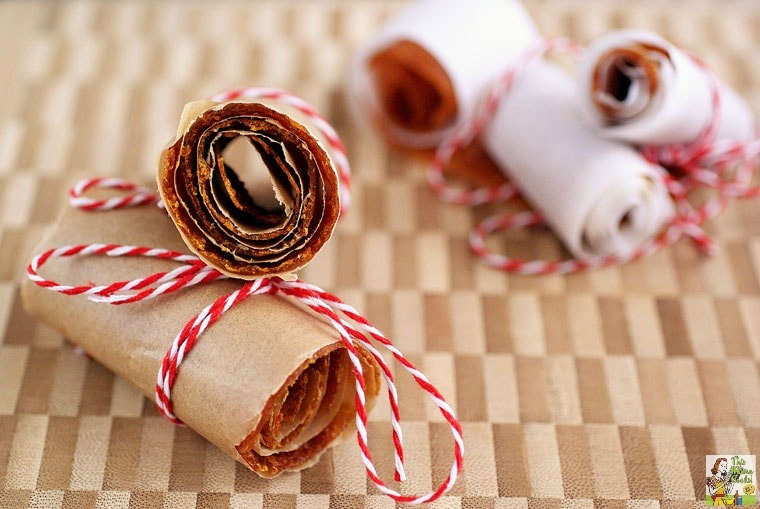 Why this recipe works
Would you like to learn how to make an homemade fruit leather recipe? It's easier than you think!
When I was coming up with my fruit leather recipe, I kept in mind parents trying to pack their child's lunch with healthy snacks and worried about food allergies and less than wholesome ingredients.
So, I'd thought I'd help out by making a easy sugar free fruit leather made with my favorite clementine oranges.
I also wanted to create an easy homemade fruit leather recipe, so that kids and parents (or a grandparent or babysitter) could make these together as a fun cooking activity.
I hope you have as much fun making (and eating) the fruit leather as I did.
This easy Orange Fruit Leather recipe also makes a great homemade gift for teachers, friends or relatives, too!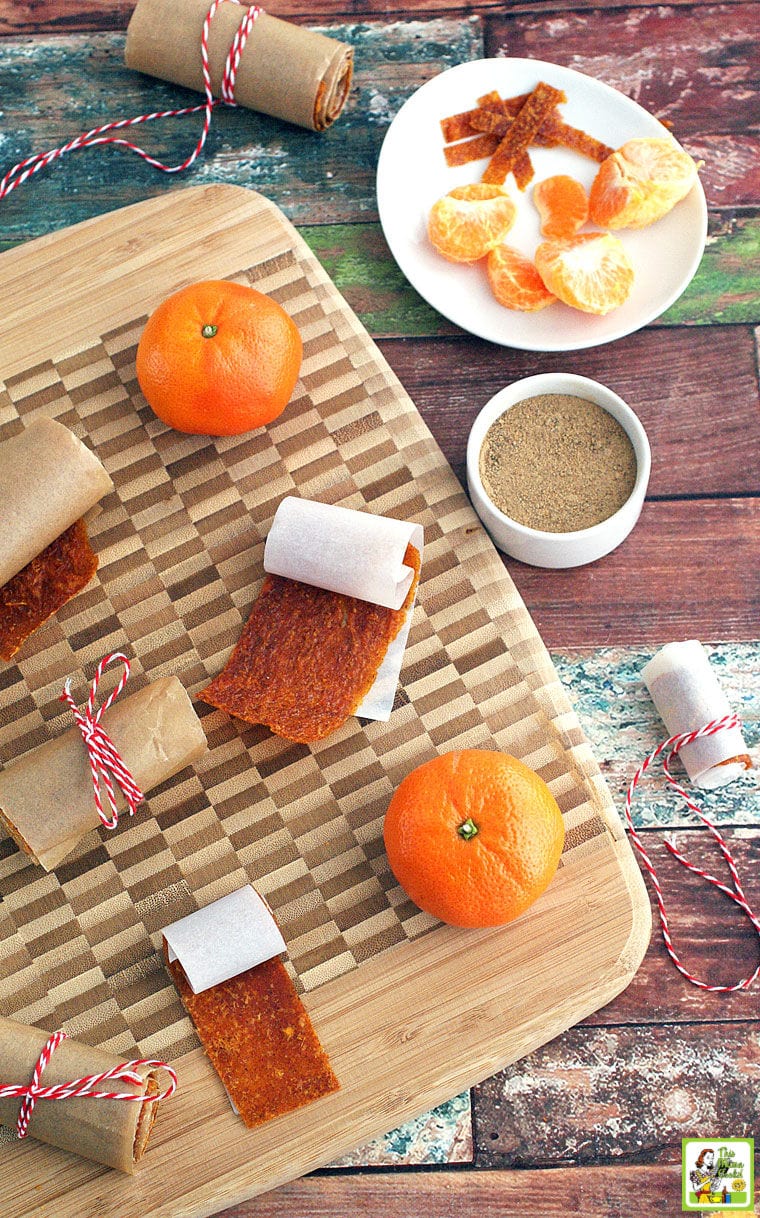 Flavoring the orange fruit leather
When you know how to make fruit leather, you know what's exactly what's in it! This homemade fruit leather is basically citrus, spices, and a natural sweetener.
My Orange Fruit Leather recipe was influenced by some Indian candies brought home one day. I could taste that there was ginger and orange in it, but I couldn't figure what was the other spice.
I was going through my spice cabinet one day when I found it – cardamom! I knew the combination with a bit of lemon would be a wonderful addition to this recipe for homemade fruit leather.
I sweetened the orange fruit leather with monk fruit powdered sweetener, which is a natural, no calorie sweetener. I love cooking with monk fruit sweetener since it works just as well as sugar and leaves no bitter aftertaste.
Even though clementine oranges are naturally sweet, I knew that adding the lemon, cardamom and ginger could make the orange fruit leather a bit bitter.
But if you don't want to use the powdered monk fruit, you can use honey or another sweetener.
I also use powdered monk fruit in my Strawberry Fruit Leather Dehydrator Recipe.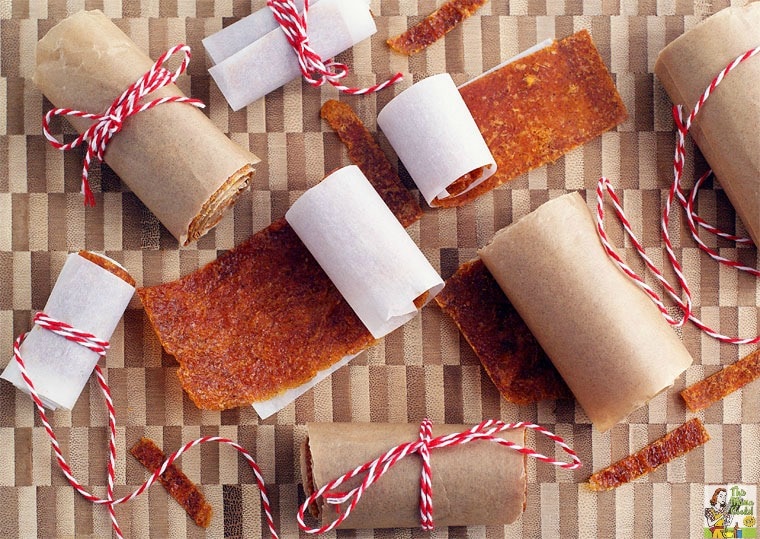 Do you need a fruit leather dehydrator?
I'm sure you're thinking that you'll need a fruit leather dehydrator to make fruit leather recipes. Yes, you can make them in the oven. But I feel using a dehydrator is easier for two reasons:
1) a fruit leather dehydrator uses less energy and 2) the fruit leather recipe takes 6 to 8 hours and you may need the oven for something else like making dinner!
A basic dehydrator costs around $40-70 and once you have one, you'll find uses for it, believe me.
I have a Nesco American Harvest Food Dehydrator and have used it for over 10 years for fruit leather, beef jerky, and drying fruit and mushrooms. I've bought extra trays and fruit leather trays for my dehydrator.
However, with a little planning – like those nights you're using your Instant Pot or slow cooker – using your oven is fine for orange fruit leather recipes.
I also found that if you go the oven route, having silicone baking sheets for your baking pans is a must! I feel that fruit leather could stick to parchment paper or wax paper.
How long should you bake homemade fruit leather?
The trick to making the sugar free orange fruit leather recipe is figuring out how long to cook it. If you're baking it in your oven, it depends on how low you can set it. (My oven goes down to 170 degrees F.)
However, my fruit leather dehydrator goes lower (165 to 115 degrees F). Since it has a fan, the fruit leather is dehydrated in a much smaller enclosed space.
So my advice is to check your hydrated fruit leather at the five hour mark. If the top is sticky, come back in an hour. If it's not sticky, see if you can peel it off all the way.
If the center of the orange fruit leather is still sticking to the mat/tray, put it back in the oven/dehydrator and check back in 30 minutes.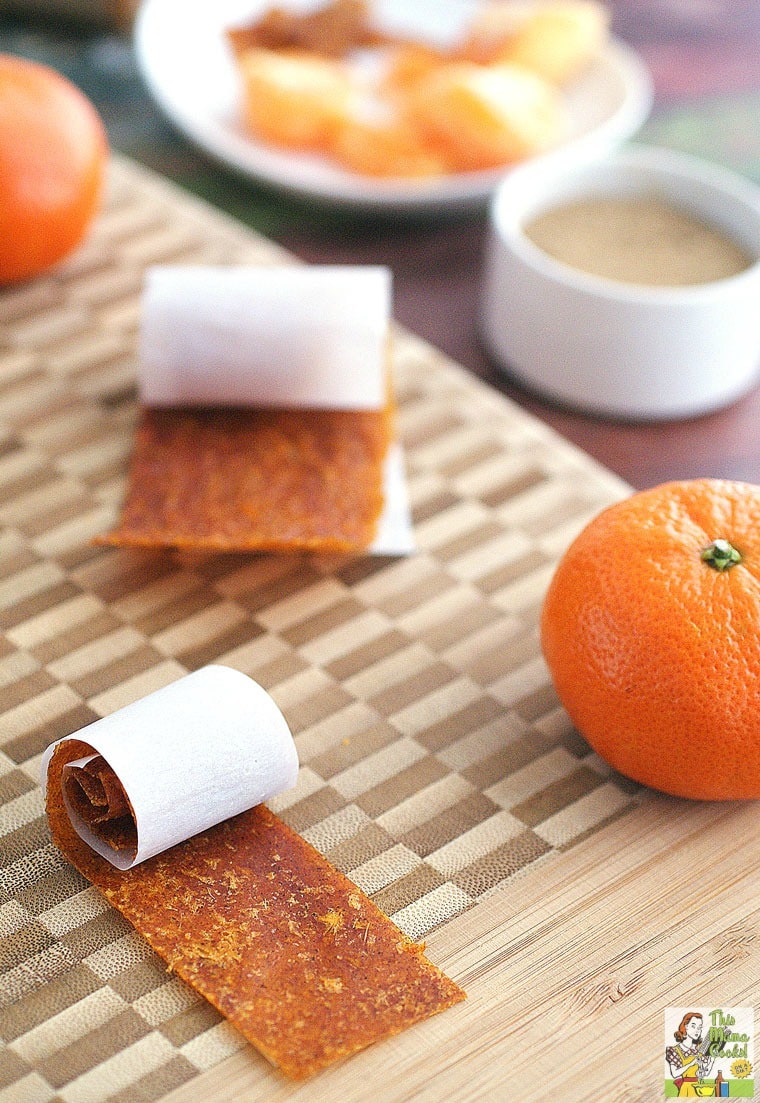 Timing will depend on so many variables such as the moisture of the clementine oranges, the weather and humidity in your home, how well your equipment is working, etc. So I can't give you hard and fast rules for times.
However, if you do overcook your fruit leather, it's still edible so don't throw it out! Break it up and turn it into orange fruit leather chips.
I sprinkled and dipped them in yogurt – so delicious! I may "accidentally" make orange fruit leather chips again!
Making fruit leather rolls
If you want to get fancy, you can make fruit leather rolls.
However, if you're using a fruit leather hydrator, the round trays make it hard to cut the orange fruit leather into fruit leather rolls.
So, while the orange fruit leather is still warm, place it on a sheet of parchment paper. Then roll up the fruit leather tightly.
Then using clean kitchen shears, cut the roll into four pieces. Tie each one with kitchen twine.
The orange fruit leather rolls won't be perfect. Instead, they'll look like old fashioned "foot roll up candy" that are just right for placing in lunch boxes.
Store homemade fruit leather in baggies or airtight containers.
More easy homemade gifts
Add fruit rolls as part of the Best Candy & Gifts for Gluten-Free Easter Baskets!
Here are more easy homemade gifts you can made as teacher or holiday gifts:
● Easy Gluten Free Chocolate Bark Candy 
Yield: 8 ROLLS
Orange Fruit Leather Recipe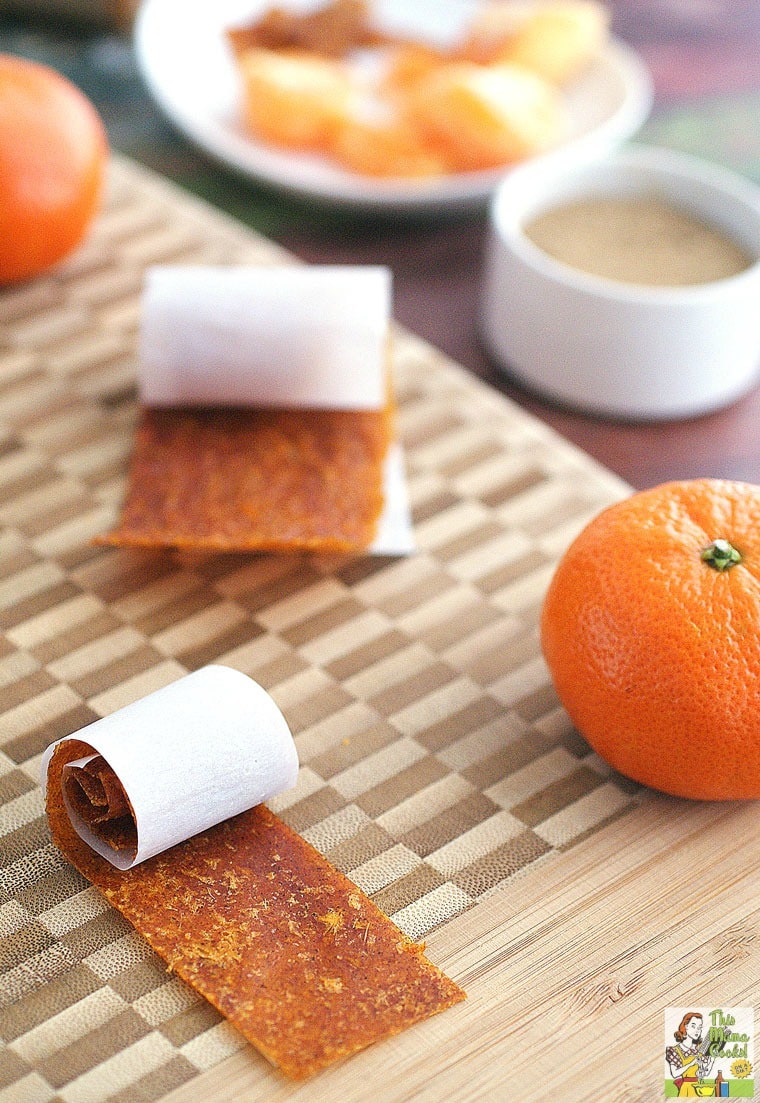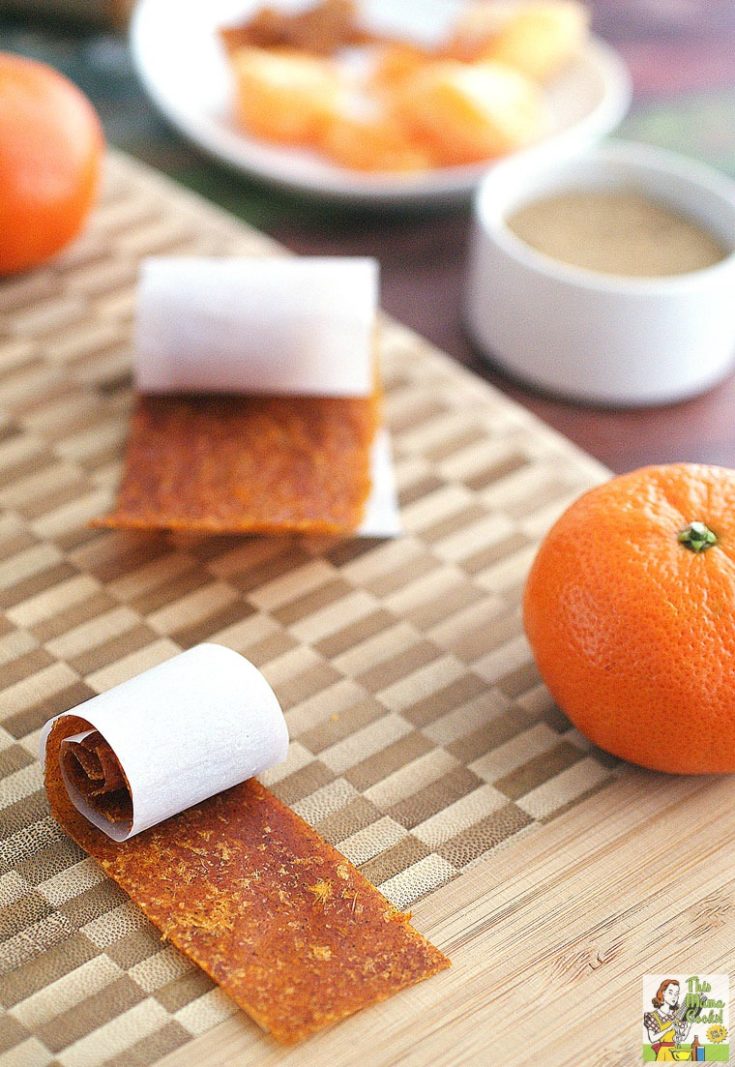 Want to learn how to make fruit leather? This homemade fruit leather recipe is easier than you think!
Cook Time
8 hours
10 minutes
Total Time
8 hours
20 minutes
Ingredients
4 cups peeled and segmented clementines
1 tablespoon minced fresh ginger
2 teaspoons lemon juice
3 tablespoons monk fruit powdered sweetener
1 teaspoon cardamom powder
1 teaspoon ground cinnamon
1 pinch sea salt
Instructions
If using an oven, set it to the lowest setting (probably 170 degrees F).
Place all ingredients in a high-performance blender or food processor. Blend on high until fruit is frothy, about 20-30 seconds.
Pour liquid into a medium saucepan. Make sure to scrape down the sides of the blender or food processor bowl with a spatula to get everything into the saucepan!
Bring liquid to a boil over medium-high heat. Keep liquid boiling over medium heat. Stir frequently with a whisk. Cook for 10 minutes until the liquid has thickened into a puree. (It should be like runny applesauce.)
If using a dehydrator, pour it into 1 or 2 trays. Bake for 8 hours or so until the puree is no longer sticky and you can peel it off the trays without it sticking.
When it's still warm, peel it off and wrap the fruit leather in parchment paper, if desired.
If using an oven, place a silicone baking mat on an 11 x 17 baking pan. Pour orange puree on silicone baking mat and spread evenly with an offset icing spatula. Leave a half-inch of room around all sides.
Bake for 8 hours or so until the puree is no longer sticky and you can peel it off the silicon mat without it sticking.
When it's still warm, peel it off and wrap the fruit leather in parchment paper, if desired.
Recommended Products
As an Amazon Associate Affiliate and member of other affiliate programs, I earn from qualifying purchases.
Nutrition Information:
Yield:
8
Serving Size:
1 roll
Amount Per Serving:
Calories:

58
Total Fat:

0g
Saturated Fat:

0g
Trans Fat:

0g
Unsaturated Fat:

0g
Cholesterol:

0mg
Sodium:

18mg
Carbohydrates:

15g
Fiber:

2g
Sugar:

11g
Protein:

1g
Nutritional information is automatically calculated per the ingredients list. Serving size may not be accurate. Please double-check with your preferred nutritional app for the most accurate information.
Originally published February 2016. Updated with new pictures and information.