Last Updated on March 3, 2022 by Anne-Marie
This easy fudge recipe is the ultimate homemade fudge recipe. Make extra for holiday gift giving.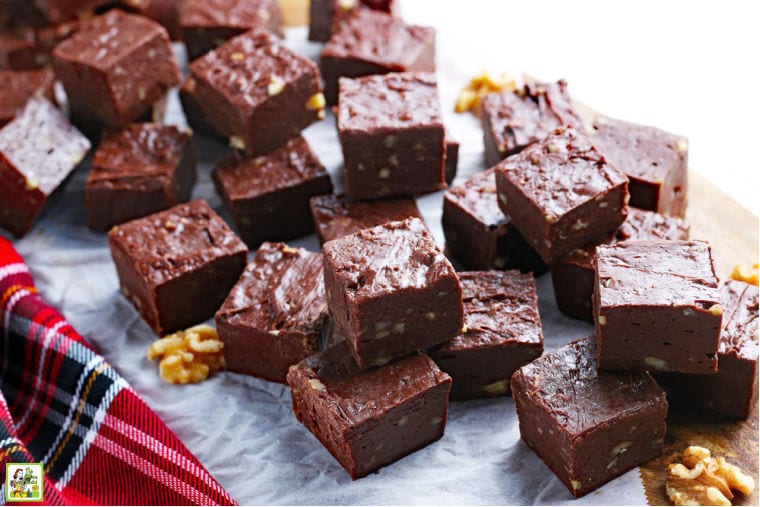 Why this recipe works
If you're looking for simple fudge recipes, this one uses only 5 ingredients.
This is the best easy fudge recipe for cookie exchanges, parties, or last-minute gifts.
Nothing could be easier or more fun to make than easy fudge!
How to make this easy fudge recipe
1. Line the square 8-inch square baking dish with parchment paper. (See below for tips on how to line it.)
2. If you're using nuts, chop them and set them aside.
3. Add the chocolate chips and sweetened condensed milk to the saucepan.
4. Carefully melt the chips and stir into the condensed milk.
5. Add salt and vanilla to melted chocolate. Stir until creamy.
6. Add nuts (if using) or other fun ingredients like mini fluffy marshmallows.
7. Spread fudge evenly into the prepared baking dish.
8. Chill the chocolate mixture in the fridge until it's set, about 2-3 hours in the fridge.
9. Then cut into 1-inch squares with a sharp knife.
10. Store in an airtight container. (Learn how long does fudge last. And does fudge go bad.)
How to line the dish with parchment paper
This is a sure-fire method of lining the 8x8-inch baking dish with a parchment sling. This helps you easily lift out the fudge after it sets.
1. Pull out a sheet of parchment that is larger than your pan.
2. Cut it so it's big enough to line the bottom of the pan and have extra hanging off two of the sides.
3. Crease the parchment paper at the edges so it fits snugly.
4. Remove the paper. Then spray the pan with cooking spray. (This helps the parchment paper stick to the pan.)
5. Then carefully press the parchment paper back into the pan.
What kind of chocolate can I use in the best easy fudge recipe?
You need to use 4 cups of chocolate chips in this easy fudge recipe.
What kind of chips you should use depends on what you can find at your store, your budget, and your personal tastes.
Milk or semi-sweet?
Most people either like milk chocolate chips or semi-sweet chocolate chips when making fudge.
I find that semi-sweet is a good "in-between" chocolate for baking and candy making. It's the Goldilocks of chocolate – neither too bitter nor too sweet.
My daughter, who lives on sugar, would want milk chocolate. So to each their own, I guess.
White or dark?
You could also use white chocolate chips and dark chocolate chips, but not everyone is crazy about either of these.
Some find white chocolate cloyingly sweet. Other people find dark chocolate too bitter. So only use those types of chocolate chips if you know for sure you have the right audience.
Combinations?
You could also do a combination of different types of chocolate. For example, a cup of milk chocolate, 2 cups of semi-sweet, and a cup of the dark. Go for it!
Buy quality ingredients!
Finally, buy the best quality chocolate you can. It can make a difference since the cheaper store brands may not set up as well due to the filler ingredients.
Sometimes the consistency isn't as creamy with a cheaper brand. So, spend a little more to buy a good brand of chocolate like Ghirardelli.
But if you don't care, that's OK. It's just candy. Easy fudge recipes turn out just fine with generic chips.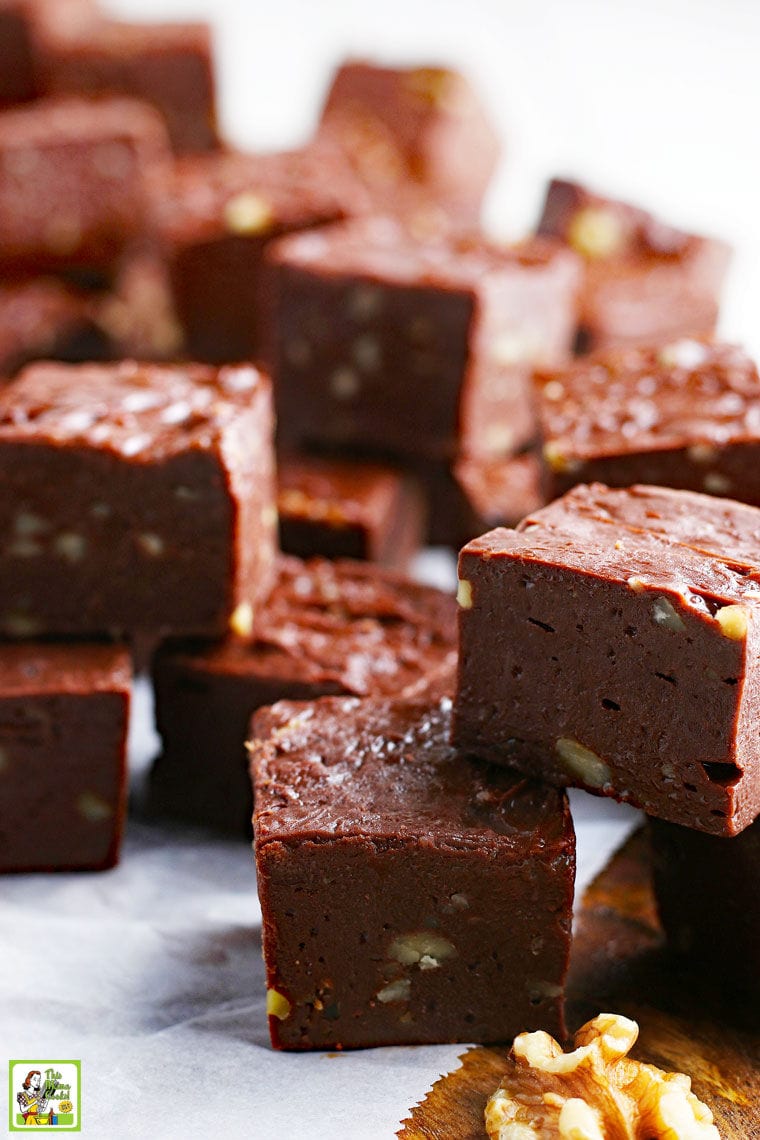 Can I make easy fudge in the microwave?
Yes, you can make the easy fudge in the microwave. Here's how:
Follow the instructions below. But instead of cooking the sweetened condensed milk and chocolate chips in a saucepan, place them in a microwave-safe glass bowl.
Microwave the bowl in 30-second increments, stirring after each interval.
As soon as all the chocolate and milk mixture melts and is creamy, add the vanilla and salt. Mix thoroughly.
Then transfer the fudge mixture to the pan for set up time in the refrigerator.
Can I make dairy-free chocolate fudge?
Yes, you can make this easy fudge recipe dairy free by using the following dairy free fudge recipe substitutes:
Dairy free chocolate:
For the chocolate chips, use a dairy-free product like Enjoy Life Baking Chocolate Semi-Sweet Mini Chips. Enjoy Life Chips are also gluten-free and vegan.
Dairy free sweetened condensed milk:
You can use sweetened condensed COCONUT milk. This will give the fudge recipe a coconut-like flavor, like a Mounds bar.
Want to make more dairy free fudge? Check out my Dairy Free Pumpkin Fudge recipe.
How long does fudge last?
Keep the fudge in a Ziploc bag or store it in an airtight container so it doesn't dry out.
At room temperature, it will stay fresh for a couple of weeks. If your family doesn't eat it all before that!
In the refrigerator, the fudge keeps for a month. Again, keep it in a container or baggie so it doesn't absorb refrigerator smells.
Yes, you can freeze fudge. Just tightly wrap it in parchment paper and plastic wrap to keep out funky freezer odors. Or place it in a zip-close freezer bag or container in freezer for up to 3 months.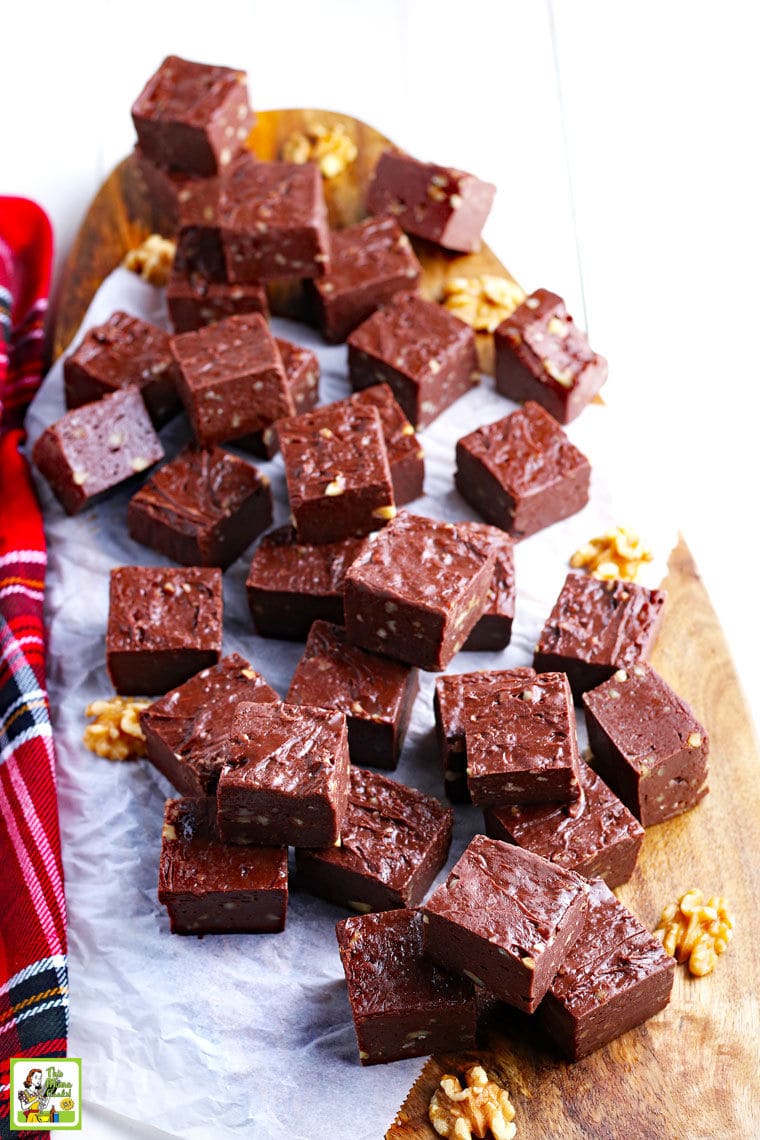 Variations on an easy fudge recipe theme
Here are some fun fudge recipe flavoring ideas:
Make peanut butter fudge by adding a few tablespoons of peanut butter.
Use different combinations of chips like butterscotch and peanut butter chips.
Instead of nuts, add some dried cranberries or other chopped dried fruit.
Use other types of dried nuts - almonds, pistachios, peanuts, toasted pine nuts, etc.
Add mini marshmallows.
Substitute a few tablespoons of caramel sauce or dulce de leche instead of the sweetened condensed milk.
Use a few tablespoons of coffee, orange, or almond-flavored liqueur such as Kahlua, Triple Sec, or Frangelico.
Add some peppermint extract to make peppermint chocolate fudge.
Substitute bourbon vanilla extract (also called vanilla bourbon extract) instead of the vanilla extract.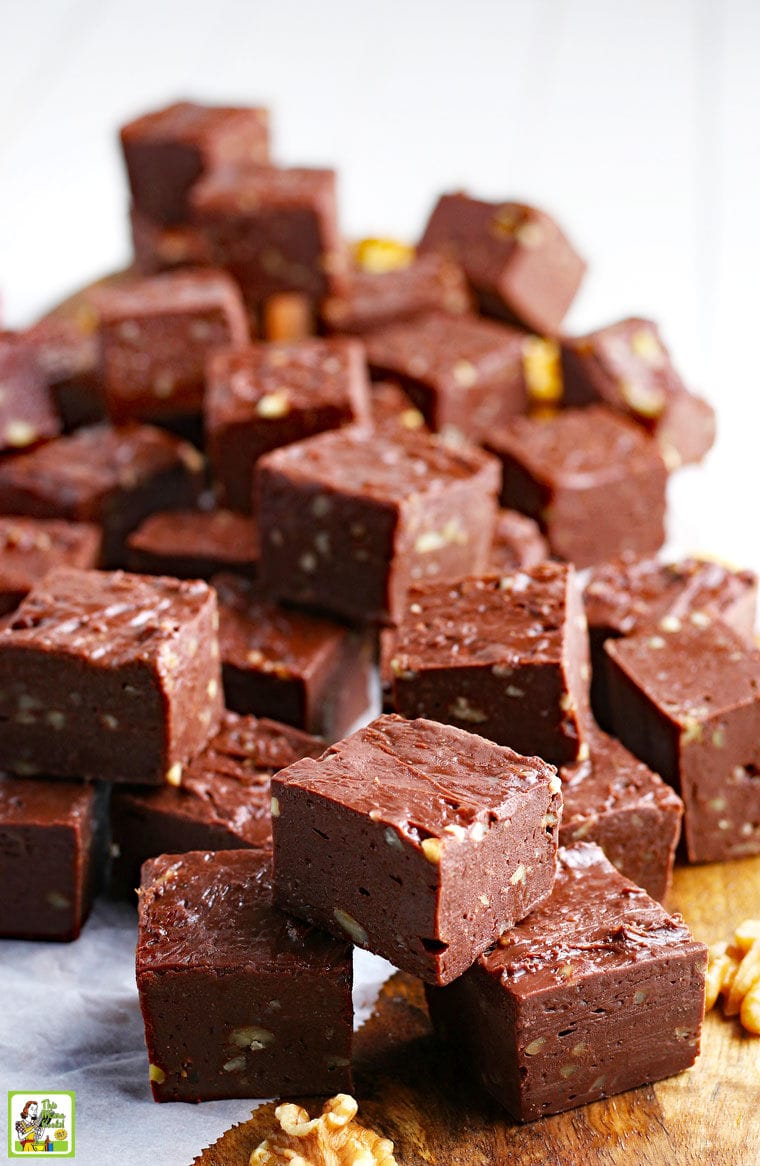 More homemade gifts for the holidays
Add this to your Best Candy & Gifts for Gluten-Free Easter Baskets.
These recipes make terrific homemade gifts for the holidays:
● If you like making candy, try making some Easy Microwave Brittle, Easy Gluten Free Chocolate Bark Candy, or Homemade Peanut Butter Cups.
● This Easy Homemade Dog Treats Recipe is perfect for all your friends with dogs.
● Candied Pecans go great on salads or on everything from yogurt to ice cream.
● Put this DIY Coffee Scrub Recipe in little jars as a cute stocking stuffer.
● Make Orange Fruit Leather rollups as another stocking stuffer.
● Everyone loves Mason jars of Homemade Taco Seasoning or Homemade Hot Chocolate Mix that you can use to make Homemade Crockpot Hot Chocolate Recipe for a Crowd. 
● Candied Ginger can be used in baking or cocktails.
● Put Lime & Ginger Infused Vodka in pretty bottles. Don't forget to include a cocktail recipe card.
Yield: 16 Pieces
Easy Fudge Recipe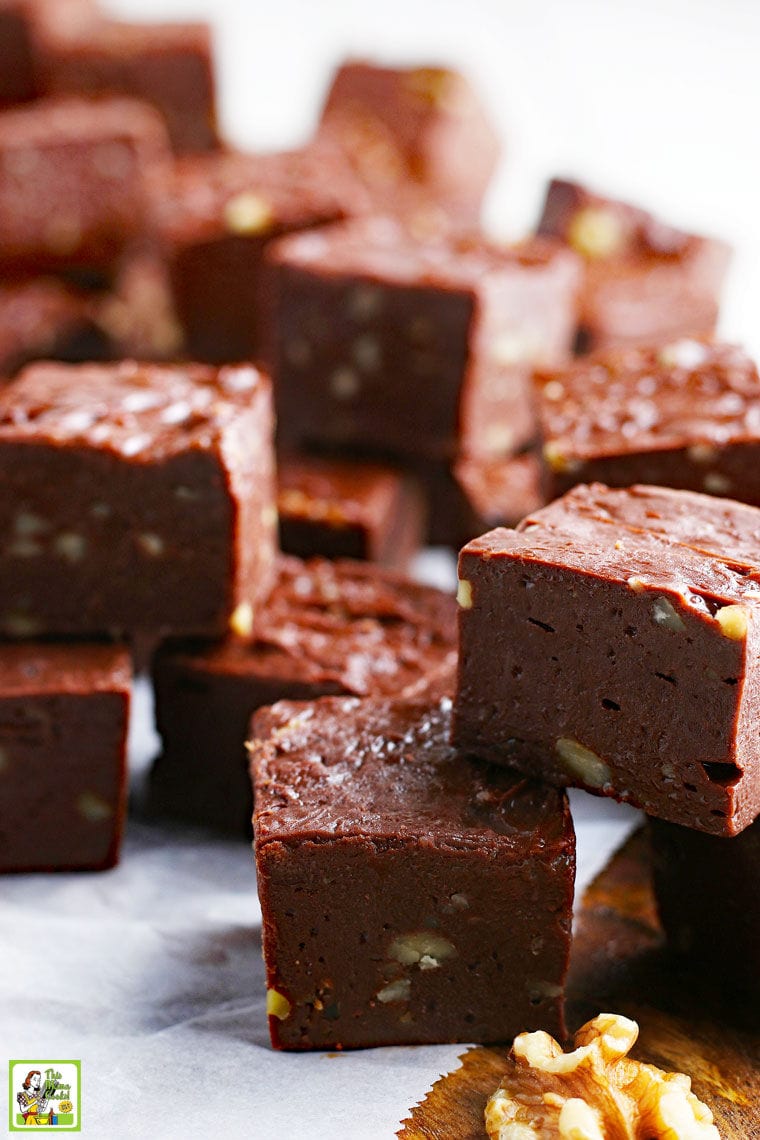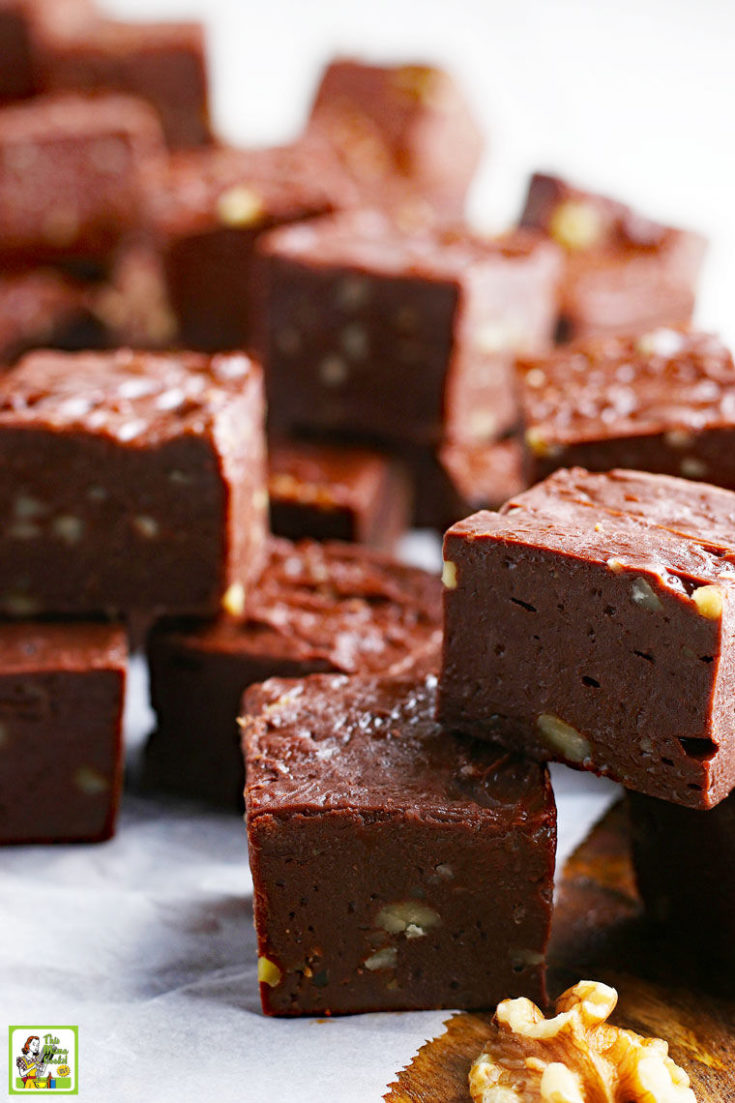 Cook this easy fudge recipe with chocolate chips and sweetened condensed milk. Make this homemade fudge dairy-free or in the microwave.
Total Time
3 hours
10 minutes
Ingredients
4 cups chocolate chips, milk chocolate, or semi-sweet (or a combination)
2 (14 ounce) cans sweetened condensed milk
2 teaspoon vanilla extract
1/2 teaspoon salt
1 cup chopped nuts (walnuts or pecans), optional
Instructions
Prepare a square 8"x8" pan with parchment paper, leaving extra off the sides.
Chop nuts and set aside.
Add chocolate chips and milk to a heavy saucepan.
Heat over low heat, stirring constantly until chips are almost completely melted.
Remove from heat and stir until chocolate is smooth and creamy.
Add salt and vanilla and stir until combined.If using, stir in chopped nuts until well combined.
Spread evenly into the prepared pan with an offset spatula.
Chill for 2-3 hours or until set.Lift easy fudge from pan using parchment paper sling.
Cut into squares with a knife.
Store homemade easy fudge in an airtight container.
Recommended Products
As an Amazon Associate Affiliate and member of other affiliate programs, I earn from qualifying purchases.
Nutrition Information:
Yield:
16
Serving Size:
1 piece
Amount Per Serving:
Calories:

285
Total Fat:

17g
Saturated Fat:

9g
Trans Fat:

0g
Unsaturated Fat:

7g
Cholesterol:

10mg
Sodium:

125mg
Carbohydrates:

28g
Fiber:

2g
Sugar:

23g
Protein:

5g
Nutritional information is automatically calculated per the ingredients list. Serving size may not be accurate. Please double-check with your preferred nutritional app for the most accurate information.