Last Updated on October 5, 2021 by Anne-Marie
It's so easy to make homemade hot chocolate mix. Making your own is so much better than store-bought hot cocoa mix.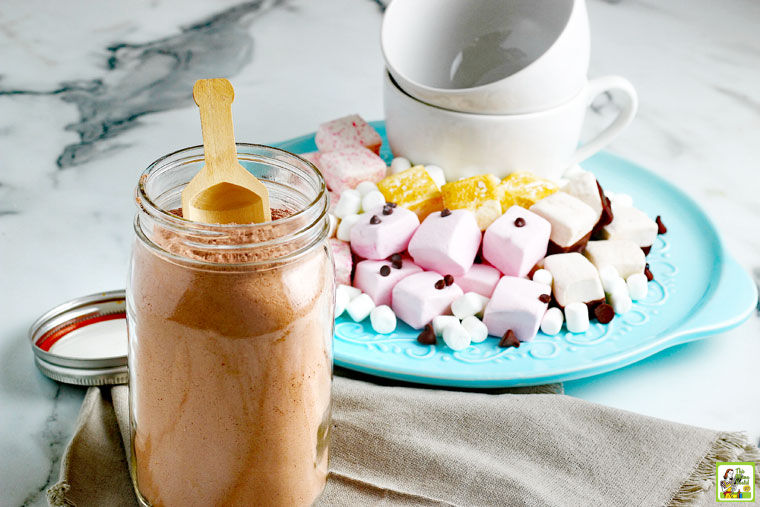 Why this recipe works
Making homemade hot chocolate mix recipe is fun. If you want, it's easy to make it vegan and dairy free.
Craving chocolate, but not wanting the sugar? It's possible to turn this recipe for homemade hot chocolate mix into a sugar-free one without sacrificing taste.
Making your own is a great way to save money, too. So worth it, especially during the cold weather when you can enjoy delicious mugs of homemade hot chocolate with miniature marshmallows!
How to make hot chocolate mix
Here's how make the best homemade hot chocolate mix:
1. In a large mixing bowl, sift powdered sugar with a fine-mesh strainer. Make sure to get any lumps out of the sugar.
(Wondering if that old bag of powdered sugar is OK to use? Read this article: How does powdered sugar go bad?)
2. Next sift instant dry milk on top of powdered sugar. Again, make sure all lumps are removed.
3. Then sift cocoa powder on top of milk and sugar.
4. Now whisk in granulated sugar until well combined.
5. Pour mix into an airtight container or jar for up to 3 months.
If pouring into a wide-mouthed Mason jar, using a Ball Collapsible Funnel makes it easier and less messy.
How to make a mug of chocolate
1. To make hot cocoa, add 1/3 cup of mix in a mug.
2. Then stir in 1 cup hot water or warm milk. (If you want it creamy, add milk or non-dairy milk of your choice.)
3. Then if you wish, add fun toppings like whipped cream and sprinkles or mini marshmallows.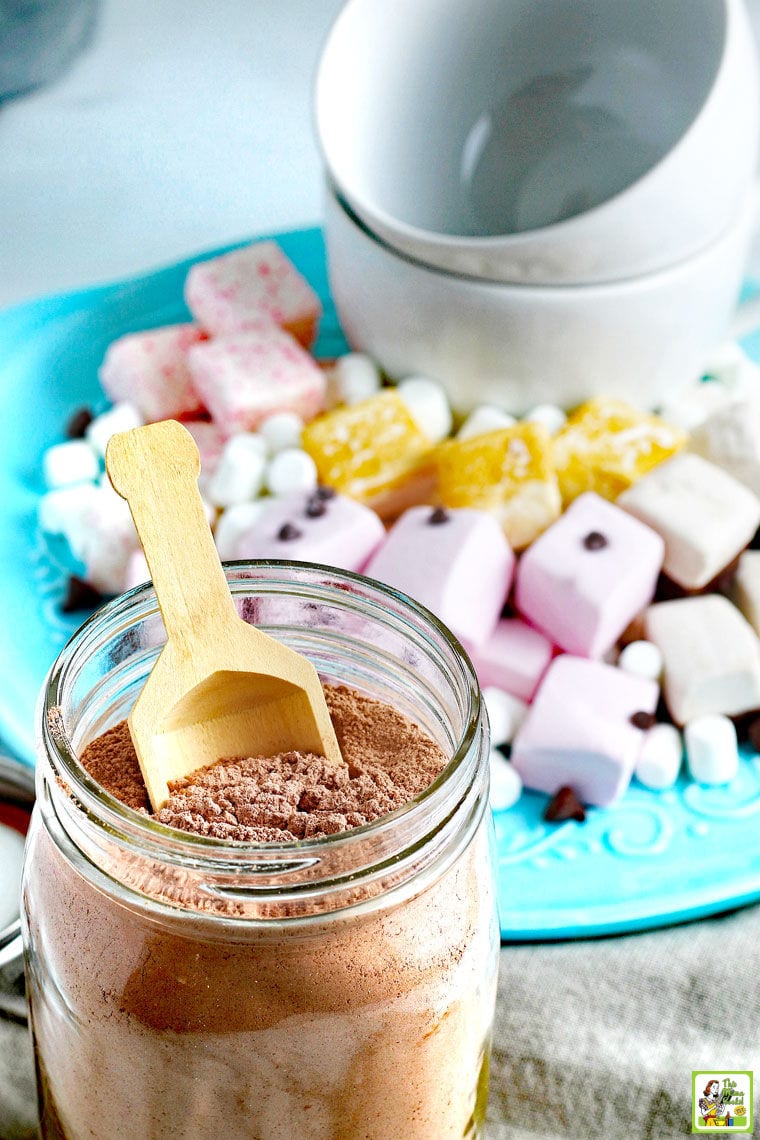 Making hot chocolate for a crowd?
There's nothing like a making big pot of hot chocolate after playing in the snow or during family game night.
If you're wanting to make a large quantity of hot chocolate for a winter party, see my Homemade Crockpot Hot Chocolate Recipe for a Crowd, which includes serving tips.
What types of cocoa powder should I use?
Use the best unsweetened 100% cocoa you can afford. But don't worry about being fancy. If it's Hersey's 100% cocoa, that's fine – it's a classic.
What about Dutch process vs. natural cocoa powder?
Dutch cocoa has been treated (alkalized) so it's more mellow in flavor and dissolves easily into liquids.
If you have Dutch cocoa on hand or don't mind buying it for this recipe, it would make a smoother tasting, creamier mix.
Recommended products:
Can I make a sugar free mix?
Yes, you can use a sugar-free powdered sugar substitute like Swerve Confectioners Sweetener or Powdered Lakanto Monkfruit Sweetener.
For the granulated sugar, try Swerve Sweetener or powdered monk fruit sweetener.
All are excellent natural, no-calorie substitutions for confectioners and granulated sugars that go well with chocolate with no bitter aftertaste.
However, if you use chocolate chips or mini marshmallows as mix-ins, they'll have sugar in them. So leave those out. (Or serve them on the side.)
Can you make this into a dairy free cocoa mix recipe?
Instead of using dry milk powder, you can make this with dairy free coconut milk powder, rice powder, or soy milk powder
Coconut milk powder: is high in fat, naturally vegan, and dairy- and lactose-free. Check out Anthony's Organic Coconut Milk Powder, which is vegan, gluten free, dairy free, sugar free, and organic.
Soy milk powder: is more nutritionally similar to powdered milk than other non-dairy alternatives. If you don't mind soy products, check out Now Foods Organic Soy Milk Powder, which is vegan, contains no additional ingredients, and is vegan.
Rice powder: this is also known as rice flour, which is just ground rice. If you like rice milk, you may want to try this out.
I recommend Bob's Red Mill Gluten Free White Rice Flour, which is made from California grown rice and is certified as gluten free.
Note that rice flour tends to be very sweet. So you may want to cut back on sweeteners.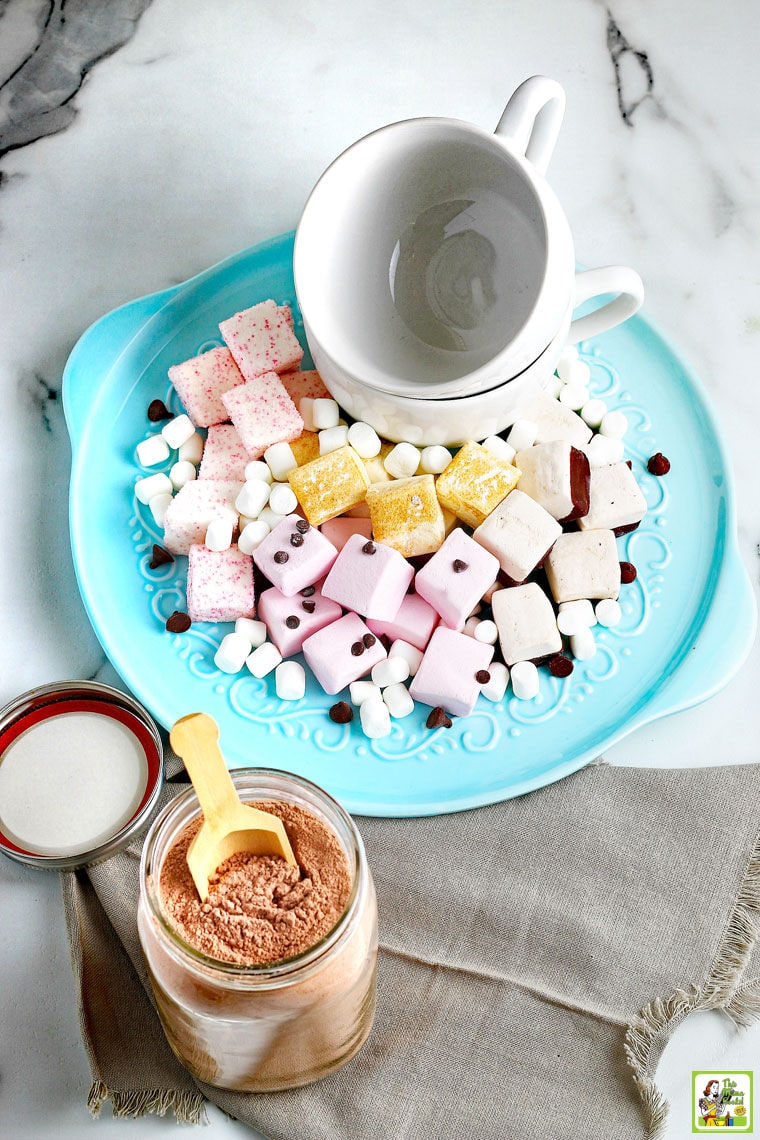 Can I make this mix vegan?
Yes, making a chocolate mix for your vegan friends is a lovely DIY gift. Here's how:
Milk powder: use a dairy free, certified vegan "milk" powder. (See above.)
Cocoa powder: use a 100% cocoa powder that doesn't have anything added to it, like milk powder
Chocolate chips: if you're adding chocolate chips as a mix-in, make sure they're vegan. I love using Enjoy Life Baking Chocolate Semi-Sweet Mini Chips since these dairy free chocolate chips are certified as vegan and gluten free.
For the mix, I suggest using either regular-sized chips or mini-chips.
Can I turn this into a Mexican chocolate mix?
¡Por supuesto! Add some spices to your hot chocolate mix to give it a Mexican flare:
2 teaspoons cinnamon
1/2 teaspoon cayenne pepper
1/8 teaspoon nutmeg
Learn how to make very authentic Mexican Hot Chocolate including the use of Mexican-made chocolate and frothing your chocolate drink with a wooden molinillo.
What mix-ins can I add?
If you want, you can add mix-ins directly to the powdered chocolate drink mix like:
● chocolate chips (white chocolate, milk chocolate, or semi-sweet chocolate)
● mini marshmallows
● crushed peppermint candy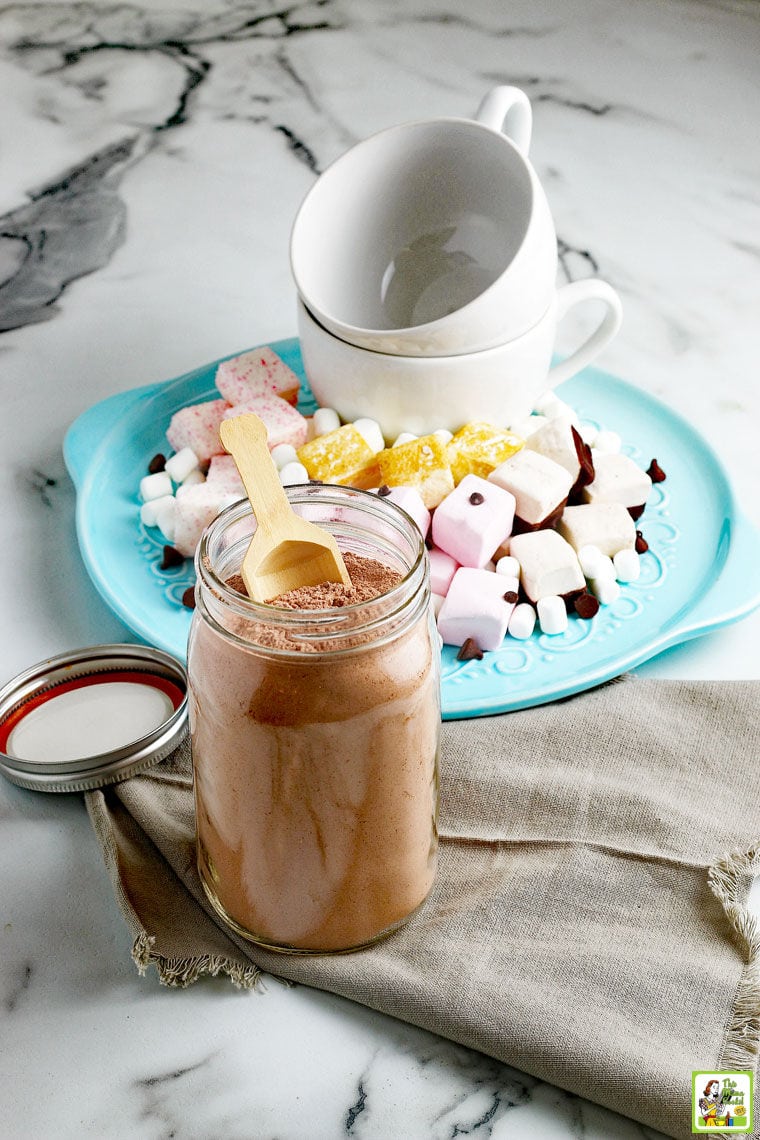 Hot cocoa mix makes a lovely gift
Turn the chocolate mix into a homemade gift for the holidays or as a teacher appreciation gift.
If you're like me, you probably have empty canning jars laying around from other projects.
I like using pint (2 cups) wide-mouth Mason jars. I used leftover ribbon in my gift wrapping drawer, a recipe, and an ingredients card.
The kids can help measure the ingredients, cut and tie ribbon, make and assemble the recipe cards, and so on.
I also make Homemade Taco Seasoning and DIY Coffee Scrub in jars as gifts. Super cute and inexpensive to do.
Yield: 12 SERVINGS
Homemade Hot Chocolate Mix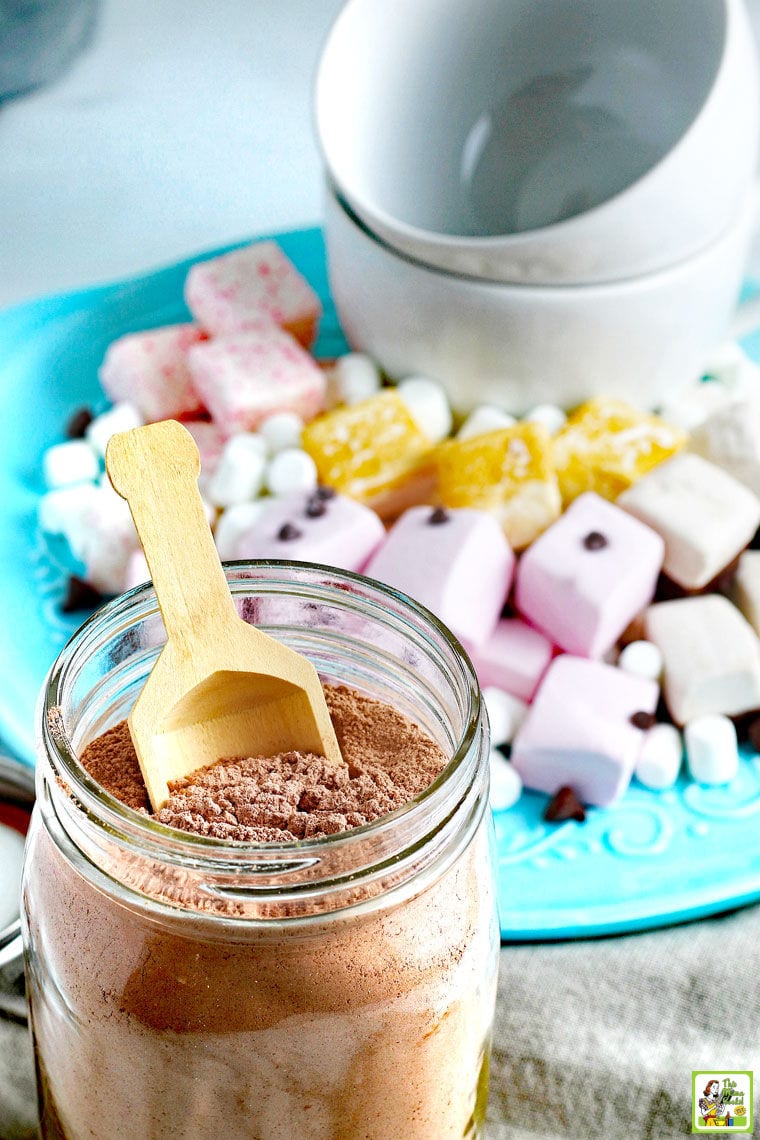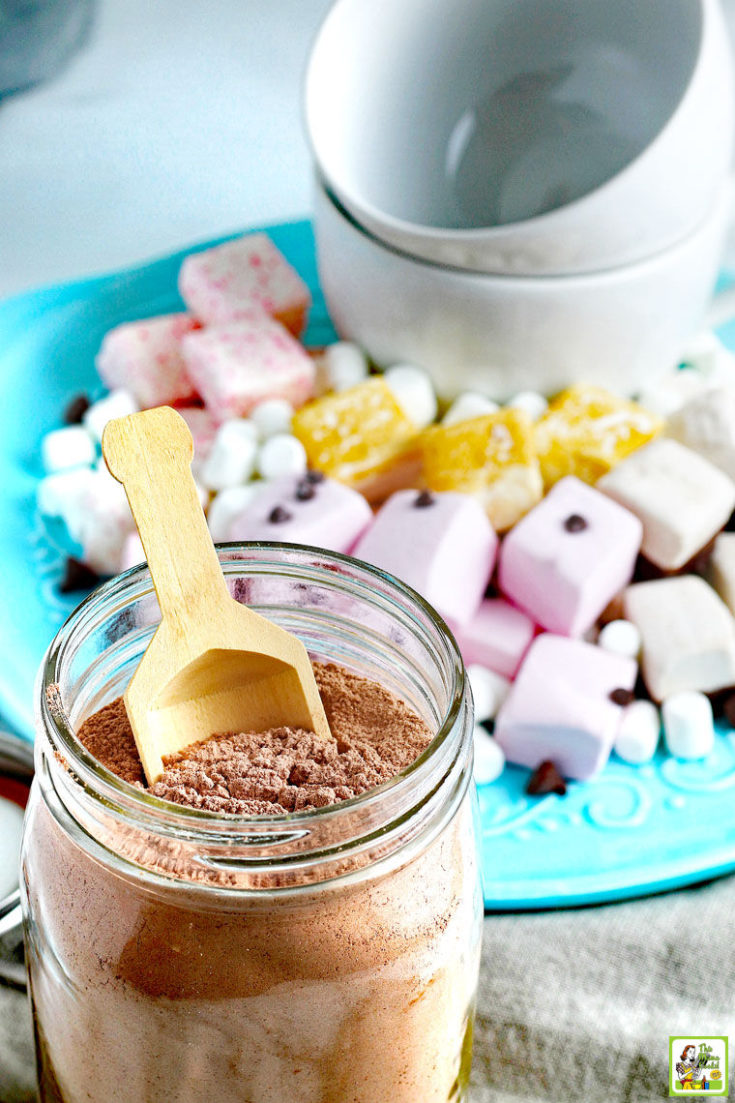 This homemade hot chocolate mix is easy to make. This homemade hot chocolate mix recipe can be made vegan or sugar free.
Ingredients
2 cups instant dry milk
2 cups powdered sugar, sifted
1 cup unsweetened cocoa powder, sifted
1/3 cup granulated sugar
Instructions
In a large bowl, sift powdered sugar with a fine-mesh strainer.
Sift instant dry milk on top of powdered sugar.
Sift cocoa powder on top of powdered milk and sugar.
Whisk in granulated sugar until well combined.
Store in an air-tight container or jar for up to 3 months.
To make hot cocoa, add 1/3 cup of mix in a mug, stir in 1 cup hot water or warm milk, add toppings of your choice.
Nutrition Information:
Yield:
12
Serving Size:
1 mug
Amount Per Serving:
Calories:

161
Total Fat:

1g
Saturated Fat:

0g
Trans Fat:

0g
Unsaturated Fat:

0g
Cholesterol:

2mg
Sodium:

63mg
Carbohydrates:

34g
Fiber:

1g
Sugar:

29g
Protein:

5g
Nutritional information is automatically calculated per the ingredients list. Serving size may not be accurate. Please double-check with your preferred nutritional app for the most accurate information.