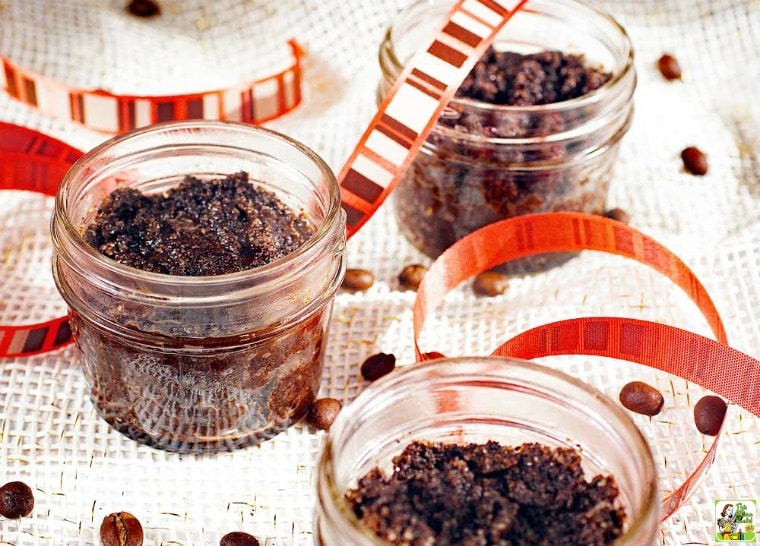 Try this DIY Coffee Scrub if you're looking for an inexpensive coffee sugar scrub recipe to make into gifts for the holidays.
This scrub is made with coconut oil. It can be used as a hand, foot or body scrub that will make your skin feel nice and soft, especially during the dry winter months.
This easy scrub recipe makes wonderful homemade gift for friends, family or your kids' teachers, too.
Have the kids help you make a batch!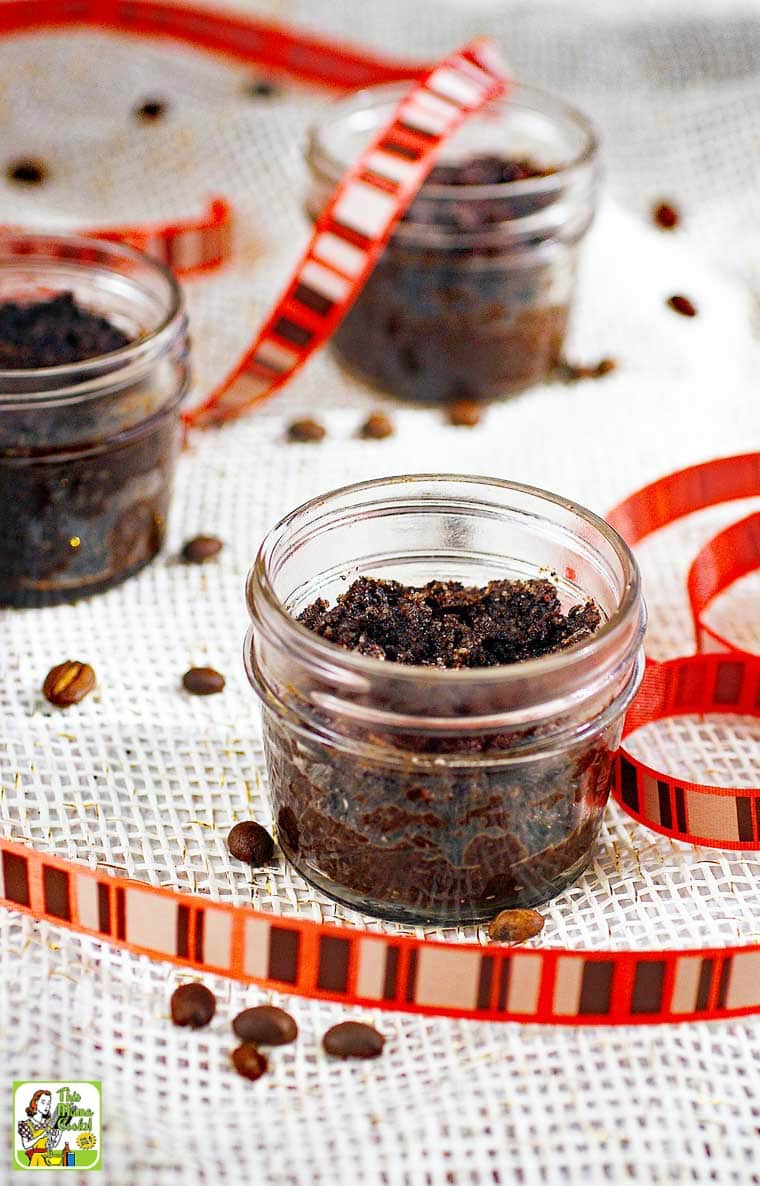 The benefits of a coffee body scrub
Many experts claim that coffee body scrubs are good for your skin. That's because:
● The scrub acts as an exfoliant, removing dead skin cells to reveal new, healthy skin underneath.
● Exfoliating with a coffee body scrub improves your circulation, which gives you smooth and glowing skin.
● The caffeine in the body scrub reduces the appearance of cellulite and helps your skin look more firm and toned.
I keep a jar by the kitchen sink. It makes my hands feel less itchy and rough after washing a bunch of dishes.
I love the smell and how soft the scrub makes my skin feel.
Can I use this as a face scrub?
Since coconut oil can clog pores use a different oil, like grapeseed oil.
Otherwise, using finely ground coffee makes a terrific face scrub. Just use it gently!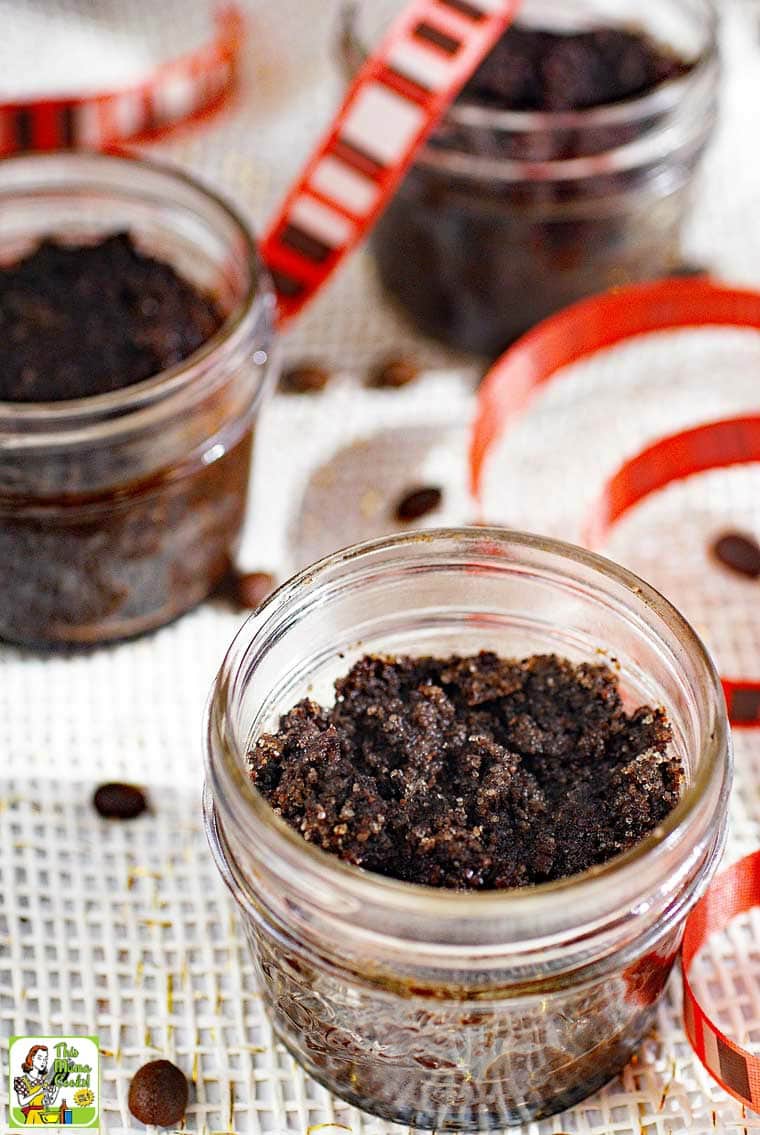 Make a variety of DIY scrub recipes!
The body scrub recipe below uses nutmeg, cinnamon, and vanilla extract.
You can use any leftover pumpkin spice from Thanksgiving if you like. Or you can experiment with other ground spices like ginger or clove.
For the winter holidays, you can use almond, chocolate extract or peppermint extract in your DIY Coffee Scrub.
Another way to change up the scrub recipe is to use a flavored coffee like toasted hazelnut or French vanilla.
Have fun, experiment, and go through your baking cabinet and spice rack and use up some of those extracts and spices that you have too many bottles of!
Does coconut oil clog shower drains?
It could happen, especially if your drains are already clogged with hair.
If you find that your drains are slow moving after using the coffee sugar scrub, let your hot water run for several minutes after you've showered.
You can also follow your shower with a mixture of hot water and white vinegar. Then rinse with more hot water.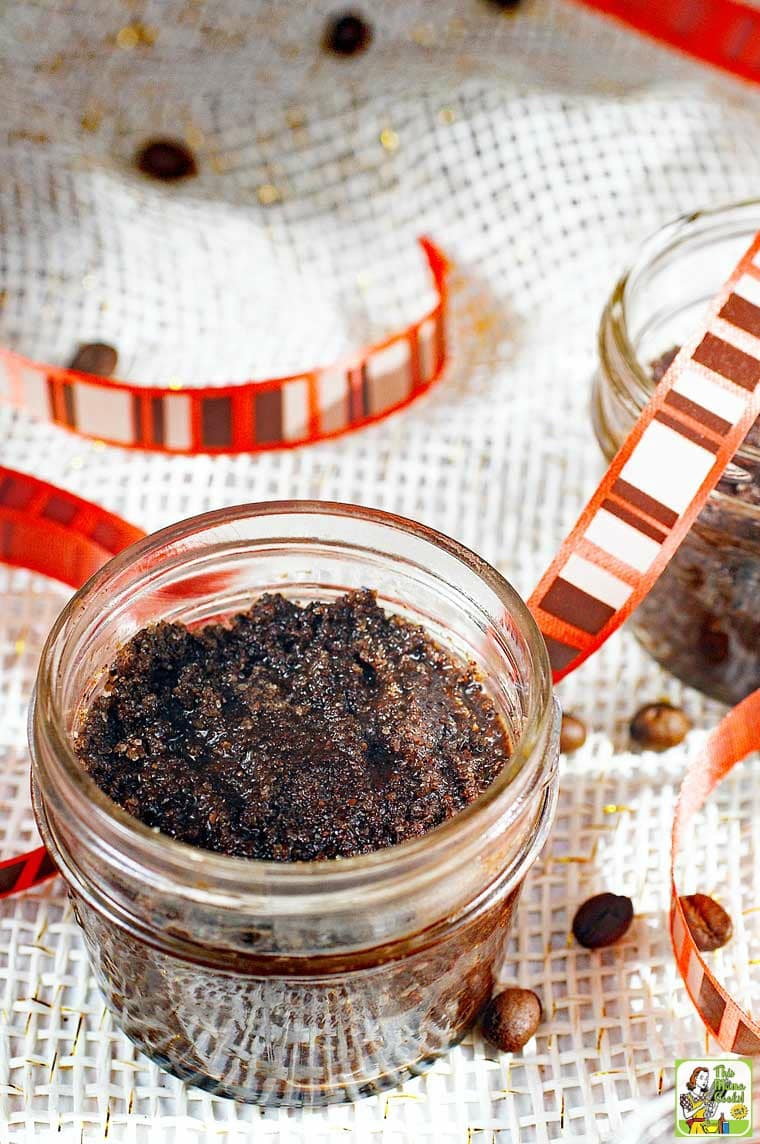 Making and packaging the DIY scrub
Can I reuse old coffee grounds? I prefer using freshly ground coffee beans instead of used grounds. You may think a scrub is a thrifty and "green" way to reuse old coffee grounds.
However, I don't think it's a good idea to use wet grounds in the coffee body scrub. Instead, grind fresh coffee beans! You don't want the scrub to get moldy and gross.
What type of sugar? In this scrub recipe, I suggest using a course white sugar like turbinado sugar. Sugar in The Raw works great for this.
You can also try organic cane sugar brands, as they both tend tend to be more course than regular sugar.
Avoid coconut palm sugar as it tends to clump and harden over time.
What type of coconut oil? You can use your favorite coconut oil.
Some people like organic coconut oil and others feel that virgin coconut oil brands are best. I'll leave that up to your preference and budget.
How to make cute homemade scrub jar gifts
To make cute gifts, spoon the coffee sugar body scrub into 4-ounce canning jars decorated with holiday ribbon and gift tags.
Since you don't want to give someone who's allergic to nuts a body scrub made with hazelnut coffee, make sure to label the ingredients on the gift tags, too!
Looking for more DIY homemade gifts?
Learn why Homemade Taco Seasoning can be a cool gift idea.
If you know any chocolate lovers, Easy Gluten Free Chocolate Bark Candy or this Easy Fudge Recipe are fun to make homemade gifts.
Homemade Strawberry Fruit Leather Roll-Ups and Orange Fruit Leather are fun to make with the kids.
Easy Microwave Brittle is fun to make during the holidays.
Easy Homemade Dog Treats is perfect for anyone with a dog.
This Candied Pecans Recipe makes a delicious sugar-free snack or appetizer.
Yield: 3 JARS
DIY Coffee Scrub Recipe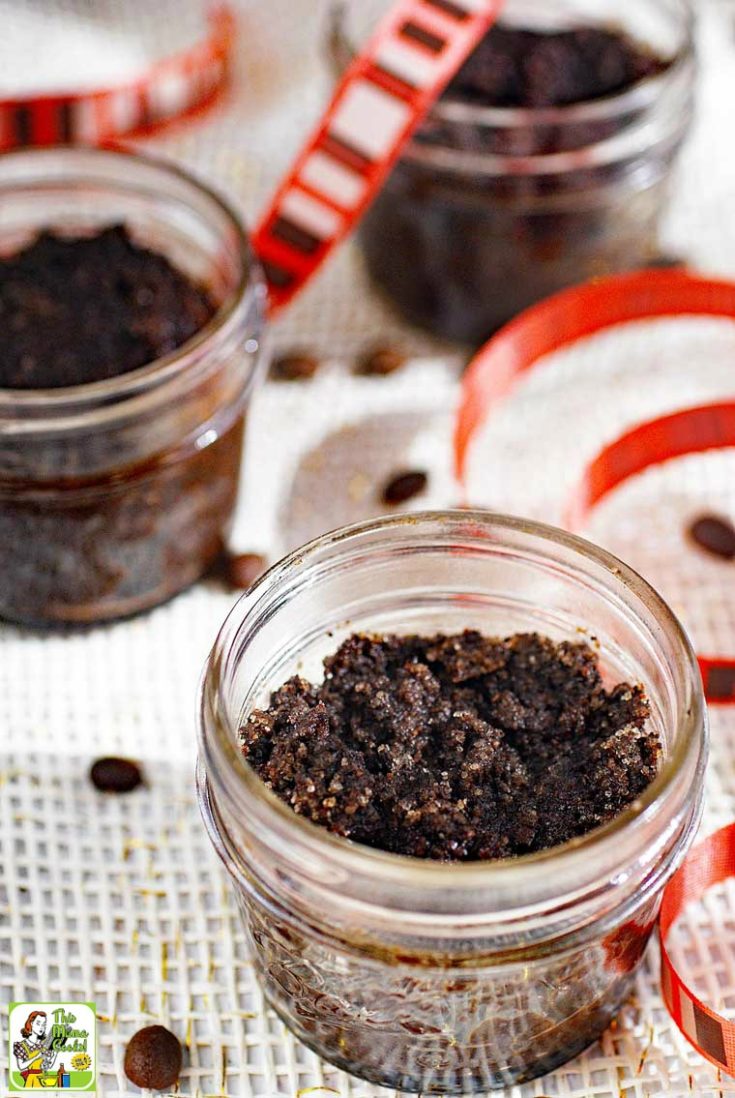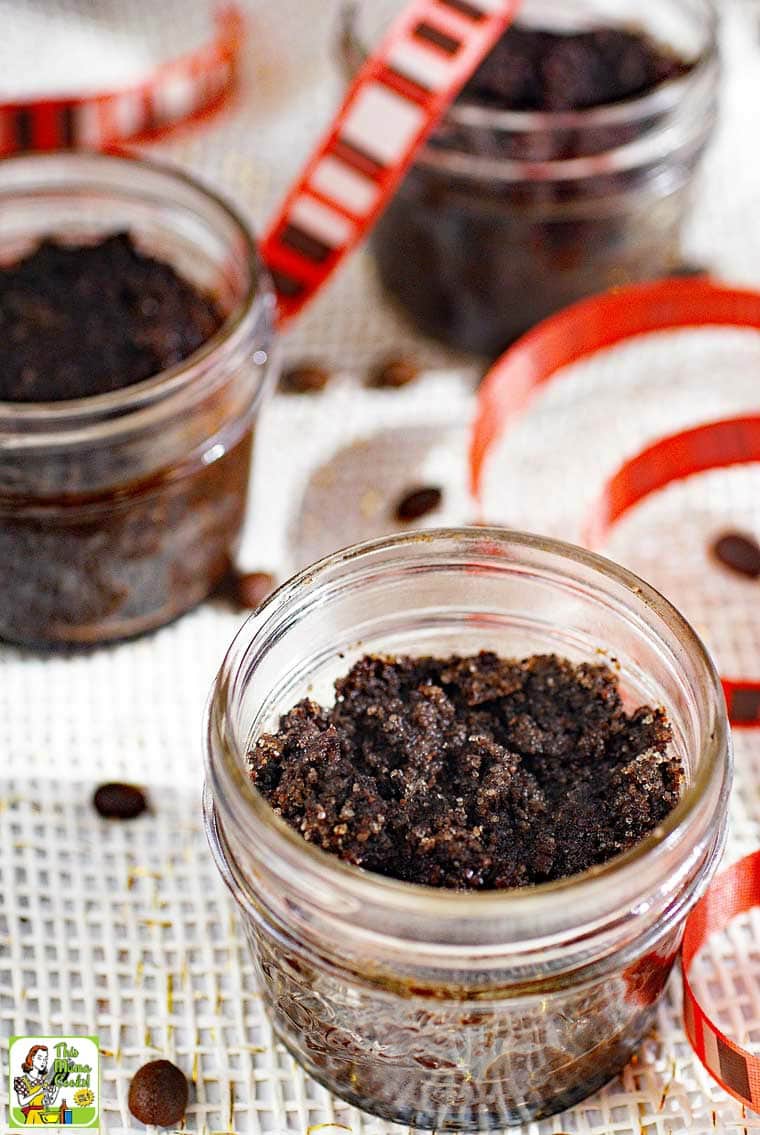 This easy DIY coffee scrub makes a great homemade gift. This coffee body scrub also leaves your skin feeling soft!
Materials
1/2 cup ground coffee
1/2 cup coarse white sugar
1/2 tablespoon nutmeg
1/2 tablespoon cinnamon
1/4 cup coconut oil, melted
3 to 4 drops gluten free vanilla extract
Instructions
In a bowl, combine all the dry ingredients together.
Add the coconut oil and vanilla extract. Using a fork, mix until all ingredients are thoroughly incorporated.
Spoon scrub into small mason jars or other airtight containers. Decorate with ribbon and homemade labels.
Notes
Variation: Instead of cinnamon and nutmeg, use 1 tablespoon pumpkin pie spice.
Recommended Products
As an Amazon Associate Affiliate and member of other affiliate programs, I earn from qualifying purchases.
Originally published on October 31, 2014. Updated with new photos and information.