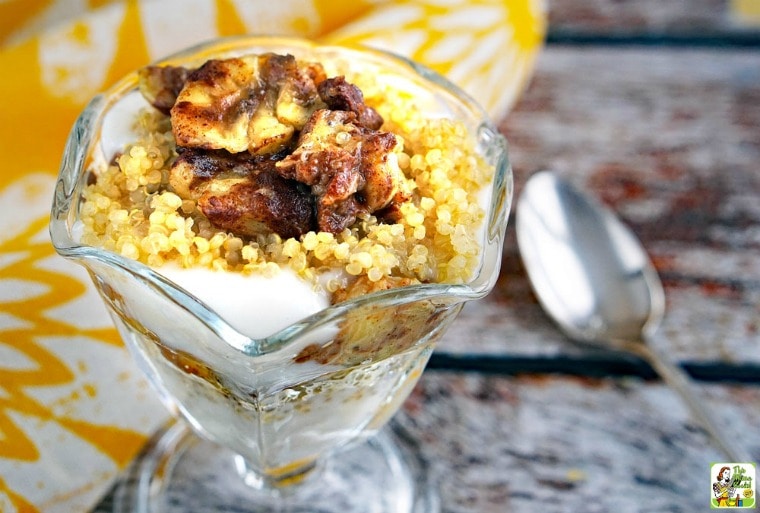 A yogurt parfait is an easy way to inspire your family to eat a wholesome breakfast. That's why I love making these Fruit and Yogurt Parfait with Quinoa in the mornings.
What's so fun about these yogurt parfaits is that you can serve them in old fashioned glass sundae dishes. Serving them in wide mouth canning jars for a brunch or country themed party would be charming, too!
You can also make them ahead of time, making the morning rush a little less hectic.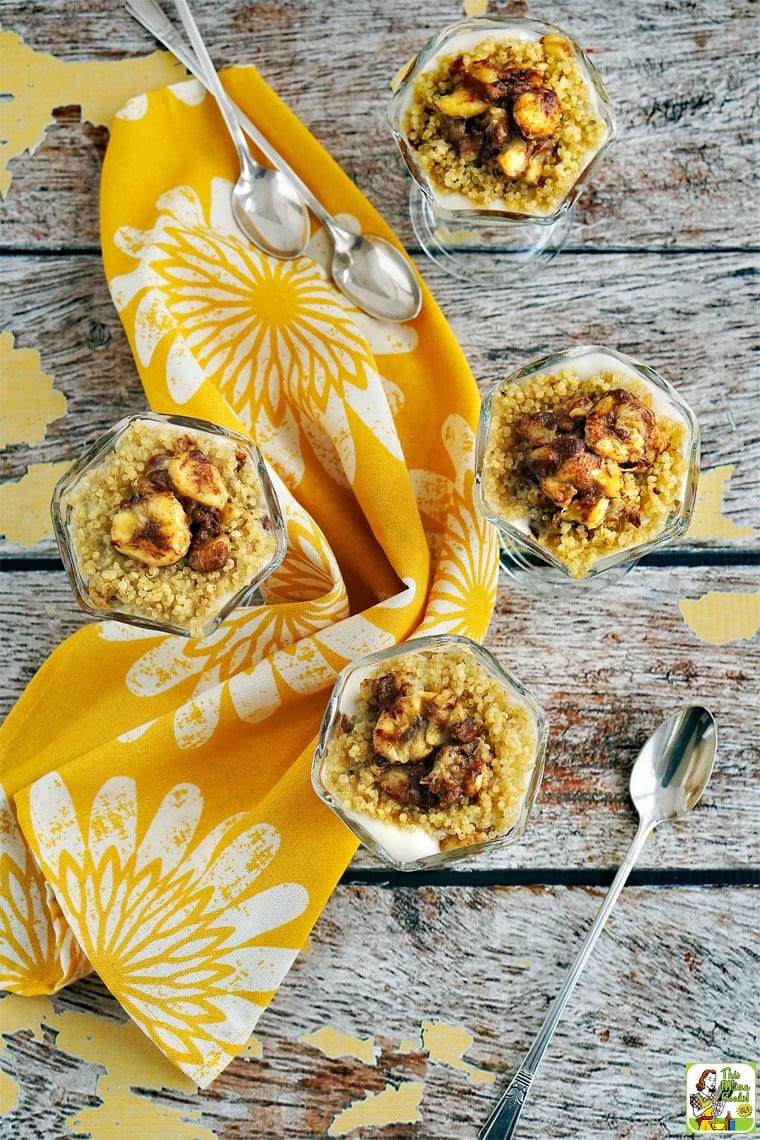 Besides being nutritious and delicious, this yogurt parfait recipe is a terrific way to use up leftover quinoa from dinner the night before.
Best of all, Fruit and Yogurt Parfait with Quinoa can be eaten by anyone on the following special diets – low FODMAP, gluten free, and dairy free.
You can also serve this fun yogurt parfait as an afterschool snack or wholesome dessert.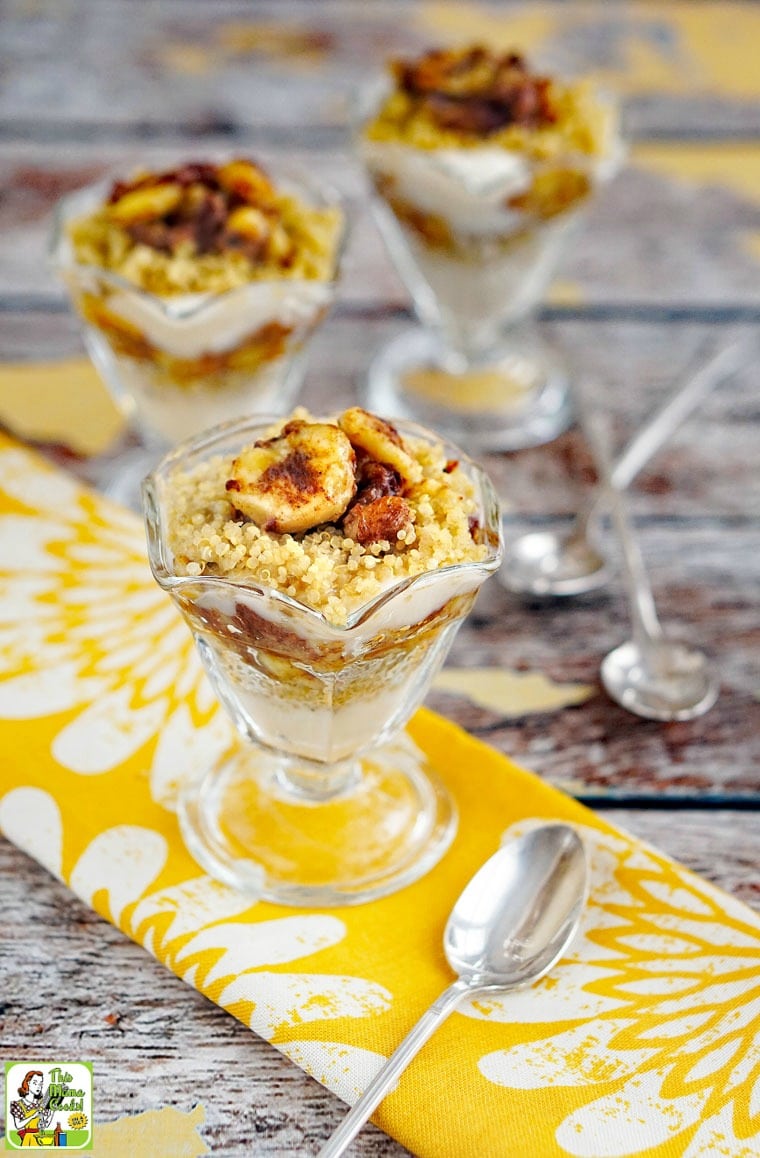 A fruit and yogurt parfait that's FODMAP friendly
For this breakfast parfait, I chose to use not very ripe bananas because I'm on a low FODMAP diet.
Another good fruit choice for those on a FODMAP diet are berries like blueberries, strawberries and raspberries.
If you're not on a FODMAP diet, you can use apples, very ripe bananas, or cherries in your yogurt parfait.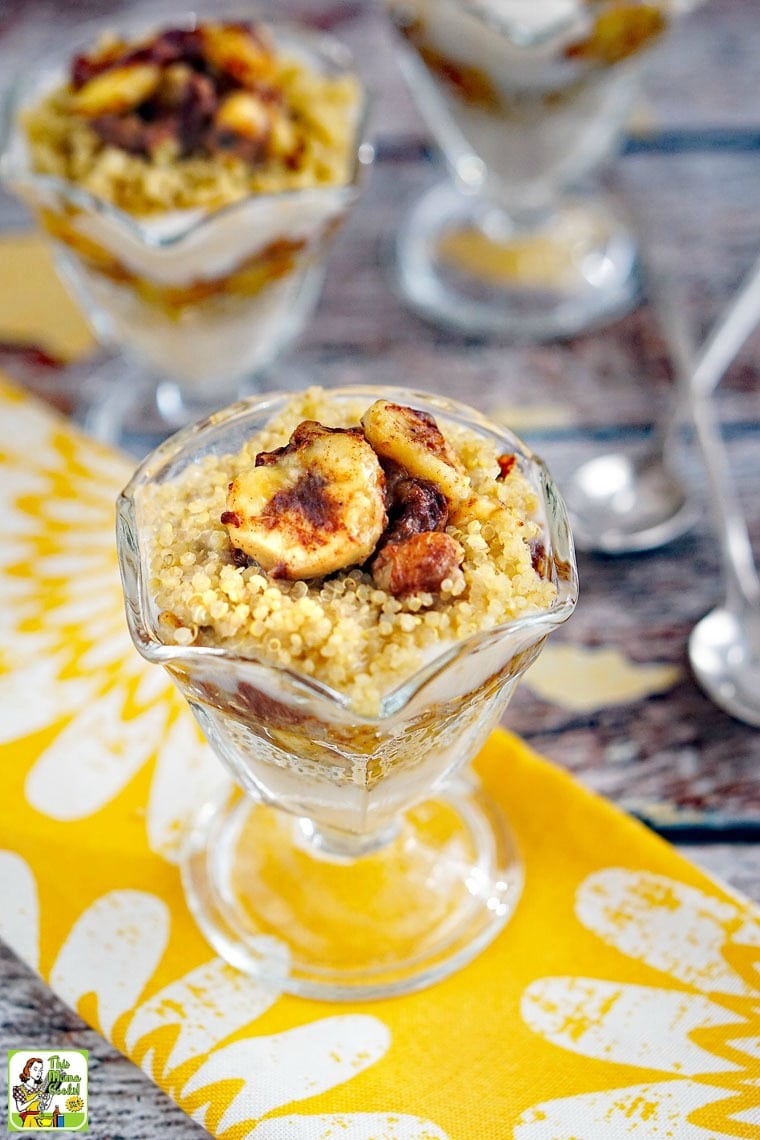 A breakfast parfait that's also gluten free and dairy free!
Fruit and Yogurt Parfait with Quinoa is naturally gluten free, since quinoa is a gluten free food. (It's also a terrific vegetarian source of protein!)
I added a little brown sugar to the quinoa since some people find that it's a little bitter. Real maple syrup would work nicely, too, and is a low FODMAP sweetener.
Since I try to keep dairy free on my low FODMAP diet, I used vanilla coconut yogurt in this yogurt parfait recipe. If you can't find coconut yogurt, soy yogurt is a good option.
You can also use flavored non-dairy yogurts. (If you're not dairy free, Greek yogurt is terrific to use in a breakfast parfait.)
There IS a teeny bit of dairy in I Can't Believe It's Not Butter! Spread that I used, but I don't have a problem tolerating that small amount.
If you need to completely avoid all forms of dairy, use a vegan spread like Earth Balance. Or cook up the bananas in a little coconut oil.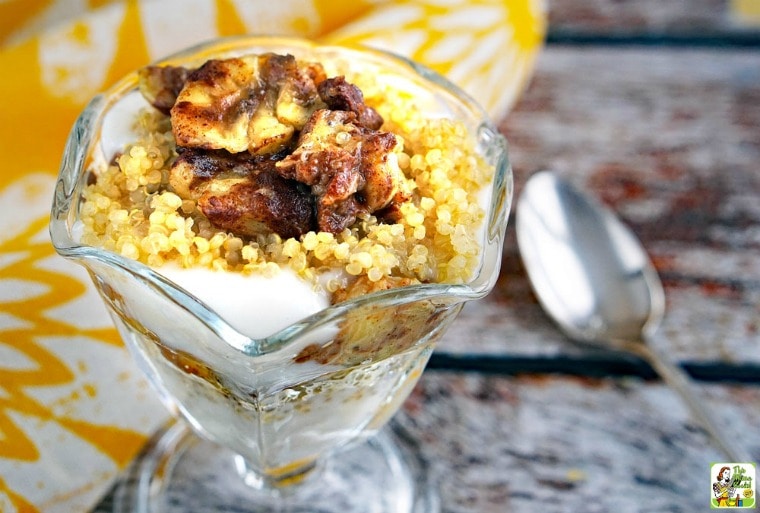 Fruit and Yogurt Parfait with Quinoa
Ingredients
3 tablespoons

I Can't Believe It's Not Butter! Spread

2 teaspoons

ground cinnamon

1 pinch

nutmeg

3

large bananas, peeled and sliced

1 cup

cooked quinoa

1 tablespoon

brown sugar

1 cup

vanilla coconut yogurt
Directions
Over medium heat, melt I Can't Believe It's Not Butter!® Spread in a large nonstick skillet.
Add cinnamon and nutmeg to pan and combine with melted spread. Then add banana slices to pan and stir to cover slices in melted cinnamon spread.
Stirring occasionally, cook until banana slices start to soften and get slightly gooey - about 2-3 minutes. Remove from heat and set aside.
If you're using leftover quinoa, reheat the quinoa for 1 minute in the microwave so it's warm. In a small bowl, mix the brown sugar into the cooked quinoa.
Place 1 tablespoon yogurt in each parfait glass. Then top with 2 tablespoons quinoa. Add a layer of 1/4 cup cooked bananas. Repeat layers until you run out of ingredients. Serve immediately.
Servings
:
Makes 4 servings
Serving size:

1 sundae dish
Originally published on February 22, 2017. Updated with new pictures and information.