Last Updated on October 11, 2021 by Anne-Marie
Crock-Pot Ribs with Balsamic & Sorghum taste like ribs cooked on the grill. These slow cooker pork ribs will be a hit with your family!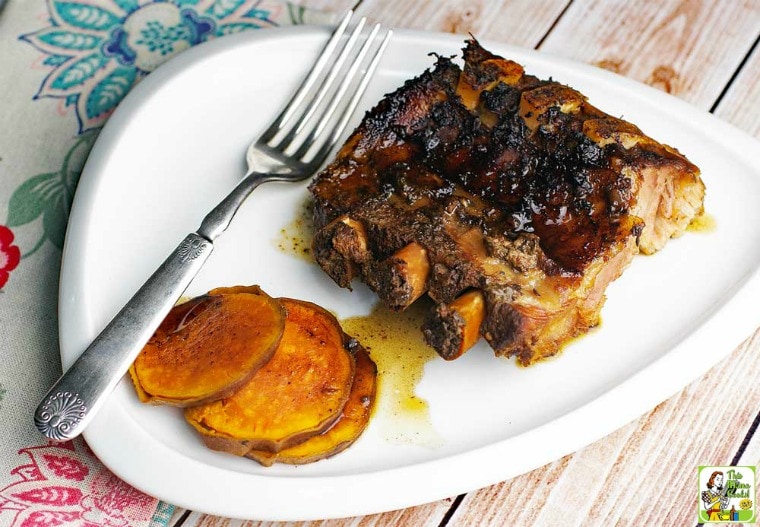 Why this recipe works
Cook up a batch of these Crock-Pot Ribs with Balsamic & Sorghum so you don't have to give up a BBQ favorite just because the weather's getting colder.
That's because you slow cook ribs in a crock-pot instead of cooking them on the grill.
No need for a fancy smoker either! This easy slow cooker recipe makes ribs that are smoky and oh so tasty!
The marinade and the slow cooking makes your ribs fall-off-the-bone tender, too.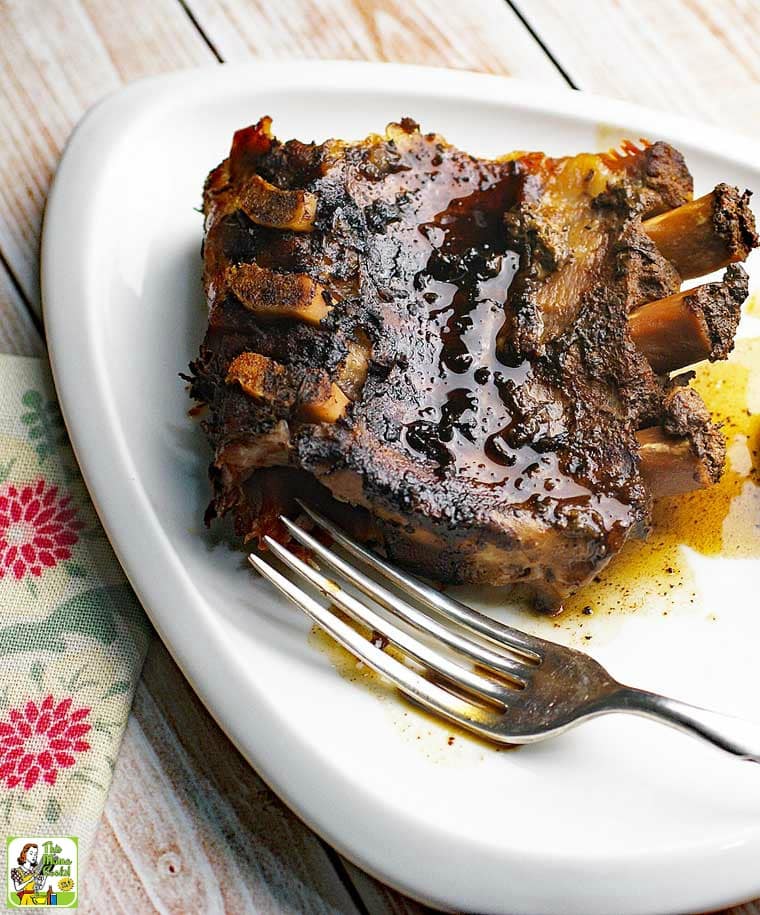 Why these crock-pot ribs are amazing
To slow cook ribs in a crock-pot takes a little preparation the night before, but you'll come home to a house that smells amazing.
Plus, you'll have a meal on the table less than 30 minutes after arriving home.
Slow cooker pork ribs are much faster (let along cheaper and healthier) than hitting your favorite barbecue joint on the way home from work, too!
Plus, you don't have to worry about missing the smoky flavor of barbecued ribs with these slow cooker ribs.
The smoked paprika in combination with the balsamic vinegar and Marsala cooking wine does the trick.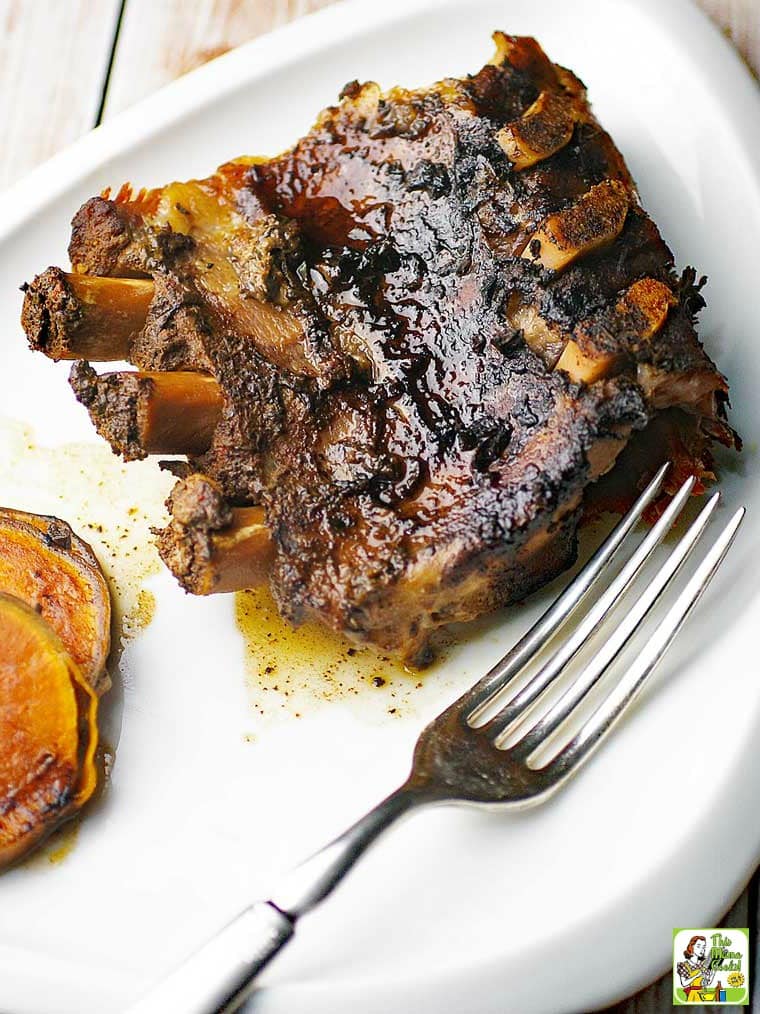 How to make slow cooker ribs
Make the rub: This slow cooker ribs recipe uses a rub of minced garlic, thyme, sorghum, balsamic vinegar, chile pepper, paprika, salt and pepper along with sorghum syrup.
You apply this mixture to the ribs and let it sit in the crock overnight in the refrigerator to give the ribs that amazing flavor.
Marinate and cook: After marinating overnight, the slow cooker pork ribs are then slow cooked in balsamic vinegar and Marsala cooking wine.
(Make sure to use cooking wine and not Marsala wine.) You can find both in the vinegar section of the grocery store.
What's sorghum syrup?
Sorghum is a sweetener similar to brown rice syrup or molasses that's very popular in the south for baking and cooking. You can buy sorghum online.
If you're unable to find it or don't want to buy sorghum just for this crock-pot ribs recipe, you can use real maple syrup, molasses, honey or agave nectar instead.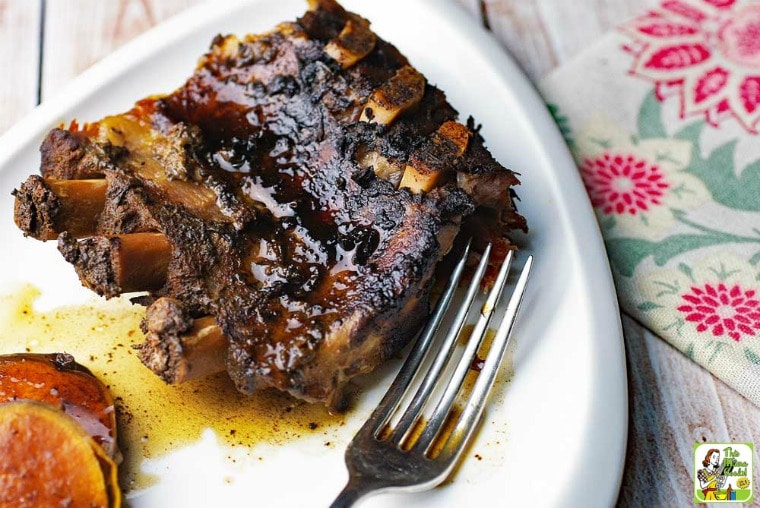 Serving slow cooker pork ribs
I cooked up the crock-pot ribs with some nutritious sweet potatoes to make this a true one pot recipe!
You can turn them into sweet potato mash with the rest of the Marsala cooking wine.
Or serve the sweet potatoes a little smear of a buttery spread and a dash of sea salt.
However, my favorite way is to slice up the sweet potatoes and pour on some of the Balsamic & Sorghum Drizzling Sauce, since it's not just for the ribs.
The Crock-Pot Ribs with Balsamic & Sorghum goes great with a side salad like Brussel Sprouts Salad with Cranberries or a side dish like Oven Roasted Vegetables.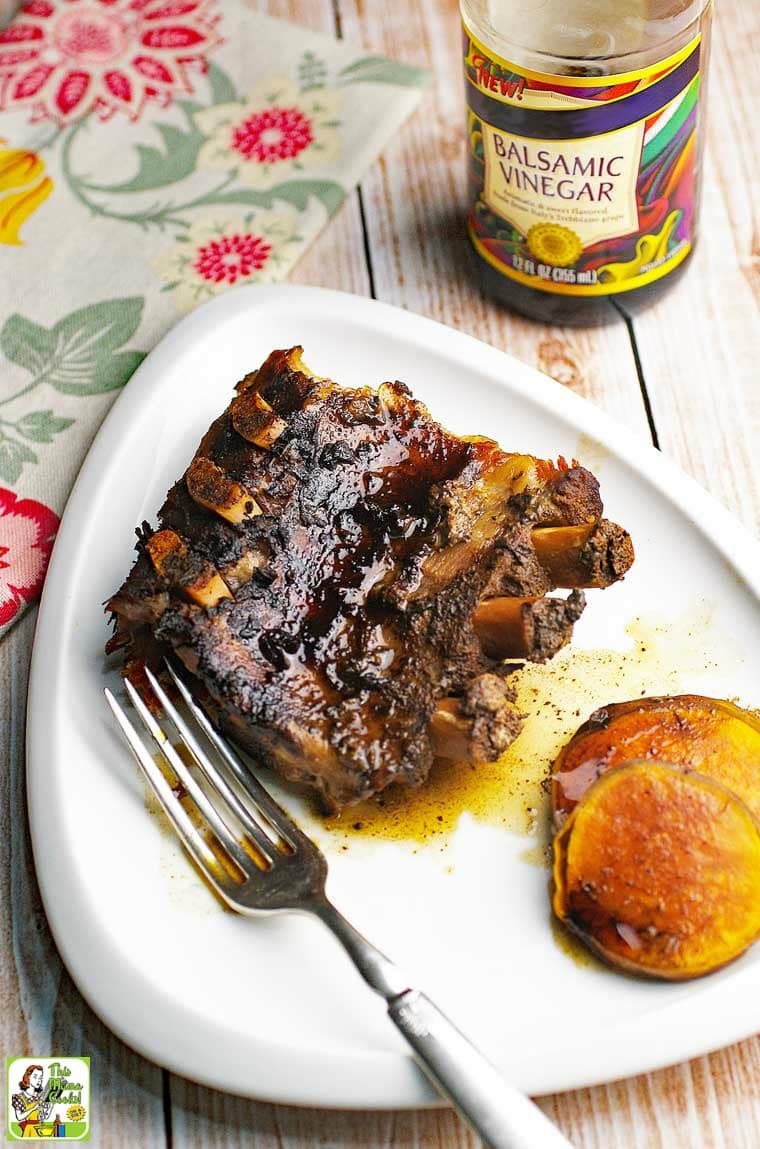 Best slow cooker ribs for your party!
Crock-Pot Ribs also make a terrific party appetizer. Since you can fit two 3-pound slabs of pork loin ribs in a six quart slow cooker, just double the recipe and omit the sweet potatoes.
After about five to six hours, check to see if the pork ribs are cooked through, but not done so they're falling apart. (The meat should stay on the bone.)
Cut the ribs apart, and place them back in the slow cooker on low for an hour before the party.
Serve the drizzling sauce as a dipping sauce. Your guests will love 'em!
More easy slow cooker recipes
Looking for another slow cooker rib recipe? Try Crock-Pot Baby Back Ribs with Sweet Potatoes.
Slow Cooker Buffalo Chicken Sliders are also terrific to serve at parties.
Slow Cooker Chicken Adobo Recipe with Quinoa and Zesty Slow Cooker Porcupine Meatballs are family favorite dinners.
This Slow Cooker Poached Pears Recipe is an amazing Valentine's Day dessert.
Speaking of desserts, this Crockpot Pumpkin Dump Cake Recipe is a foolproof fall time dessert that's gluten free.
Yield: 6 SERVINGS
Crock-Pot Ribs Recipe with Balsamic & Sorghum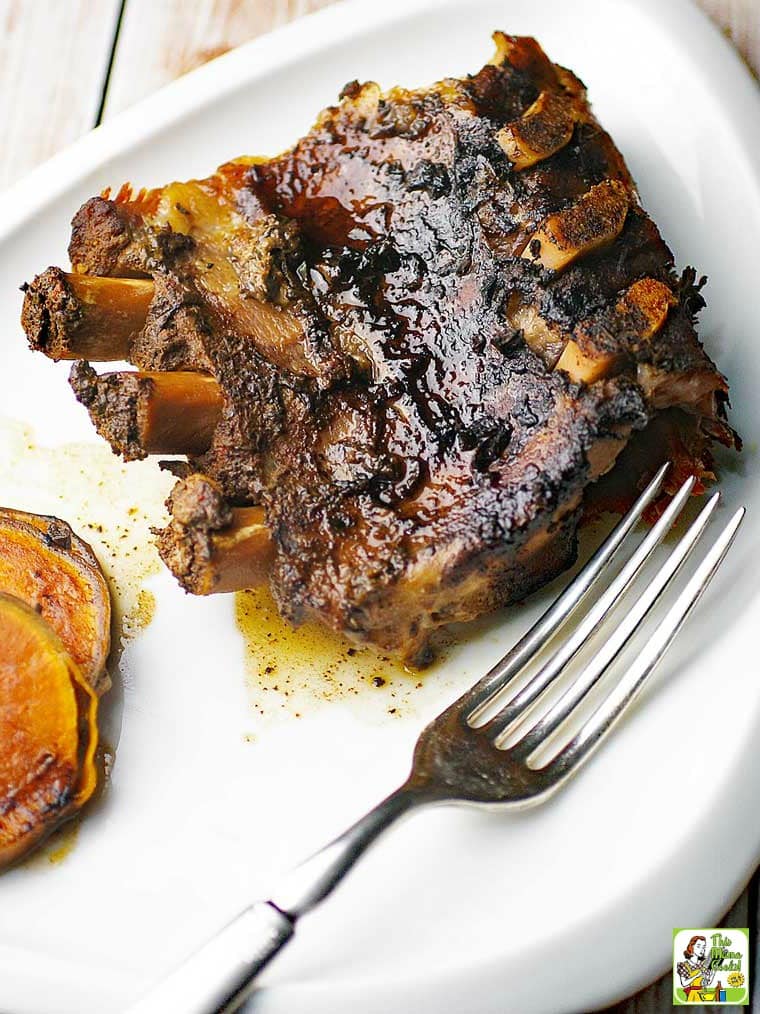 Crock-Pot Ribs with Balsamic & Sorghum taste like ribs cooked on the grill. These slow cooker pork ribs will be a hit with your family!
Ingredients
1 3-pounds rack pork loin back ribs
For the rub
6 large garlic cloves, minced
2 tablespoons finely chopped lemon thyme
2 tablespoons sorghum syrup
2 tablespoons balsamic vinegar
1 teaspoon ground chipotle chile pepper
1 teaspoon smoked paprika
2 teaspoons sea salt
1 teaspoon pepper
In the slow cooker
1 cup water
1 cup Marsala cooking wine
8 small sweet potatoes, wrapped in aluminum foil
For the drizzling sauce
1/2 cup "drippings" from slow cooker with the fat skimmed off
1/2 cup water
1/2 cup balsamic vinegar
1/2 cup sorghum syrup
Instructions
For the pork ribs
To make the rub, combine minced garlic, thyme, sorghum, balsamic vinegar, chile pepper, paprika, salt, and pepper.
Rub evenly over the rack of pork ribs.
Place the rack of ribs inside the stoneware crock so the meat side is touching the inside of the crock. Place lid on crock and place in the refrigerator to marinate overnight.
In the morning, add water, Marsala cooking wine, and wrapped sweet potatoes to crock. Place stoneware crock into the slow cooker on low and cook for 8 hours.
For the Balsamic and Sorghum Drizzle Sauce
Combine drippings, water, balsamic vinegar, and sorghum in a saucepan.
Bring to a boil over medium-high heat.
Lower heat to medium-low. Simmer until reduced to about 1 cup – 15 to 20 minutes. Stir occasionally.
Serve the Balsamic and Sorghum Drizzle Sauce on the ribs, the sweet potatoes, and anything else that may end up on your plate!
Recommended Products
As an Amazon Associate Affiliate and member of other affiliate programs, I earn from qualifying purchases.
Nutrition Information:
Yield:
6
Serving Size:
1
Amount Per Serving:
Calories:

701
Total Fat:

22g
Saturated Fat:

7g
Trans Fat:

0g
Unsaturated Fat:

11g
Cholesterol:

188mg
Sodium:

1099mg
Carbohydrates:

52g
Fiber:

3g
Sugar:

36g
Protein:

64g
Nutritional information is automatically calculated per the ingredients list. Serving size may not be accurate. Please double-check with your preferred nutritional app for the most accurate information.
Originally published on October 8, 2013. Updated with new pictures and information.