Last Updated on February 16, 2022 by Anne-Marie
Want to make an authentic Cuban sandwich recipe that's gluten free? Try grilling up an Easy Cuban Panini.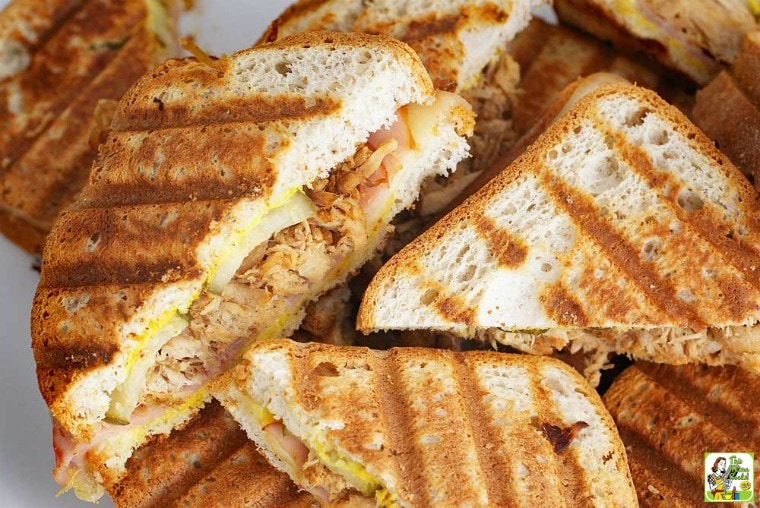 Why this recipe works
You have to try making an Easy Cuban Panini. They're made with tender slow cooker pulled pork.
These are exactly like the authentic Cuban sandwich recipe, but are perfect for anyone on a gluten free diet.
The secret is using gluten free bread and grilling it like a panini sandwich.
It's just as delicious as an traditional Cuban sandwich and is GF-friendly.
Even if you're not gluten free, you'll find this Cuban pulled pork sandwich recipe super delicious and easy to make.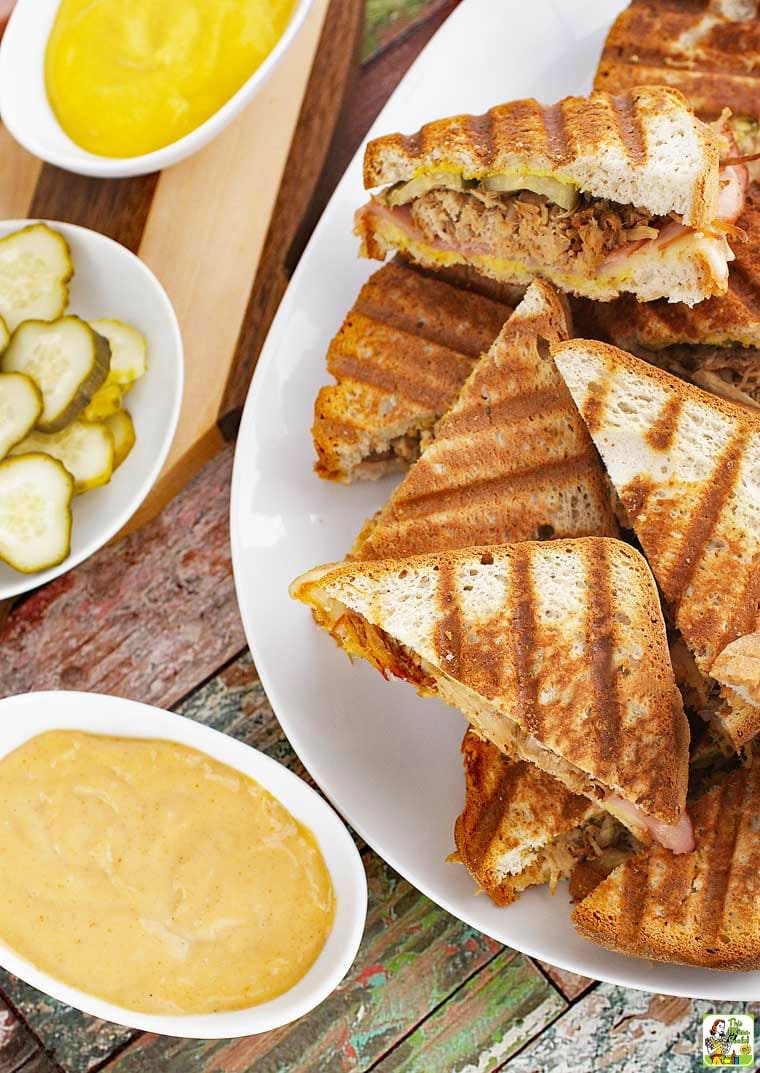 Making easy Cuban panini with a slow cooker
I fell in love with Columbia Restaurant's authentic Cuban sandwich during a trip to  Tampa.
Inspired, I wanted to recreate the taste of an traditional Cuban sandwich that was gluten free.
First, it had to be easy to cook up, so I thought Cuban Panini made with slow cooker pulled pork would be a breeze to make for dinner or a party.
Plus, it's easily kept warm for a party if you're entertaining.
Use a salad dressing marinade
One of my favorite ways to season shredded pork is by using marinades and salad dressings.
In this recipe, I used my favorite bottled Thousand Island dressing to give it a unique flavor. You can also use additional Thousand Island as a dip for the panini after it's toasted.
You can use either a regular or lite dressing. Both would be delicious! Just make sure the Thousand Island dressing you choose is gluten free.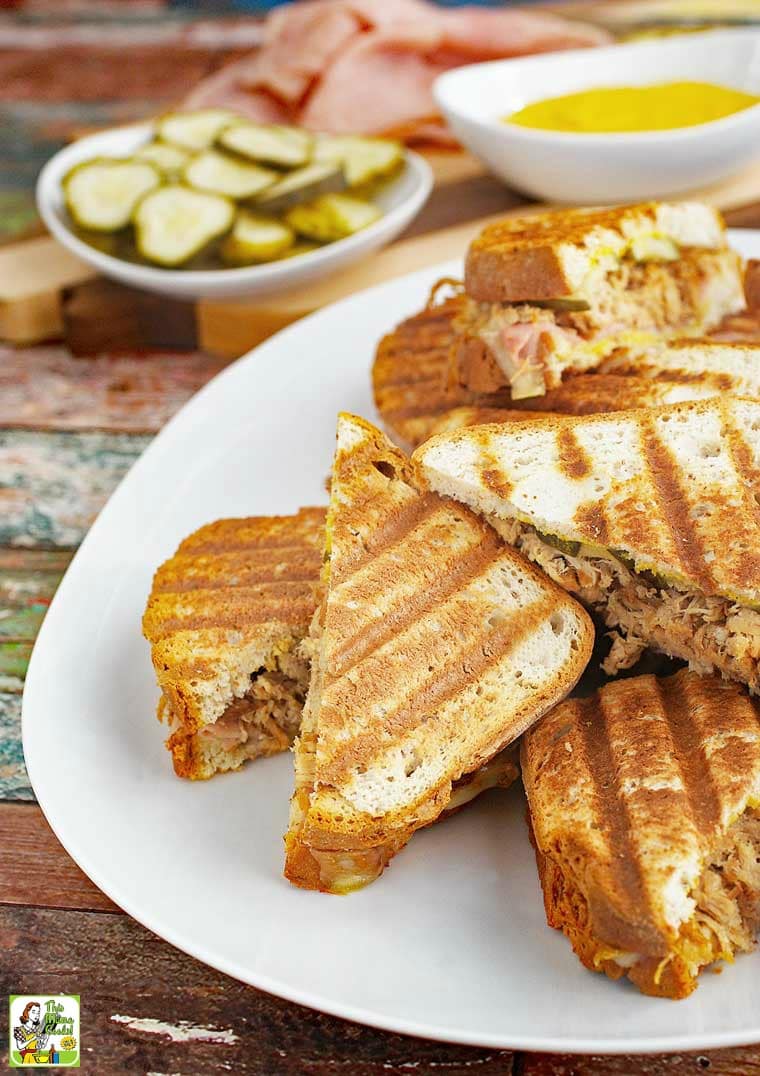 Can I make this in advance?
The nice thing about making pulled pork this way for your Cuban panini recipe, is that you can set it up the night before in your crock-pot.
Store it overnight in the refrigerator and get it going that morning while you eat breakfast.
Cook on high: If you're in a rush, get the pork cooking on high so the pulled pork is ready to add to turn into Cuban pulled pork sandwiches for an early afternoon party.
To get it cooking even quicker, cut up the pork loin into smaller pieces.
Can you make sugar free Cuban sandwiches?
If you're trying to cut back a bit on the calories or sweetener, use 1/2 cup powdered monk fruit sweetener instead of the honey or agave nectar. Every little bit helps!
More Cubans sandwich recipes
Love Cuban pulled pork sandwiches? Then you have to try these Cuban Sliders!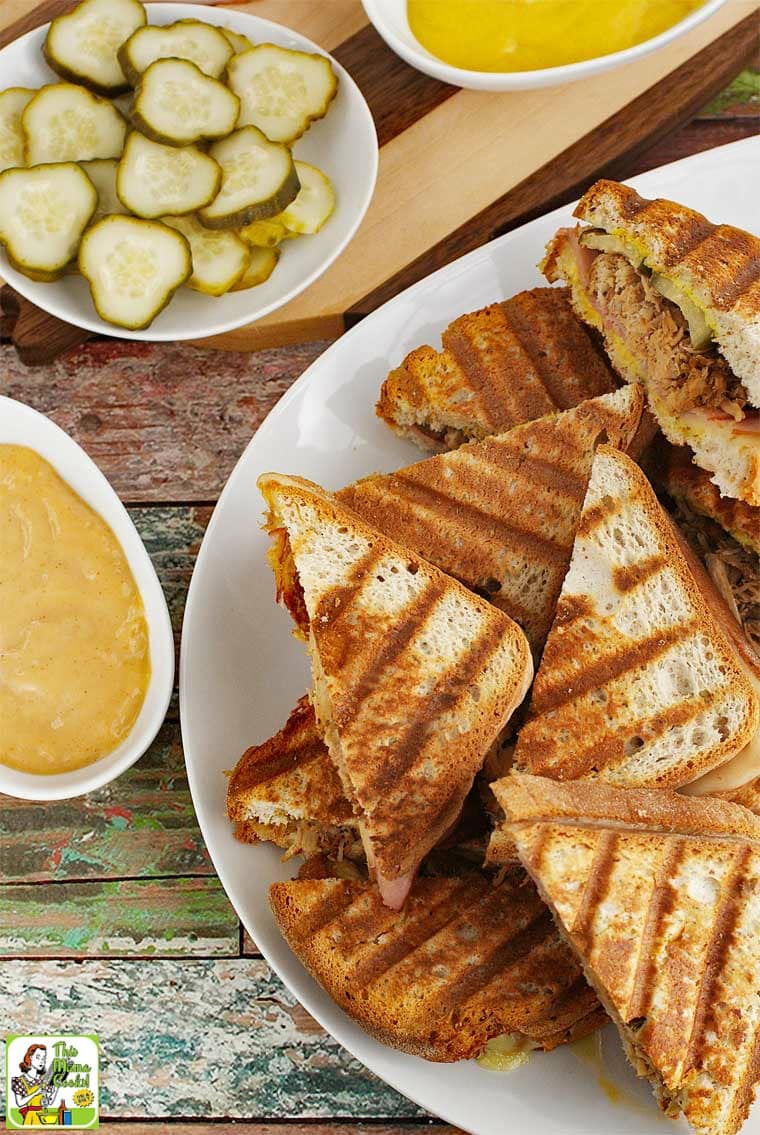 Putting together the Cuban panini
Easy cleanup: For easy crock-pot cleanup, use slow cooker liners. They're WONDERFUL.
Now that I use them, I no longer have to soak my crock-pot overnight and scrub it using a scouring pad.
An authentic Cuban sandwich is served on Cuban bread, which is very similar to a French baguette or Italian style bread.
What kind of bread?
Since you're making these Cuban sandwiches panini-style, use your favorite gluten free bread – white, multi-grain, etc. (If you're not gluten free, use your favorite regular bread.)
Don't worry about serving gluten free bread to non-GF friends and family.
While my family tried a gluten free Cuban pulled pork sandwich, they didn't mind the GF bread, because the insides were so tasty!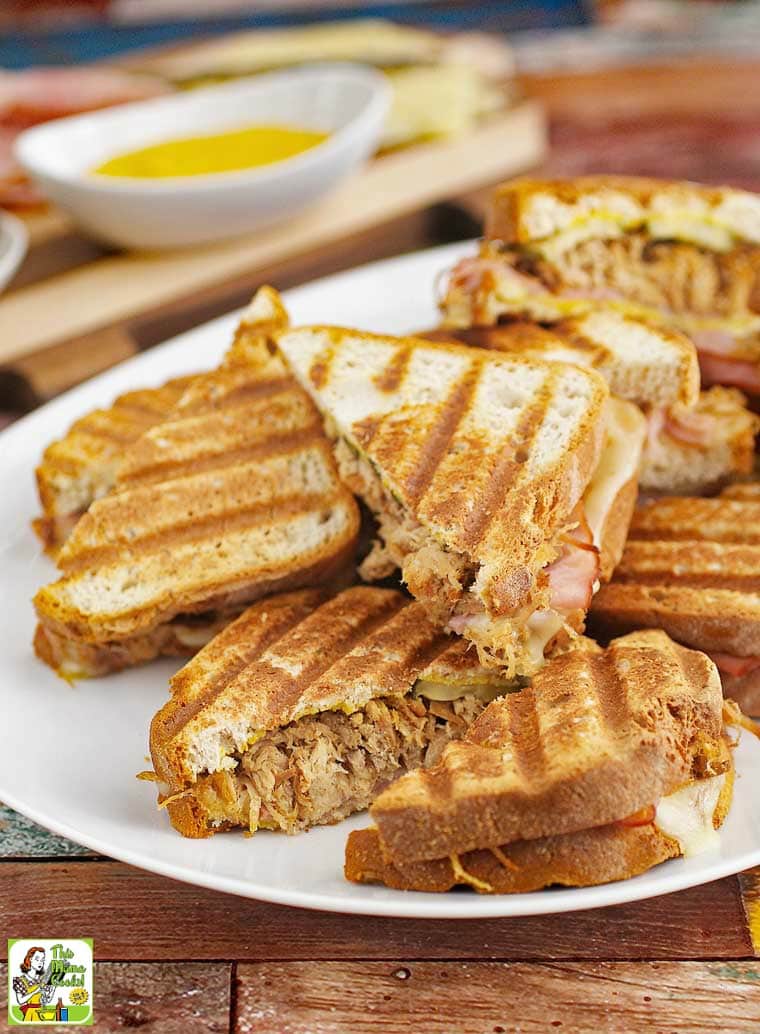 Preparing the recipe for Cuban Panini
An Easy Cuban Panini, like an traditional Cuban sandwich recipe, should be served with the following fillings and condiments:
● some people use mayonnaise on their Cuban sandwiches – not necessary in my opinion
● thinly sliced Swiss or baby Swiss cheese, folded or cut into the size of the Cuban panini
● thinly sliced deli ham, also folded or cut into the size of the panini
I like using kitchen shears to cut up several slices of ham and Swiss cheese at a time.
You can also use them to trim up the sides of the panini if you find there's too much cheese or ham hanging over the edge of the bread.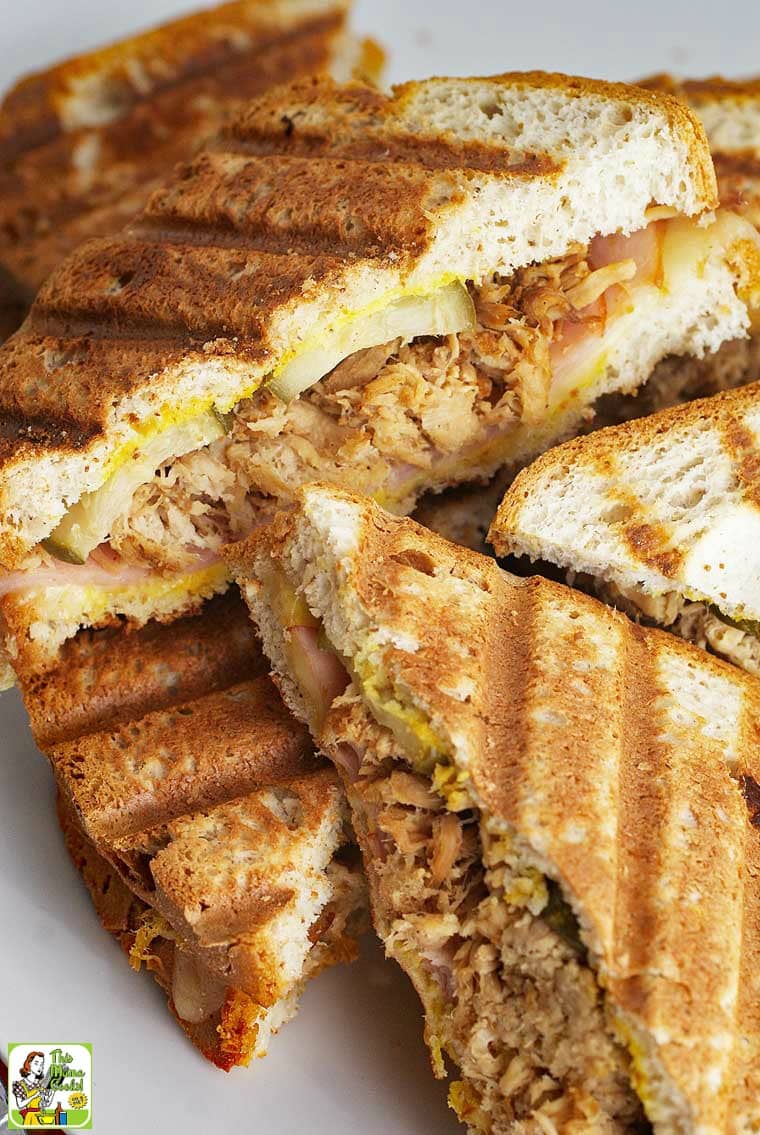 Grilling up a Cuban pulled pork sandwich
Don't have a panini grill? Don't worry! Countertop grills are just as good and much more budget-friendly.
I used a George Foreman countertop grill to toast up my Cuban Panini. I love George Foreman grills to make panini, grilled cheese, burgers, grilled chicken breast and even bacon.
When we were undergoing a kitchen remodel, our "George" was a lifesaver. They're also super affordable.
Avoid cross-contamination: If you're making both gluten free and regular bread Cuban panini, you may want to use two countertop grills to avoid cross-contamination.
Or make sure to wipe down the grill carefully before putting on a gluten free panini. Don't want to give our GF guests a tummy ache!
Prepare the grill: Don't forget to spray a little cooking spray on your countertop grill to prevent the panini from sticking!
Or you could also brush some of the Thousand Island dressing on the outside of the bread before grilling.
The oil in the dressing will prevent the sandwich from sticking, too.
Salads to serve with your Cuban Panini
There's nothing better than a salad side dish to round out your meal.
I love coleslaw with a panini sandwich.  This Wasabi Coleslaw Recipe is spicy, while this Easy Coleslaw Recipe is more traditional.
Celery Root Coleslaw Recipe and Easy Garbanzo Bean Salad are very healthy and delicious.
A fruit salad like Watermelon Salad with Mint & Feta Recipe would also be a tasty choice.
You could also try Broccoli Bacon Salad Recipe or Cucumber Onion Salad as easy to make side salads to make for dinner.
Yield: 16 SANDWICHES
Easy Cuban Panini Recipe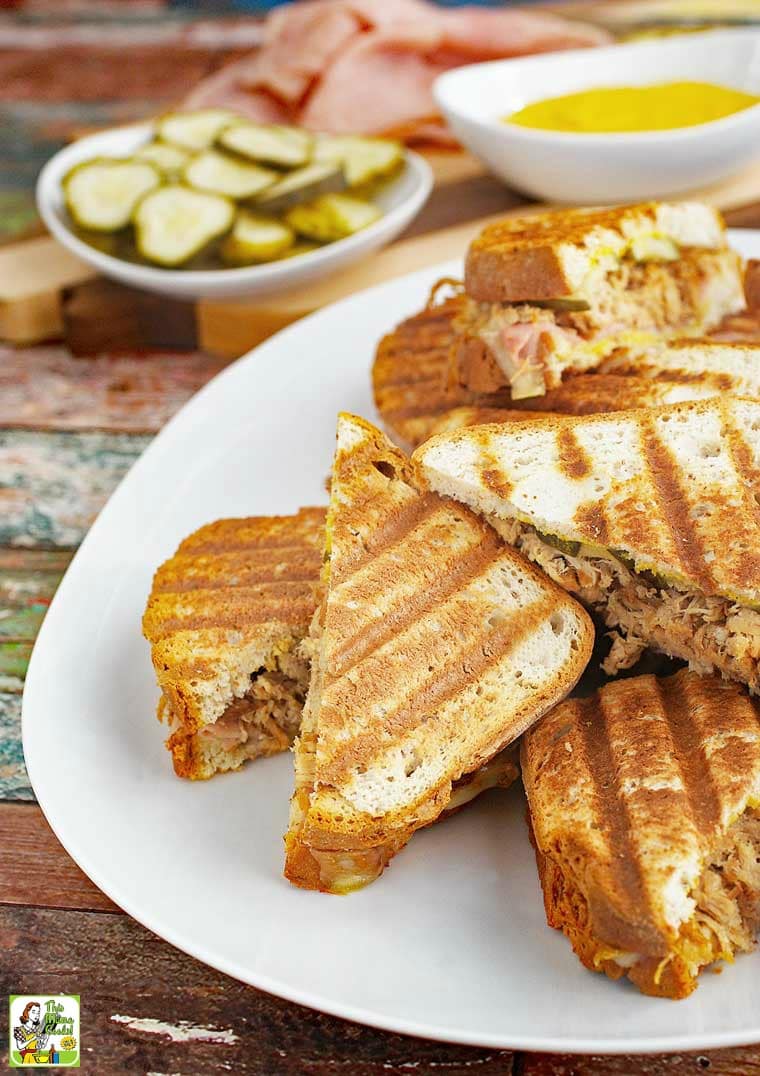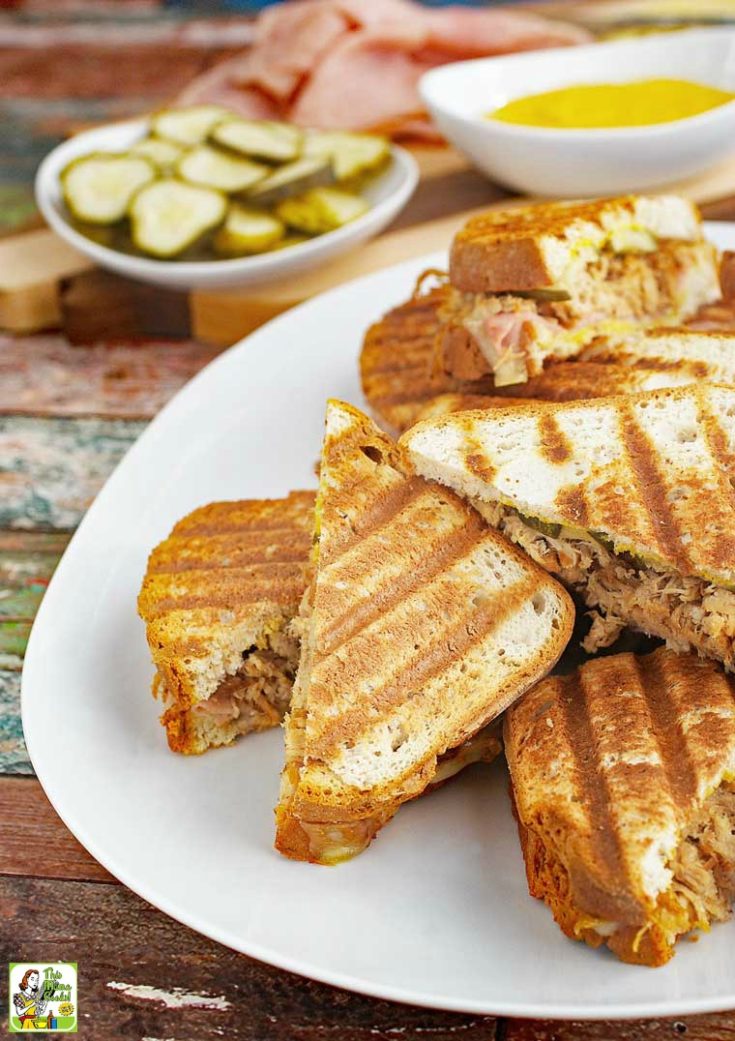 Want to make an authentic Cuban sandwich recipe that's gluten free? Try grilling up an Easy Cuban Panini.
Total Time
10 hours
30 minutes
Ingredients
For the pulled pork:
4 pounds boneless pork loin, cut into 3 pieces
1 12-ounce bottle Thousand Island dressing (plus extra for dipping)
1 tablespoon lemon juice
2 tablespoons lime juice
1/2 cup honey or agave nectar
1 teaspoon dried ground ancho chile pepper
1/2 teaspoon ground cayenne red pepper
1/2 teaspoon ground cumin
1/2 teaspoon paprika
1/2 teaspoon sea salt
For making the Easy Cuban Panini:
2 loaves gluten free bread (or bread of your choice)
1 small jar yellow mustard
1 to 2 large jars whole dill pickles, thinly sliced
2 pounds thinly sliced Swiss or baby Swiss cheese
2 pounds thinly sliced deli ham
Olive oil cooking spray
Instructions
For the pulled pork:
Place the pork loin in a large slow cooker.
In a bowl, combine the Thousand Island dressing, lemon and lime juices, honey or agave, spices, and salt. Pour the dressing mixture over the pork.
Cook the pork on low for 8 to 10 hours or High for 4 to 6 hours. Pork is done when it's tender enough to pull apart with a fork.
Pour out all of the liquid from the crock. Otherwise, you'll have shredded pork soup!
Shred the pork and keep warm.
To make the Easy Cuban Panini:
Spread a small amount of yellow mustard on both slices of bread.
Make the sandwich by layering three pickles, a slice of cheese, a slice of deli ham, and then a generous portion of the shredded pork between the two pieces of bread.
Lightly coat the surface of your heated countertop or panini grill with the olive oil cooking spray. Place the sandwich onto the hot surface and press the lid down firmly but gently.
Grill for one or two minutes until the bread is golden brown and the cheese has melted.
Slice each Cuban Panini in half diagonally and serve.
Recommended Products
As an Amazon Associate Affiliate and member of other affiliate programs, I earn from qualifying purchases.
Nutrition Information:
Yield:
16
Serving Size:
1 SANDWICH
Amount Per Serving:
Calories:

662
Total Fat:

40g
Saturated Fat:

16g
Trans Fat:

1g
Unsaturated Fat:

18g
Cholesterol:

179mg
Sodium:

1326mg
Carbohydrates:

17g
Fiber:

1g
Sugar:

13g
Protein:

57g
Nutritional information is automatically calculated per the ingredients list. Serving size may not be accurate. Please double-check with your preferred nutritional app for the most accurate information.