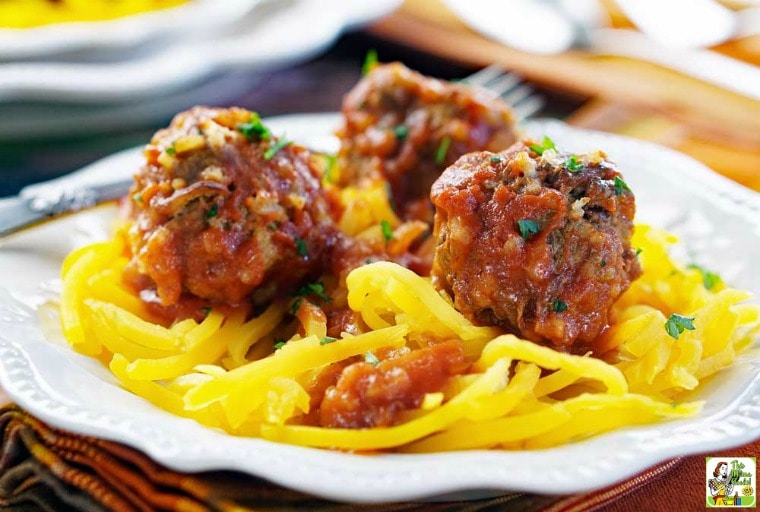 You'll love these Zesty Slow Cooker Porcupine Meatballs if you're a fan of porcupine meatballs, the classic comfort food many of us grew up with.
If you've never had them, they're meatballs filled with rice simmered in a zesty tomato sauce.
Since the rice sticks out of the meatballs as they cook, the meatballs look like little porcupines!
And what kid – or kid at heart – doesn't like meatballs? I know I do!
How to make slow cooker porcupine meatballs
There are two ways to make porcupine meatballs – simmered on the stovetop or in a slow cooker.
Since I know how busy we all are this time of year, I've combined the two methods as a crock-pot dish to make it as simple as possible.
These slow cooker porcupine meatballs are broiled briefly in the oven to give that fried in the pan, yummy crusty outer crust.
Then you slow cook the porcupine meatballs in the spicy tomato sauce to cook them thoroughly without having to watch over a simmering pan. Less messy, too!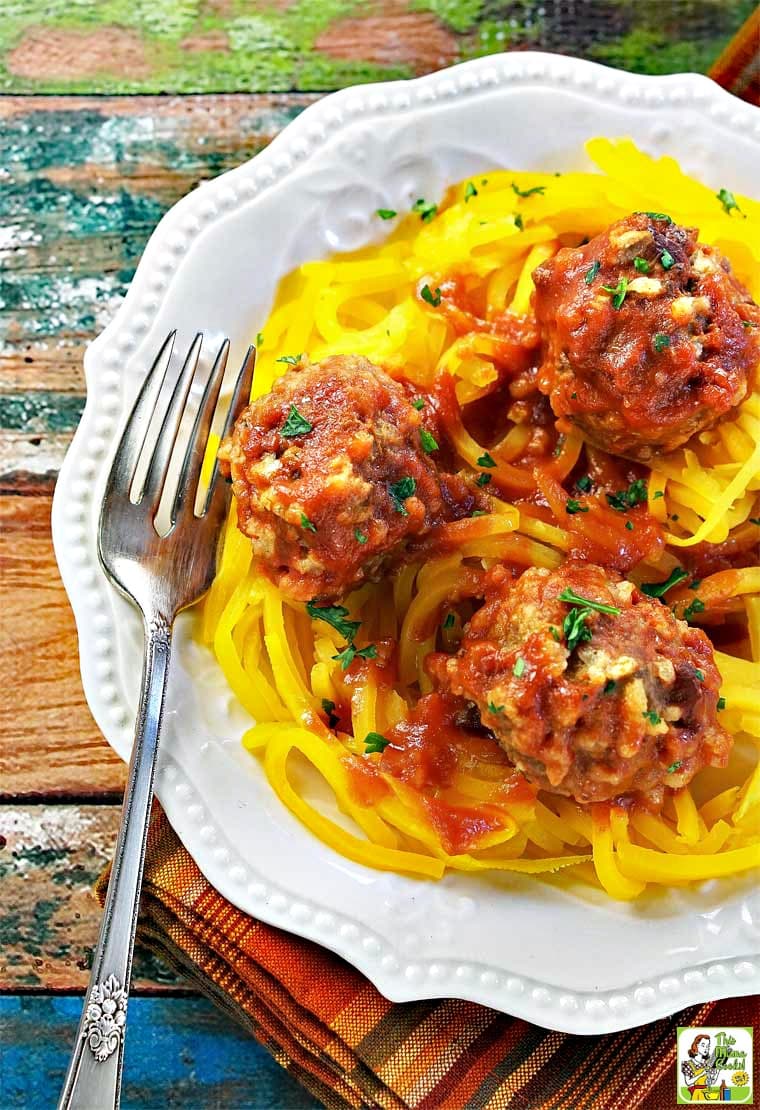 Making a different kind of porcupine meatballs
Inspired by Vigo's line of flavored rice products, I wanted to create a porcupine meatballs recipe with a twist and a Cajun flair.
That's why I went with Vigo Red Beans & Rice, an authentic version of the New Orleans classic, as a meatball ingredient.
What I love about using Vigo's rice product in my Zesty Slow Cooker Porcupine Meatballs recipe is that it's already seasoned and full of flavor.
That way you don't have to add much more seasoning to your dish, a bit of a time saver.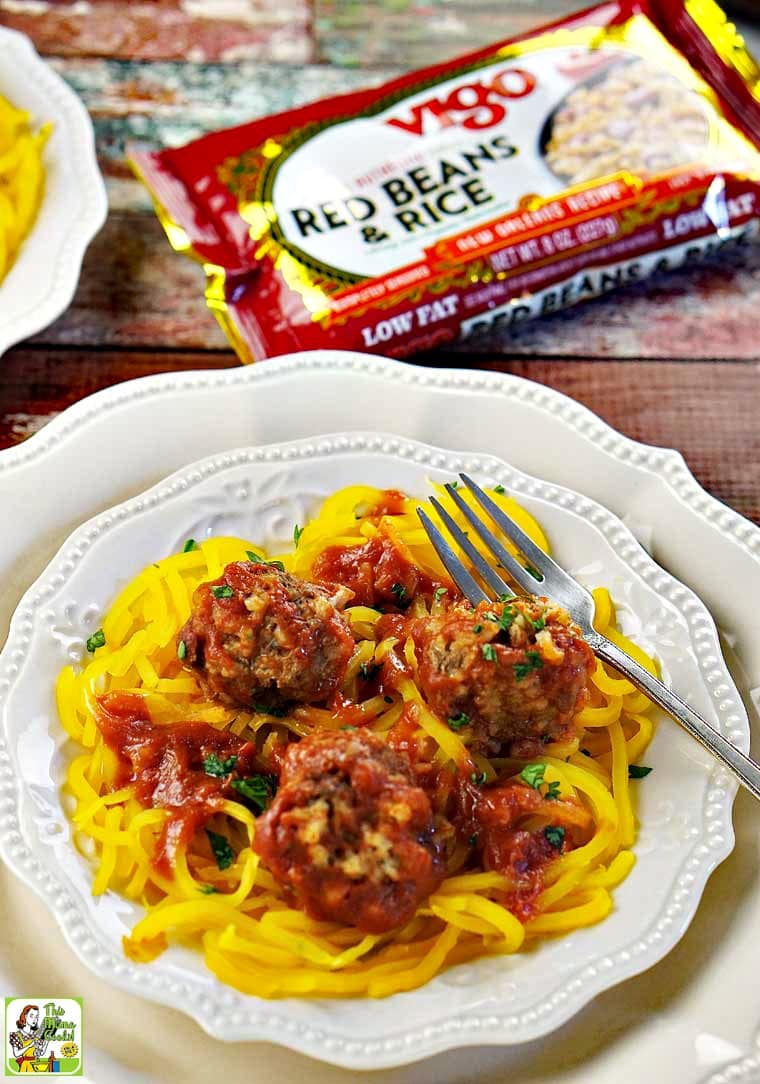 Making Cajun porcupine meatballs tonight
Vigo Red Beans & Rice is easy to prepare, low in fat, and high in taste – perfect for porcupine meatballs or an everyday dinner.
Besides this porcupine meatballs recipe, Vigo Rice is ideal for those evenings when you have little time to prepare a meal, but still want to cook up something delicious and wholesome.
Vigo also makes other products like Vigo Italian Style Seasoned Bread Crumbs, which you can use on my Easy Chicken Cordon Bleu recipe!

Tips for making porcupine meatballs in a crockpot
Making the rice: To avoid hard rice and beans in the porcupine meatballs (in case it doesn't quite cook all the way through), put the Vigo Red Beans & Rice in a bowl and cover with 2 cups of water.
Then, let it sit for at least 10 minutes while you get things ready. That will soften things up and make it cook up better.
Remember to save the soaking water for the sauce as some of the seasoning from the Vigo Red Beans & Rice will remain in the water. You don't want to lose any of that good flavor!
Chopping the veggies: I love using a food chopper to finely chop the onion and parsley. So much faster and easier than using a knife.
What type of ground meat? The ground beef you use shouldn't be too lean, otherwise, it'll fall apart in your slow cooker. (You can also use ground turkey.)
If you're concerned about fat, don't worry. When you broil up the porcupine meatballs, you'll find a lot of the fat will cook off and drip on to the tray.
You can blot the meatballs with a paper towel before placing them in the slow cooker, if you like.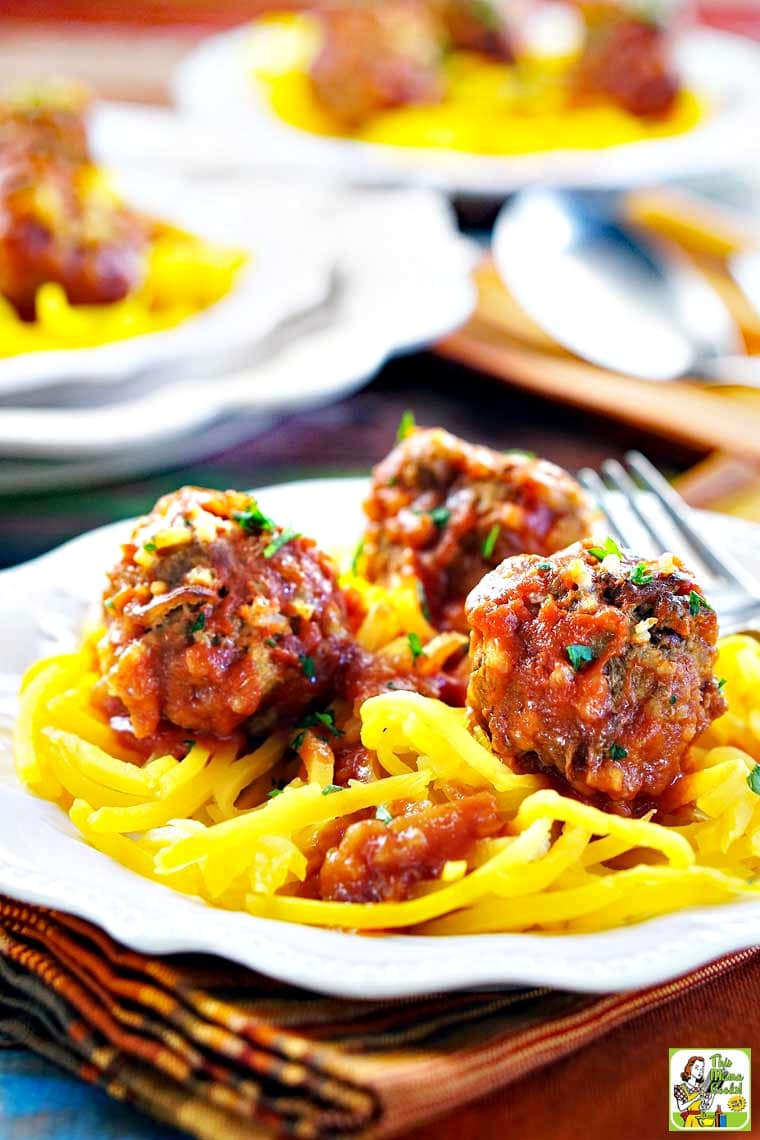 How to make the meatballs: The best way to measure out the porcupine meat mixture is to use a medium spring-loaded ice cream scoop.
This way all your porcupine meatballs are about the same size and it helps get the meatball making job done quickly!
Variations: Try Vigo Black Beans & Rice in your next batch of porcupine meatballs. Omit the cayenne and use Cuban type spices such as 1 teaspoon each of garlic powder, cumin, and oregano.
Instead of the parsley, use finely chopped cilantro. Delish!
Can I freeze the meatballs? YES! Since this porcupine meatball recipe makes such large amount, you can freeze half the leftover meatballs and sauce for another night's dinner.
Just defrost in the refrigerator overnight and heat them up in the microwave for a few minutes. Or reheat on low in the slow cooker for a few hours. Super easy!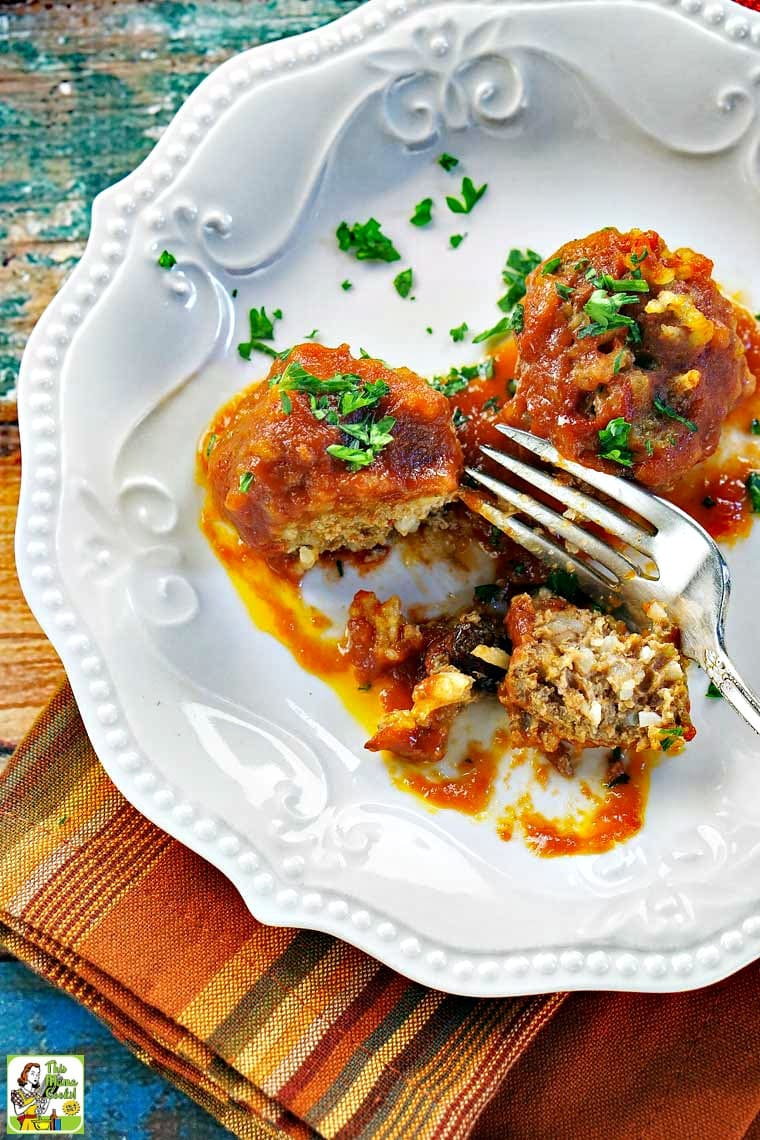 How to serve up Porcupine Meatballs
Steamed vegetables: Serve your porcupine meatballs recipe over steamed veggies of your choice. The optional finely chopped parsley makes the dinner even prettier with minimum fuss.
Plus, it's a great way to get your family to eat their veggies!
Frozen zoodles: To go with the meatball theme, look for frozen zucchini and squash "zoodles" at your grocery store. Zoodles are spiralized veggie ribbons that are sort of like strands of pasta.
They're usually available as "steam in the bag" frozen vegetables and easily microwaved and ready to be served in a few minutes.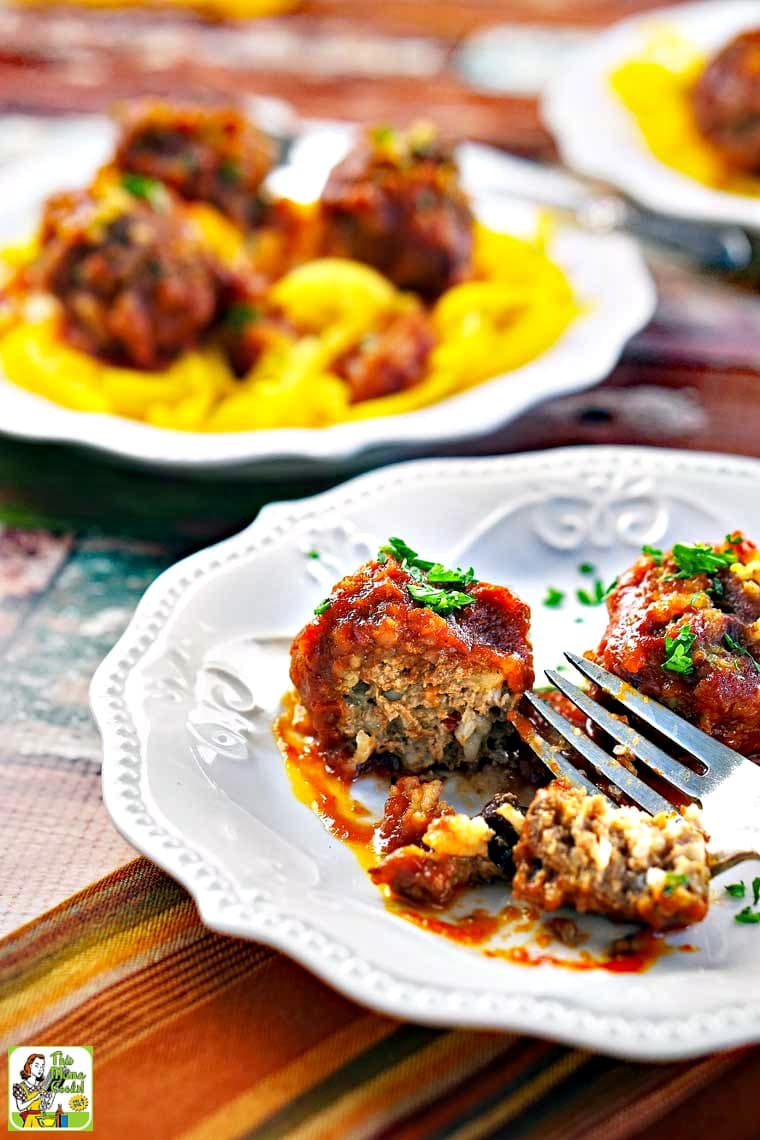 Riced vegetables: I also like the "riced" squash and cauliflower that you can find in the freezer section. Super quick to microwave up and another pretty way to serve the meatballs.
Plus, it's a way to include some wholesome vegetables in your family's diet without them noticing!
Other veggies: Other ideas are steam in the bag French cut string beans, peas and carrots, or another vegetable mix like Normandy or California.
All of these easy to serve frozen vegetables have encouraged me to serve veggies more often since I no longer have to wash, peel, and chop.
Yield: 8 SERVINGS
Slow Cooker Porcupine Meatballs Recipe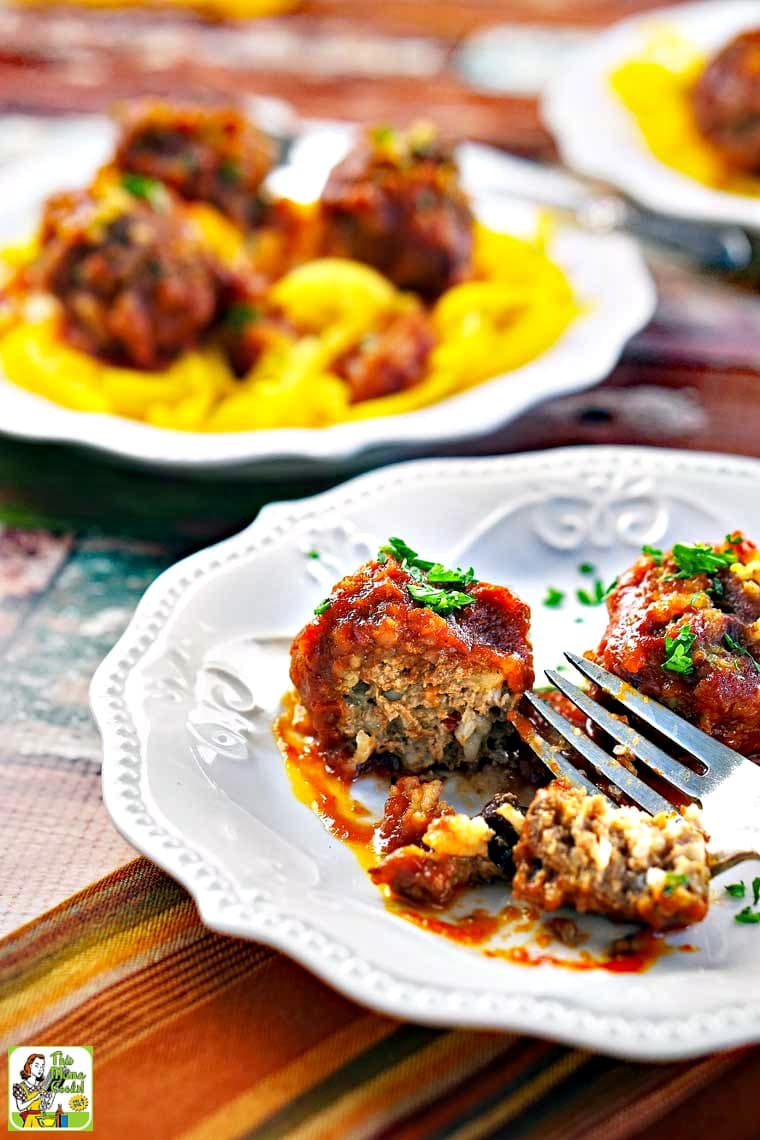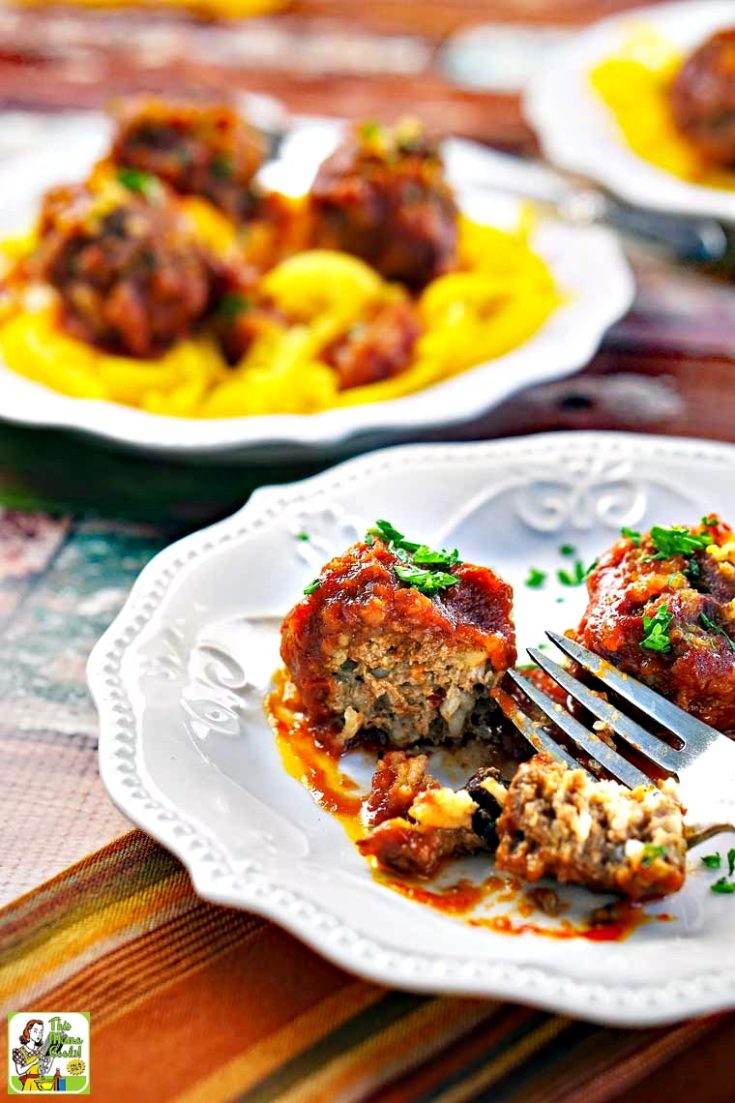 Do you love Porcupine Meatballs? This Cajun flavored slow cooker porcupine meatballs recipe is a unique take on a classic comfort food.
Prep Time
1 hour
30 minutes
Total Time
7 hours
30 minutes
Ingredients
1 8-ounce package Vigo Red Beans & Rice (uncooked)
2 cups water
Cooking spray
2 pounds ground beef
2/3 cup finely chopped yellow onion
2 eggs
4 15-ounce cans tomato sauce
1/2 cup brown sugar
1/4 cup Worcestershire sauce
1 teaspoon salt
1/2 teaspoon cayenne pepper
4 12-ounce packages frozen vegetables, cooked, for serving
Finely chopped parsley for garnish
Instructions
Pour bag of Vigo Red Beans & Rice package into a bowl. Break up any clumps of seasoning and mix ingredients so rice and beans are thoroughly distributed. Remove half the beans and rice and save for another time.
Presoak the beans, rice, and seasonings in 2 cups of water for 10 minutes. Drain and save the water for the sauce. Set aside the beans and rice.
Place top rack in the upper third of the oven. Preheat the oven to broil (550 degrees F.) Line two large trays with aluminum foil. Spray generously with cooking spray and set aside.
In a large bowl, combine the ground beef, softened Vigo Red Beans & Rice, chopped onion, and eggs. Mix until just combined.
Shape mixture into 1 1/2 inch meatballs. Place all of the formed meatballs on the tray. Broil the porcupine meatballs in the oven for 3 minutes per side. (This way they firm up and won't fall apart in the slow cooker.) Remove from the oven.
Spray a 6-quart slow cooker with nonstick spray or use a crock-pot liner. Add in tomato sauce, water saved from soaking the beans and rice, brown sugar, Worcestershire sauce, salt, and cayenne pepper. Stir until combined.
Place the porcupine meatballs in the tomato mixture. Stir the meatballs gently so they are well coated with the sauce.
Cover the slow cooker and cook on low for 4-6 hours or high for 3-4 hours.
Remove porcupine meatballs from the slow cooker and serve over steamed vegetables.
Garnish with chopped parsley before serving, if you like.
Recommended Products
As an Amazon Associate and member of other affiliate programs, I earn from qualifying purchases.
Nutrition Information:
Yield:
8
Serving Size:
1
Amount Per Serving:
Calories:

588
Total Fat:

23g
Saturated Fat:

8g
Trans Fat:

1g
Unsaturated Fat:

11g
Cholesterol:

150mg
Sodium:

1679mg
Carbohydrates:

54g
Fiber:

12g
Sugar:

27g
Protein:

42g
Nutritional information is automatically calculated per the ingredients list. Serving size may not be accurate. Please double-check with your preferred nutritional app for the most accurate information.