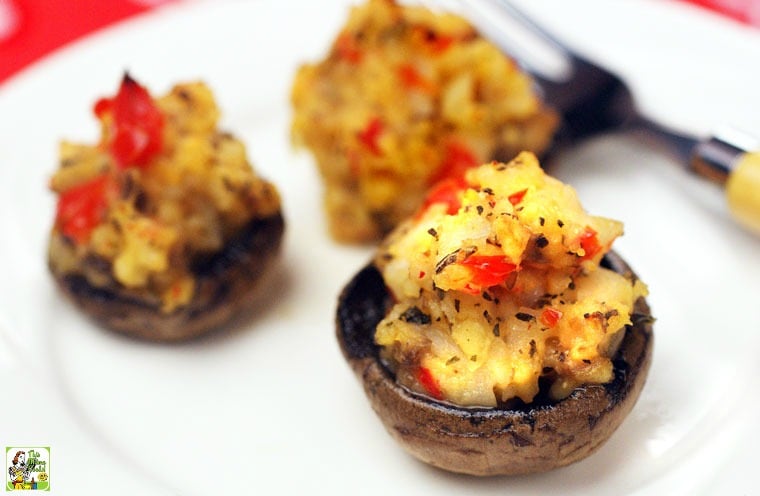 Make a batch of these Crab Stuffed Mushrooms as appetizers for your upcoming holiday party.
This crab stuffed mushroom recipe is gluten free, so will work for all your party guests. Don't worry!
They're so delicious that these cute little appetizers will amaze everyone, including the ones who aren't gluten free!
They'll swear this is the best mushroom appetizers they've ever had.
Last time I made these, my kids kept coming back for seconds and thirds. So imagine how your party guests will act!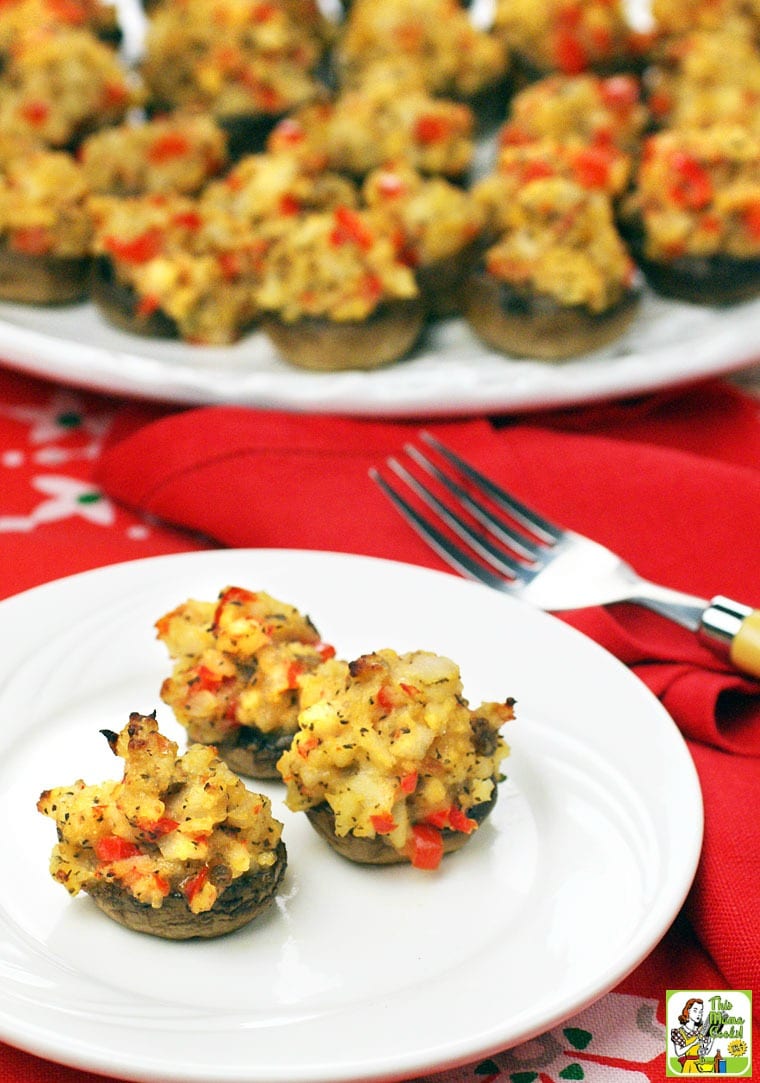 Now these stuffed mushrooms do take some time and effort.
But you'll find they're totally worth it. That's because these mushroom appetizers will disappear in a heartbeat at your holiday party.
So, double the mushroom recipe. This way you can keep one batch of appetizers in the oven warm on a platter waiting to go!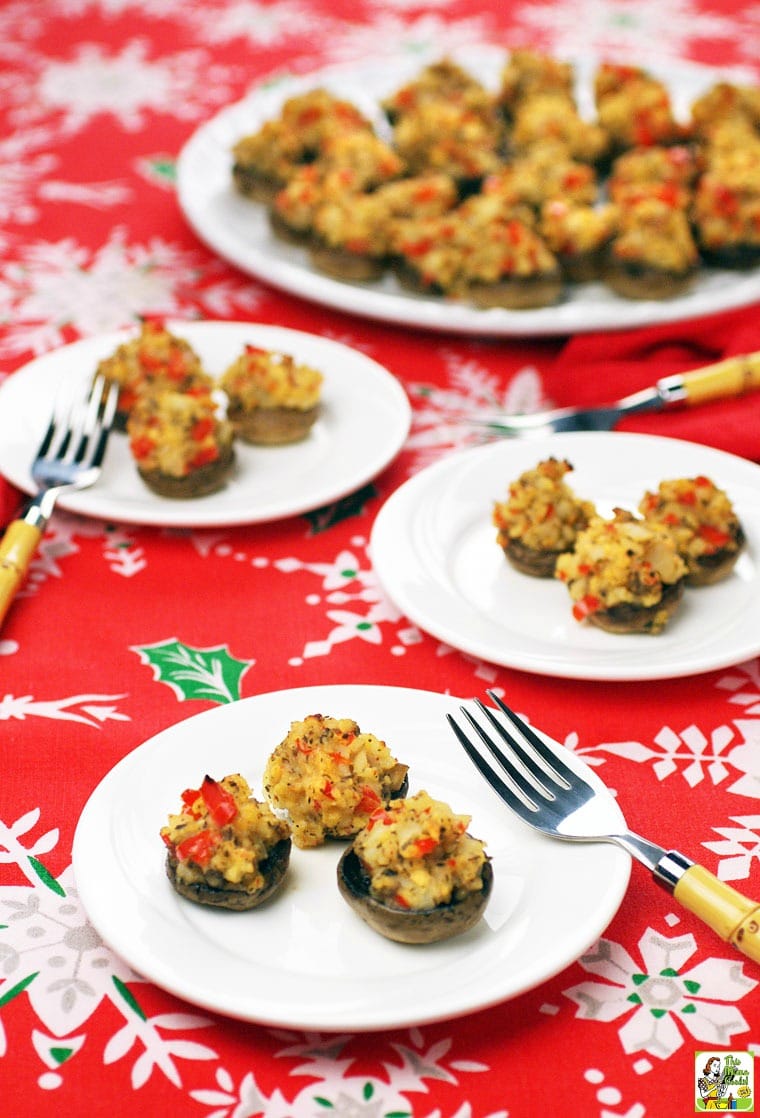 Making world's best stuffed mushrooms on a budget
Concerned that making a crab appetizer will affect your party budget?
Here's a tip – use imitation crab! Make sure the brand you use is certified gluten free.
What I love about using imitation crab for mushroom appetizers and other recipes is that it's fully cooked, sweeter and less fishy than real crab, and doesn't fall apart in your cooking.
If you find imitation crab on sale, stock up and keep the extra in the freezer.
I use imitation crab in Crab Pasta with Pesto, Mushrooms & Tomatoes, a family favorite.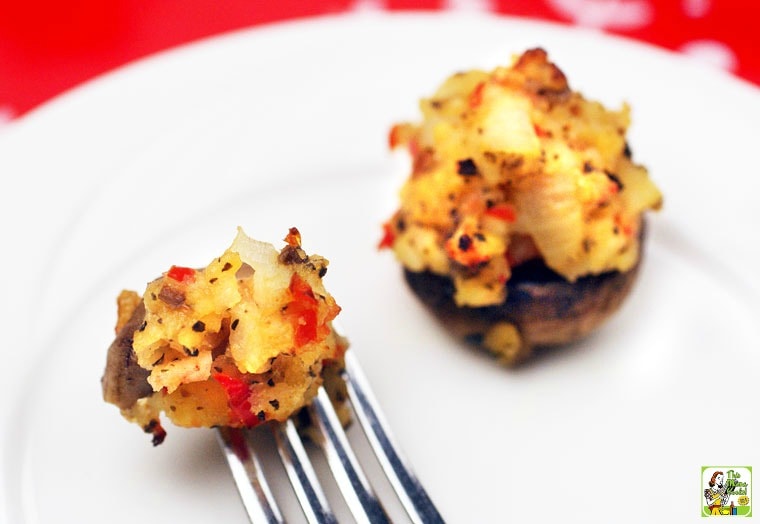 Tips to make these amazing gluten free crab stuffed mushroom appetizers
Concerned about timing? Then start making stuffed mushrooms the day before the party!
Prepare the mushrooms (the peeling of the outer skin) and vegetable/crab stuffing the day before the party.
Then cook the mushrooms and prepare the final stuffing and baking just before the party begins so your mushroom appetizers arrive freshly baked from the oven.
If your party is more on the casual side, have your guests help prepare the final bake by spooning the stuffing into the mushroom caps.
I'm sure you have a few friends who think they're Julia Child or Martha Stewart and would love to help bake up some gluten free crab stuffed mushrooms!
Or the kids can help make the mushroom appetizers. Don't forget to bring out your extra holiday aprons, for a festive touch!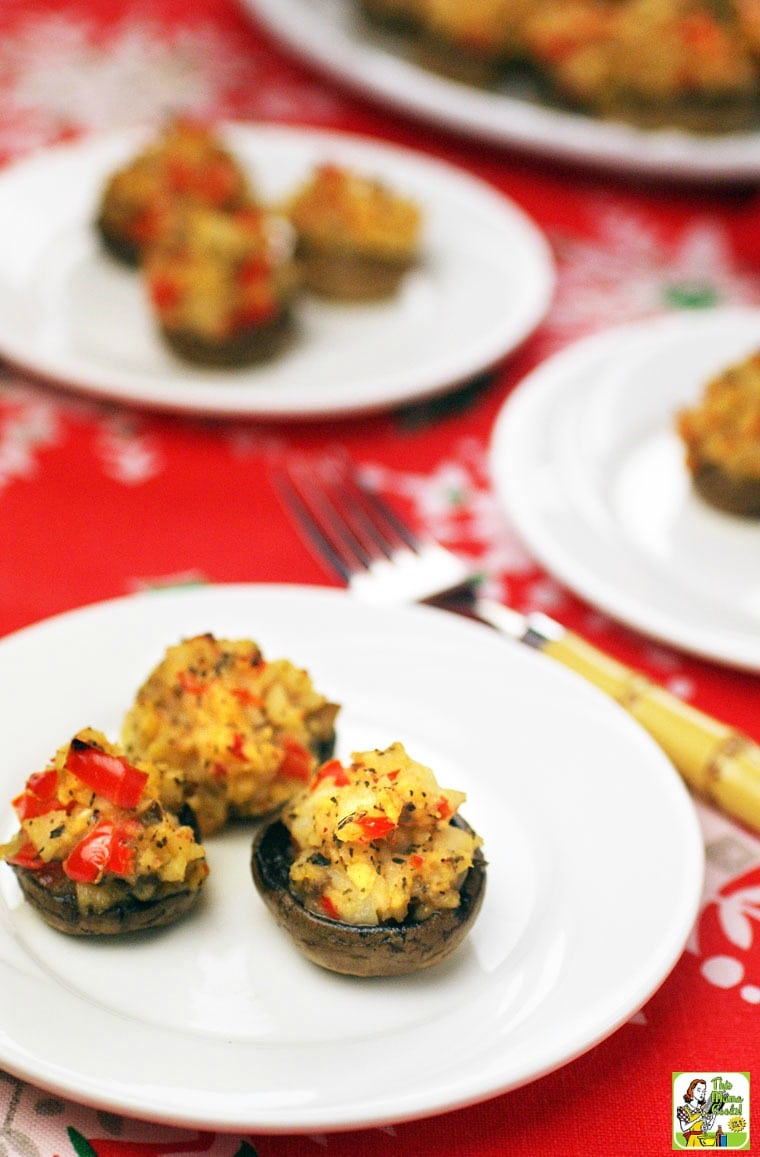 Make gluten free stuffed mushroom appetizers
Besides making sure the imitation crab is gluten free, you must do the following to make sure this is a gluten free recipe:
Use a gluten free bullion powder: I recommend Massel Vegetable Flavor Bouillon Stock Powder (Gluten-Free).
You can purchase it online if you can't find it at your grocery store or health food store.
I love Massel Bouillon for making stock when you need just a bit for a recipe, you don't have time to defrost frozen stock, or you forgot to pick up a few cans of stock at the store.
Put a few tablespoons of  gluten free Massel Bouillon powder in the cooking water when you're making rice or quinoa or use it to jazz up vegetable sauté.
Gluten free panko or GF bread crumbs: You can find gluten free panko style bread crumbs at health food stores, natural grocery stores, and online.
If you can't find gluten free panko, you can try gluten free bread crumbs.
Make your own from gluten free toast ground up in a blender. Or use gluten free cereal or rice crackers placed in a zip lock baggie and crushed with a rolling pin!
Baking: Bake the gluten free crab stuffed mushroom appetizers on silicone baking mats makes for easy cleanup!
Go dairy free and vegan: To make this easy stuffed mushroom appetizer dairy free, use a vegan buttery spread and a vegan substitute for Parmesan cheese.
More easy party appetizers
You can serve Sriracha Deviled Eggs Recipe or Wasabi Deviled Eggs Recipe at your next party.
(Make Instant Pot Pressure Cooker Hard Boiled Eggs Recipe for perfect eggs.)
If you love dips, try Easy Edamame Hummus Recipe or Avocado Hummus Recipe.
I also love serving Asian Style Gluten Free Meatballs as a dinner recipe.
Yield: 40 APPETIZERS
Crab Stuffed Mushrooms Recipe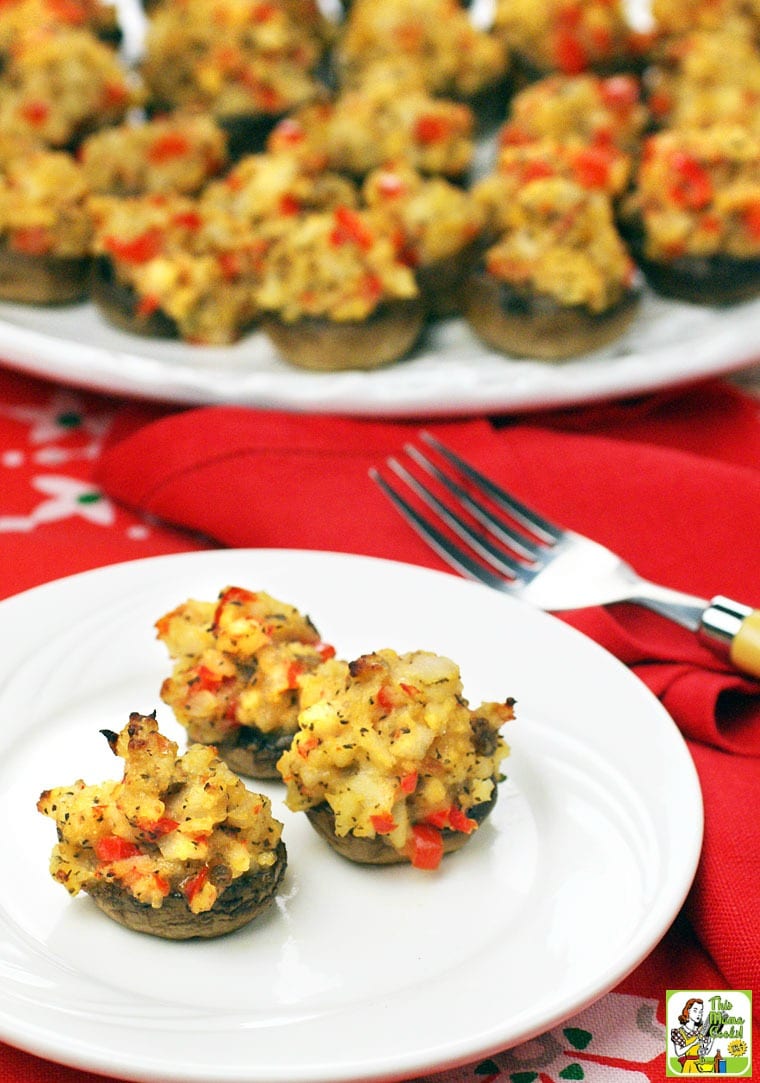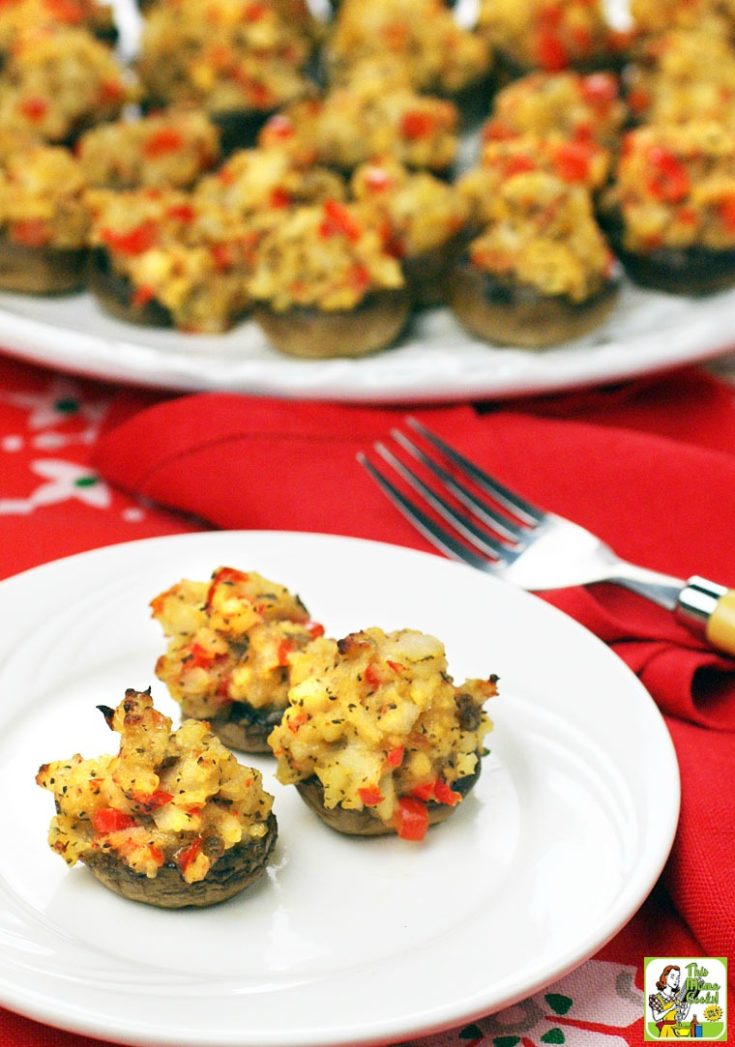 Gluten free crab stuffed mushroom appetizer that even kids will love. Serve this stuffed mushroom recipe at holiday parties.
Ingredients
2 16-ounce cartons Baby Bella mushrooms, stems removed, outer skin peeled off
1 cup olive oil
1/4 cup butter or buttery spread
2/3 cup red bell pepper, small dice
2/3 cup yellow onion, small dice
2/3 cup mushroom stems, small dice
2 teaspoons garlic, minced
1 cup water
2 tablespoons gluten free vegetable bullion powder
1/2 cup gluten free panko style bread crumbs
1/2 cup grated Parmesan cheese
2 teaspoons dried basil
1 8-ounce package imitation crab, flake style, chopped into small dice
Instructions
Preheat oven to 450 degrees F.
Cover baking sheets with silicone mats or aluminum foil. Using a pastry brush, coat mushrooms with olive oil and place on baking sheets. Place in oven and roast for 10 to 15 minutes until slightly tender.
Remove mushrooms from oven. Blot any puddles of moisture on mushrooms or baking sheets dry with paper towels. Set baking sheets aside to cool.
In a large sauté pan over medium-high heat melt butter. Add red peppers, onions, mushroom stems, and garlic to the pan. Sauté, stirring occasionally, until vegetables are slightly brown.
Add water and vegetable bouillon powder. Bring to a boil. Cook for 5 minutes. Turn off heat.
Add bread crumbs, Parmesan cheese, basil, and crab. Mix thoroughly.
Spoon vegetable and crab mixture into the mushroom caps. Don't be afraid to pile on the stuffing! Distribute evenly.
Place baking sheets in the oven at 450 degrees F for 10 to 15 minutes until the gluten free crab stuffed mushrooms start to brown. Serve hot.
Nutrition Information:
Yield:
20
Serving Size:
2 mushrooms
Amount Per Serving:
Calories:

177
Total Fat:

15g
Saturated Fat:

4g
Trans Fat:

0g
Unsaturated Fat:

11g
Cholesterol:

11mg
Sodium:

160mg
Carbohydrates:

9g
Fiber:

2g
Sugar:

3g
Protein:

3g
Nutritional information is automatically calculated per the ingredients list. Serving size may not be accurate. Please double-check with your preferred nutritional app for the most accurate information.
Originally published on December 19, 2015 and December 14, 2016. Updated with new pictures and information.