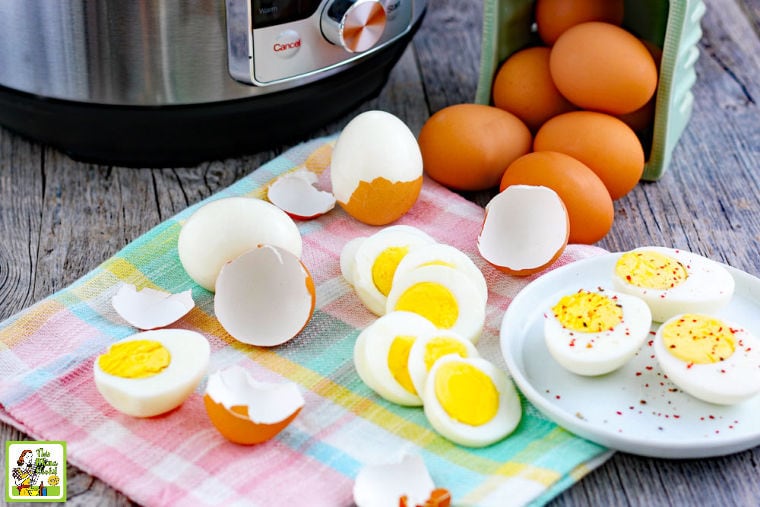 Instant Pot pressure cooker hard boiled eggs are the ONLY way to cook hard boiled eggs for Easter.
Pressure cooker hard boiled eggs are a big time saver when you need to make big batches of deviled eggs as party appetizers, too.
Not only can you cook big batches of hard boiled eggs in your Instant Pot. But you'll find that the egg shells slip right off when you cook them in a pressure cooker.
No more tossing out half of your boiled eggs or saving them for egg salad sandwiches when the egg whites stick to the shells.
It'll make you wonder how you ever made hard boiled eggs without an Instant Pot pressure cooker before!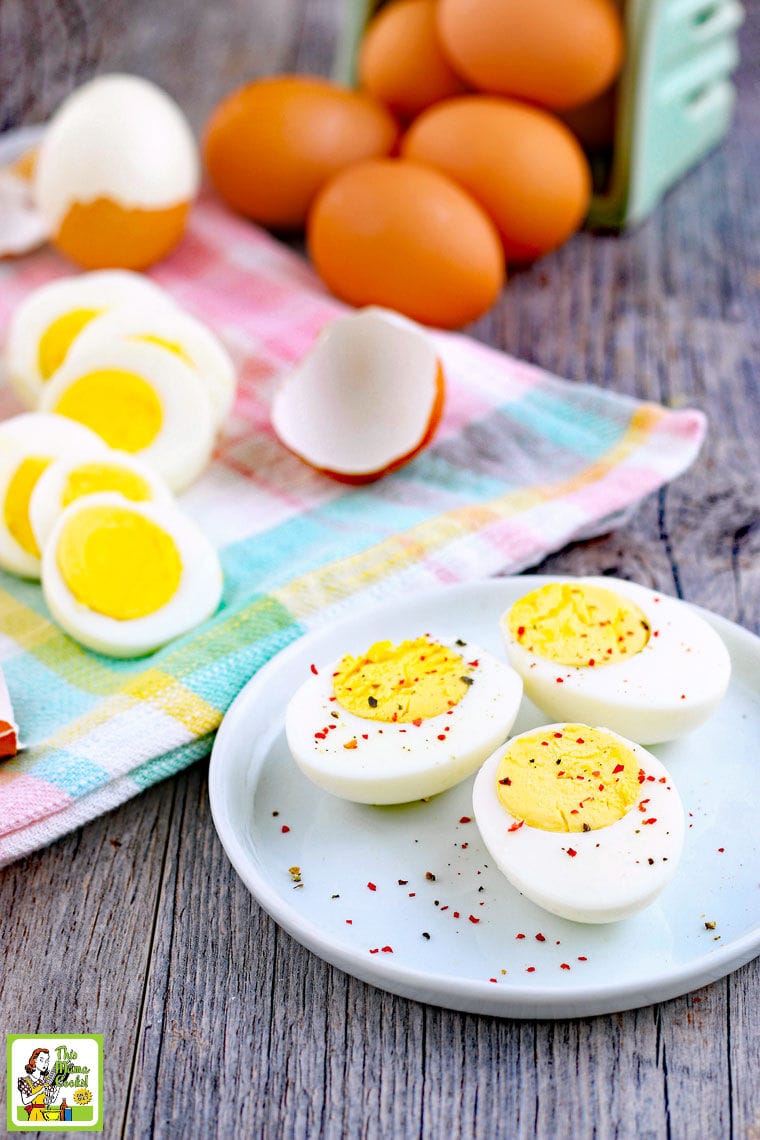 The best way to make pressure cooker hard boiled eggs
1. Place rack in bottom of your Instant Pot pressure cooker.
You can use one a special Instant Pot egg rack, if you have one.
You can also cook eggs with the pressure cooker steamer rack that came with your Instant Pot.
2. Add COLD water. If you use hot water, your eggs may crack when you add them.
3. Layer eggs in a single layer if you're using the steamer rack. Or place them in the egg rack.
4. Set timer for 5 minutes on the High pressure setting.
5. While the eggs are cooking, prepare your ice bath. You do this by placing ice cubes in a large bowl and filling it cold water.
6. When done, do a Quick Pressure Release. Then remove the pressure cooker lid.
7. Immediately remove the hard boiled eggs from the Instant Pot.
8. Quickly add the eggs to the ice bath.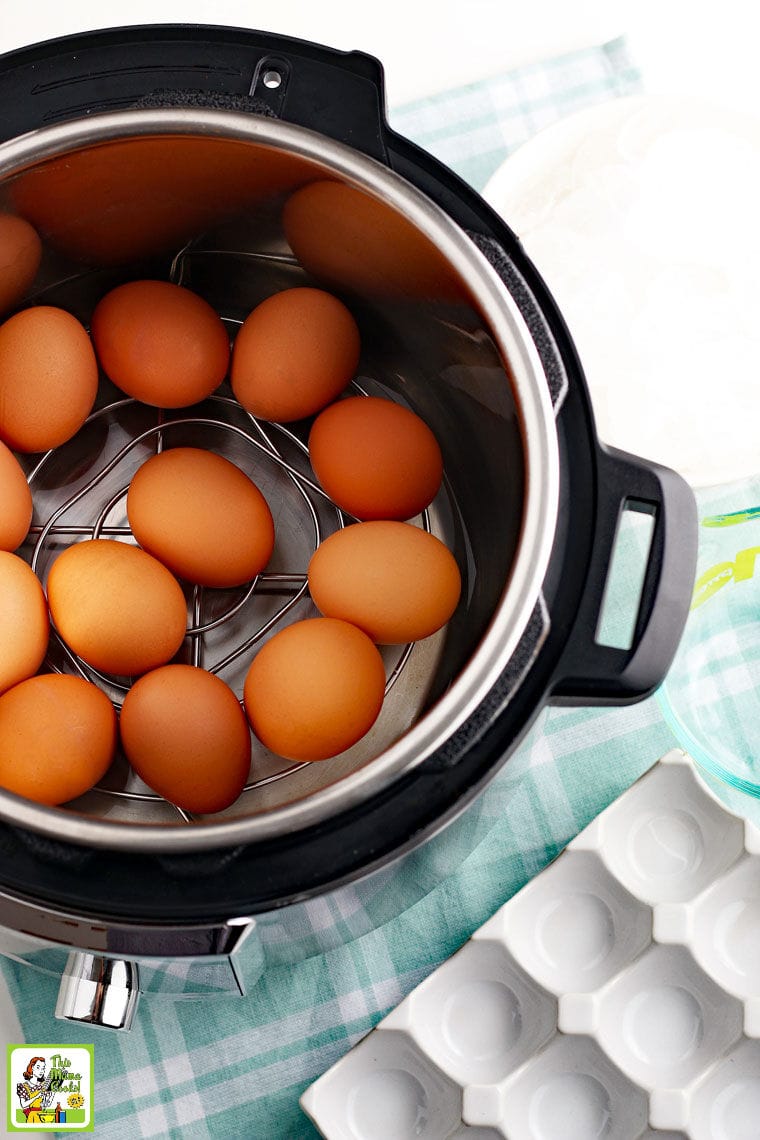 Of course, the Instant Pot boiled eggs will be super hot, so use tongs to place them into the ice bath.
9. Peel the eggs before storing in the refrigerator. (Afterwards, they're harder to peel.)
The only egg-ception is dyed Easter eggs, which you'll want to dye and then refrigerate for later.
Just remember that you shouldn't leave hard boiled eggs out for more than a couple of hours. (Use plastic eggs for the Easter Egg Hunt!)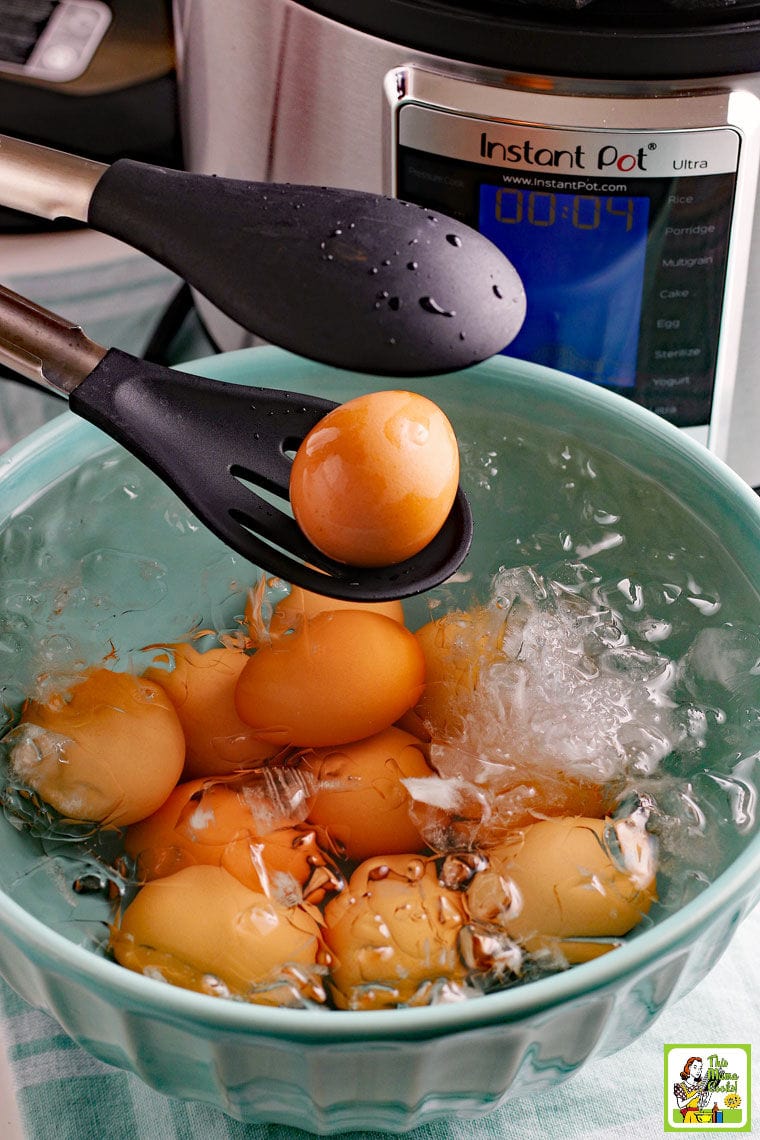 The Instant Pot 5-5-5 method for cooking hard boiled eggs
The best way to make pressure cooker hard boiled eggs is called the Instant Pot Hard Boiled Eggs 5-5-5 Method.
● 5 minutes to come to pressure
● 5 minutes cook time
● 5 minutes quick release
Actually, it should be called the 5-5-5-5 method, because you need to add another step to get the eggs to peel perfectly.
● 5 minutes in an ice water bath
This step is important so you get easy to peel eggs to use in deviled eggs appetizers like Wasabi Deviled Eggs or Sriracha Roasted Red Pepper Deviled Eggs.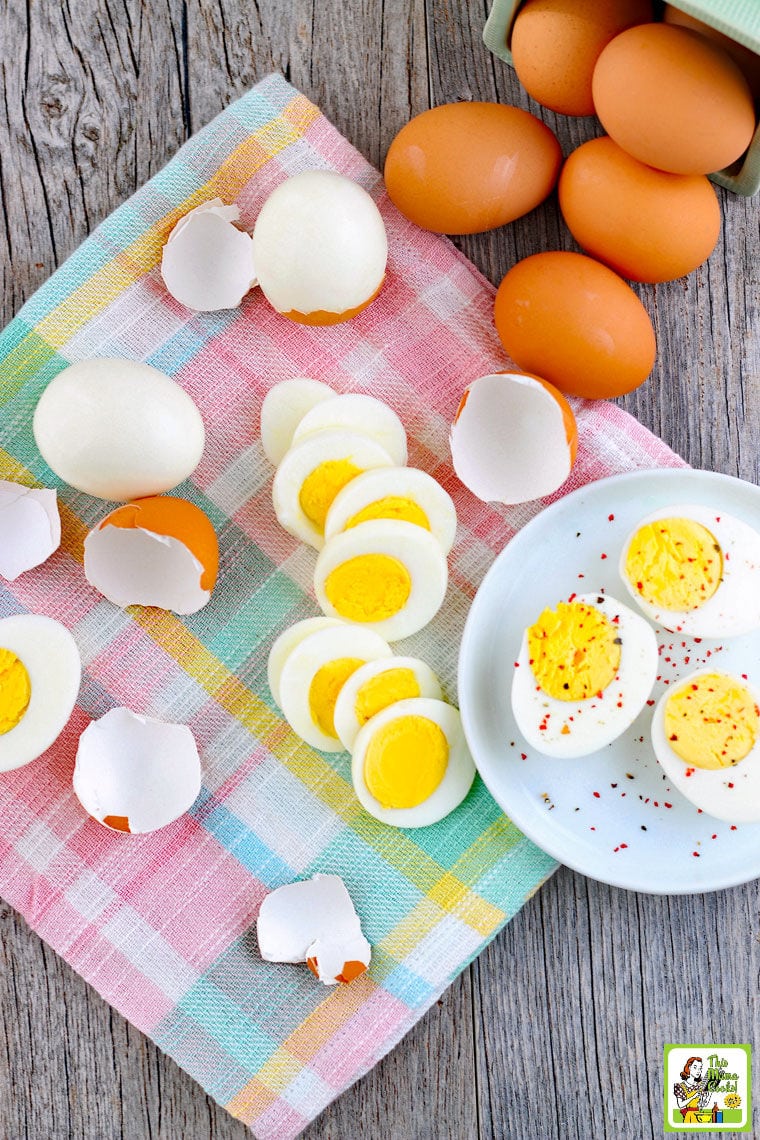 Other methods for making instant pot hard boiled eggs
Now that I told you about the 5-5-5 method, some people have other ways of doing things, of course.
They believe in the 4-4-4- or 6-6-6 method is best when making their hard boiled eggs in their Instant Pots.
There are many reasons why people want to cook their pressure cooker boiled eggs for more or less time.
● Some people like medium hard boiled eggs – these take less time to cook (the 4-4-4 method).
● Others prefer well done boiled eggs that take more time in the pressure cooker (the 6-6-6- method).
● If you're at elevation, your eggs may need more cook time (so 6-6-6).
● If you use farm fresh eggs with smaller yolks, your eggs may cook more quickly (so 4-4-4).
Finally, your pressure cooker may take more or less time to perfectly cook a hard boil egg depending on how old it is, too. (Is your head spinning yet?)
Whatever method you choose, still cool down the eggs for 5 minutes in the ice bath so you get easy peel eggs!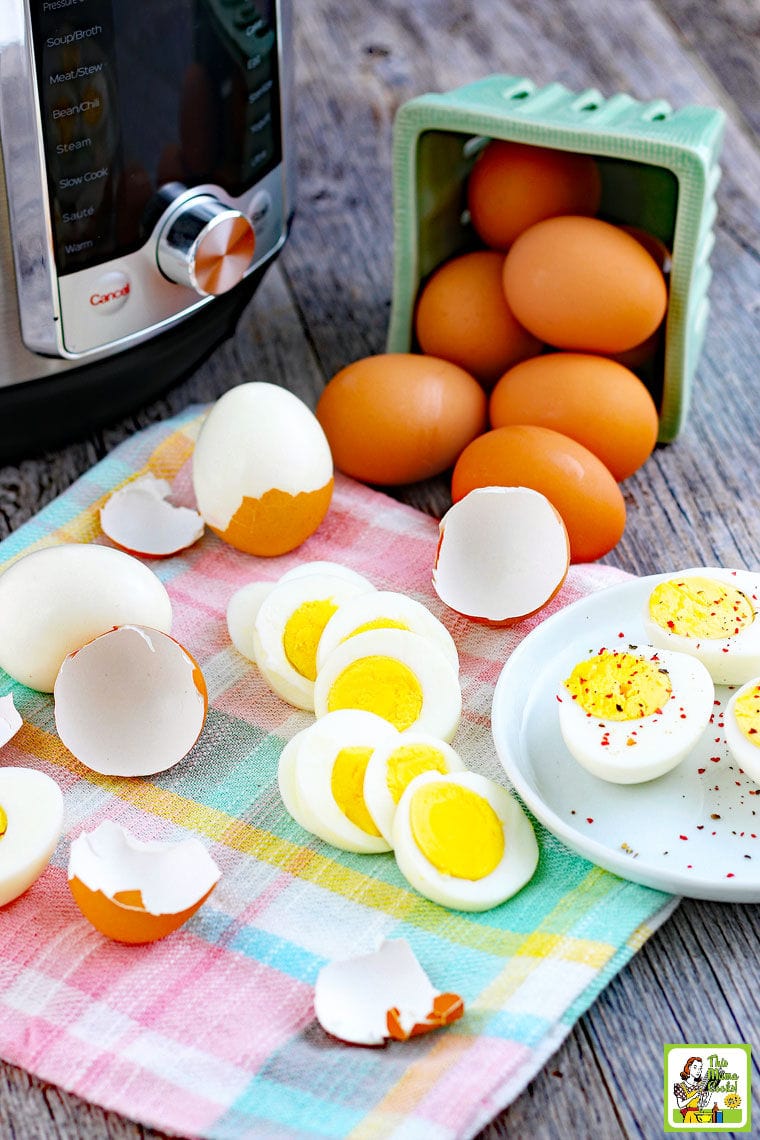 More tips for making perfect pressure cooker hard boiled eggs
Making instant pot hard boiled eggs in an 8 qt pressure cooker: The recipe below is for a 6 quart pressure cooker. Use 1 1/2 cups of cold water for an 8-quart Instant Pot.
Then, cook at high pressure for 3 minutes and do a quick pressure release.
Since it takes more time for a larger pressure cooker to come up to pressure, the eggs need less time to cook. (They're in the pot longer.)
Cooking your first batch: When you're making your first batch of pressure cooker hard boil eggs, start with six eggs for five minutes. If you like your results, then terrific!
If not, you only messed up six eggs and can use them in a Cobb Salad, egg salad sandwiches, or Avocado Deviled Eggs.
Next time, try another minute if your eggs were under cooked or a minute less if they were over cooked.
Yield: 6 TO 12 EGGS
Instant Pot Pressure Cooker Hard Boiled Eggs Recipe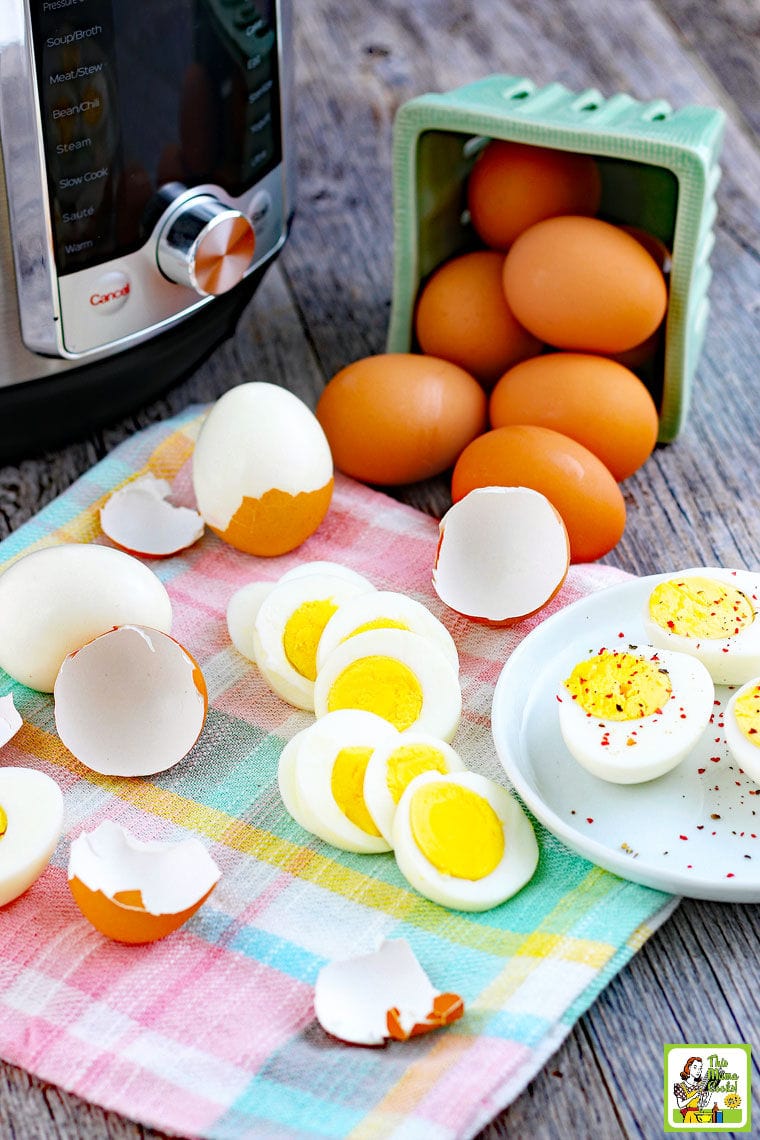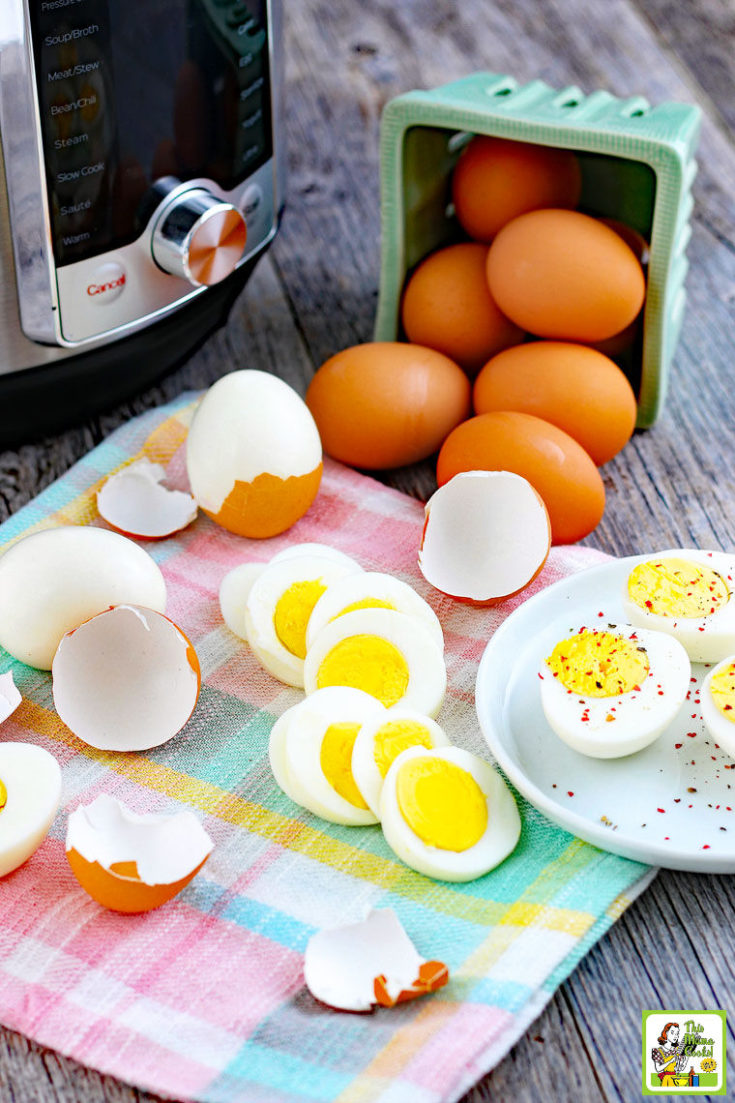 Learn how easy it is to make pressure cooker hard-boiled eggs. Instant Pot hard-boiled eggs turn out perfectly and are easy to peel.
Ingredients
6 to 12 eggs - depending on the size of the pressure cooker and if using an Instant Pot egg rack
1 cup cold water (for 6-quart pressure cooker)
Ice
More cold water
Instructions
Pour 1 cup of cold water into your Instant Pot pressure cooker.
Place steam rack into Instant Pot. Layer eggs in a single layer on top of the pressure cooker rack.
Place the lid on the pressure cooker and set for 5 minutes on the manual, high-pressure setting.
While eggs are cooking, prepare an ice bath by placing ice cubes in a large bowl and fill it with cold water.
Cook the eggs, then do a manual quick release at 5 minutes.
Immediately add hard-boiled eggs to an ice bath. Eggs should sit in an ice bath for 5 minutes.
Remove eggs from the water bath and dry them with a paper towel. Crack or roll eggs on a paper towel covered countertop to carefully remove the shell.
Store pressure cooker hard-boiled eggs in the refrigerator for up to a week.
Recommended Products
As an Amazon Associate Affiliate and member of other affiliate programs, I earn from qualifying purchases.
Nutrition Information:
Yield:
12
Serving Size:
1 egg
Amount Per Serving:
Calories:

77
Total Fat:

5g
Saturated Fat:

2g
Trans Fat:

0g
Unsaturated Fat:

3g
Cholesterol:

202mg
Sodium:

79mg
Carbohydrates:

0g
Fiber:

0g
Sugar:

0g
Protein:

7g
Nutritional information is automatically calculated per the ingredients list. Serving size may not be accurate. Please double-check with your preferred nutritional app for the most accurate information.