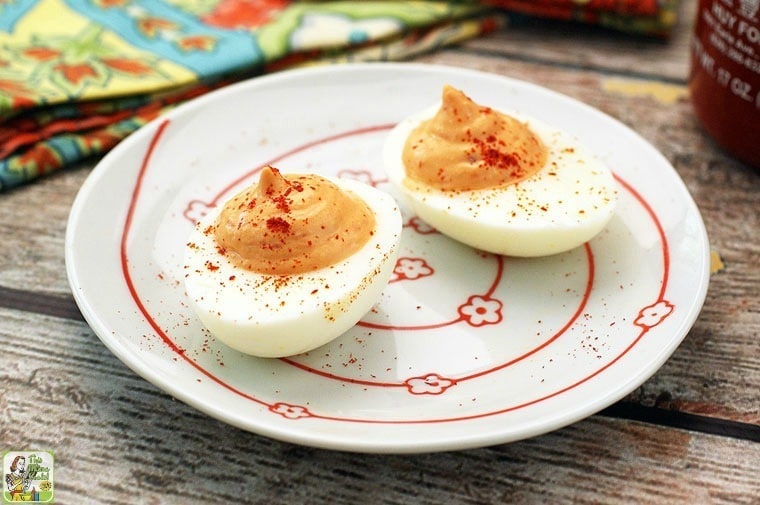 We have a good friend, Barry, who is famous for his red hot deviled eggs. I'm not sure what Barry uses in his eggs, maybe Tabasco sauce, but they're SPICY HOT! My son, Nathan, who is a connoisseur of all things spicy, loves Barry's red hot deviled eggs. Knowing so many of us will have hard boiled eggs after Easter – and March college basketball games to watch – I wanted to share a spicy but easy deviled egg recipe similar to Barry's – but not 10 alarm crazy hot. So here's my Sriracha Roasted Red Pepper Deviled Eggs recipe!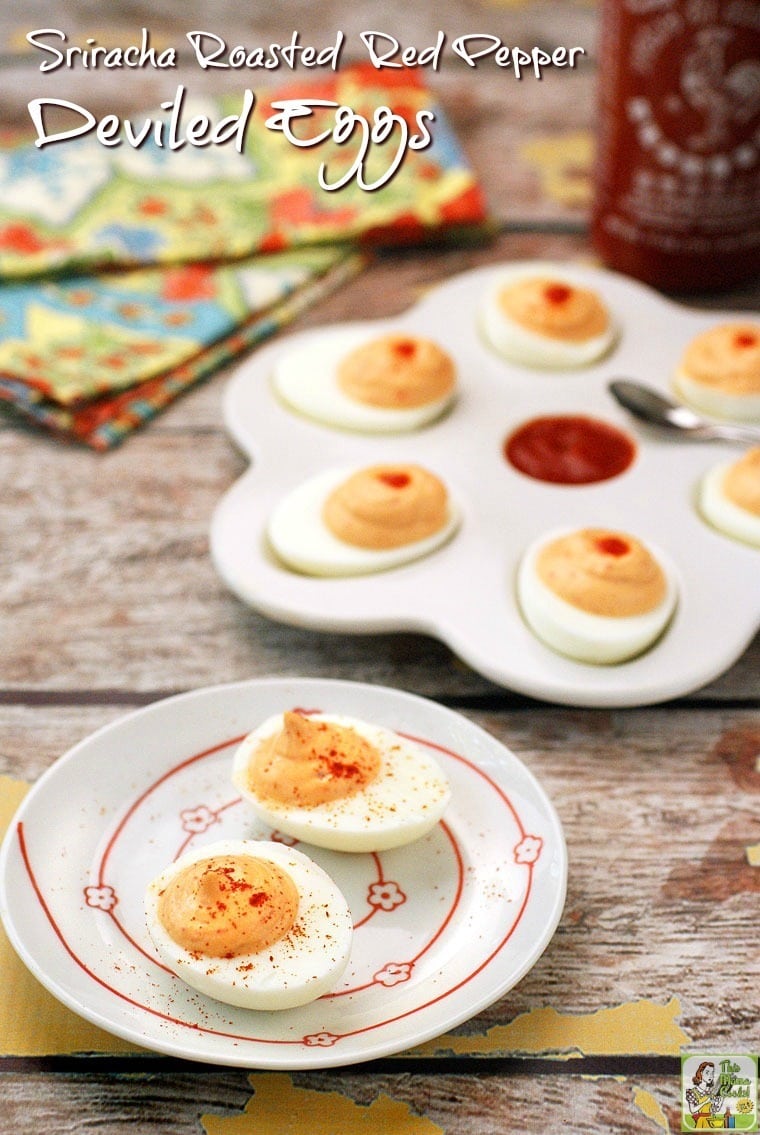 Tips for making Sriracha Roasted Red Pepper Deviled Eggs
Fiesta 11-Inch Egg Tray, Scarlet by Homer Laughlin
To cool down the heat and add some vegetable goodness and color, I added roasted red peppers to the spicy deviled egg recipe. You can make your own roasted red peppers, but using jarred roasted red peppers makes this deviled egg recipe extremely easy. Use any leftover roasted red peppers in salads, on pasta, or diced and mixed into stir fries, rice or quinoa.
Since I'm not into spicy deviled eggs like Nathan, I made this deviled egg recipe rather mild. Add more sriracha sauce if you like. For the garnish, you can add more heat by sprinkling on smoked paprika or ground chipotle pepper, if you're really adventurous. Serve more sriracha sauce on the side, too!
Since this is a healthy deviled egg recipe, I suggest using a light mayonnaise. Since so many of them have somewhat "less than wholesome" ingredients, try using Kraft Mayonnaise with Olive Oil, which has half the fat and calories of regular mayonnaise and tastes great.
For extra spiciness and heat, I used Nakano Red Pepper Seasoned Rice Vinegar. This vinegar is also terrific in salad dressings and on fish. I find Nathan putting it on his rice!
If you have a crowd over to watch the games, you may want to get several egg plates. I have my mom's old classic glass egg plate and I found a few funky ones at thrift stores. However, I love the ceramic egg plates that Fiesta makes, since they come in a variety of colors that will match your dinnerware. Plus, you can use them year round since they aren't holiday specific.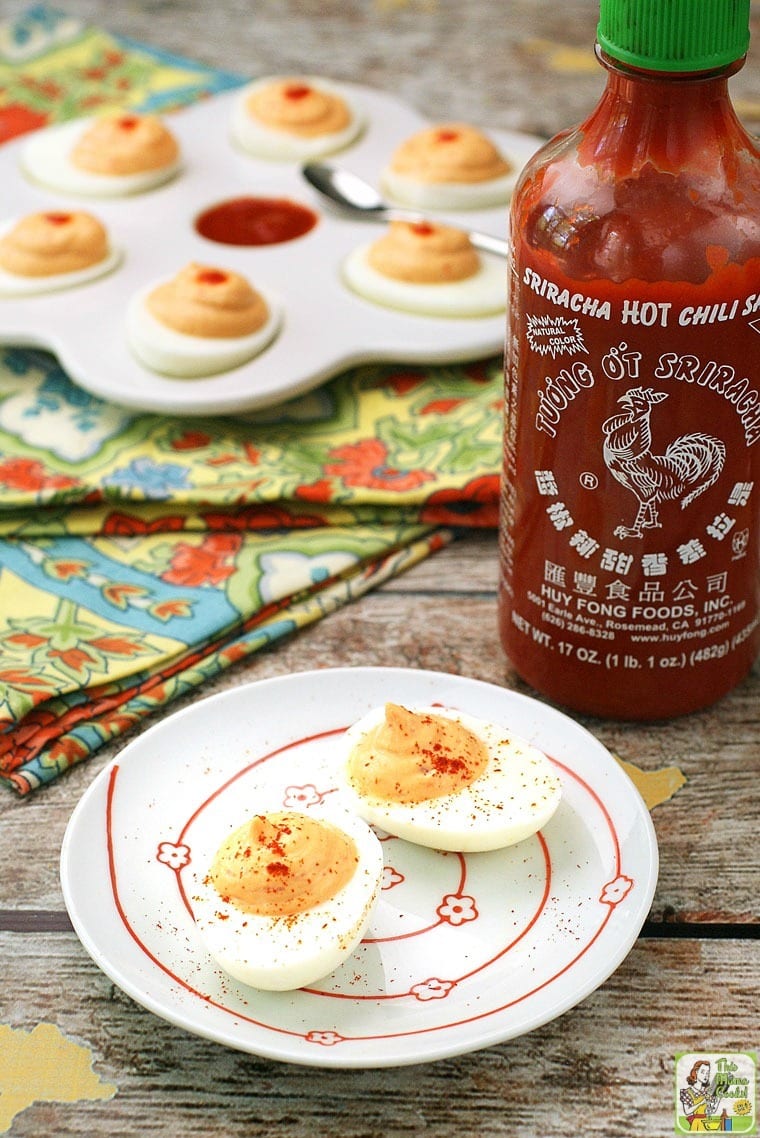 Like this deviled egg recipe? Then check out these easy deviled eggs recipes. All these simple deviled egg recipes are perfect for parties and potlucks!
How to cook perfect hard boiled eggs
I used to use a Norpro Egg Rite Egg Timer to make hard boiled eggs. These gadgets work great until you forget that you have eggs boiling on the stove – and end up with a melted egg timer and over cooked eggs!
After melting a couple of them, I developed a foolproof way to make hard boiled eggs. Since most classic deviled egg recipes call for six eggs, I cook up a few more. Inevitably, a couple will get cracked, will be hard to peel, or will end up getting torn.
Put 8 or 9 eggs in a medium sized pot and cover with cold water.
Place pot on stove over high heat and bring to a boil.
Turn off heat. Remove pan from stove and cover.
Let eggs cook in the hot water for 11-12 minutes.
Bring pot over to sink, uncover and rinse eggs under cold water until they are cool enough to handle.
Place eggs in a bowl. Refrigerate for several hours, then peel.
Rinse any shell pieces or membranes off of eggs, cut in half with a sharp knife, remove yolks, and prepare eggs as directed.
If you have extra hard boiled eggs, save them for a salad or make a quick egg salad sandwich!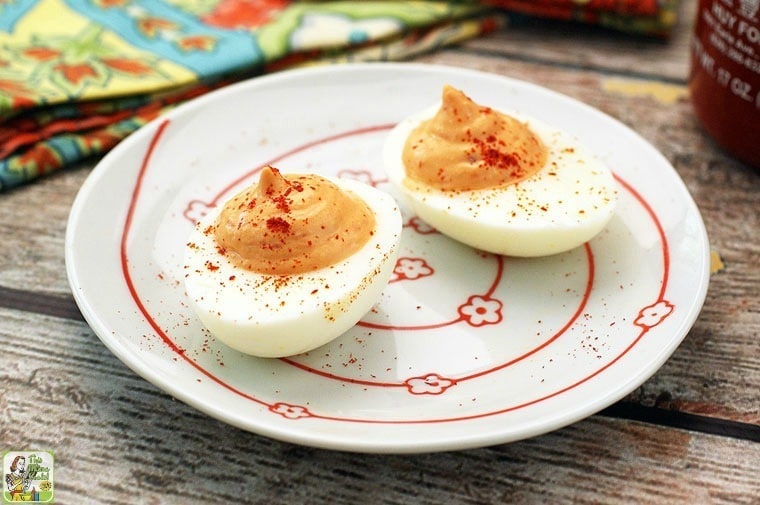 Sriracha Roasted Red Pepper Deviled Eggs
Directions
Combine egg yolks, fire roasted red peppers, light mayonnaise, rice vinegar, sriracha sauce, and salt in a mini-food processor or blender. Pulse until well blended and creamy.
Place egg mixture into a piping bag. Pipe egg mixture into egg white halves. Garnish with optional spice. Serve immediately.
Servings
:
12 deviled eggs
Serving size:

1 deviled egg
Originally posted April 18, 2014. Updated with new pictures.
McCormick Gourmet Fancy Paprika, 8.5 Ounce
McCormick Gourmet Collection, Chipotle Chile Pepper, 2-Ounce Unit
Huy Fong, Sriracha Hot Chili Sauce, 17 Ounce Bottle
Anchor Hocking Egg Plate Presence Clear Glass
&