Last Updated on October 6, 2021 by Anne-Marie
You'll love this Sweet Potato Pork Hash recipe if you love eating breakfast for dinner recipes. It uses dinner favorites like pork, sweet potatoes and corn.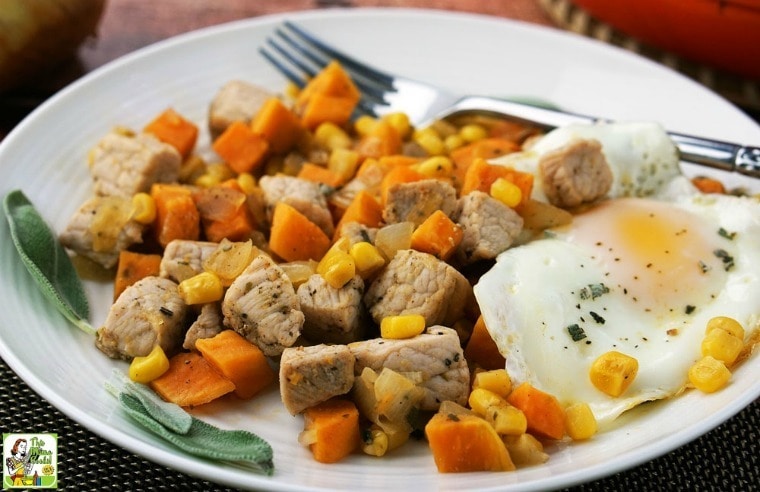 Why this recipe works
With a few supermarket shortcuts, this sweet potato hash recipe is easy to make since you can cook it up in a large skillet in 30 minutes or less.
A hash recipe like this one is also a terrific brunch recipe, especially with those gorgeous sunny-side up eggs.
Imagine how pretty that skillet will look on your table!
How to make sweet potato pork has in 30 minutes or less
If you've had a long day running the kids to afterschool activities or dealing with a long work commute, it's hard to find the energy to cook something wholesome and delicious.
That's why people love brinner (breakfast for dinner) recipes. Unlike a full blown dinner, this Sweet Potato Pork Hash recipe that only takes 30 minutes (or less) to cook up.
The key to making this hash recipe is using pre-marinated pork from your grocery store.
(I cook pork loin all the time, but never marinate it since it's usually too much of a hassle.)
Using pre-marinated pork from your grocery store gives this sweet potato hash recipe more flavor and tenderizes the pork.
Also, since the pork is already full of flavor, you don't need to add more seasoning to your pork hash recipe, which saves you more time and effort.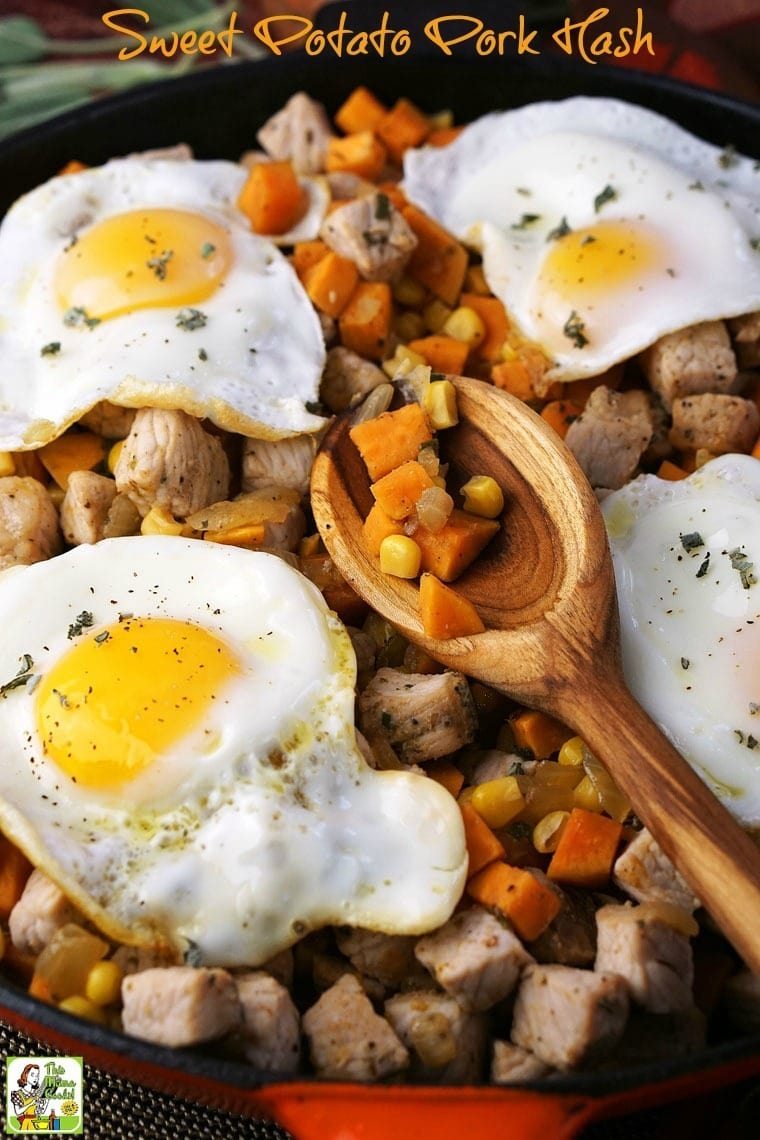 Tips for making a quick pork hash recipe
Here are a few short cuts to make this this sweet potato hash recipe in 30 minutes or less:
Prepared vegetables: use already chopped sweet potatoes and onions from your grocery store. (You'll find them in the salad aisle.)
It's worth the extra money if you don't have to spend all that time peeling and chopping!
Food chopper: But if you can't justify the expense, use a manual food chopper to chop your onions.
Use frozen veggies: Another option is using frozen onions and sweet potatoes. This will save you time, since they're already washed, peeled and chopped.
No need to defrost, just add them to the skillet and cook until soft.
You can also use frozen corn instead of canned corn. (But don't use creamed corn – yuck!)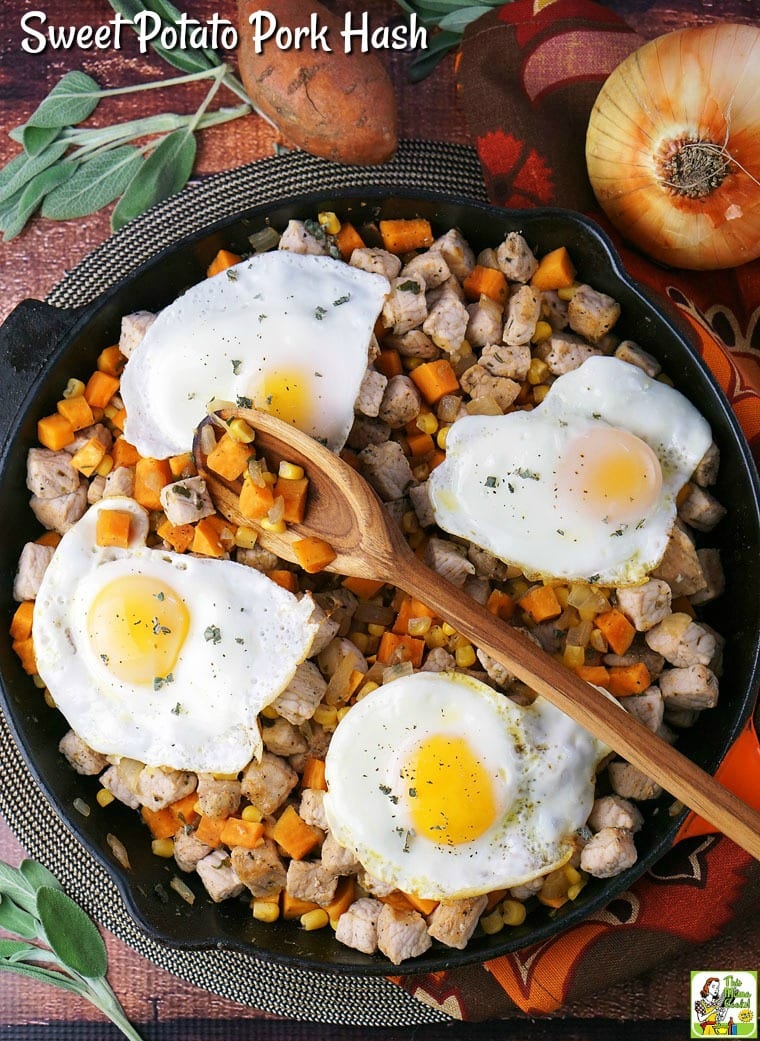 Herbs: I love fresh sage, because it's so aromatic when minced and the leaves make a pretty garnish.
It's O.K. to use dried sage instead. A generous 1/4 teaspoon will add plenty of flavor to your Sweet Potato Pork Hash.
Eggs: I'm calling this a one-pot recipe even though I made my sunny-side eggs in a separate frying pan. I just don't see the point of emptying the pork hash into a bowl and then cooking up the eggs in the skillet.
You're going to have to clean up an extra bowl or pan no matter what.
Also, the sunny-side egg is optional. If eggs aren't your thing, this sweet potato pork hash recipe is terrific on its own. Or just serve eggs to those who want them!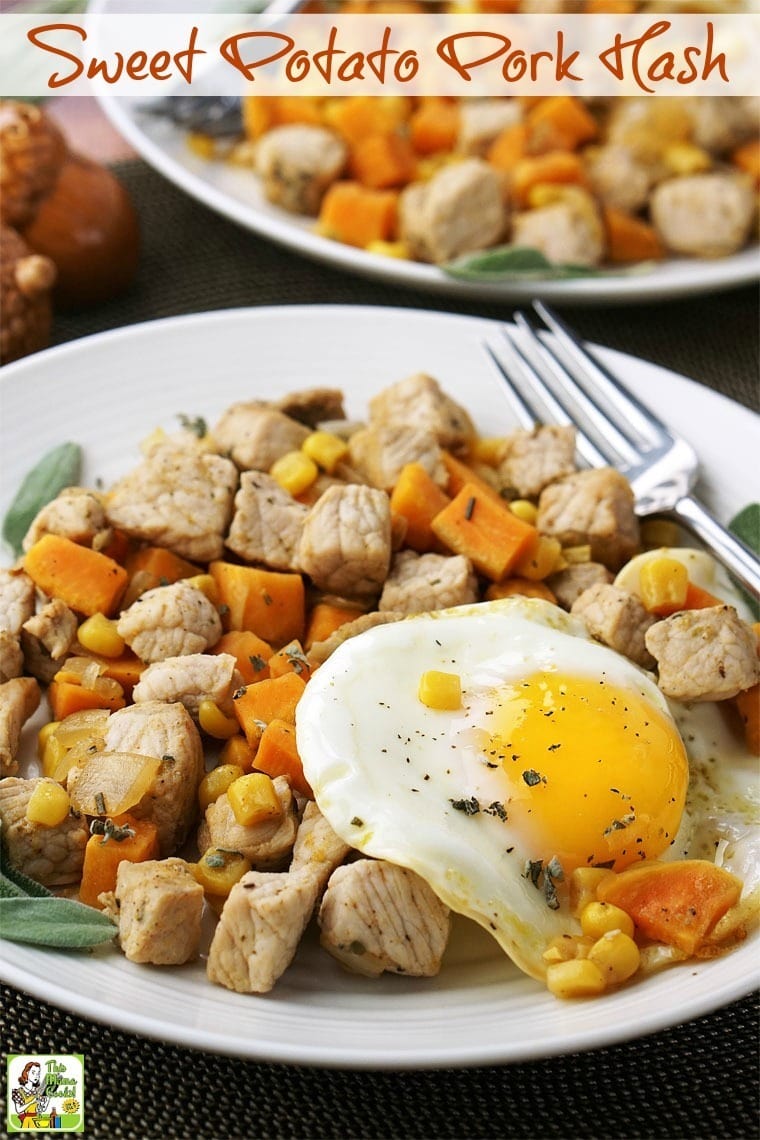 Making perfect sunny-side up eggs for this pork hash recipe
Want to know my trick to cooking up the perfect sunny-side up egg?  Use a hot pan and cover it with a lid! Here's how:
1. Heat olive oil in a small non-stick frying pan over medium high heat. Then crack the egg into the hot pan.
(Can you crack an egg with one hand? I can! My kids think it's so cool when I do that.)
2. Cover the pan with a lid. Turn down the heat to low.
3. Cook until the egg is done the way you like it – runny, medium or hard.
4. Then slide the cooked egg on to your Sweet Potato Pork Hash recipe – either on to the big skillet or an individual serving.
You can cook the eggs while the sweet potatoes and onions are cooking to save time.
Just place them on a greased plate (use cooking spray) and keep in a just barely warm oven until serving time.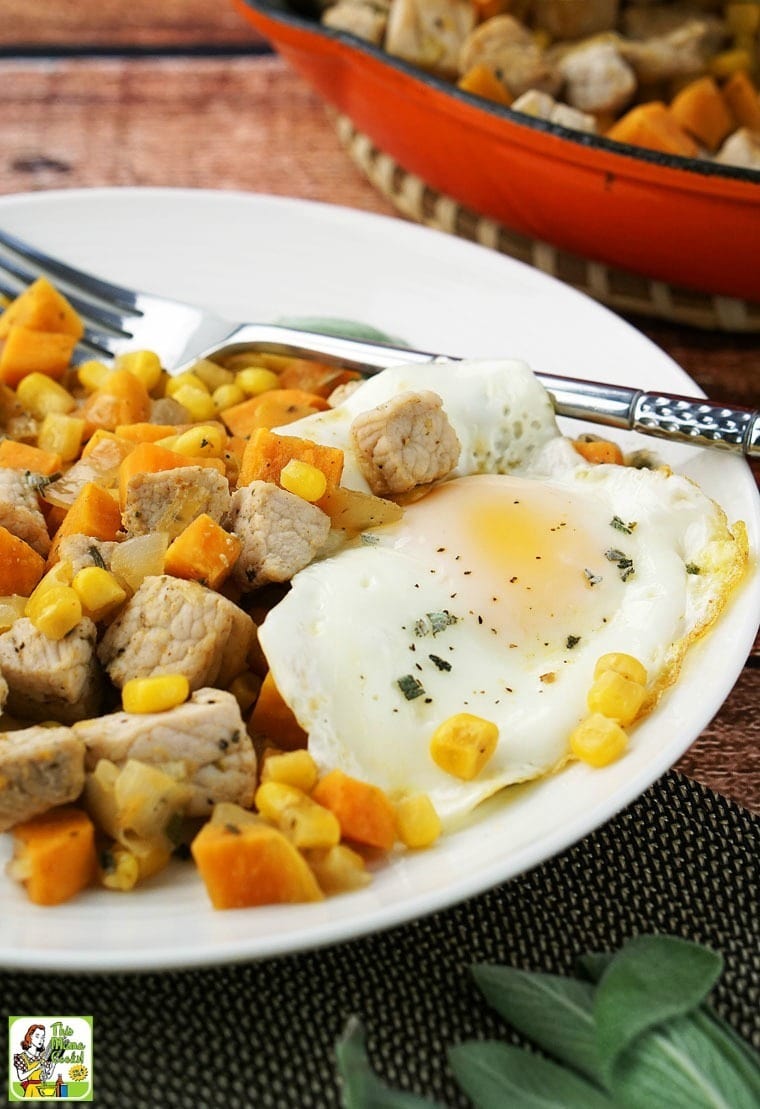 More terrific skillet recipes
Yield: 6 SERVINGS
Sweet Potato Pork Hash Recipe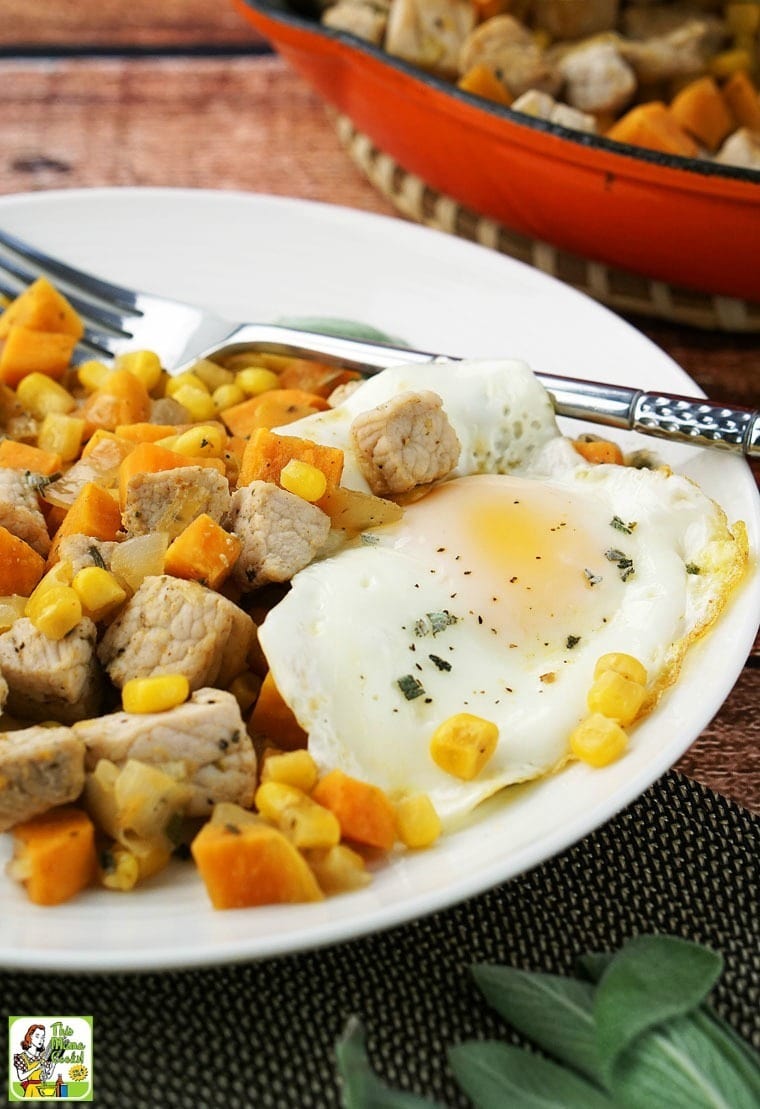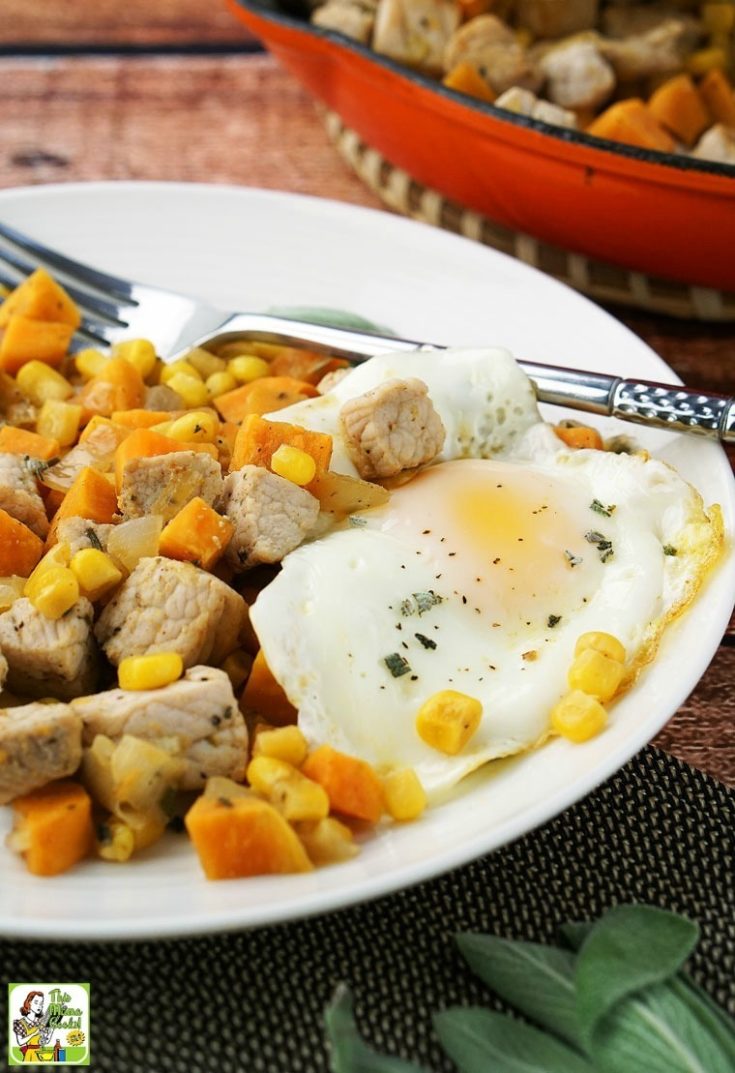 Learn how to make a sweet potato pork hash recipe for breakfast or dinner. This pork hash recipe can be made in 30 minutes or less.
Ingredients
1 tablespoon olive oil
2 pounds pre-marinated fresh pork loin filet, cut into bite-sized pieces
1 pound sweet potatoes, diced
1 large yellow onion, diced
1 teaspoon finely chopped fresh sage (plus extra for garnish)
1/2 cup water (more, if needed)
1 15-ounce can corn, drained
1/2 teaspoon sea salt
1/8 teaspoon ground black pepper
6 eggs (optional)
Instructions
Heat oil in a large skillet over medium high heat. Add pork and sauté until the meat is cooked through – about 4-5 minutes. Using a slotted spoon, scoop up pork and place in a medium sized bowl. Pour any juices back into skillet.
Add sweet potatoes, onions, sage, and water to the skillet. Stirring occasionally, cook vegetables over medium-high heat until soft – about 9-10 minutes. Add more water if the pan becomes dry. (Covering the pan with a lid will speed up the cooking process.)
Lower heat to medium-low and add corn. Cook for 1-2 minutes until heated through.
Add pork and stir to combine ingredients. Lower heat to very low and cover to keep warm.
Prepare sunny-side eggs to go on top of the hash, if desired. Add salt and pepper to eggs to taste. Serve.
Nutrition Information:
Yield:
6
Serving Size:
1
Amount Per Serving:
Calories:

399
Total Fat:

17g
Saturated Fat:

5g
Trans Fat:

0g
Unsaturated Fat:

10g
Cholesterol:

260mg
Sodium:

464mg
Carbohydrates:

28g
Fiber:

4g
Sugar:

9g
Protein:

33g
Nutritional information is automatically calculated per the ingredients list. Serving size may not be accurate. Please double-check with your preferred nutritional app for the most accurate information.
Originally published on October 20, 2016. Updated with new pictures and information.