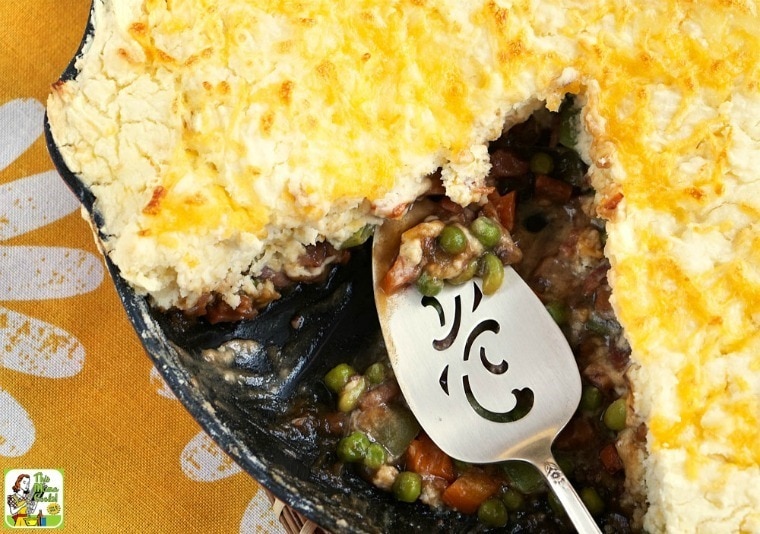 I've made this with ham, but if you have leftover turkey, chicken, or beef, you can turn this easy ham pot pie recipe into a chicken or turkey pot pie recipe or a beef pot pie recipe.
No leftovers? Not to worry! You can buy rotisserie chicken at your grocery store, canned chicken, or some deli meat.
Whatever meat or poultry you choose, make sure it's precooked as that's what the recipe requires.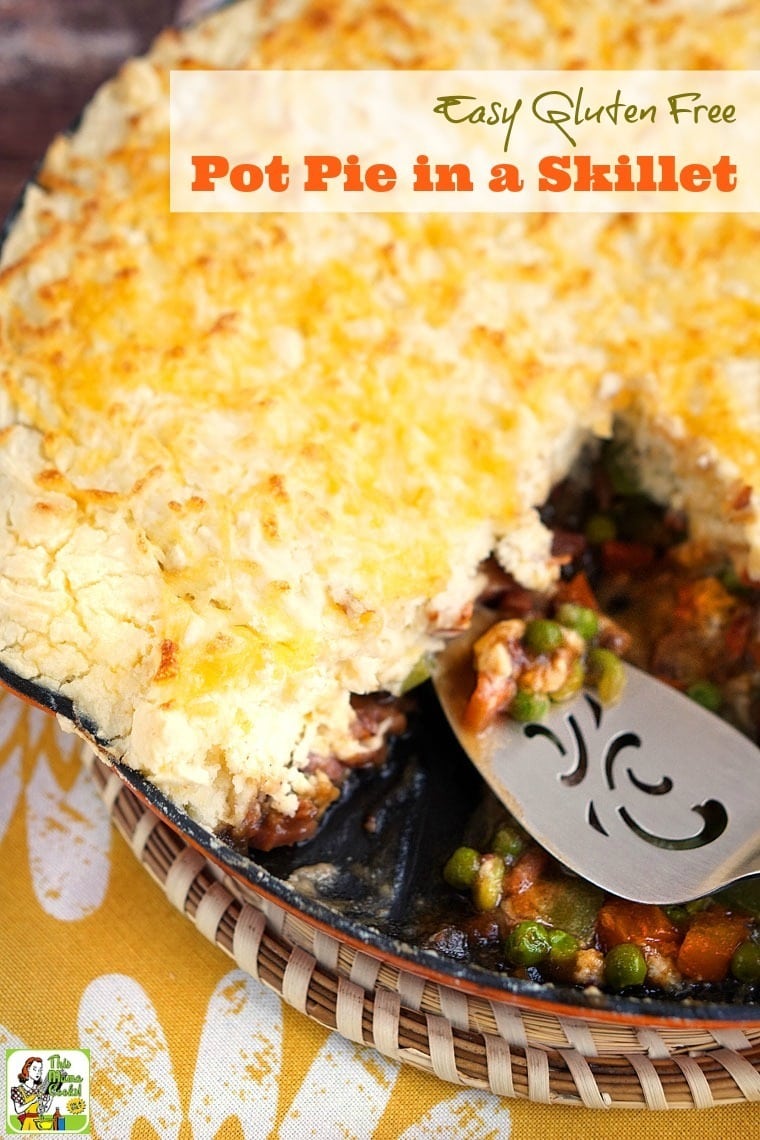 Finally, If you're like me, you always have a few bags of green beans or peas and carrots for side dishes or stews – or in this case, Easy Gluten Free Pot Pie in a Skillet! I always make sure to stock up on frozen vegetables when they're on sale.
Making sure this skillet pot pie is gluten free
Check out a few of my favorite, can't-live-without products to use in this gluten free pot pie. The first is Orrington Farms Brown Gravy Mix. It's certified gluten free and it's wonderful!
The gravy comes out perfect each time (no lumps) and is delicious. You can find it with the rest of the gravy mixes at your grocery store.
If you prefer making brown gravy from scratch for this Easy Gluten Free Pot Pie in a Skillet that's perfectly A-OK. If you're not gluten free, use your favorite (not gluten free) brown gravy mix.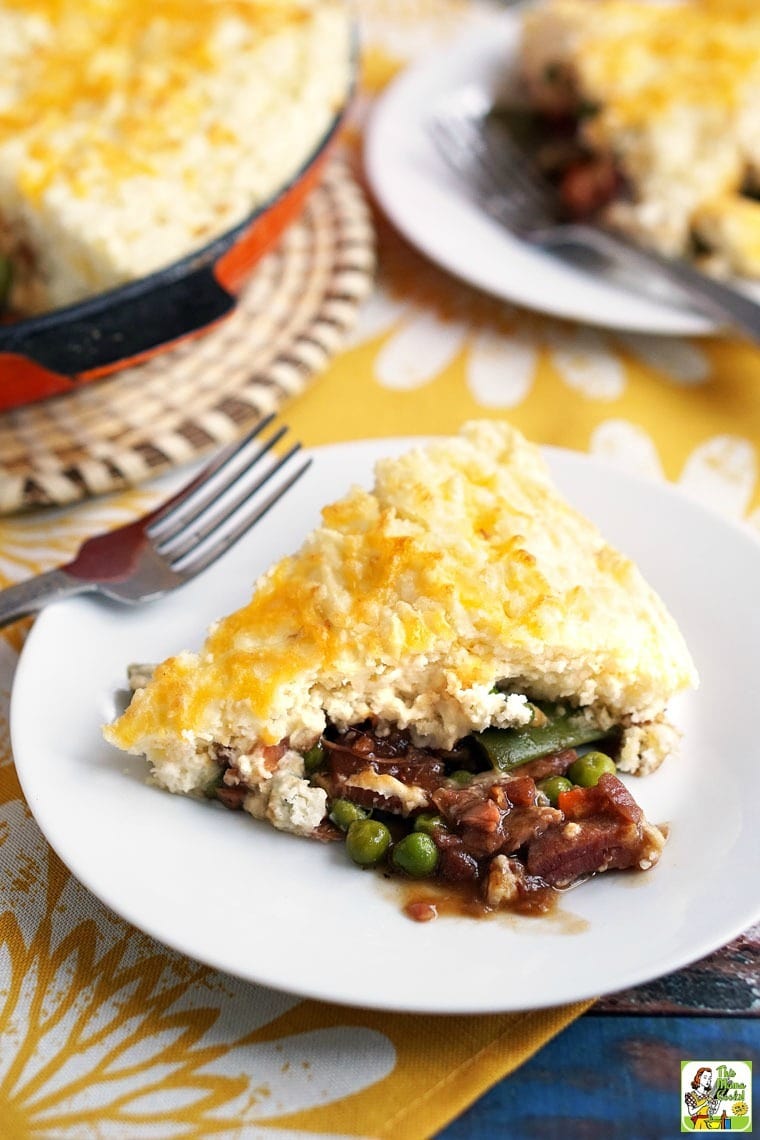 Another must have item for this homemade ham pot pie is Bisquick Gluten Free Pancake and Baking Mix. You can find this between the flours and pancake mixes.
This Mama's tips for gluten free skillet pot pie
If you need to avoid dairy products, use unsweetened coconut or soy milk instead of cow's milk in this ham pot pie.
Then eliminate the cheese or use a vegan cheese that melts well. (There's no dairy in the baking or gravy mixes.)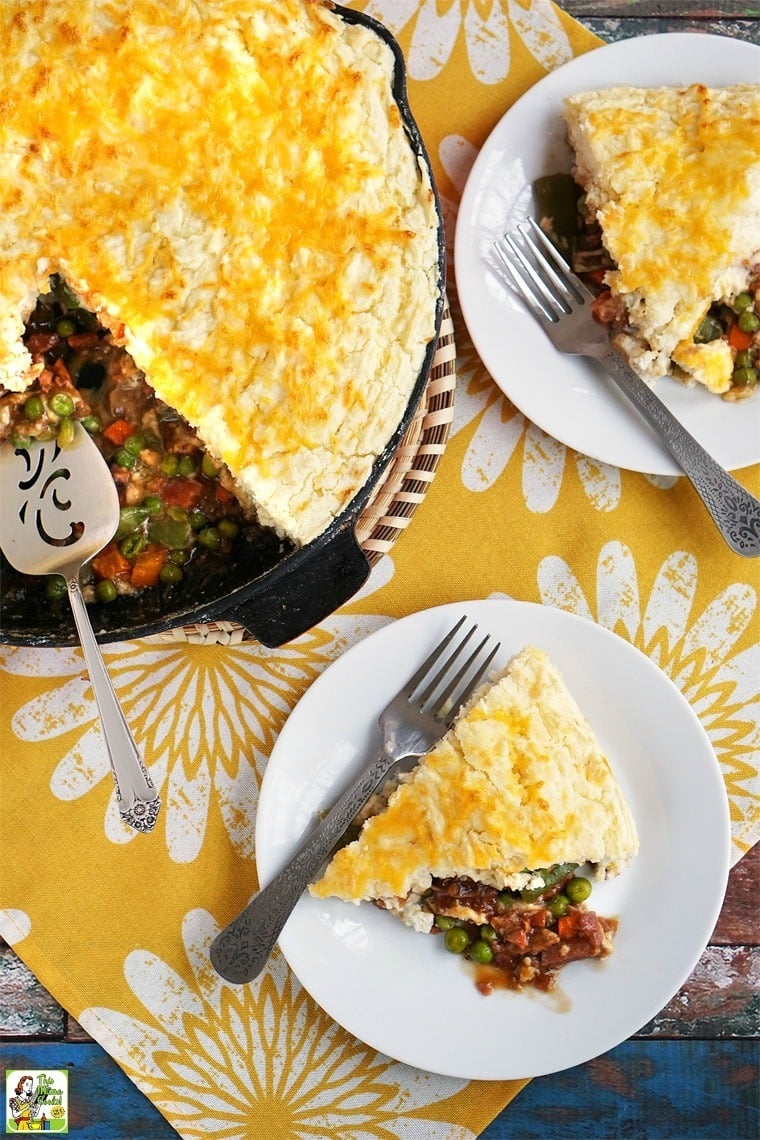 If you're not gluten free, just make this a regular Bisquick chicken pot pie or ham pot pie. This recipe is as flexible as you need it to be!
Like I said before, feel free to experiment with the type of meats you use in this easy gluten free pot pie recipe. You can even go vegetarian by using soy crumbles. Or just use vegetables. No biggie!
Speaking of vegetables, explore the freezer aisle and have fun with the different types of frozen veggies you find to use in this leftover pot pie.
Try okra, though some folks think it's slimy. (I think it's yummy!)
I love edamame, which is a terrific source of vegetarian protein. There are oodles of fun blends like California, Italian, and Mexican, too.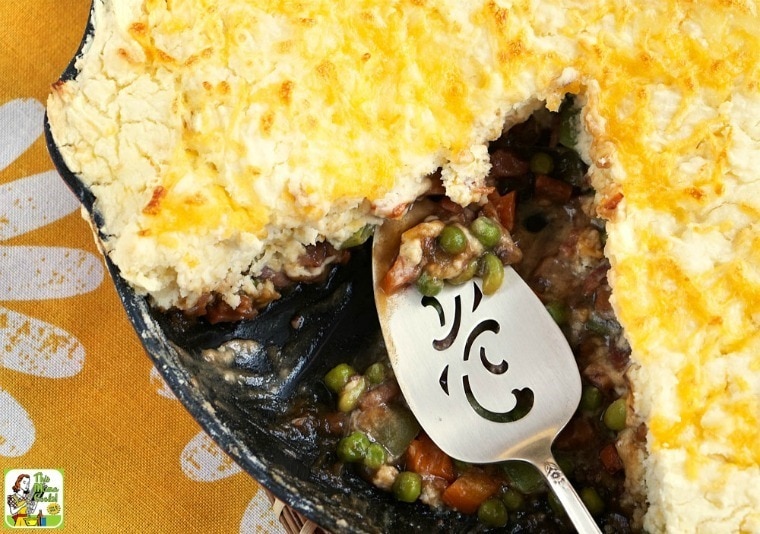 Easy Gluten Free Pot Pie in a Skillet
Ingredients
2 cups

cold water

1/2 cup

Orrington Farms Brown Gravy Mix (gluten free)

1 (12 ounce) bag

cut green beans, defrosted

1 (12 ounce) bag

frozen peas & carrots, defrosted

1 1/2 cups

chopped cooked ham (or other precooked meat or poultry)

3 cups

Bisquick Gluten Free Pancake and Baking Mix

1 3/4 cups

milk

2

eggs

1 cup

shredded cheddar or shredded Mexican style cheese, divided
Directions
Preheat the oven to 400 degrees F.
In a large, 12-inch skillet, add gravy mix to cold water. Mix well. Bring to boil over medium high heat while constantly stirring.
Add vegetables and meat. Lower heat to medium low. Stir until gravy has coated meat and vegetables. Turn off heat. Pat down meat and vegetables so it makes an even layer.
In a medium bowl, place Bisquick, milk and eggs. Stir until combined. If dough is too thick (you'll have to spread it), add a little more milk. Add 1/2 cup of shredded cheese.
Spoon dough on to skillet. Carefully smooth the dough layer over the meat and veggie layer using the back of a spoon or a spatula. Make sure to cover the entire skillet all the way to the edges.
Place skillet in oven and bake for 20 minutes. Sprinkle with remaining cheese and bake for 5 more minutes until cheese starts to brown.
Remove from oven. Let sit for 5-10. Then slice and serve.
Serving size:

1/6 to 1/8 of recipe