Last Updated on October 6, 2021 by Anne-Marie
This gluten free pot pie recipe in a skillet is made with ham, mixed vegetables, and gluten free Bisquick. It's a terrific way to use up leftovers.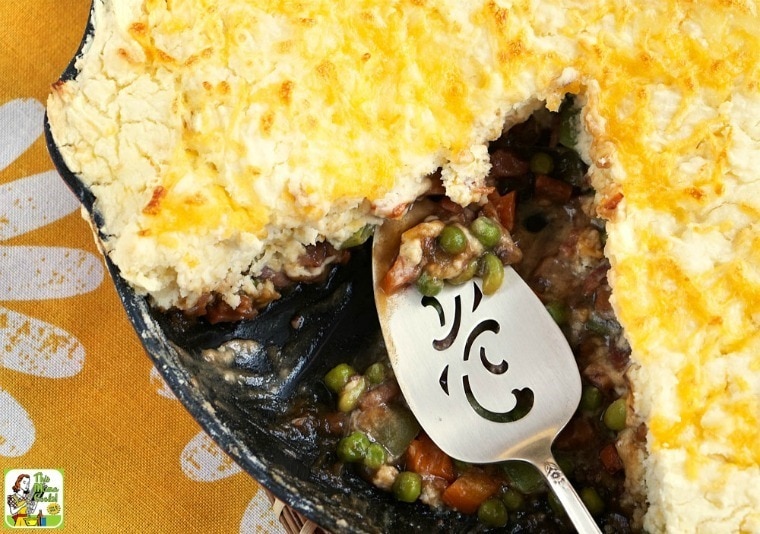 Why this recipe works
This Bisquick gluten free pot pie is easy to make and super tasty!
Instead of making it in a pie plate, make it in a cast iron skillet, which makes for a unexpected but fun presentation at the table.
Making a thrifty gluten free pot pie
This gluten free pot pie recipe is a terrific way to use up leftovers.
What type of meat? This recipe uses ham. But if you have you have leftover turkey, chicken, or beef, you call easily turn this recipe into a chicken pot pie recipe or whatever-you-have pot pie.
No leftovers? Not to worry! You can buy rotisserie chicken at your grocery store, canned chicken, or some deli meat.
Whatever meat or poultry you choose, make sure it's precooked as that's what the recipe requires.
What type of vegetables? I always make sure to stock up on frozen veggies for recipes like this one so I can make them at a minute's notice.
I usually have a few bags of green beans or peas and carrots for recipes like Quick & Easy Quiche, pot pie, or Gluten Free Shepherd's Pie.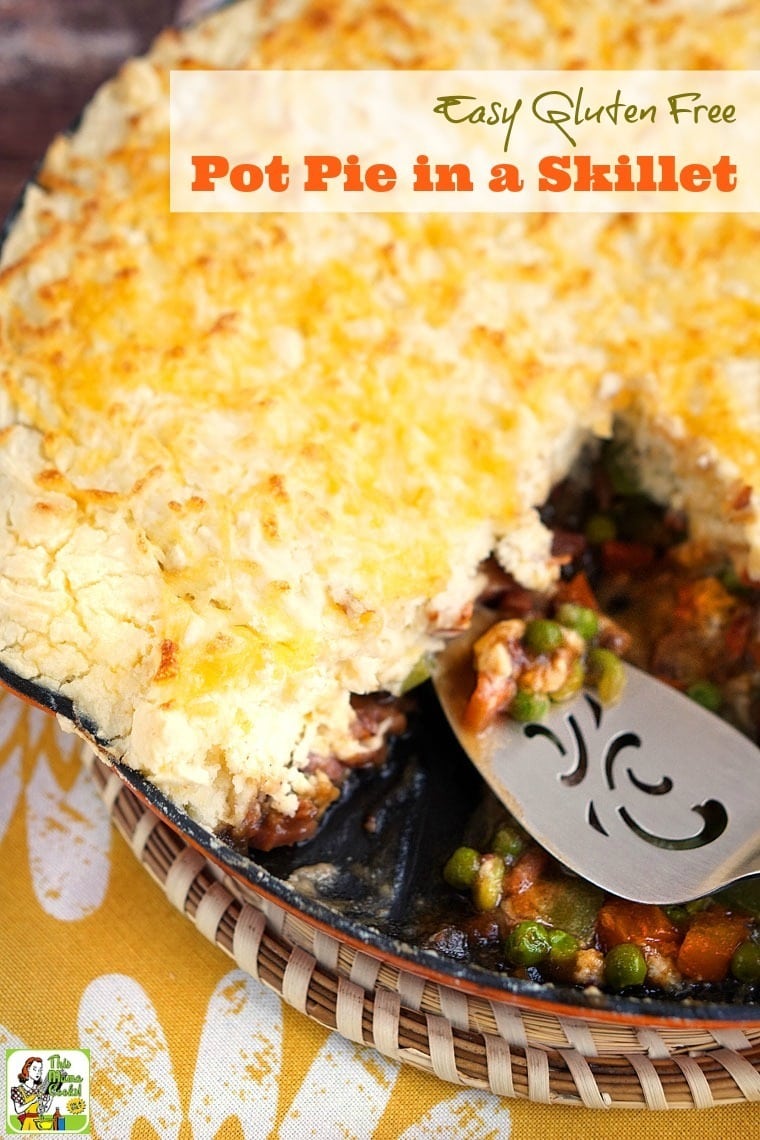 Making sure this is a gluten free pot pie
Check out a few of my favorite, can't-live-without products to use in this gluten free pot pie.
Gravy: The first is Orrington Farms Brown Gravy Mix. It's certified gluten free and it's wonderful!
The gravy comes out perfect each time (no lumps) and is delicious. You can find it with the rest of the gravy mixes at your grocery store.
If you prefer making brown gravy from scratch for this Gluten Free Pot Pie Recipe in a Skillet that's perfectly fine.
If you're not gluten free, use your favorite (not gluten free) brown gravy mix.
GF Bisquick: This gluten free pot pie crust is made with Bisquick Gluten Free Pancake and Baking Mix.
You can find this between the flours and pancake mixes at your grocery store.
Those of us who grew up with regular Bisquick and love it, will also like the gluten free variety. It's just as good.
It's also a terrific mix for making pancakes, waffles, and biscuits.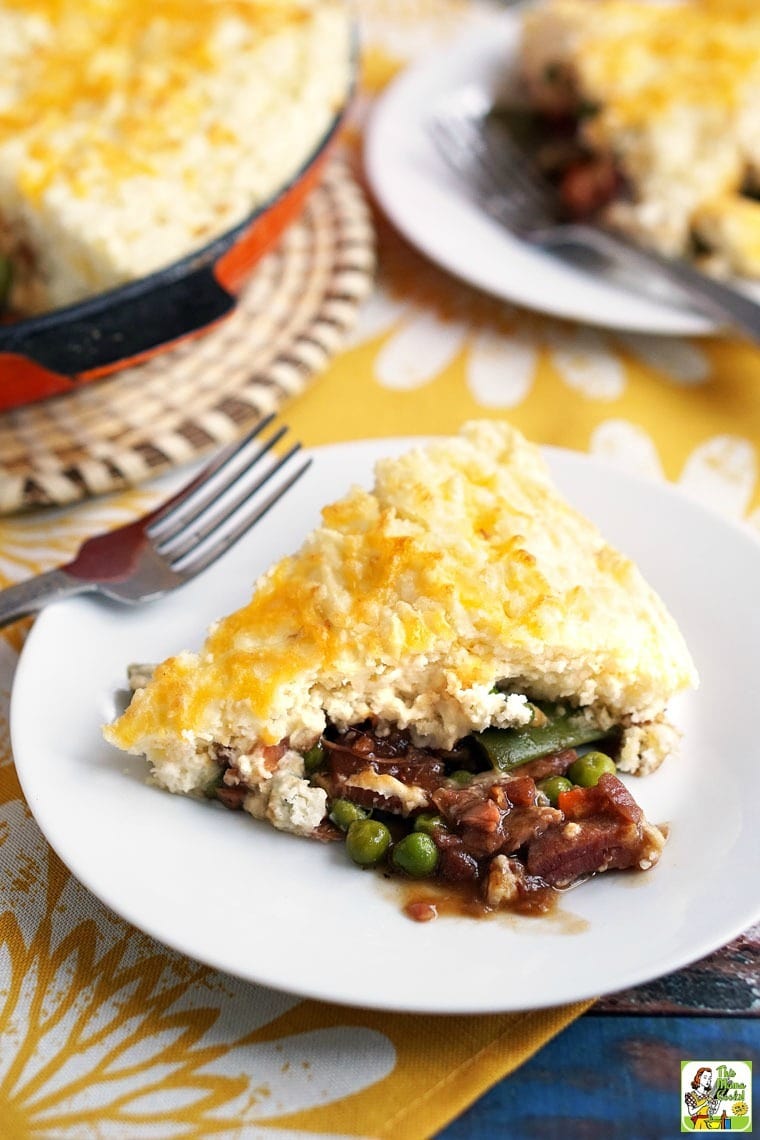 Tips for how to make gluten free pot pie in a skillet
Go dairy free: If you need to avoid dairy products, use unsweetened coconut or soy milk instead of cow's milk in this gluten free pot pie.
Then eliminate the cheese or use a vegan cheese that melts well.
Also, there's no dairy in the baking or gravy mixes. But double check the labels, just in case.
Not gluten free? If you don't need to avoid gluten, just use regular Bisquick mix in this ham or chicken pot pie. This recipe is as flexible as you need it to be!
Go vegetarian: Like I said before, feel free to experiment with the type of fillers you use in this recipe. This means it's possible to make it a vegetarian recipe by using soy crumbles or just vegetables.
Speaking of vegetables, explore the freezer aisle and have fun with the different types of frozen veggies you find to use in this leftover pot pie.
Try okra, though some folks think it's slimy. (I think it's yummy!)
I love edamame, which is a terrific source of vegetarian protein.
There are all kinds of fun frozen vegetable blends like California, Italian, and Mexican, too.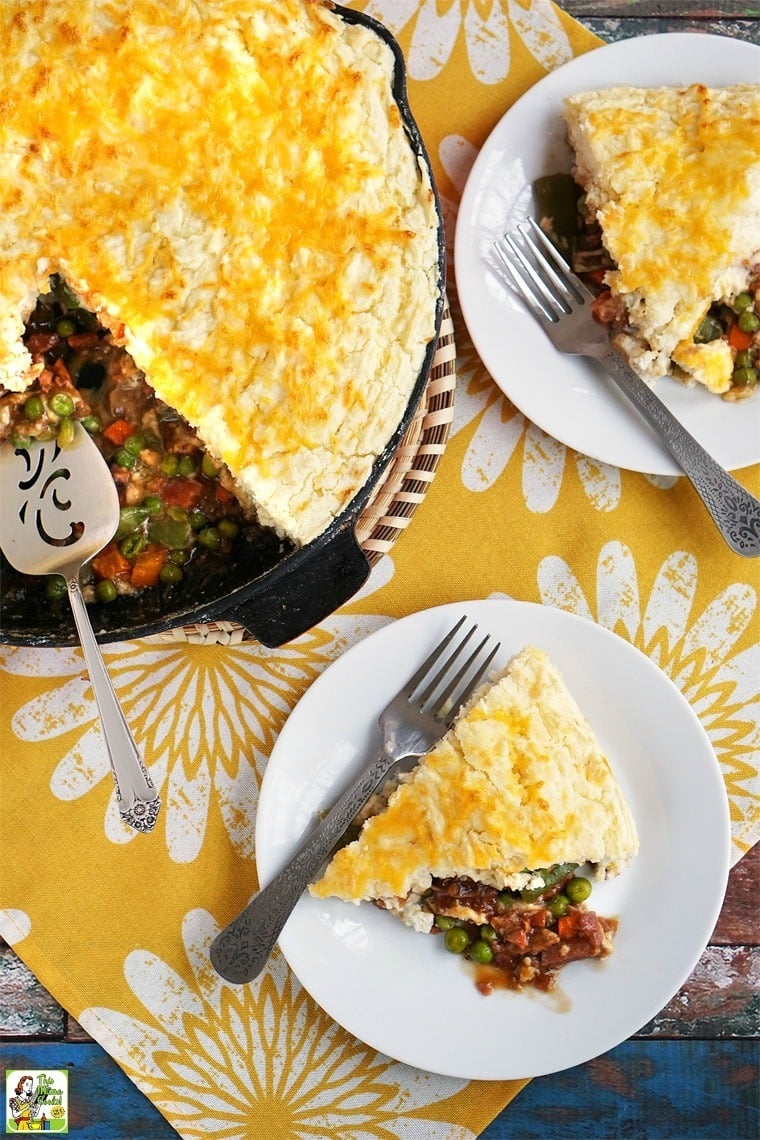 What kind of skillet for your pot pie?
I made this pot pie recipe in my orange 11 3/4-inch Le Creuset Enameled Cast-Iron Skillet. I was lucky to find this used on eBay at a good price.
However, if you're looking for an affordable cast iron skillet, I recommend Lodge Cast Iron Skillets.
They're made in the USA, well made, and will work on your Induction Cooktop Stove as well as other type of stove tops.
However, you don't have to make this gluten free pot pie in a cast iron skillet. (Though it does make for a cool presentation.)
But it should be a large oven safe skillet. You don't want the handle to melt and ruin your food!
Cook up these one pot skillet meals
If you want to use your skillet more often, try these recipes:
Pulled Pork Skillet with Cornbread Recipe and Sweet Potato Pork Hash recipe are both terrific for dinner.
This Easy Nachos Recipe is also made in a skillet. Serve it as a party appetizer or for a fun, family style dinner.
For a Mexican style breakfast, try this Easy Breakfast Chilaquiles Recipe.
If you love Middle Eastern food, try Shakshuka with Feta for brunch or dinner.
Like fried potatoes? Then you'll enjoy Baked Eggs with Skillet Potatoes in Pesto, which is made with ham, eggs, potatoes, sun dried tomatoes, and pesto.
Best thing about using your skillet is that one pot cooking makes for easier clean up!
Yield: SERVES 6-8
Gluten Free Pot Pie Recipe in a Skillet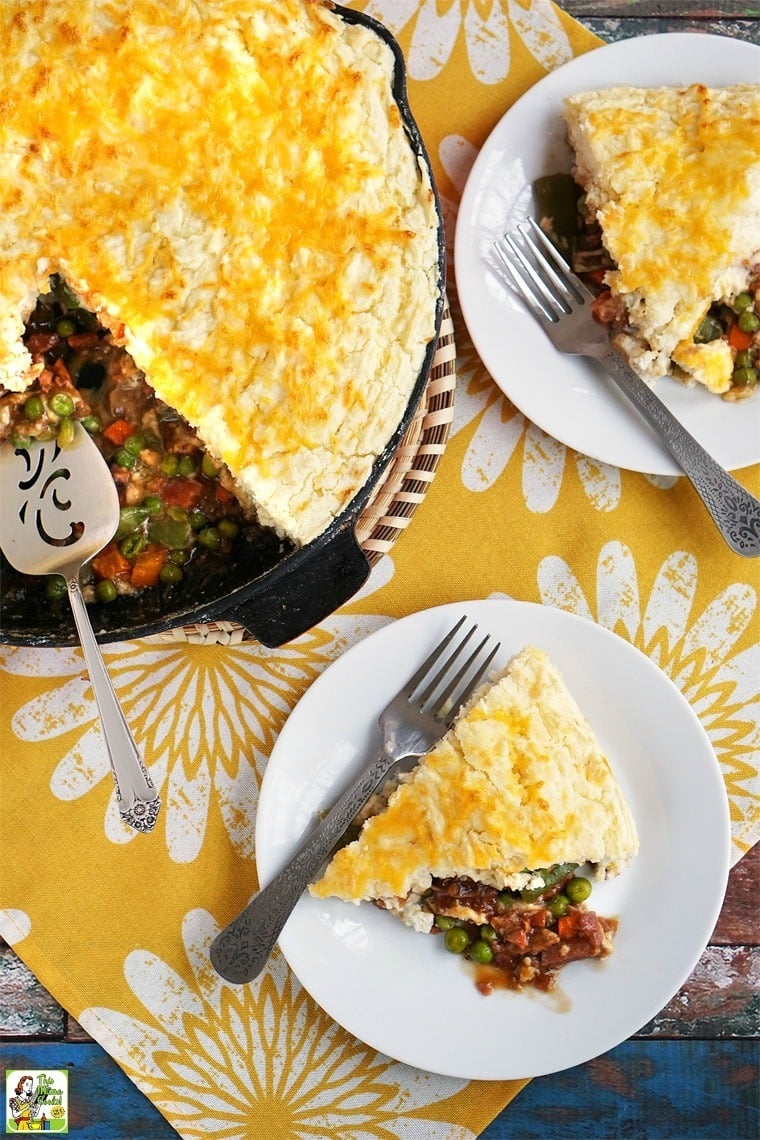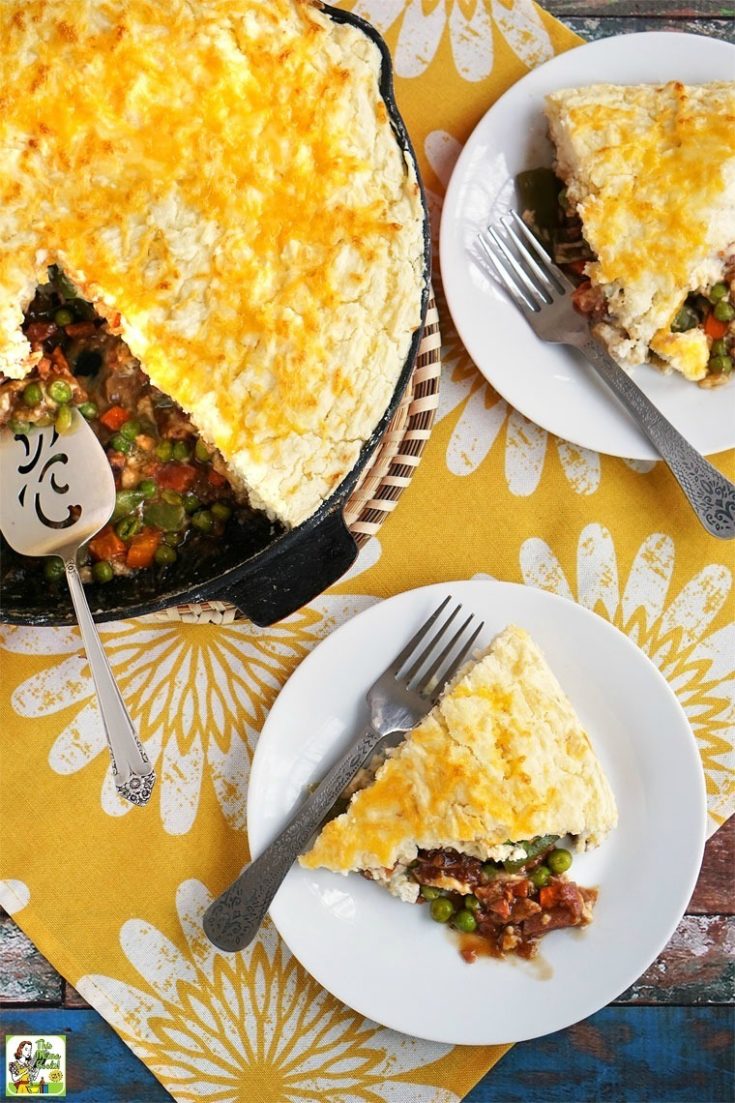 Learn how easy it is to make a gluten free ham pot pie in a skillet. Can be made with turkey, chicken or beef, too!
Ingredients
2 cups cold water
1/2 cup Orrington Farms Brown Gravy Mix (gluten free)
1 12-ounce bag cut green beans, defrosted
1 12-ounce bag frozen peas & carrots, defrosted
1 1/2 cups chopped cooked ham (or other pre-cooked meat or poultry)
3 cups Bisquick Gluten Free Pancake and Baking Mix
1 3/4 cups milk
2 eggs
1 cup shredded cheddar or shredded Mexican style cheese, divided
Instructions
Preheat the oven to 400 degrees F.
In a large, 12-inch skillet, add gravy mix to cold water. Mix well. Bring to boil over medium-high heat while constantly stirring.
Add vegetables and meat. Lower heat to medium-low. Stir until gravy has coated meat and vegetables. Turn off heat. Pat down meat and vegetables so it makes an even layer.
In a medium bowl, place Bisquick, milk, and eggs. Stir until combined. If the dough is too thick (you'll have to spread it), add a little more milk. Add 1/2 cup of shredded cheese.
Spoon dough on to the skillet. Carefully smooth the dough layer over the meat and veggie layer using the back of a spoon or a spatula. Make sure to cover the entire skillet all the way to the edges.
Place skillet in oven and bake for 20 minutes. Sprinkle with remaining cheese and bake for 5 more minutes until cheese starts to brown.
Remove from the oven. Let sit for 5-10. Then slice and serve.
Nutrition Information:
Yield:
8
Serving Size:
1
Amount Per Serving:
Calories:

478
Total Fat:

20g
Saturated Fat:

7g
Trans Fat:

0g
Unsaturated Fat:

11g
Cholesterol:

89mg
Sodium:

1519mg
Carbohydrates:

54g
Fiber:

4g
Sugar:

11g
Protein:

21g
Nutritional information is automatically calculated per the ingredients list. Serving size may not be accurate. Please double-check with your preferred nutritional app for the most accurate information.
Originally published on March 12, 2017. Updated with information.