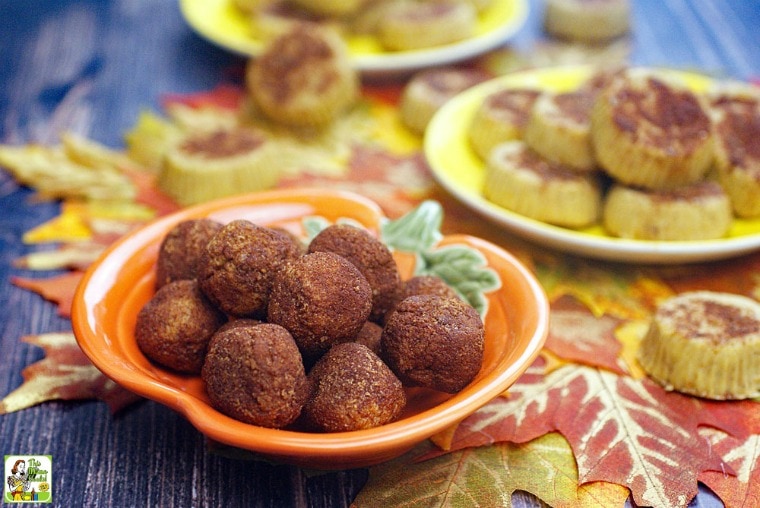 Try this dairy free Pumpkin Fudge if you love fudge if you don't eat dairy because you're vegan.
Or don't eat condensed milk because it upsets your tummy.
This scrumptious pumpkin fudge recipe is dairy free, gluten free, and vegan.
Why you'll love this dairy pumpkin fudge
Believe it or not, this recipe is made without marshmallow cream, so the pumpkin fudge is lower in sugar and so much better for you.
Yet it's still creamy, sweet, and filled with pumpkin spice goodness.
So what's the secret? Instead of sweetened condensed milk or fluff, I used coconut butter, sorghum syrup, and monk fruit sweetener.
See below on how to make the best pumpkin fudge recipe you'll find that will fit into all the food allergies or preferences you have!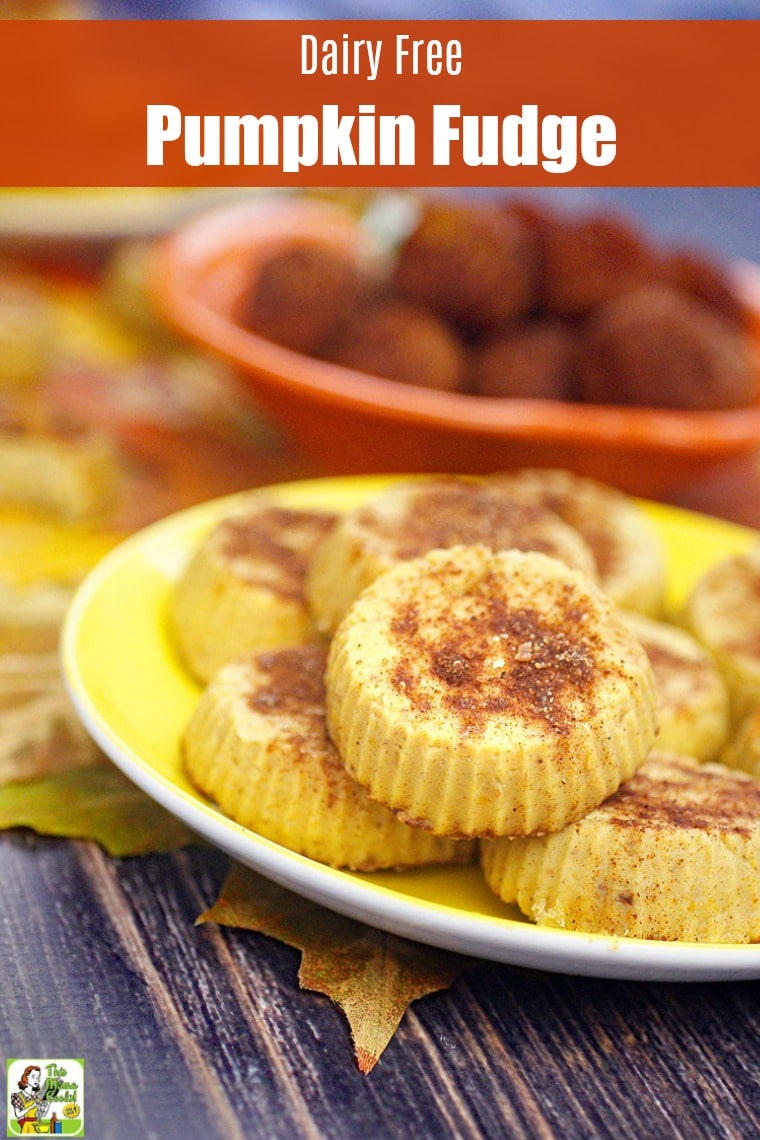 How to make a dairy free fudge that's sweet
If you want to make a dairy free fudge recipe without condensed milk, look no further! (I love the taste of condensed milk, but it just kills my tummy. Ugh!)
All you need to use is a combination of coconut butter, powdered monk fruit sweetener, and sorghum syrup so you have a vegan fudge.
Let me explain…
Coconut Butter: You want to use coconut BUTTER, not coconut oil, coconut cream or coconut milk.
Powdered Monk Fruit Sweetener: Then you want to sweeten the easy pumpkin fudge with powdered monk fruit sweetener, one of my favorite no calorie sweeteners.
I also used powdered monk fruit in the cinnamon sugar that I used to decorate the fudge balls in as well as the recipe for pumpkin fudge mini pies.
Sorghum Syrup: One of the ingredients for pumpkin fudge I recommend is sorghum syrup. Without a sugary syrup of some kind, the fudge would be too dry and fall apart.
Sorghum syrup is used by home brewers and commercial brewers to make gluten free beer. You can find it at beer brewing stores or online.
If you can't find sorghum, a good substitute is brown rice syrup.
For pumpkin fudge recipes, agave and maple syrup are too runny. And honey isn't vegan.
And did I mention all this makes a gluten free fudge, too?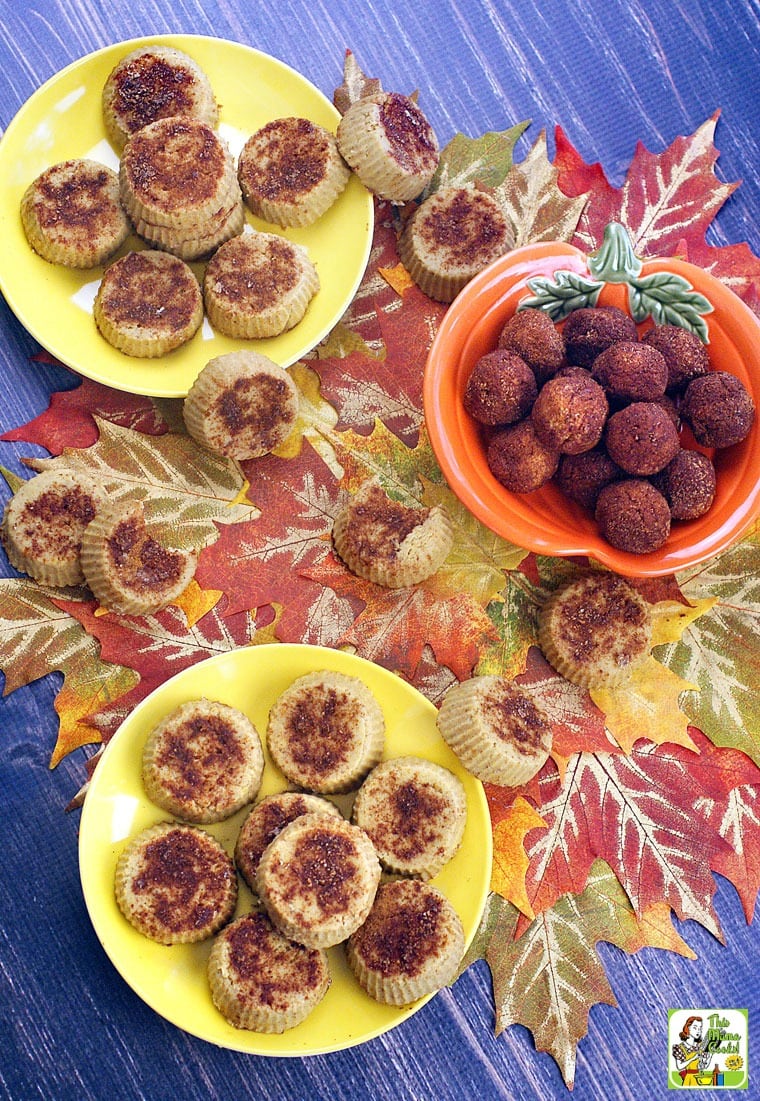 Making easy pumpkin fudge two ways
The fun thing about this easy pumpkin fudge recipe is that you can make it two ways – into pumpkin pie fudge balls or mini pies.
So cute, right?
Making the fudge balls is the easiest because you don't need any extra equipment. Just your hands.
It's also a fun way to get the kids involved in making fudge, since even small kiddos can make a few balls. Or they can help roll them into the cinnamon sugar.
I preferred the taste of the pumpkin pie fudge balls since they had more cinnamon sugar, which complimented the pumpkin spice fudge.
However, I love the look of the pumpkin fudge mini pies, which look a little like Reese's Peanut Butter Cups.
To make them, you'll need a set of silicon baking cups, which are fun for baking everything from cupcakes to Hash Brown Sausage Muffins to Homemade Peanut Butter Cups.
Silicon baking cups are fun to use and the fudge pops right out.
Super easy to clean, too. Just soak in soapy hot water and rinse.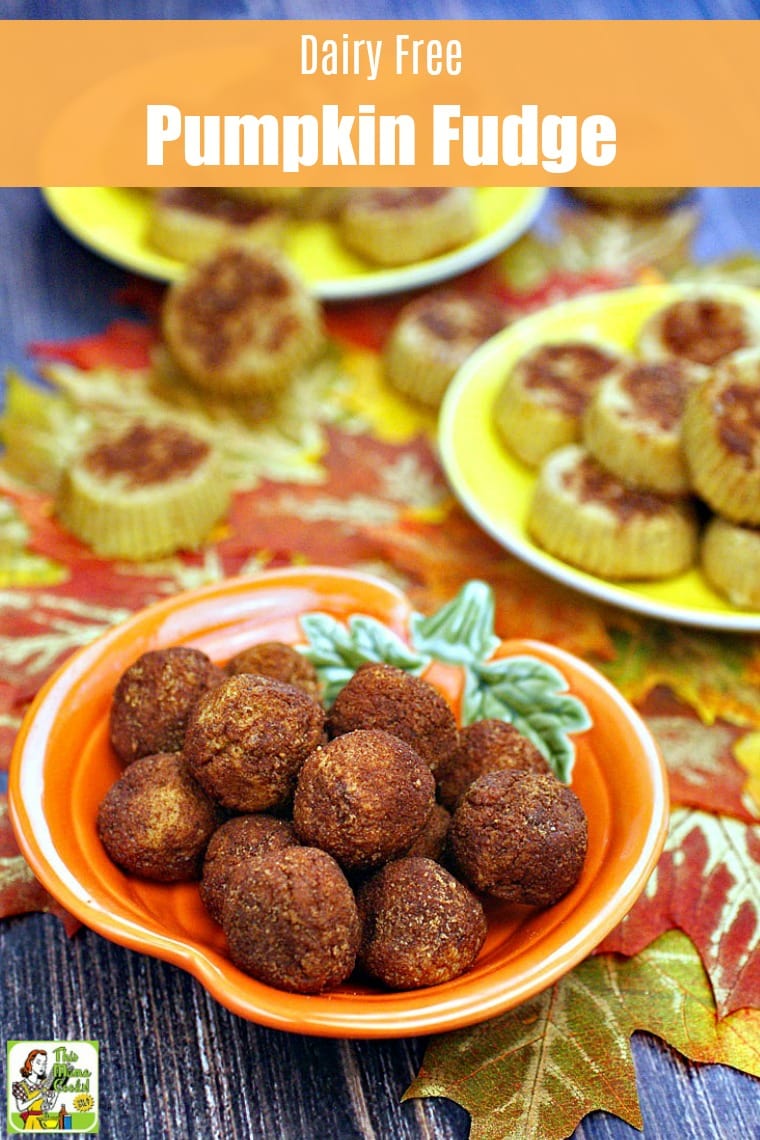 More tips on how to make dairy free pumpkin fudge
Pumpkin: Use pumpkin puree, not pumpkin pie filling.
If you want to make your own pumpkin puree, learn How to Cook a Fresh Pumpkin.
Spices: If you wish, you can add more spices and powdered monk fruit to this dairy free pumpkin fudge recipe to suit your personal tastes.
Storage: Store the fudge in an airtight covered container in the refrigerator. It should last a couple of weeks if your family doesn't eat it all up before that!
See more tips on how long does fudge last? Does fudge go bad?
Freezing pumpkin fudge: To prevent breakage and the fudge from drying out, wrap the pumpkin fudge tightly in plastic wrap. Then place wrapped fudge in an airtight container or freezer bag.
Don't forget to label the container with the date and the contents!
More gluten free candy recipes
Yield: 38 PIECES
Dairy Free Pumpkin Fudge Recipe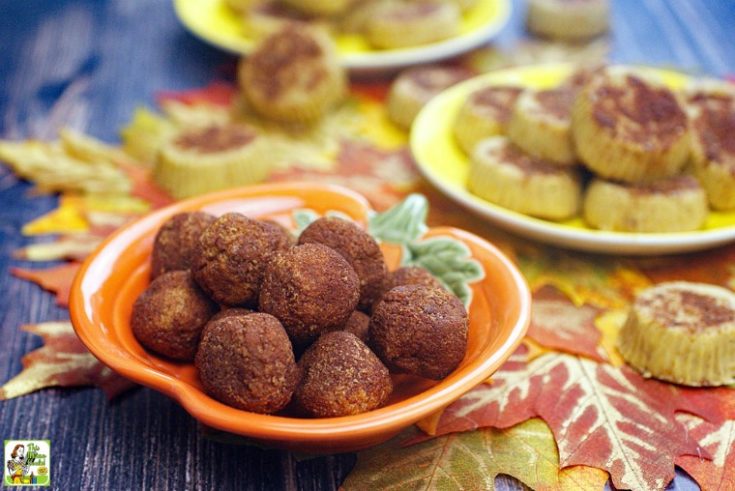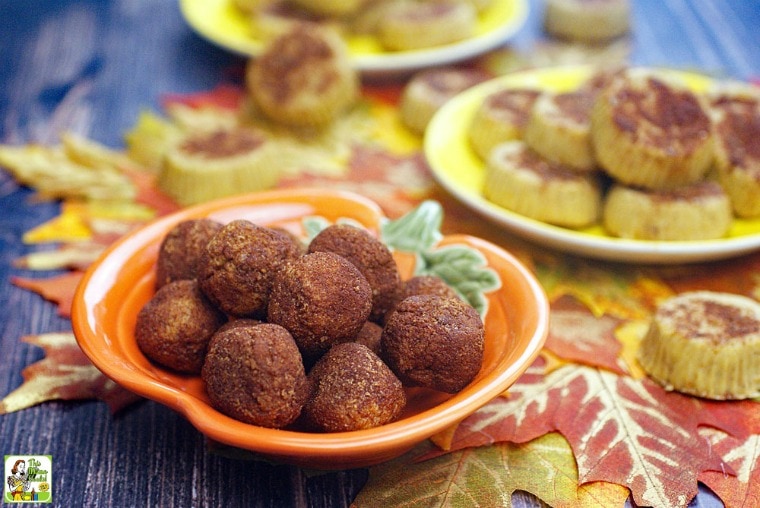 Want to make pumpkin fudge without condensed milk or marshmallow cream? This vegan fudge recipe is dairy-free, gluten-free, and low in sugar.
Total Time
1 hour
10 minutes
Ingredients
For dairy free pumpkin fudge:
2 cups coconut butter
1 15-ounce can pumpkin puree
2/3 cup sorghum syrup
1 teaspoon pure vanilla
1 teaspoon ground cinnamon
1/2 teaspoon ground nutmeg
1/2 teaspoon ground ginger
1/4 teaspoon ground allspice
1/4 teaspoon ground cloves
1/4 teaspoon salt
4 tablespoons powdered monk fruit
For the cinnamon sugar:
1/4 cup powdered monk fruit
2 tablespoons ground cinnamon
Instructions
For dairy free pumpkin fudge:
In a medium saucepan on low heat, warm coconut butter until melted.
Place heat on the lowest setting. Fold in pumpkin puree, sorghum, spices, salt, and monk fruit until thoroughly combined.
Remove from heat.
For the cinnamon sugar:
Combine monk fruit and ground cinnamon and place it in a pie plate for rolling.
To make pumpkin fudge balls:
Using a small cookie scoop, measure out 2 teaspoons of fudge batter.
Dump fudge on to plate of cinnamon sugar and roll around until covered.
Pick up the ball and roll on the palm of your hand until you have a nicely shaped ball. (Note: if fudge batter is too sticky to handle, you may want to place it in the refrigerator to firm up a bit.)
Place fudge balls on a dish or tray, slightly apart, and put in the refrigerator to harden up for a few hours. Store balls in a covered container in the refrigerator.
To make pumpkin fudge mini pies:
Using a small cookie scoop, place 2 scoops into a silicon baking cups.
Holding the baking cup in the palm of your non-dominant hand, press fudge down with your fingers until flat.
Then press at the outer sides of the baking cup, so the sides of the fudge are now straight up and not touching the insides of the baking cup. That way when you flip the cup over on to a tray, the mini pies will fall right out.
Sprinkle the top of the fudge mini pies with cinnamon sugar.
Flip the mini pie on to a tray or plate. Sprinkle the bottom with more cinnamon.
Place mini pies slightly apart on a tray or plate and place in the refrigerator to harden up for a few hours. Store fudge in a covered container in the refrigerator until it's time to eat.
Recommended Products
As an Amazon Associate and member of other affiliate programs, I earn from qualifying purchases.
Nutrition Information:
Yield:
38
Serving Size:
1
Amount Per Serving:
Calories:

113
Total Fat:

9g
Saturated Fat:

8g
Trans Fat:

0g
Unsaturated Fat:

0g
Cholesterol:

0mg
Sodium:

20mg
Carbohydrates:

9g
Fiber:

3g
Sugar:

6g
Protein:

1g
Nutritional information is automatically calculated per the ingredients list. Serving size may not be accurate. Please double-check with your preferred nutritional app for the most accurate information.
Originally published on October 1, 2014 and September 27, 2017.
Updated with new pictures and information.