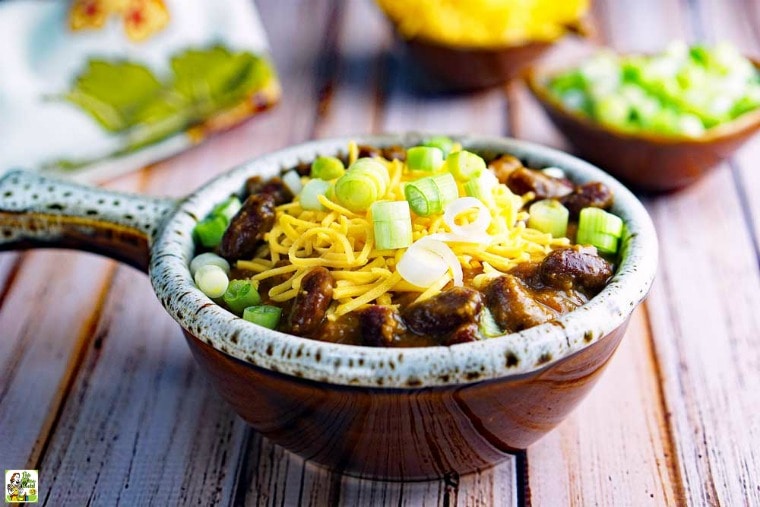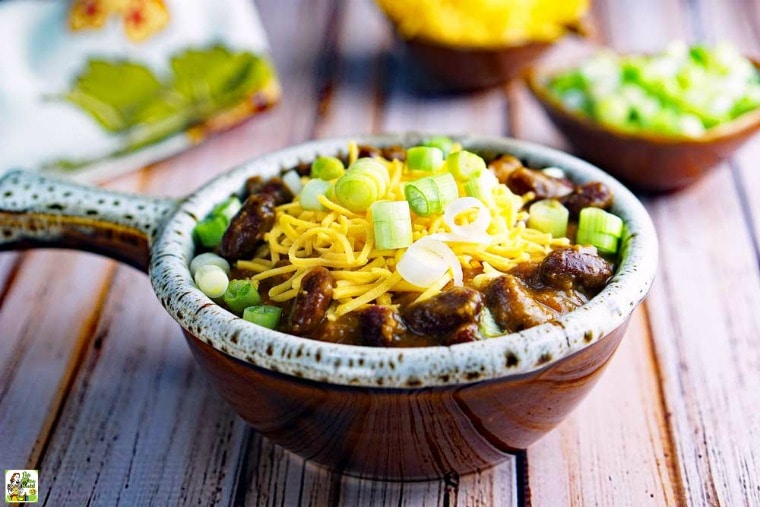 This delicious Easy Instant Pot Chili is one of the first things you'll want to make when you get an Instant Pot.
My instant pot chili recipe is super simple to make even if you're a beginner when it comes to using a pressure cooker.
It's a combination of ground beef, ground pork, hearty precooked canned beans, fresh and canned vegetables, seasonings, plus a few special ingredients like pumpkin puree.
The smell of this flavorful instant pot chili will have your family running to the kitchen asking when dinner will be ready!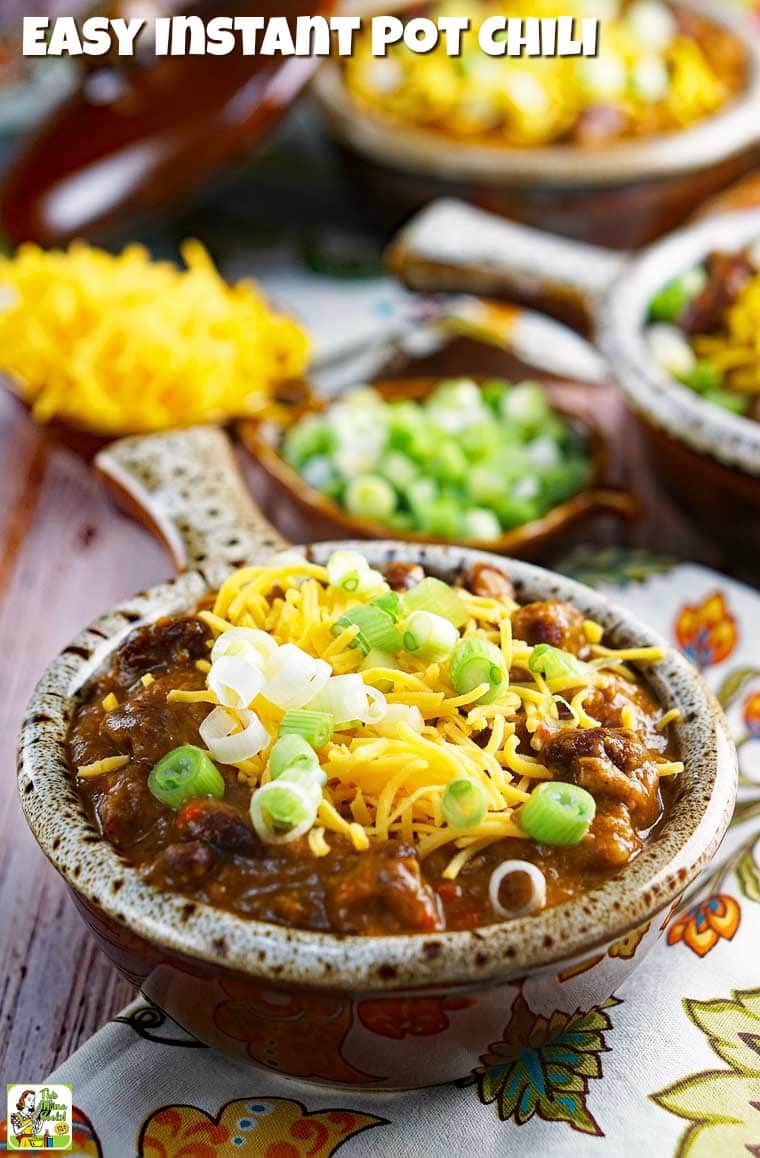 BUSH'S makes this Instant Pot chili recipe even easier!
I made my Easy Instant Pot Chili with slow-simmered BUSH'S® Kidney Chili Beans. (You could also use BUSH'S® Mild Pinto Chili Beans or a combination of the two!)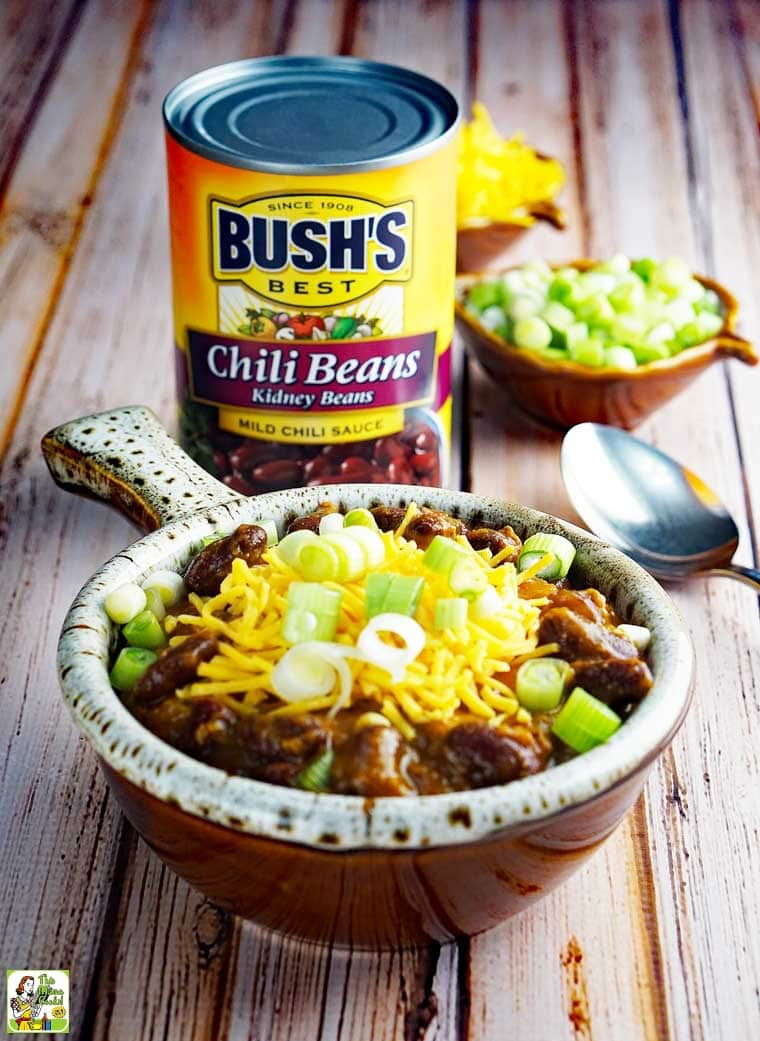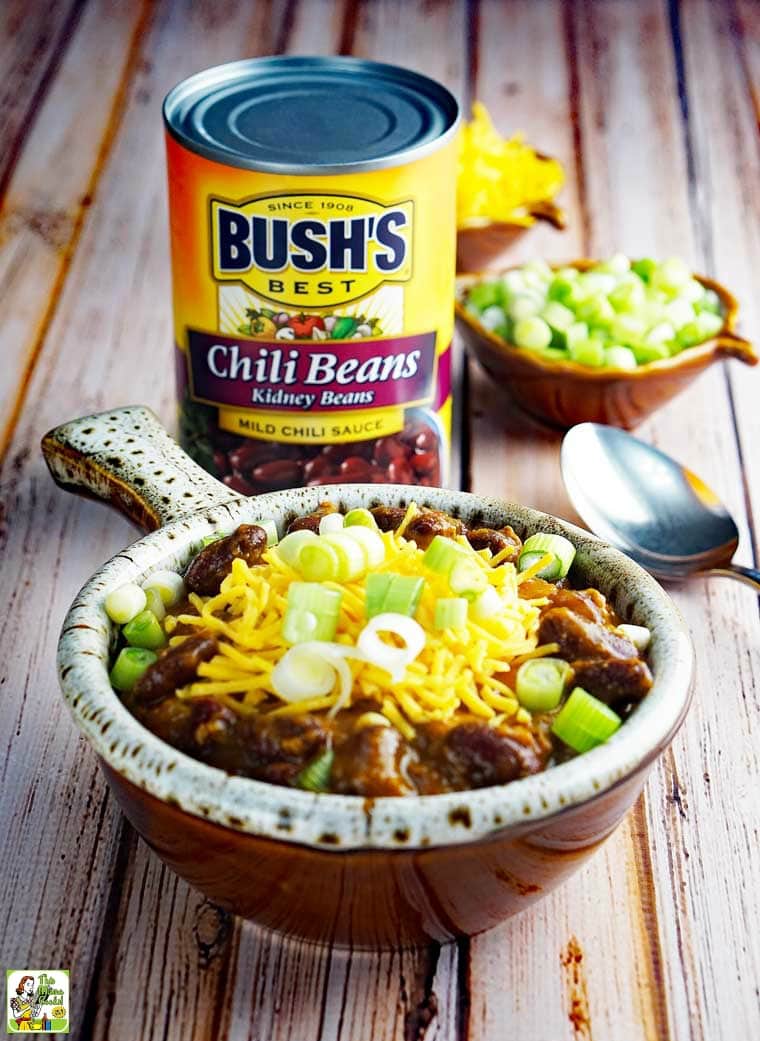 Since they're already precooked and preseasoned in a quality blend of chilies, spices, garlic and onions, these beans give this yummy instant pot recipe an all-day cooked super chili flavor.
BUSH'S Chili Beans are also gluten free!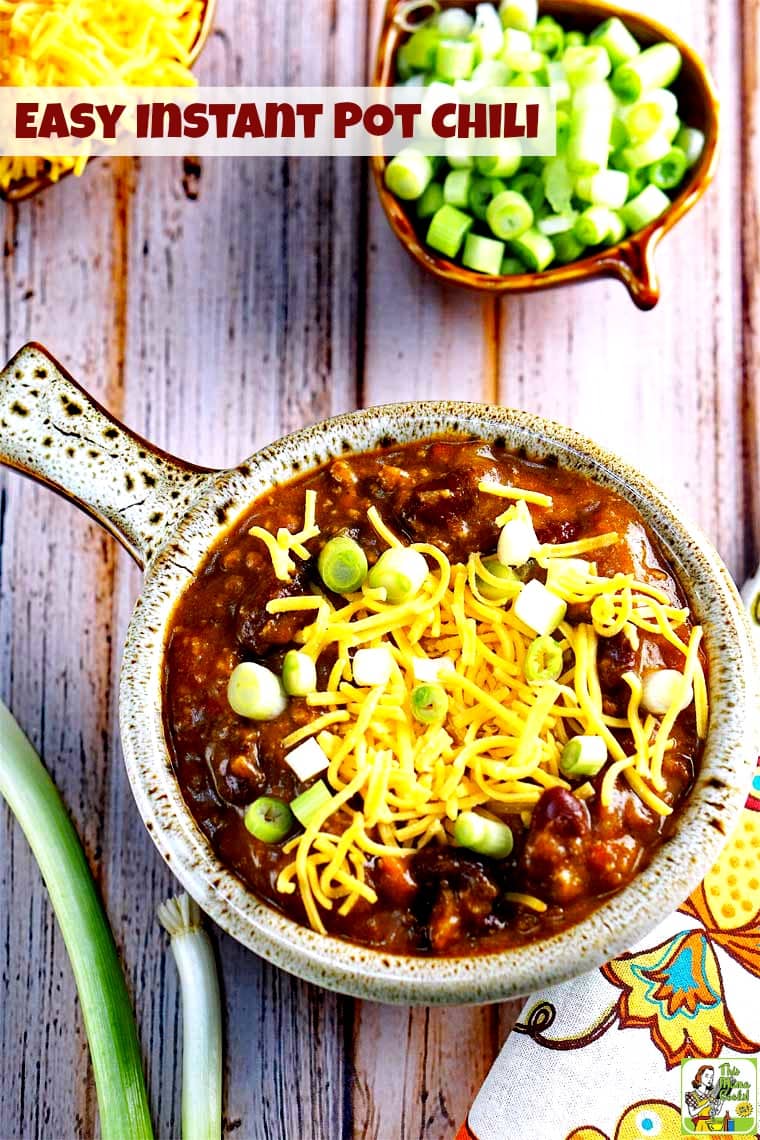 Why instant pot chili is so easy to make
This is the part where I convince everyone who doesn't already have an Instant Pot that they need to get one. So if you've already an pressure cooker devotee, skip to the chili recipe below!
Seriously, I knew Instant Pots were trendy, which is why I asked for one for Christmas. But did you know there's an Instant Pot Chili Setting?
Also, you can sauté the ground meat for your chili right in the Instant Pot. Talk about one pot cooking and easy clean up!
Now besides the fact this instant pot chili is delicious, now you have another reason to buy an Instant Pot while you're at Walmart stocking up on BUSH'S® Kidney Chili Beans and BUSH'S® Mild Pinto Chili Beans.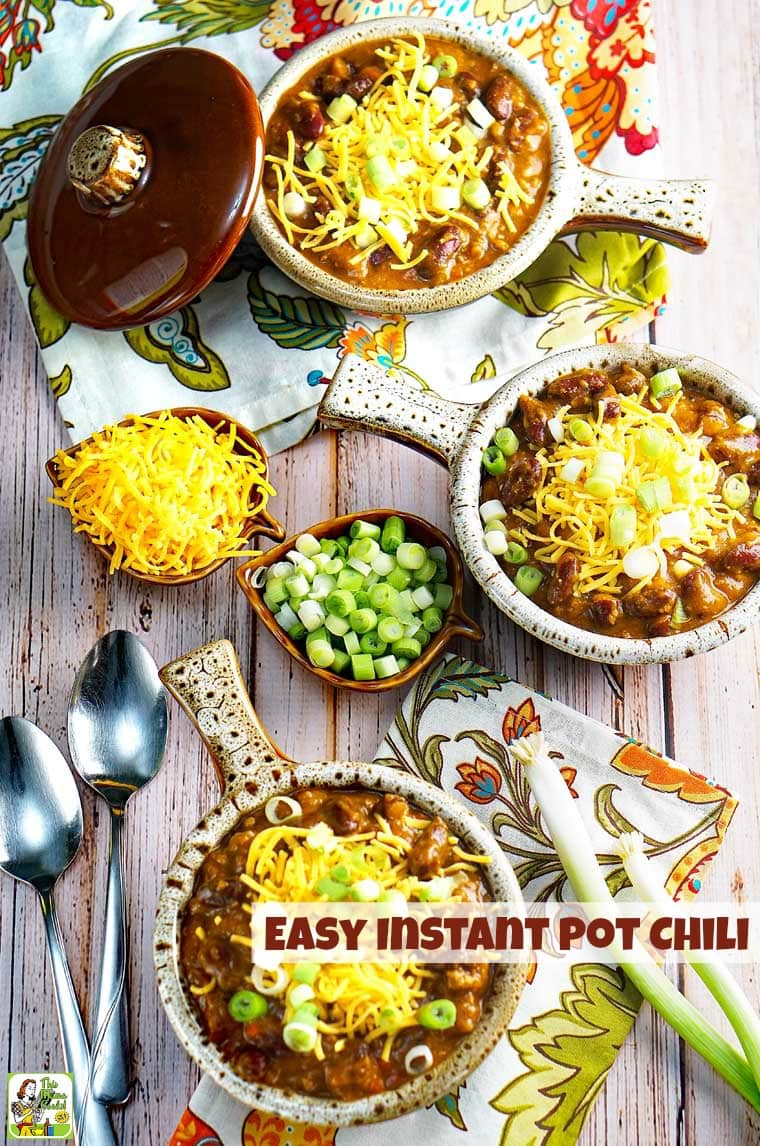 More tips for making the best instant pot chili recipe
For more veggie goodness, add extra carrots or try a cup of diced butternut squash. You can also substitute pureed butternut squash for the pumpkin, if you like.
In a pinch, you can use frozen vegetables instead of fresh ones. Adjust cooking time accordingly.
Use the leanest ground beef you can find since you'll also using ground pork, which usually is pretty fatty.
Use a ground meat chopper to help you break up the chili meat and cook it quickly.
If you're not gluten free, you can use a regular lager style beer. If you don't drink beer, use chicken, beef or vegetable broth instead.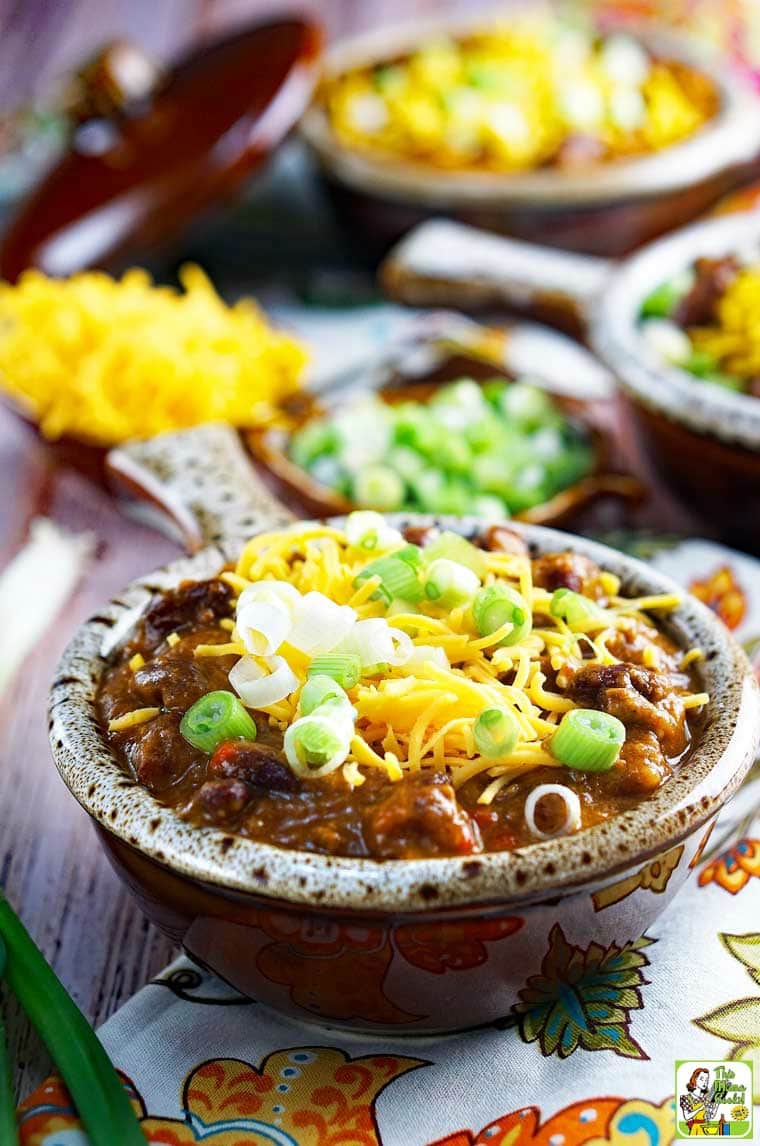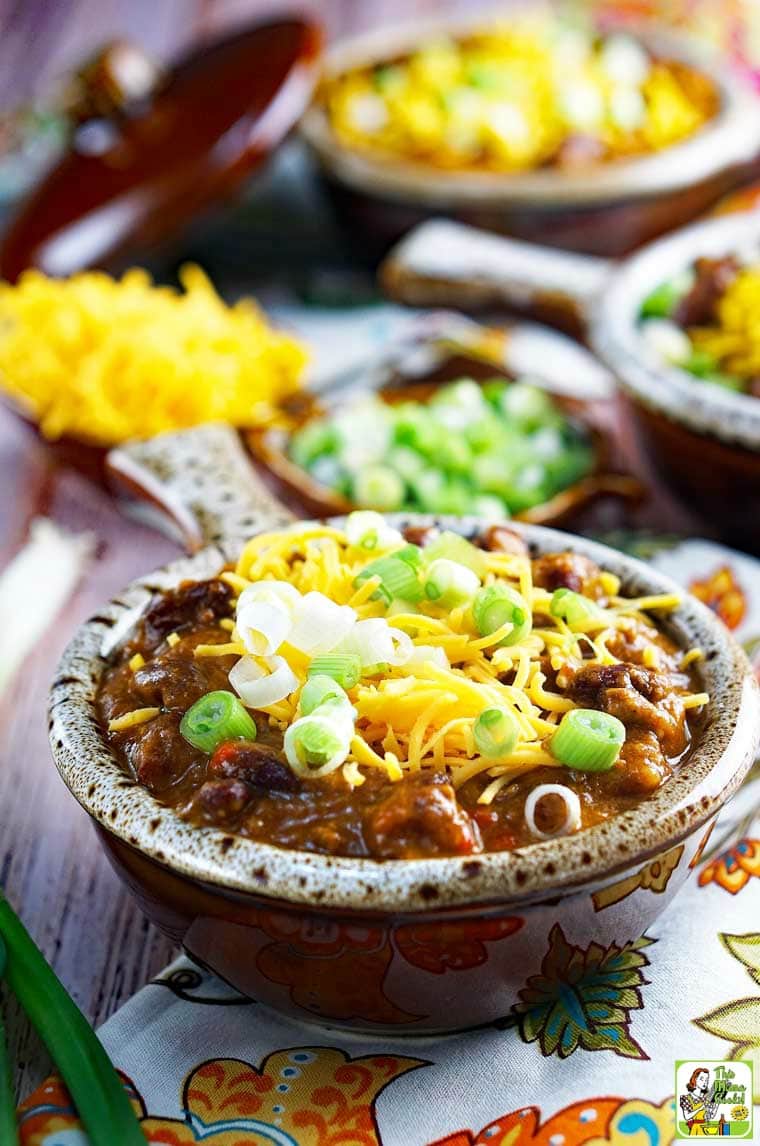 Serve Easy Instant Pot Chili over pasta, rice, or quinoa. You can also serve this instant pot chili over spaghetti squash or some zucchini noodles from the freezer section of your grocery store.
Some people, like my son, love spicy chili. Make sure to place bottles of your favorite hot sauce next to your Instant Pot during serving time!
Remember that an Instant Pot needs to come to pressure before the 20-minute cooking countdown begins. How long this takes depends on a number of factors, like the size of your Instant Pot.
I have not added pressurizing (and quick release time) to the cook time, so keep this in mind when starting dinner! (I try to give myself another 30 to 45 minutes more time than the recipe calls for just in case.)
Finally, if you get a Burn Message when cooking the chili recipe, read the Instant Pot Burn Message article from Paint the Kitchen Red for lots of great tips! (I got one because of a teeny bit of onion in the rim that was preventing my unit from sealing.)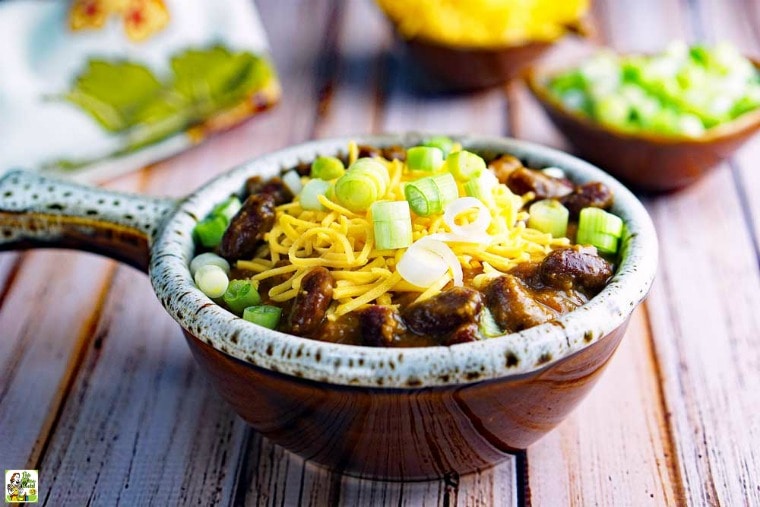 Ingredients
2 tablespoons

olive oil

1

red onion, diced

3

large carrots, peeled and chopped

1

red bell pepper, cored and chopped

2

cloves garlic, finely chopped

1 pound

very lean ground beef

1 pound

ground pork

1 tablespoon

chili powder

1 teaspoon

smoked paprika

1 teaspoon

pumpkin pie spice

1/2 teaspoon

sea salt

1 cup

gluten free beer

1

(16-ounce) cans BUSH'S® Kidney Chili Beans, undrained

2

(15-ounce) cans pureed pumpkin

1

(15-ounce) can diced tomatoes, undrained

1

(10-ounce) can diced tomatoes and chiles, undrained
Toppings
Shredded cheddar cheese

Sliced green onions

Your favorite hot sauce
Directions
Turn your Instant Pot on to the "Sauté" setting and add the olive oil. Wait for the Instant Pot to display "Hot," then add the red onion. Cook, stirring occasionally, until onion begins to soften and brown, about 3 minutes. Add the carrots, red bell pepper, and diced garlic and continue cooking another 2 minutes.
Add the ground beef and ground pork to the vegetables. Cook until the meat has browned, about 4 minutes.
Add spices to vegetable and ground meat. Stir well and let cook for 1 minute.
Add the remaining ingredients and stir well. Using a spatula, scrape any stuck on meat or vegetables off the bottom of the Instant Pot insert.
Secure the lid on the Instant Pot and press the Chili function. Set the time to 20 minutes. When the pot beeps and the pressurized cook time has ended, carefully do a quick release with the Steam Release Valve.
Serve with desired toppings. Enjoy!