Last Updated on April 25, 2022 by Anne-Marie
Learn how to make this Mexican picadillo recipe with ground beef, chorizo, potatoes, and raisins.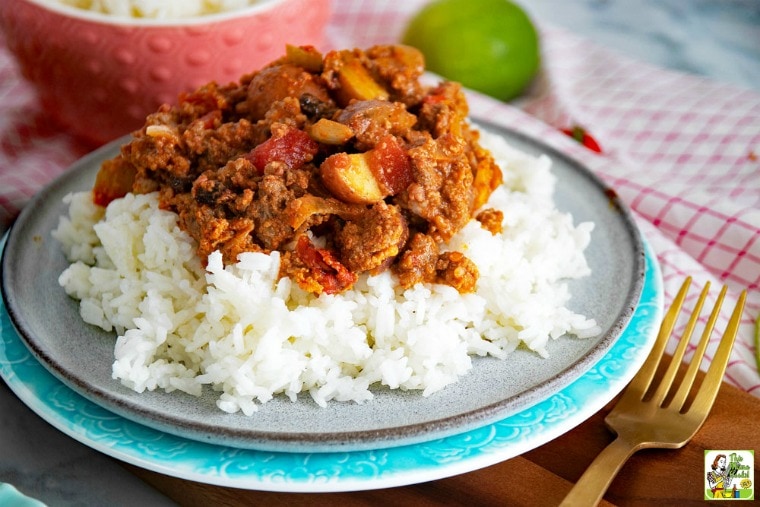 Why this recipe works
Have you ever tried Mexican Picadillo? It seems that every culture has some type of ground beef and potato recipes.
What makes chorizo different from the usual hash-like beef and potato recipe is what's added to the dish.
Picadillo is usually made with ground beef, tomatoes or tomato sauce, raisins, olives, and spices.
Then it's served on rice and can be used as a filling in tacos or savory pastries.
I first made this dish as part of a blogger recipe challenge where I recreated Allessio's from Recipe Taster recipe for Cuban Picadillo.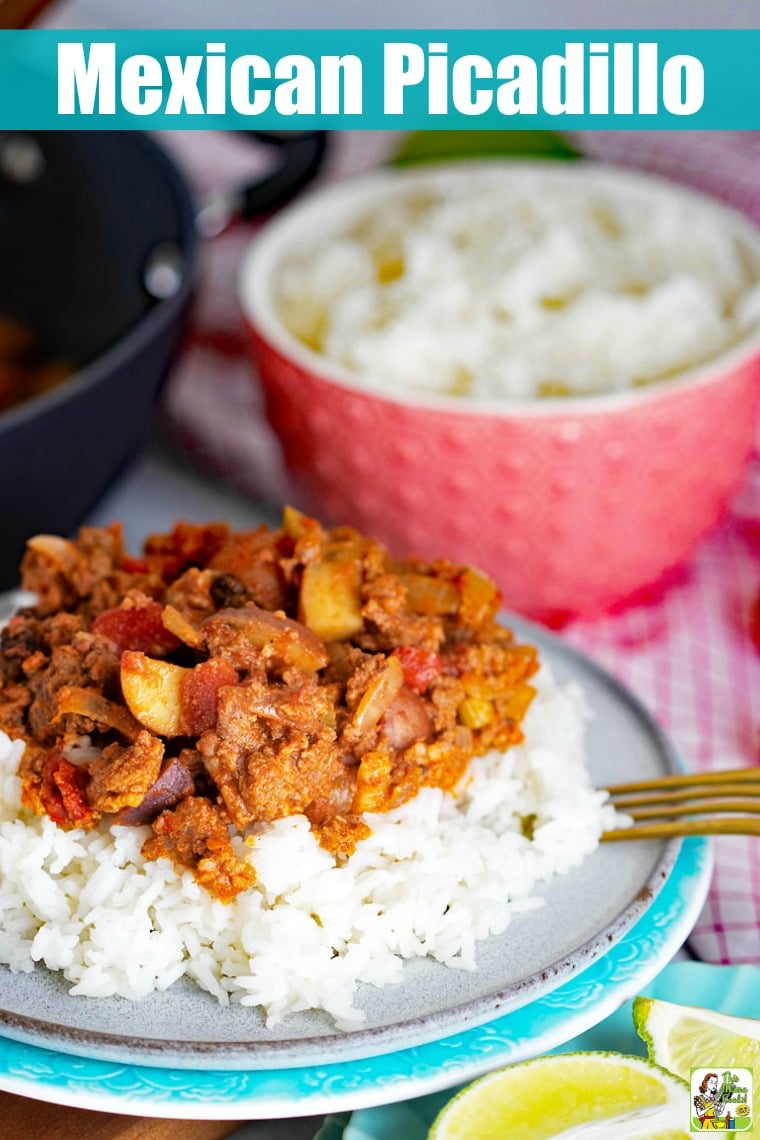 An easy picadillo recipe
I usually make a slow cooker picadillo with  onions, apples, raisins and spices. It's not very authentic, but the picadillo beef is tasty.
However, I wanted to make a different version and Alessio's picadillo recipe looked perfect.
I loved that he used raisins, olives and potatoes in his dish. However, I had a problem - I didn't have any green peppers or olives in the house.
So I improvised and replaced the peppers with celery. It was a delicious substitution as I'm not so crazy about green peppers. I find them kind of bitter.
However, I thought the whole thing would fall apart without the strong flavor of the olives. What to do?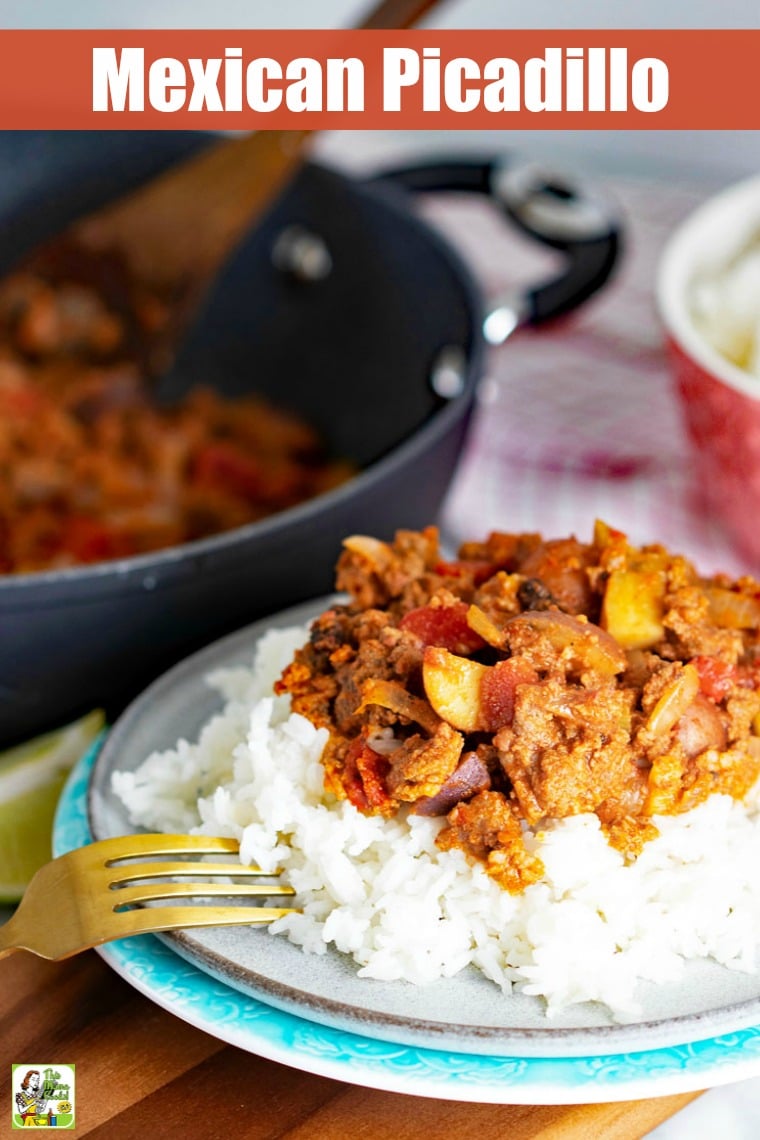 Making a spicy Mexican picadillo
I decided to make a spicy picadillo recipe Mexican style by using chorizo, which I just happened to have defrosting in the refrigerator for our weekend breakfasts.
All in all, it ended up being an easy Mexican picadillo recipe though not an authentic Mexican picadillo recipe.
You see, Picadillo Mexicano is made with peas and carrots and cooked in a kind of red salsa. (Here's a more authentic version of Beef Picadillo.)
Instead, mine's a chorizo picadillo with a Mexican flair based on a Cuban picadillo. (Did I just make your head spin?)
So, I hope you like it my version of Allessio's recipe. My family thought it was delicious.
Best of all, it's naturally gluten free!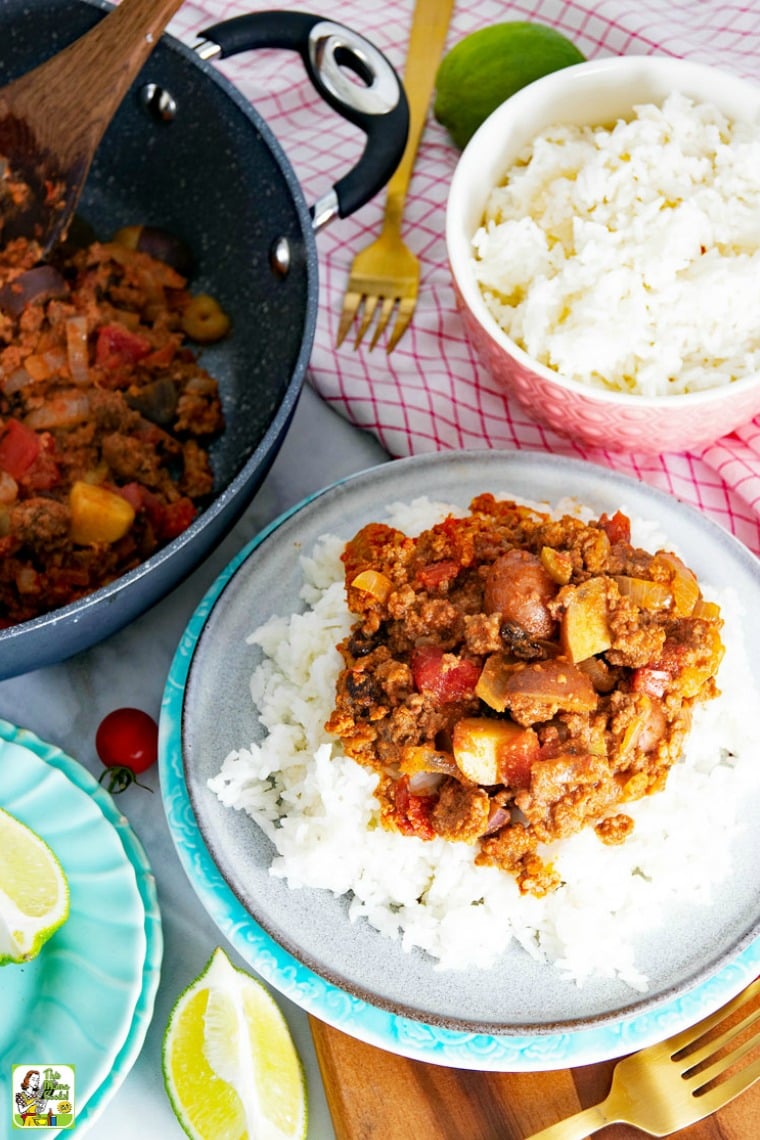 How to make picadillo even easier
Shortcuts: To make this picadillo chorizo recipe even easier, look for precut onions and potatoes in the frozen section of your supermarket. Just measure out what you need for this dish.
What kind of ground meat?
I used ground venison, but you can use lean ground beef or even ground turkey. I like keeping this beef picadillo recipe as lean as possible. Who says that picadillo can't be wholesome?
Where do I find chorizo?
You can usually find it in the refrigerated section with the sausage or refrigerated Hispanic foods.
If there's no chorizo at your supermarket for your Mexican picadillo recipe, you can make your own. It's easy! Here's how to make homemade chorizo.
The easy way to make rice
Don't forget to start your rice cooking before you start working on the picadillo. (I've been known to forget, so I bet you have, too!)
For perfect rice, I use a rice cooker. Here are some of the best rice cookers on Amazon.
I like the Zojirushi rice cookers as my kids also use it to steam dumplings.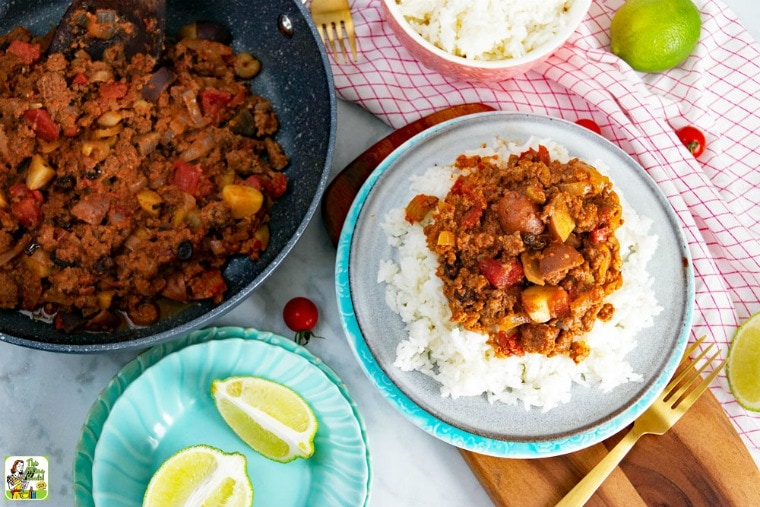 Picadillo with potatoes around the world
Picadillo Cubano like Allessio made includes peppers, onions, garlic, oregano, cumin, tomato sauce, olives, raisins, and potatoes.
Sometimes people add capers. Cuban Picadillo is served with black beans and rice.
In the Dominican Republic, they make a similar dish to Picadillo, but they add a hard-boiled egg, some allspice, and serve the ground beef picadillo on either white or brown rice.
In Puerto Rico, picadillo meat is used as a filling for empanadas, alcapurria, piononos, and other types of fritters. It's also served with rice and beans just like with Cuban Picadillo.
Filipino Picadillo is a soup-like dish made with potatoes or chayote and ground beef. It's made without green olives or capers and served with white rice, fried plantains on the side, and a fried egg on top.
However you serve picadillo with potatoes in your country, it's always delicious!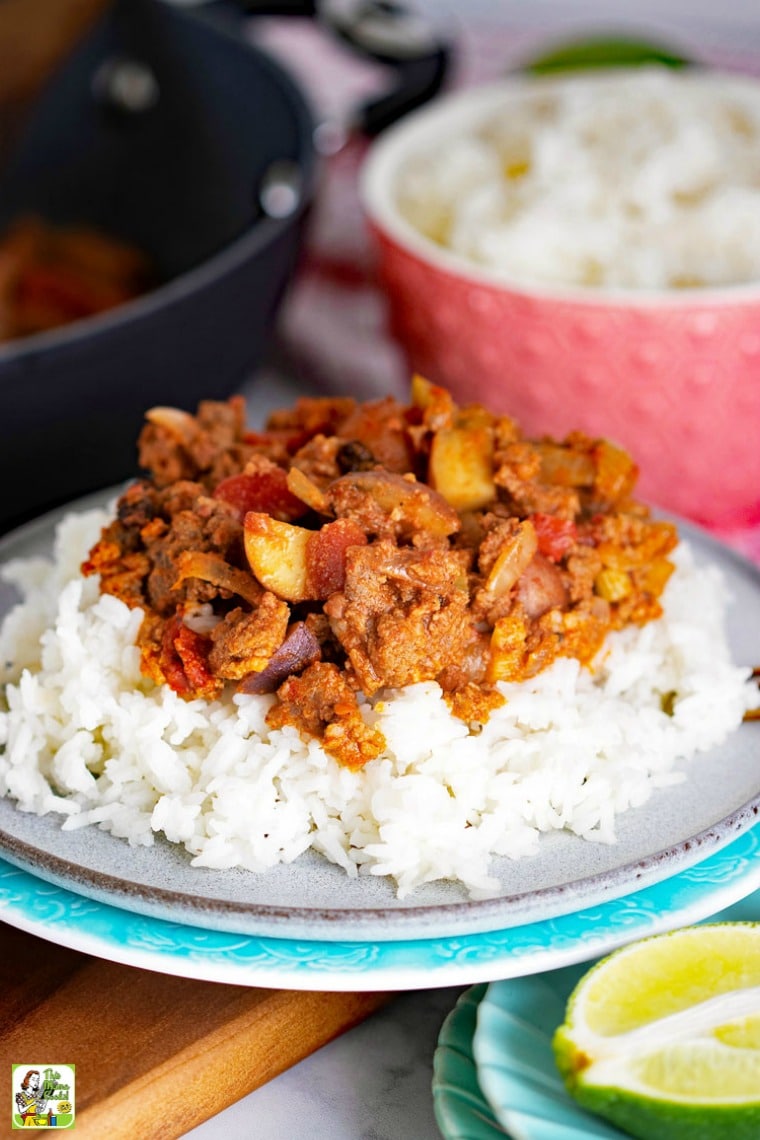 More ground beef recipes
If you're looking for more recipes using ground beef, check these out:
● My family loves this Gluten Free Shepherd's Pie. You don't have to be gluten free to think it's delicious.
● If you're a meatloaf lover, you'll enjoy Mashed Potato Stuffed Meatloaf or Gluten Free Meatloaf Recipe with Potato Chips & Carrots.
● If you have any leftover meatloaf, make Leftover Meatloaf Sandwiches.
● If you have a smoker, make Smoked Meatloaf. It's amazing!
Yield: 8 SERVINGS
Mexican Picadillo Recipe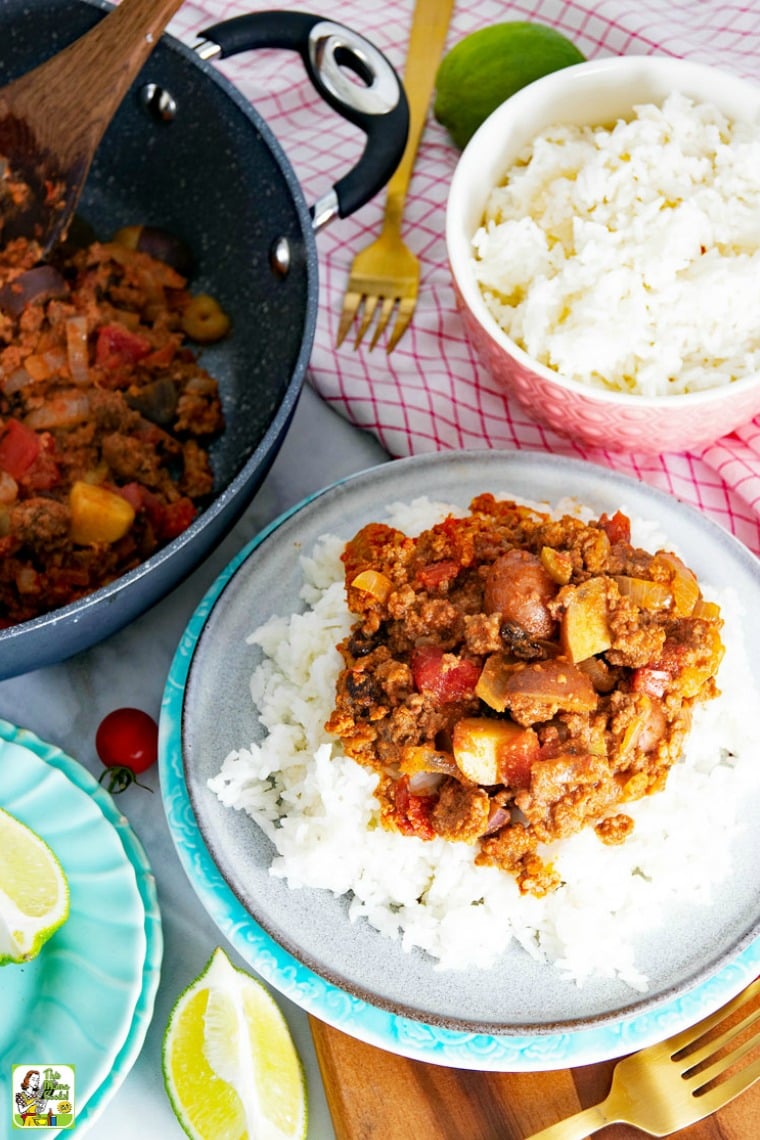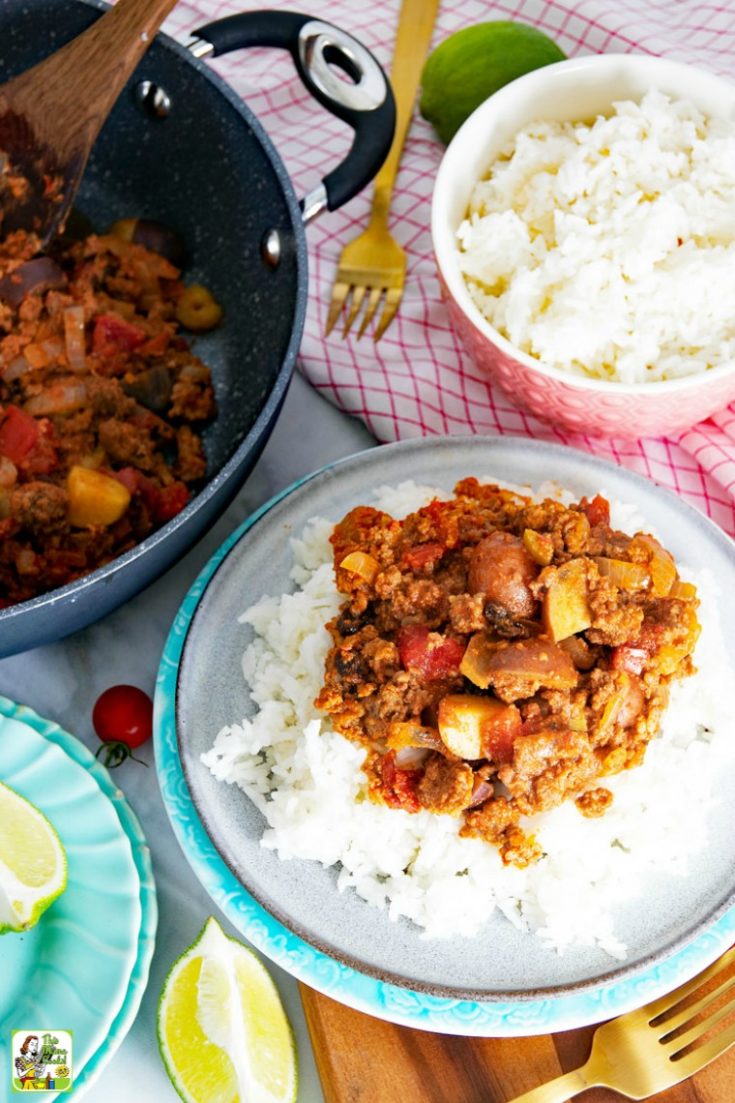 My version of Mexican Picadillo is easy to make. Learn how to make picadillo with ingredients like ground beef, chorizo, potatoes, and raisins.
Ingredients
2 tablespoons olive oil
2/3 cup chopped onions
2/3 cup diced celery
2/3 cup diced potatoes
3 cloves garlic, minced
1/4 teaspoon sea salt
1/2 teaspoon cumin
1/2 teaspoon oregano
1 tablespoon green chili sauce
8 ounces chorizo
1 1/4 pounds ground venison or lean ground beef
1 14.5-ounce can fire-roasted diced tomatoes
1/2 cup raisins
Cooked rice
Instructions
Heat olive oil in a large skillet over medium-high heat. Add onions, celery, potatoes, and garlic and cook until onions start to brown and caramelize. Stir often. Turn down heat if vegetables begin to burn. About 10 minutes.
Add salt, cumin, oregano, and green chili sauce. Cook for 1 minute.
Add chorizo, breaking it up and stirring it into vegetables.
When chorizo has browned, add the ground meat. Break up meat and stir into other ingredients.
When the meat has browned, add in the diced tomatoes. Stir to combine with other ingredients.
Add raisins and stir to combine.
Cover skillet and turn down the heat to low.
Simmer, stirring occasionally, for 10 to 15 minutes.
Serve on top of rice.
Nutrition Information:
Yield:
8
Serving Size:
1
Amount Per Serving:
Calories:

406
Total Fat:

22g
Saturated Fat:

8g
Trans Fat:

0g
Unsaturated Fat:

11g
Cholesterol:

104mg
Sodium:

583mg
Carbohydrates:

22g
Fiber:

2g
Sugar:

9g
Protein:

31g
Nutritional information is automatically calculated per the ingredients list. Serving size may not be accurate. Please double-check with your preferred nutritional app for the most accurate information.
Originally published on April 18, 2011. Updated with new pictures and information.