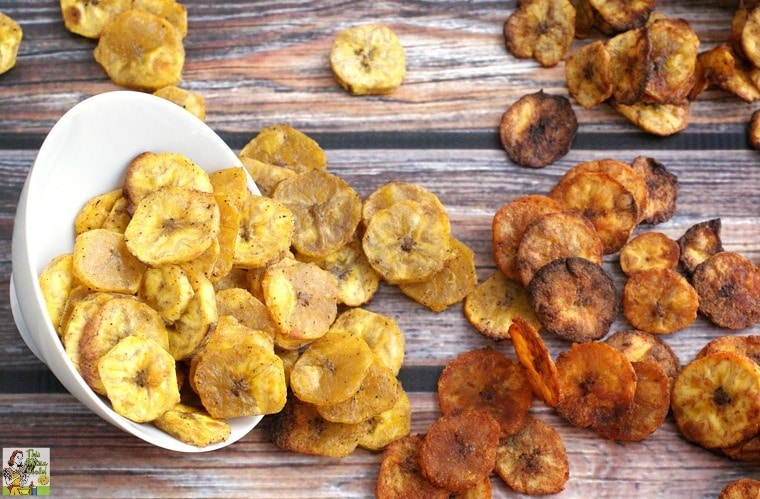 Ever had plantain chips? Well, there's a story behind this Baked Plantain Chips recipe!
When we were visiting Florida a few years ago, we dined at the famous Columbia Restaurant, a classic Cuban style restaurant in the Ybor City section of Tampa.
Luckily, the restaurant has a gluten free menu on their website. So I researched research what I could eat ahead of time like their famous 1905 Salad and their delicious and colorful plantain chips.
My children ordered the Cuban Sandwiches with a side order of plantain chips. I liked that their chips were a more wholesome alternative to French fries.
I got the idea to make a better for you baked plantain chips recipe to enjoy at home. You see, the plantain chips at the Columbia Restaurant are deep fried. And they were only flavored with salt.
Not only would my homemade plantain chips recipe would be a more wholesome alternative to potato chips for a party, but creating sweet as well as savory flavors would surely be a crowd pleaser!

Buying, peeling and cutting plantains to make plantain chips
Plantains are sold at most supermarkets and can be found near the bananas.
For this recipe, you want to buy unripe green plantains, the greener the better. Don't worry about back spots on the plantain peel as it doesn't affect the flesh.
A mandolin slicer is the perfect oven baked plantain recipes slicer as it will cut your plantains into even, thin slices.
Otherwise, use a sharp paring knife and make the slices as thin and uniform as possible.
The thinner the chip, the crunchier your plantain chips will be!
Plantain nutrition makes homemade plantain chips a terrific snack!
Although plantains look like bananas, they're quite different because they must be cooked before being eaten.
If you eat them raw, you'll find that plantains are quite bitter!
Are plantains nutritious? You betcha! Plantains are a great source of fiber and several vitamins and minerals including B6, vitamins A and C, and potassium.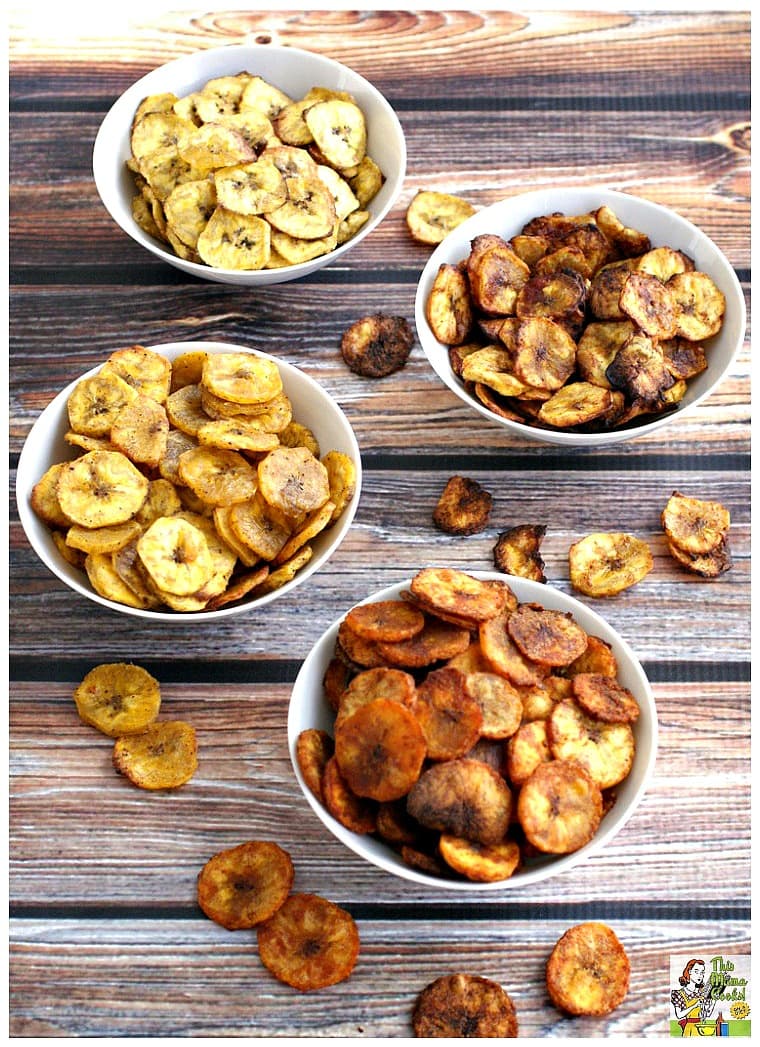 Tips on how to make baked plantain chips
I find that baking the chips on parchment paper works best as the paper absorbs any extra oil.
However, if you don't have any in your pantry, using aluminum foil on a baking sheet is fine and cuts down cleanup time.
Don't burn them! Also, remember to watch your plantain slices closely when baking as they tend to burn quickly.
Flavors: I've included four baked plantain chips flavor mixes in my recipe. All of them are naturally gluten free, vegetarian and vegan.
However, you should feel free to experiment on your own when flavoring this baked plantains recipe. Some ideas could include using premade barbecue rubs, seasoning salts, and/or infused oils.
You can also use my homemade taco seasoning recipe. Get out the herbs and spices and have fun!
Doing paleo? These savory plantain chips recipes are also a good for making paleo chips.
Going to Tampa? To learn more about the Columbia Restaurant in Tampa, Florida, check out:
● The Columbia Restaurant: Celebrating a Century of History, Culture, and Cuisine
● The Columbia Restaurant Spanish Cookbook, and
● Best-Loved Recipes from The Columbia Restaurant
Looking for more easy, gluten free snacks?
Try these tasty snacks:
● Gluten Free Dairy Free Pine Nut Cookies
Yield: 6 SERVINGS
Baked Plantain Chips Recipe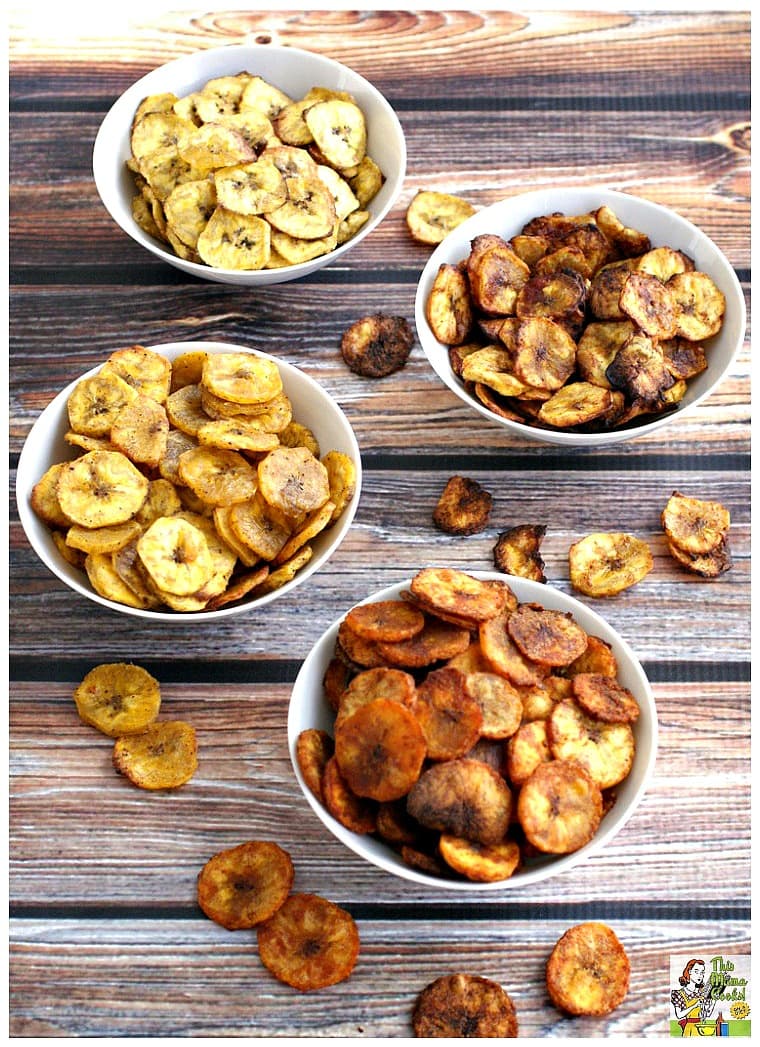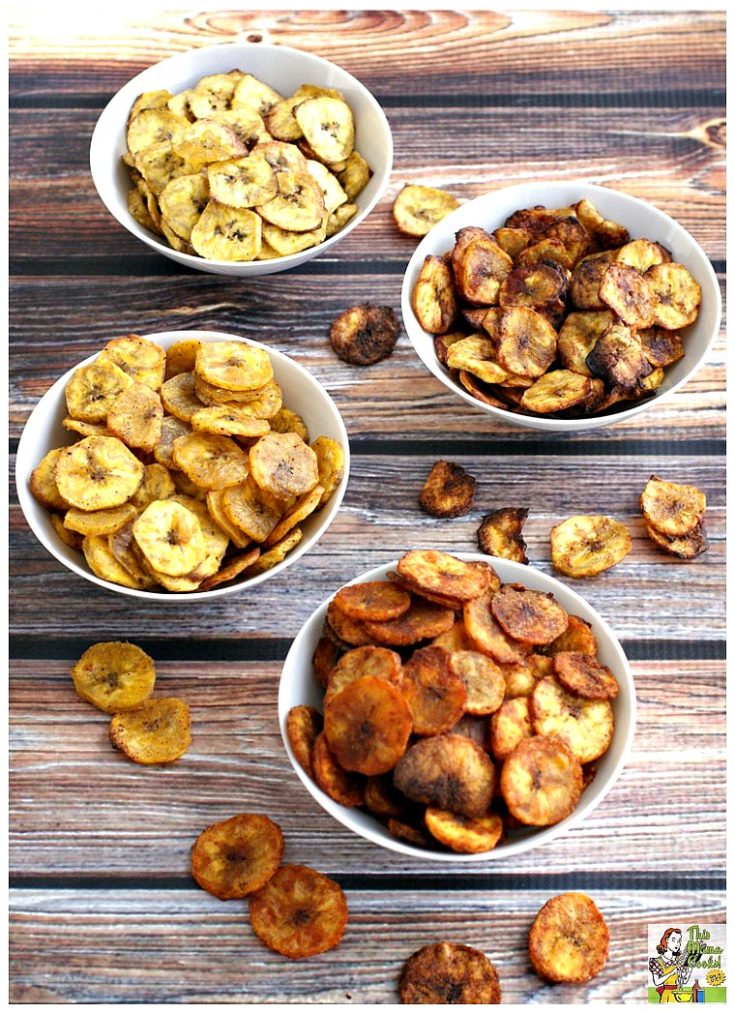 Looking for a baked plantains recipe? These plantain chips can be flavored in different ways.
Ingredients
For Sweet & Spicy Baked Plantain Chips:
2 green plantains
1 1/2 tablespoons olive oil
1/2 teaspoon chipotle chili powder
1/4 teaspoon smoked paprika
1/2 teaspoon sugar or no-calorie sugar substitute (granular not liquid) like Swerve Sweetener
For Salt & Pepper Baked Plantain Chips:
2 green plantains
1 1/2 tablespoons olive oil
3/4 teaspoon salt
freshly ground pepper to taste
For Garlic & Onion Baked Plantain Chips:
2 green plantains
1 1/2 tablespoons olive oil
1/4 teaspoon garlic powder
1/4 teaspoon onion powder
1/2 teaspoon salt
freshly ground pepper to taste
For Cinnamon Sugar Baked Plantain Chips:
2 green plantains
1 1/2 tablespoons olive oil
1 teaspoon ground cinnamon
1 teaspoon sugar or no-calorie sugar substitute (granular not liquid) like Swerve Sweetener
Instructions
Preheat oven to 400 degrees F.
Peel the plantain with a sharp knife. Then slice the plantains as thinly as possible with a mandoline slicer or knife.
In a bowl, combine plantain slices, olive oil, and seasonings. Stir gently to coat the plantain chips.
Place parchment paper on a cookie sheet. Place a single layer of plantains on the parchment paper.
Place the cookie sheet in the oven for 16 to 20 minutes. Turn plantains after 8 minutes.
Baked Plantain chips are done when they start to brown around the edges. Remove from oven and serve.
Baked Plantain Chips are best served warm. You can also cool the plantain chips on a baking rack lined with paper towels to soak up any extra oil, and serve them at room temperature, too. Plantain chips keep for about one day.
Recommended Products
As an Amazon Associate and member of other affiliate programs, I earn from qualifying purchases.
Nutrition Information:
Yield:
6
Serving Size:
1/2 cup
Amount Per Serving:
Calories:

501
Total Fat:

14g
Saturated Fat:

2g
Trans Fat:

0g
Unsaturated Fat:

11g
Cholesterol:

0mg
Sodium:

464mg
Carbohydrates:

102g
Fiber:

8g
Sugar:

46g
Protein:

3g
Nutritional information is automatically calculated per the ingredients list. Serving size may not be accurate. Please double-check with your preferred nutritional app for the most accurate information.
Originally published January 16, 2014, January 26, 2016, and September 14, 2017.
Updated with new pictures and information.