Last Updated on November 30, 2022 by Anne-Marie
Wondering what to serve with chocolate fondue? Here are 15 of the best chocolate fondue dippers and sides.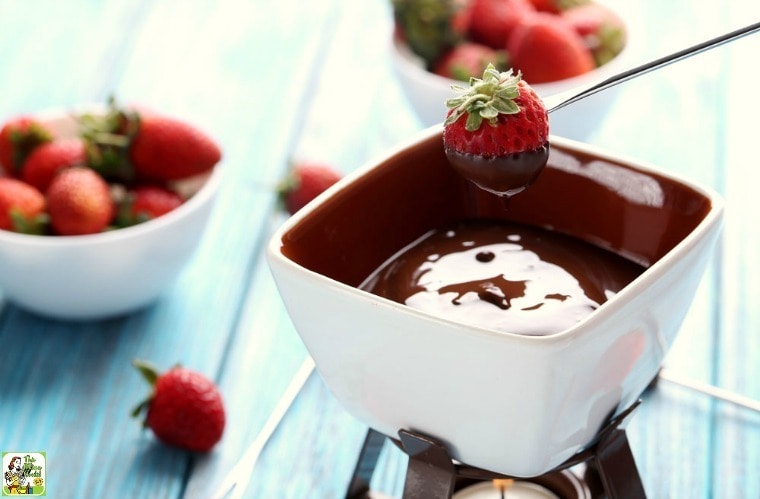 What is chocolate fondue?
Chocolate fondue is usually made from melted dark chocolate, semi-sweet chocolate, or white chocolate. (You can use chocolate chips or crushed chocolate bars.) It's mixed with milk or heavy cream.
It became popular in the U.S. in the early 1960s along with cheese fondue (such as my Brie & Chive Fondue) and meat fondue (cooking meat in a broth fondue). Maybe you've had it at a fondue restaurant.
You don't have to use milk or cream. I make an Easy Dairy Free Chocolate Fondue Recipe with coconut cream and dairy-free chocolate.
You could even make it with one of the new keto chocolate brands. For variety, add creamy peanut butter, a cup marshmallow cream, or a teaspoon vanilla extract or two.
You can also make peppermint chocolate fondue by adding a teaspoon peppermint extract.
Fun fact: the name "fondue" originates from the French word fondre, "to melt."
How to serve chocolate fondue
Set up a chocolate fondue fountain for a chocolate fondue party. Or cook up a batch of homemade chocolate fondue in an electric fondue pot or double broiler.
Now time to figure out what are the best chocolate fondue dippers to put on the end of that set of vintage fondue forks you inherited from grandma.
What dipper ideas will go with dark chocolate fondue vs. a milk chocolate fondue?
Serve these with that easy chocolate fondue recipe for New Year's Eve party. Or save it for a special occasion such as a celebration with your sweetie on Valentine's Day with a white chocolate fondue.
Try simple classic assorted dippers with this sweet treat:
an assortment of fresh fruit such as strawberries, kiwi fruit, sliced bananas, seedless grapes, apple slices, orange slices, and freeze-dried fruit
churros
pretzel sticks and potato chips
crunchy cookies such as animal crackers, vanilla cookies, graham crackers, fortune cookies, and vanilla wafers (or any kind of wafer cookies)
cream puffs
What are your favorite dippers for this fun dessert?
What to Serve with Chocolate Fondue?
Wondering what to serve with chocolate fondue? Here are 15 of the best chocolate fondue dippers and sides.