Last Updated on October 9, 2021 by Anne-Marie
Serve this brie fondue recipe with cheese fondue dippers like apple slices, bread, and shrimp at your next party.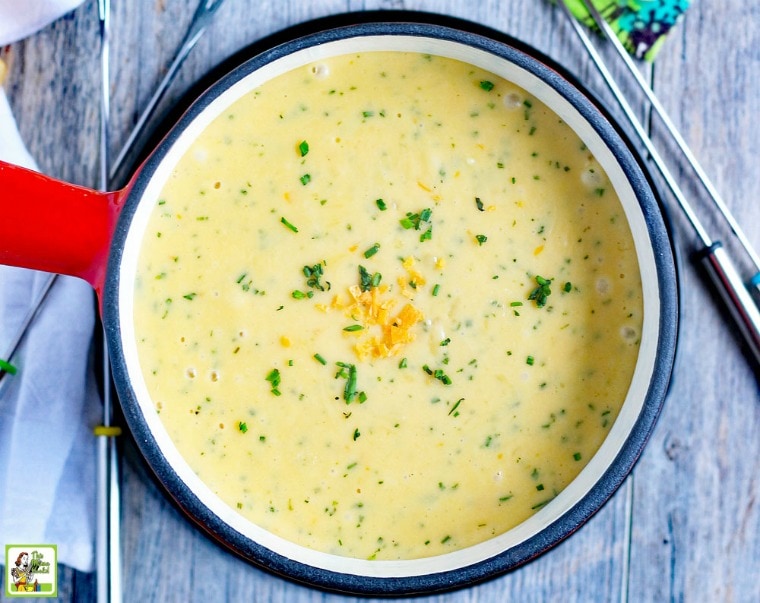 Why this recipe works
When I tell people about my brie fondue recipe they're skeptical. Brie? In a fondue?
Trust me, it's soooooo good that you'll add this to your special occasion recipe repertoire such as romantic dinners, parties, and holidays.
This brie fondue recipe is also a terrific reason to dig out that dusty fondue pot you got for your wedding shower from the back of your pantry!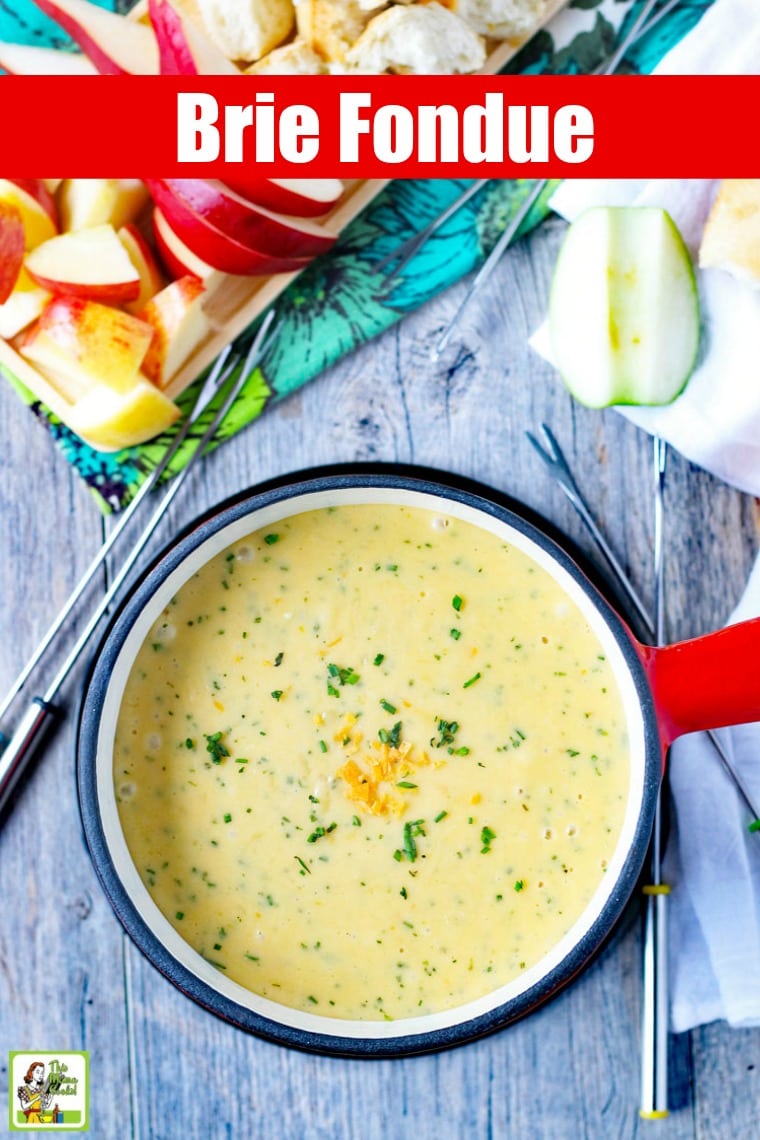 Amazing brie fondue
I've been making Brie & Chive Fondue since the early '90s when I came across it in a Bon Appetit magazine. It's such an old recipe that you can't find it on their website.
Luckily, I had the original fondue recipe tucked away in a file. Not wanting to lose it, I thought I'd repost it with a few gluten free changes and easy tweaks.
What I especially love is that it's a brie fondue recipe without wine. Instead it uses pink grapefruit juice, which makes it truly wonderful. (Traditionally white wine is used in a Gruyere or Swiss cheese fondue.)
Since it's alcohol free it makes it ideal to share with your non-imbibing guests and kids. Yes, the kids!
I once made this for New Year's Eve. It was such a hit with my children that my son asked that I make it for his birthday party!
That's how much even my picky children love this easy fondue recipe.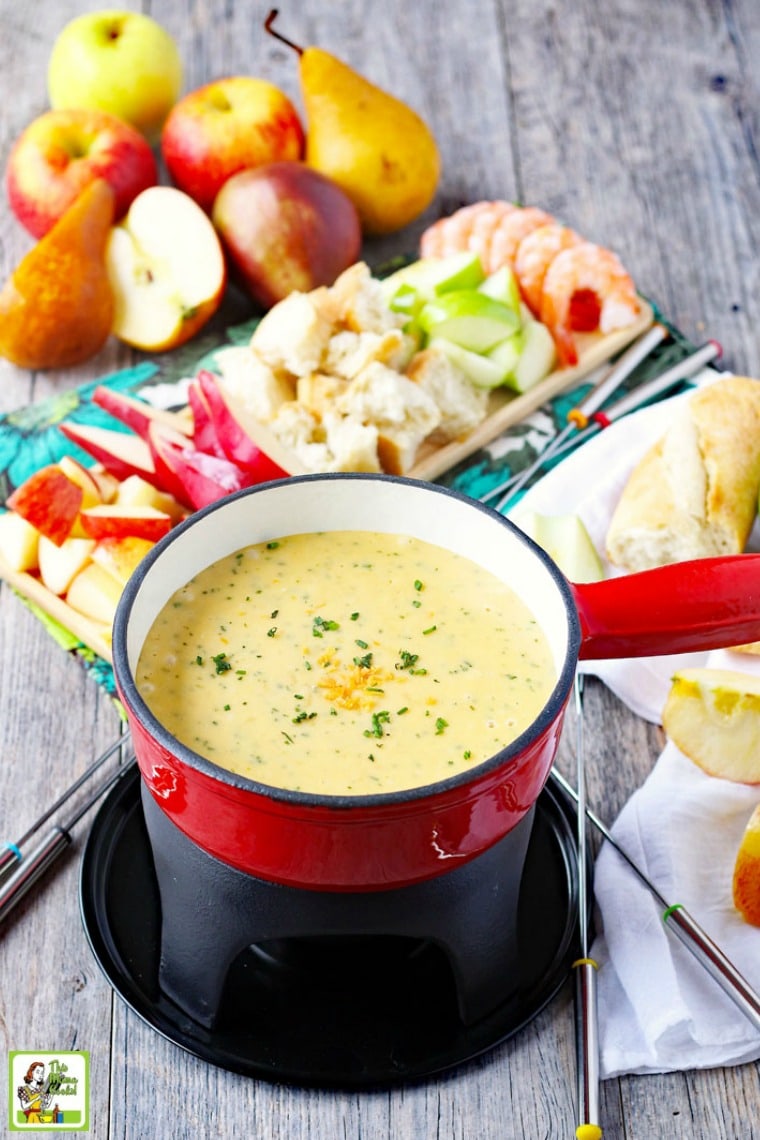 Best cheese fondue dippers
So what do you dip into the brie cheese fondue? Lots of things!
Fruit – apple and pear slices pair well with a mild brie cheese.
Bread – gluten free or regular crusty French or sourdough bread if you're not on a gluten free diet. Bread should be cut or torn into 1-inch pieces.
If you're making this for gluten free party guests, keep one fondue pot completely gluten free. (Place a little sign "Gluten Free Dippers Only!" next to the pot.) That way there's no cross-contamination by guests who may dip regular bread into the pot.
Vegetables – asparagus spears, cherry tomatoes, and slices of zucchini and summer squash.
Pre-cooked, tail on shrimp – delicious and decadent! Plus, the tails act as handles so there's almost no need for a fondue fork.
Fondue forks: make sure there are enough for all your guests. Most fondue sets only come with four, so you may have to buy another set.
My favorite fondue skewers are the type with handles in different colors. (Some sets have colored tips.) That way everyone knows which skewer is theirs so things don't get mixed up
In a pinch, for a party you can use bamboo skewers or even toothpicks.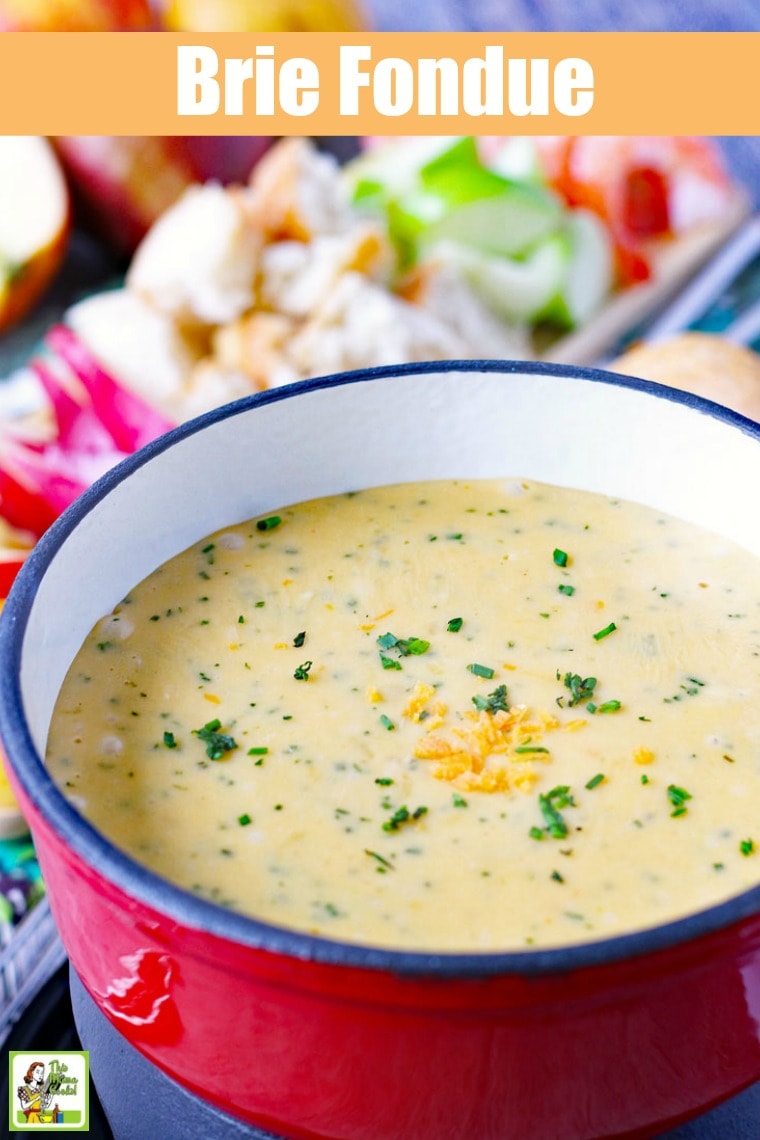 Brie fondue recipe ingredient tips
Brie cheese: Since you'll need two pounds of brie cheese, you'll want to buy it at your favorite membership store like Costco or Sam's Club, where you can find a big wheel at good prices.
I find using a sharp paring knife to remove the rind works best. You can snack on the rind if you like. (Yes, it's edible.) Or you can throw it out.
Making a gluten free fondue: Since I'm gluten free, I used a gluten free flour like Bob's Red Mill Gluten-Free 1-to-1 Baking Flour, which cooks up just like regular flour. I also use gluten free bread as a dipper.
(Check out my  Best Gluten Free Products List to find more of my favorite gluten free baking products!)
Pink grapefruit juice: If you have trouble finding 100% pink grapefruit juice, use 100% grapefruit juice or a pink grapefruit and other 100% juice blend, like apple juice.
Don't use grapefruit juice cocktail, which is full of added sugar and other stuff that won't work with this recipe.
White pepper: You can substitute black pepper for white pepper, but the black specks will show. Also, white pepper is a little more hot than black, so maybe add a pinch more of black if you're using that instead of the white pepper.
Grapefruit peel: If you can find pink grapefruit peel, awesome! If not, peel from a regular grapefruit will do.
I like using a citrus zester that also doubles as a cheese grater. Two of the best zesters are the Microplane 40020 Classic Zester and the OXO Good Grips Zester and Grater.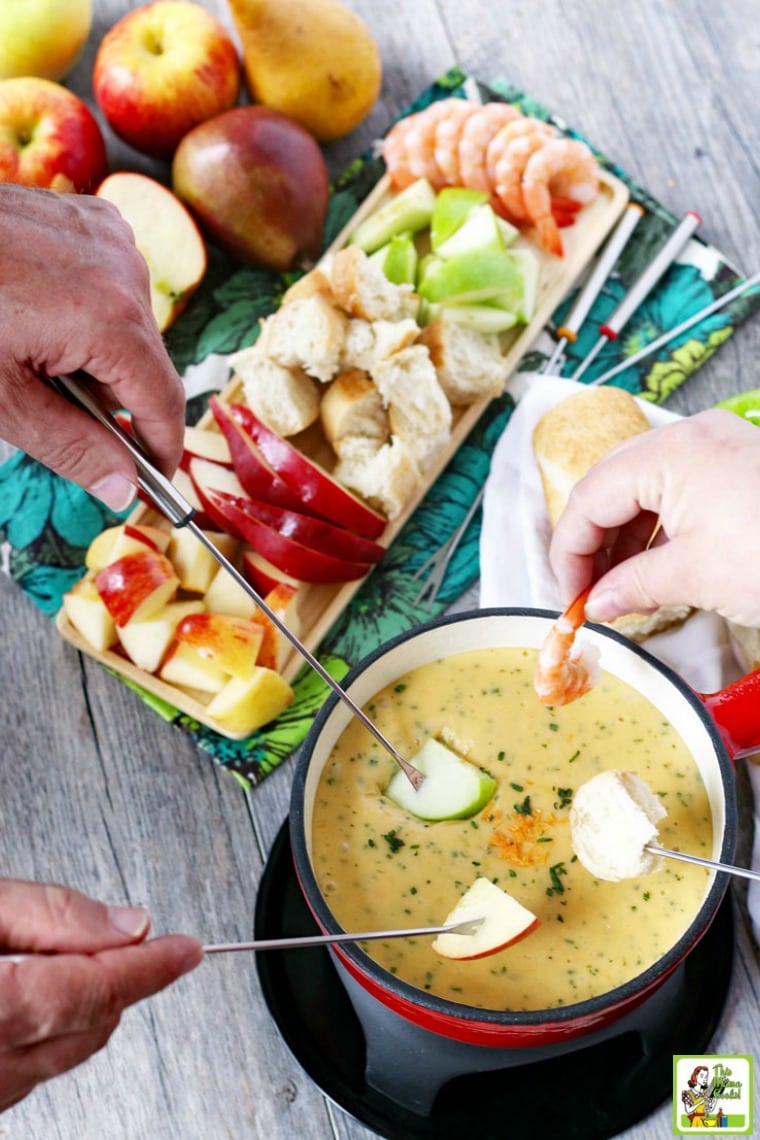 How to make a smooth cheese fondue
It's important to make a smooth, creamy brie fondue. You don't want lumps!
To do this, the trick is to adding the brie cheese pieces to the pot slowly. You shouldn't add more than a handful of brie at a time.
Then you must stir constantly waiting for all the pieces to melt before adding more brie to the cooking pot.
Don't rush the cooking process by increasing the heat or you may burn the fondue, which would be disastrous!
Can I make brie fondue in advance?
YES! You can make this one day ahead, which is super convenient if you're making this for a party. Just cover and refrigerate.
Reheat over low heat, stirring frequently. Thin with more grapefruit juice if necessary.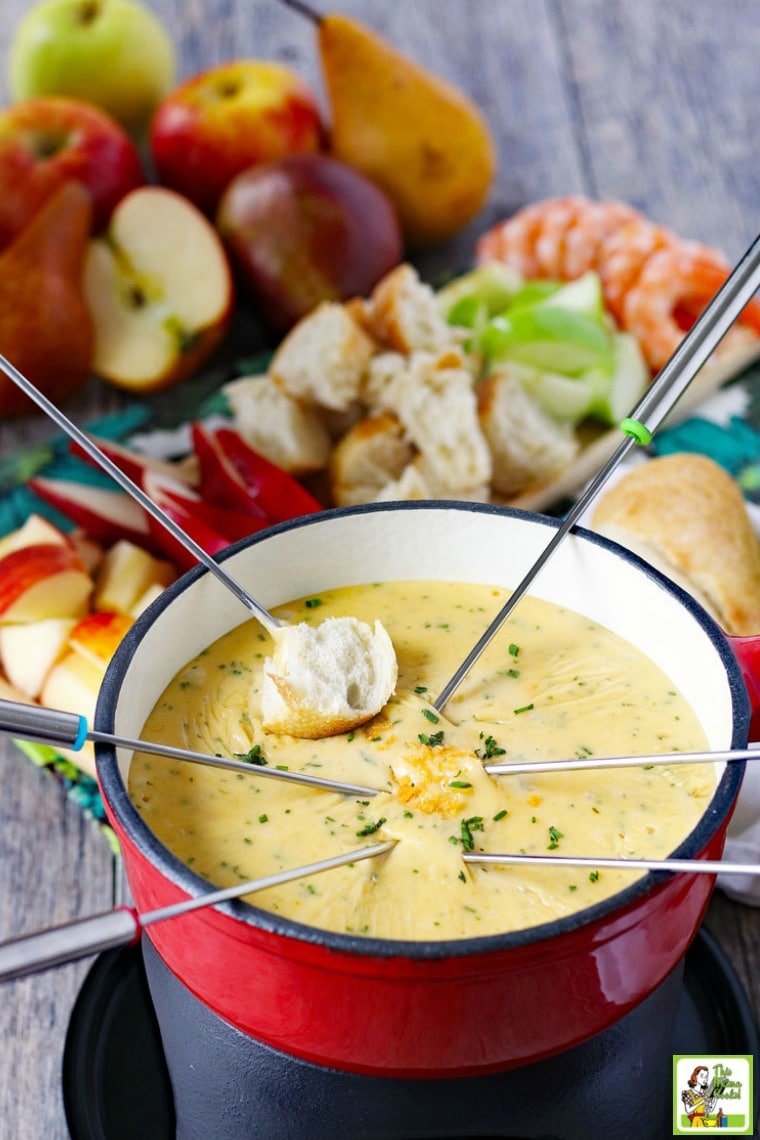 Other terrific party appetizers & drinks
Here are some other appetizers and drinks to serve at your next party along with the fondue:
● Chocolate Chip Cookie Dough Dip
Best fondue pots
I have an old green aluminum fondue pot from the '70s that I found at a thrift store and a Le Creuset cast iron fondue pot.
Both keep the fondue warm with either a candle or sterno fuel. Neither are ideal as they don't keep a consistent temperature. The candle isn't hot enough. With the sterno, the cheese sometimes get singed, which makes cleanup a pain.
Instead, America's Test Kitchen recommends electric fondue pots for chocolate, cheese, and meat fondues. They like that electric models have heating elements that cycle on and off with adjustable knobs to regulate the temperature and keep it consistent.
Electric fondue pot crocks are usually wider than fuel-powered models, which allows more room for dipping at the family table or at parties.
The best fondue pots:
● Cuisinart CFO-3SS Electric Fondue Maker, Brushed Stainless
● Oster Fondue Pot, Black Titanium Infused DuraCeramic Fondue Maker
Yield: 6 SERVINGS
Brie & Chive Fondue Recipe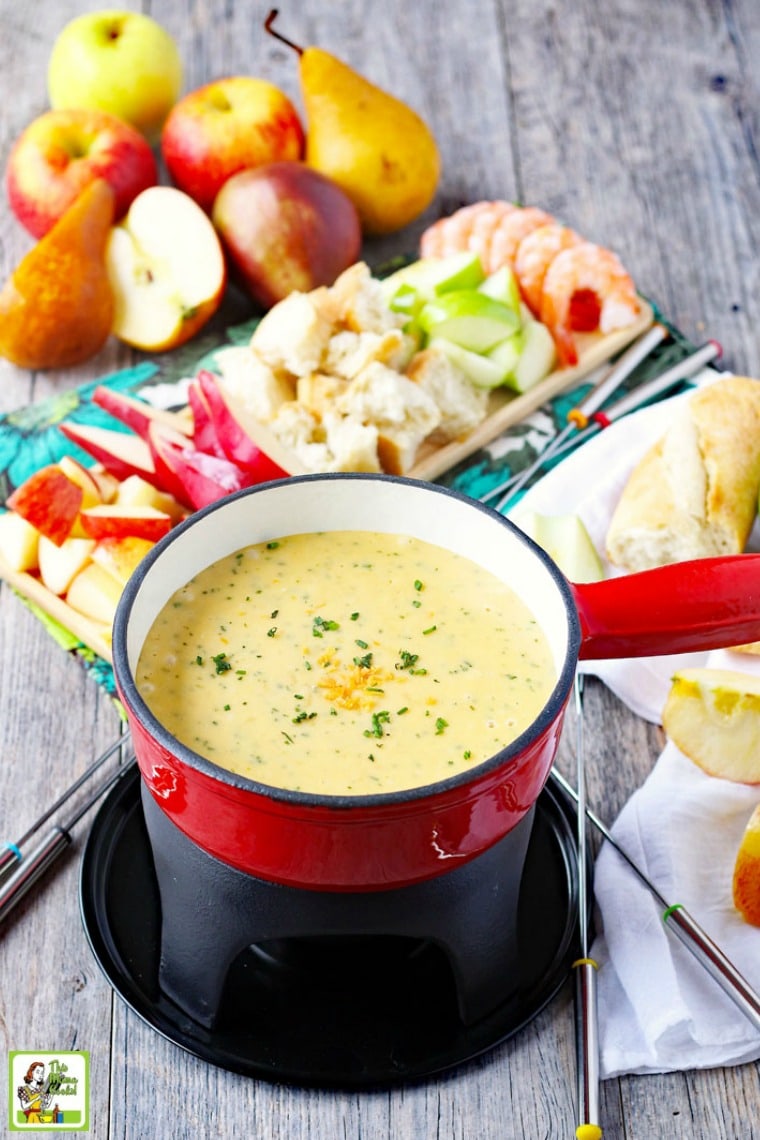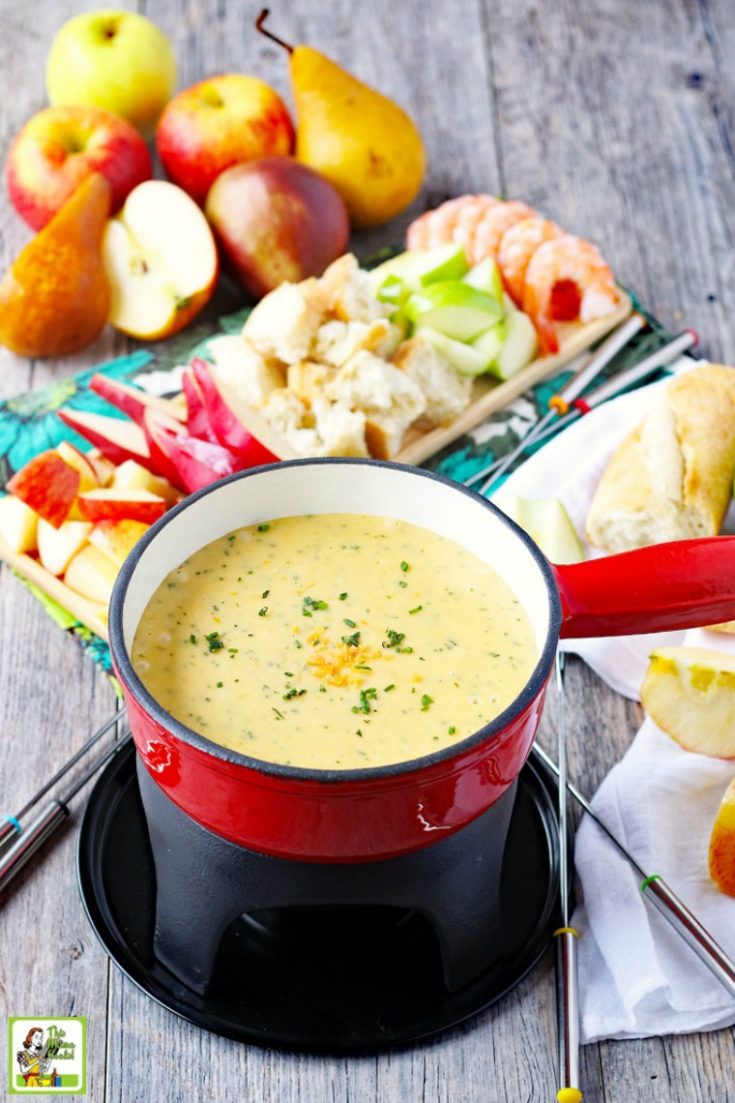 Make a pot of brie fondue for a party. Serve this brie fondue recipe with cheese fondue dippers like apple slices, bread, and shrimp.
Total Time
1 hour
10 minutes
Ingredients
For fondue:
2 pounds chilled slightly firm Brie cheese
2 tablespoons gluten free all-purpose flour
1 tablespoon butter or buttery spread
3 tablespoons minced shallots
1 1/2 cups (or more) 100% pink grapefruit juice
white pepper, to taste
1/4 cup chopped fresh chives
1 teaspoon grated grapefruit peel
For dipping:
gluten free bread cut or torn into 1-inch pieces
apple and pear slices
cooked shrimp (you don't need fondue skewers if you used the tail-on variety)
asparagus spears, cherry tomatoes, and slices of zucchini and summer squash
Instructions
Remove rind from cheese.
Tear cheese into pieces and place in a large bowl. Add gluten free flour and toss to coat.
Melt buttery spread in a heavy medium saucepan over medium heat.
Add minced shallots and sauté until golden brown, about 4 minutes.
Add 1 1/2 cups grapefruit juice. Simmer until liquid is reduced to 1 cup, about 15 minutes. Reduce heat to medium-low.
Add 1 handful of brie to the saucepan and stir constantly until the cheese melts about 5 minutes.
Repeat with remaining cheese, 1 handful at a time.
Season to taste with white pepper.
Stir in chives and grapefruit peel.
Pour cheese mixture into a fondue pot and set over a candle or canned heat. Serve with the dippers of your choice.
Notes
Based on a recipe from the September 1991 issue of Bon Appetit magazine.
Recommended Products
As an Amazon Associate Affiliate and member of other affiliate programs, I earn from qualifying purchases.
Nutrition Information:
Yield:
6
Serving Size:
3/4 cup
Amount Per Serving:
Calories:

406
Total Fat:

26g
Saturated Fat:

15g
Trans Fat:

0g
Unsaturated Fat:

9g
Cholesterol:

111mg
Sodium:

669mg
Carbohydrates:

25g
Fiber:

4g
Sugar:

10g
Protein:

21g
Nutritional information is automatically calculated per the ingredients list. Serving size may not be accurate. Please double-check with your preferred nutritional app for the most accurate information.
Originally posted on February 6, 2014. Updated with new pictures and information.