Last Updated on November 5, 2021 by Anne-Marie
Serve this pimento cheese spread recipe with crackers. Turn it into a pimento cheese ball pumpkin for fall entertaining.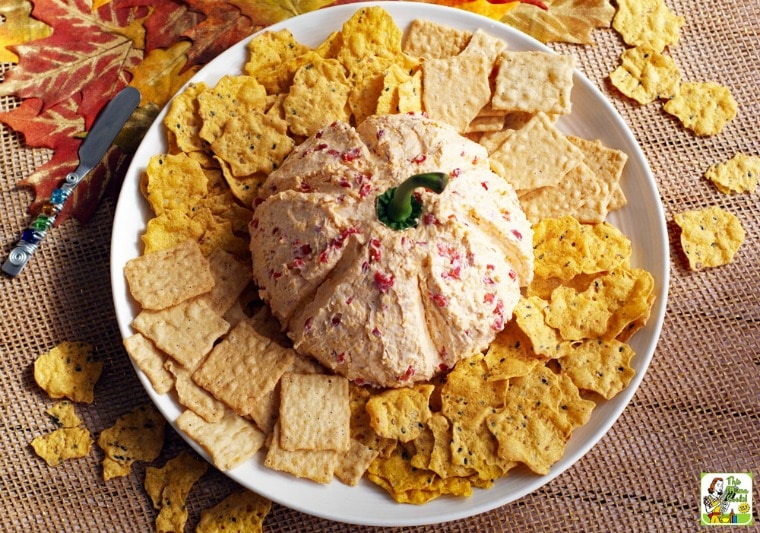 Why this recipe works
It's not a party unless you serve this pimento cheese spread recipe.
Make it even more marvelous by sculpting it into a pumpkin pimento cheese ball. Just the thing for fall entertaining!
If you have a little bit of artistic talent, it's super easy to make. Or get the kids to help you.
Turn this into a charming Halloween party platter. Or make it part of an edible centerpiece for your Thanksgiving table.
Another idea is serving this as an appetizer at your next football watching party!
Whether your guests are fans of one of the southern college teams or cheeseheads, this pimento cheese ball recipe will be a scrumptious game day treat.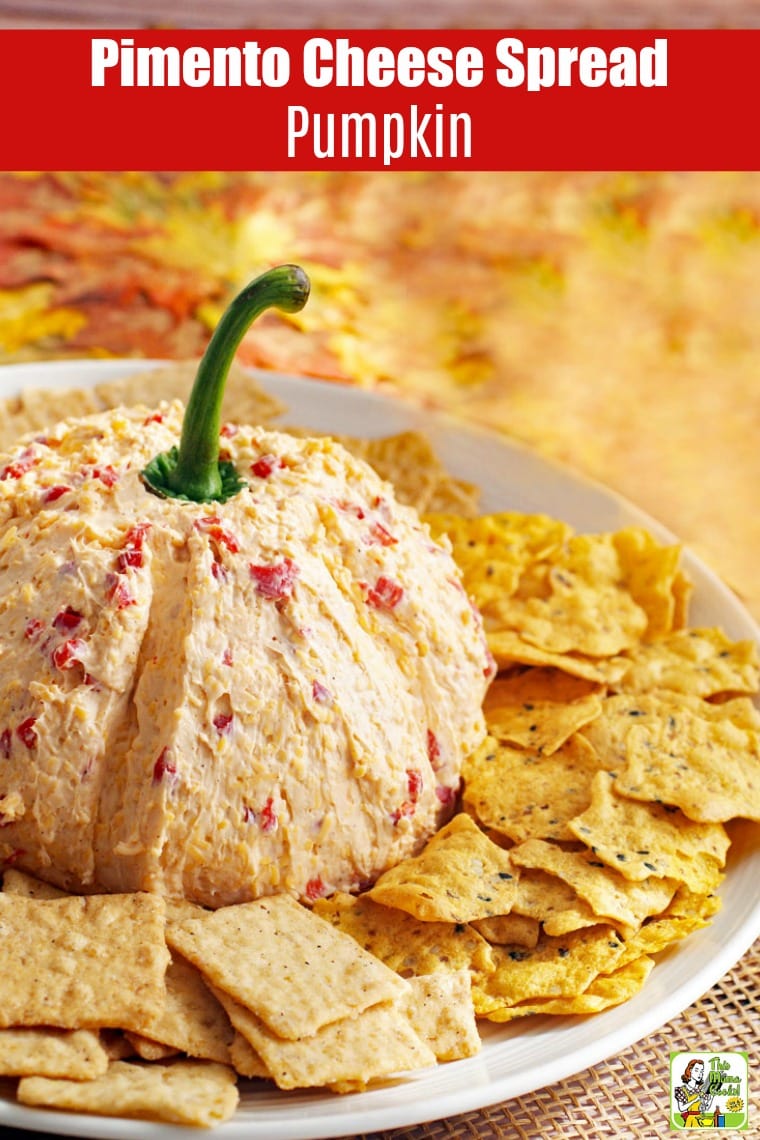 The origins of the pimento cheese spread
According to Serious Eats, pimento cheese spread has its origins in New York State and not in the South. Read more about The Real History of Pimento Cheese.
Pimento cream cheese was everywhere when I lived in Georgia. It was served at casual restaurants on hot dogs and burgers to fine dining establishments on charcuterie boards.
I fell in love with it and blame going up several pant sizes on pimento cheese and barbecue when I lived there.
Homemade pimento cheese spread is served at ladies' luncheons as well as pig roasts.
One year my husband even brought home a pimento cheese sandwich just for me from The Masters Golf Tournament in Augusta where it's a must have!
When I've checked out the ingredient labels on the southern pimento cheese spread at the market, I was grossed out.
The store-brought versions are filled with all kinds of processed nastiness, like high fructose corn syrup and artificial colorings.
Awful! Instead, why not make a better for you pimento cream cheese recipe?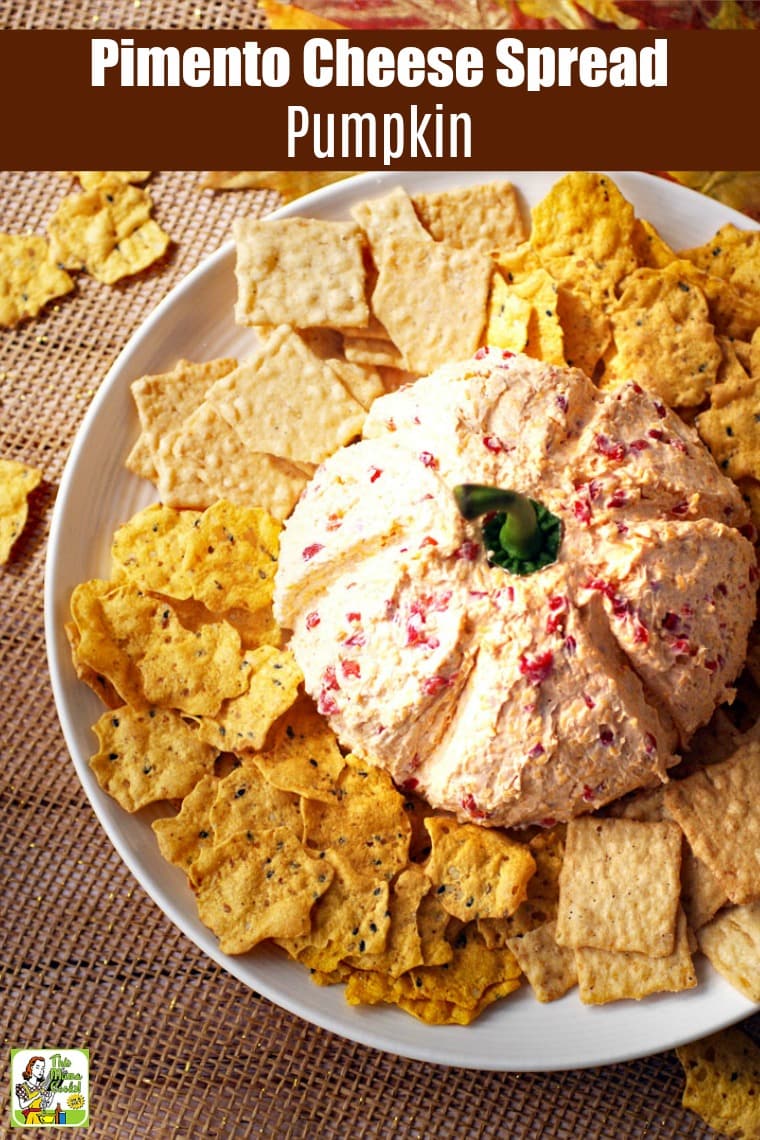 Making a better for you pimento cheese spread recipe
Cheese: In my recipe for homemade pimento cheese spread, I chose to use already shredded sharp cheddar cheese. (Pimento cheese spread recipes are always made with sharp cheddar cheese.)
Plus, finely cut shredded cheese quickly mixes with the rest of the ingredients and saves time. (Who hates to grate cheese? You, me, EVERYONE!)
People who are gluten free may have concerns about pre-shredded cheese. According to this article at Very Well Fit, which is reviewed by a board-certified physician, both Kraft and Sargento consider their shredded cheeses to be gluten-free.
Sargento notes that the powdered cellulose it uses in its shredded cheese is not derived from a gluten grain.
In addition, if anti-clumping agents used by cheese manufacturers include powdered cellulose made from a gluten grain, the manufacturer should list it on the product's label.
However, if you have concerns or if you react to very low levels of gluten, you may want to shred your own cheese.
Cream cheese: To lower the calories in the pimento cream cheese spread, I used Neufchatel (low fat) cream cheese instead of full fat cream cheese since it contains a third less fat.
Many people like using Neufchatel over regular cream cheese since they feel it's creamier.
Check out The 14 Best Substitutes for Cream Cheese for more cream cheese substitute ideas.
Mayonnaise: I also used an olive oil mayonnaise, which has a more vinegary taste than a regular mayo. If you're not a fan, feel free to use your favorite style of mayonnaise. Since pimento cheese is a southern classic, you may want to use Duke's mayo, which is also a traditional southern brand.
I also prefer using regular mayonnaise over "lite" mayos. Yes, regular has more calories and fat, but the lighter versions are made with fillers and funky ingredients some people aren't comfortable serving to their families.
Seasonings: I also wanted to add a little kick to my recipe for pimento cheese spread, so I spiced things up with chipotle pepper sauce and ground ancho chili pepper. If you want it even spicier, add a little more seasoning!
Coloring your pimento pumpkin: Wanting to add a little color, I used brown Hawaiian sea salt. However, regular white sea salt is fine.
Pimentos: Did you know that pimentos are just chopped up cherry peppers? You can find jars of them in the canned vegetable section.
Make sure to drain them well so your cheese spread doesn't get runny. (You may want to dab them with a paper towel to get them extra dry.)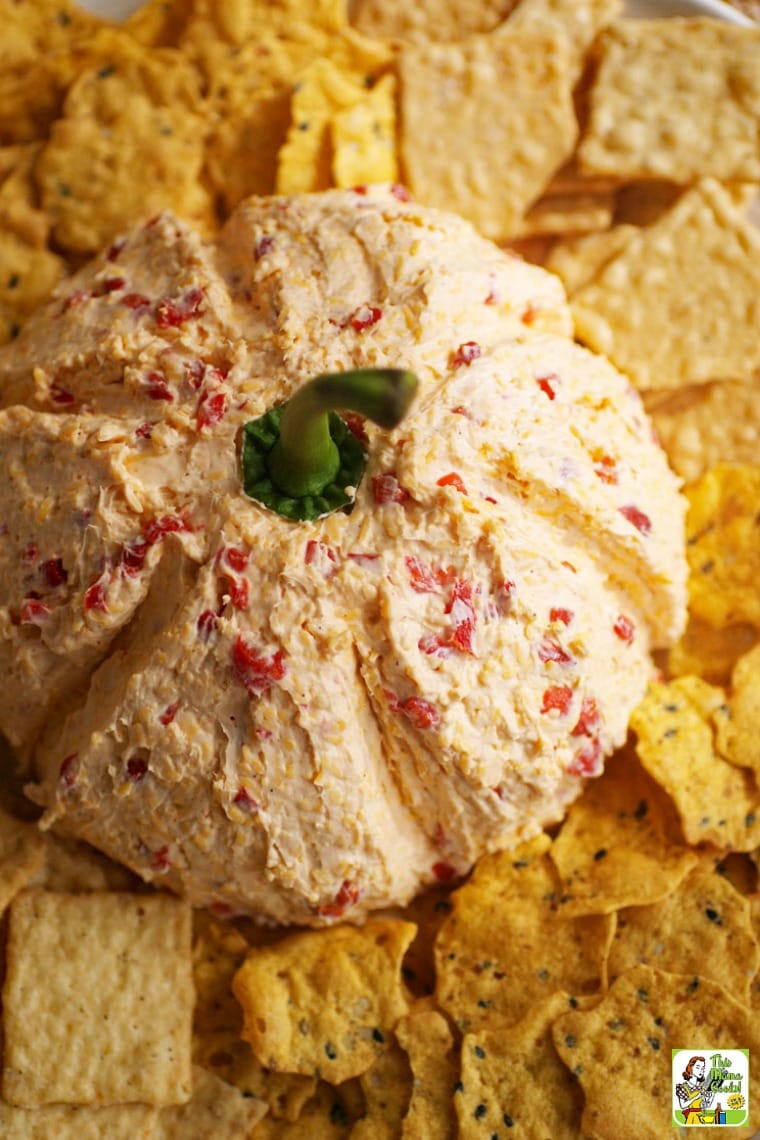 Holiday entertaining with a pimento cheese ball pumpkin
I love coming up with fun party food ideas, and wanted to do something different for Thanksgiving with my homemade pimento cheese with cream cheese.
We've all had cheese balls at parties, right? Well, I took this one step farther and turned my pimento cheese ball recipe with cream cheese into pumpkin!
This is where four years of art school came in handy. Seriously though, making a pimento cheese ball pumpkin was pretty easy and fun to do.
Though with all those pimentos, it looks more like one of those funky gourds than a pumpkin, but I'm cool with that.
If you're intimidated by what you think are your lack of sculpting skills, ask one of your artistic kids or a friend to help.
If you give it a try and it looks like a kitchen nightmare, just put the pimento cheese spread in a pretty bowl. No one will know and trying to sculpt the cheese spread won't ruin it.
Also, if you feel the pimento cheese isn't orange enough, feel free to add a little orange food coloring gel from the craft store.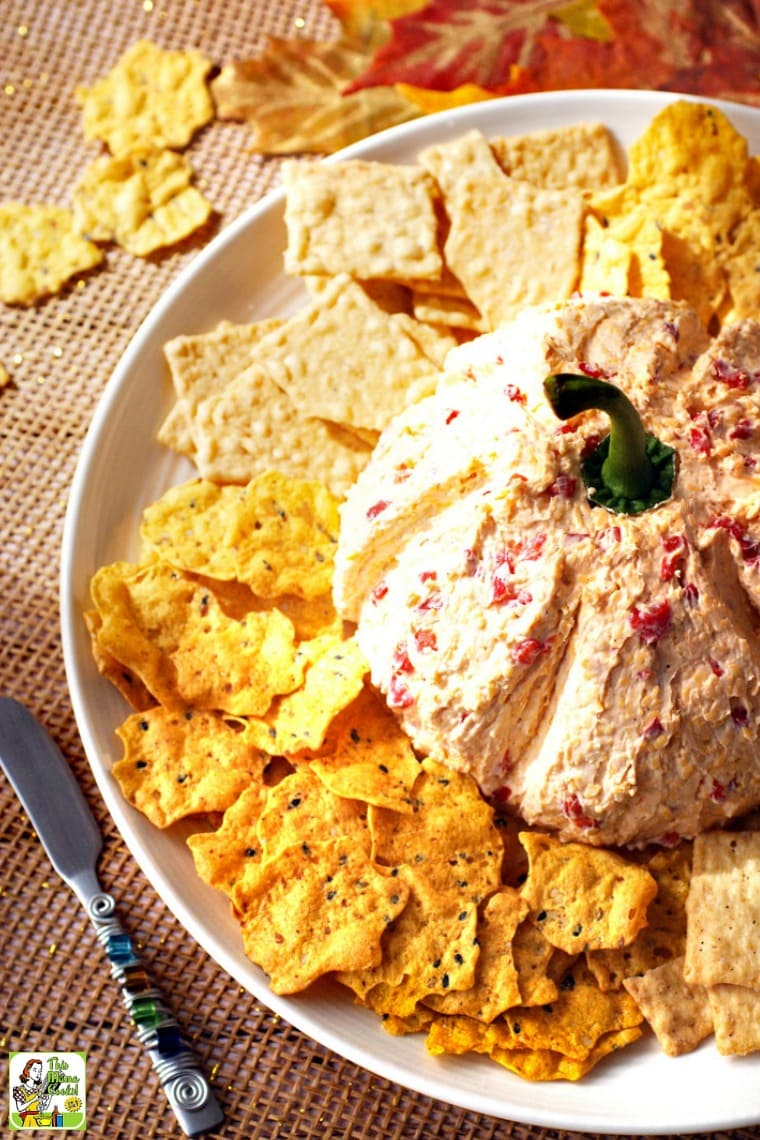 How to make homemade pimento cheese spread gluten free
This pimento cheese with cream cheese recipe is already gluten free.
To make this a completely gluten free appetizer, all you need to do is serve the pimento cheese spread on gluten free crackers.
Serve the pimento cheese pumpkin ball surrounded by plenty of gluten free crackers.
When I first made this, I loved serving it on Udi's Ancient Grains Crisps as shown in the pictures. Unfortunately, Udi's doesn't make them anymore.
Luckily, there are all kinds of terrific gluten free crackers on the market that you can easily find at the grocery store. I love Good Thins crackers, several varieties which are certified gluten free (just check the box).
I also like Late July Snacks Chia and Quinoa Tortilla Chips, which are also certified GF. If you haven't checked out this brand of chips, please do! Not only are they tasty, but they're sturdy enough to stand up to thick dips without breaking.
If you're tempted to having a selection of regular and GF crackers, please don't. This way you don't have to worry about cross-contamination from guests sticking gluten containing crackers into the pimento cheese ball pumpkin and accidentally poisoning your gluten sensitive guests!
Other ideas for serving include making this the center of a large charcuterie board complete with slices of gluten free summer sausage, cheese, olives, pickles, and Refrigerator Pickled Okra.
Pimento cheese is also keto-friendly
Since pimento cheese it's low in carbs, it's also a perfect appetizer for anyone on a keto diet.
Just serve it with low carb chips or vegetables like sweet peppers, cauliflower, or celery.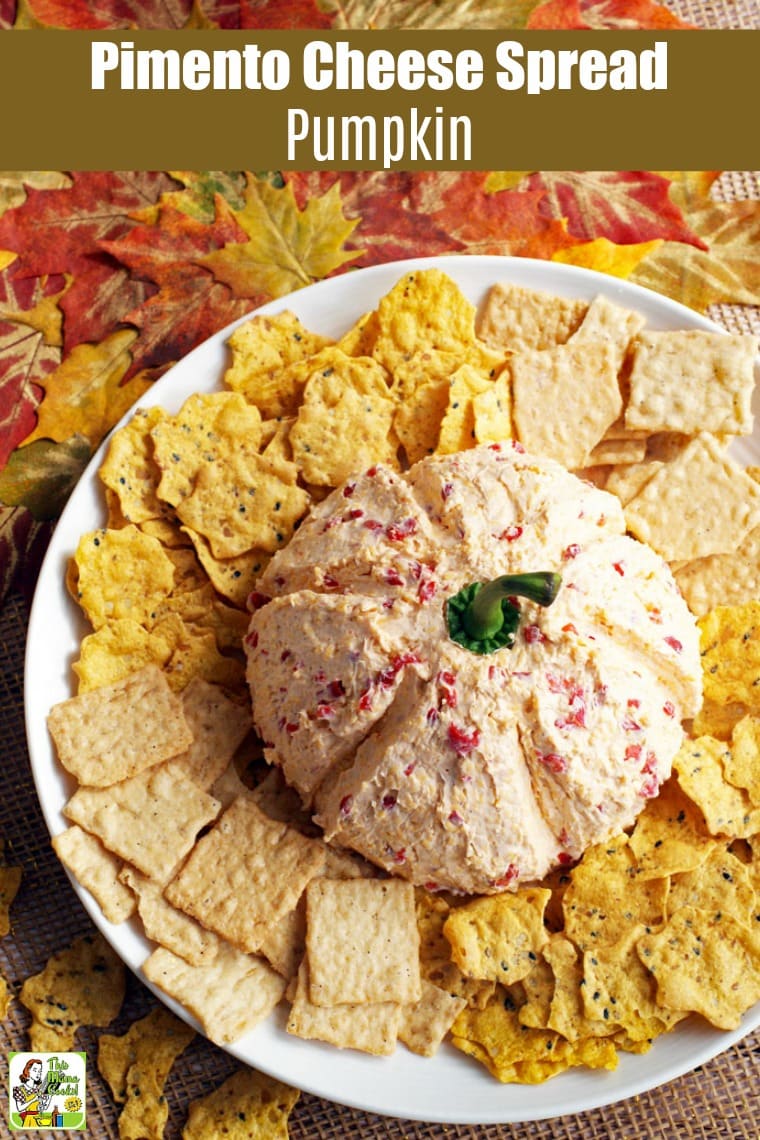 More gluten free appetizers
Check out the Best Gluten Free Thanksgiving Desserts Recipes and the Best Keto Thanksgiving Recipes for more delicious recipes for your holiday table.
● Chicken Shawarma Appetizers with Dipping Sauce
Yield: 24 SERVINGS
Pimento Cheese Spread Recipe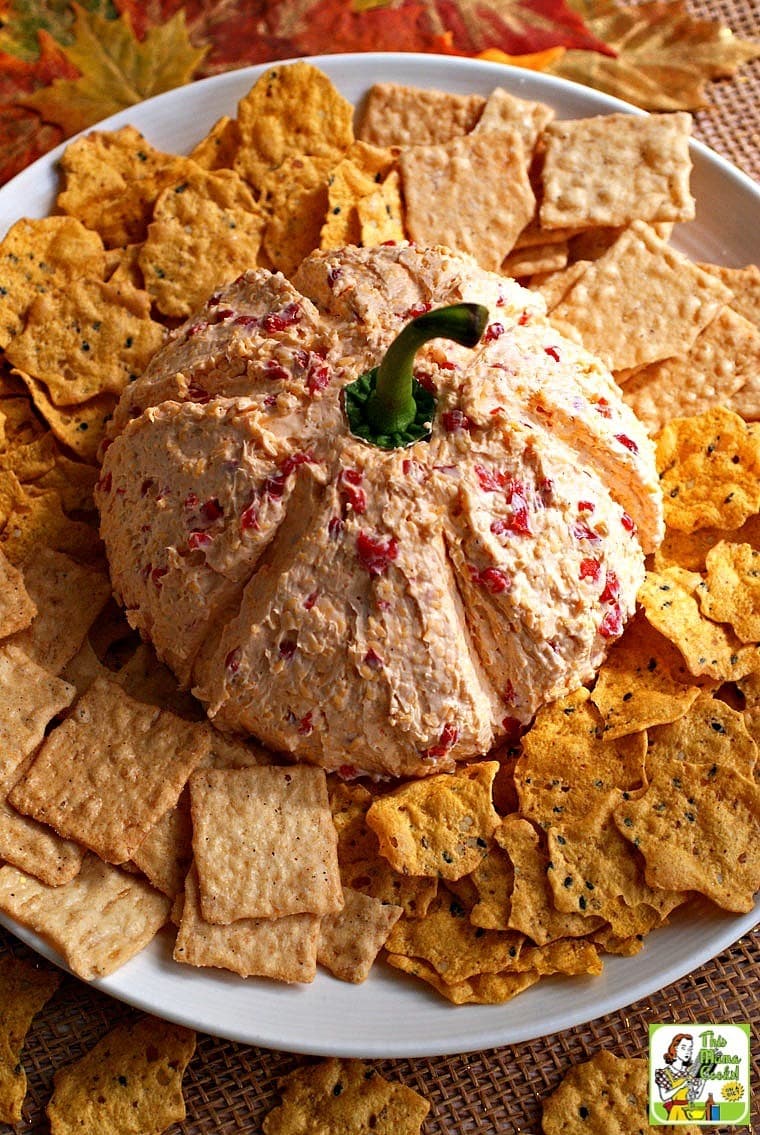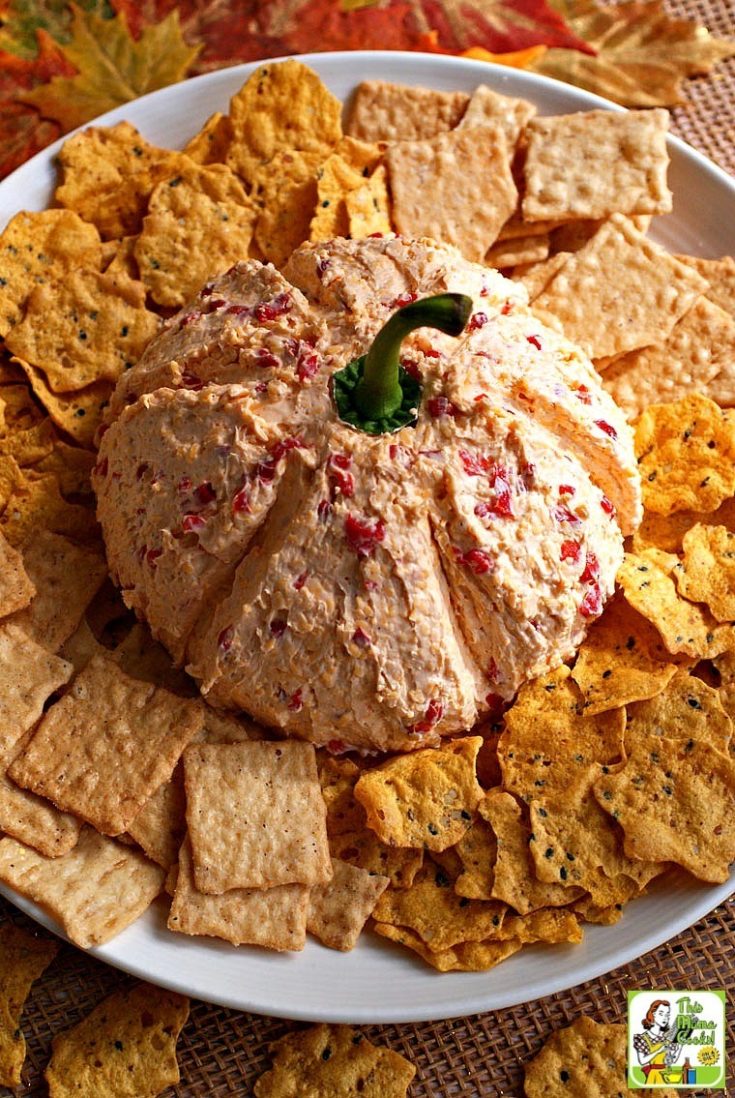 Serve this Pimento Cheese Spread Recipe with crackers. Turn it into a pimento cheese ball pumpkin for fall entertaining.
Ingredients
4 cups finely cut shredded sharp cheddar cheese
16 ounces Neufchatel (low fat) cream cheese, softened
3/4 cup olive oil mayonnaise
1/2 teaspoon garlic powder
1/2 teaspoon onion powder
1/2 teaspoon ancho chile pepper
1/2 teaspoon Hawaiian sea salt
1/4 teaspoon chipotle pepper sauce
2 4-ounces jars diced pimentos, well-drained
Stem of a bell pepper, trimmed of seeds and pith
Gluten free crackers for serving
Instructions
Pimento Cheese Spread
Place the shredded cheddar cheese, Neufchatel cream cheese, mayonnaise, garlic powder, onion powder, ancho chili pepper, sea salt, pepper sauce, and pimentos into the bowl of a stand mixer.
Using the paddle attachment, beat at medium speed until the mixture is thoroughly combined. Scrape down walls of the bowl if necessary to completely mix all ingredients together.
Making the pimento cheese ball pumpkin
Using a spatula, scrape down the sides of the bowl to form the pimento cheese into a ball. Then carefully scrape the cheese ball on to the middle of a large serving plate. Using the spatula, smooth the sides of the cheese until you have kind of a half dome. Place the plate in the refrigerator to cool for 30 minutes.
Remove the plate from the refrigerator. Using a small offset cake spatula, spread knife, or a flat butter knife, sculpt your pumpkin and score the sides. Don't worry about it being perfect. Have fun! When you're happy how it looks, take the stem from a bell pepper (remove the seeds and pith) and place it on top.
Refrigerate until it's time to serve. Also, add crackers just before serving so they don't get soggy.
Nutrition Information:
Yield:
24
Serving Size:
1
Amount Per Serving:
Calories:

265
Total Fat:

22g
Saturated Fat:

11g
Trans Fat:

1g
Unsaturated Fat:

8g
Cholesterol:

59mg
Sodium:

496mg
Carbohydrates:

3g
Fiber:

0g
Sugar:

1g
Protein:

14g
Nutritional information is automatically calculated per the ingredients list. Serving size may not be accurate. Please double-check with your preferred nutritional app for the most accurate information.
Originally published on November 13, 2014 and November 9, 2016. Updated with new pictures and information.