Last Updated on October 9, 2021 by Anne-Marie
Refrigerator Pickled Okra is an easy pickling and canning recipe. Use spicy pickled okra in sandwiches or burgers.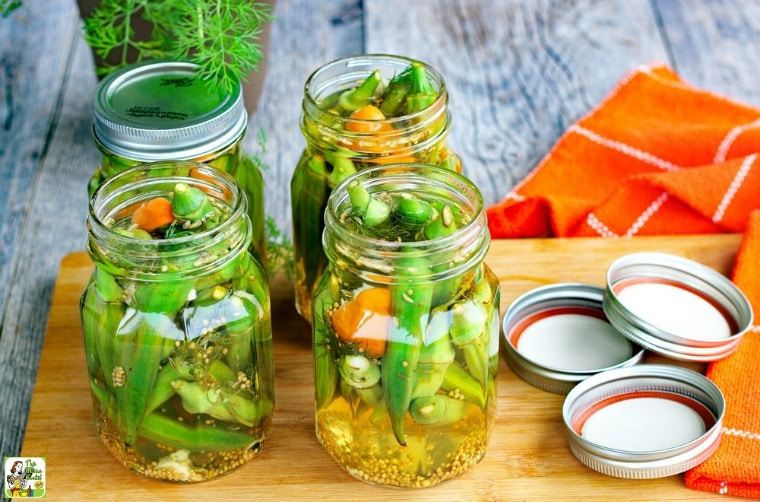 Why this recipe works
Refrigerator pickled okra is one of the easiest pickling or canning recipes you can make. If you're new to canning or pickling, it's a terrific starter recipe as you cannot mess it up!
I first tried spicy pickled okra when I lived in the South and fell in love. Many southern style restaurants would serve hot pickled okra in Bloody Mary's or as part of a charcuterie plate.
I learned to adore okra, so canning it in this quick and easy pickled okra recipe reminds me of those times. (So does my Easy Tomato & Okra Soup, which is the best soup for fall.)
Even better, this recipe gives me a chance to use several spices and white wine vinegar that have been crowding my cupboards for years.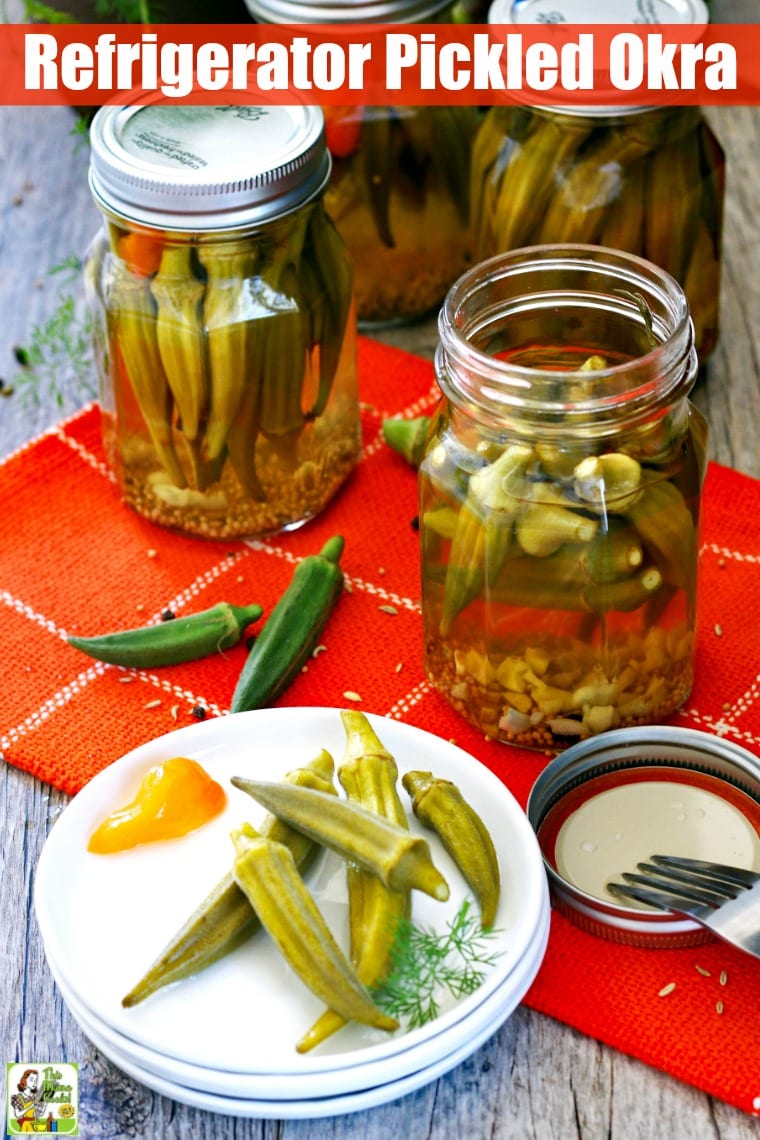 What to do with pickled okra
Try adding some easy pickled okra to your favorite sandwich or burgers just like you would any other kind of pickle.
Pickled okra is also a terrific party appetizer. Serve it on a party platter along with olives, cheese, pieces of summer sausage, slices of prosciutto, and crackers.
However, my favorite reason for making up a batch of this refrigerator pickled okra recipe is to make a Dirty Okra Martini.
Have you ever tried one? It's very similar to a dirty martini or a pickle martini cocktail.
You use the juice from the spicy pickled okra recipe to make your favorite martini recipe "dirty" and garnish with a skewered okra pickle or two.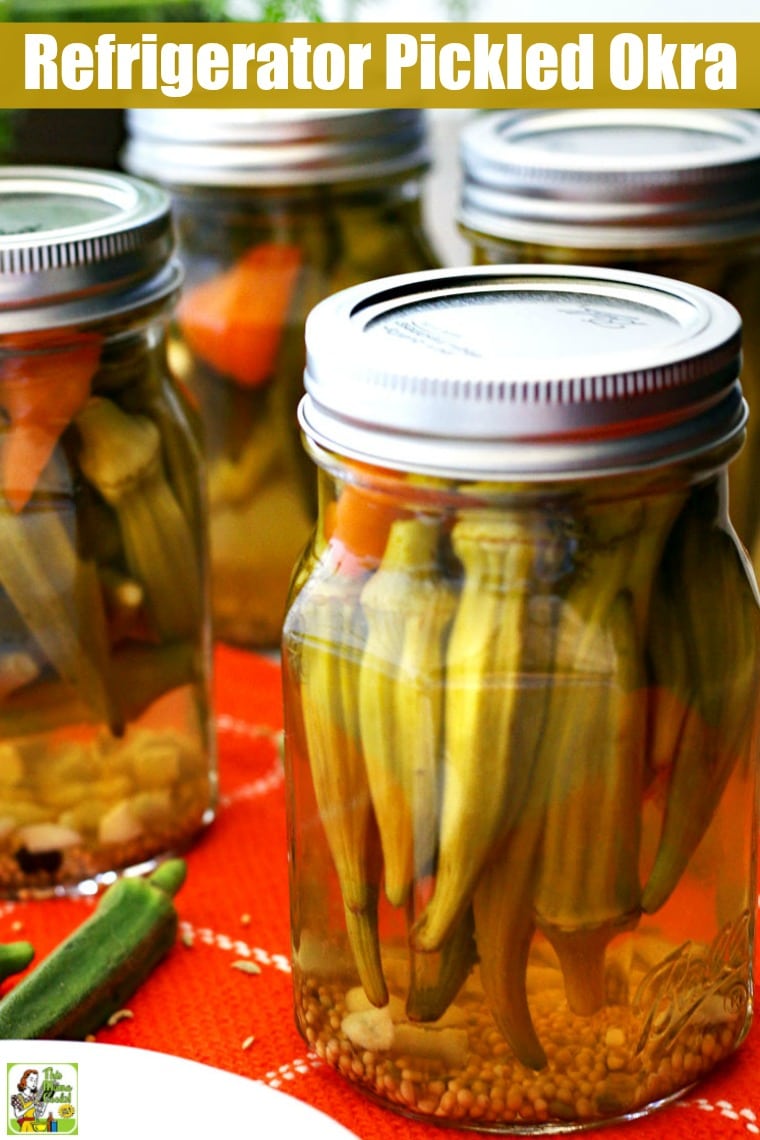 My husband first tried this cocktail at one of John Currence's restaurants  when he was visiting the University of Mississippi several years ago.
We recreated the okra martini with our own homemade, quick pickled okra and it's been a favorite since.
John Currence is the author of Pickles, Pigs & Whiskey. His book has a more involved recipe for canning pickled okra.
So, if you're growing okra and have a bumper crop you want to put up for the winter, check his book and recipe out!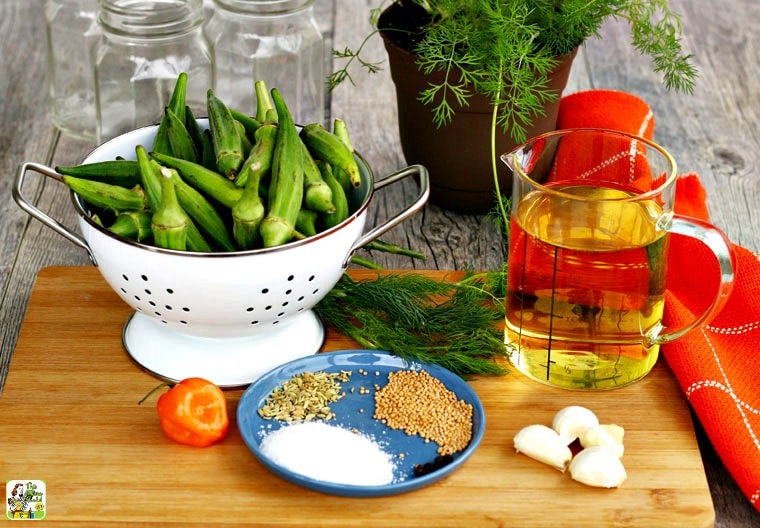 How to make pickled okra
I used two one-quart jars for canning pickled okra, since that's what I had on hand. Feel free to do that or use one two-quart jar instead.
Trim any yucky stuff off your okra – brown or slimy bits. You want your okra as fresh and pretty as possible.
Use small to medium-sized okra as the smaller ones are more tender and will pickle quickly in your fridge.
Also, make sure to really stuff in the okra, garlic, dill, and chile into those pint jars! The okra's going to shrink up a bit, so there will be plenty of room for the brine and spices.
Homemade pickled okra will keep in the refrigerator for several months.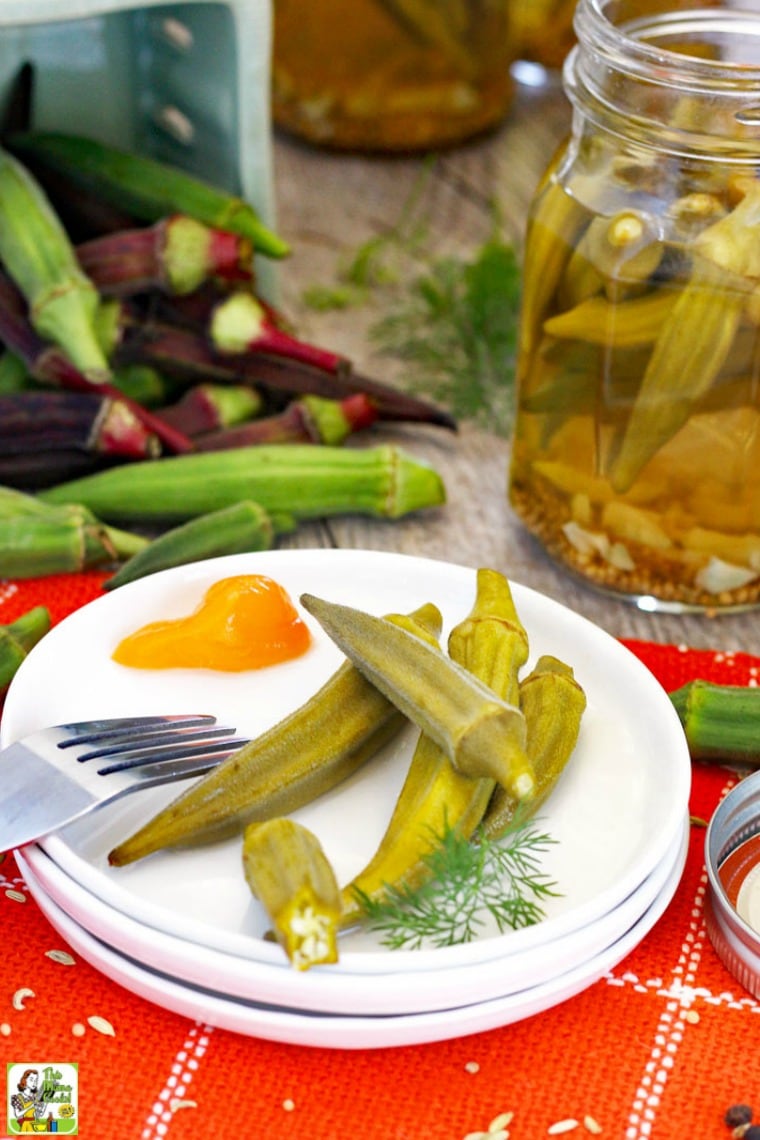 More pickling recipes
Had fun making this pickling recipe?
You can also try making the Best Watermelon Rind Pickles you'd ever try!
It's a terrific way to use up watermelon rinds when making watermelon salads like Asian Watermelon Fruit Salad.
Yield: 2 QUART JARS
Refrigerator Pickled Okra Recipe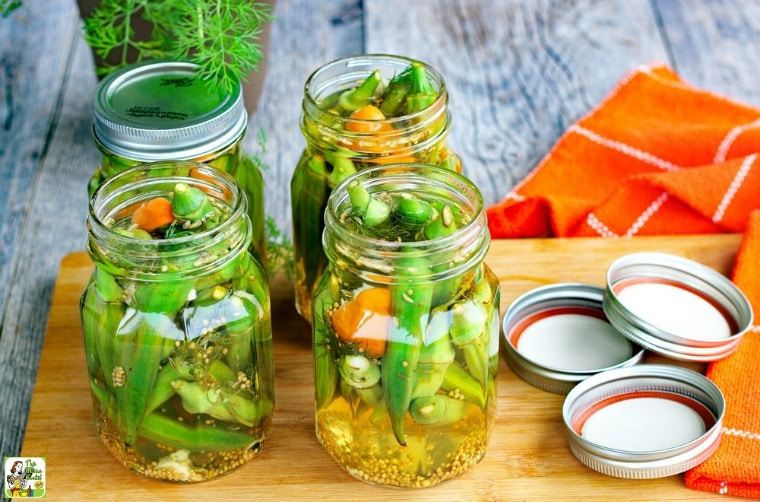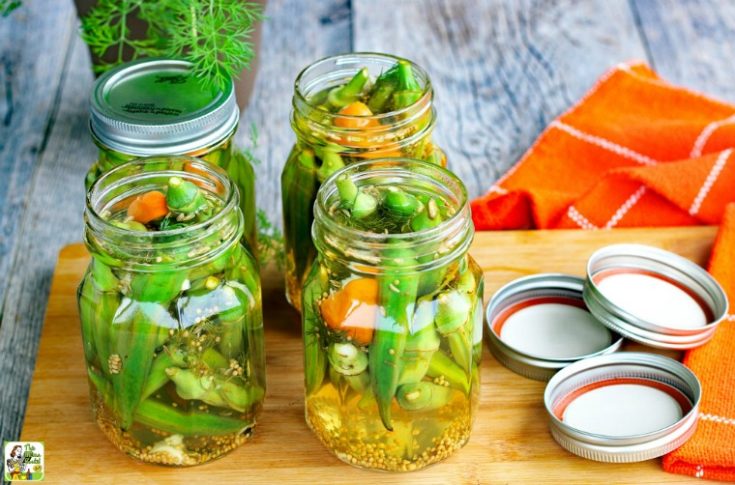 Refrigerator Pickled Okra is an easy pickling and canning recipe. Use spicy pickled okra in sandwiches or burgers.
Ingredients
1 pound whole okra
4 cloves garlic
3 sprigs fresh dill
1 habanero or Scotch bonnet chile, stemmed and halved
2 cups white wine vinegar
2 tablespoons kosher salt
1 1/2 teaspoons mustard seeds
1/2 teaspoon fennel seeds
8 whole black peppercorns
Instructions
Combine okra, garlic, dill, and chile in a clean two-quart glass jar and set aside.
Bring vinegar, salt, both seeds, peppercorns, and 1 3/4 cups water to a boil in a four-quart saucepan over high heat, stirring to dissolve the salt.
Pour liquid into the jar (enough to cover the vegetables and fill the jar). Seal and let cool to room temperature.
Refrigerate the pickled okra for at least 48 hours before eating or serving. (3 days will be even better.) Will keep for several months in the refrigerator.
Recommended Products
As an Amazon Associate Affiliate and member of other affiliate programs, I earn from qualifying purchases.
Nutrition Information:
Yield:
24
Serving Size:
1 pickle
Amount Per Serving:
Calories:

13
Total Fat:

0g
Saturated Fat:

0g
Trans Fat:

0g
Unsaturated Fat:

0g
Cholesterol:

0mg
Sodium:

531mg
Carbohydrates:

2g
Fiber:

1g
Sugar:

1g
Protein:

1g
Nutritional information is automatically calculated per the ingredients list. Serving size may not be accurate. Please double-check with your preferred nutritional app for the most accurate information.
Originally published on November 7, 2012. Updated with new pictures and information.