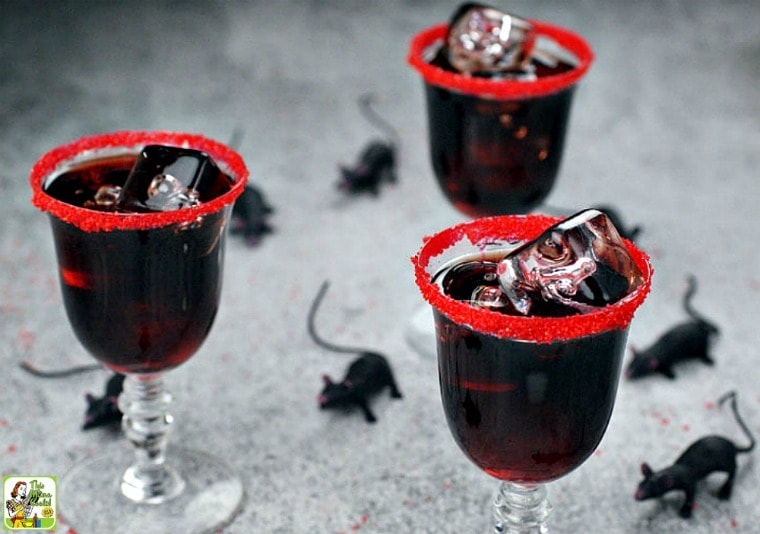 If you're seeking scary Halloween drinks for your Halloween get together, how about serving Dead Man's Kiss, a black vodka cocktail! This cool Halloween cocktail involves making your own black vodka.
But once you learn how easy it is, you'll use homemade black vodka to make all sorts of spooky Halloween drinks.
I read that finding Blavod, the only commercially made black vodka, was impossible. Instead there are two ways to make homemade black vodka for Halloween drink ideas.
Sure, you can use black food coloring to dye vodka black. However, dyes tend to separate and sink to the bottom of the bottle. Or black dye may make Halloween cocktail recipes taste kind of funky.
Instead, to make spooky Halloween drinks like a Dead Man's Kiss cocktail, use black rice to make black vodka. It's super easy!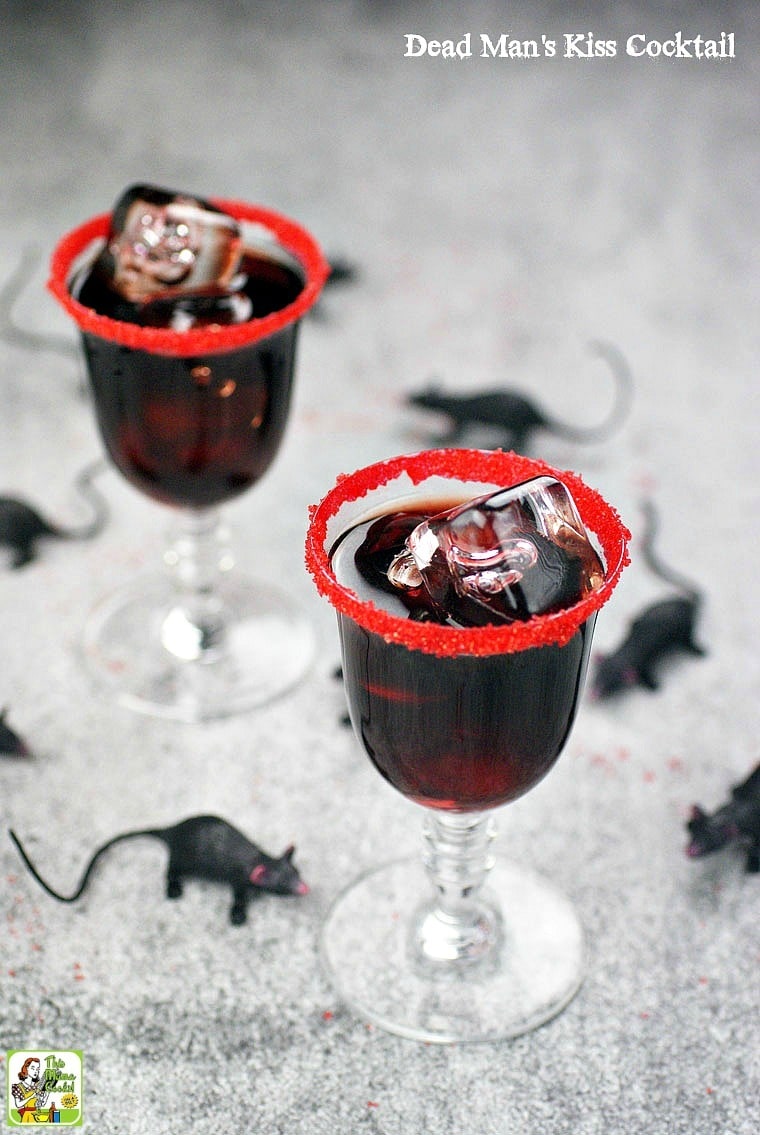 How to make black vodka for your scary Halloween drink recipes
Have you tried cooking with black rice? It's delicious and makes such a beautiful presentation next to a piece of grilled fish or chicken.
It's not too hard to find black rice at your grocery store. I've even purchased Village Harvest Heirloom Chinese Black Rice at my grocery store. Luckily, you can find black rice online:
To make black vodka for a Dead Man's Kiss cocktail and other scary Halloween drink recipes, I used marshmallow vodka. However, any sweetly flavored vodka should do.
1. To make black rice, place one cup of black rice in a clean quart sized Ball jar.
2. Fill the rest of the Ball jar with marshmallow vodka.
3. Store for 24 hours in a cool, shady area. Shake occasionally.
4. Drain contents of Ball jar over a fine mesh sieve into a pitcher or large quart measuring cup with a pouring spout. Toss the rice.
5. Wash out Ball jar and pour black vodka back into jar. Label jar and cap with a pouring spout.
Ball Wide Mouth Quart (32 oz) Jars with Lids and Bands, Set of 12
Cuisinart Set of 3 Fine Mesh Stainless Steel Strainers
Anchor Hocking 8 Cup Measuring Cup Glass Batter Bowl with Spout
reCAP Mason Jars POUR, Wide Mouth, Canning Jar Lid, Silver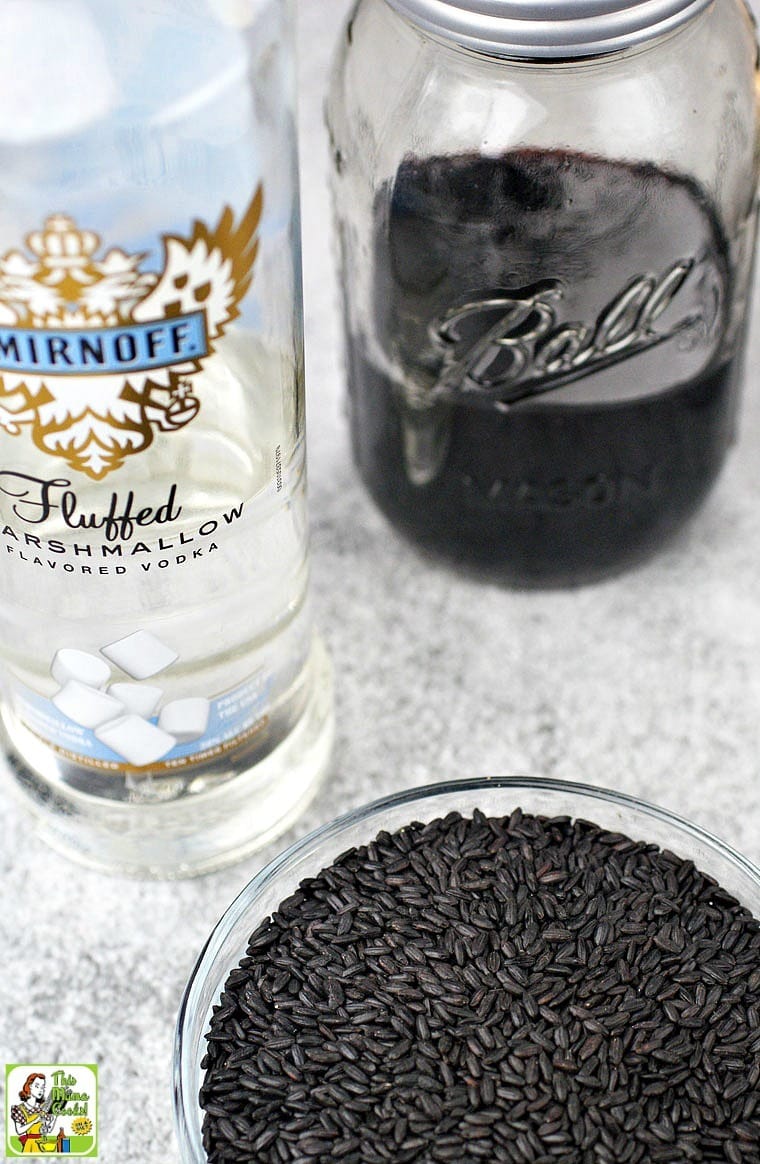 You can leave the rice sitting in the vodka for a week or longer. However, a day is sufficient as the rice gives up most of its color after 24 hours.
I felt a bit guilty throwing the rice away. I did taste a few kernels, and they were soft and flavorful. At the time I was leaving town for a business trip.
If I was home, I would have saved the infused black rice leftovers, and tried to make an adult rice pudding dessert. Next time!
How to make a Dead Man's Kiss Cocktail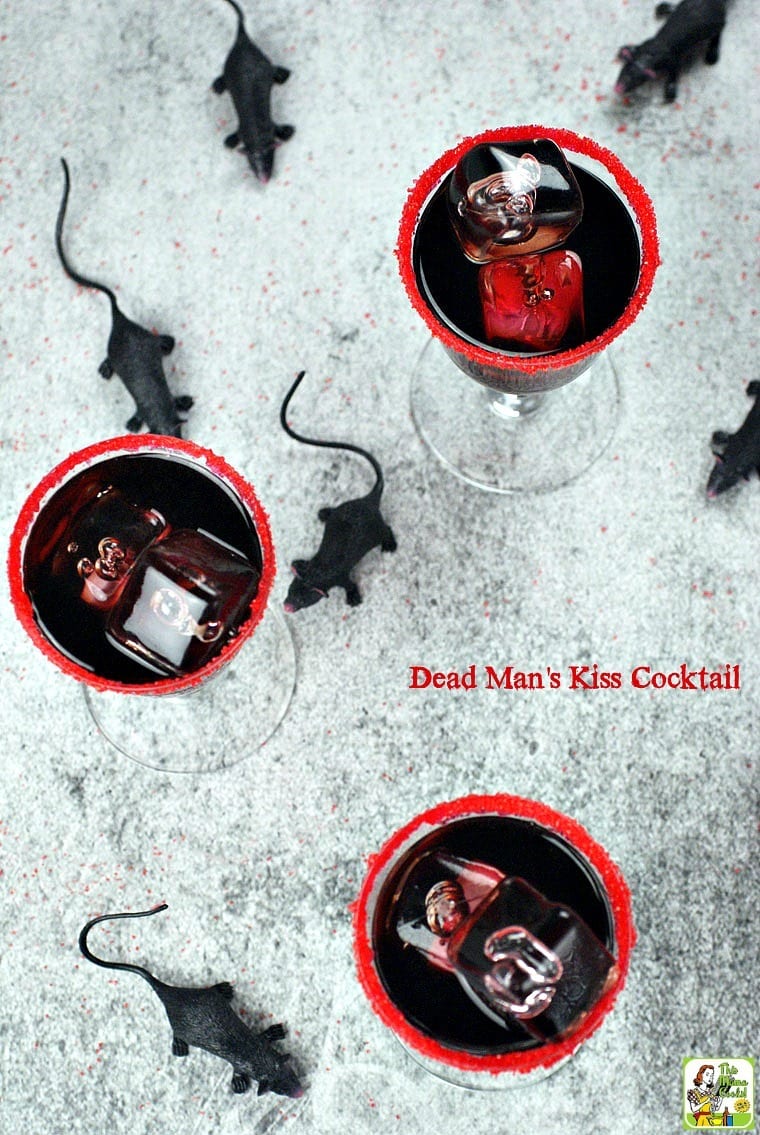 Since the black vodka is actually a very dark purple, I didn't want to lighten the liquid up by using cream or even a golden liqueur. Instead, I wanted to combine it with amber and dark colored libations.
I went to my local, well stocked liquor store for inspiration and settled on Sabroso Licor de Café, a Mexican coffee liqueur.
I thought I'd add a touch of Frangelico, a hazelnut liqueur that I had at home. (If you are allergic to nuts, leave the Frangelico out or substitute it with a chocolate liqueur.)
But what to call this delightfully sweet fun Halloween cocktail recipe?
As a tribute to one of my favorite shows, The Walking Dead, the name Dead Man's Kiss seemed appropriate for this spooky Halloween drink – a bit dark, sweetly scary, and oh so enjoyable!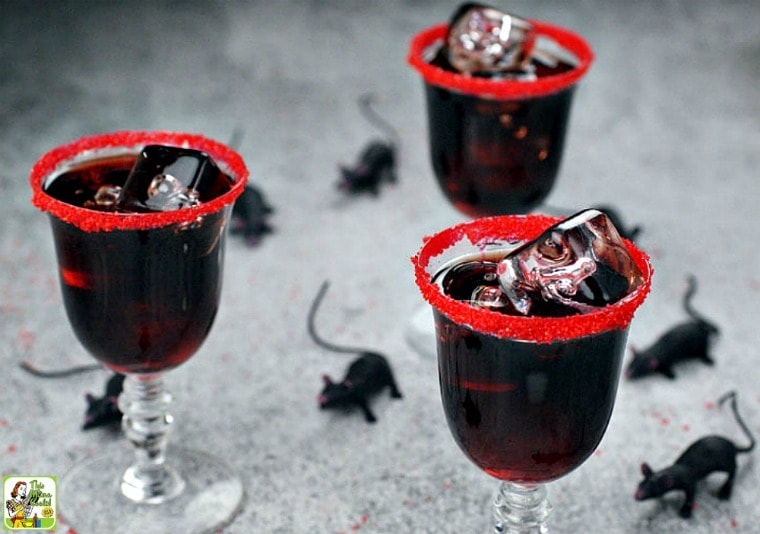 Ingredients
Ice cubes

1 ounce

black vodka

1 ounce

coffee liqueur, like Sabroso Licor de Café

1/4 teaspoon

Frangelico liqueur
Directions
Place red decorating sugar in a small dish. Turn the glass upside down and dip it into a small bowl of water. Dip the rim of glass into the sugar.
Carefully place ice cubes into the glass.
In a small measuring cup with a spout, mix the vodka, coffee liqueur and Frangelico together. Pour over ice and serve.
Servings
:
Makes 1 cocktail
Serving size:

2 ounce drink
Originally published on October 19, 2015 and October 4, 2016. Updated with new pictures and information.