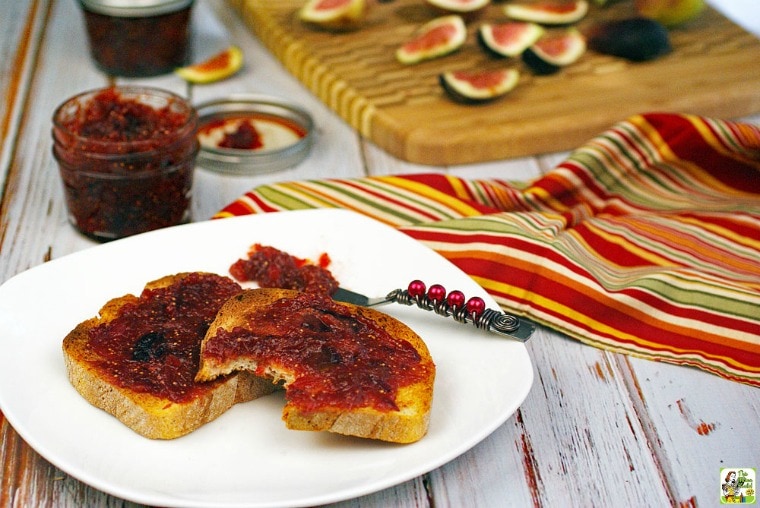 Do you make fig jam? If not, you need to give it a try. It's easier to make than you think!
I love figs since they're delicious and nutritious especially since they're high in fiber and a terrific source of minerals like calcium, potassium, magnesium, manganese, and copper, plus vitamins K and B6.
This fig jam recipe uses no pectin making it super easy to make. Plus, you need no special canning equipment since this Easy Fig Ginger Jam recipe is cooked on the stovetop and kept in the refrigerator for up to two weeks.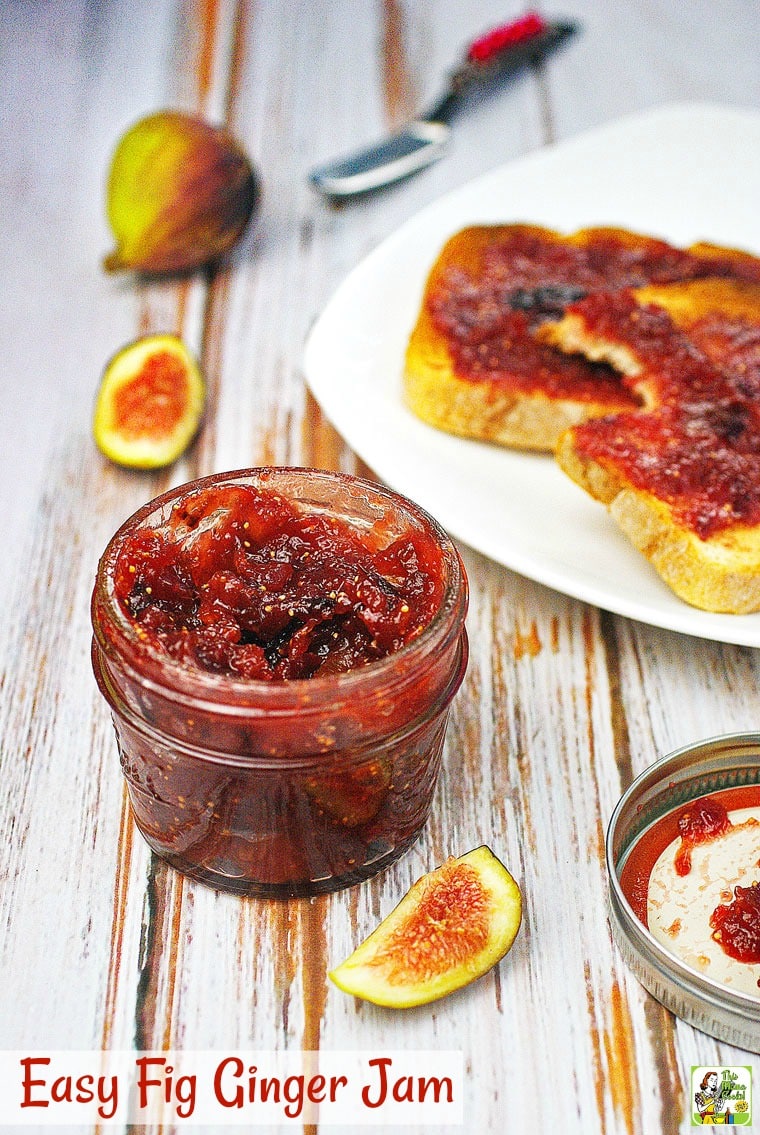 Reducing the sugar in this Easy Fig Ginger Jam recipe
Fig jams are usually made with honey and sugar. To reduce the sugar and calories, I used Monk Fruit in the Raw, but any powdered monk fruit product would work.
To substitute for the honey, I used Agave in the Raw. Any agave would work, but you can still use honey if you wish.
There's no need to worry about the fresh fig jam recipe not setting up because you didn't use real sugar or honey. It thickened up perfectly!
For fun, I used fall flavors that you normally put into pumpkin pie like ginger, cloves and cinnamon and added some star anise, too. Adjust spices to your personal preferences if you wish.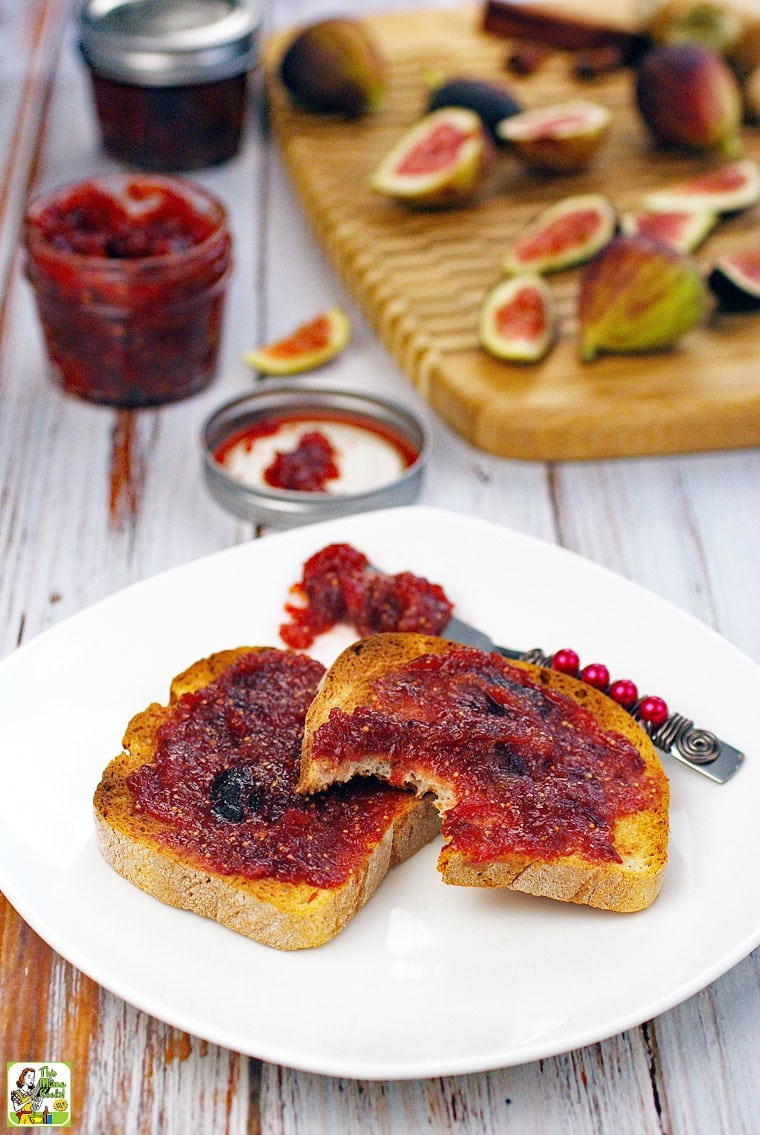 Canning and serving this fresh fig jam recipe
This Easy Fig Ginger Jam recipe is a refrigerator jam since it makes such a small amount. If you wish to go through the canning process, knock yourself out.
Finally, this fresh fig recipe isn't just for toast. Use it on yogurt, oatmeal, ice cream or even as a glaze on chicken breasts or pork steaks. Fig jam would be nice with a cheese or charcuterie plate on some little crackers as a party appetizer, too.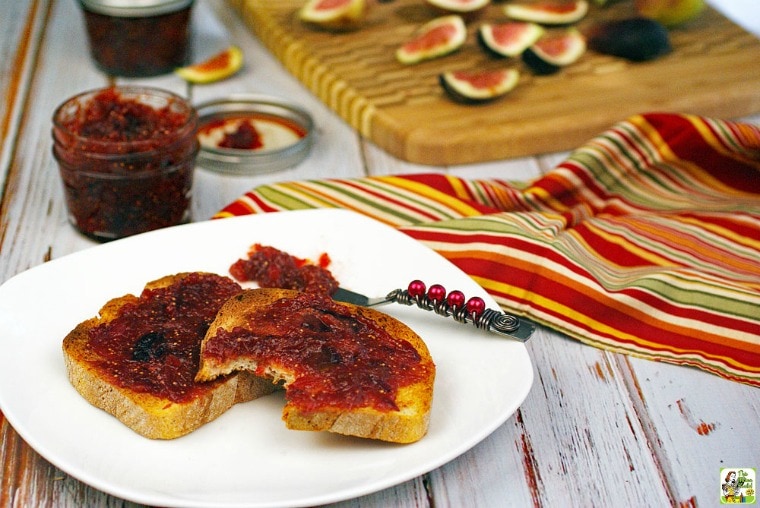 Ingredients
1 pound

ripe fresh figs

1/4 cup

fresh lemon juice

1 teaspoon

lemon zest

1 tablespoon

grated fresh ginger

1

cinnamon stick

1/4 teaspoon

ground cloves

2

star anise

1/2 cup

Agave in the Raw

1/2 cup

Monk Fruit in the Raw
Directions
Wash figs. Trim stems and cut each fig in half.
Place all ingredients in a large saucepan on medium-high heat. Bring to a boil, stirring frequently.
Reduce heat to medium. Continue to simmer, stirring occasionally. Use spoon to break up figs as they soften.
Cook until jam has thickened to desired consistency.
Remove star anise and cinnamon stick.
Ladle jam into jar(s). Let cool and place lids on jars.
Store jam in refrigerator for up to 2 weeks.
Servings
:
Makes approximately 12 ounces of jam
Serving size:

2 tablespoons
Originally published on September 22, 2014. Updated with new pictures and information.