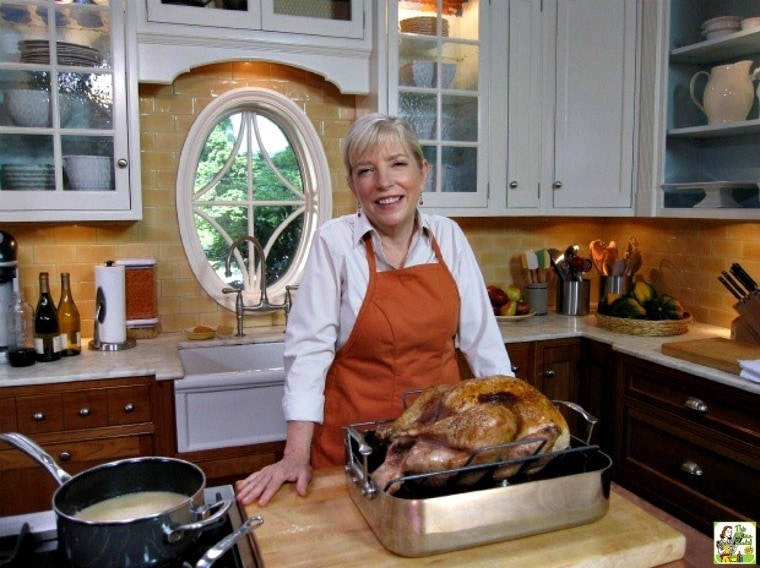 We're all looking for ways to make Thanksgiving cooking less stressful. That's why you need to check out this Best Make-Ahead Turkey Gravy recipe, along with Thanksgiving prep and carving turkey tips from celebrity chef Sara Moulton and Chef's Choice.
What size turkey? Sara says, "First, decide what kind and what size of turkey you're going to buy."
She recommends buying one pound of bird per person, to allow for leftovers.
When to start defrosting the turkey? "If you're buying a frozen bird, note when to start defrosting it in the fridge. You'll need 24 hours for every 4 to 5 pounds," she says.
How early can you start cooking? Then start focusing on the side dishes. "Prepare the Best Make-Ahead Turkey Gravy recipe a day ahead, then 'marry' it to the drippings in roasting pan while the turkey is resting." says Sara.
"Other essential dishes to prepare ahead are stuffing, cranberry sauce, and mashed potatoes. Cook and rice the potatoes, then refrigerate.
On Thanksgiving, 'nuke' them and add softened butter and warm milk."
Sara doesn't mention it, but you can also prepare Thanksgiving desserts like pie and sides like cornbread ahead of time.
More preparation tips: Sara also recommends creating a timetable listing everything you are going to prepare and when and then post it on the fridge. This will help preparation go more smoothly.
Black Friday or Cyber Monday shopping? Sara Moulton's cookbooks make great holiday gifts!
Make dairy free or gluten free turkey gravy
Gluten free? If you're gluten free, you can easily make Sara Moulton's turkey gravy into a gluten free turkey gravy.
All you need to do is substitute a gluten free all-purpose flour, corn starch, or rice starch for the flour.
Mix 3 tablespoons GF flour or starch with 3 tablespoons broth or water. Mix thoroughly, then whisk the mixture into your broth.
Then whisk to a boil and simmer until it thickens.
Dairy free gravy: For those of you who are dairy free, for this easy make ahead turkey gravy, instead of butter, use a non-dairy vegan buttery spread.
Alcohol-free recipe: If you are abstaining from alcohol, use apple, white grape, or pear juice instead of the wine.
Carving turkey tips
According to Chef's Choice, "Sharp knives are not only safer, they'll help you smoothly cut thin, even slices without shredding the meat.
After the turkey is cooked, cool for 20 minutes. Cooling makes meat firmer and easier to slice.
Then remove and set aside the legs and last joint of each wing. Make a long, deep (to the bone), horizontal 'base cut' into the breast just above wing.
Slice down vertically through breast until you meet the original base cut. This will release perfect, even slices."
Brining and Smoking Turkey Recipes
Here are smoked turkey recipes to enjoy with Sara Molton's Best Make-Ahead Turkey Gravy:
● How to brine and smoke a turkey breast
● Smoked Turkey Brine with Smoked Turkey Rub
Yield: 8 SERVINGS
Sara Moulton's Best Make-Ahead Turkey Gravy Recipe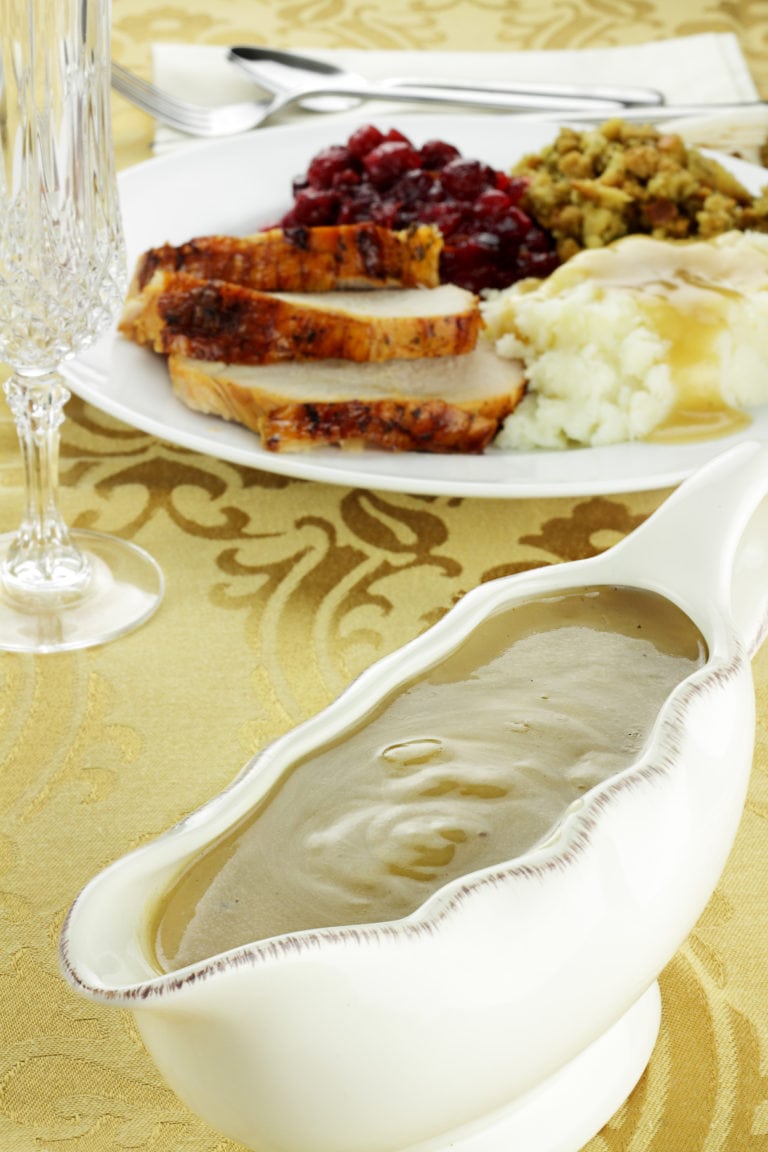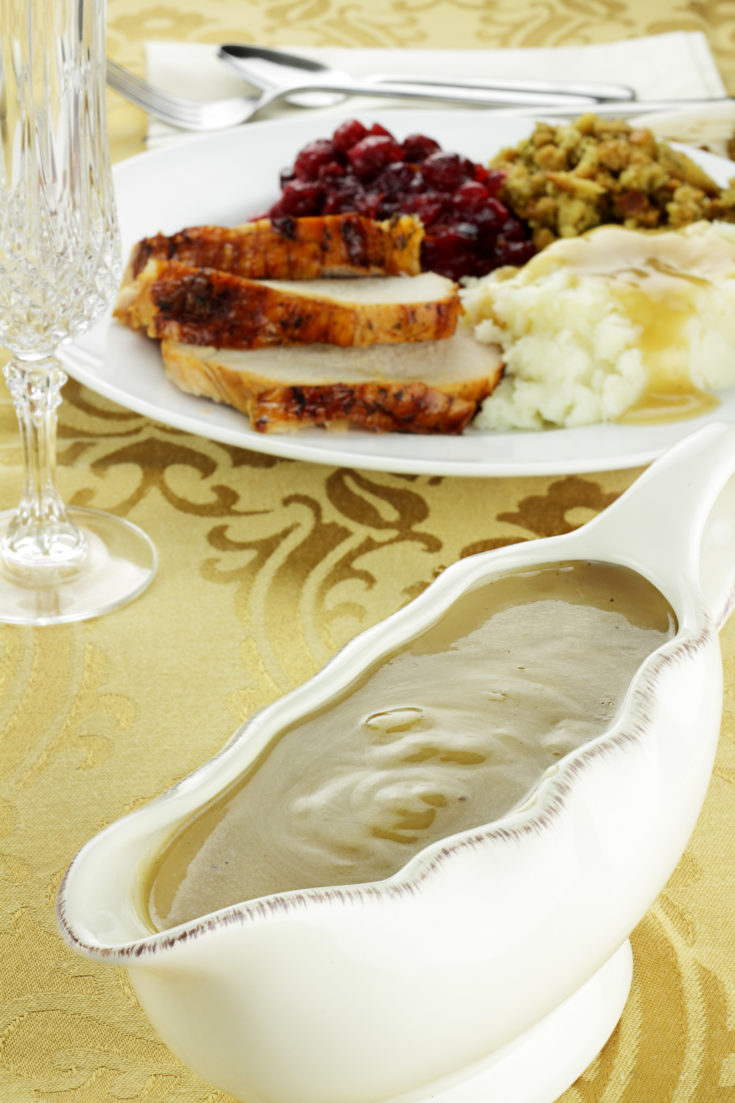 Try this easy make-ahead turkey gravy recipe from Sara Moulton. It comes with meal prep and Thanksgiving carving turkey tips, too.
Ingredients
8 tablespoons (1 stick) unsalted butter
1/2 cup all-purpose flour
4 cups chicken or turkey broth, heated
1/2 cup dry red or white wine
reserved liquid from turkey roasting drippings
reserved liquid from turkey resting platter
Instructions
In a medium saucepan over moderately low heat, melt butter.
Whisk in flour and cook, whisking, for 5 minutes.
Add broth in a stream, whisking to boil. Simmer for 5 minutes.
Let gravy cool, transfer to a bowl and cover and chill overnight.
Thanksgiving Day directions to finish Best Make-Ahead Turkey Gravy
Platter your cooked turkey and cover it loosely with foil.
Pour drippings into a fat separator and discard fat.
Place bird roasting pan on two burners of the stovetop and use medium heat. (Make sure your roasting pan is stovetop safe. Do NOT do this with a glass roasting pan.)
Add wine and reserved drippings, scraping up the brown bits on the bottom of the pan.
Whisk in premade gravy and any juices from resting turkey.
Add salt and pepper to taste, cooking until hot, and serve with your bird.
Notes
Recipe courtesy of Sara Moulton and Chef's Choice.
Nutrition Information:
Yield:
8
Serving Size:
1/2 cup
Amount Per Serving:
Calories:

332
Total Fat:

22g
Saturated Fat:

10g
Trans Fat:

0g
Unsaturated Fat:

10g
Cholesterol:

110mg
Sodium:

271mg
Carbohydrates:

7g
Fiber:

0g
Sugar:

0g
Protein:

21g
Nutritional information is automatically calculated per the ingredients list. Serving size may not be accurate. Please double-check with your preferred nutritional app for the most accurate information.
Recipe and Sara Moulton photo used with permission of Sara Moulton and Chef's Choice.
Originally published on November 11, 2010 and November 20, 2016. Updated with new photos and information.
Gravy image: DepositPhotos