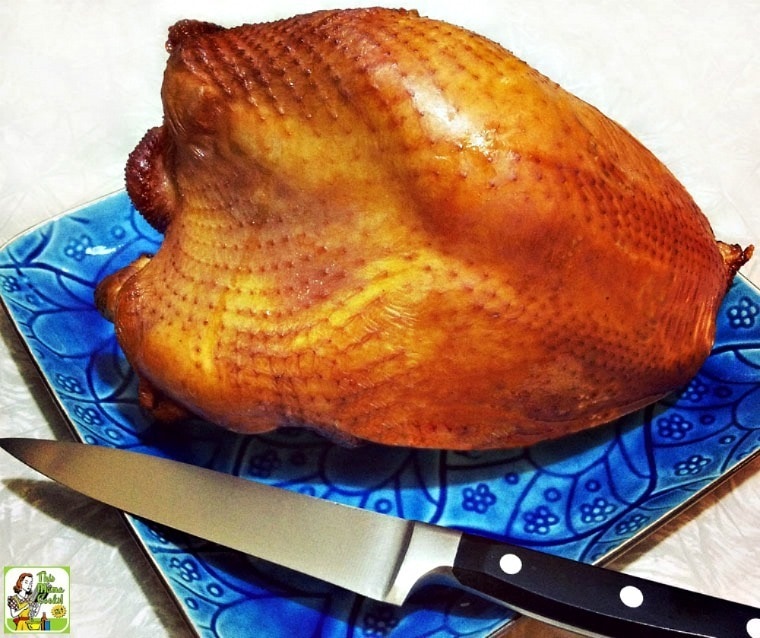 The reason I brine and smoke a turkey breast on Thanksgiving is because my kids hate turkey! Can you believe that?
I usually make a ham for them instead. However, since my husband and I like turkey, I found that brining and smoking a turkey breast is just the perfect about of turkey for the two of us, including leftovers.
So I've created a special smoked turkey breast brining recipe that will work if you're just cooking or smoking a turkey breast or making an extra turkey breast along with a full sized turkey.
(See my post, Brining and smoking your Thanksgiving turkey, on how to brine and cook a full sized bird.)
This recipe works for smoking turkey breast in an electric smoker, on a grill, or in a ceramic smoker.
It's also a gluten free, dairy free, low carb, keto, and paleo friendly recipe.
(All the ingredients are dairy and gluten free. Plus, the turkey doesn't absorb enough of brine to make the turkey meat high in carbs.)
You'll be surprised that it's so easy to learn how to smoke a turkey breast!
Why you should brine and smoke a turkey breast
The first time I used this brined and smoked turkey breast recipe, it turned out so well that my daughter, Lucie, decided that she did like turkey and had some.
The meat turkey was incredibly juicy, moist and tender, and unbelievably flavorful. My husband and I liked it so much that I may forget about making Smoked Beer Can Chicken ever again.
Made me wonder why not make brined and smoked turkey breast year round instead of just for Easter, Thanksgiving, and Christmas?
What's nice is that if you have a smaller smoker like a Masterbuilt Electric Smoker or a smaller version of the Kamado Joe Grill, you don't have to worry about about a turkey breast being too big to fit.
(I've had some large turkeys that barely fit in my smoker, and I was lucky just to be able to get the smoker door shut!)
If you have a larger smoker, then you'll have plenty of room for a regular turkey and a turkey breast – or two!
Use brined and smoked turkey breast in your turkey leftover recipes
If you're making a full sized bird, you may want to use this recipe for smoked turkey breast so you have plenty of meat leftover for sandwiches and leftover dishes like:
● Turkey Cranberry Crescent Braid
● Leftover Turkey Enchilada Casserole
In my opinion, you can never have too much turkey left over!
How to make smoked turkey brine

How to brine a turkey for smoking
Here are some tips for making the smoked turkey brine recipe.
Cooking wine and vinegar: To give my recipe for smoked turkey brine an Asian flare, I used Holland House Sake Cooking Wine, Nakano All Natural Rice Vinegar and ginger to give my brine an Asian flare.
If you can't find Holland House Sake Cooking Wine, you could use another brand of cooking sake.
Sorghum: I fell in love with sorghum when I lived in the South. It's sort of like a cross between rice syrup and maple syrup. Some gluten free beers are made with sorghum.
You can find sorghum syrup online and at craft beer and wine making stores. (If you live in the South, you can usually find sorghum at the grocery store.)
If you can't find sorghum, you can use honey, agave nectar, or maple syrup instead. Brown sugar would also do in a pinch, too.
Equipment: What I love about this smoked turkey brine recipe is that all you need is a 12-quart covered stockpot to make the brine and brine the turkey in.
It's truly a one pot recipe! You don't need to mess with brining bags, bags of ice, and coolers. And dragging the cooler into the garage or out to the porch to keep the turkey cool.
Turkey breast: Finally, don't forget to buy a few extra turkey breasts while they're on sale. This smoked turkey breast brine isn't just for the holidays.
You can brine and smoke a turkey for summer barbecues and use the recipe to make hot turkey sandwiches for a football watching party during the Big Game!
More turkey recipes for your smoker
● How to prepare and cook a spatchcock turkey

● Brining and smoking your Thanksgiving turkey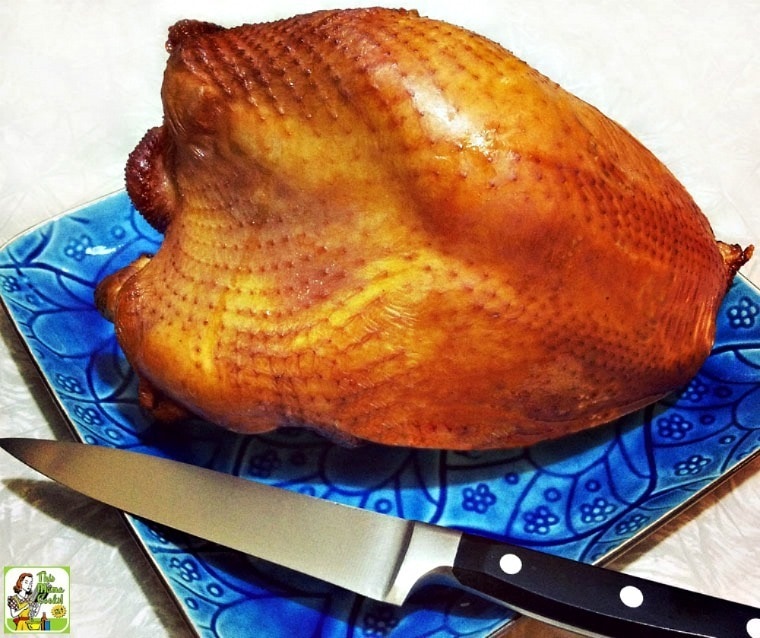 Brined and Smoked Turkey Breast Recipe
Ingredients
8 cups

apple cider

3/4 cup

Holland House Sake Cooking Wine

1/4 cup

Nakano All Natural Rice Vinegar

1/2 cup

sorghum syrup

3/4 cup

kosher salt

12

fresh sage leaves

2

fresh rosemary sprigs

1 bunch

fresh chives

3

fresh lemon thyme sprigs

2

1-inch pieces of ginger, peeled

4 cups

ice cubes

1 (5-6 pound)

bone-in turkey breast
Directions
Bring cider, Holland House Sake Cooking Wine, and next 8 ingredients to a boil in a large stockpot over medium-high heat. Reduce heat and simmer for 5 minutes until salt and sorghum are dissolved. Remove pot from heat, stir in ice. Cover and place in refrigerator for 1 hour.
Place turkey in brine. (Brine should mostly cover turkey. If it doesn't, find a smaller pot. If the turkey still isn't fully covered, you'll need to turn it over in the brine about half way through the process.) Cover and chill in the refrigerator for 5 to 12 hours. (Do not over brine your turkey or you'll end up with salty meat!)
Prepare your smoker according to manufacturer's directions, bringing internal temperature to 225 degrees F using your favorite type of wood chips.
Remove turkey from brine, and pat dry with paper towels. Place turkey low in smoker and cook for 3 to 3 1/2 hours or until a meat thermometer inserted into thickest portion registers 165 to 170 degrees F.
Remove turkey, cover loosely with aluminum foil, and let stand 10 to 15 minutes before slicing.
Prep Time:
5 Hours 20 Minutes
Total Time:
8 Hours 20 Minutes
Servings
:
Makes 8 to 10 servings
Serving size:

3/4 to 1/2 pound of turkey meat
Originally posted on November 21, 2013. Updated with new pictures and information.