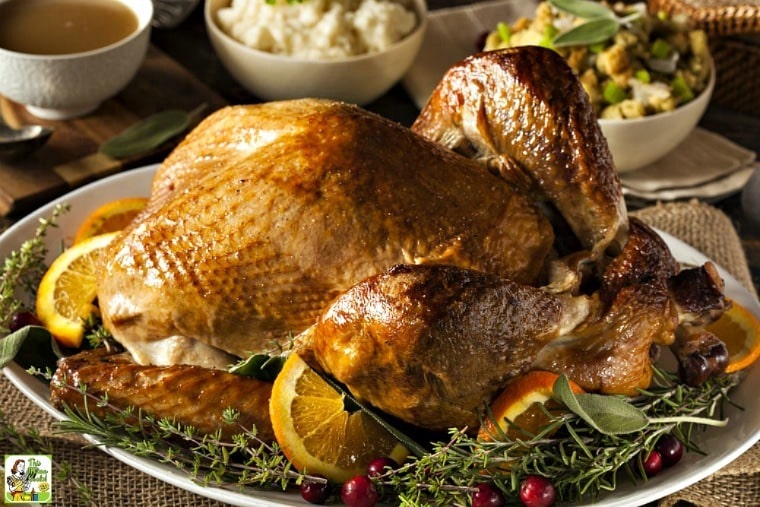 This is the best Smoked Turkey Brine with Smoked Turkey Rub I've made after trying a variety of smoked turkey brine recipes from popular foodie magazines and cookbooks.
Then several years ago, I was sent Robin Burnside's cookbook, The Homesteaders Kitchen – Recipes from Farm to Table to review.
In it, I found her smoked turkey brine and rub recipe with maple turkey and fell in love. It's become my go to basic turkey brine recipe.
This turkey brine for smoked turkey is gluten free and dairy free.
Even though the brine contains maple syrup, it's a keto, paleo and low carb friendly recipe as the brine just flavors and moistens the turkey.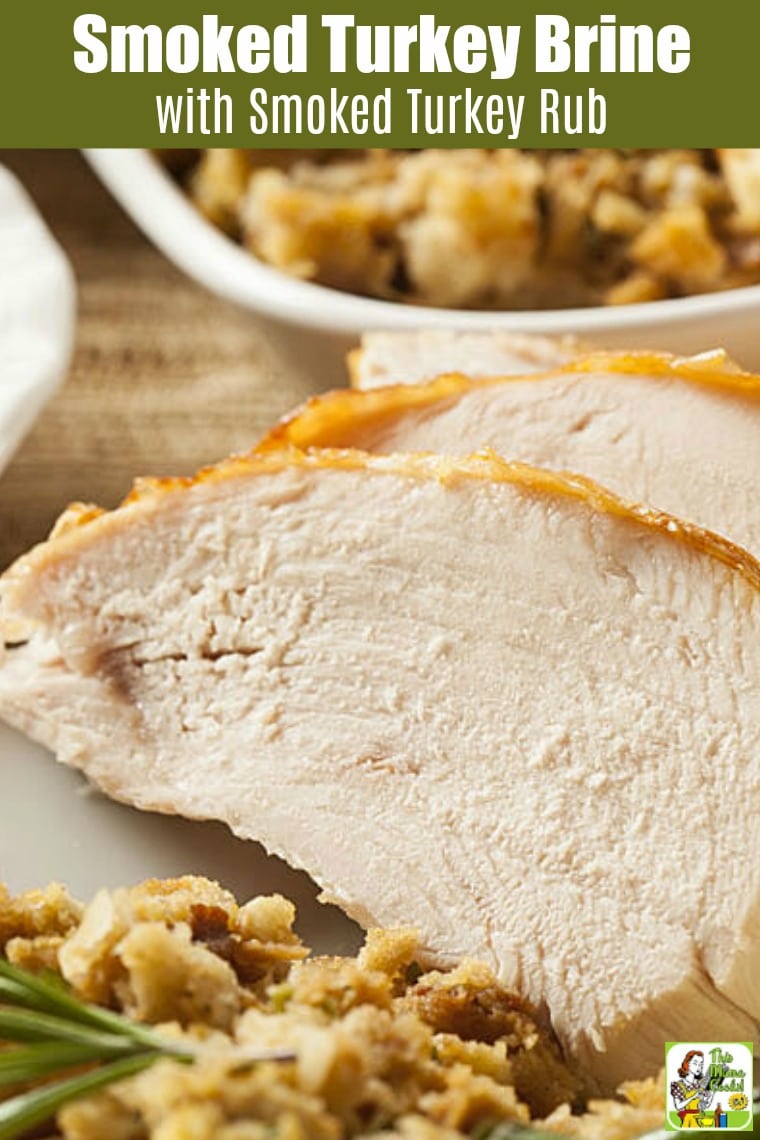 Ceramic or electric smoker turkey?
At first, we made electric smoker turkey after using Robin's recipe.
(Read my Why you should buy a Masterbuilt Electric Smoker to see if that type of smoker is for you.)
Then for the past few Thanksgivings, we've smoked whole turkeys and turkey breasts on our Kamado Joe Grill, which is a ceramic smoker
Even though the Kamado Joe requires more set up, the results are AMAZING. If there's someone in your life who loves to BBQ, check out the Kamado Joe Grill.
Compared to the Green Egg, we found it has more easy-to-use features and for a better price than the Green Egg. It'll make the ultimate gift for the griller on your holiday list!
How to brine and smoke a turkey
If you've never brined a turkey before smoking a turkey in an electric smoker, you have to try it. Brining helps keep the turkey super moist and the flavor you get from smoking it is out of this world.
No worry, smoking and brining a turkey for Thanksgiving is easy to do. First, read through the brine turkey recipe and make sure you have enough ingredients on hand to double the brining recipe.
I find that a single batch of turkey brine is fine if you're smoking a small turkey or just a turkey breast. However, you should double this brine recipe for turkey if you're cooking a larger bird.
Finally, when it comes to smoking, make sure you give yourself plenty of time to cook the bird. You don't want to make your guests wait.
It's better to smoke and cook the turkey early and have it sitting in the oven on warm. (Just remember to cover it with foil to keep the moisture in.)
Speed up cooking time: If you want your brined turkey to cook even faster, try butterflying (also called "spatchcocking") your turkey. Learn how at How to prepare and cook a spatchcock or butterflied turkey.
Here are some other brining and turkey smoking resources:
Smoking Turkey for the Holiday (or any time) from Smoking-Meat.com. This is a great site for all your grilling and smoking needs.
Keep the Butterball Turkey Talk-Line number handy just in case – 1-800 BUTTERBALL. They can help with any of your turkey cooking related questions whether you're brining, roasting, frying, grilling or smoking your Thanksgiving turkey this year.
You can also find them on Facebook at and on Twitter @Butterball for real-time tips and turkey prep info.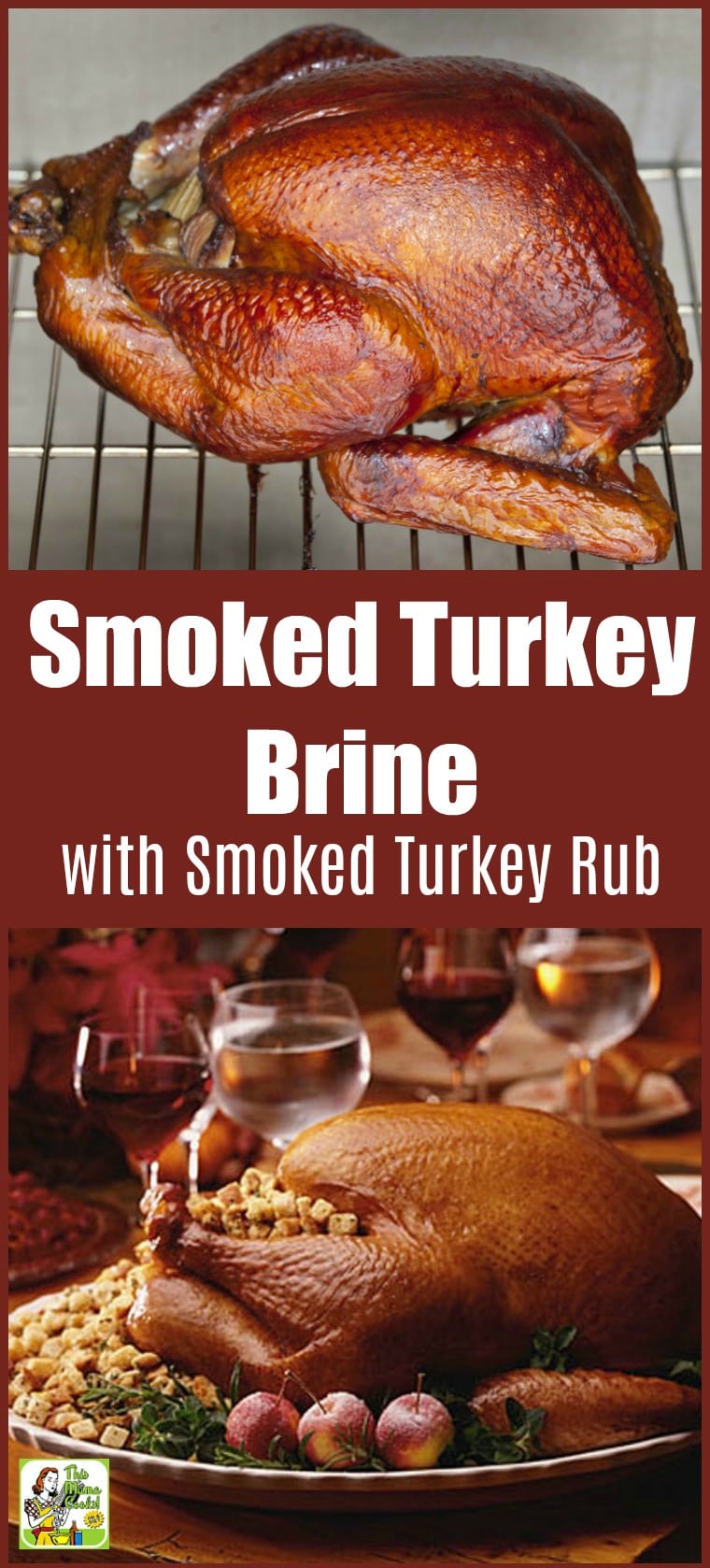 Following a brine turkey recipe is easier than you think!
Brining container: If you don't have a super large stockpot as a container for this simple brine for turkey, you can use a large Styrofoam cooler. Sometimes I use a cheap Styrofoam shipping container after making sure my turkey fits in it with a bit of room to spare.
First, rinse the inside of the cooler and its lid with bleach and hot water. Then rinse it several times with more hot water. Then do the smell test to make sure you can't detect any bleach.
If you don't have a Styrofoam cooler, you can use a large plastic picnic cooler. Just make sure to clean it thoroughly before and after you do your brine turkey recipe.
Weigh down the turkey: After making your brine and placing it and the turkey in the cooler, you'll need to weight down the turkey since it will float.
Place a couple of gallon sized Ziploc bags filled with ice or lunch box ice packs on top of the turkey. The bags will not only weigh down the turkey, they also keep everything cool without diluting the brine.
You can also place a couple of clean, heavy pot lids on top of the turkey to weigh it down, too.
Brining bags rule! If you don't want to bother with bleaching a cooler, try a brining bag, which makes set up and clean up super easy to do. This is my preferred method as you fill the bag with brine, and place the turkey inside.
After sealing it, just place the filled brining bag in an ice filled cooler to keep it overnight.
After placing the lid on the cooler, keep it somewhere cool or cold, like the basement, garage or back porch if you live in a cold area.
If you think a filled cooler will be too hard to move, set up the cooler in the basement, garage or porch first. Then bring out your turkey, brine and ice bags – or brining bag and ice – to finish the job.
Tips for best turkey brine for smoking
Nutritional yeast: You can buy nutritional yeast online, in the health food aisle of your grocery store, at a natural grocery store. If you make vegan recipes, you'll find other uses for it.
Salt: Instead of sea salt, which can be a bit pricey, you can use kosher salt for turkey brine for smoked turkey.
Leftover herbs: You can use them in recipes like my Spicy Cranberry Hummus or Turkey Cranberry Crescent Braid.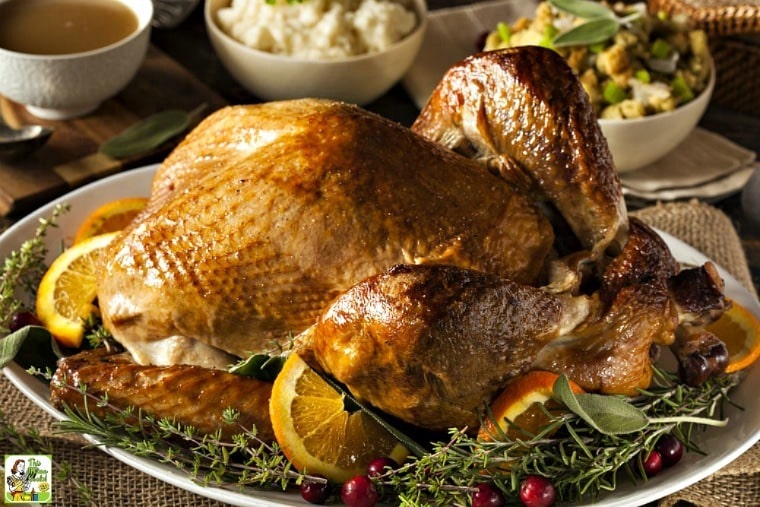 Smoked Turkey Brine with Smoked Turkey Rub Recipe
Ingredients
For turkey brine
1 (12 to 15 pound)

organic turkey, minimally processed, giblets, liver and neck removed
For brine
2 1/2 gallons

hot water

1 1/2 cups

maple syrup

1 cup

sea salt

2

whole bay leaves

10 cloves

garlic, peeled and crushed

1 cup

roughly chopped fresh sage

1 cup

roughly chopped fresh thyme

1 cup

roughly chopped fresh Italian parsley

1/2 cup

fresh oregano

1/2 cup

fresh rosemary

1 teaspoon

freshly ground white pepper
For smoked turkey rub
4 tablespoons

olive oil

2 teaspoons

sea salt

2 teaspoons

paprika

2 tablespoons

nutritional yeast
For smoked turkey seasoning mixture
1 cup

apple, roughly chopped

1 cup

onion, roughly chopped

2

whole lemons

Several

large sprigs of sage, thyme, rosemary, oregano, and parsley
Directions
Wash the turkey inside and out and dry well with a paper towel.
Combine all the brine ingredients in a large pot and stir until the salt is dissolved.
Place turkey In a container that will allow it to stay submerged in the brine, a deep soup pot or food-grade bucket works well for this, and pour in the brine.
Cover turkey and refrigerate 24-36 hours. (Tip: place the turkey in a big insulated cooler with ice and save the refrigerator space.)
When you are ready to begin smoking the turkey, remove it from the brine, rinse inside and out with fresh water and dry well.
Place the brined turkey breast side up on a wire rack in a roasting pan that will fit Into your smoker or barbecue.
In a small bowl, combine the rub ingredients and rub the inside and outside of the turkey with the seasoned paste. Toss the smoked turkey seasoning mixture in a bowl and fill both cavities loosely.
Truss the brined turkey, securing the openings with skewers or a needle and thread, and place a meat thermometer in the thickest part of the thigh flesh.
Put the turkey into a 400-degree F smoker or barbecue for about 30 minutes. (If your smoker doesn't get that hot, put it at the highest setting possible.)
Bring the temperature down to 240-260 degrees F and maintain that temperature throughout the smoking time. Cook for about 30 minutes per pound, or until the meat thermometer reads 165 degrees F – approximately 6-7 hours for a 12-15 pound turkey.
Remove the turkey from the smoker when it is done and let sit for 20 minutes before carving to ensure a moist and flavorful bird.
Servings
:
Makes 8-10 servings
Serving size:

1 1/2 pounds of meat per person
Recipe and photos used with permission.
Originally posted on November 19, 2010. Updated with new pictures and information.