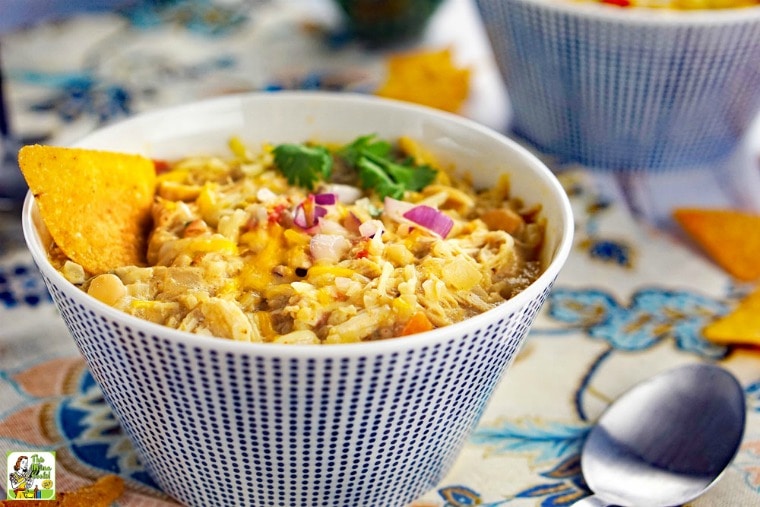 I'm always on the lookout for healthy slow cooker chicken recipes for my Crock-Pot. So when I came across this delicious Slow Cooker Creamy Verde Chicken Chili recipe, I had to share it with you.
It's fromTrim Healthy Mama's Trim Healthy Table cookbook written by Pearl Barrett and Serene Allison of Trim Healthy Mama.
The cookbook features over 300 family friendly, delicious and trimming recipes.
It also has practical advice on how to healthfully nourish your family without chaining yourself to the kitchen.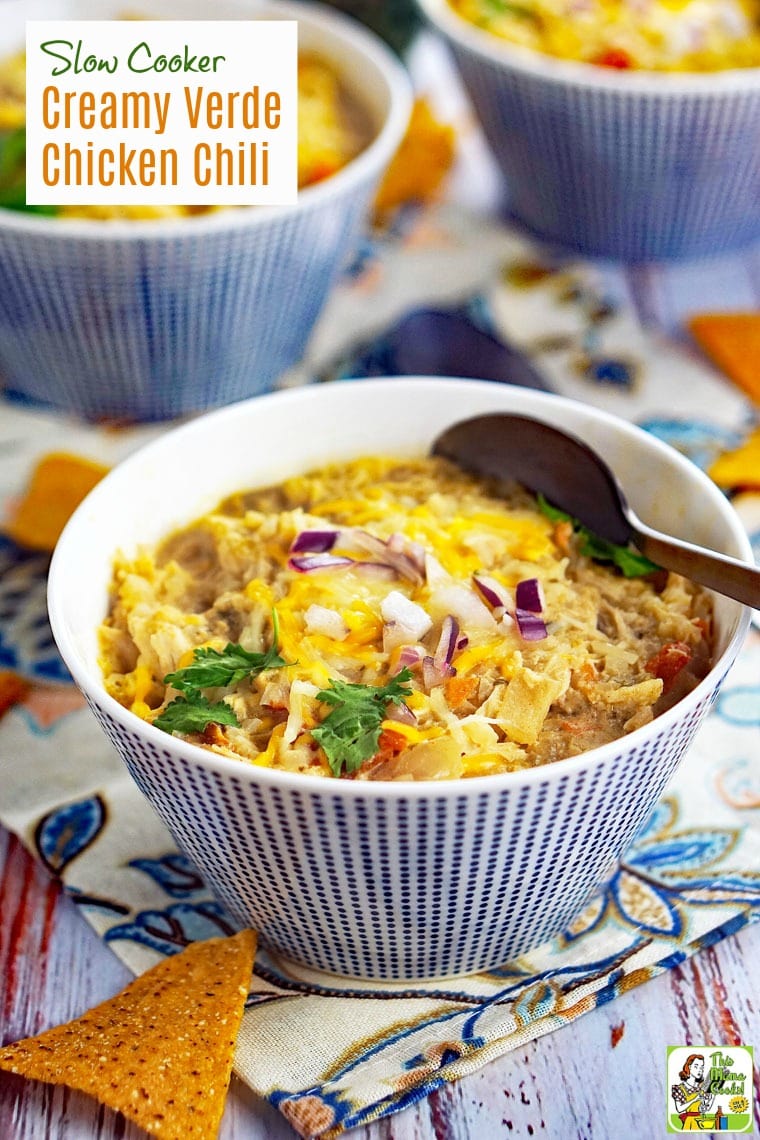 In easy slow cooker chicken recipes like this one, Pearl and Serene use convenient but healthy ingredients like frozen vegetables, canned beans, and jars of salsa.
Slow cooker chicken breast recipes like this one don't even require you to dice up the chicken!
Plus, you're using your blender to mix up the ingredients.  What could be easier than that?
In addition, I normally have all the ingredients in this slow cooker chicken meal on hand, except maybe the cream cheese and that's easy to pick up.
I have a feeling that this Slow Cooker Creamy Verde Chicken Chili recipe will soon become a classic weeknight recipe at my home. I hope it will at yours, too!

This Mama's tips for making Slow Cooker Creamy Verde Chicken Chili
Use a liner: Slow cooker liners are a huge timesaver and will make clean up a breeze. Once you start using them for your healthy slow cooker meals, you'll never go back!
Dairy free? If you're dairy free, I would recommend leaving out the cream cheese altogether. Do NOT substitute a vegan cream cheese. (Vegan cream cheese is oil based and will make a mess of things.)
Instead, if you want a little creaminess added to this easy slow cooker chicken recipe, add some unsweetened whole coconut milk or coconut cream just before serving.
Gluten free? If you're gluten free, make sure to carefully check the label of chicken broth you're using. Or use homemade chicken broth in your Creamy Verde Chicken Chili recipe!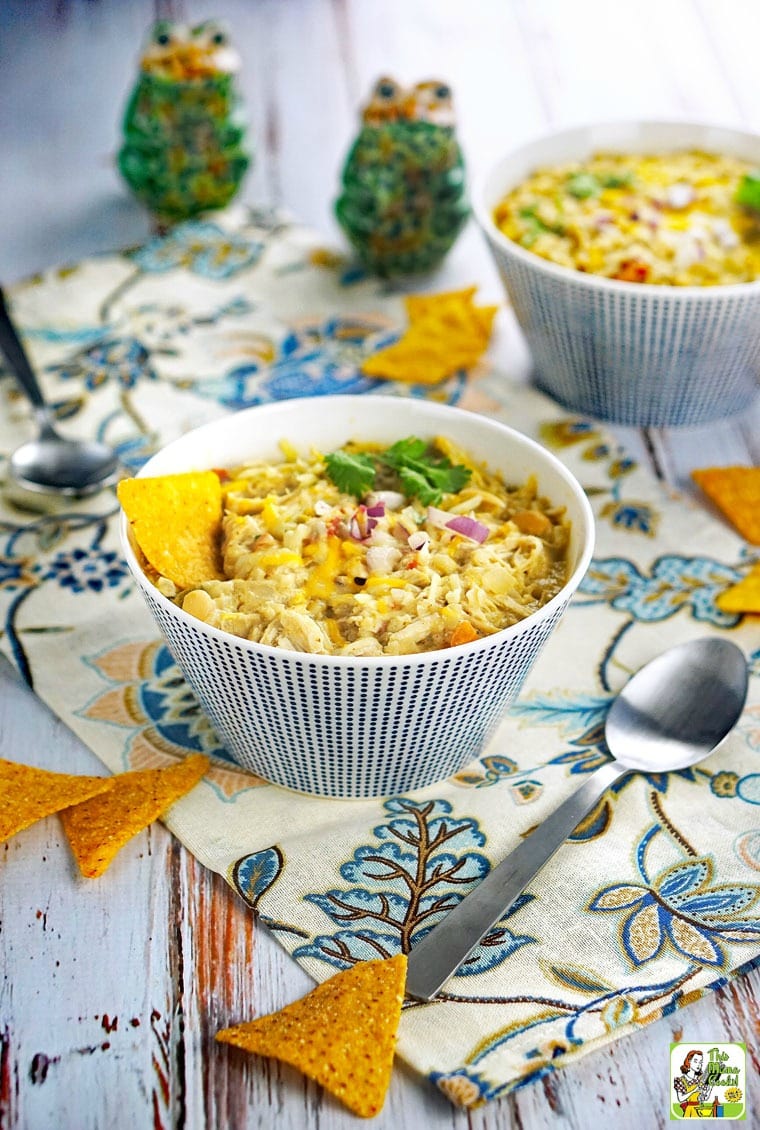 Spice it up! If your family can't agree on mild versus spicy, make your easy slow cooker chicken recipe mild with a bottle of hot sauce on the side. (My son and husband like spicy. I don't!) That way everyone's happy.
Potluck and parties: This healthy slow cooker chicken recipe is perfect for tailgating or a potluck party.
Make it quick: If you don't have 6 to 8 hours to make this in your slow cooker, 4 hours on high will work just as well.
Can I make this in an Instant Pot? YES! If you prefer to use an Instant Pot over a Crock-Pot, see This Mama Loves for her directions on making Creamy Verde Chicken Chile with an Instant Pot!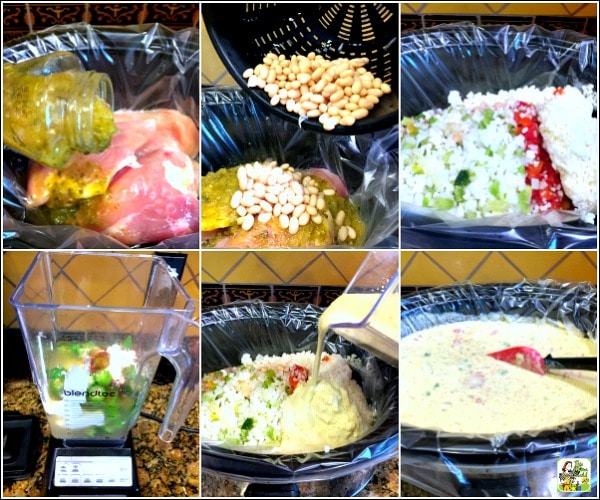 Looking for more slow cooker recipes?
● Crock-Pot Cabbage Roll Casserole
● Slow Cooker Buffalo Chicken Sliders
● Crockpot Breakfast Casserole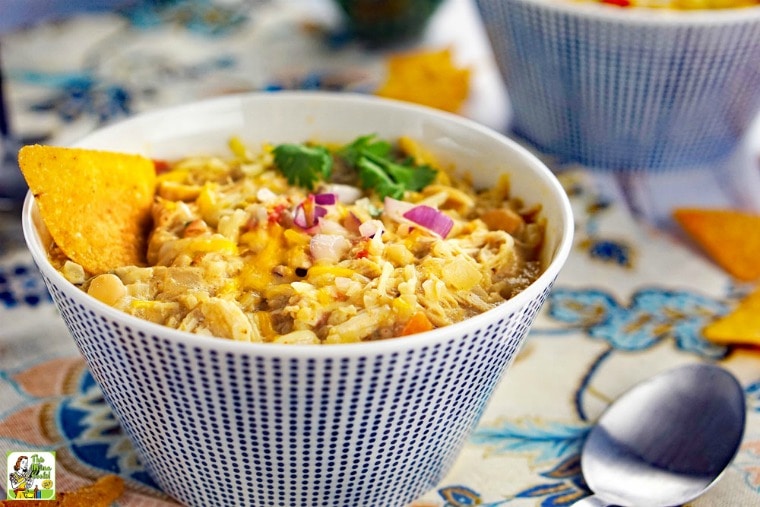 Slow Cooker Creamy Verde Chicken Chili Recipe
Ingredients
2 1/2 to 3 pounds

boneless, skinless chicken breast, thawed if frozen

1-16 ounce jar

salsa verde (hot, medium or mild)

1-15 ounce can

white beans, rinsed and drained

1-10 ounce can

Ro-tel style diced tomatoes and green chiles (medium, hot or mild)

1 10-12 ounce bag

frozen riced cauliflower

1 10-12 ounce bag

frozen small-cut seasoning blend (a blend of chopped onions, celery and peppers)

1 1/2 (8 ounce) packages

1/3 less fat cream cheese

1 1/2 cups

frozen diced okra

3 cups

chicken broth

1 teaspoon

Mineral Salt

2 teaspoon

ground cumin

1 teaspoon

chili powder

1 teaspoon

onion powder

1 teaspoon

garlic powder
Directions
Place chicken, salsa verde, beans, canned tomatoes, cauliflower rice and seasoning blend in bottom of your slow cooker.
Put cream cheese, okra, 2 cups of the broth, salt, cumin, chili powder, onion powder, and garlic powder in a blender and blend until smooth. Blend, baby, blend until no green specks are left!
Add contents of the blender to the slow cooker along with remaining 1 cup broth and stir. Cover and cook on low for 6 to 8 hours.
When done, shred the chicken with 2 forks right inside the slow cooker.
Serve with baked corn chips. Top with some shredded cheese, diced avocado, and maybe a little cilantro, chives, or chopped onion.
Cook Time:
6 Hours 20 Minutes
Serving size:

1/6 to 1/8 of recipe
Recipe reprinted from Trim Healthy Mama; Trim Healthy Table. Copyright ©2017 by Pearl P. Barrett and Serene C. Allison.
Published by Harmony Books, an imprint of the Crown Publishing Group, a division of Penguin Random House LLC