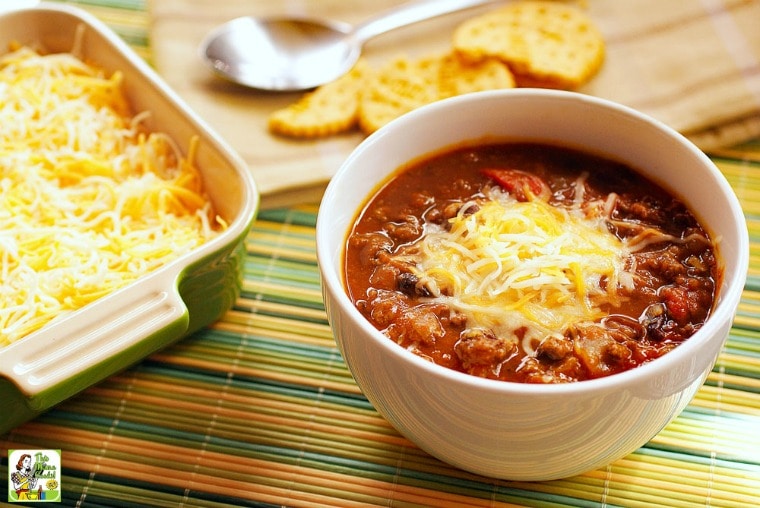 Slow Cooker Pumpkin Chili is a terrific way to enjoy the benefits of pumpkin through out the year.
Yes, that's right! Not only does pumpkin add amazing flavor, it's full of good for you things like fiber, vitamins A and C, carotenoids, potassium, and zinc.
My turkey pumpkin chili came out of a blogging recipe challenge where we remake other blogger's recipes. (With their permission, of course!)
This pumpkin chili recipe is based on Allison of Sweet Flour's Slow Cooker Pumpkin and Bean Chili.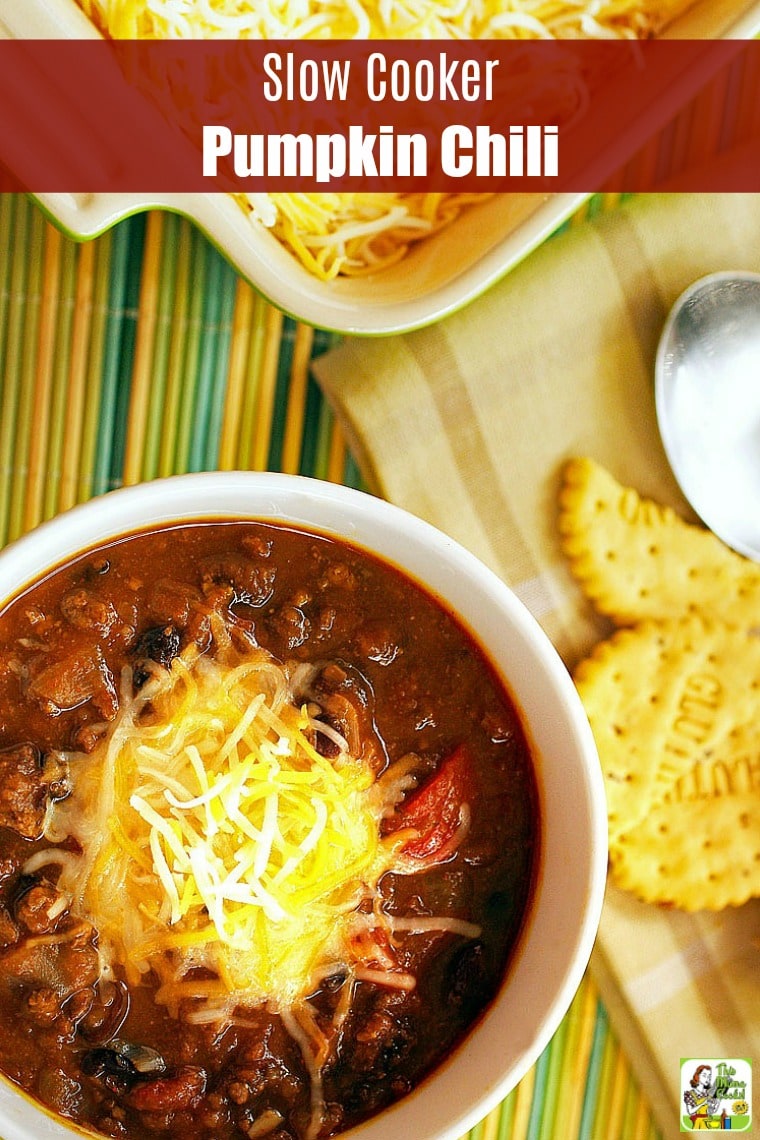 Making slow cooker pumpkin chili
Pumpkin: I chose Allison's crockpot pumpkin chili because I always have canned pumpkin in the pantry and love using it throughout the year. Pumpkin is not just for fall!
While I use it in desserts like Keto Pumpkin Mousse, I love using pumpkin puree in soup, curry, and chilis, too.
Ground meat: I turned this into a turkey pumpkin chili by using lean ground turkey instead of ground beef. You can use lean ground beef or ground venison if you wish.
Canned beans: This is a black bean and pumpkin chili, but I also used kidney beans. You can use your favorite varieties of canned beans – pinto, black, kidney, red, or one of the mixed cans.
Just make sure to give them a good rinse before adding the beans to your recipe. I like dumping all the cans of beans into a colander, and rinsing them off in the sink.
Make sure the beans drain well before adding them to your slow cooker.
If you like beans in your chili, check out Instant Pot Chili with Pumpkin.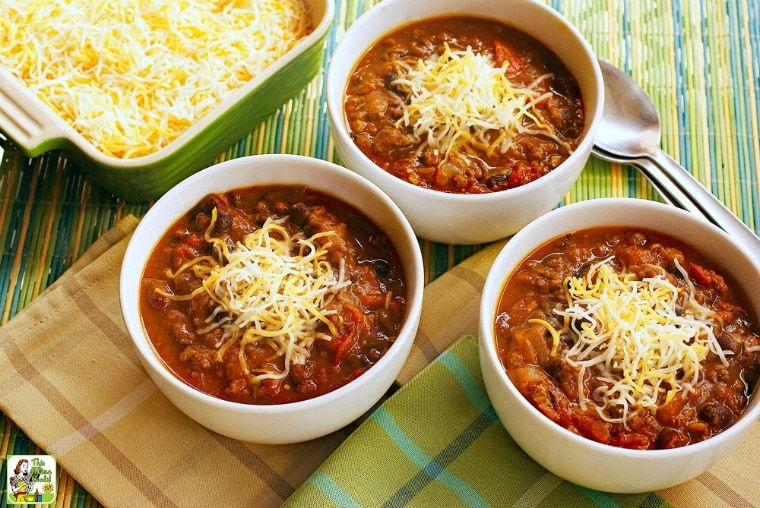 Vegetables: Another change I made included using a red bell pepper instead of a green one as I find them kind of bitter.
If you have room in your crock-pot when making this turkey pumpkin chili recipe, then add a bag of frozen veggies like broccoli, okra, green beans, or cauliflower.
Adding extra vegetables to pumpkin crock pot recipes is a great way to sneak some wholesome fiber into your family's diet. Plus, it creates more chili without much added calories or cost.
Broth: I used vegetable broth instead of chicken broth as it's lower in fat and calories.
Spices: I added ground chipotle chile pepper instead of cayenne pepper since that's what I had in my spice rack.
I also used Chugwater Chili Gourmet Chili Blend instead of plain chili powder. It's the best gourmet chili spice blend I've found.
If you're ever in Chugwater, Wyoming, stop at the gas station off the freeway and pick up a jar of it!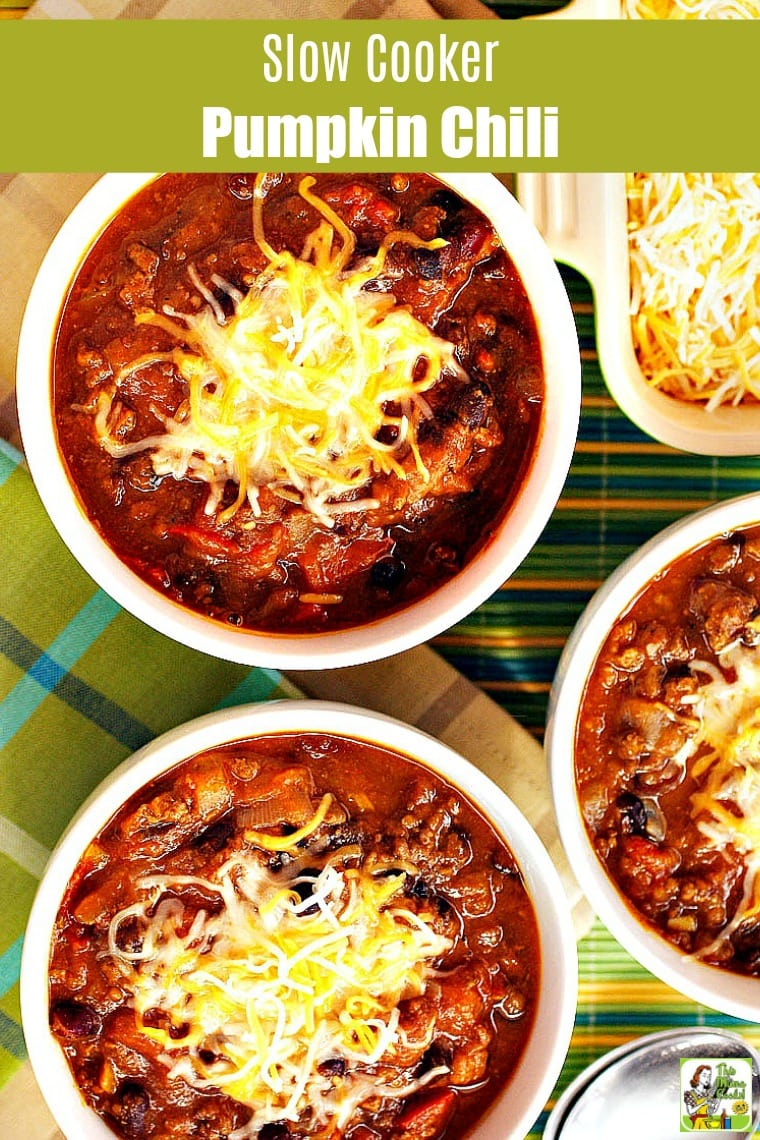 Tips for making crock-pot pumpkin chili even better
An optional addition: I added a tablespoon of pumpkin seed oil. My husband brought a small bottle of this home from a trip to Germany and it makes pumpkin chili recipes super delectable.
It's also wonderful to use in pumpkin and squash soups like Sweet Potato Soup with Figs.
It's optional in this crockpot pumpkin chili recipe, so don't worry about if you can't find it.
Toppings: You can top this with a little bit of shredded cheese, some diced onions, chopped tomatoes, a spoonful of salsa, diced avocadoes, a spoonful of Greek yogurt, or for you dairy free folks – a dollop of Vegan Sour Cream.
Cleanup: For easy crock-pot cleanup, use slow cooker liners. They're WONDERFUL. I love not having to scrub my slow cooker after cooking up a pot of pumpkin chili!
Can I freeze this slow cooker pumpkin recipe? Yes! I like freezing chili in reusable food containers that you can freeze and microwave the pumpkin chili in after it thaws.
Or you can thaw it a little, pop it out of the container into a slow cooker, and then heat the pumpkin chili in the crock-pot.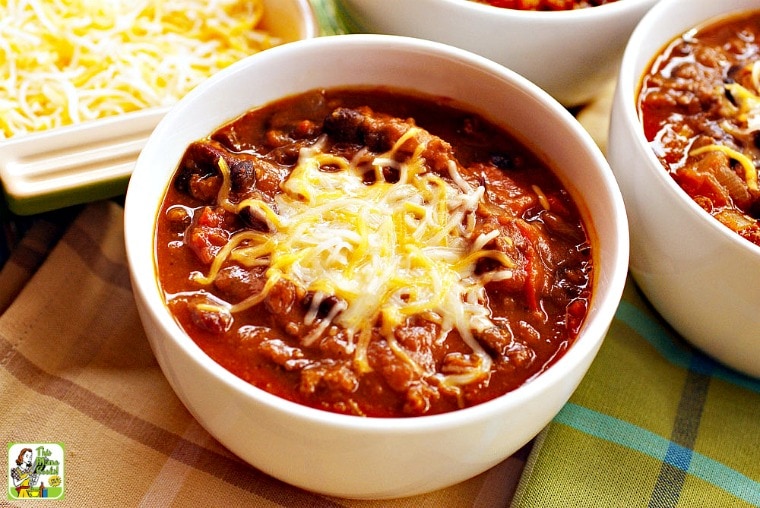 Looking for more slow cooker recipes?
Try these easy crock-pot recipes:
● Zesty Slow Cooker Porcupine Meatballs
● Crock-Pot Cabbage Roll Casserole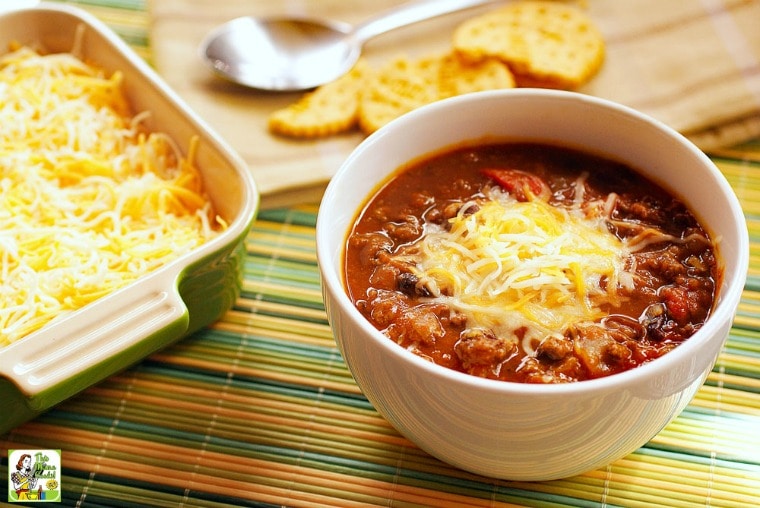 Slow Cooker Pumpkin Chili Recipe
Ingredients
1

yellow onion, chopped

1

red bell pepper, chopped

1 pound

ground venison, turkey or lean beef

1/2 teaspoon

salt

3 cloves

garlic, minced

2 tablespoons

chili powder

1/8 teaspoon

ground chipotle chile pepper

1 teaspoon

oregano

1 1/2 teaspoon

cumin

2 1/2 cups

vegetable broth

2 15 ounce cans

black beans, drained and rinsed

1 15 ounce can

kidney beans, drained and rinsed

1 15 ounce can

canned pumpkin puree

1 14.5 ounce can

diced tomatoes, with juice

1 tablespoon

pumpkin seed oil (optional)
Directions
Cook onion, bell pepper and ground meat over medium-high heat until meat is cooked through.
Add salt and garlic. Cook for 1 minute.
Add spices (chili powder through cumin) and mix thoroughly. Cook for 1 minute.
Place onion, pepper, meat, garlic and spice mixture into a slow cooker.
Add remaining ingredients.
Cook on low for 5-6 hours.
Dish chili into bowls and top with a small dollop of no fat sour cream or a large pinch of shredded cheese.
Total Time:
5 Hours 15 Minutes
Originally published March 12, 2012 and October 3, 2017. Updated with new pictures and information.